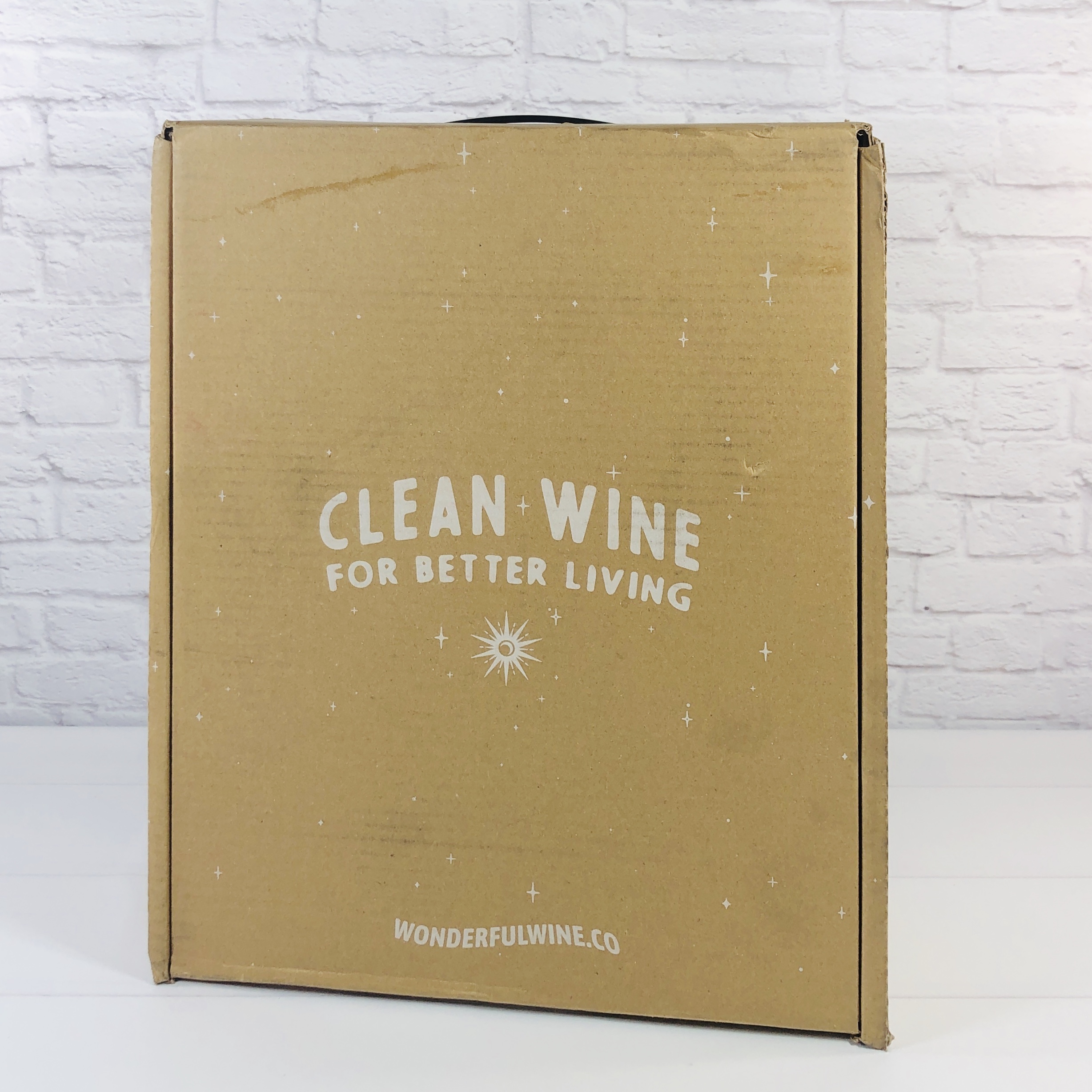 The Wonderful Wine Co. is a new offering from the people behind Winc and is all about "clean wine for better living". Wines are produced from organic grapes that are sustainably grown without pesticides. It ticks a lot of boxes for today's lifestyles – paleo, keto-friendly, vegan, low carb, low sugar, and is even low in sulfites.
Currently, there are 3 wine packs available: The White Pack, The Red Pack, and The Starter Pack. You can also choose how many bottles you want to receive. A 3-pack is $60, a 6-pack is $110, and a 12-pack is $215.
This is the review of The Starter Pack with 3 bottles of wine.
We believe 90% of winemaking happens in the vineyard. Prioritizing healthy grapes from organic vineyards whenever possible means we don't need chemical additives or sugars to make our wines delicious.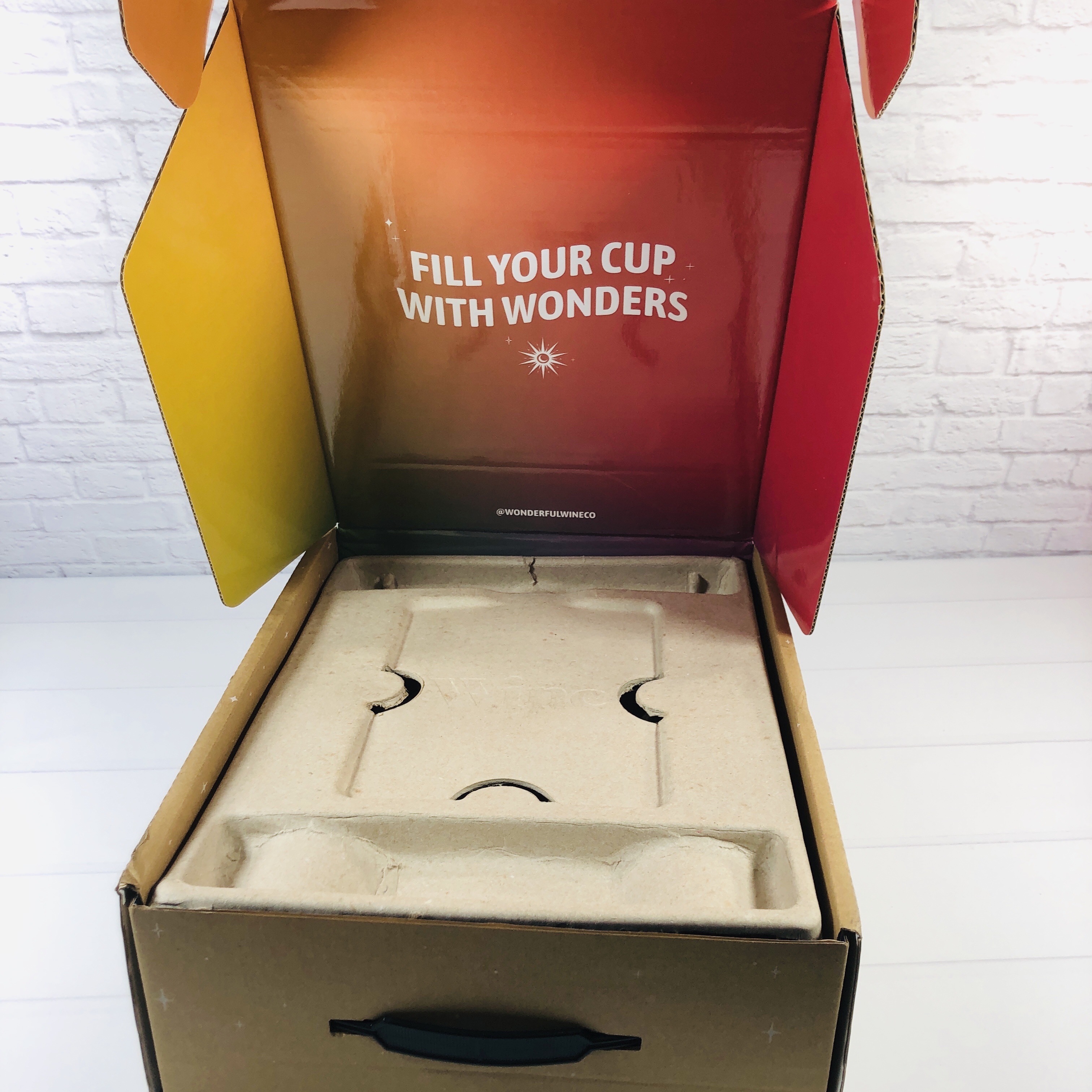 My wines showed up in a cool box with a handle and the inside was like a summer sunset.
So beautiful!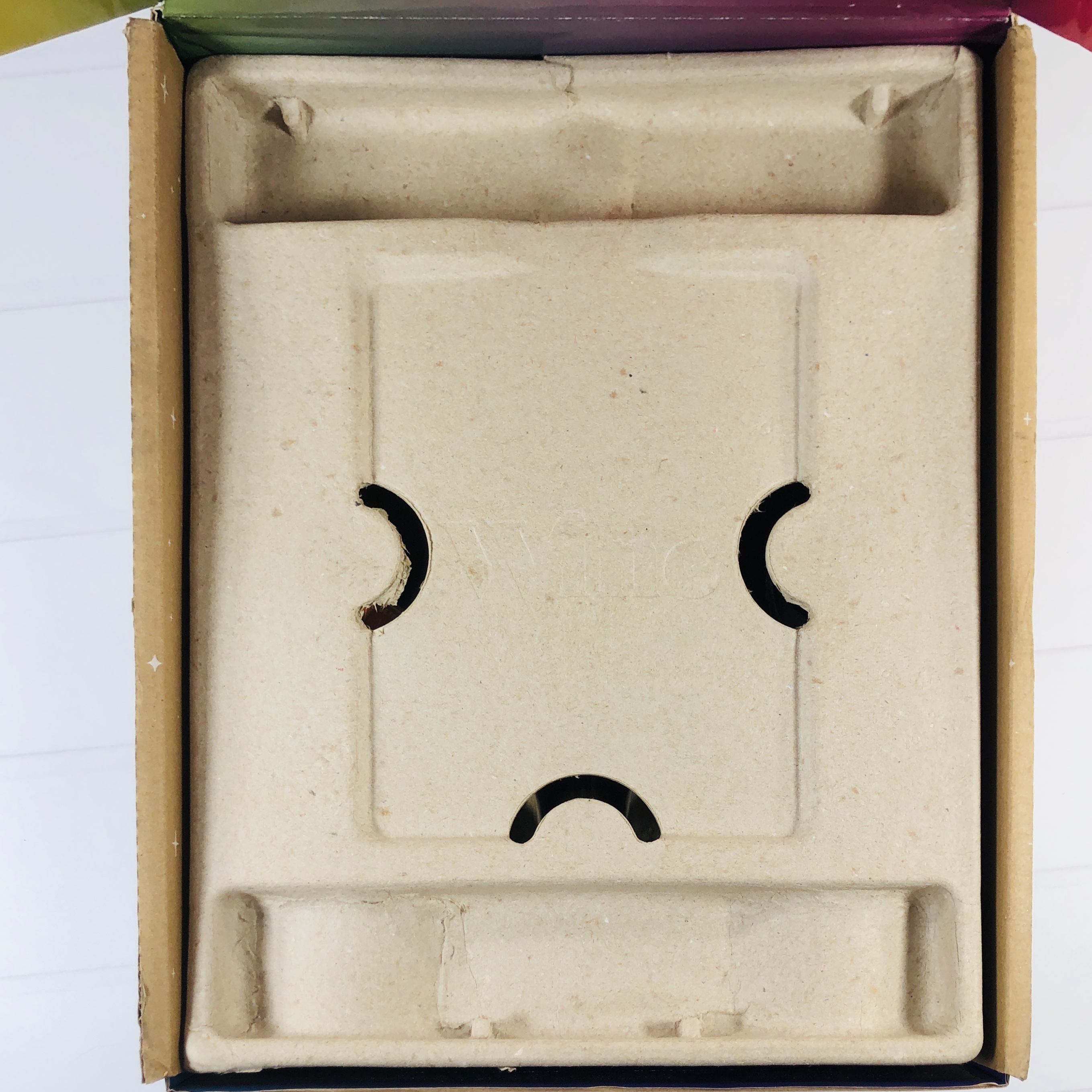 Cardboard protected my wines during shipping.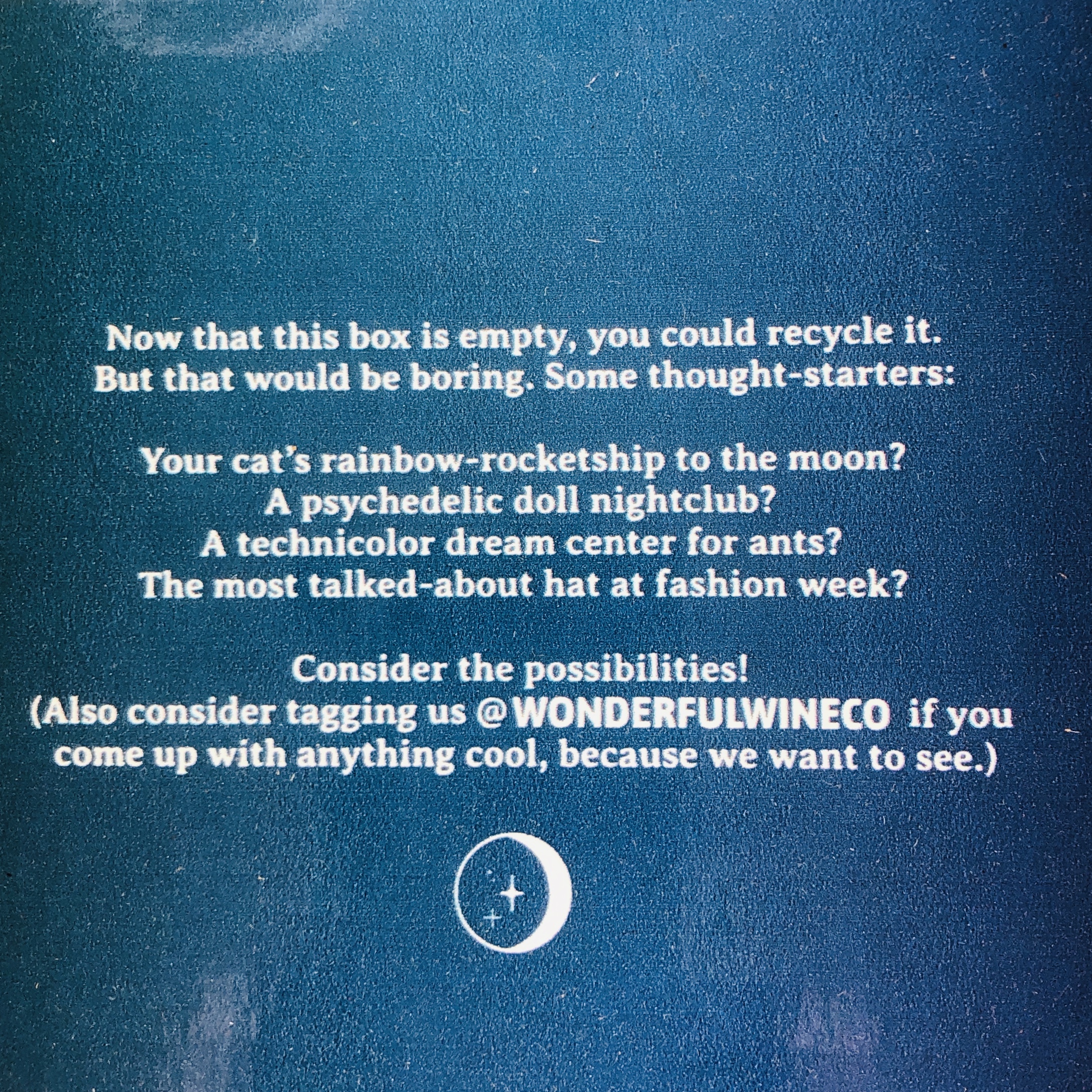 The bottom of the box had suggestions for reusing and my cats called dibs on that rocket ship idea.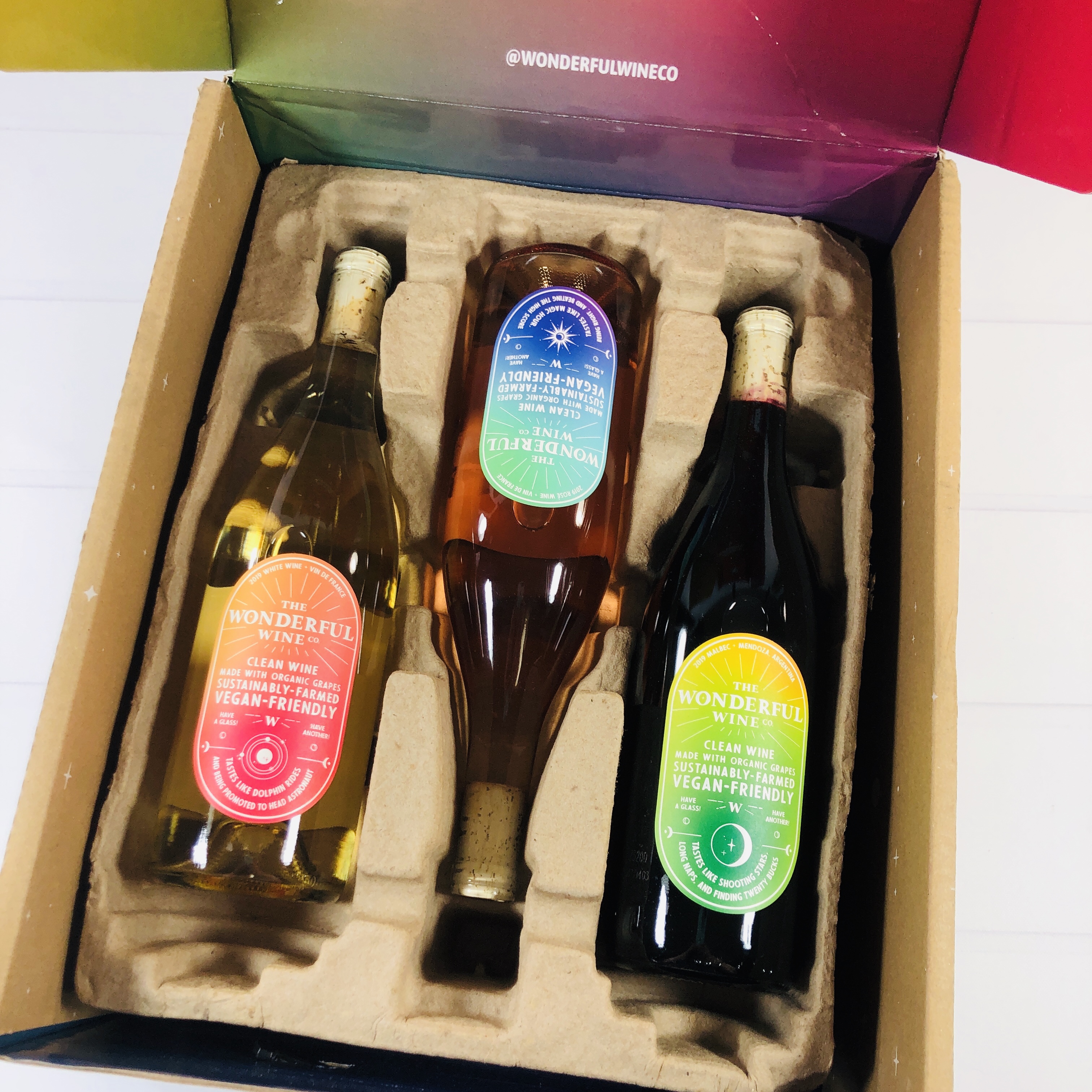 Oh my gosh, even the bottles themselves are beautiful!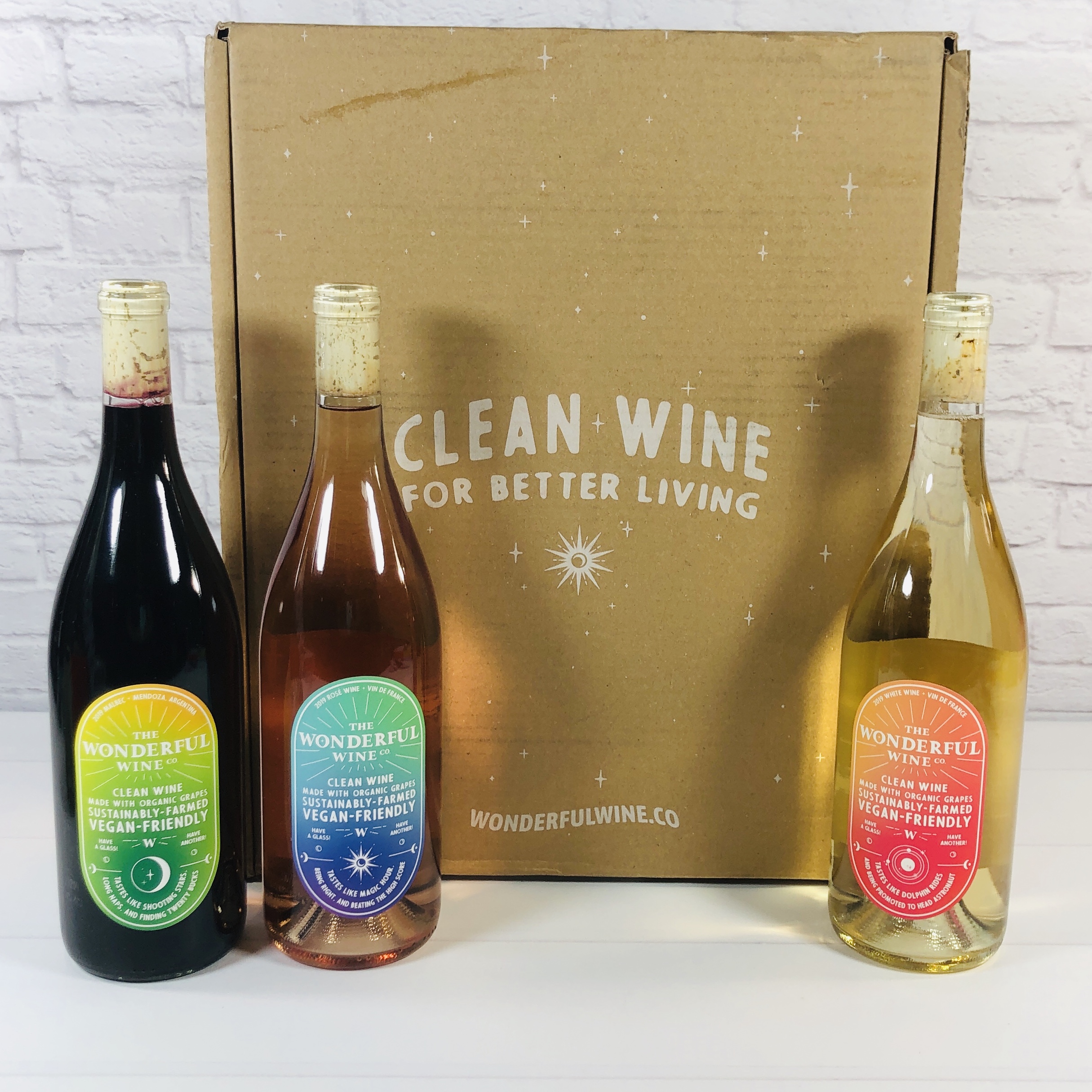 Everything in my July 2020 box! I learned something new – all wines are not necessarily vegan friendly, as they can undergo a process called "fining" to help the wine look clear, and some of the items used to perform that process are eggs, gelatin, and milk.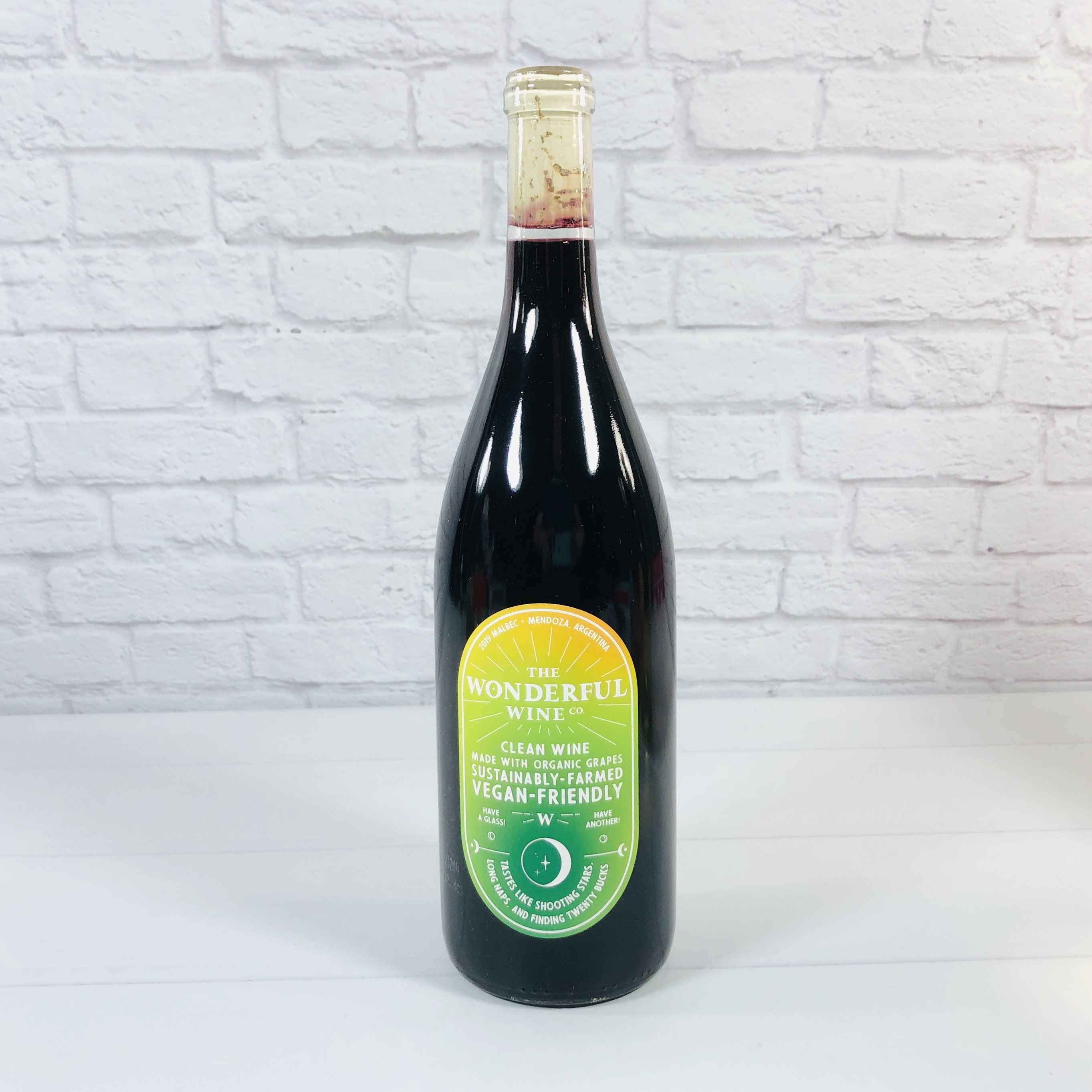 The Wonderful Wine Co. 2019 Malbec + Mendoza, Argentina ($19.99; $17.99 if member) My husband likes red wines so I always have to ask for his take on the reds. This particular bottle contains wine made of Malbec grapes grown in Argentina and is high in antioxidants. Grapes from this region tend to have berry flavors and aromas.
I thought this wine coated my mouth and the acidity was high for my taste buds. My husband loved this wine and suggested I hide the rest of the bottle. It's full-bodied and dry.
The Wonderful Wine Co. 2019 Rosé + Vin De France ($19.99; $17.99 if member) Summer just calls for Rosé, doesn't it? It has a light pink color thanks to red grapes, yet the flavor is closer to white wine, at least this one is. The Wonderful Wine Co. calls this one "clean and fresh with a bright acidity" and I can't agree more, it goes down easily and doesn't make me feel woozy.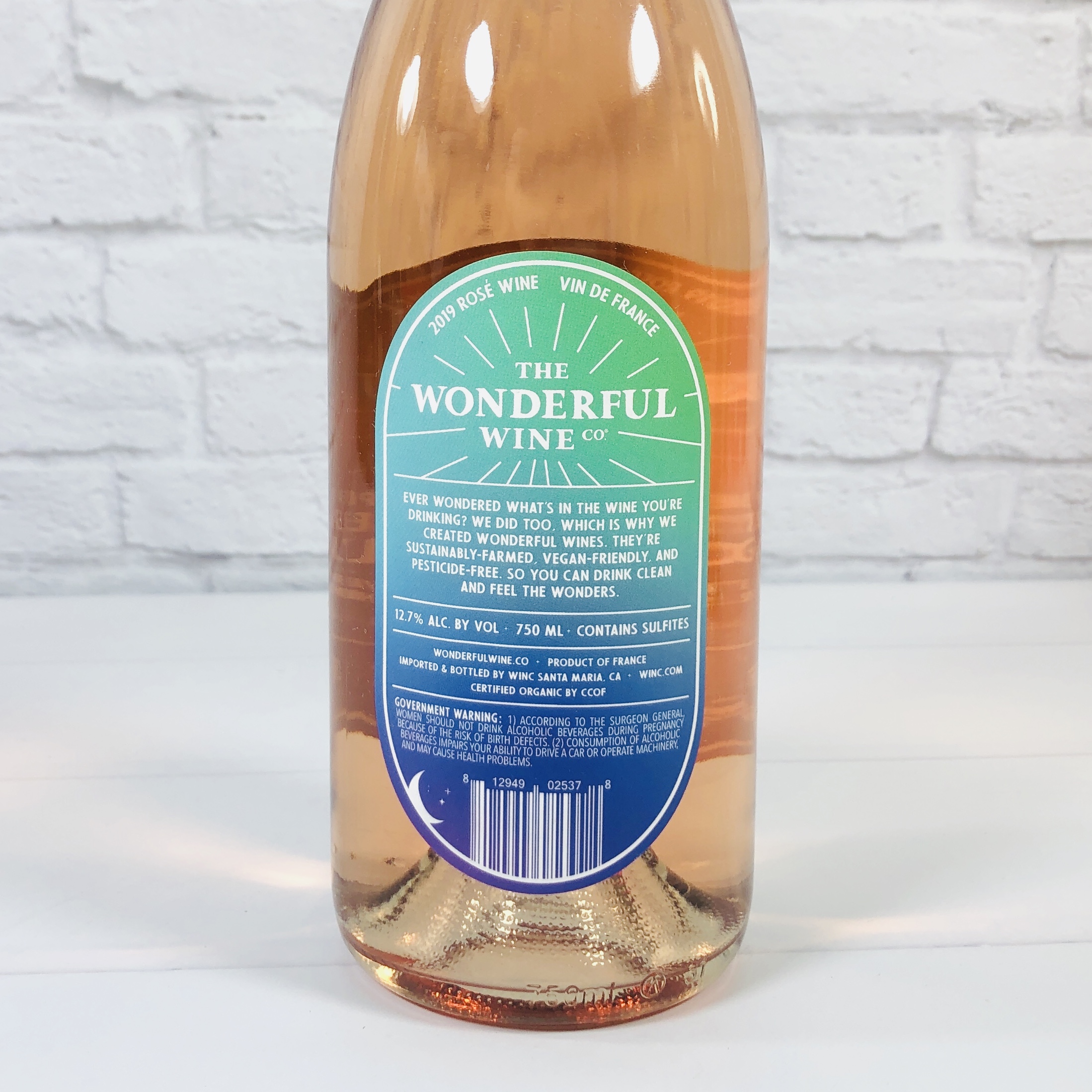 This wine comes from France and the grapes used depends on the region where it is produced but I don't have that info. It isn't sweet, but the body is light and the dryness is on the lower side. I think this is what they mean by "crisp", perhaps?
The Wonderful Wine Co. 2019 White Wine + Vin De France White wine is my jam and this one wasn't too dry but wasn't sweet either, it was the Goldilocks of white wine. It is a 2019 vintage from France made with a blend of grapes and hailing from the Languedoc region, which is famous for growing Chardonnay, Sauvignon Blanc, and Viognier grapes.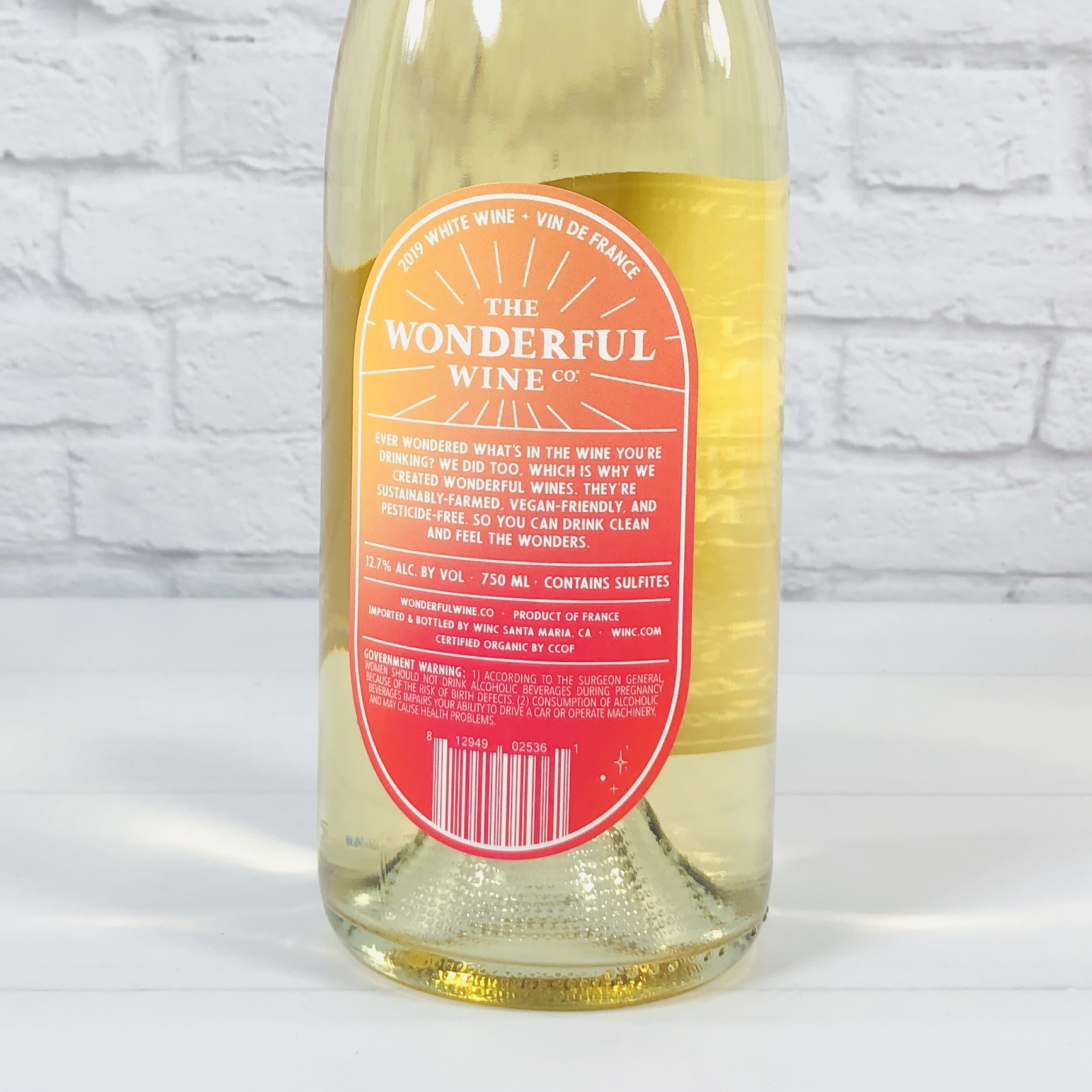 The wine is smooth and low on the dry side and is light-bodied, perfect for summer. I enjoyed it as is but plan on making one of those summer wine slushies I found on Pinterest. The aroma is of stone fruits with a hint of citrus but I'm going to blend it with tropical fruit for sure.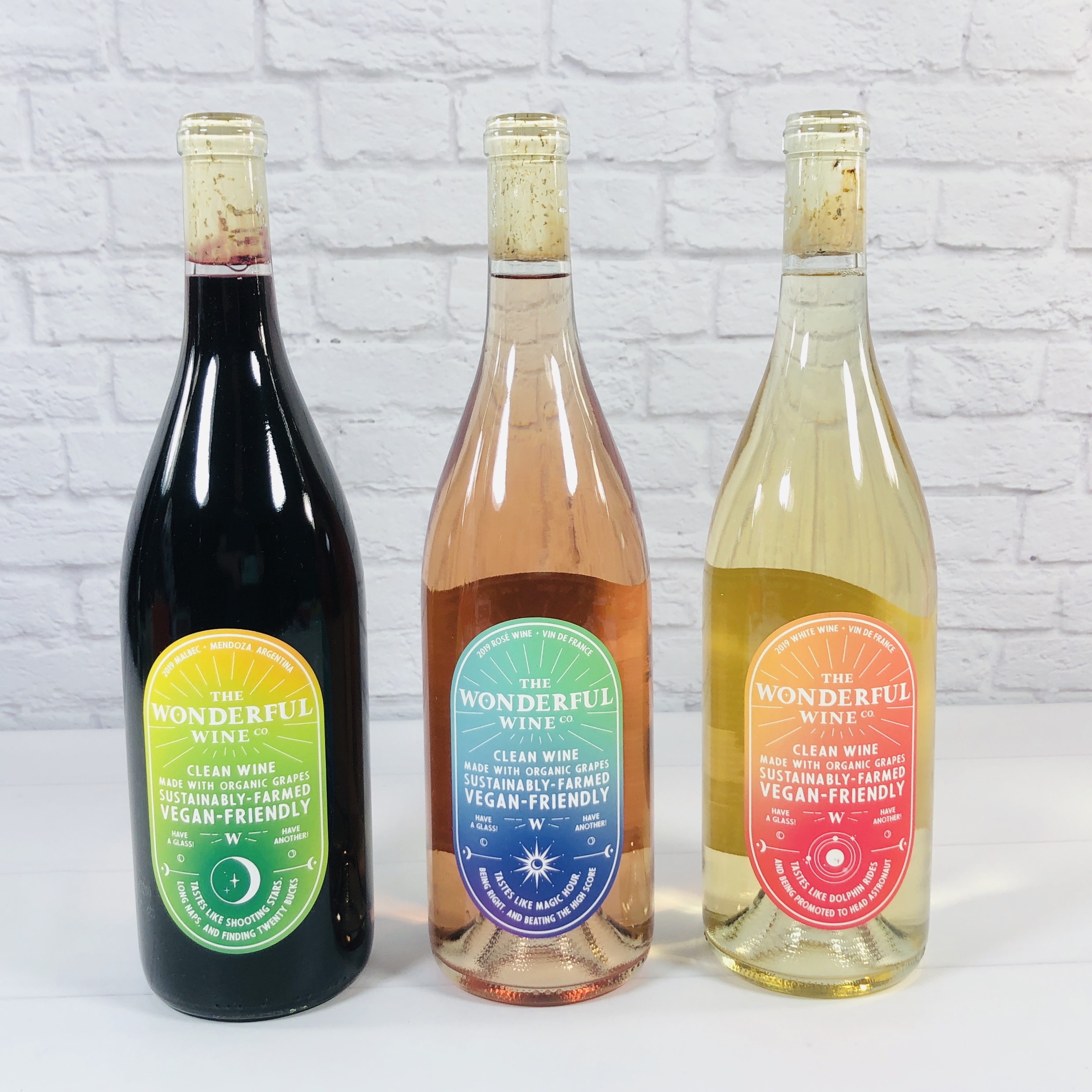 I thoroughly enjoyed my Wine Pack from The Wonderful Wine Co! I am appreciative of companies making an effort to produce items that are sustainable and clean and I'm sure these will catch the eyes of those who are looking for low sulfites, low pesticides, and better farming practices in the items they consume. The Wonderful Wine Co. has these three wines to choose from along with a fourth bottle of "orange wine", which is available in their Summer Six-Pack. I was also excited to see that these bottles are vegan friendly for those who prefer that option in their beverages.
Are you getting anything from  The Wonderful Wine Co.?