Crunchy Mama Box is a monthly subscription box for those who prefer natural and eco-friendly products that are for mind, body, and soul. Each month you will receive items that relate to beauty, self-care, support, sustainability, education, reusability, and wellness. Boxes will contain 5-8 full sized and high quality products curated by a certified holistic health and wellness coach. Crunchy Mama Box is $29.99 a month and shipping is free to the U.S.
Crunchy Mama Box is much more than a subscription box company; we are a community of Mamas that are on a mission to spread love, support, and encouragement. We support women-owned, small, and eco-friendly businesses that make clean, healthy products and that are motivated by a cause. We are also passionate about giving back, which is why we donate a portion of each box to a different Cause Partner each month.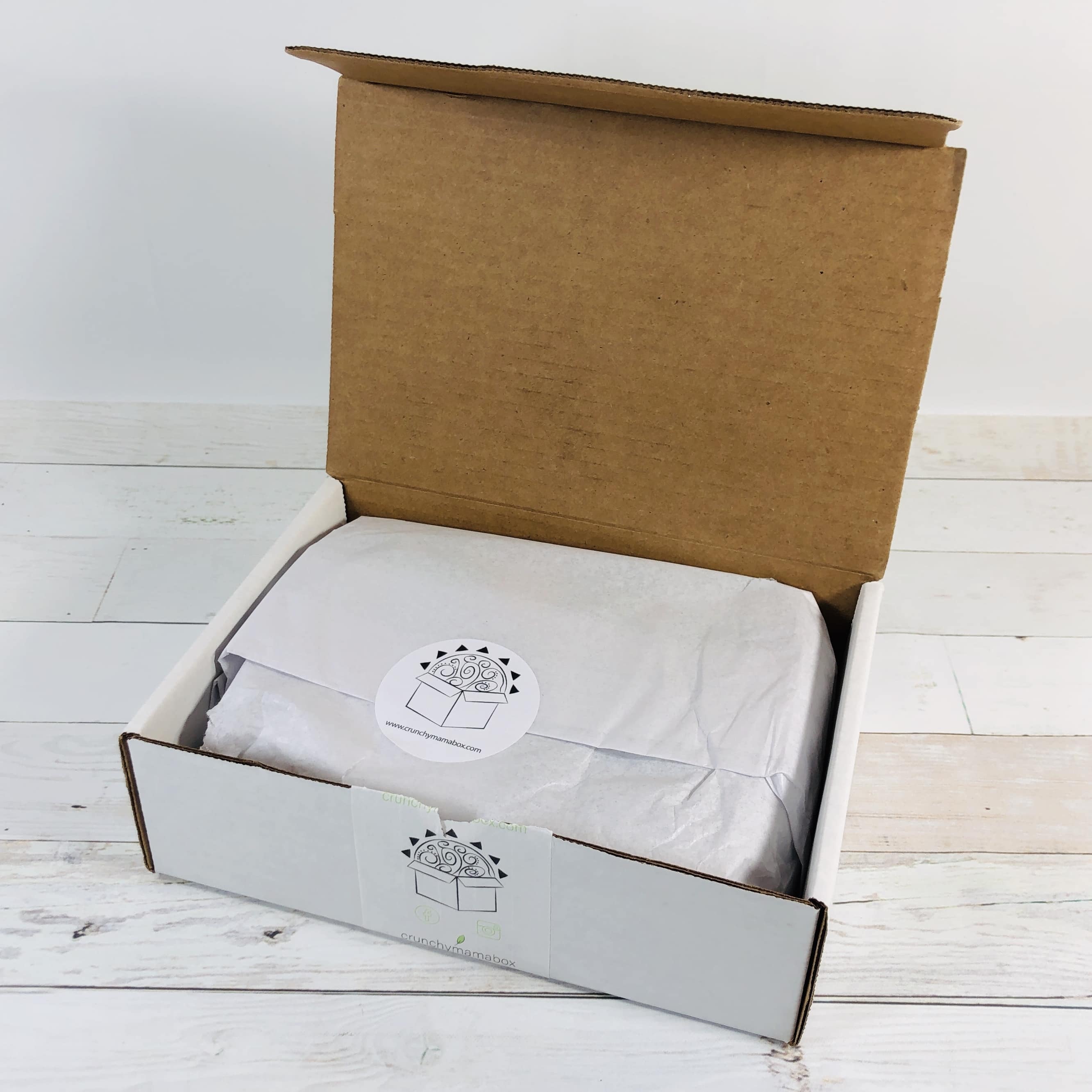 My items were wrapped in tissue paper and sealed with a sticker.
I found a brochure in the box with info on the Cause Partner for June, which is The YWCA of Knoxville & the Tennessee Valley. Proceeds from the sale of this box will go to that charity. The theme for June was Horizon. According to this brochure, you can now build your own Crunchy Mama box!
The inside of the brochure had info on each product and in most cases a website so you can grab more when you run out!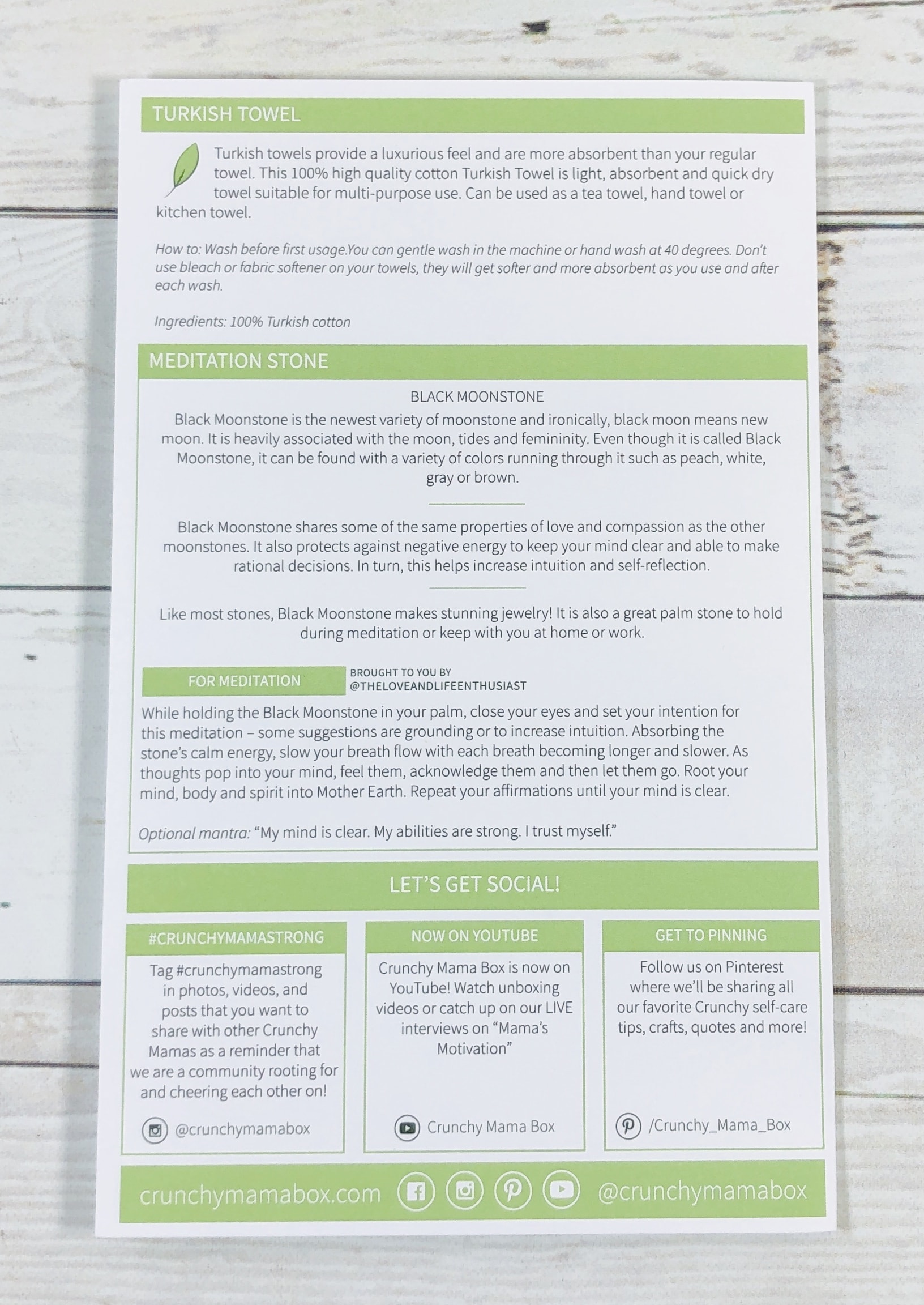 The back of the brochure listed the rest of the items and described the stone of the month. It also talked about how you can use the stone while meditating.
I found a cute little note card on top with a hand-written note on the inside. I love a personal touch, so sweet!
Everything in my box!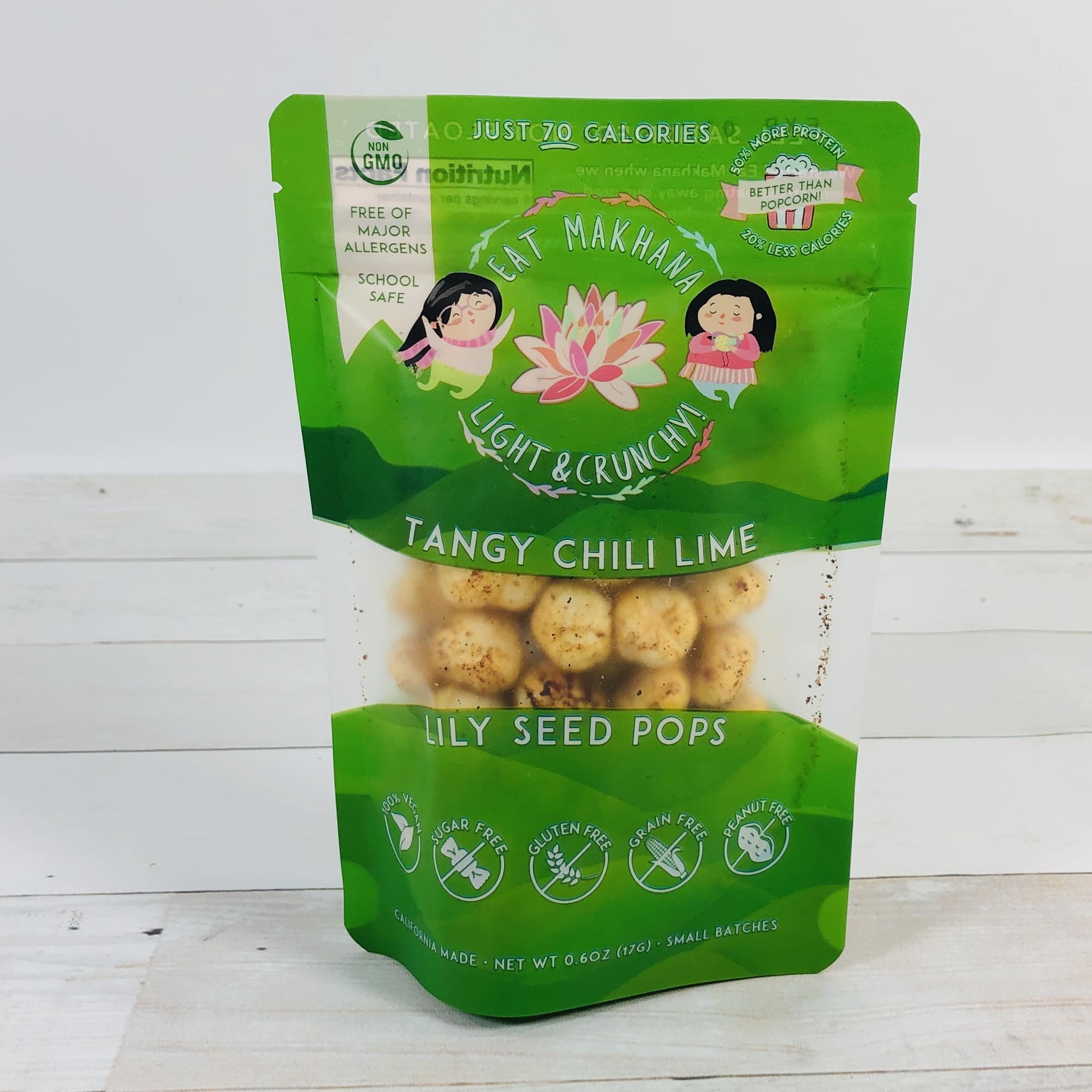 Eat Makhana Tangy Chili Lime Lily Seed Pops ($4) I've tried popped lily seeds before, probably thanks to this subscription, and they have a unique flavor and texture.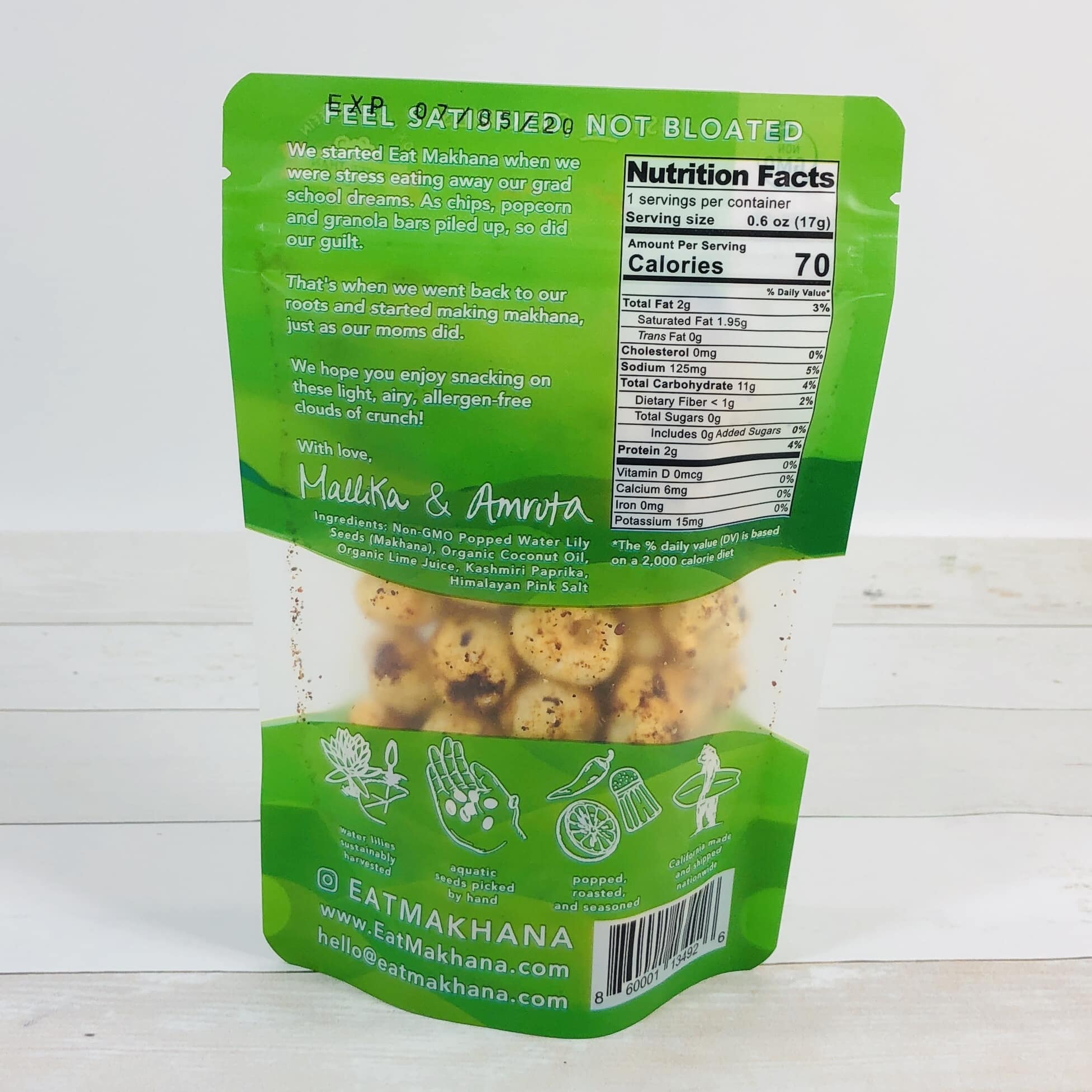 I am excited to try this flavor, sounds tasty! The nutrition info was on the back and it's not really a nutritional powerhouse, but it is made with real ingredients and not food coloring or weird chemicals. It's pretty cool to tell people what it's made of though!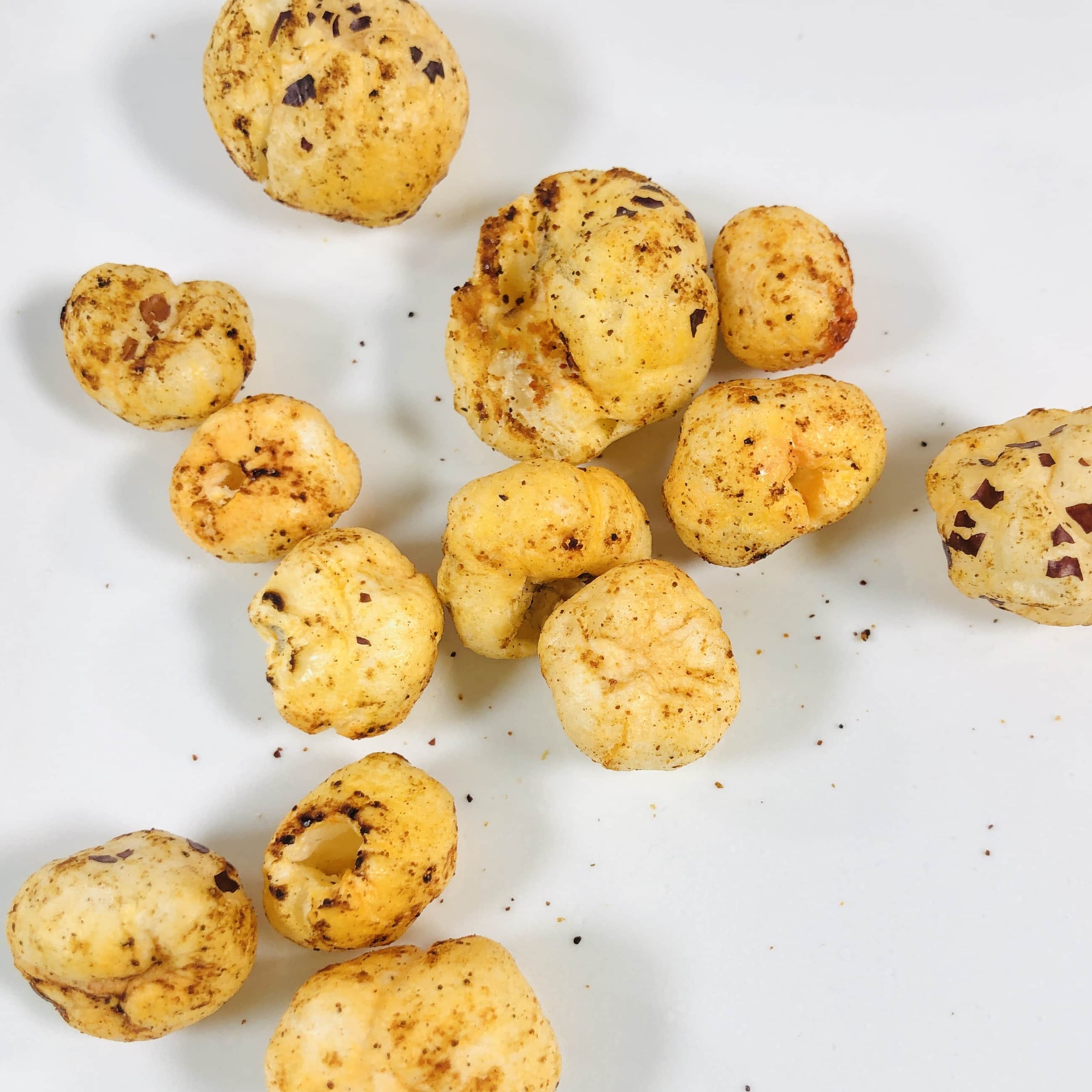 The pops have a texture similar to a cross between popcorn and puffy chips. Popped makana has a very distinct flavor, and most of my family doesn't care for it, but I liked the salty/spicy/citrus zing.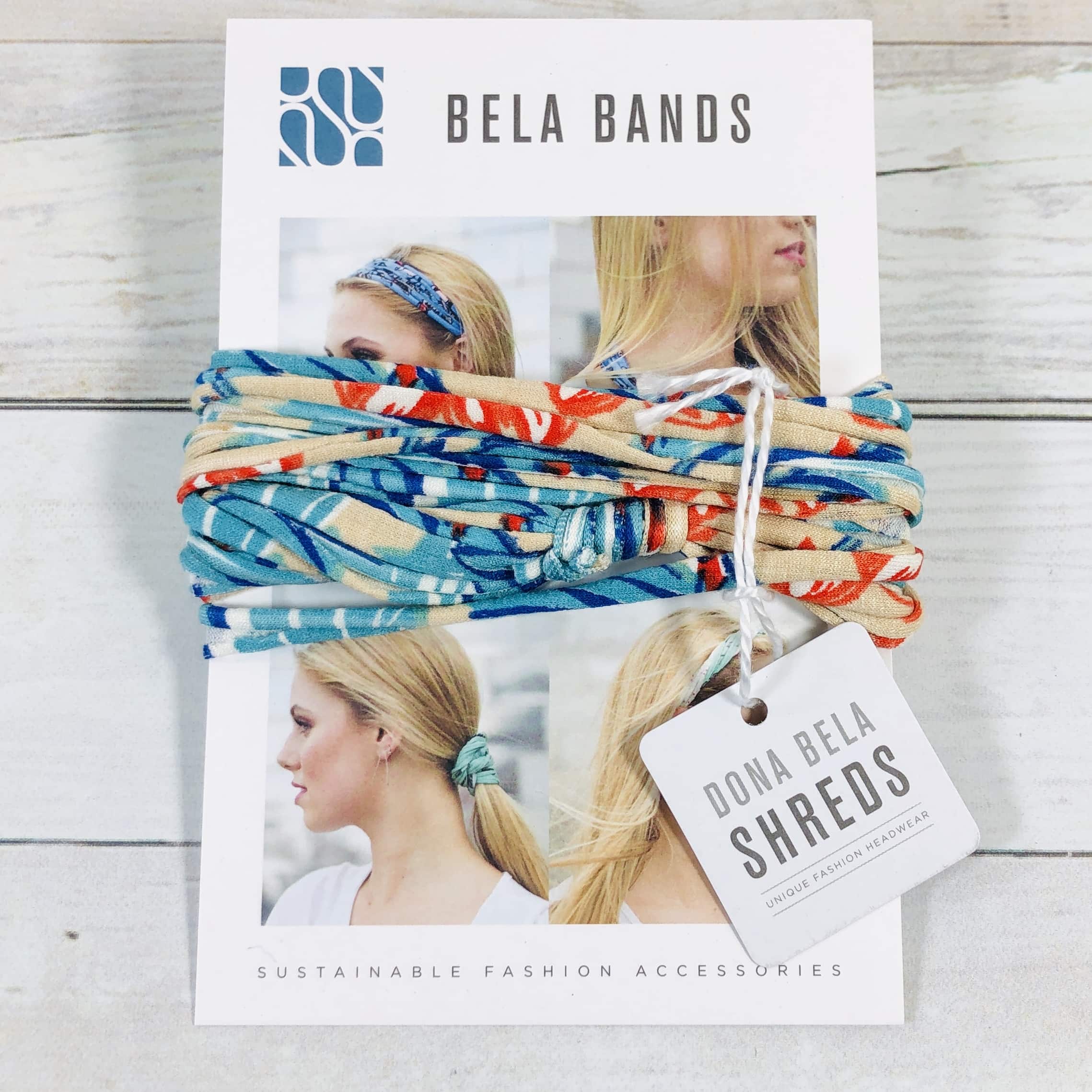 Dona Bela Shreds BelaBAND in Marbled Marina ($8) is a multipurpose item that can be used a few different ways, and I love all the info about it!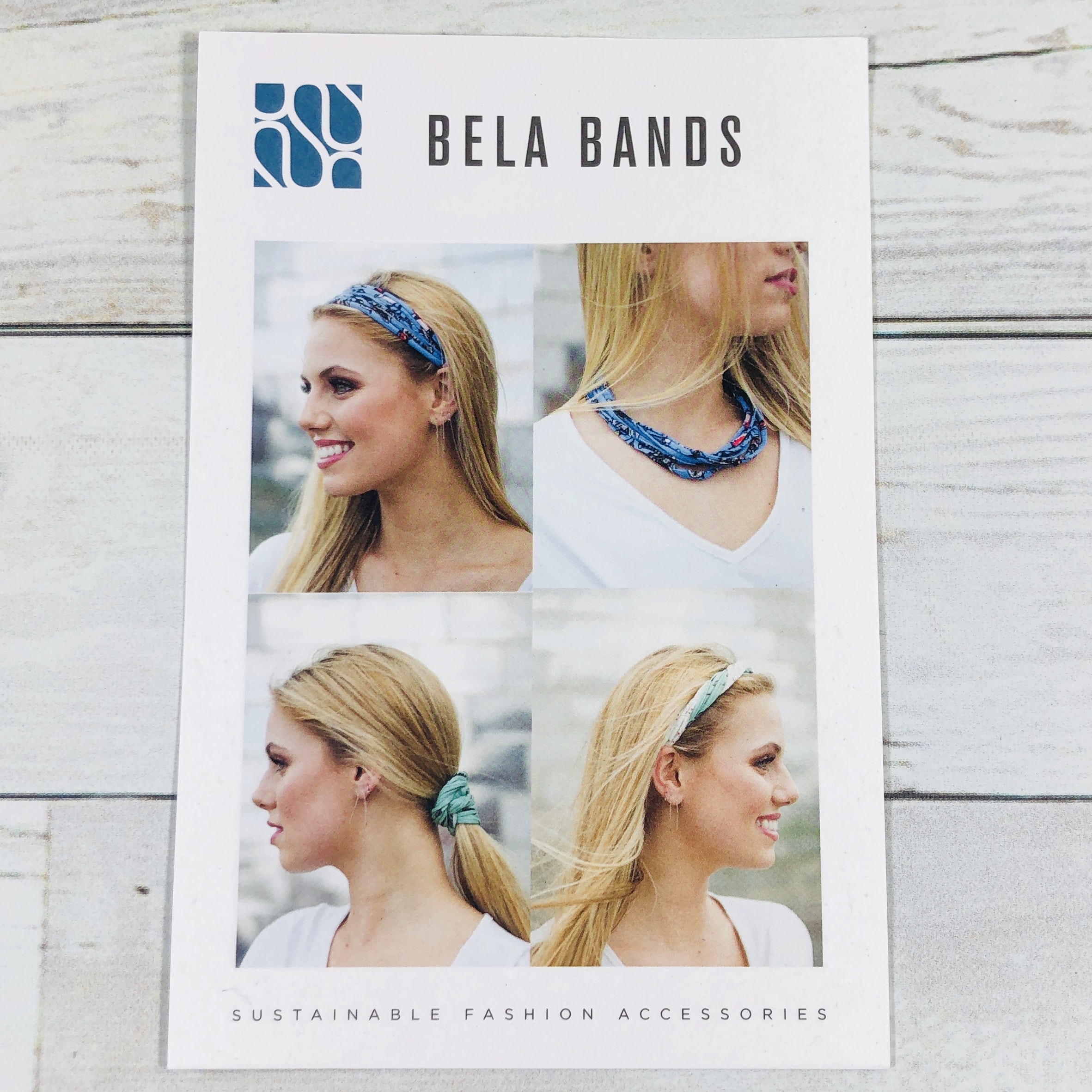 It came with a card…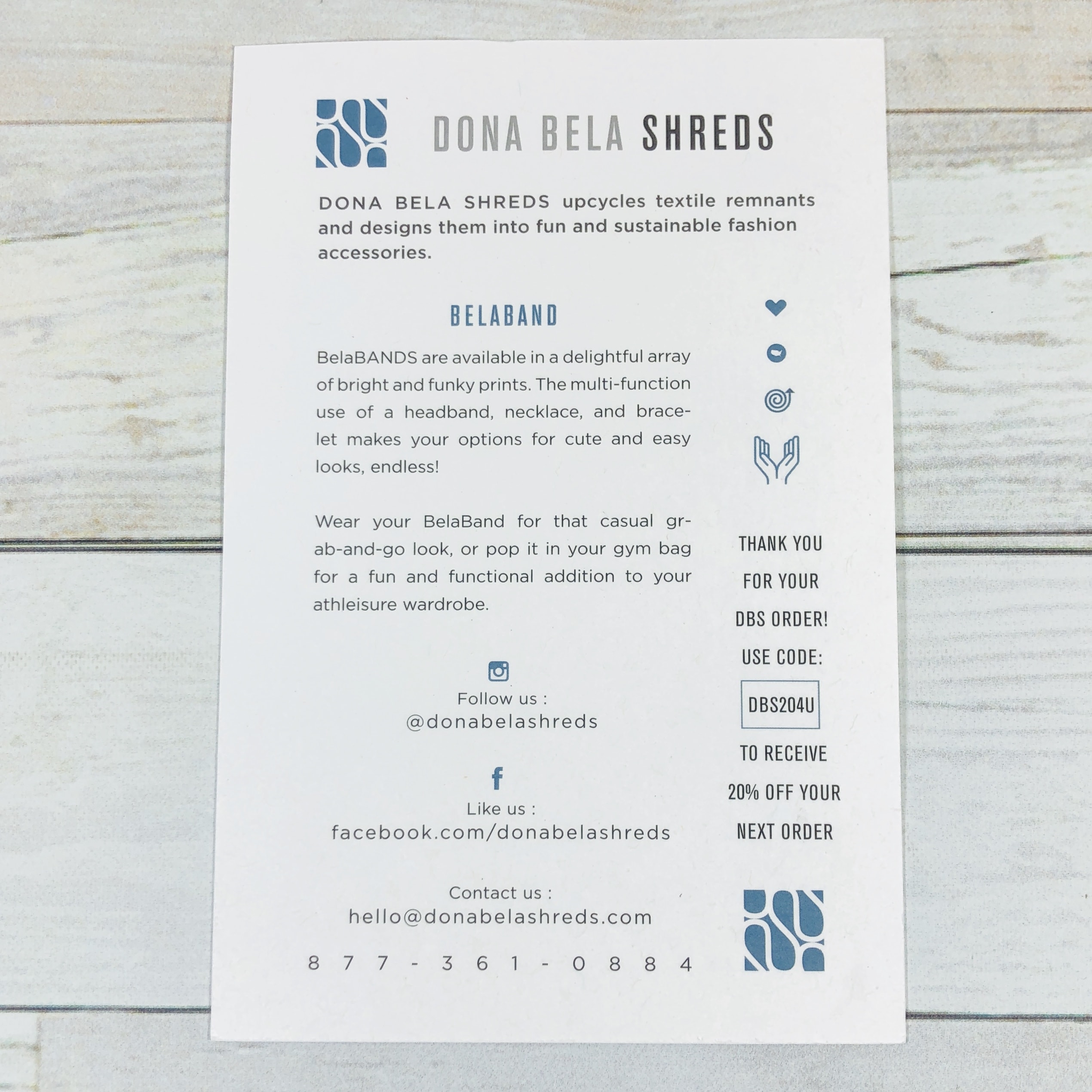 …with more info plus a discount code. It is handmade in the U.S. with upcycled garments.
There are lots of designs online and this one came with 9 individual pieces of fabric that are joined in the center. The bands can be worn as a bracelet, a necklace, or a headband.
Willing Beauty Day Dream Illuminating Day Moisturizer ($24) is a moisturizer that is used before applying SPF. It is free of parabens and synthetic fragrances.
The cream is almost gel-like in consistency and is made with safflower seed oil, shea butter, and plant extracts. It smells like a hint of roses and left my skin feeling soft but not greasy.
Bently Milkweed Seeds (75¢) Milkweed is a beneficial plant because Monarch butterflies lay their eggs on the plant and their caterpillars eat the plant. I don't have this plant in my yard, so into my garden they will go. I hope they do well and attract some beautiful butterflies!
The Monarch Butterfly is on the brink of extinction, partially due to the lack of Milkweed plants—the only food monarch caterpillars eat. Use this eco-friendly seed packet to spread to word and help create natural monarch habitats along their migration routes!
Mongo Kiss Shimmering Lip Balm in Unicorn Sparkle ($2.33) Crunchy Mama sent a few different flavors/colors of lip balm this month, and I got Unicorn Sparkle! The flavor is cotton candy and it has light pink, iridescent shimmer.
The color is sheer and there wasn't much to photograph when I swatched it. The shimmer is just right, and it didn't look weird on my lips. It is supposed to adjust to the color of your lips, but I didn't notice that happen, and again, it didn't change when I swatched it either. Beeswax, castor seed oil, and coconut oil are some of the first ingredients, plus mongongo oil, which is high in vitamin E.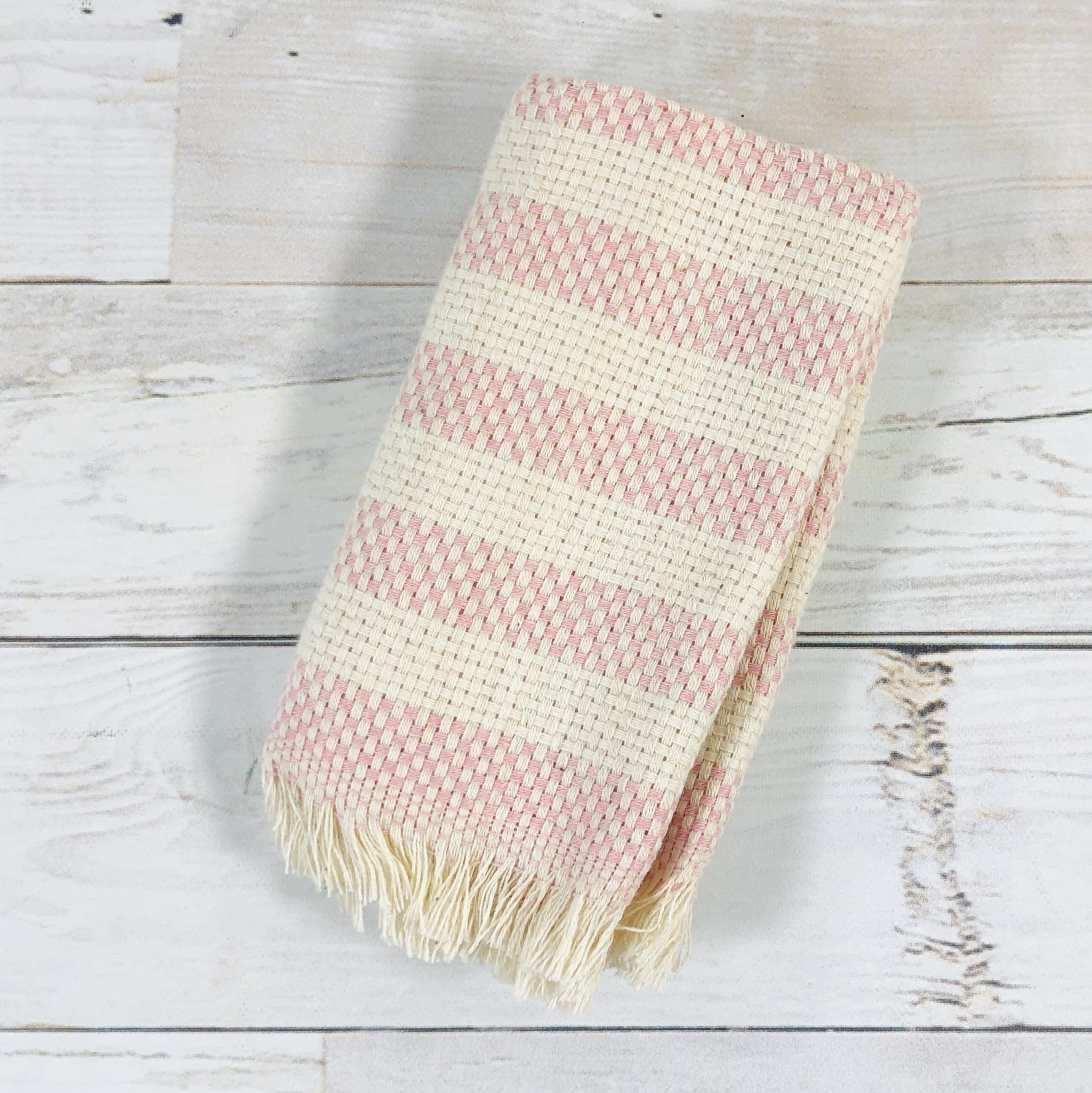 Turkish Hand Towel There was no brand given for this item but the info sheet says it is made of 100% cotton.
It is 21″ x 11.5″, not including the fringe, and before washing.
I like the soft pink and cream colors of this towel, and here you can see the weave. I usually keep this kind of item in my kitchen but I think I will use this in my bathroom, it's so pretty!
Every month we receive a Momtra card, a mantra for moms.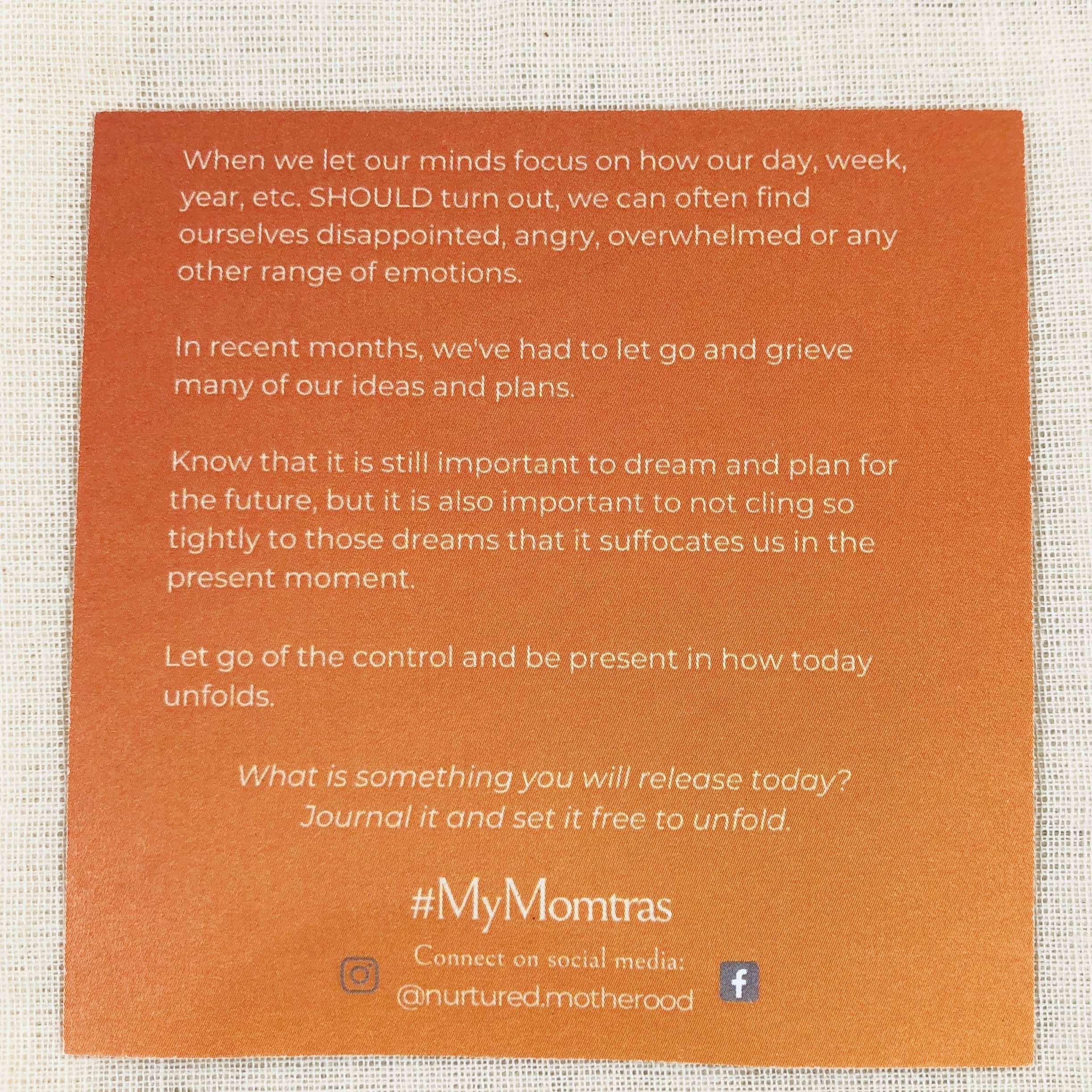 This one is perfect for the year we are having, with so many things cancelled and a scary illness everywhere.
Our meditation stone for the month is Black Moonstone (find similar item here). I don't have this in my collection, so I am happy to get it!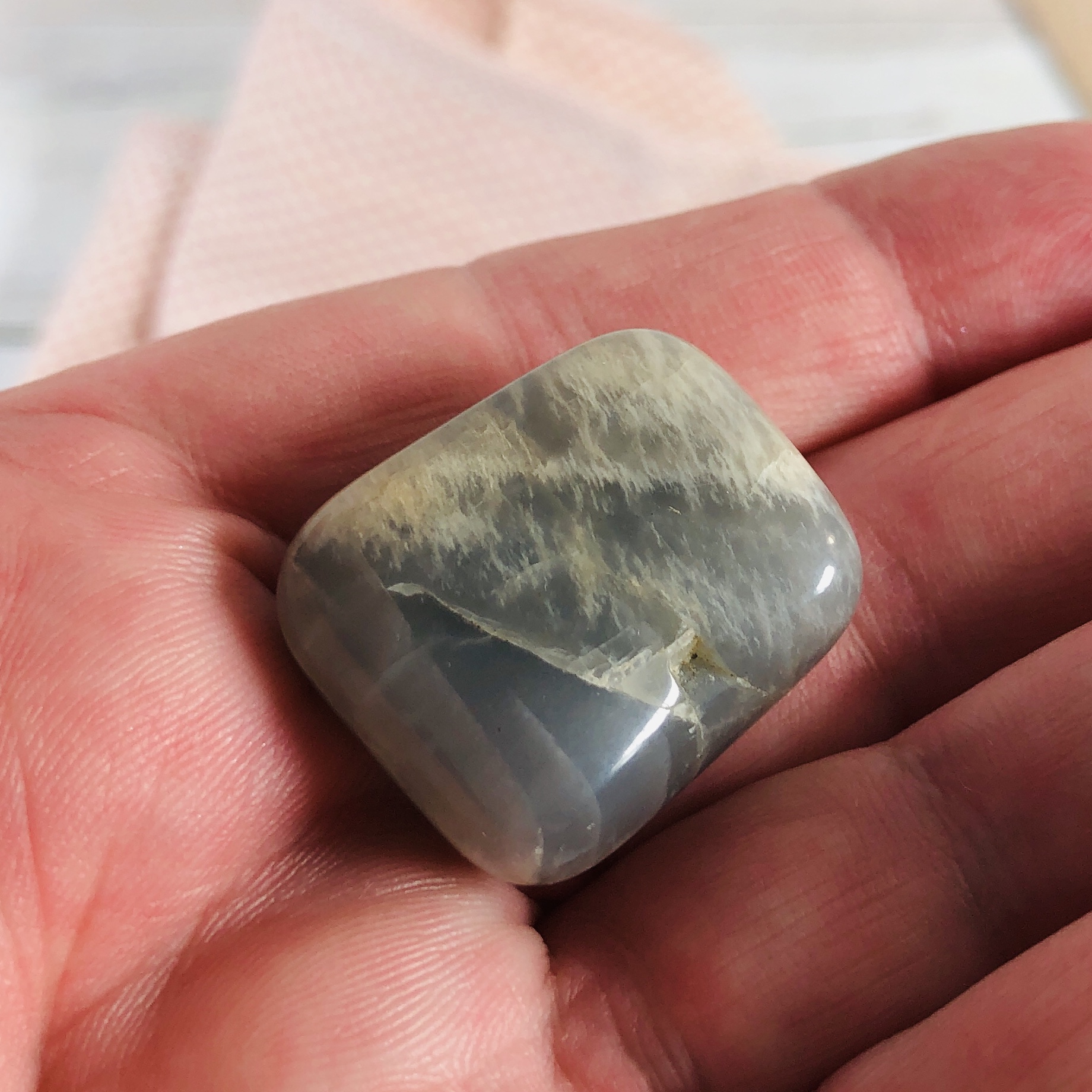 It is a tumbled stone and mostly smooth but you can feel a couple of indentations on it and I like that. You can hold it while meditating and it is supposed to help connect you to the Divine Feminine, which embodies healing, nurturing, and empowering properties.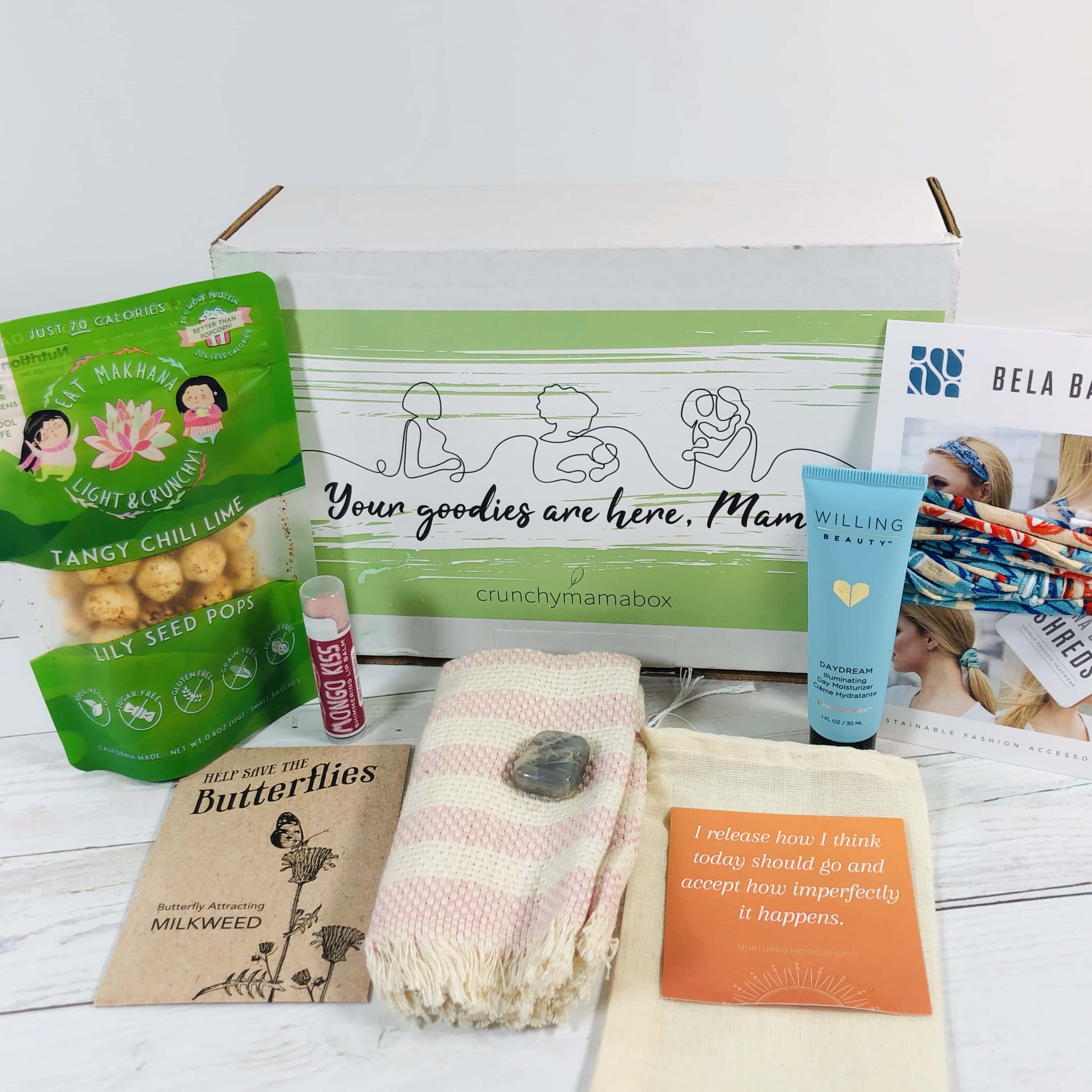 Crunchy Mama is a cool box to get, I love the different brands that they send and I like the focus on natural products and environmentally friendly goods. The stone is so neat to look at and hold, and I can't wait to plant the milkweed seeds. I had a tasty snack and the lip balm tastes so good, plus it is a fun summer item, so sparkly. If you are looking for more natural items to use, or maybe you want to support some smaller businesses, please check out Crunchy Mama Box!
What do you think of this month's box?