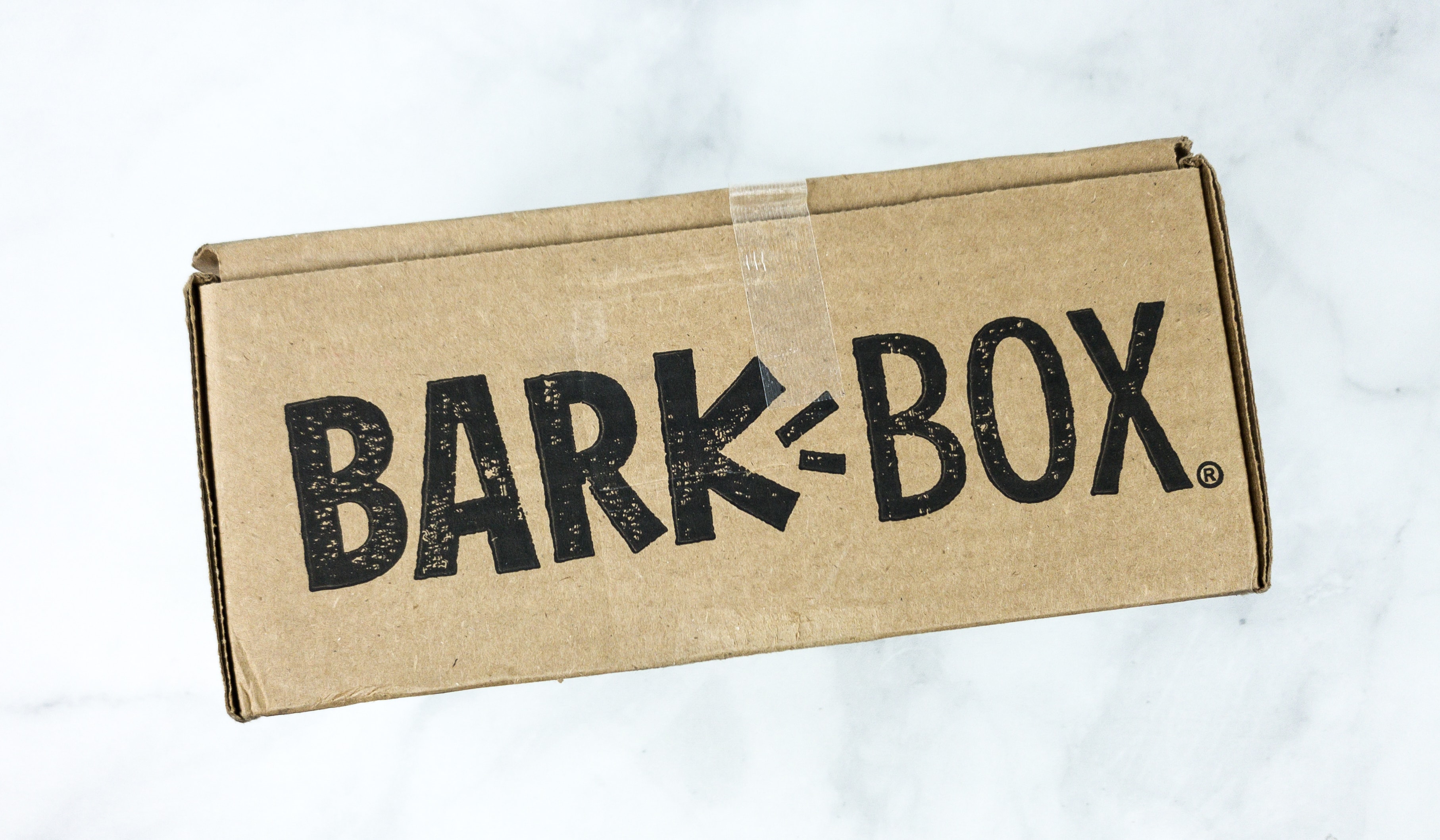 Barkbox is a monthly subscription box created just for dogs! Each box is themed, and includes toys, treats and photo-worthy props. The classic assortment is composed of 2 toys, 2 treats, and 1 chew, but you can also customize a box to fit your dog's needs. A monthly plan costs $29 and there are discounts if you get a longer plan. The best deal is the 12-month plan, which reduces the monthly cost of the box to $22. Shipping is free in the contiguous United States.
DEAL: Get a FREE month on a 6 or 12-month subscription when you sign up for BarkBox with this link!
LIMITED TIME: Get a FREE UPGRADE to a DOUBLE DELUXE box on your first month with a purchase of 6-, or 12-month subscription. No coupon needed, just use this link to sign up. Ends 4/30.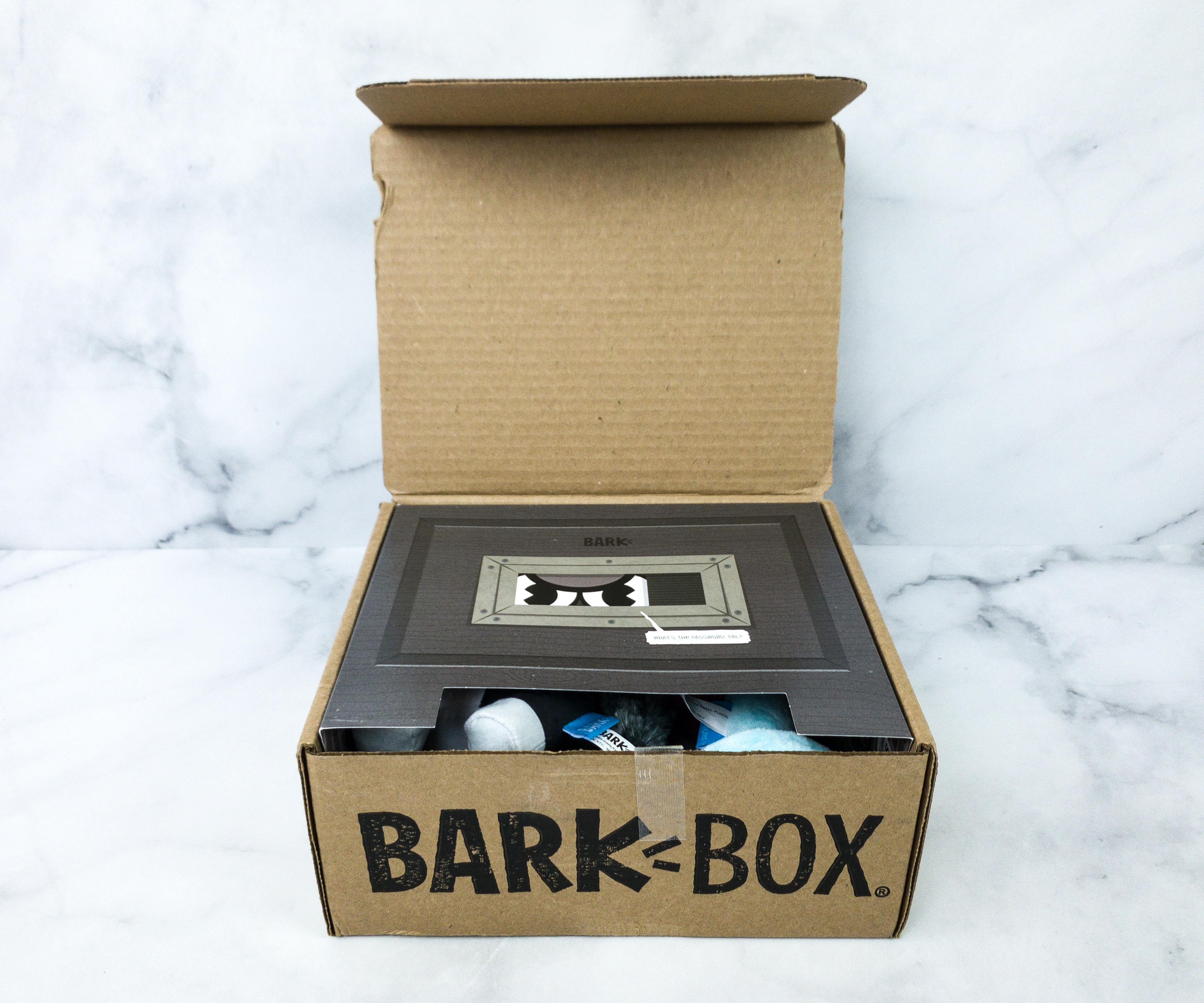 This Barkbox is for small dogs like our miniature schnauzers, Lindy and Dean, but you can get them for medium and large dogs too. Check out our Barkbox reviews for a peek at the big dog boxes! Plus, they now offer Barkbox SUPER CHEWER – the heavy chewer box!
The items inside the box were covered with carton. It welcomes us with a mysterious looking pair of eyes asking us the password! So cute!
The box this month doesn't contain any custom-made wrapping paper, instead, they used this month's theme to design the carton to cover all the items inside the box.
As usual, there were no extra fillers or squiggles, just treats and toys for your pups to enjoy!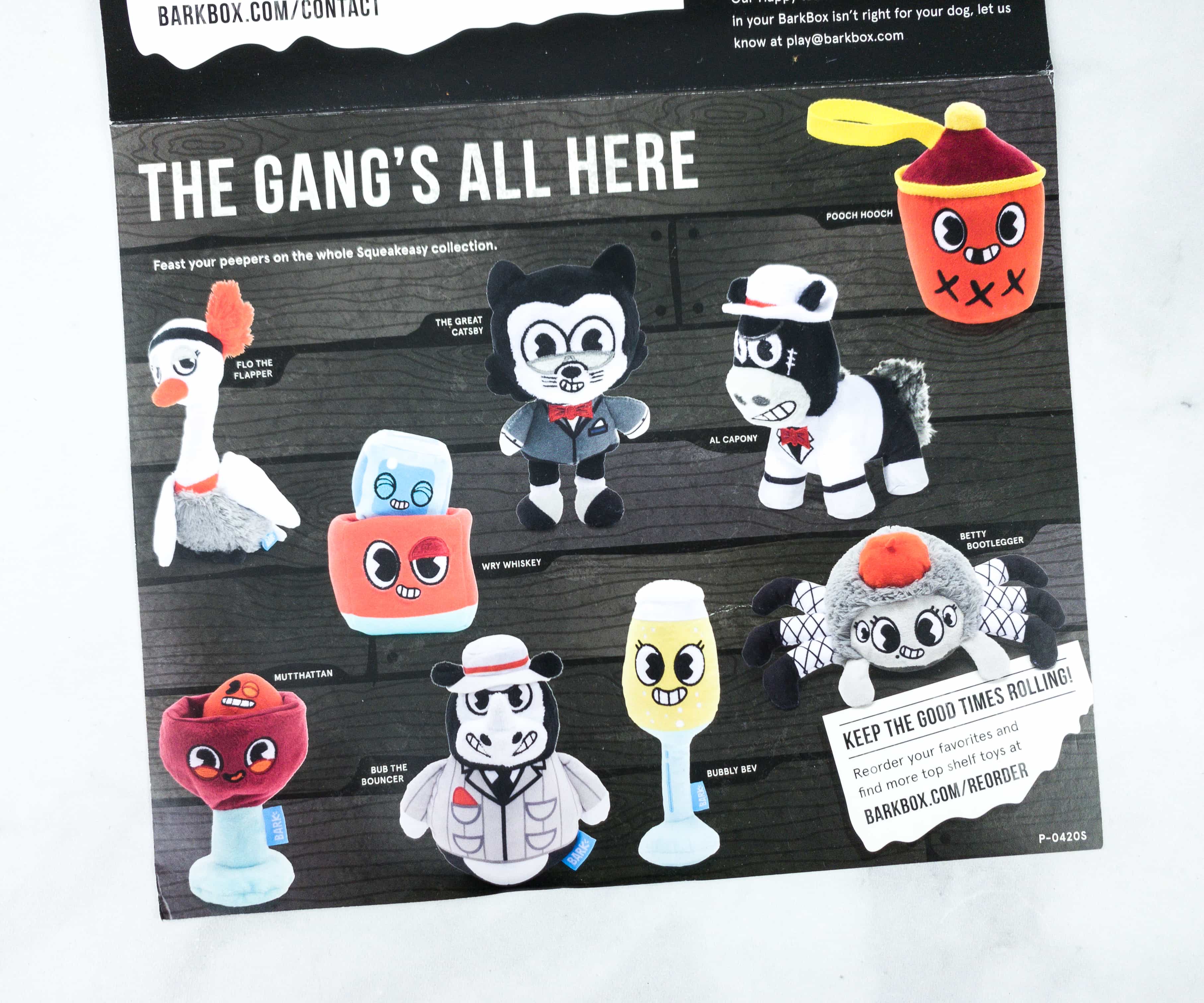 The info sheet features a photo of the toys included in this month's collection.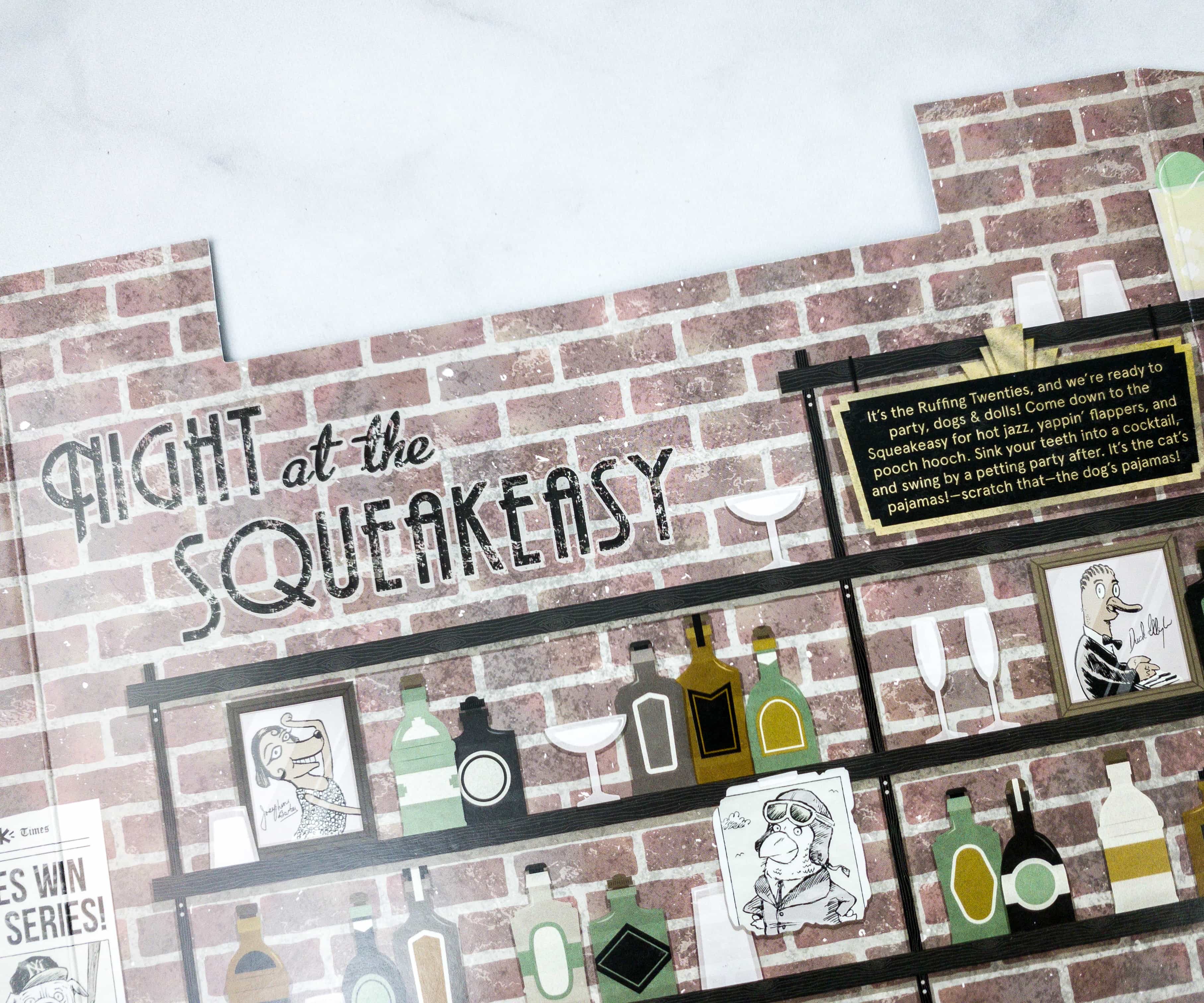 This month's theme is NIGHT AT THE SQUEAKEASY!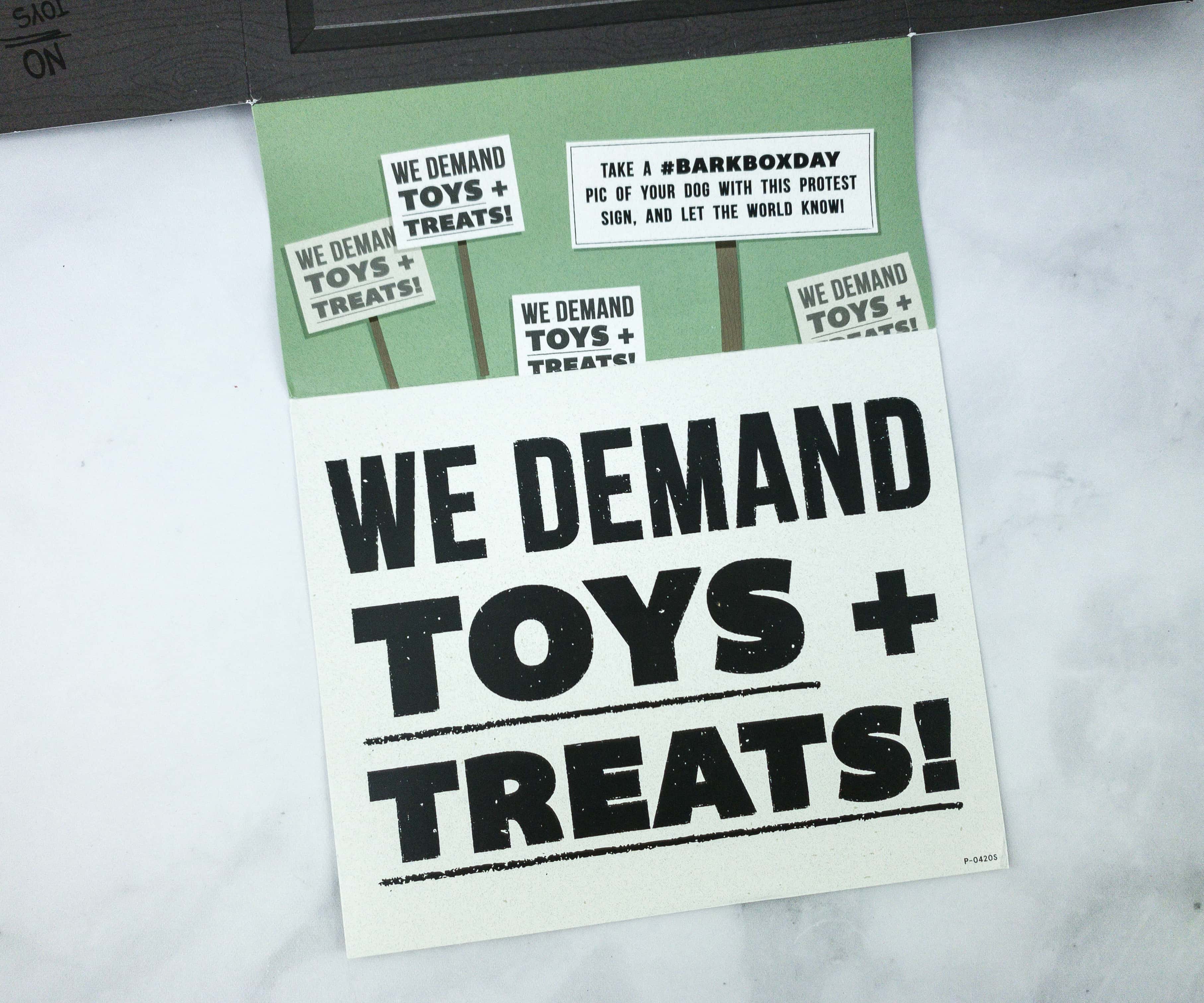 Barkbox encourages you to take a picture of your dog with this "protest" sign and share it on social media using #BARKBOXDAY.
Everything in my April 2020 box!
Mutthattan Dog Toy ($10) It's a soft and small plush toy designed for small dogs, which weigh 9-20 lbs.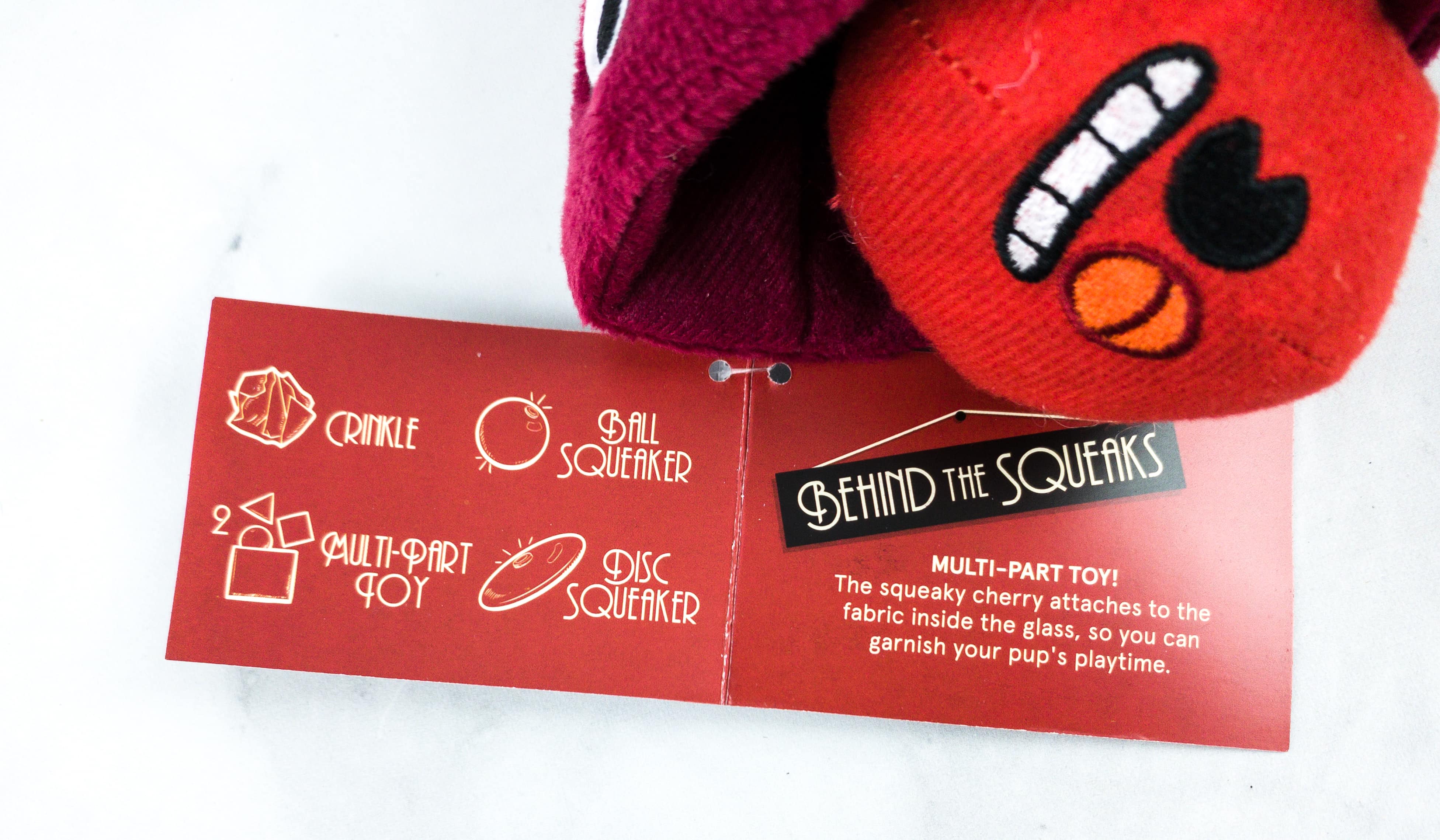 According to the label, this toy includes a crinkle, a ball squeaker, and a disc squeaker.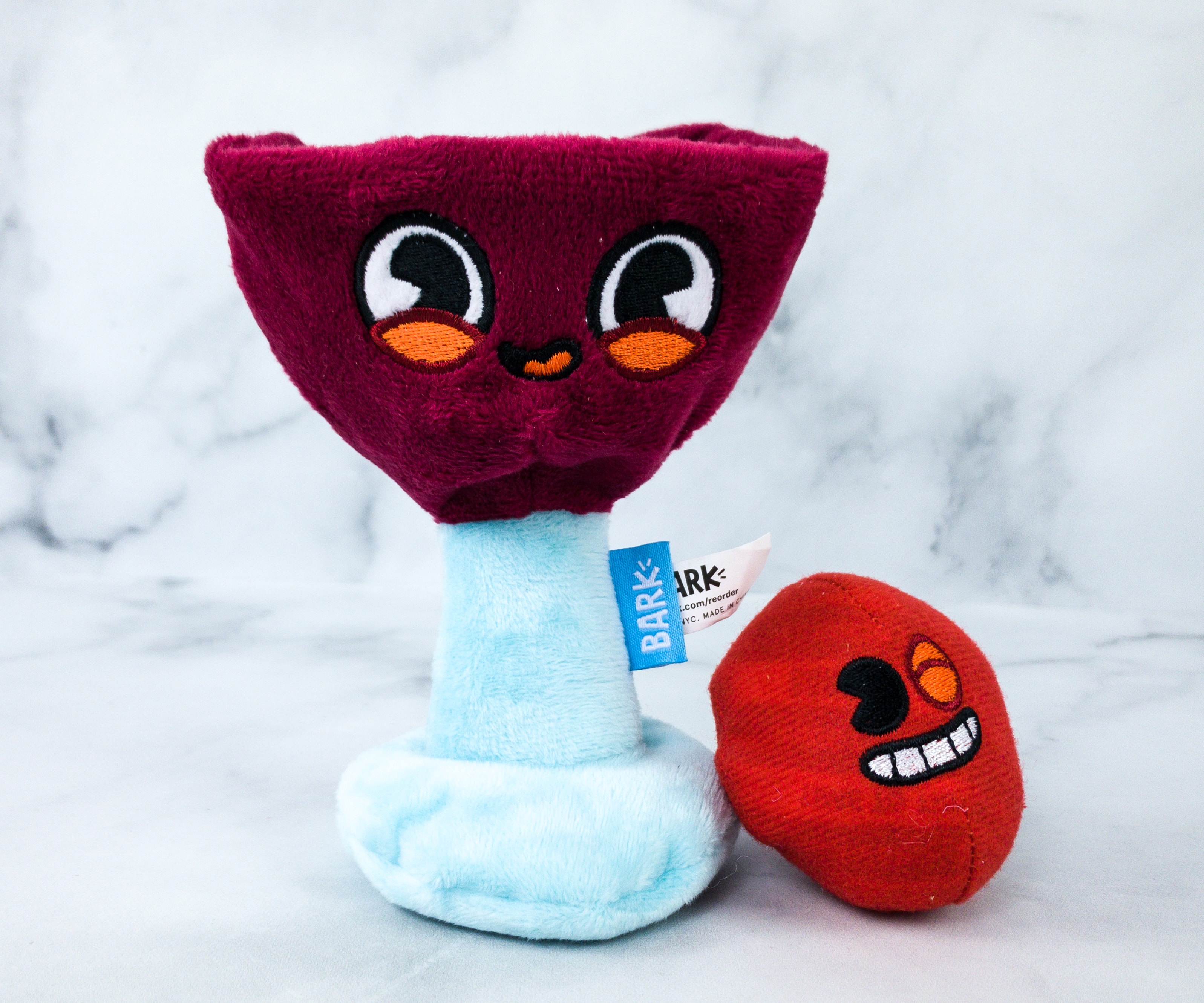 The plushie comes in two parts: the squeaky cherry and the wine glass!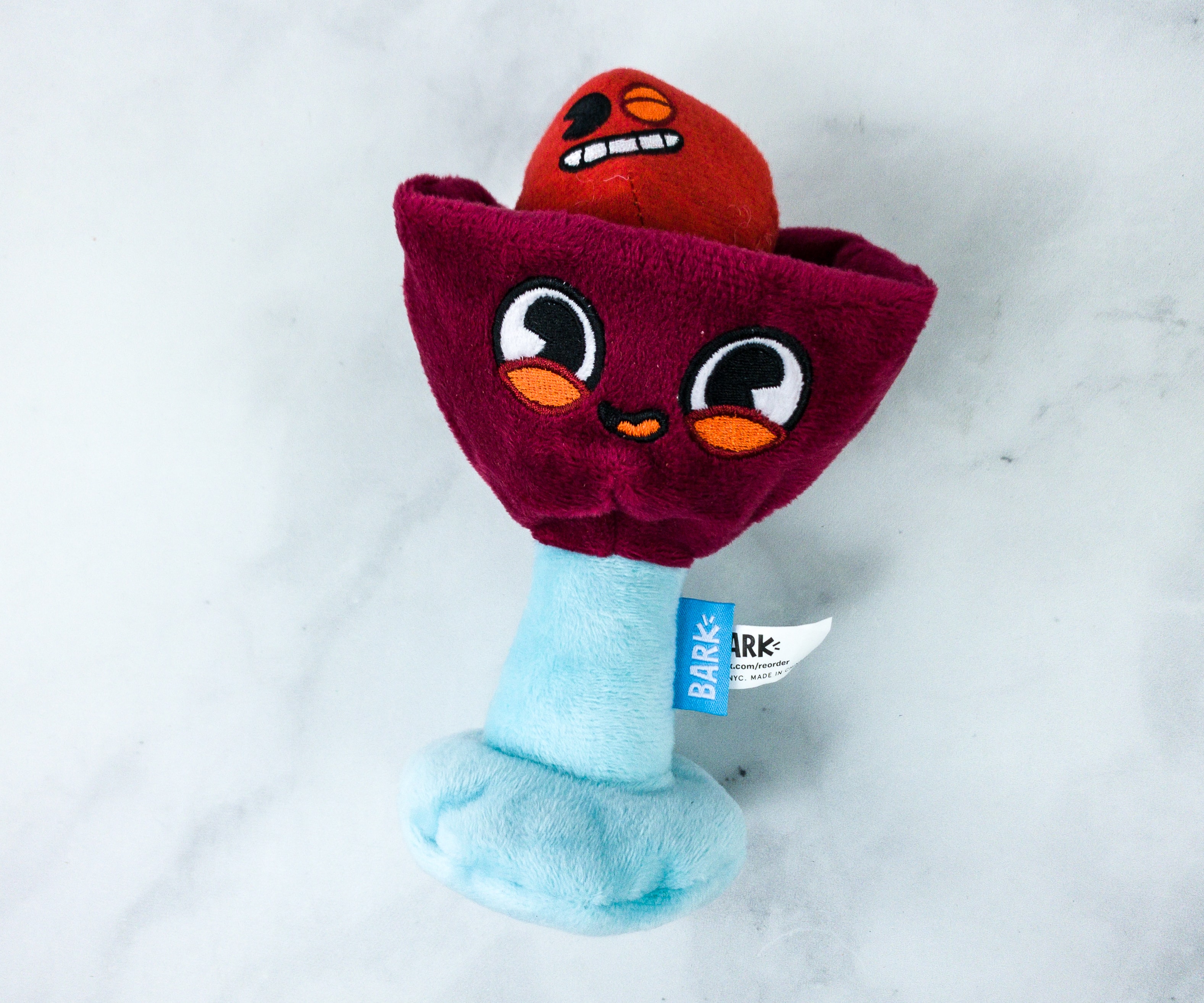 These toys are made using high-quality, soft, and durable fabric, which can endure the bites of small pups.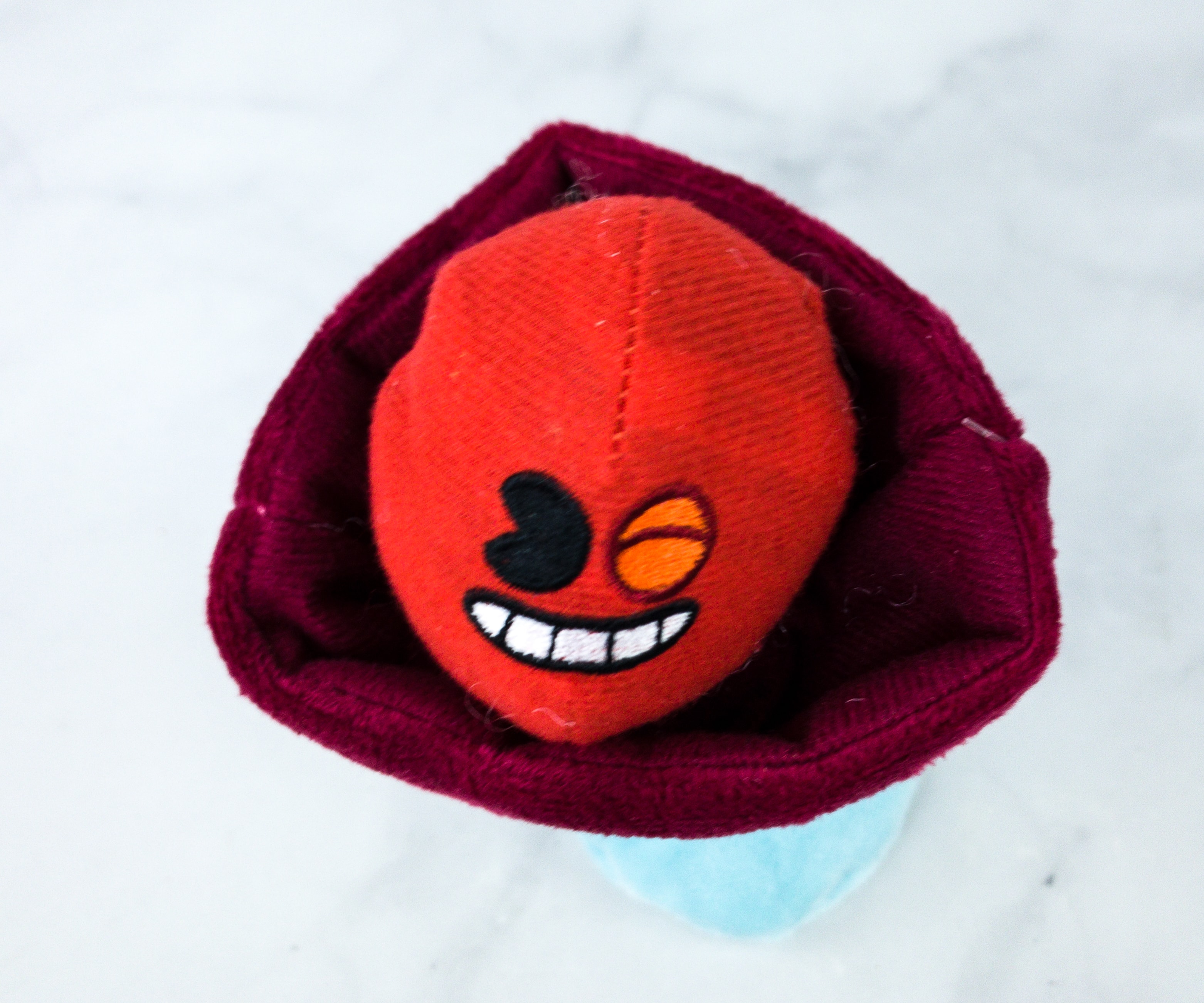 The cherry on top can also be used as a separate item, which is ideal for playing fetch with your pups.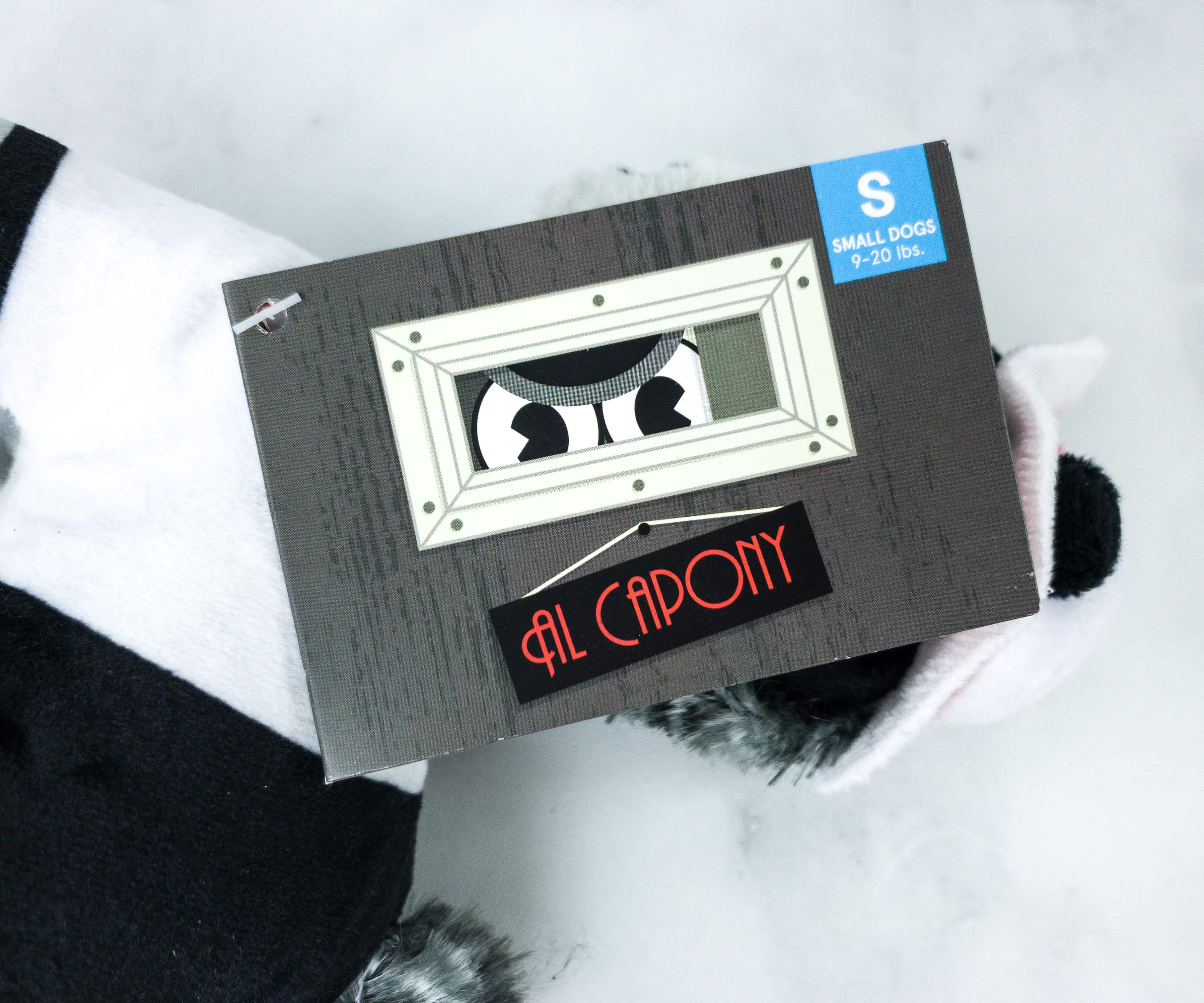 Al Capony Dog Toy ($10) Like the first plushy, Al Capony is also designed for small-sized pups!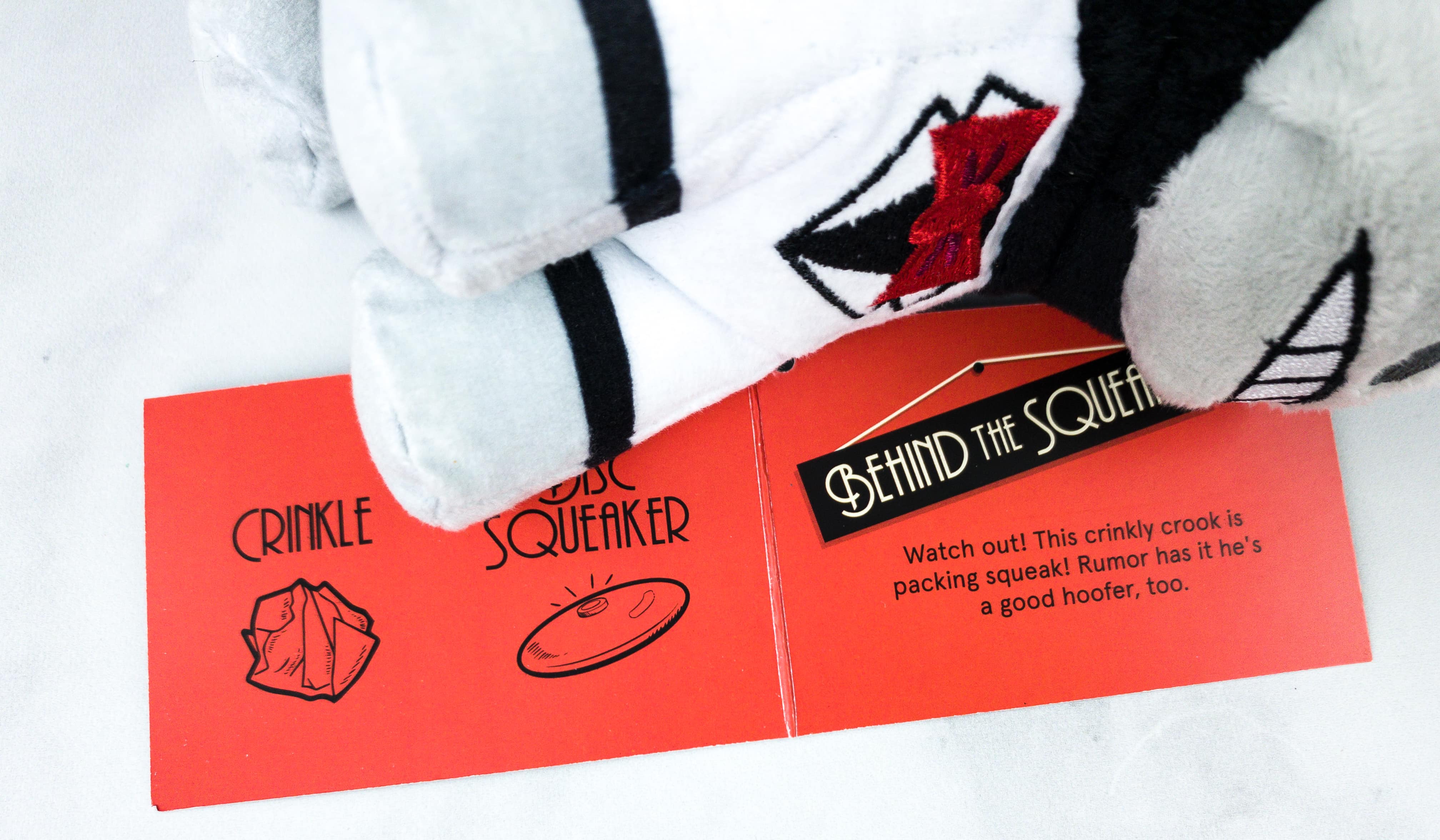 It's a well-designed toy made with crinkle, disc squeaker, and soft fabric with reinforced stitching.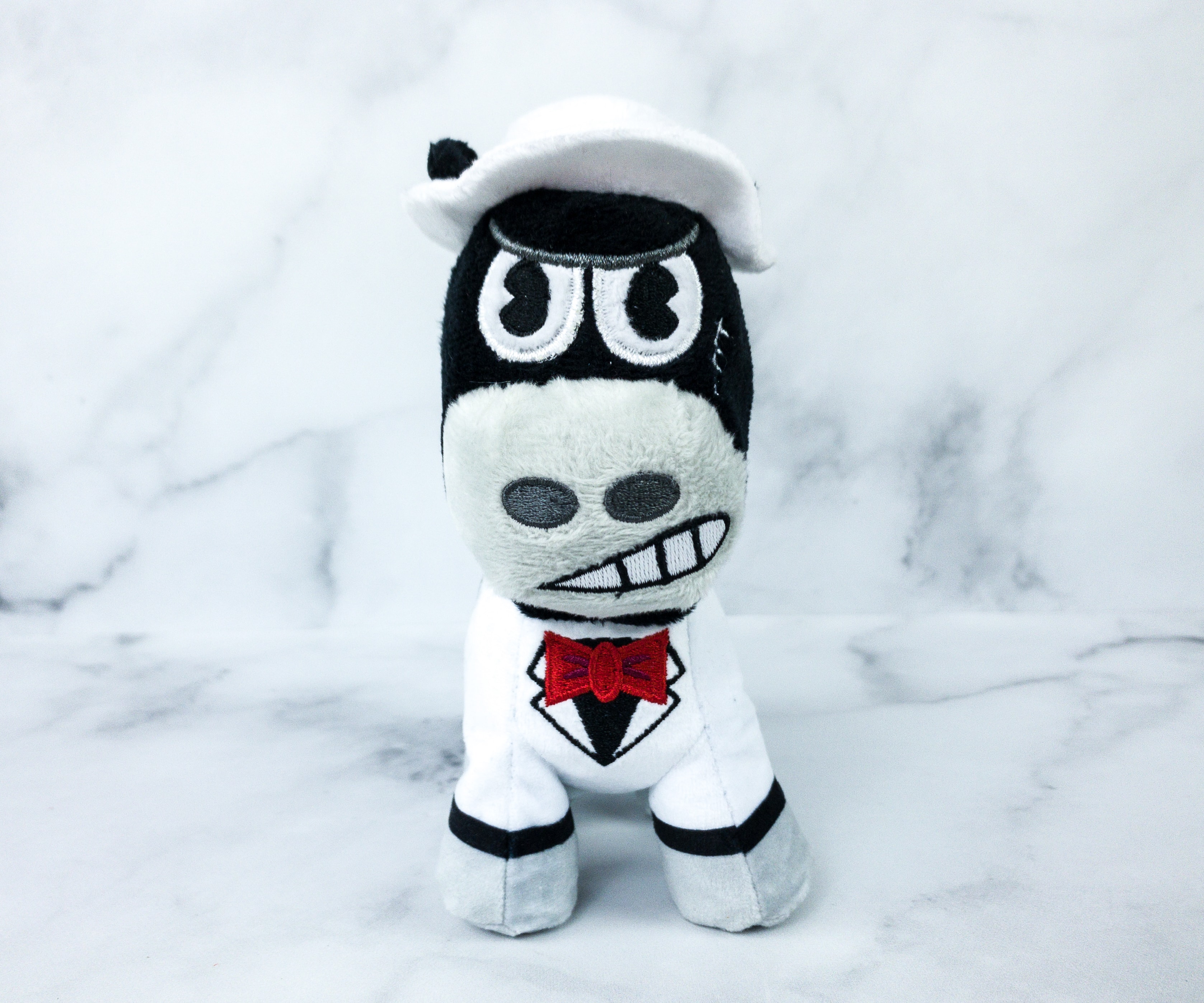 This adorable toy is themed based on the famous American gangster Al Capone.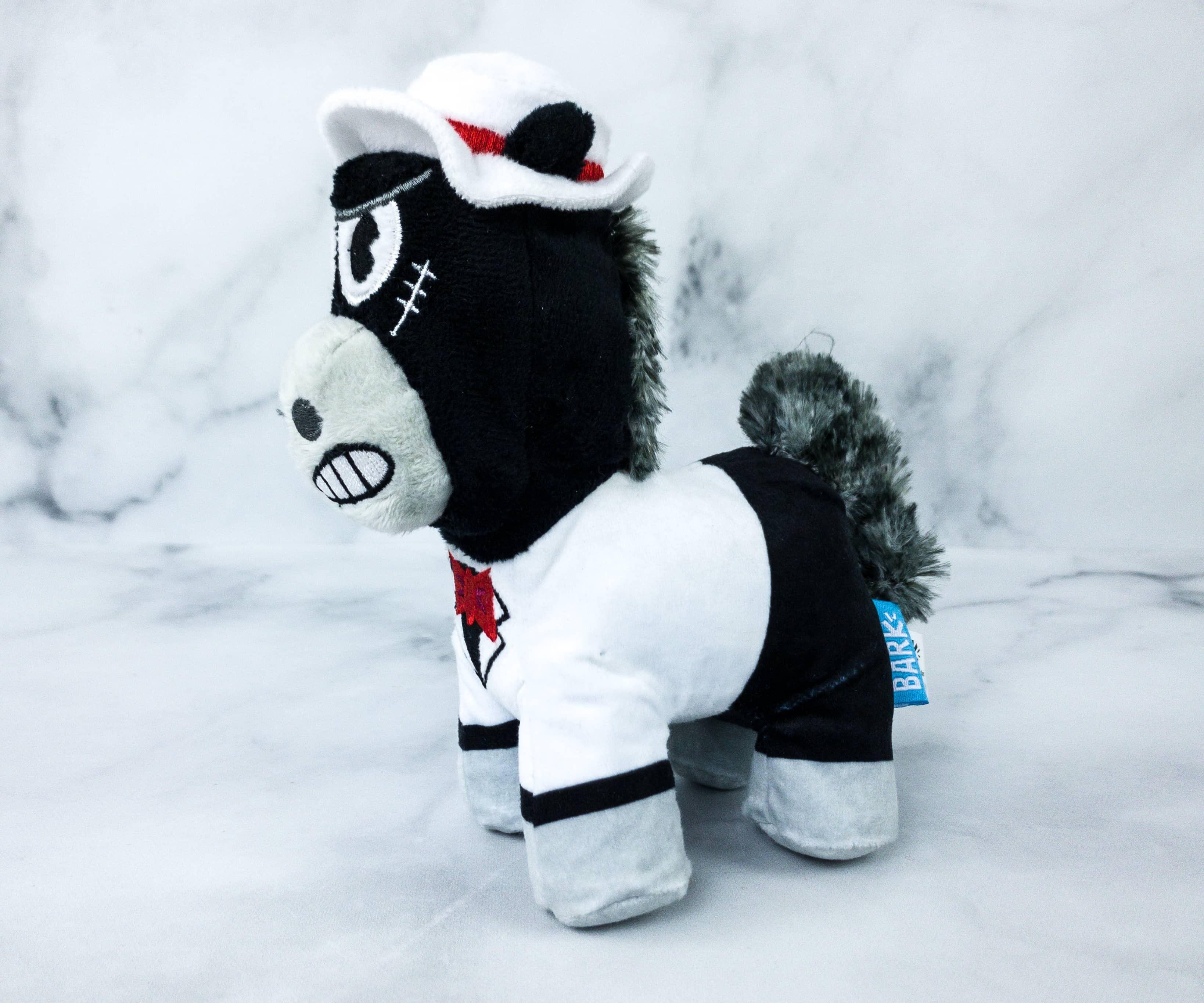 It's a fierce-looking black pony dressed like an American gangster with its Chicago outfit that features a unique white tuxedo, flashy red bow tie, and vintage gangster hat.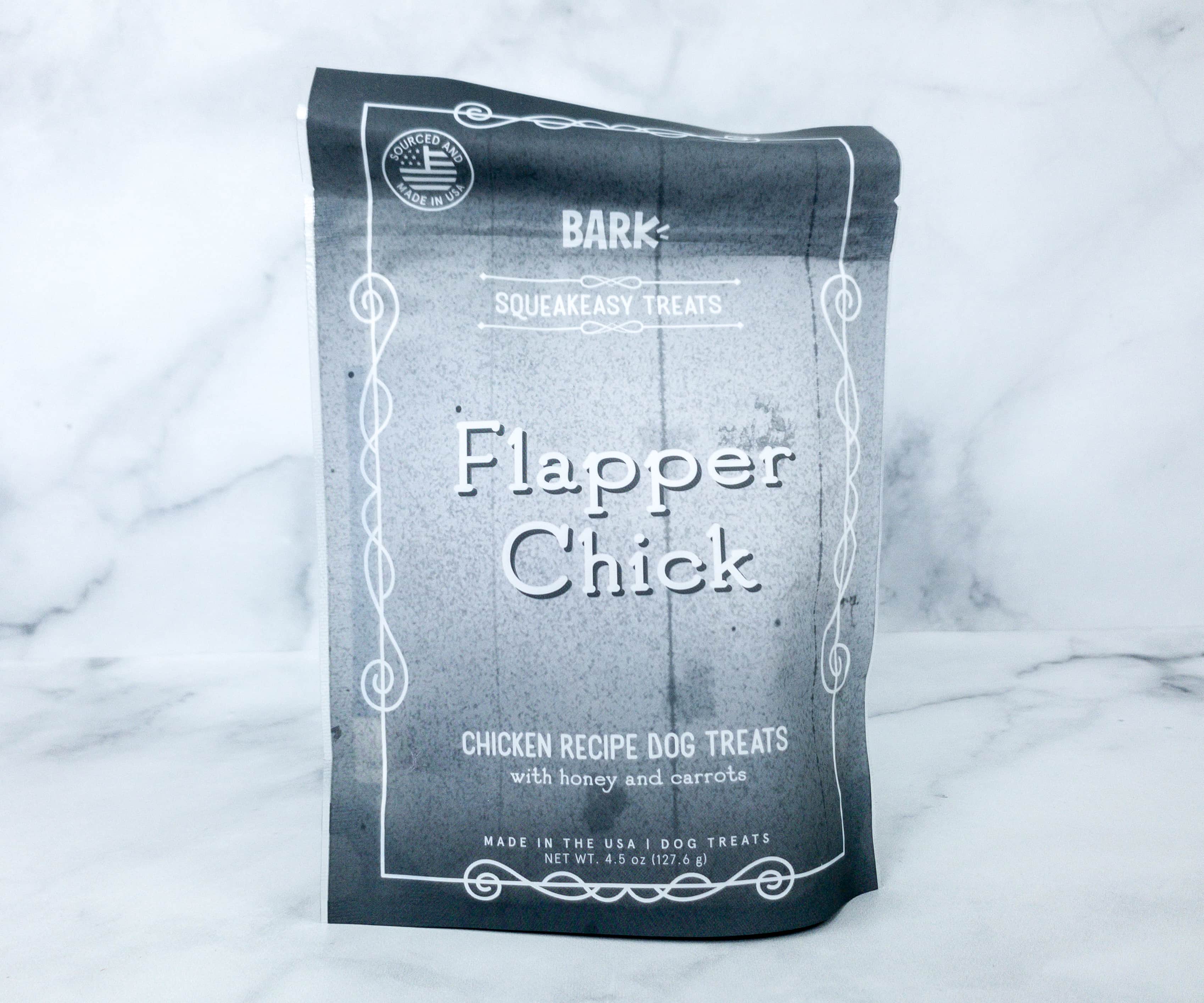 Bark Flapper Chick Chicken Recipe Dog Treats. The first bag of treats wowed us with its vintage-looking packaging! It features chicken-based treats which are also blended with honey and carrots.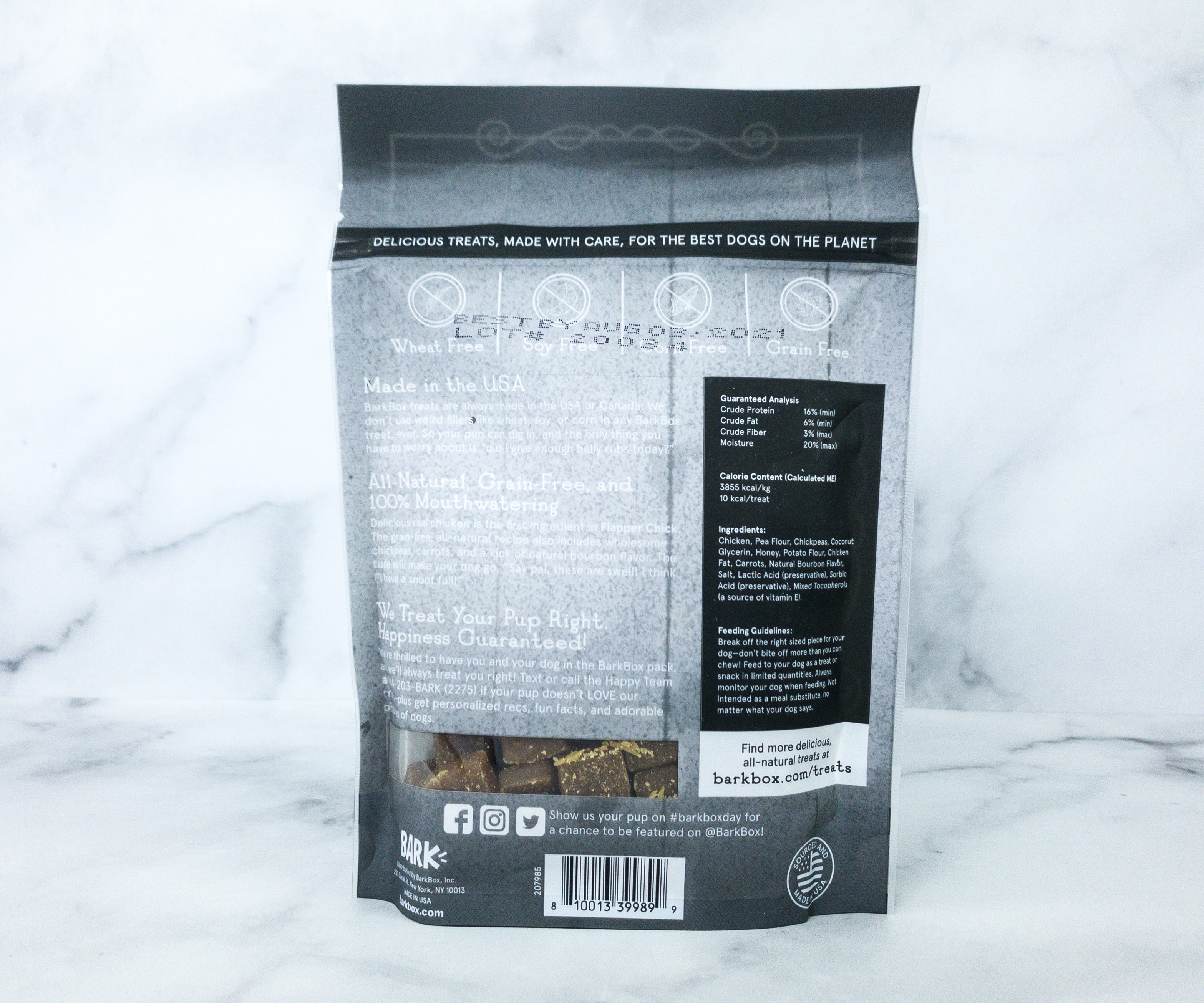 It's a truly nutritious treat packed with vitamins and minerals that are ideal for growing up dogs.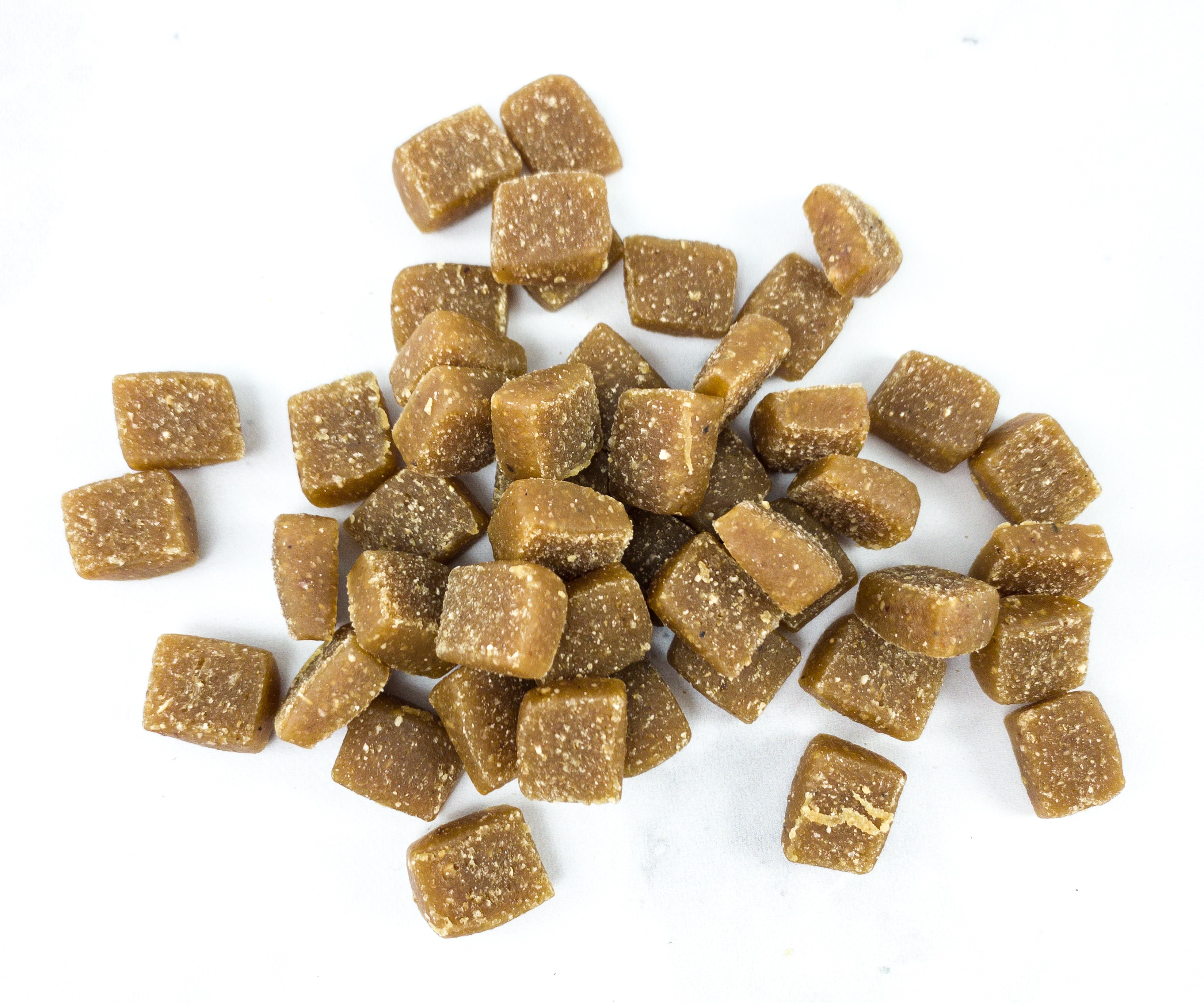 Inside the bag are bite-sized treats with a bit of rough and chewy texture. Chicken makes a great source of protein for dogs, while carrots are rich in potassium and vitamin A.
Bark Roaring Turkeys Turkey Recipe Dog Treats. This second bag of treats is also made in the USA using clean, all-natural, and grain-free ingredients that include sweet potato, kale, and turkey.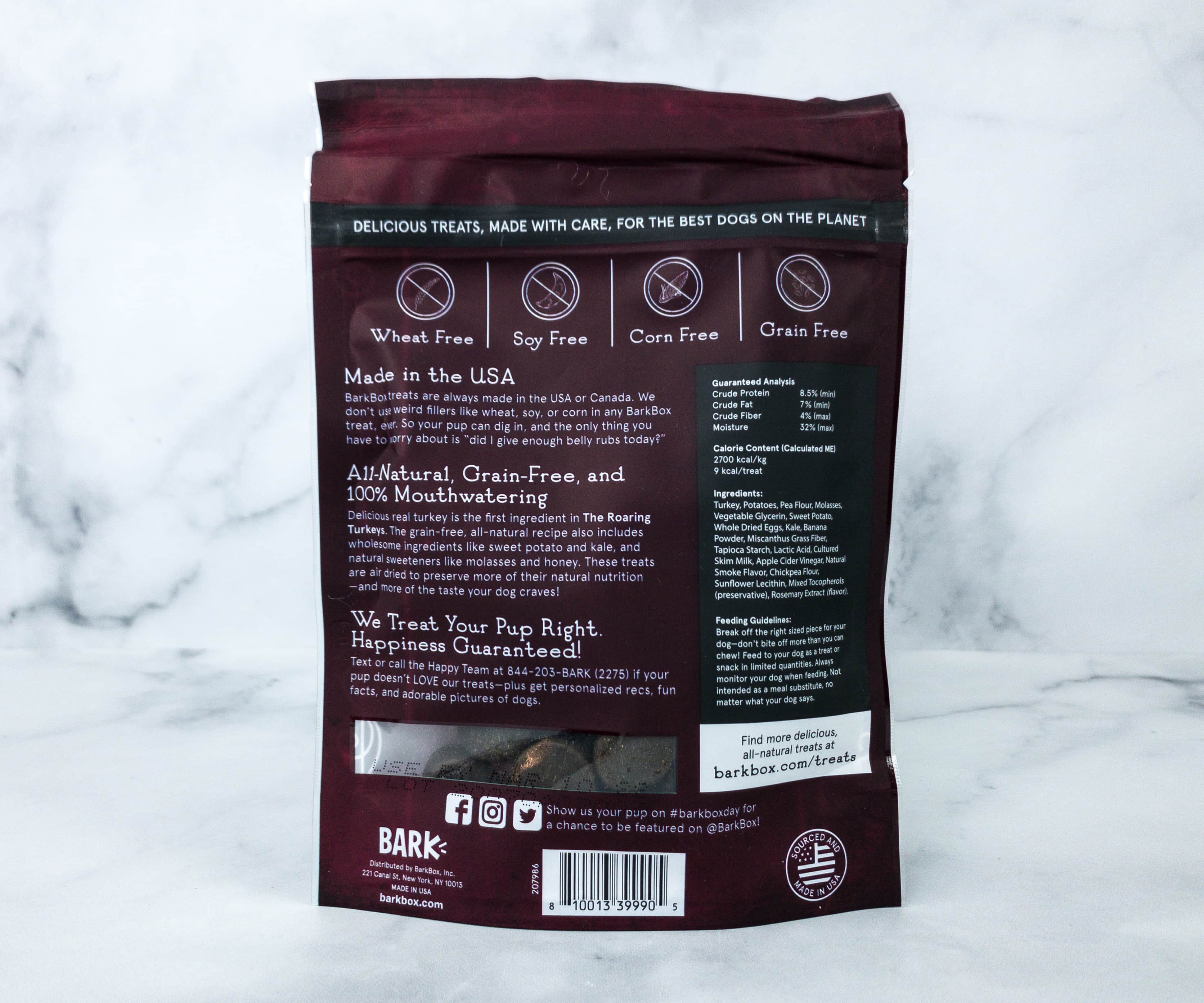 These treats are free from wheat, soy, and corn!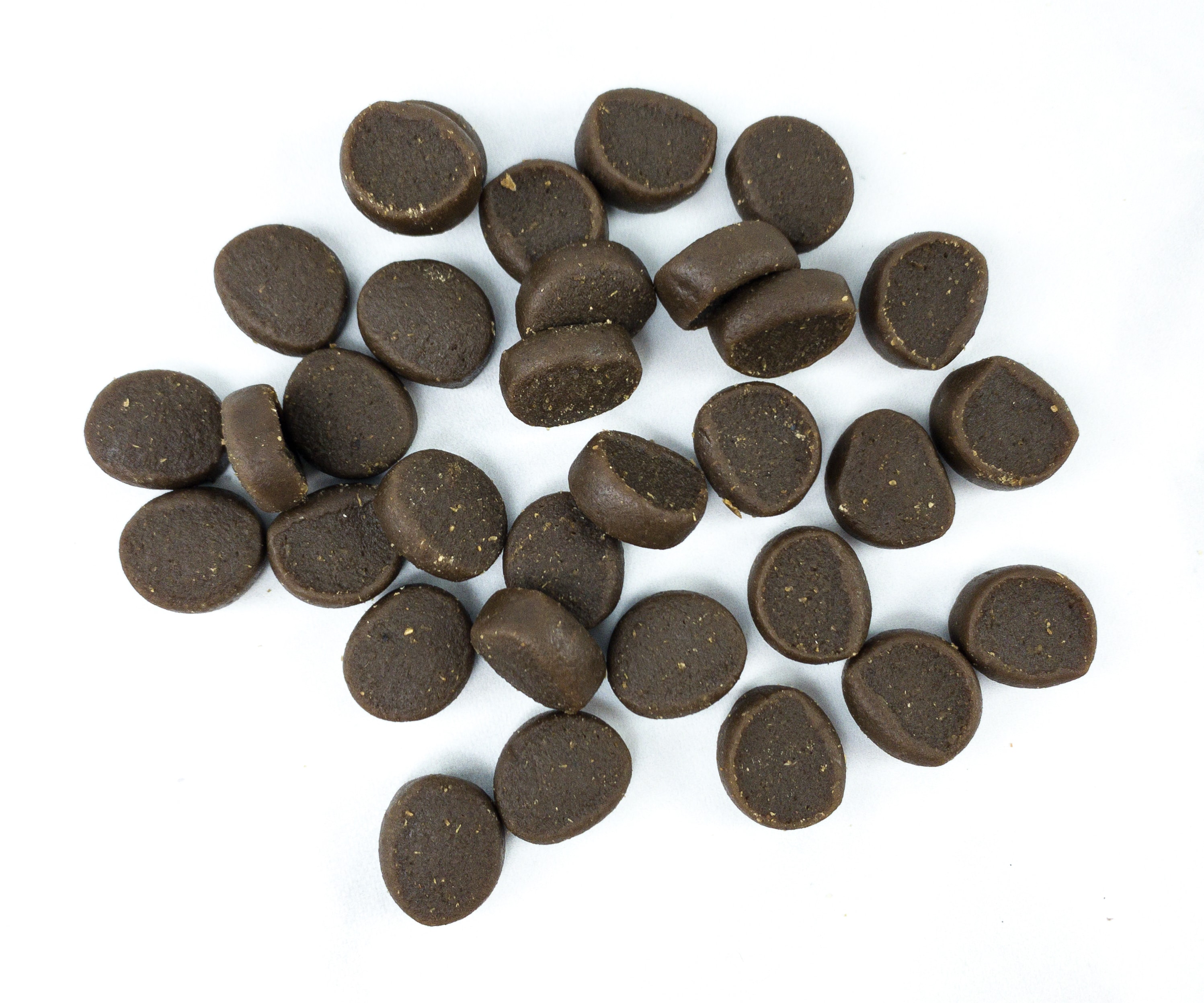 Every button-shaped piece is packed with protein and fiber that your pups need for easier digestion and healthier body.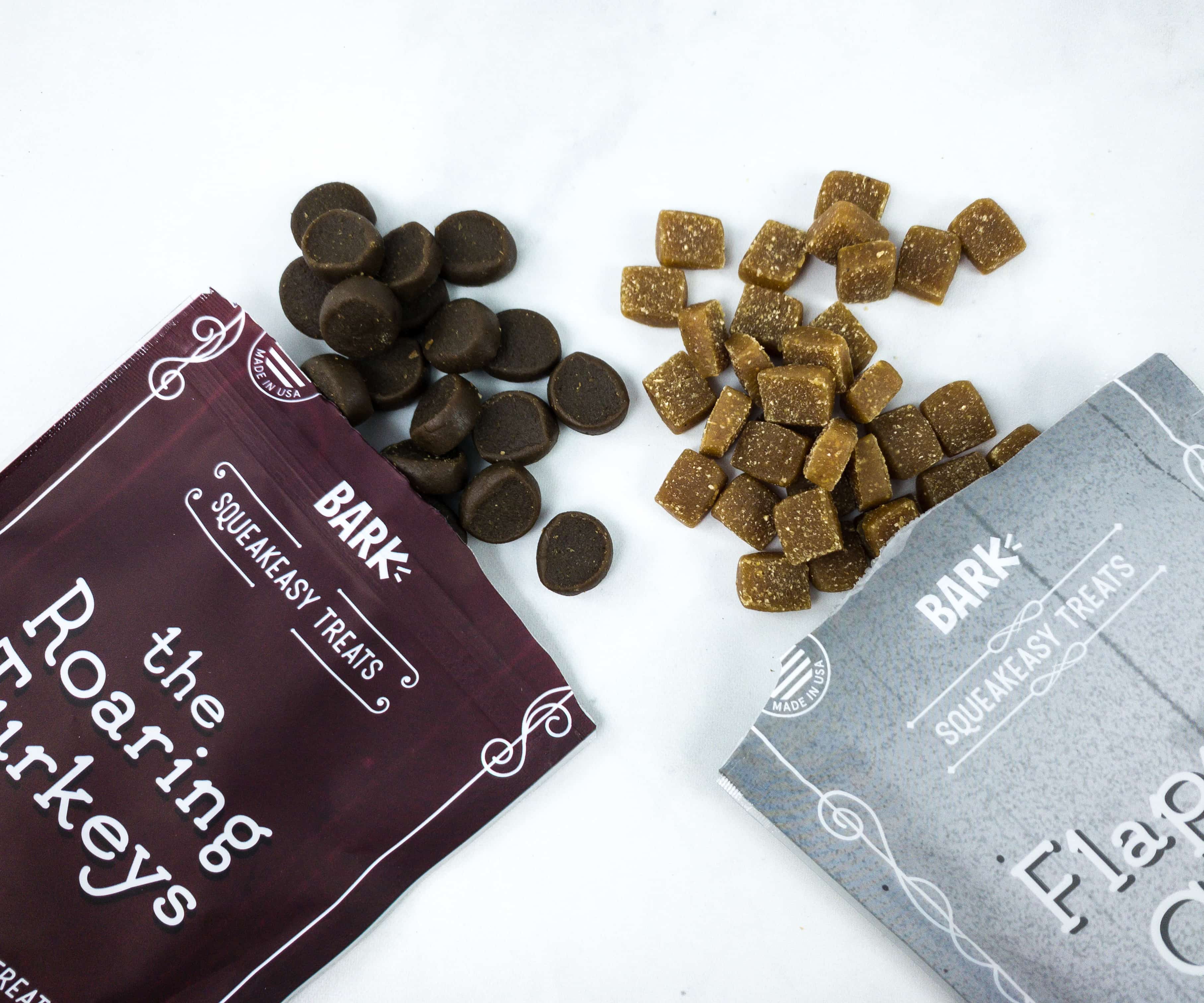 These treats are both chewy and very tasty. Our pups loved them so much!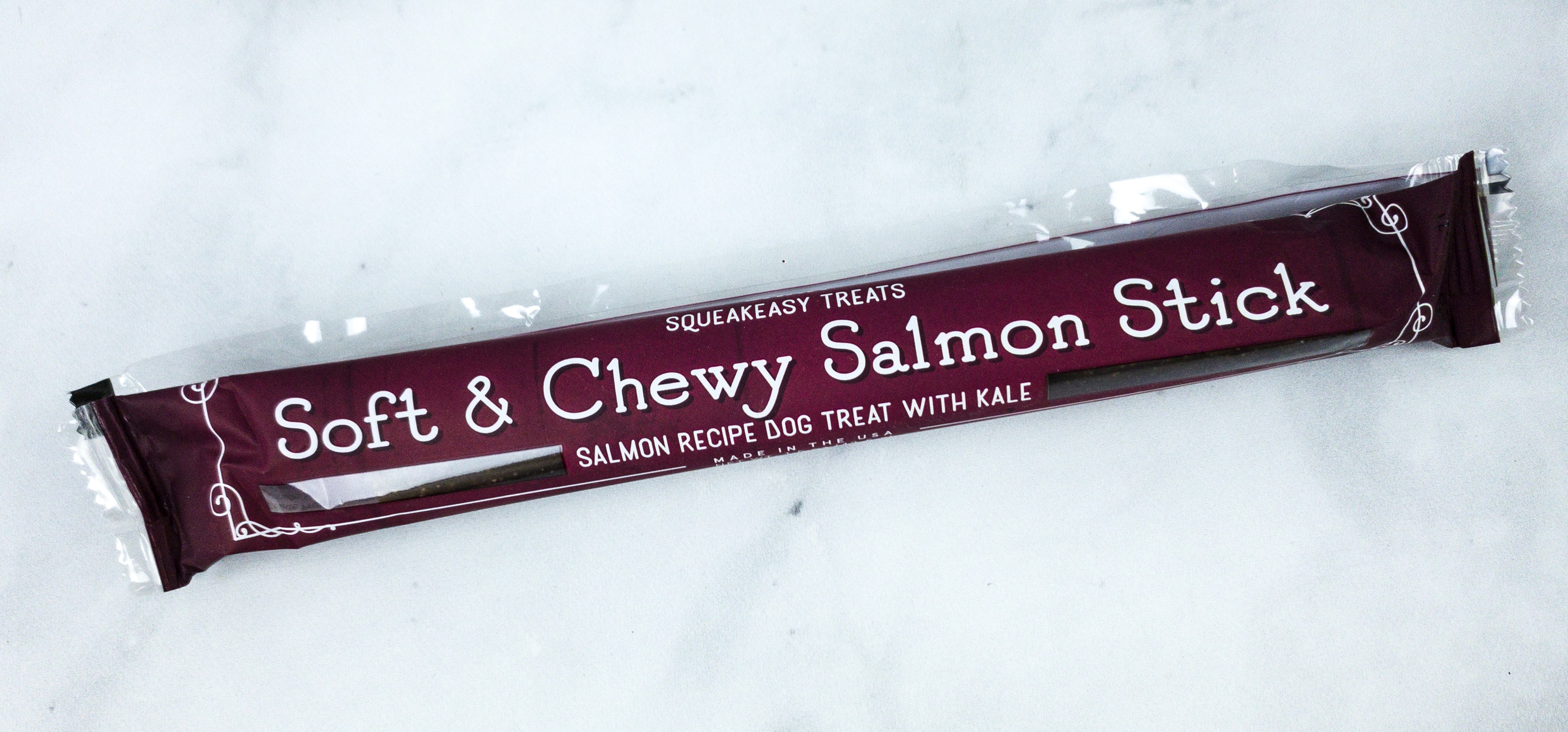 Squeakeasy Treats Soft & Chewy Salmon Stick Dog Treat. It's a delicious salmon-flavored tender stick! Salmon is good for dogs as it's rich in omega-3 fatty acids that support the immune system.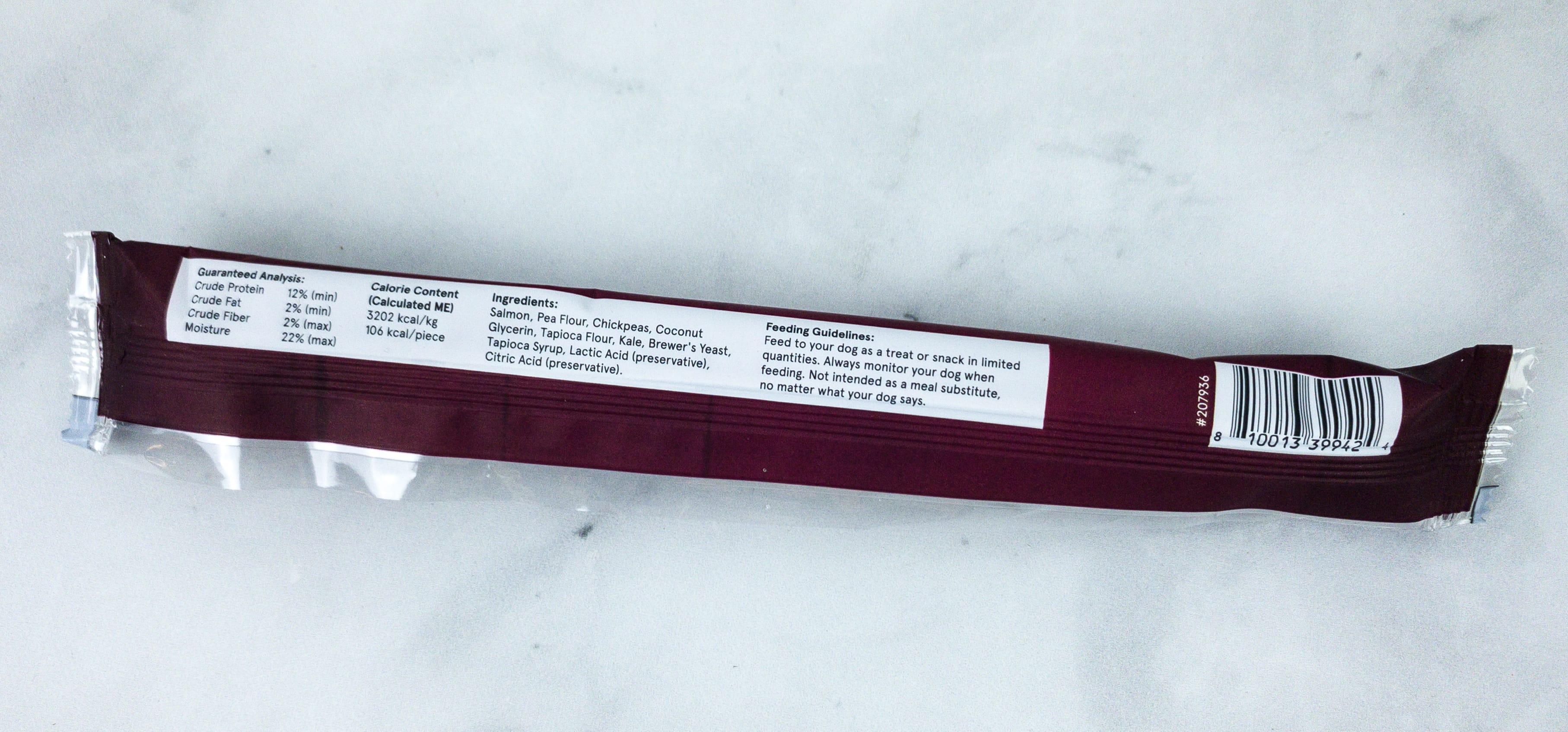 This stick is made from all-natural ingredients. Aside from salmon, it also has chickpeas and kale.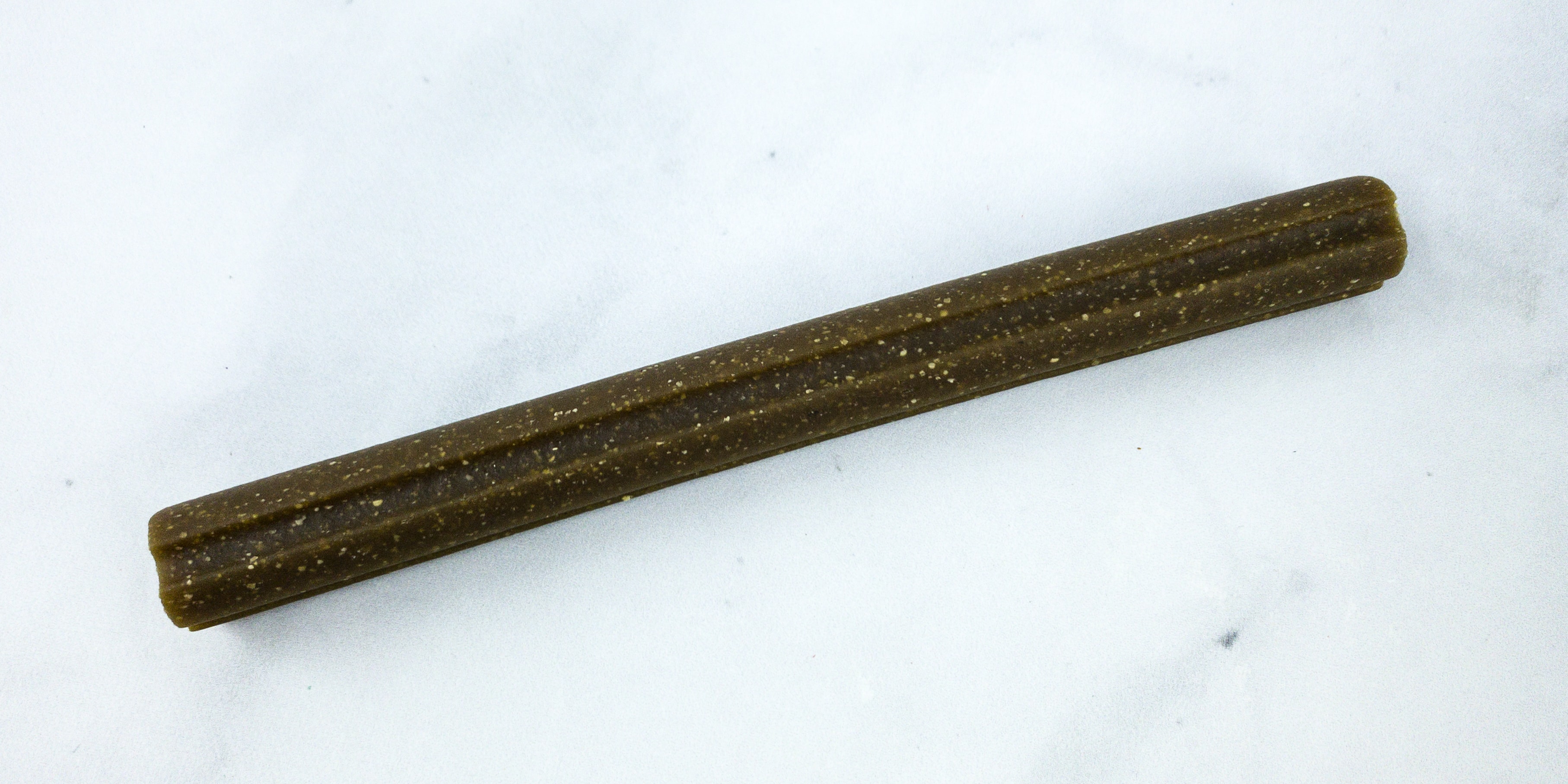 Since it's made from natural ingredients, you won't feel guilty when you give it to your pups. You can either serve it as is or break it into smaller pieces!
We really appreciate BarkBox for keeping things fun and exciting with their witty themes! This month's Night At The Squeakeasy theme is another hit, and of course, it included an amazing bunch of toys and treats for the enjoyment of our dogs. The treats are made with all-natural and healthy ingredients, like salmon, carrots, and kale. Dean's favorite this month is the salmon stick! It's so irresistible, he can't help but finish everything in one sitting. The toys are both fun and durable as well. It's a fun dog subscription overall, and we feel like every penny spent for the box is worth it!
What do you think of Barkbox? If your dog is also a serious chewer, check out Barkbox Super Chewer!