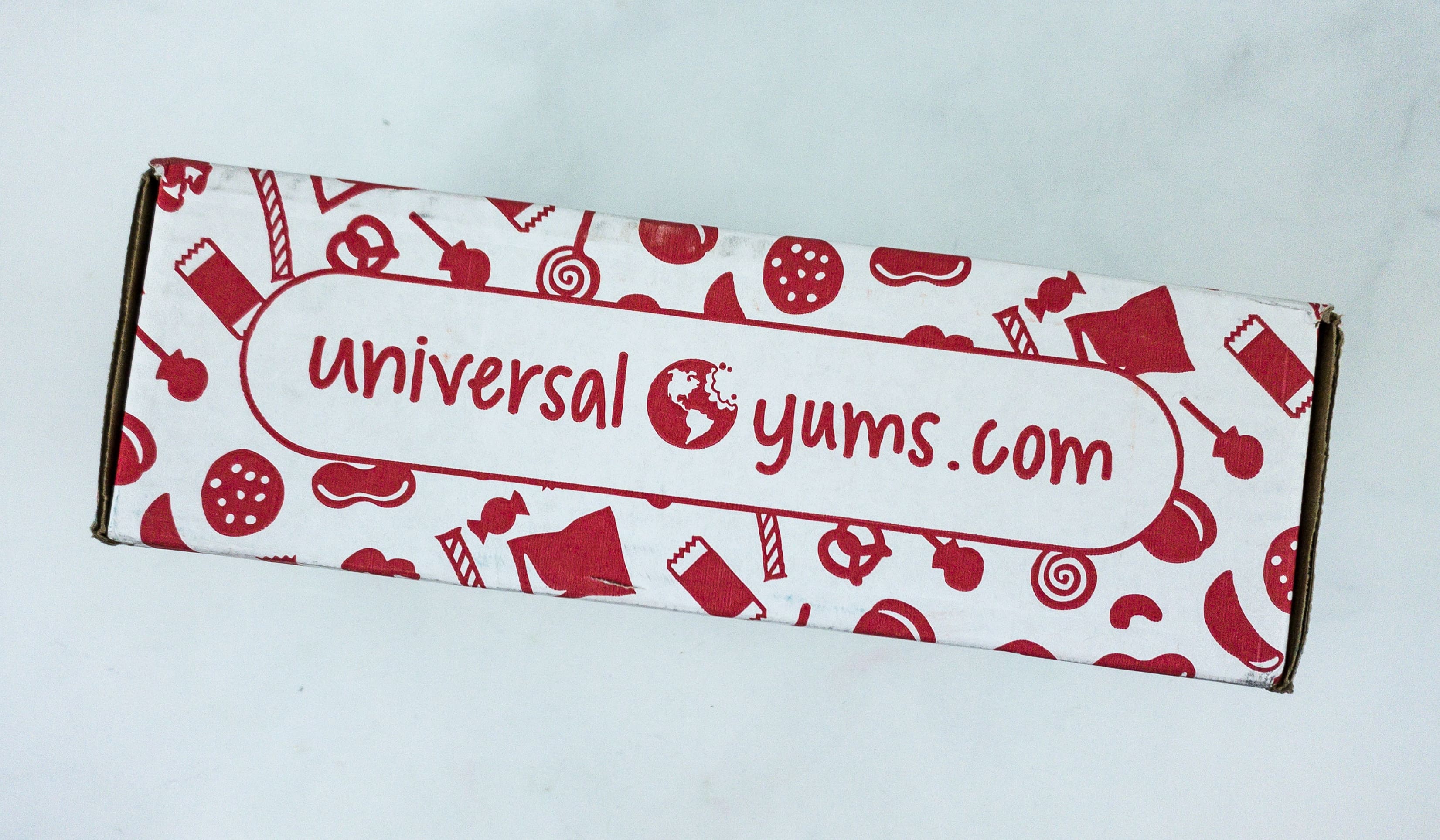 Universal Yums is an international snack subscription! Featuring a new country each month, the box contains unique and delicious snacks that are either difficult or impossible to find in US stores. They promise to always include a variety of sweet and savory snacks, all with the featured country's distinct flavors and spices. Each box also comes with an interactive guidebook containing an explanation of why they chose each snack, as well as trivia, games, recipes, and other cultural features! There are three available box sizes:
Yum Box – 6+ snacks plus a 12-page booklet for $14 a month
Yum Yum – 12+ snacks plus a 16-page booklet and other bonus content for $25 a month
Super Yum Box – 20+ snacks plus a 20-page booklet and other bonus content for $39 a month
This is the review of the Yum Yum box! DEAL: Get $5 off your first month or a FREE box with an annual plan when you sign up for a Super Yum Box subscription! No coupon code needed, just use this link to sign up!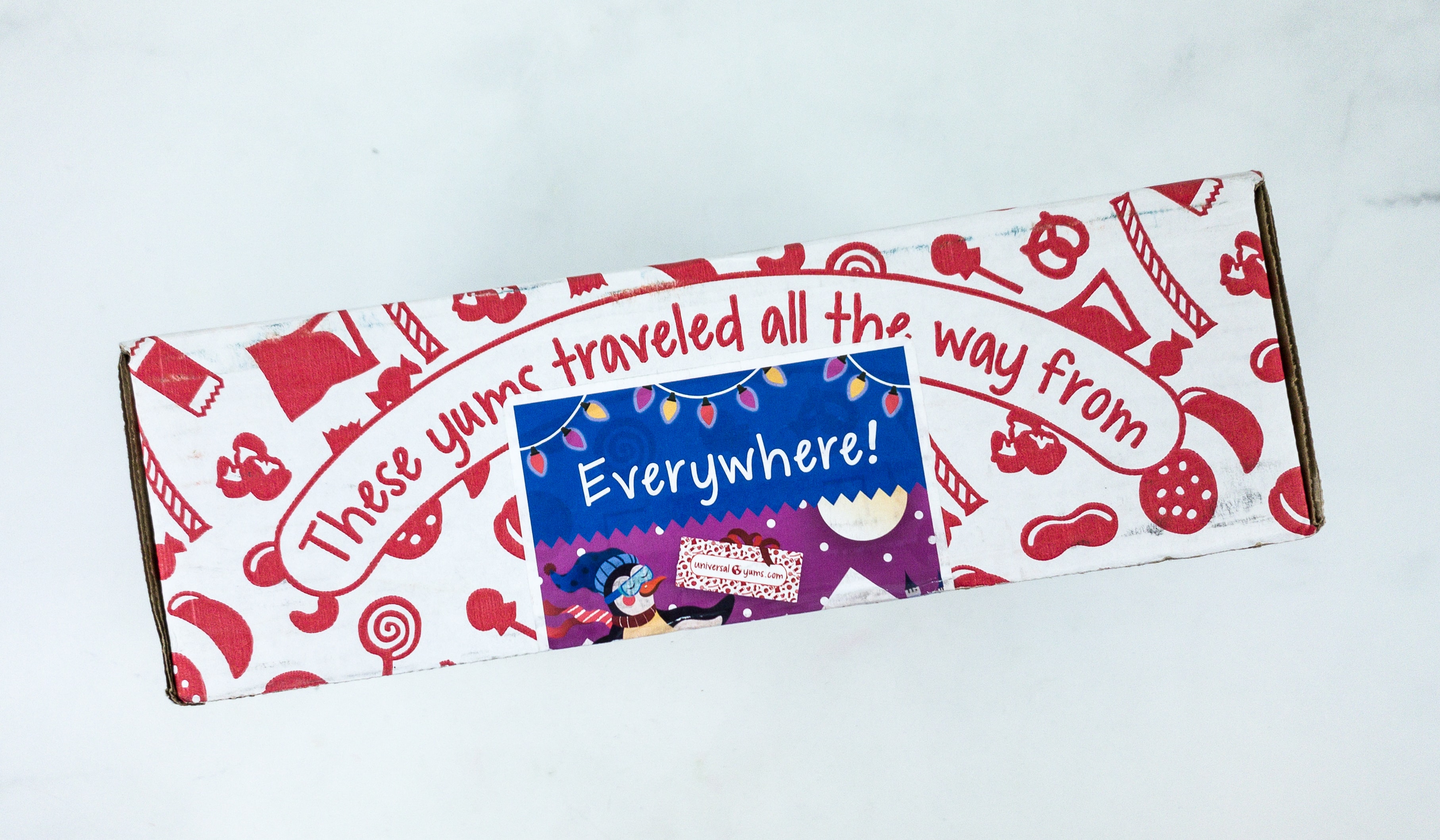 The box was sealed with a sticker.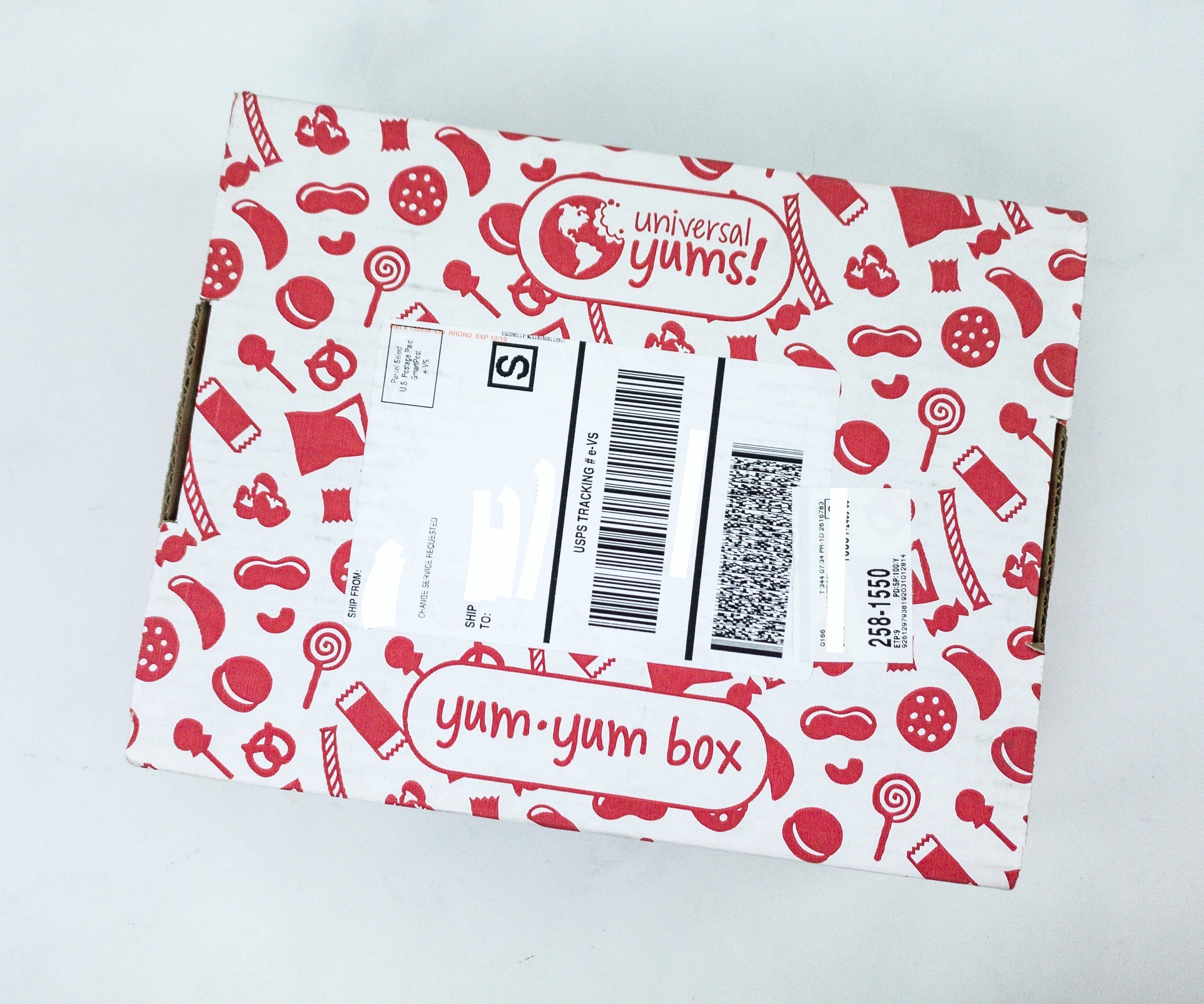 The exterior of the box features cute doodles.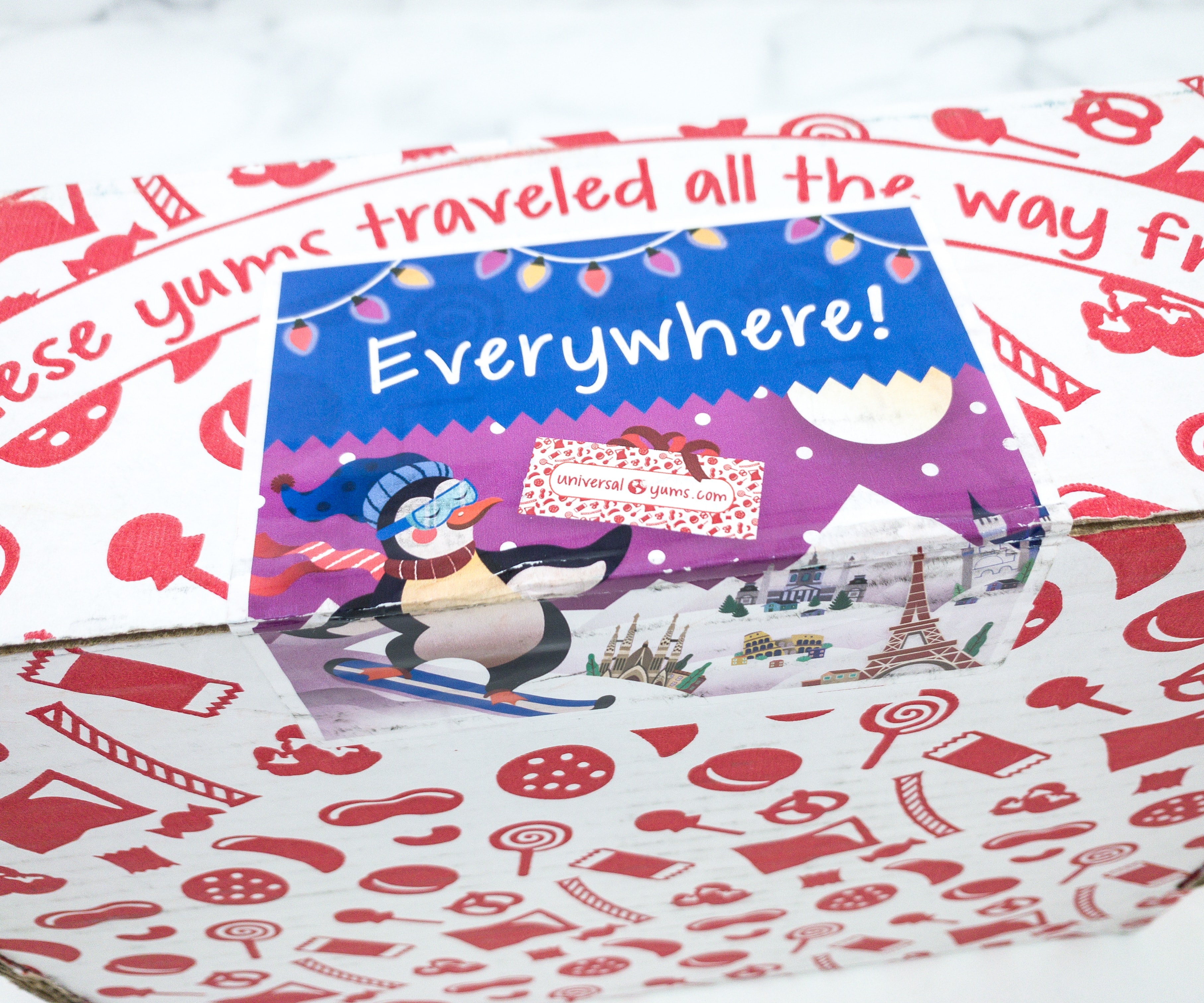 The sticker on the box gives us a clue about the featured country. This month, however, there's no specific country! The snacks came from everywhere in the world!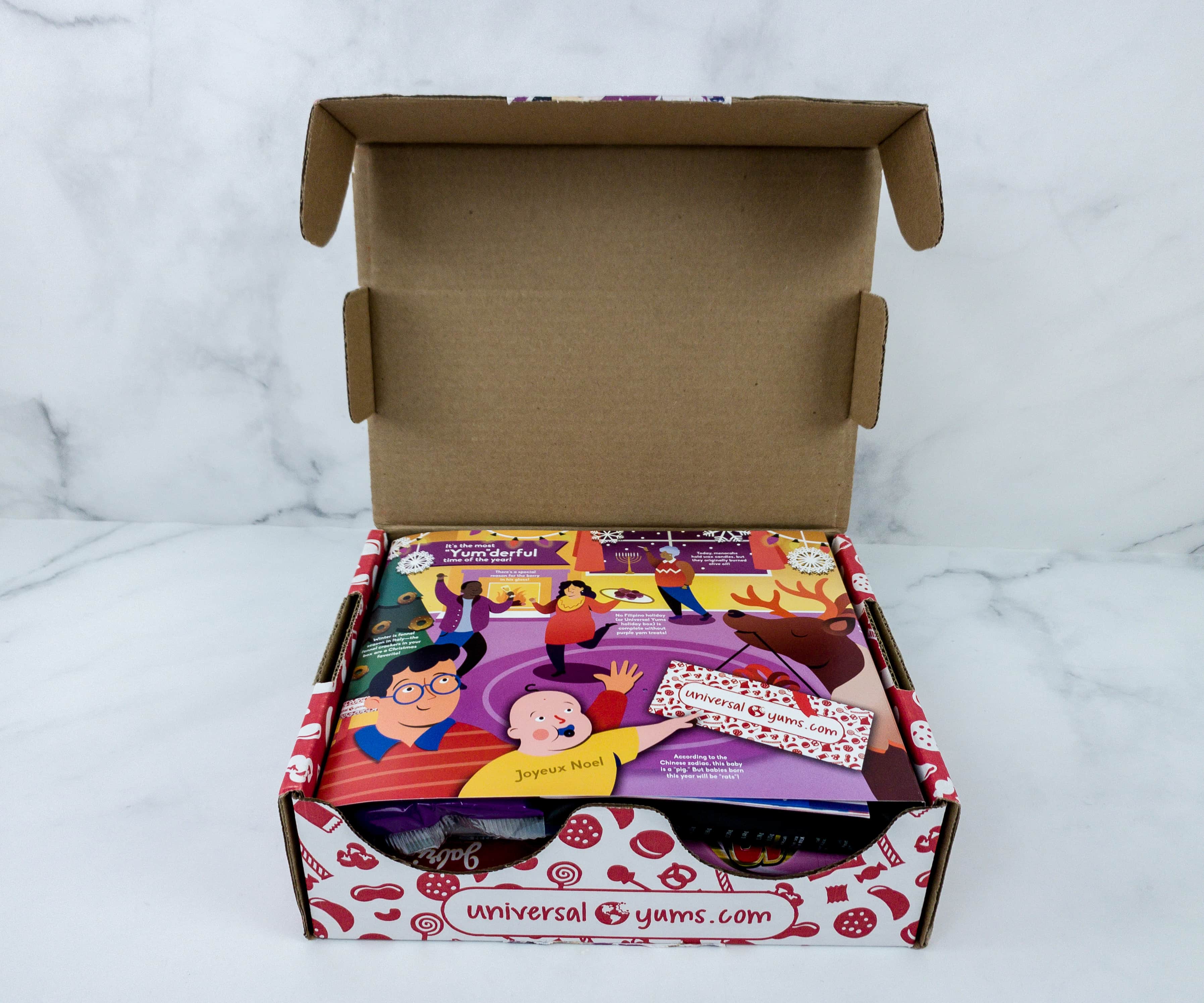 The snacks are well-packed, as always.
Indeed, it's the most YUMderful time of the year!
The box is full to brim!
We also got an information sheet.
The back of the sheet shows a recap of all the boxes we got for 2019. At the top is The Official Yum Awards, where you can rate the snacks!
Aside from the sheet, we also got an awesome booklet that contains details of featured countries like the local languages, relevant dates, upcoming events, etc.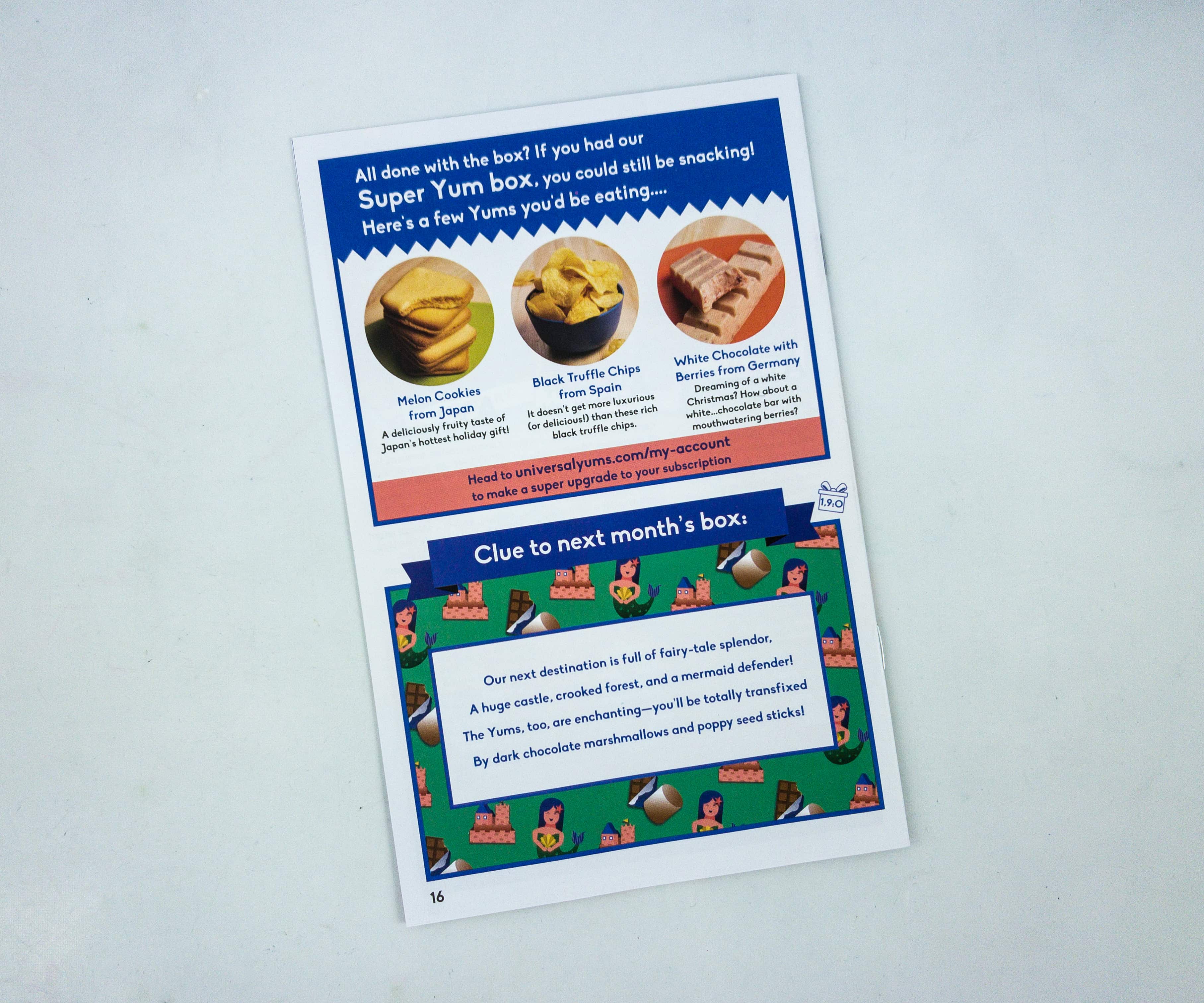 They even provided a sneak peek for next month's box!
Another feature on the booklet is a trivia quiz.
Each snack comes with a photo and a long description in the booklet!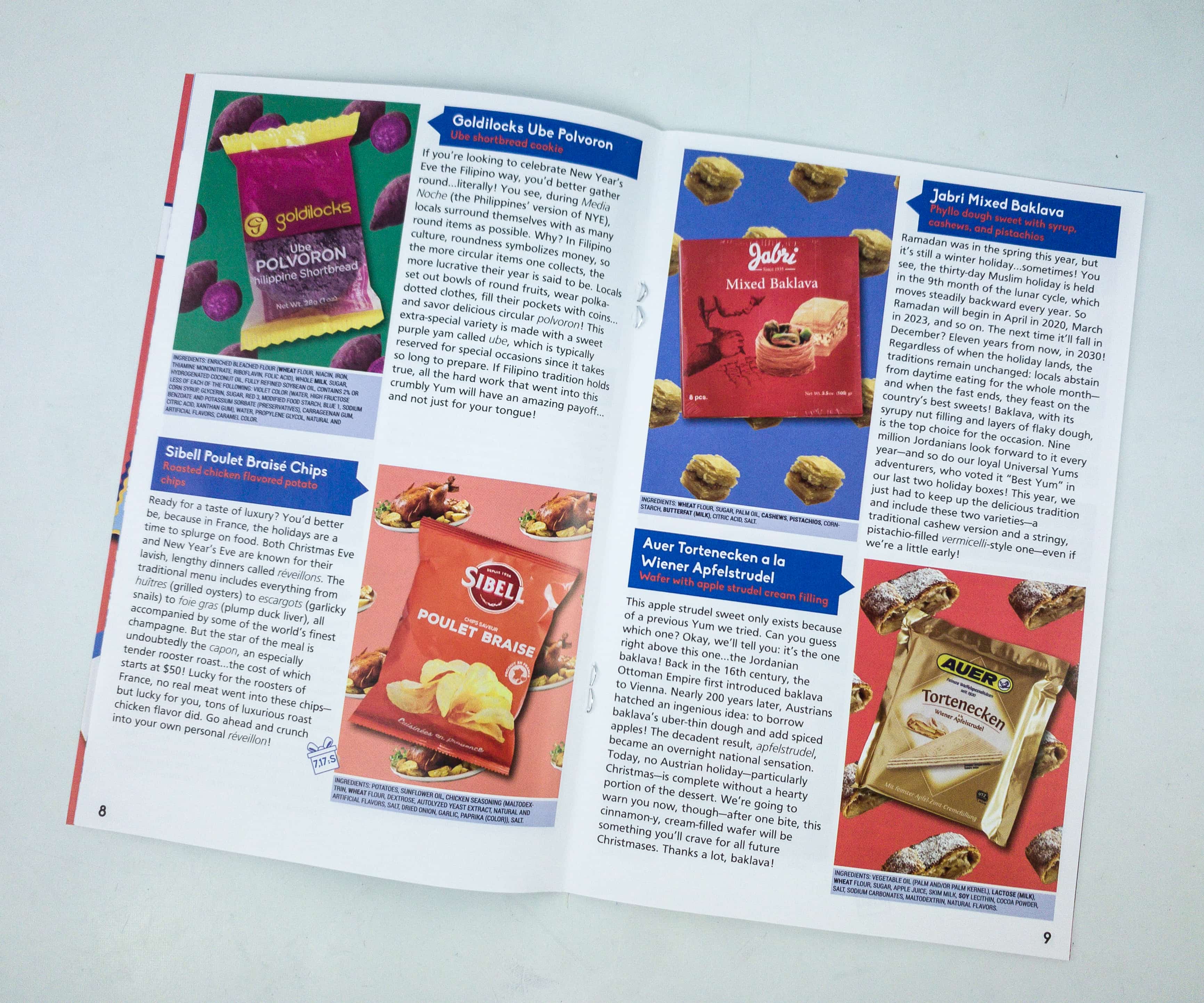 They even included some trivia or history about the snack and how it might taste! I'm getting more and more excited!
We loved reading this before taking a bite on this month's yums!
This box is really great! They included some recipes for well-known dishes all over the world, like Jiaozi (Chinese New Year dumplings), Kinderpunsch (German holiday punch), and Colo de Mono (Chilean Christmas drink)!
The booklet also holds the answer key for when you want to check how well you did on the trivia quiz!
Everything in my box!
Snackgold Raspberry Potato Crisps – Spain. The Spaniards aren't messing around when they created this potato chip! I admit, this takes some getting used to but it's actually really good. It's a lovely mixture of sweet and savory. The potatoes are crisp and that kick of raspberry flavor elevates the snack to a whole new level! This snack is definitely a must-try!
Alfajorcito Nubelate Crema Americana – Uruguay. This is just the second item but I'm already falling in love with this box! This Alfajorcito is amazing! It's a cookie wrapped in smooth, creamy chocolate. The texture of the smooth chocolate cover and the crunchy cookie is just pure awesome. Add the creamy filling to the mix and I'm done for!
Bündner Nusstortli Alpine Nut Cake – Switzerland. The caramelized nuts are divine! I honestly wasn't expecting much from this because I got weirded out by the picture on the packaging but it's actually good. The bun is soft and flaky also a teeny tiny bit salty but it complements the sweet and crunchy filling. It's worth a try!
Taralli con Semi di Finocchio – Italy. Crunchy and flavorful, this snack is a great substitute for your usual potato chips. They're baked and not fried, so it's a tad healthier compared to other "junk food" we have. It's a great snack to munch on while watching TV!
Shokomonk Roasted Almond – Germany. The milk chocolate is smooth and creamy! The roasted almonds definitely adds another layer of flavor and texture altogether.
The chocolate is packed with roasted almonds. They didn't hold back. You can see the almonds peeking through the smooth and yummy chocolate!
Each bite is satisfyingly sweet and crunchy!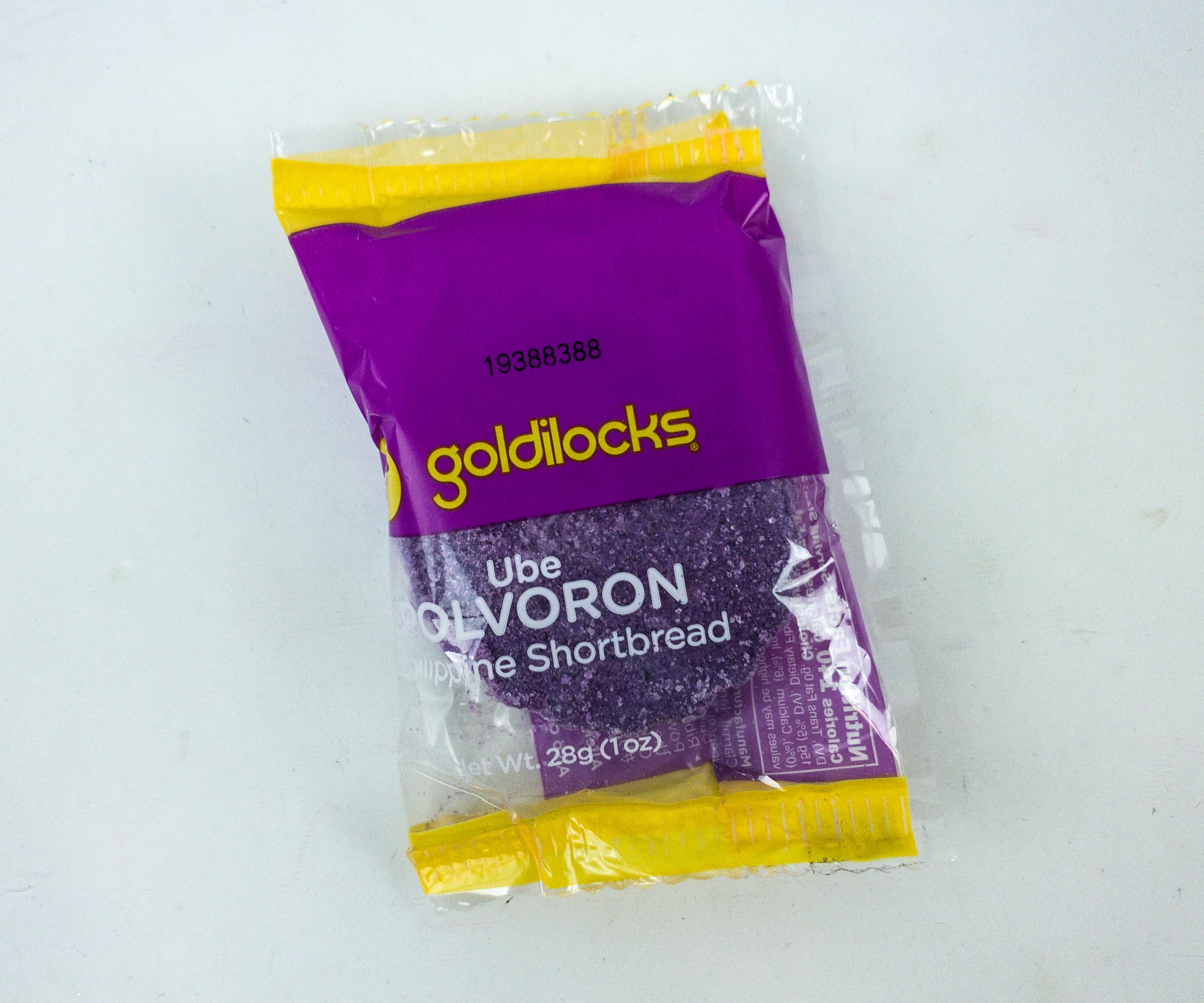 Goldilocks Ube Polvoron – Philippines. I can't even begin to describe this Yum! It's so good! It's sweet but not overly sweet, and the flavor of the purple yam is very distinct. Be careful eating this though, it's very crumbly and can be really messy when not eaten with care. But it's so darn good, I don't care about the mess. I just seriously want more!
Sibell Poulet Braisé Chips – France. Upon opening, I can already smell that the flavor is chicken. I tried it and it was good. It has a mild roasted chicken flavor and it's actually pretty good!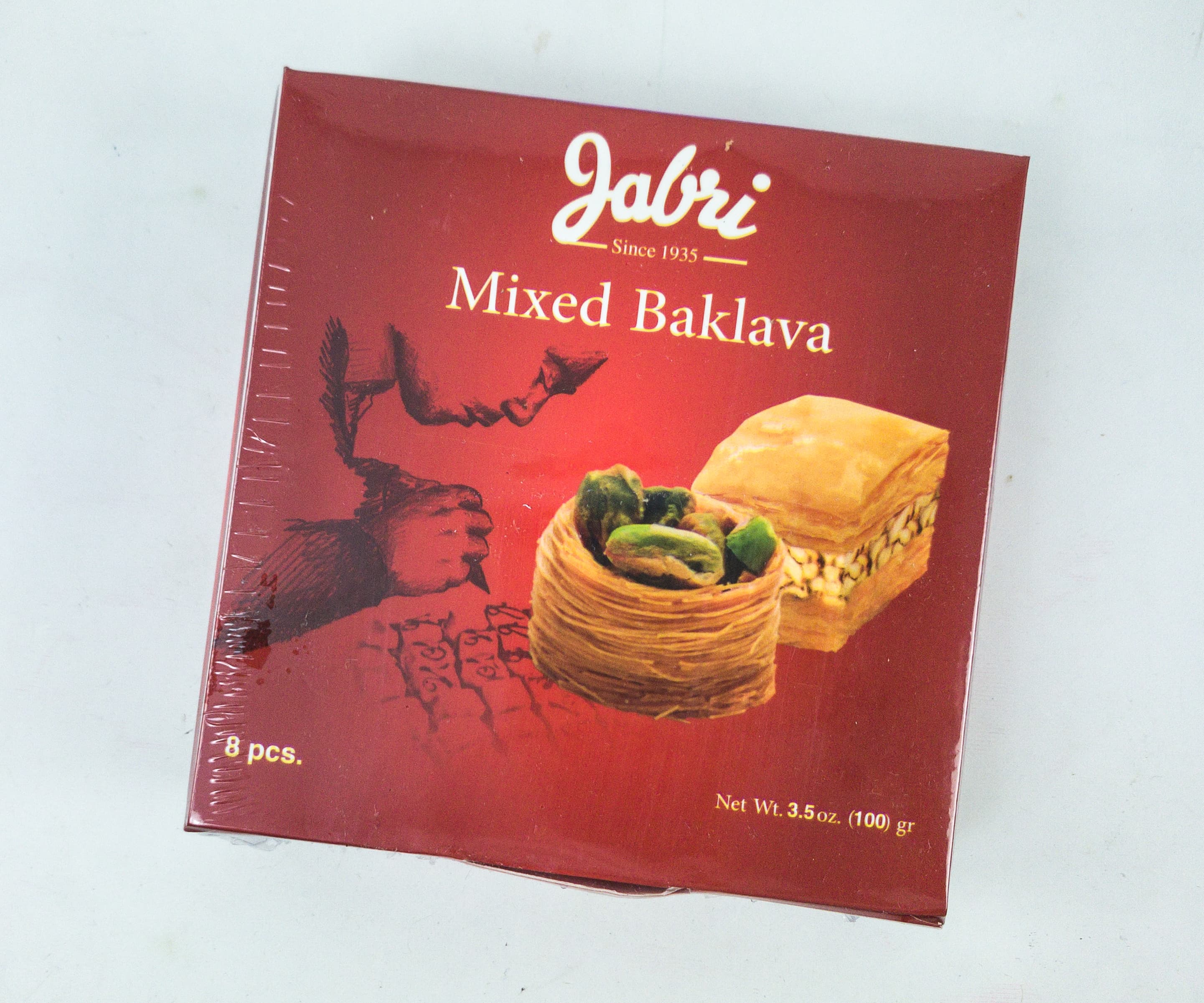 Jabri Mixed Baklava – Jordan. I'm so excited for this next Yum! It's a box of baklava, a sweet dessert pastry made with filo dough, nuts, and sweet jams.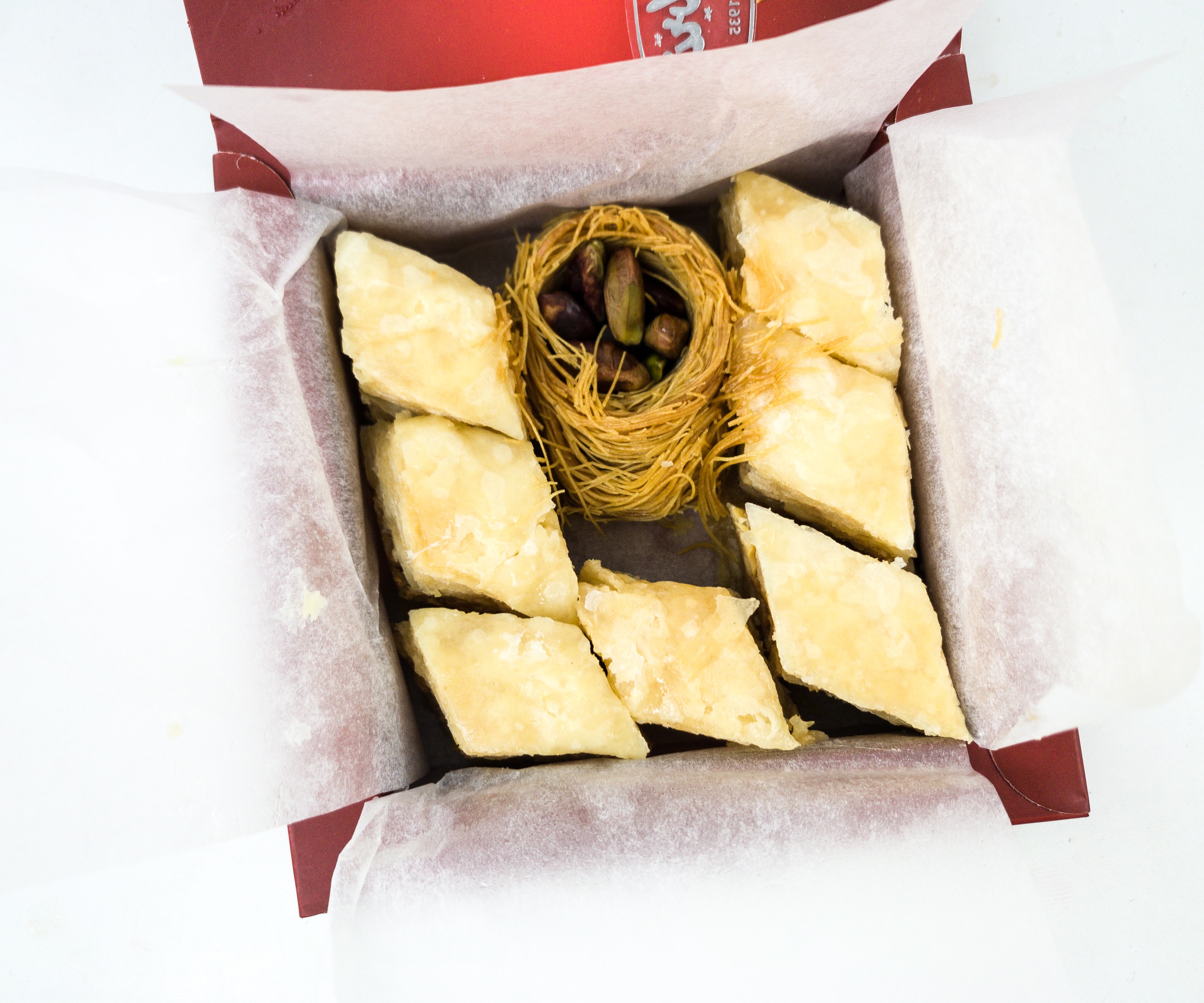 The baklava was cut into smaller pieces for easier snacking.
The pastry is light and crispy while the nuts are all crunchy and sticky sweet. It's an explosion of flavors and textures in your mouth!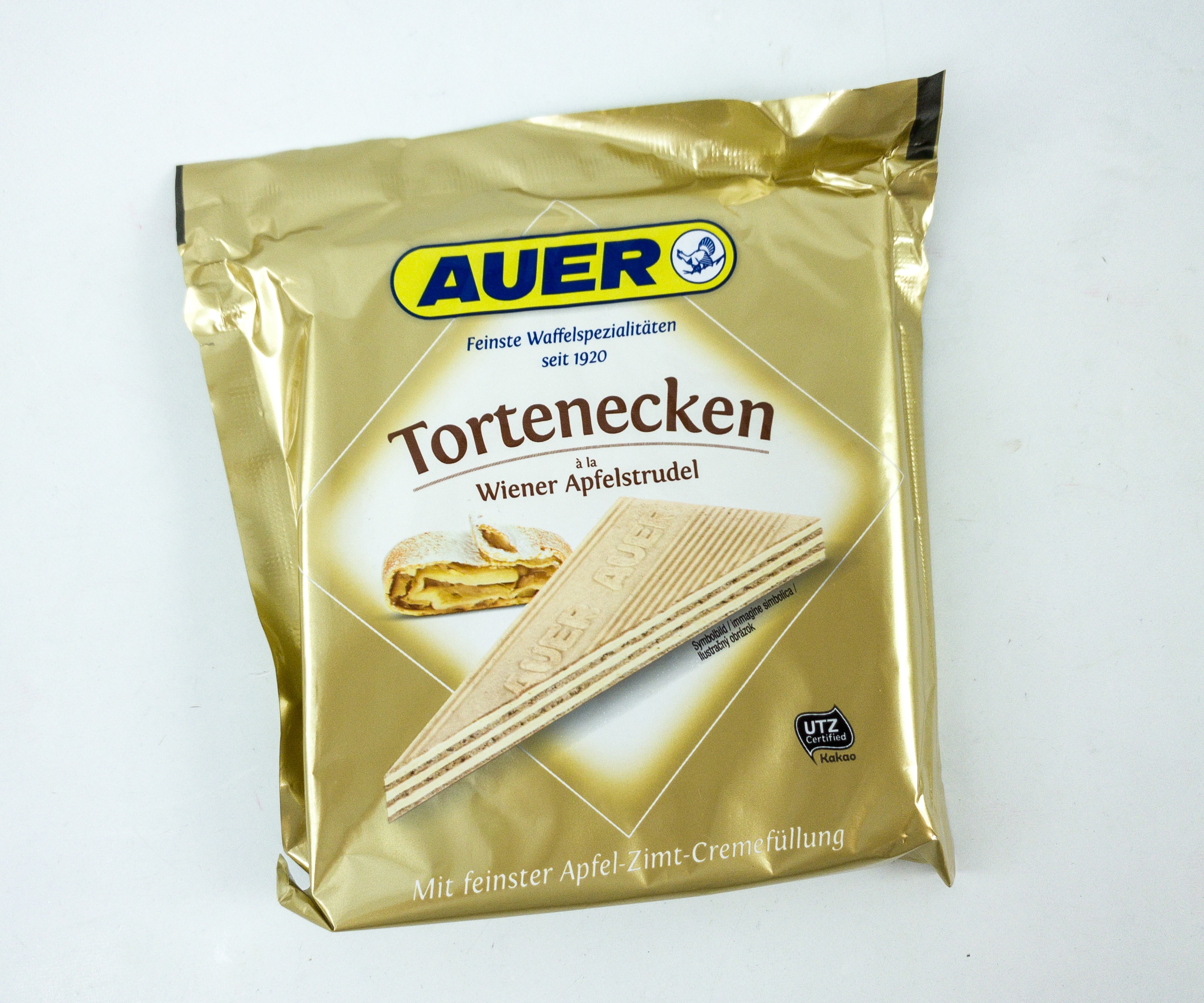 Auer Tortenecken a la Weiner Apfelstrudel – Austria. This wafer is more on the soft side, but it holds the filling really nice. The apple strudel flavor is too sweet for my liking although I can taste the hint of the cinnamon there. My kids liked this, so I guess it's still a win!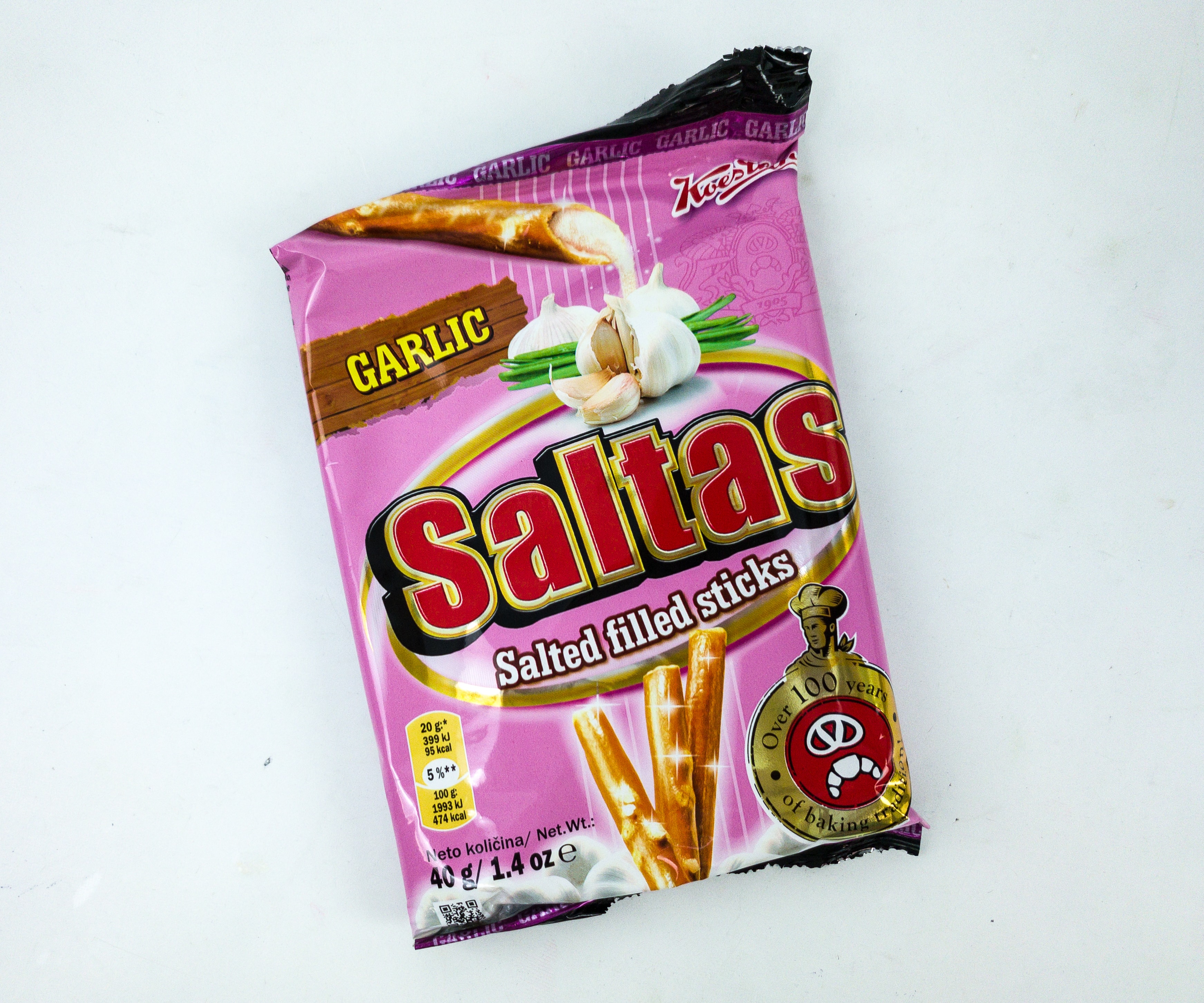 Koestlin Garlic Saltas – Croatia. Right off the bat, the garlic smell was very pungent. This is more like a crunchy pretzel stick at first glance. When I tried it, it was actually good! However, the more you eat, the more the garlic flavor gets to you. It's not just salty with a hint of garlic, this is right-in-your-face garlic flavor.
White Cinnamon Cookie Belgian Chocolate – Belgium. This bar achieved the perfect balance between sugar and spice! love that the cinnamon flavor didn't overpower the white Belgian chocolate. It gets too sweet after a munching on a couple of those little squares though, so I paired it with chips while watching reruns of my favorite series!

They have cacao engravings on each square. That's so cute!

Mr. Ito Pretzel Sand Almond Caramel. This box is actually huge! It's also one of my favorites from this month. The thin cookies are nothing short of amazing! I can easily taste the caramel and the almonds, I love every bit of it!

I also love that they came in individual packaging. It prevents the other pieces from getting stale. But to be honest, we chowed this down the moment we got these! They're so good, we keep craving for more!
Kopernik Serca Torunśkie – Poland. These heart-shaped gingerbread cookies don't just look cute, they're also yummy. I find it a bit spicy, probably because of the spices used in making the cookies.
They're so pretty! The black currant icing is also quite good. If you're a fan of gingerbread cookies, this one's for you! This month has got to be my favorite Universal Yums box! They took us all over the world with all these yummy snacks! I had a lot of favorites for this month because almost everything tasted amazing but the polvoron and Japanese cookies are definitely on top of my list. I also appreciate the booklet, as it's packed with lots of cultural info and other interesting bits about our snacks. Now, I'm so excited about where Universal Yums will take us next month! Have you tried Universal Yums? What do you think? Visit Universal Yums to subscribe or find out more!