THiNK OUTSiDE BOXES is a monthly subscription for children ages 7 up that promotes exploration and survival in the great outdoors, along with the whole family. The box costs $34.95 per month + free shipping within the US. Each month, they will send out a themed box that includes outdoor gear, water-resistant resource cards, a 16+ page educational & activity booklet, as well as an outdoor challenge to do as a family. Your first box will also include a lightweight packable daypack, and you can choose what color you like!
The box aims to gear and help the kids to grow more confident in exploring the great outdoors!
DEAL: Get $10 off on any subscription order! Use coupon code HELLO10.

There's a punny message on the side of the box:
Best time to see the dentist? Tooth-hurty.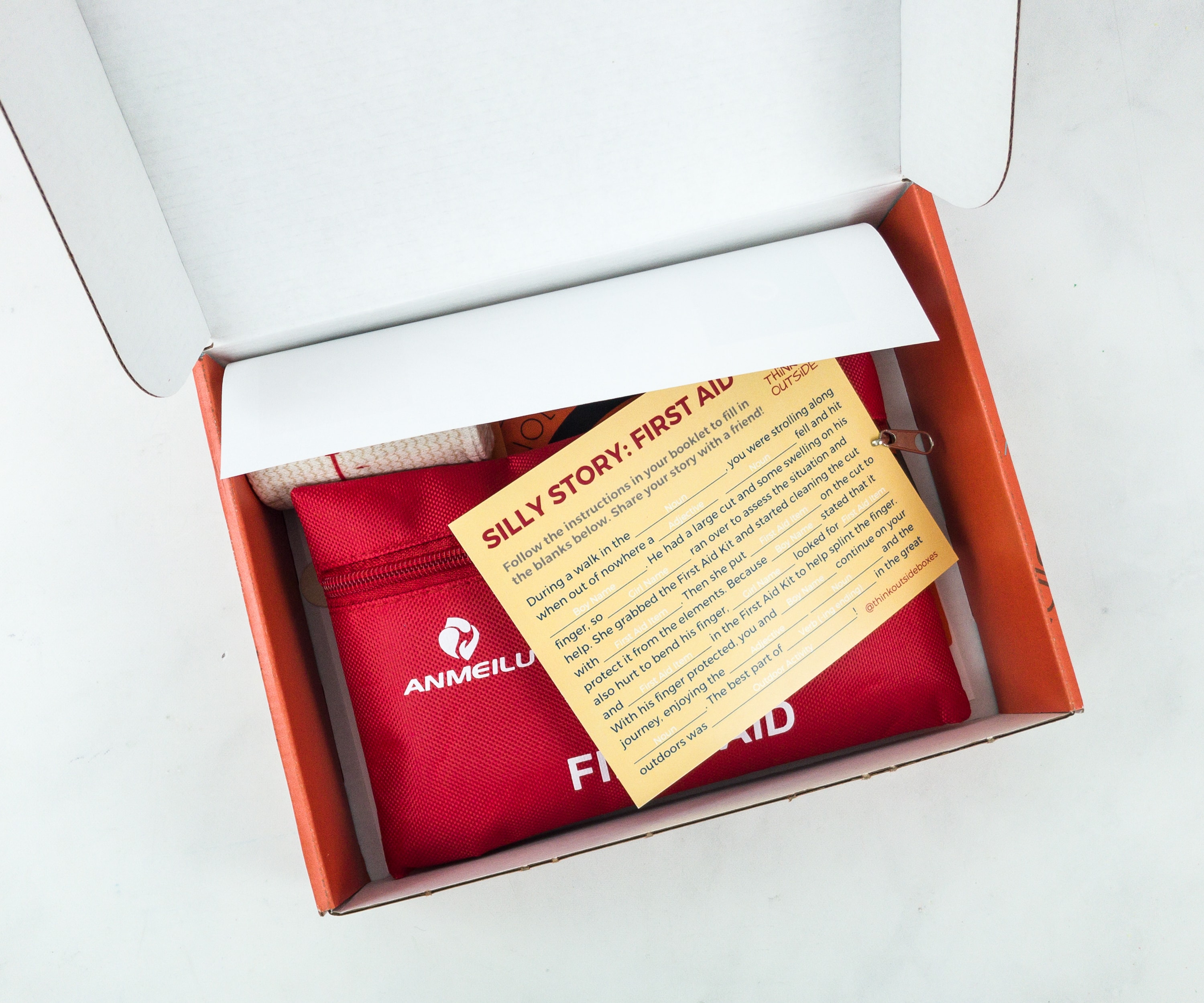 The items are well packed.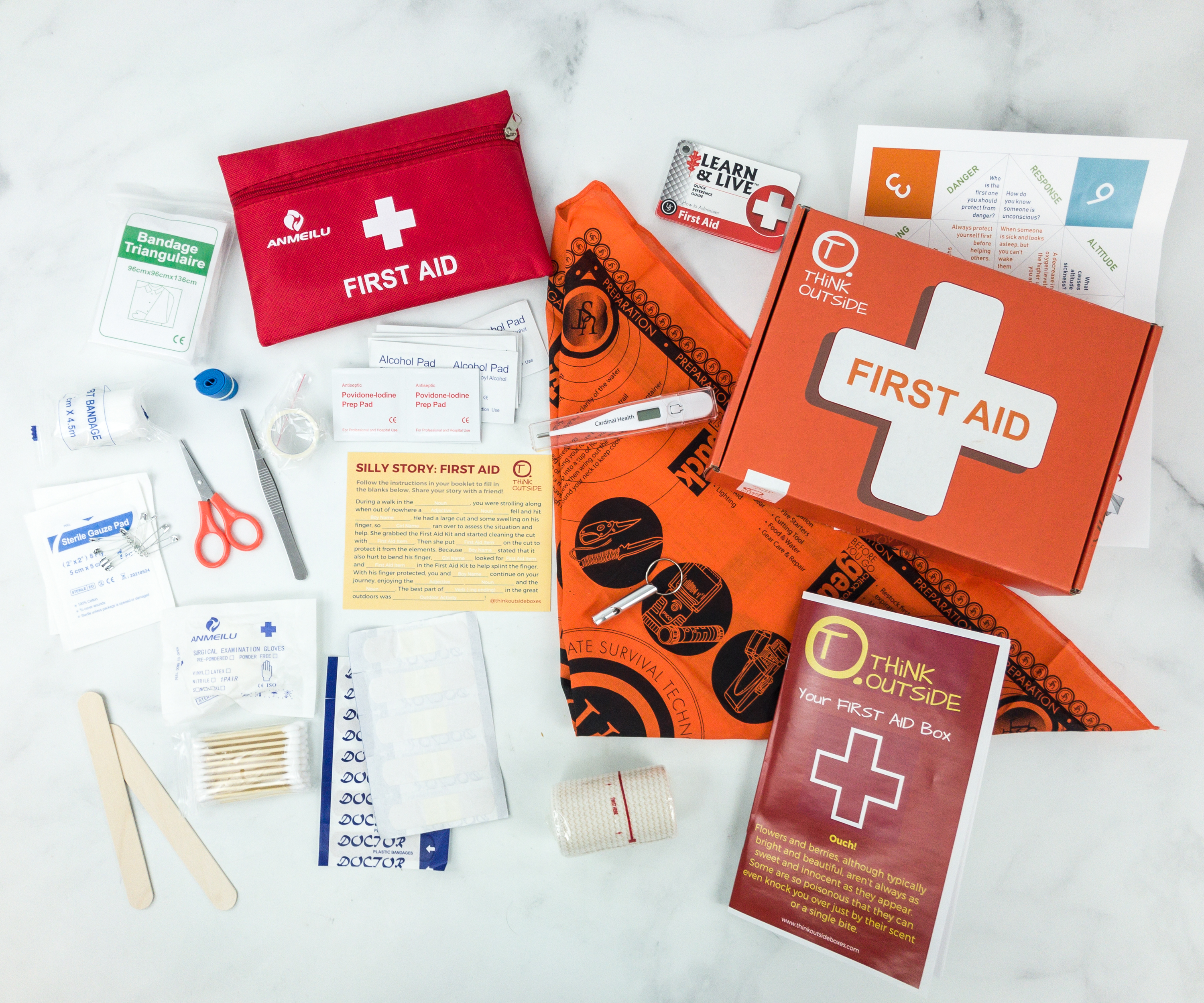 Everything in our box!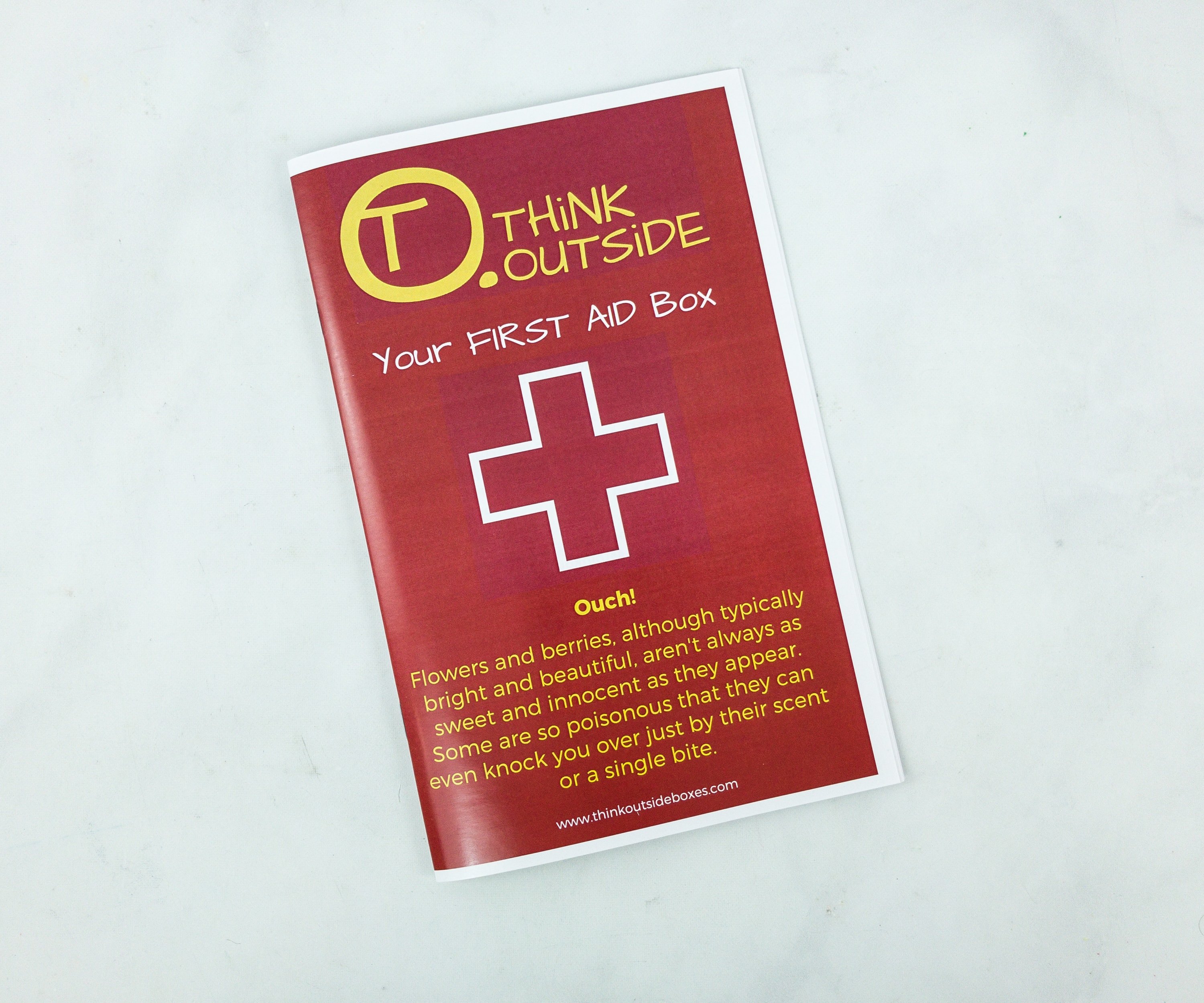 This month's box includes a booklet that contains everything you need to know about your first aid box!

Inside the booklet is the list of all the items with a brief description of each.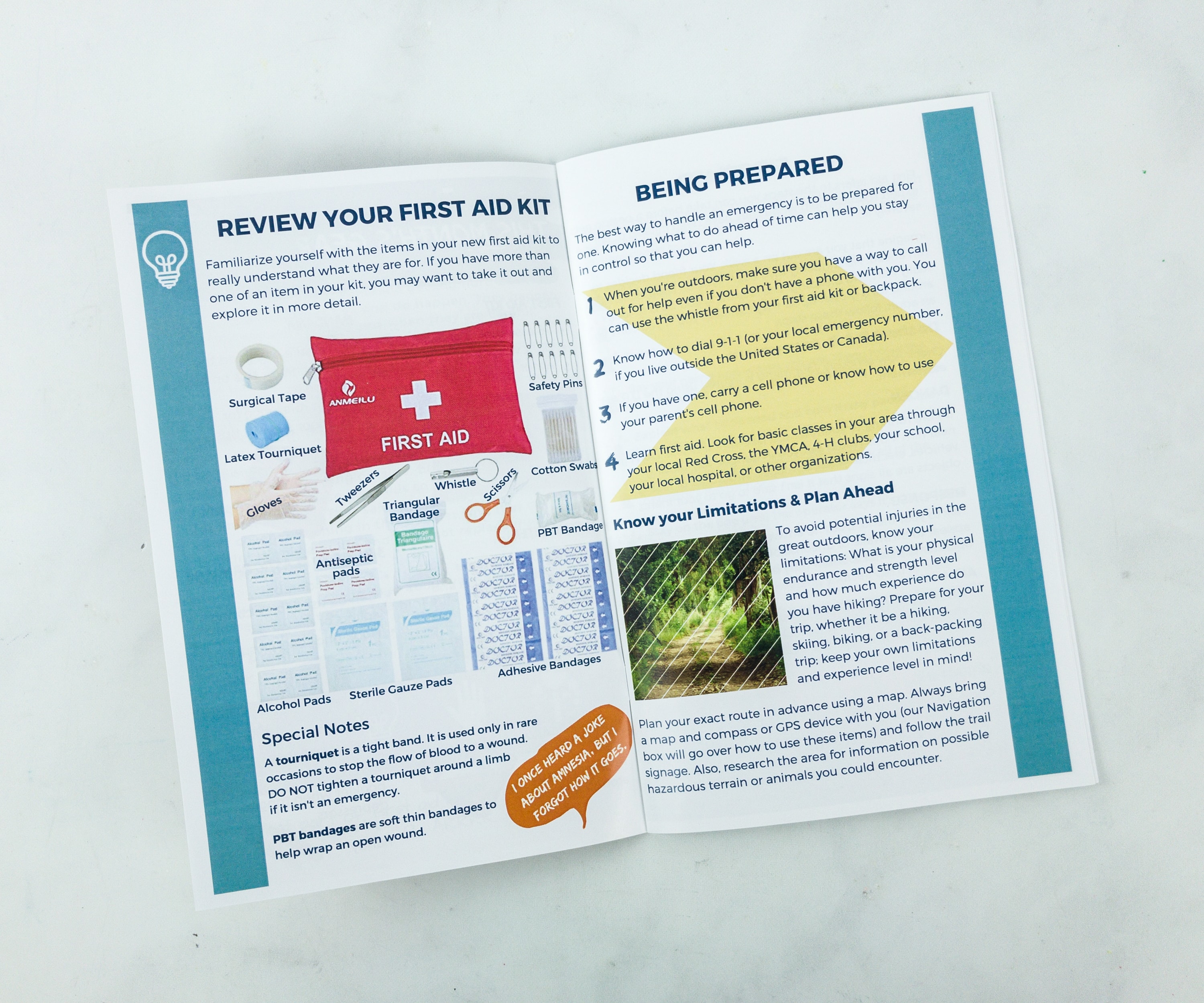 They also provided some tips to effectively use your first aid kit.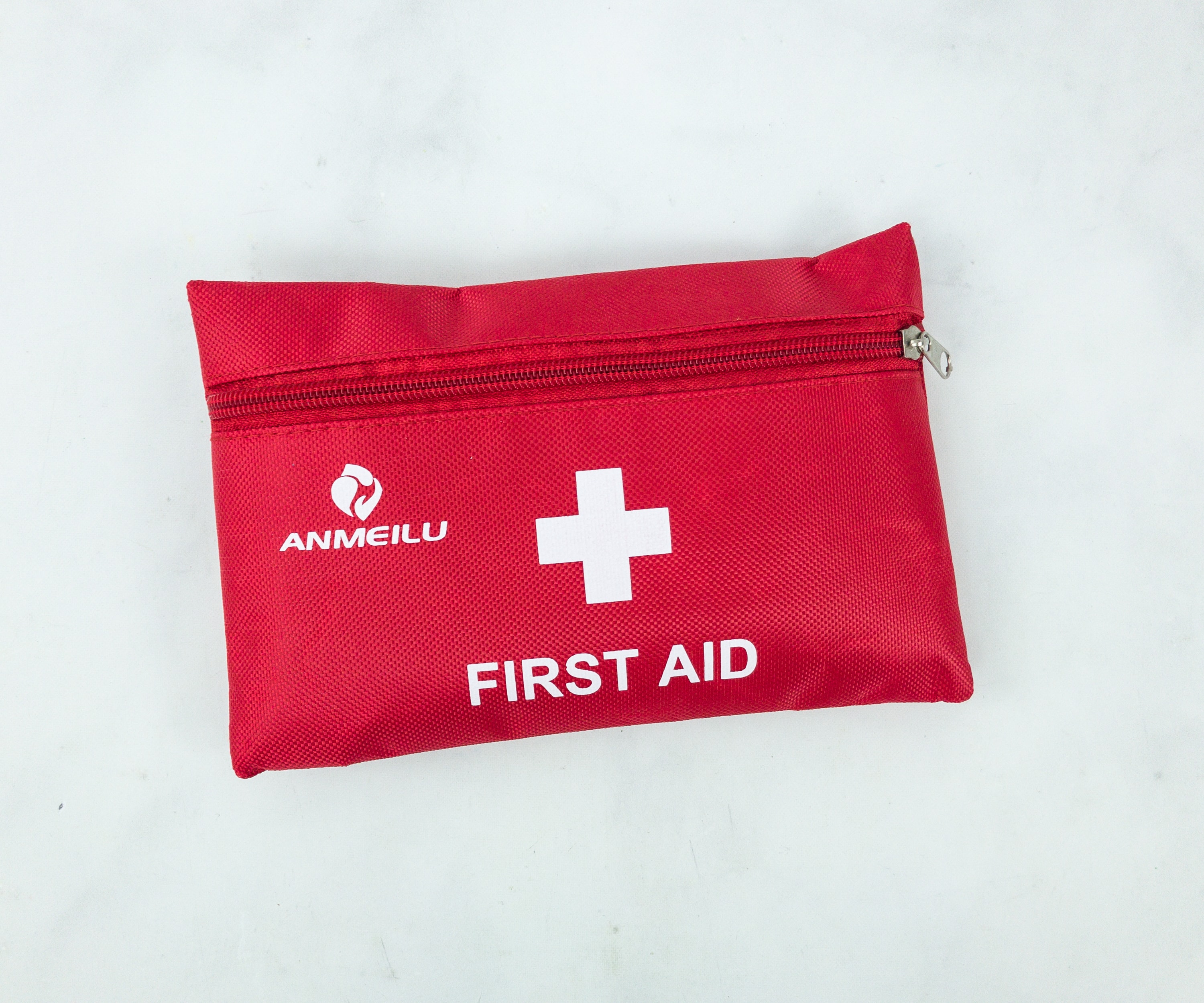 First Aid Kit. The first aid is inside a red pouch made from lightweight, water-resistant nylon. It contains more than 70 essential supplies.
All the items inside the kit! It's really amazing how all these items have fitted inside.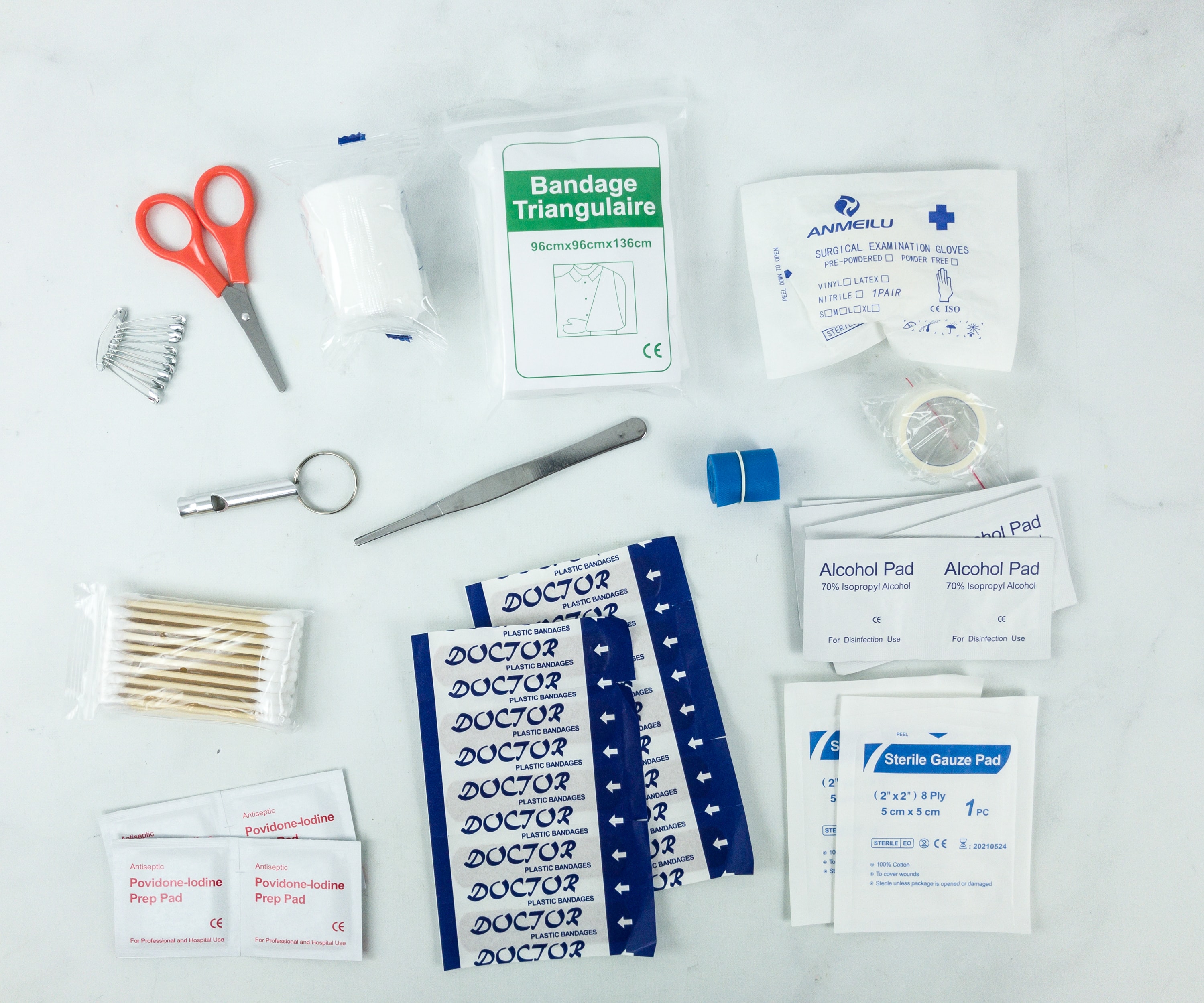 Most of the items are used for cleaning and patching of wounds. They also included a whistle, an item normally used on retrieval operations or any emergency situation that needs quick attention.
Tongue Depressors. This first aid item is used normally used to lower the tongue to allow examination for mouth and throat, or for people with epilepsy, to avoid their tongue from being cut.
Elastic Bandage. It's a stretchable bandage regularly used to treat muscle strains and sprains. It reduces the flow of the blood on a particular section of the body that needs pressure application. Elastic bandages are definitely one of the most commonly used items in a first-aid kit.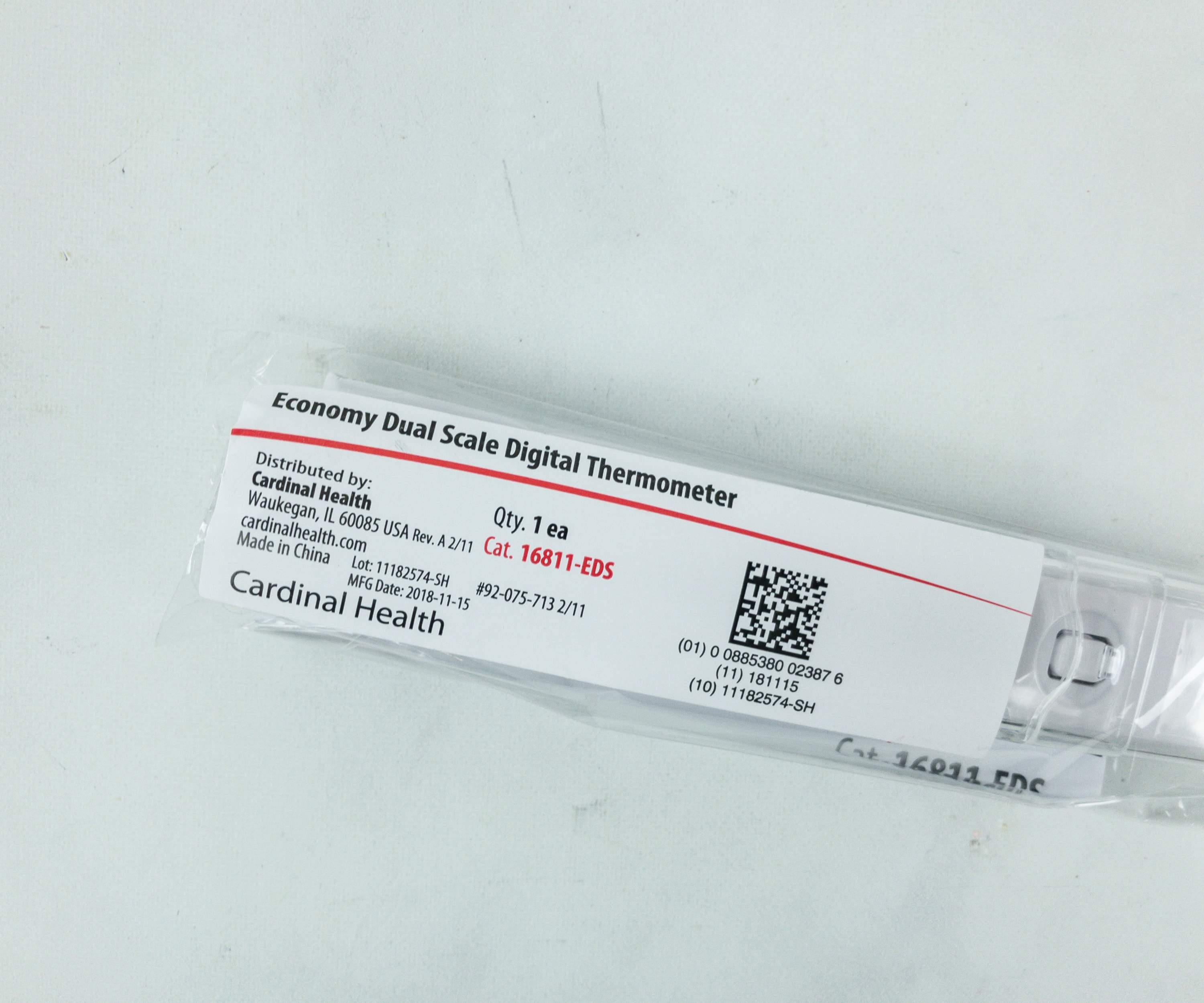 Thermometer. It's a medical instrument used to measure the body's temperature.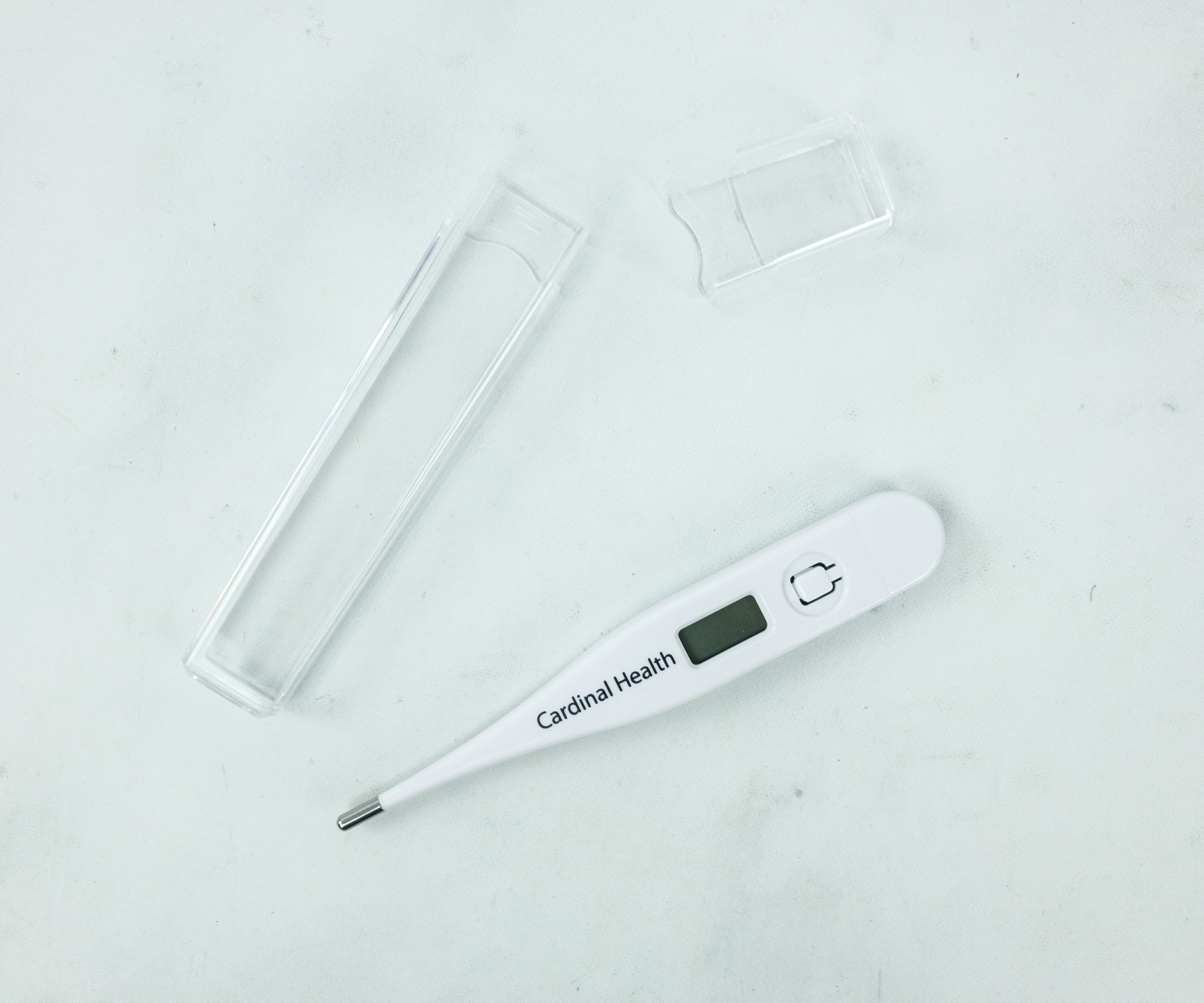 This digital thermometer features a dual scale of Celsius and Fahrenheit, plus it's water resistant too!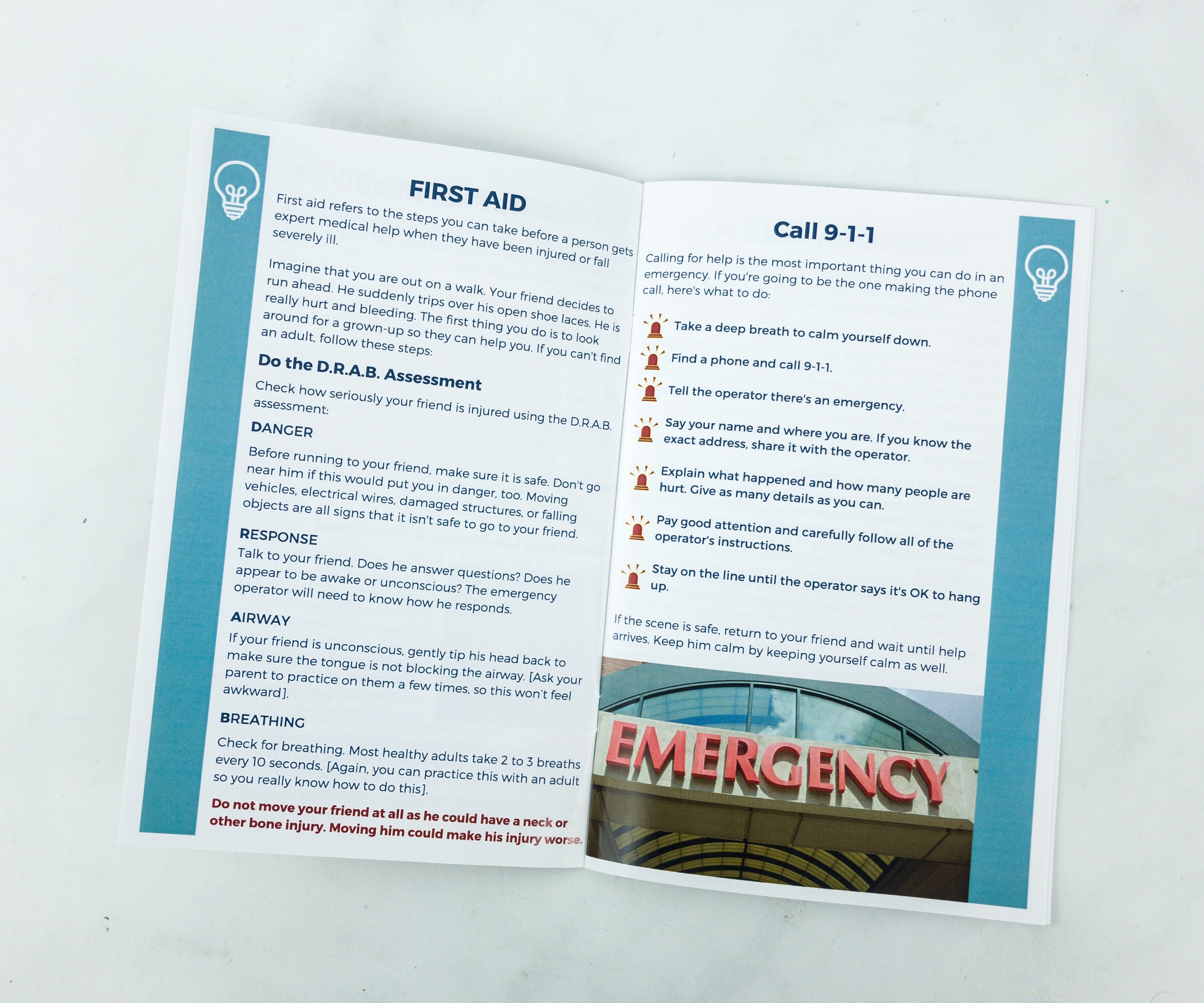 This booklet also provides basic tips and steps on things needed to-do during an accident or injury. Apart from the first aid kit, this knowledge will definitely come in handy in emergency situations.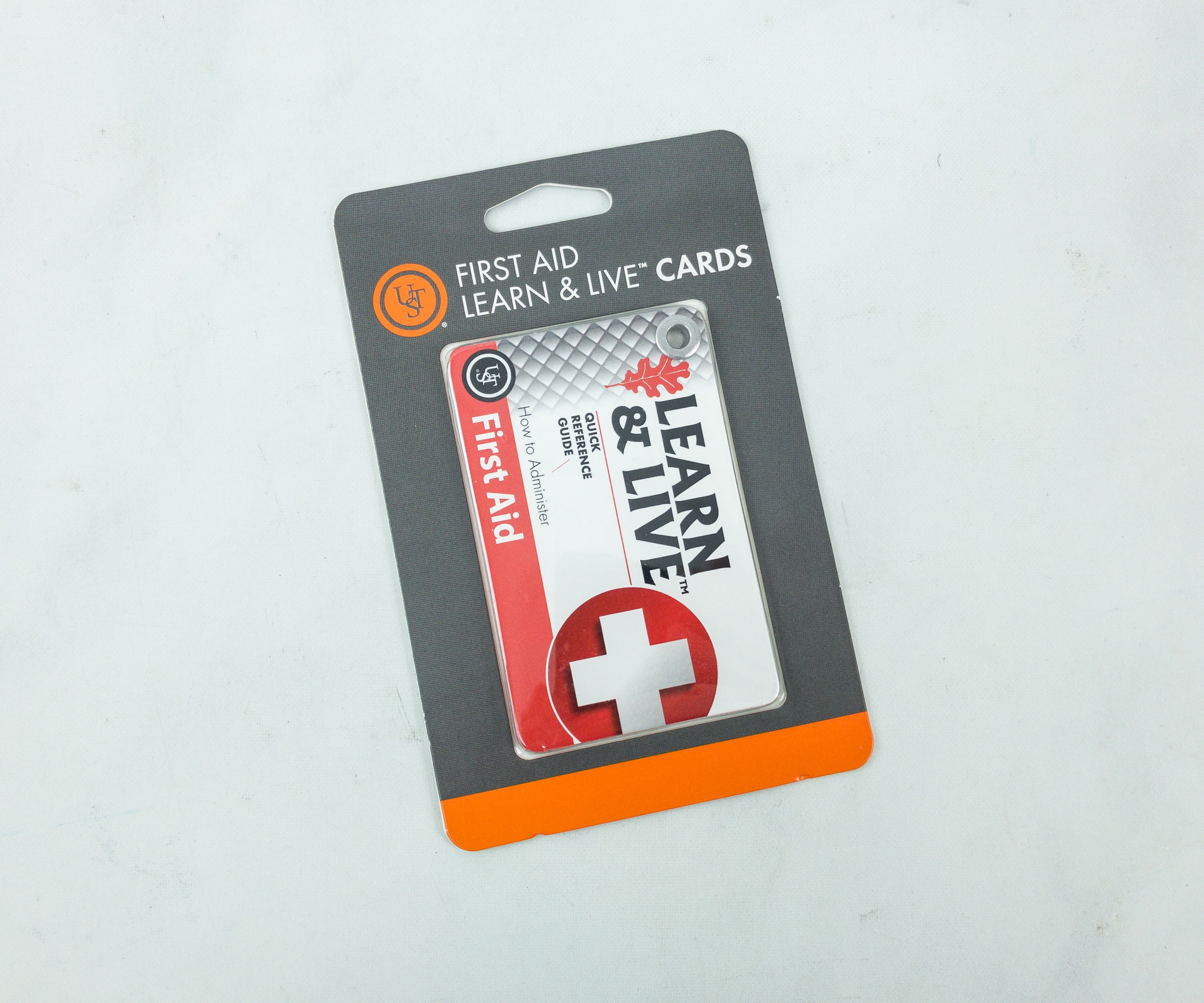 Resource Cards. You'll never know what accident may occur and when, so it's better to always be ready and know the things to do. That's the reason why these resource cards are a must-have when exploring outdoors!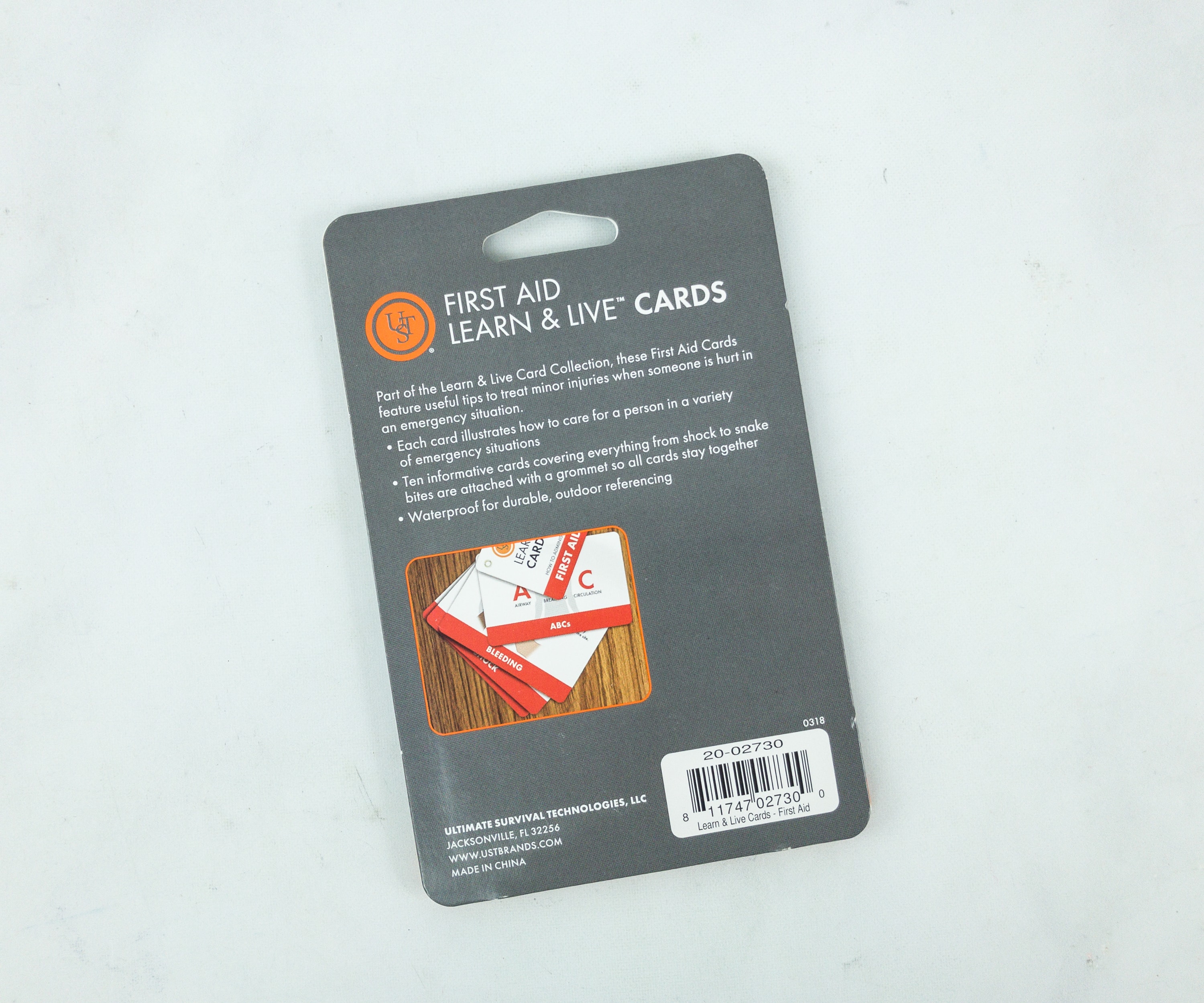 These pocket-size cards contain useful first aid tips you can use for a variety of emergency situations.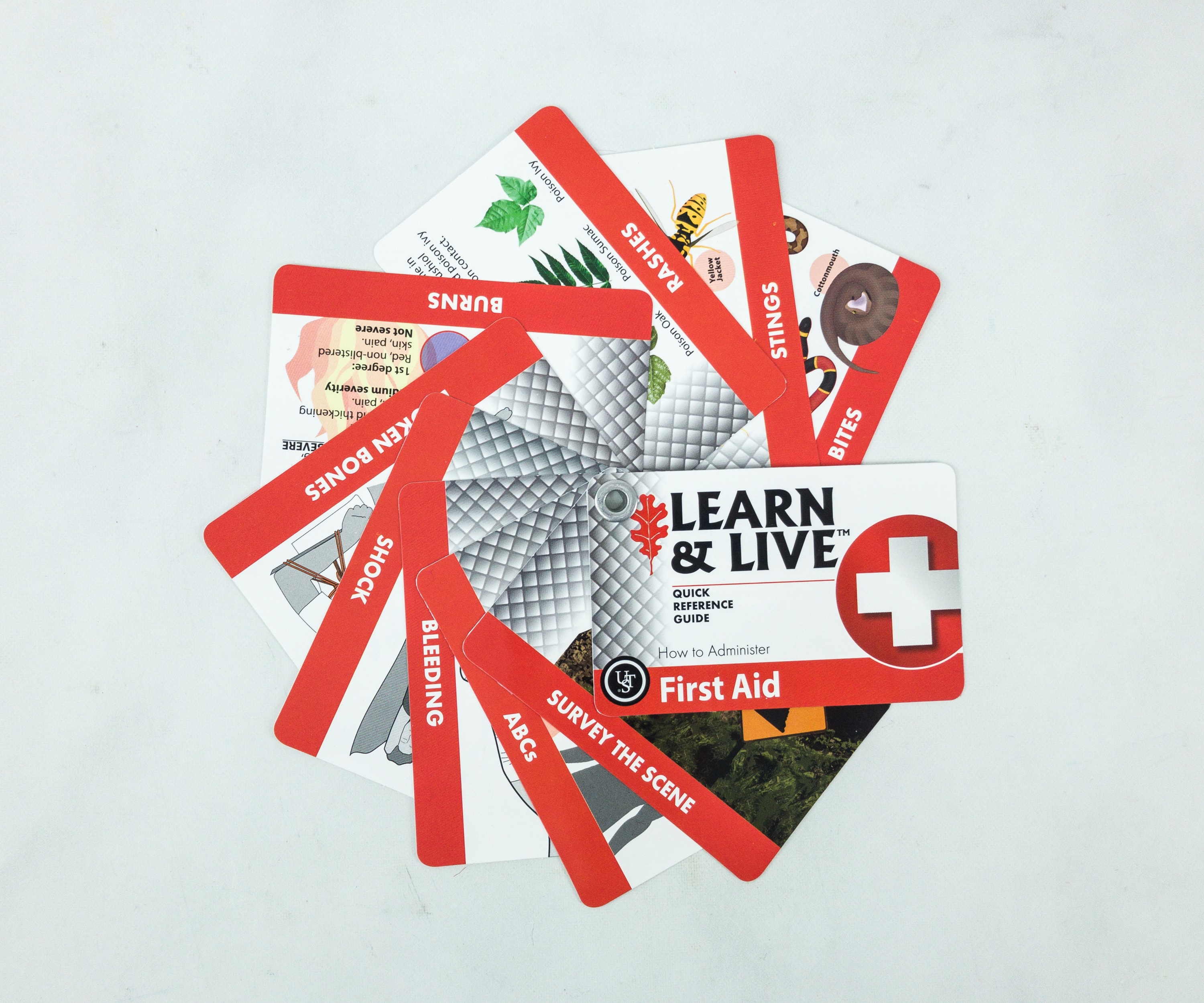 The kit includes 10 informative cards attached with a grommet so that they stay together.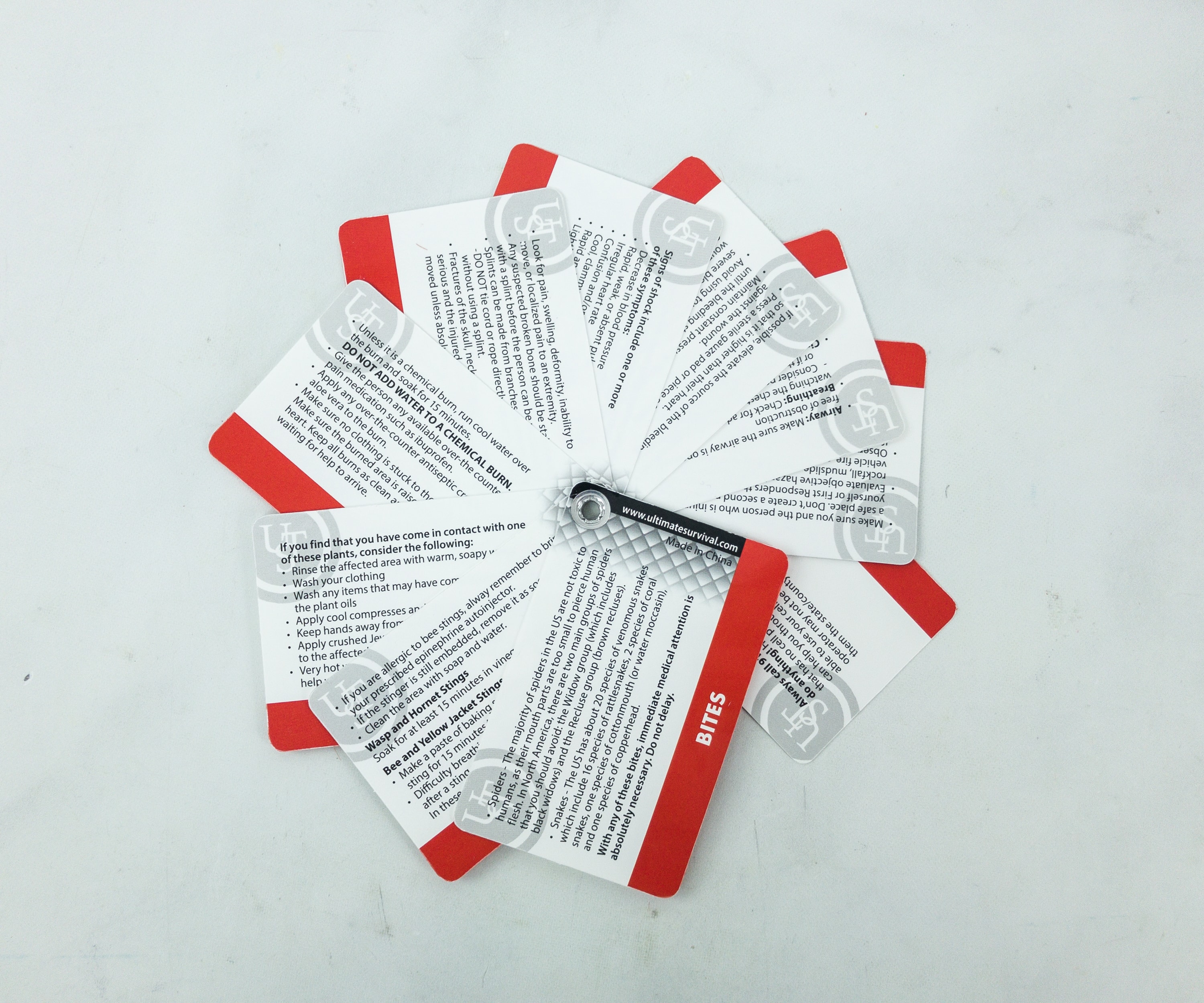 Every card tackles a variety of subjects that cover everything from shock to snake bites.
These cards are waterproof, handy, and durable too.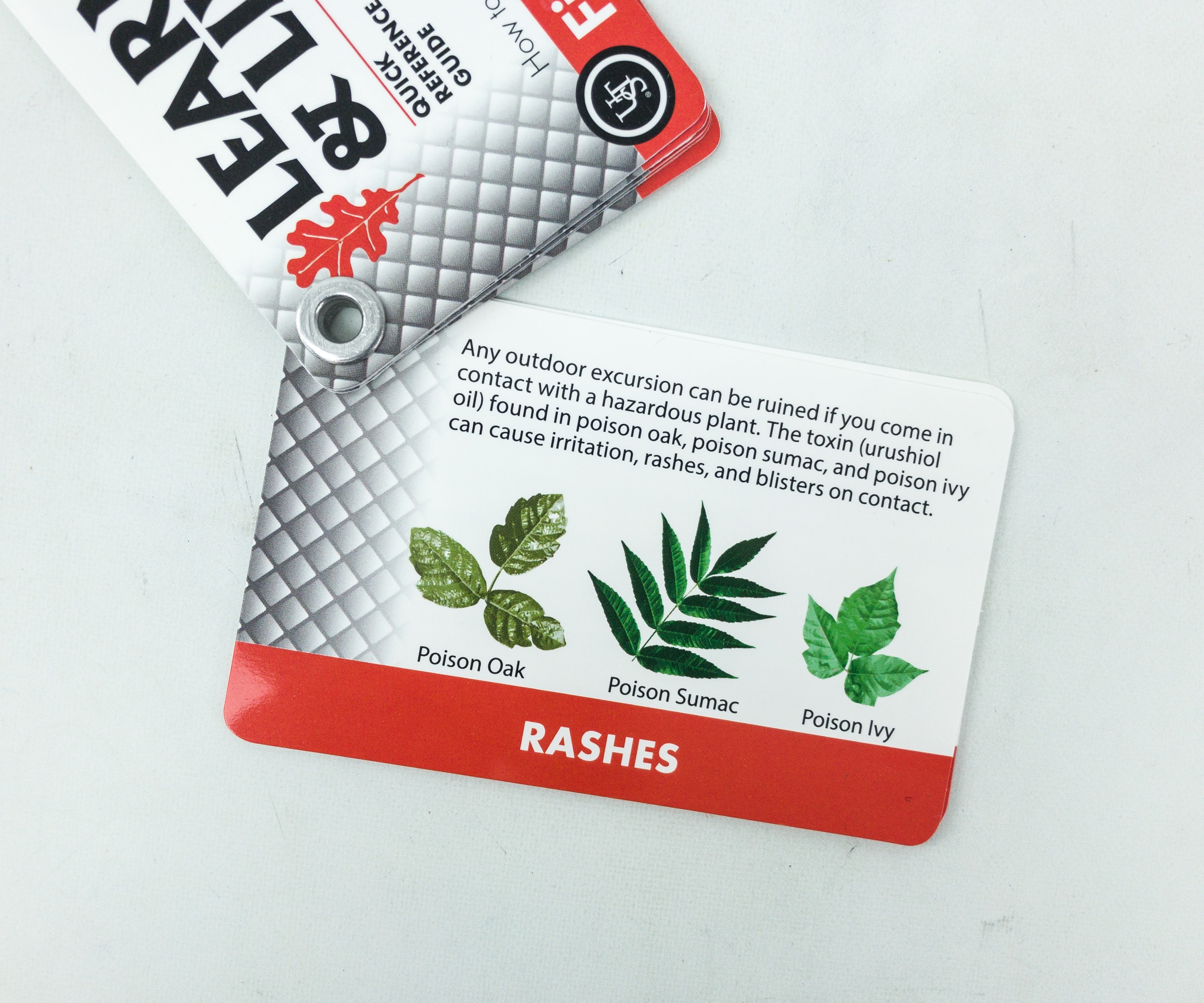 In front of the card are detailed pictures, the name of the subject, and a brief explanation.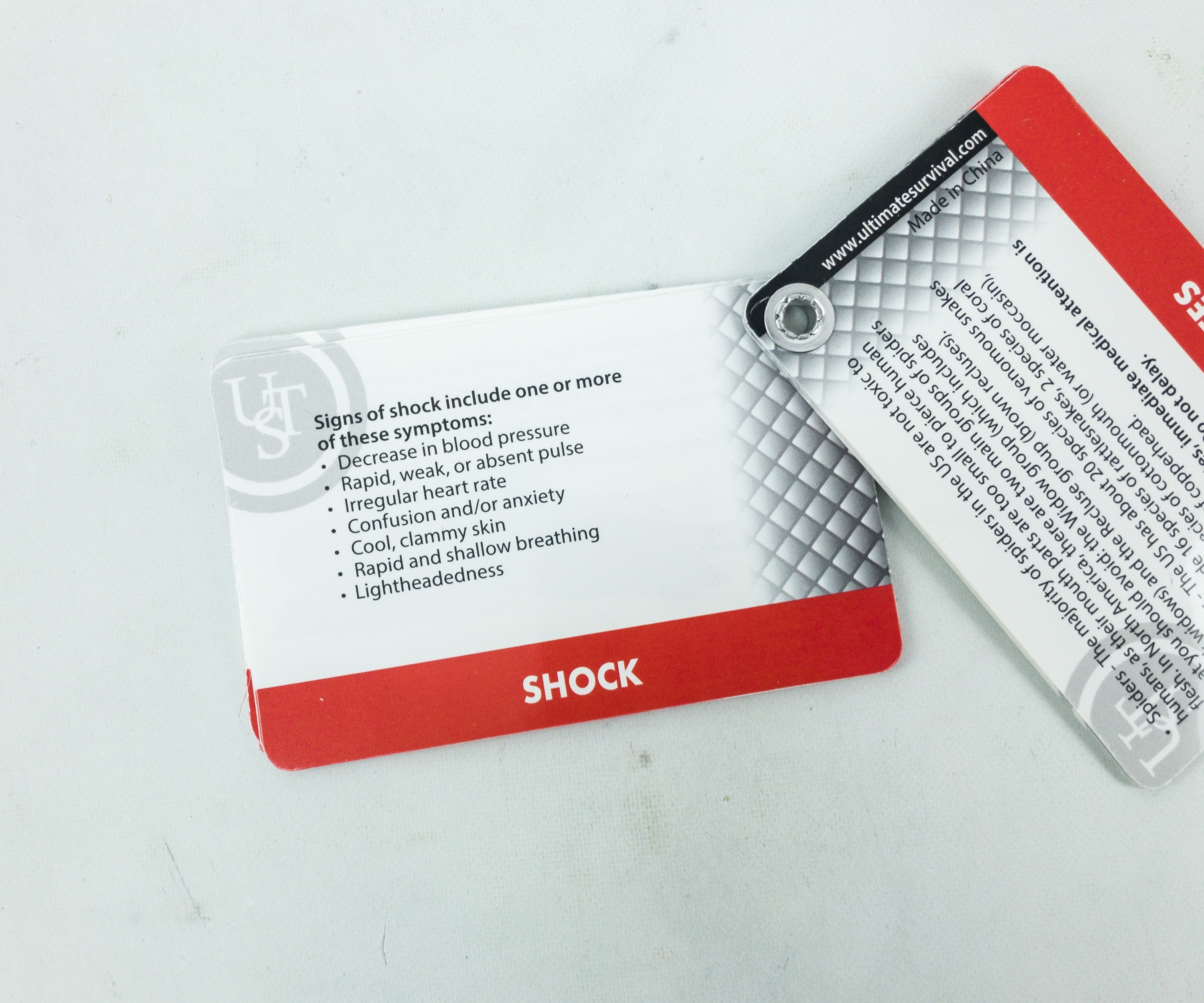 Printed at the back of the card are the actual tips to lessen the pain or fasten the healing of the said injuries.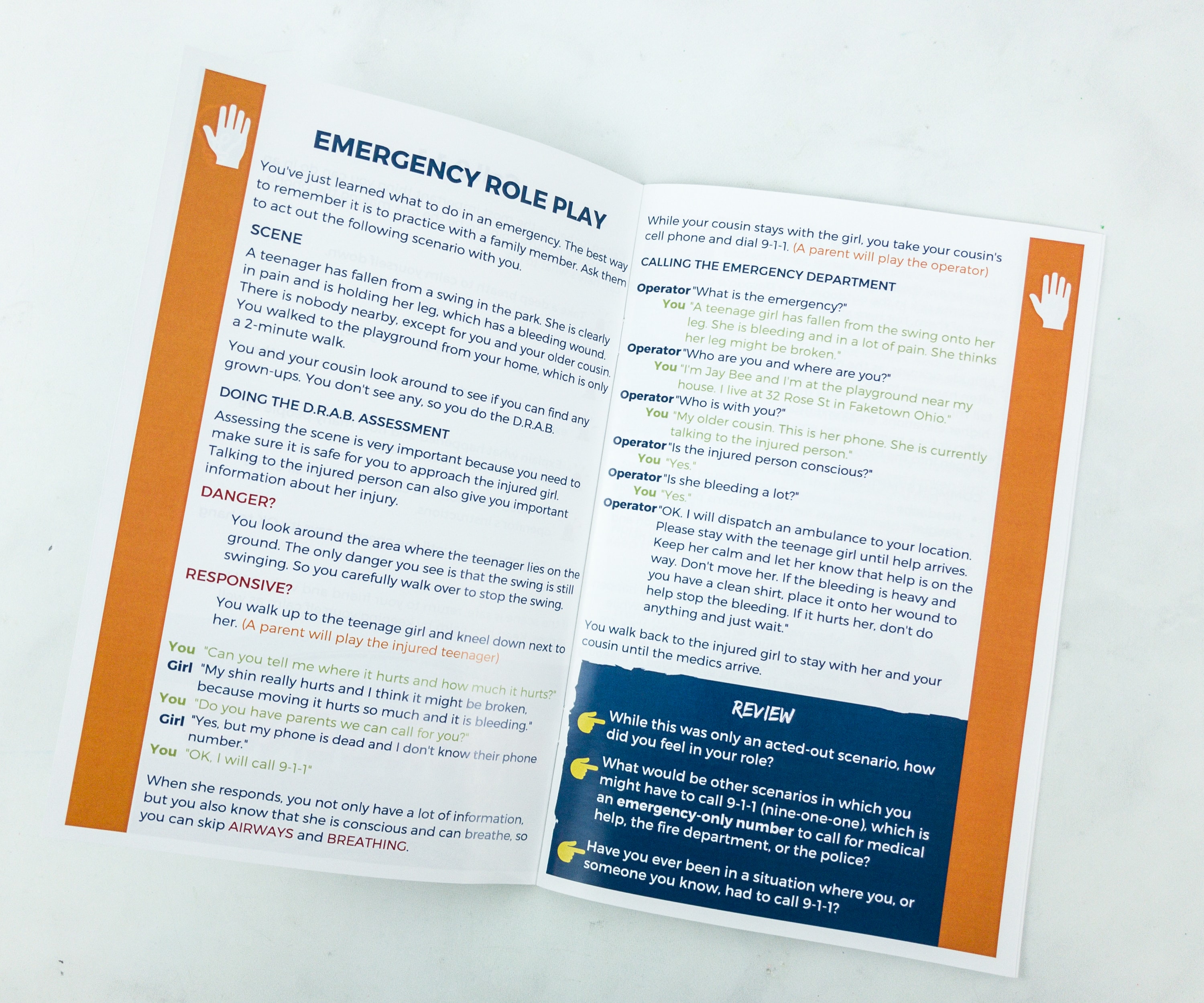 Another important part of the booklet is information about emergency roleplay, a practice commonly used to respond to a certain situation. This drill will enhance your analysis of the situation and avoid possible panicking.
There's even a list of a few common ailments that you might encounter, their symptoms, and the treatment needed.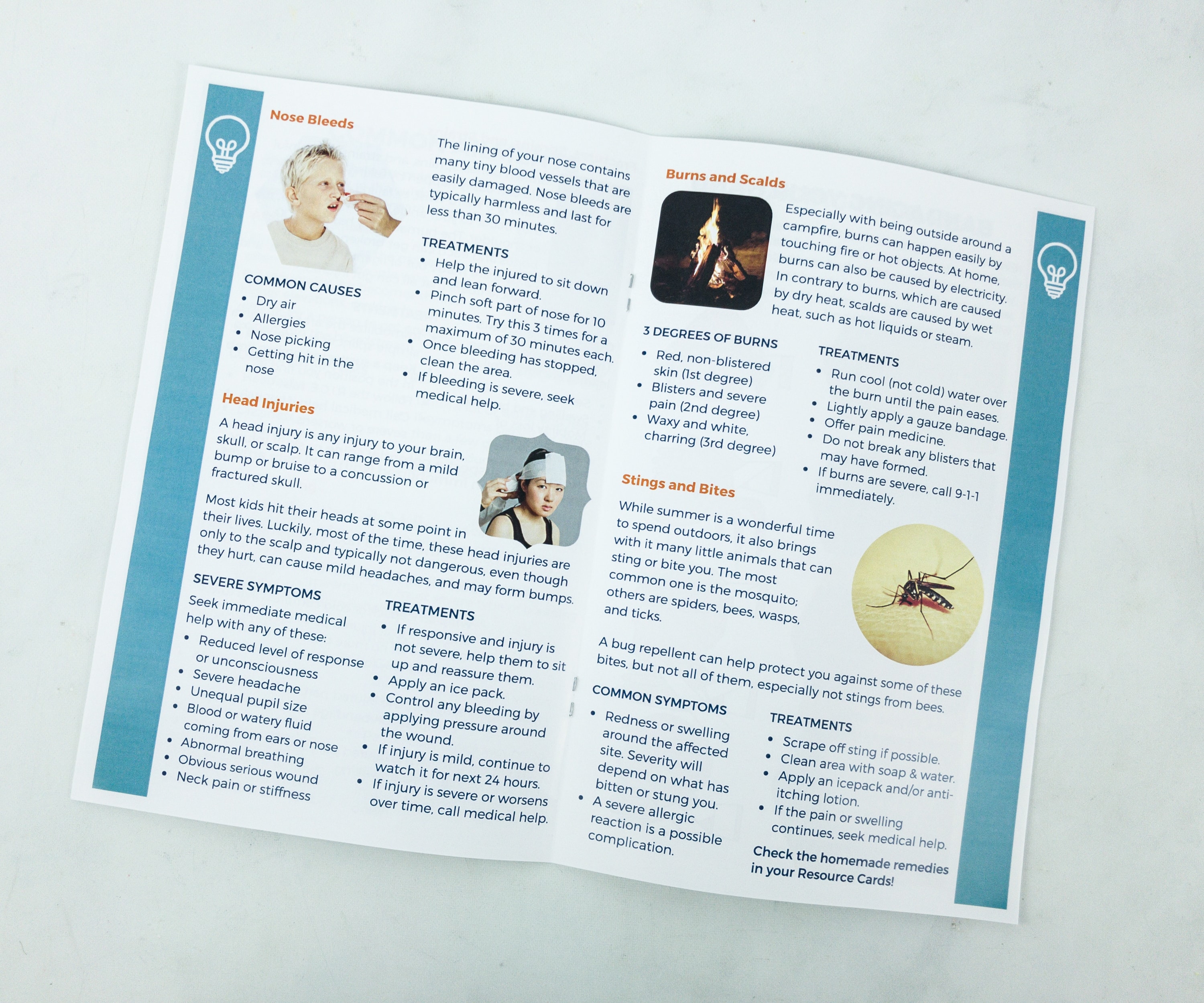 Included in the list are altitude sickness, minor bleeding, fractures, sprains, strains, nose bleeds, head injuries, burns, and stings, and bites.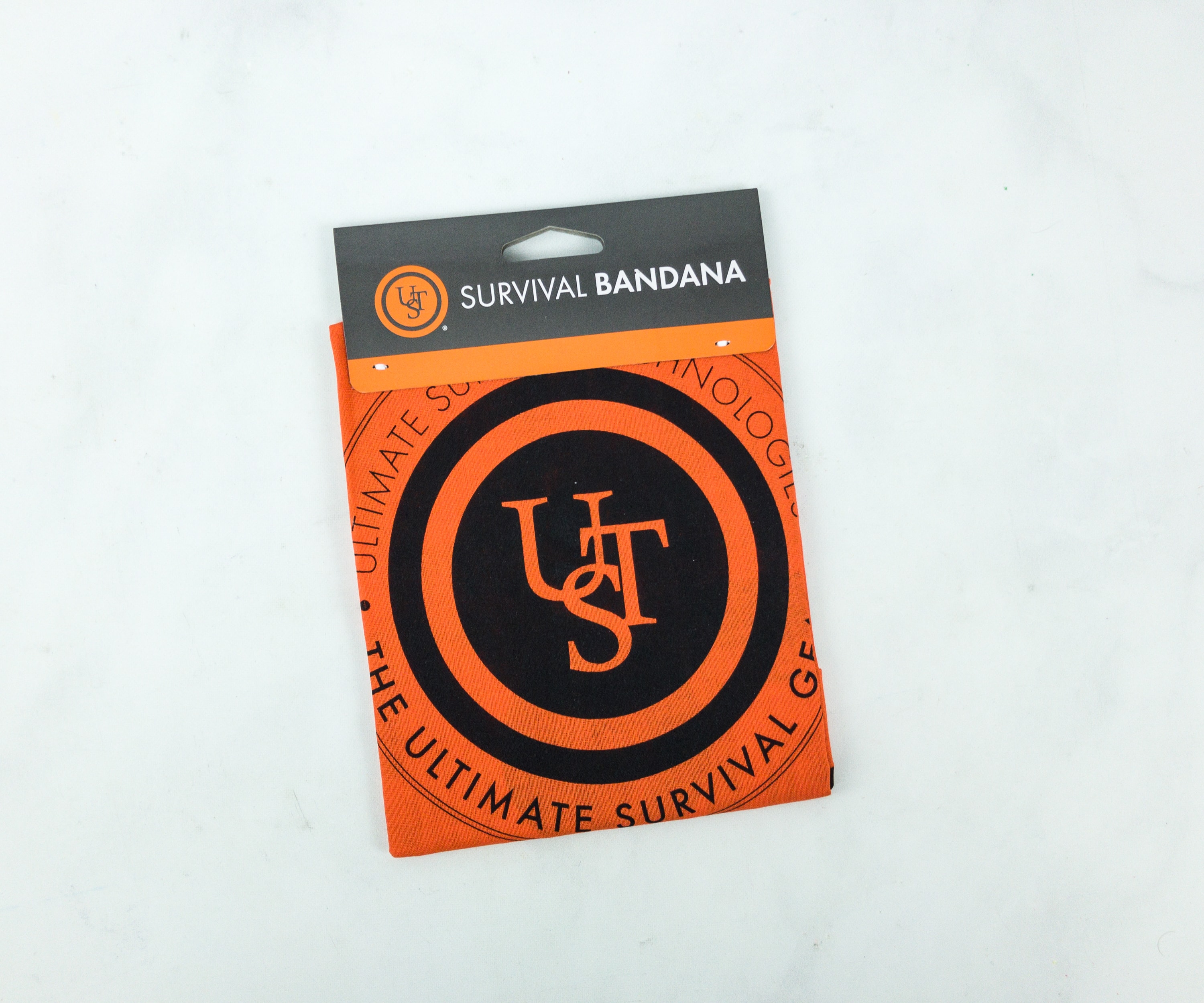 Bandana. Normally, bandanas are used as an accessory to add a statement to your fashion style, but this survival bandana is made for another reason, to save a life!
It's a square-shaped, orange-colored bandana with a total dimension of 22″ x 22″.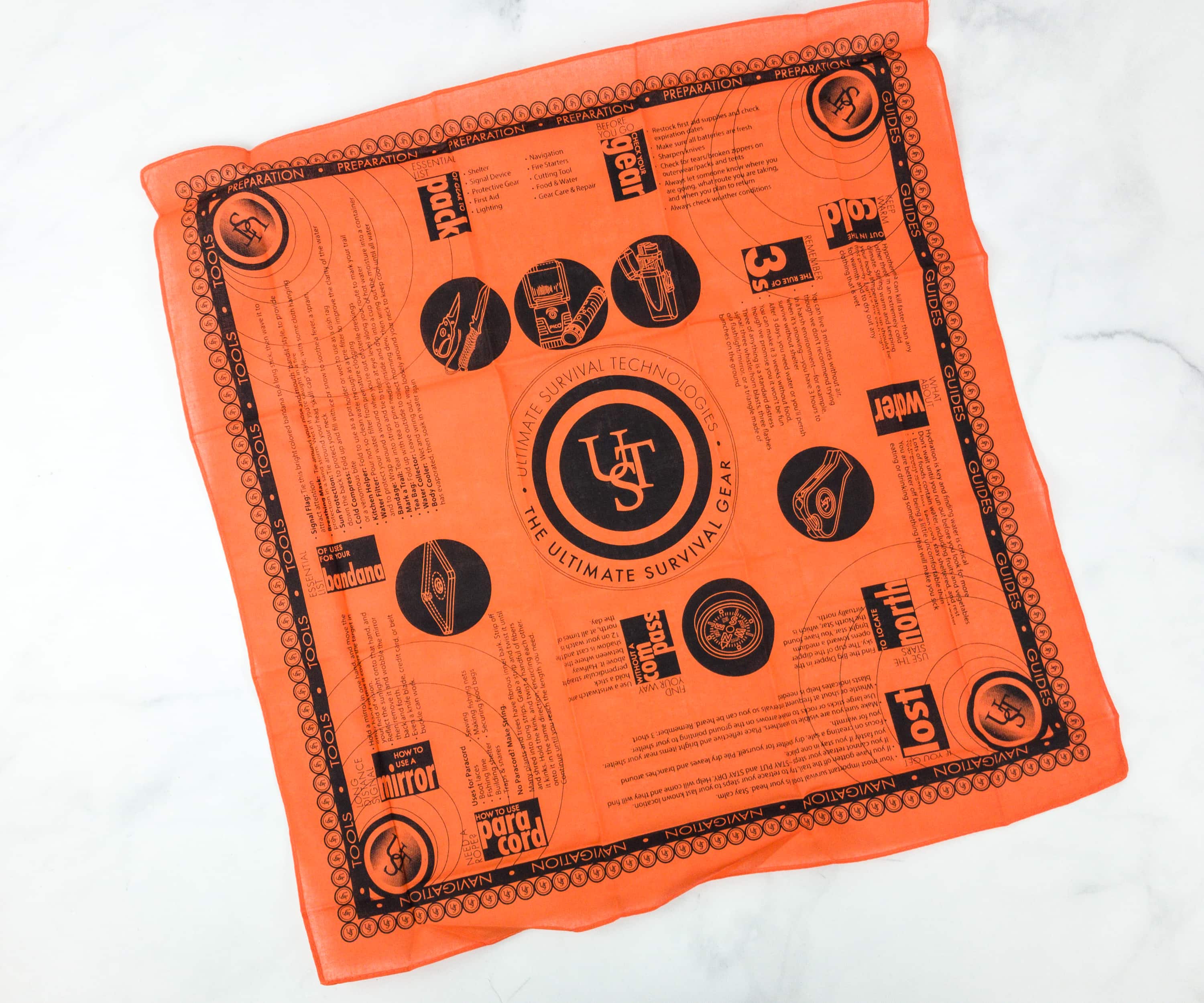 This bandana features a variety of educational and useful survival tips, which includes information on hiking safety, navigation, first aid, and more.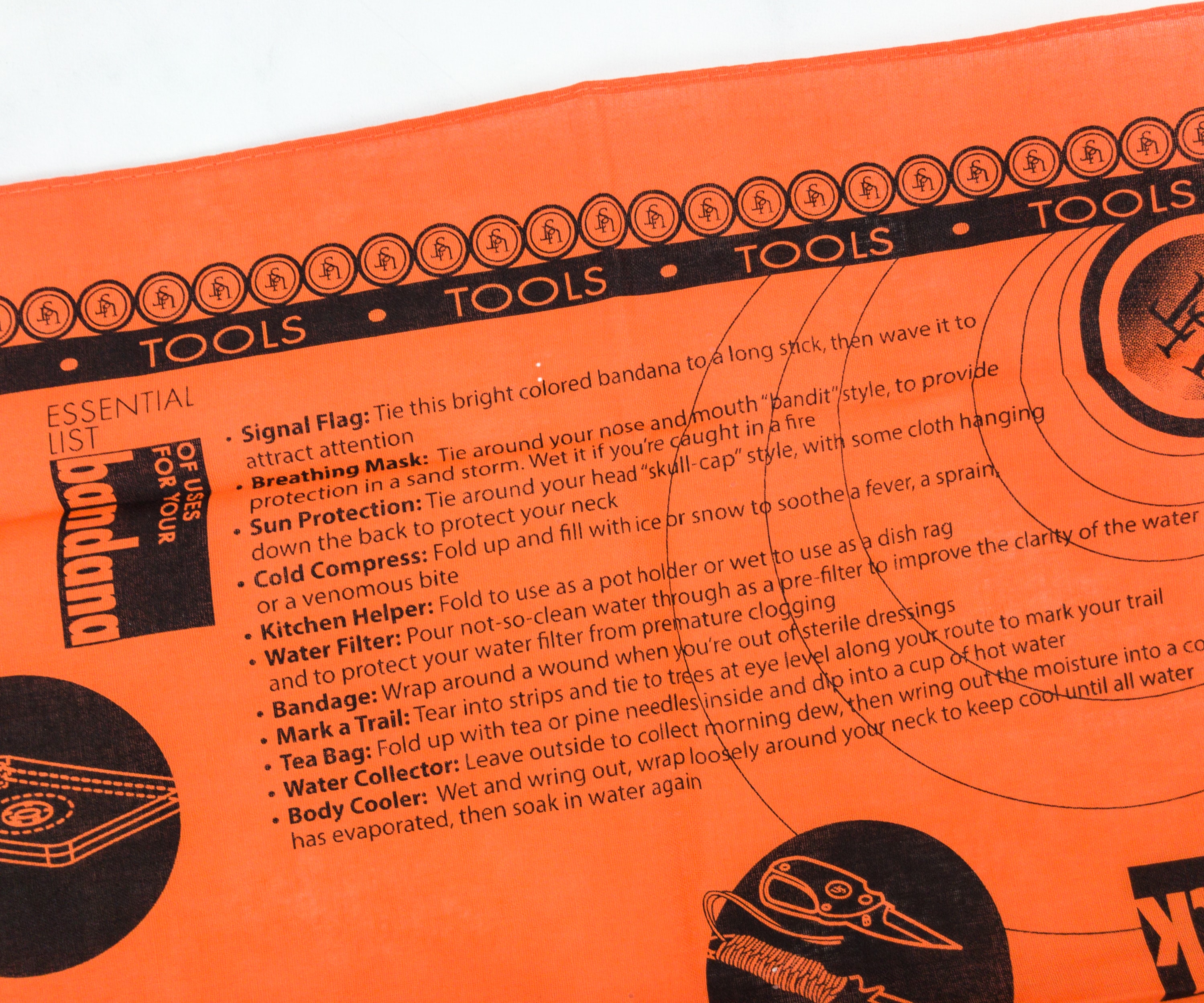 Featured in this part of the bandana are some ways to use it as a tool like a signal flag, breathing mask, sun protection, cold compress, kitchen helper, water filter, and many more.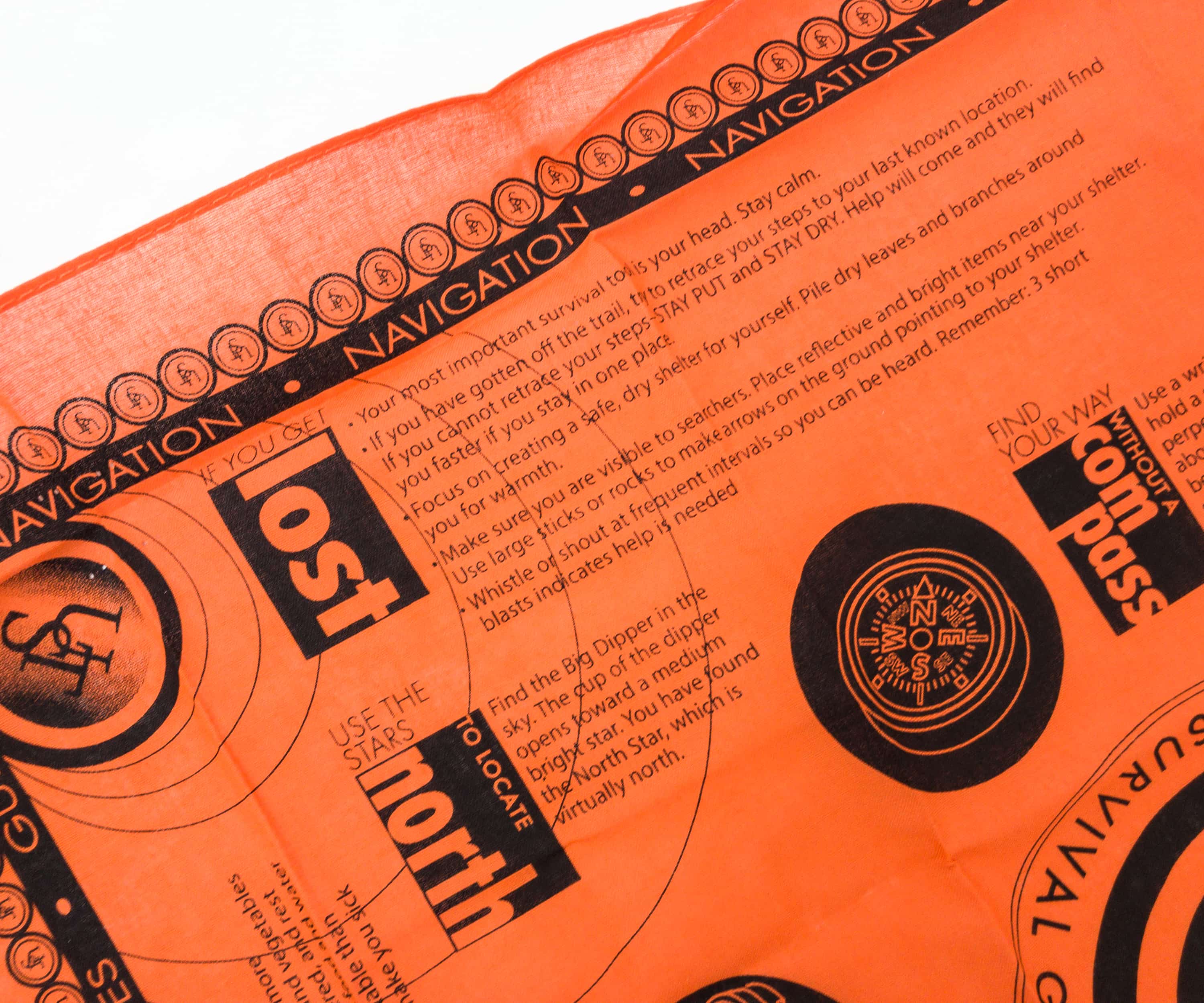 It also contains tips for navigation, especially when you are lost. It'll teach you how to use the stars or wristwatch to find your way back.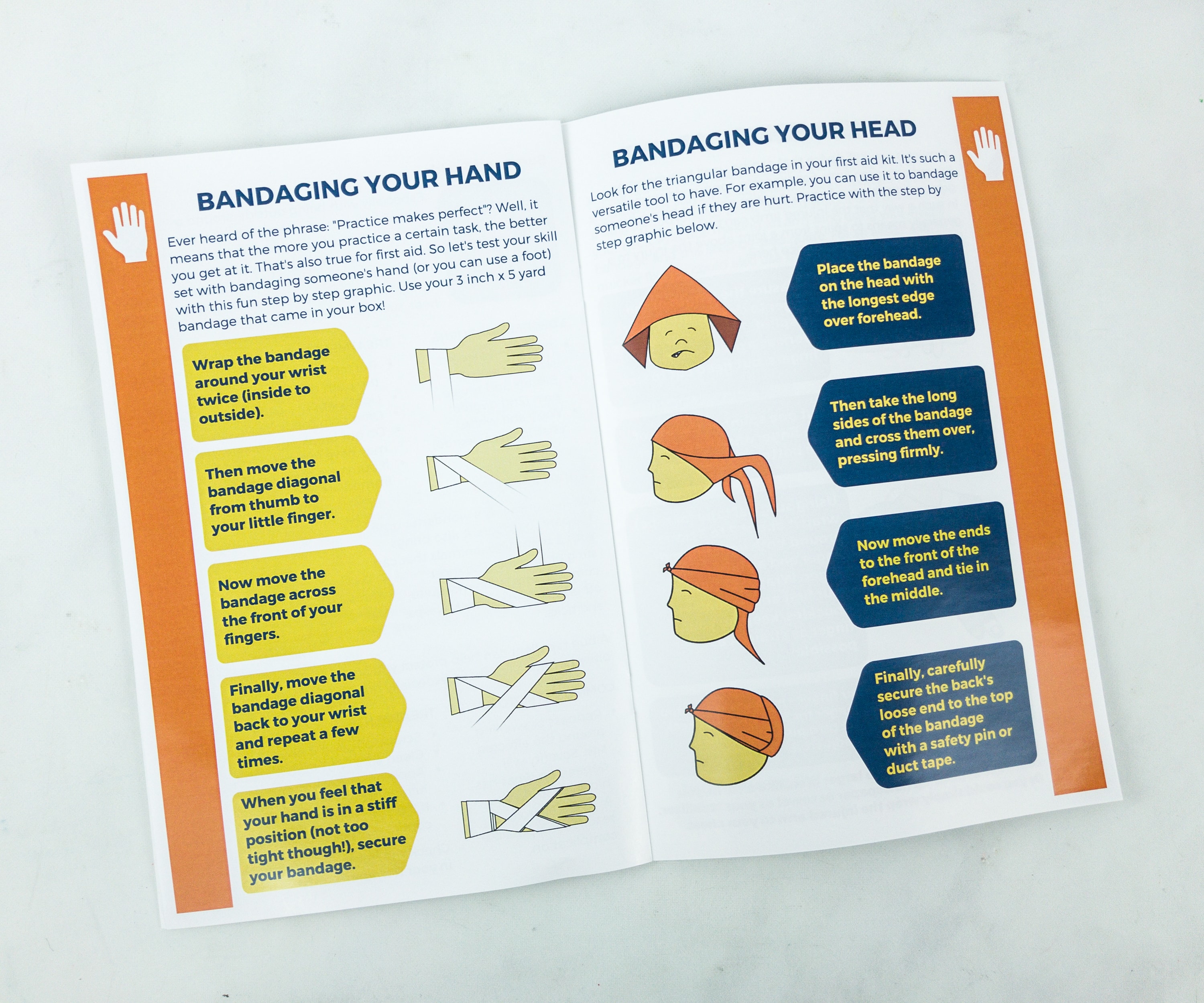 Here's a detailed step-by-step procedure on how to properly bandage the hands and head of an injured person.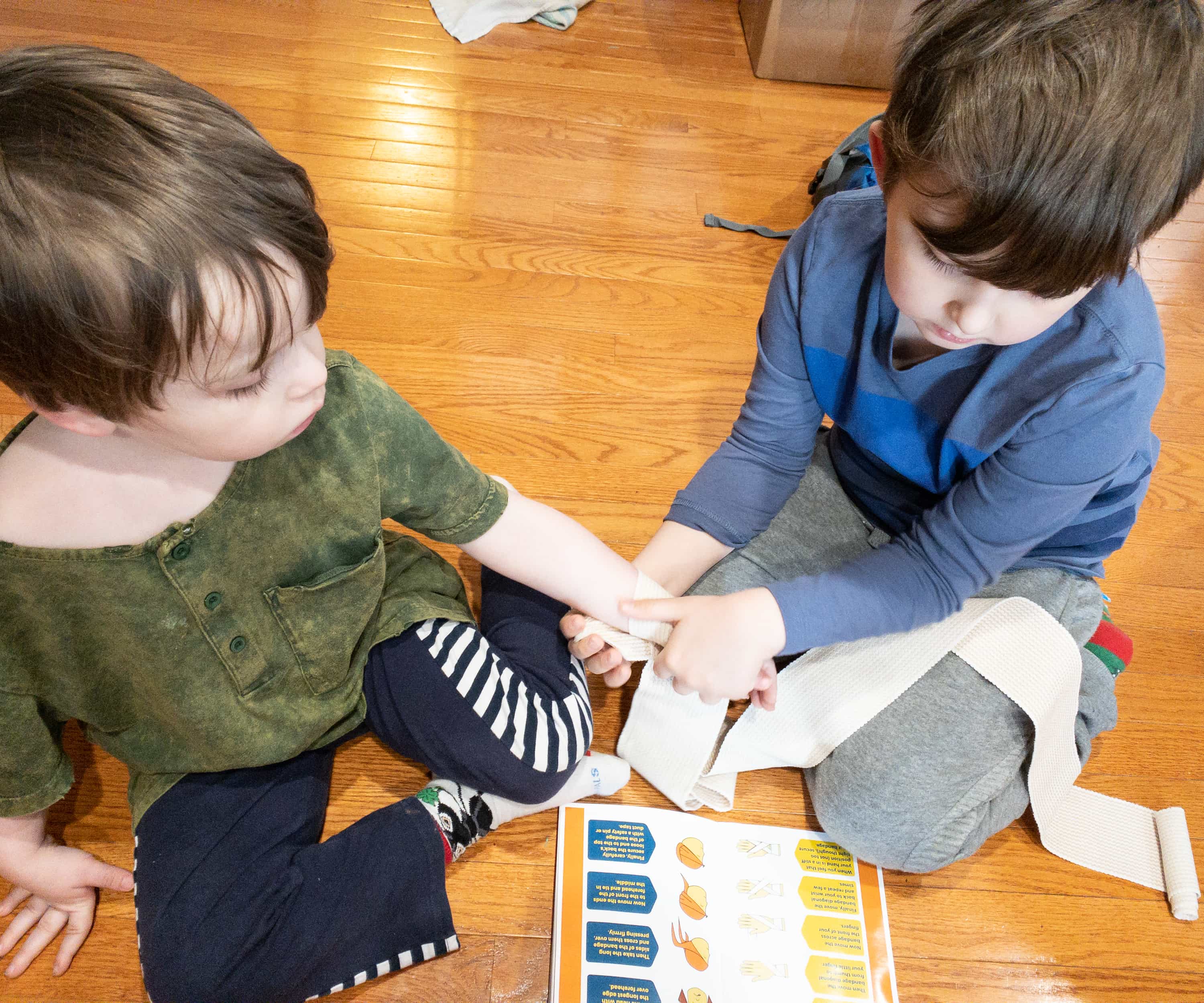 In bandaging a hand, you'll need to wrap it around your wrist twice, then move it diagonally across the front of your fingers and back to your wrist, repeat for a few more times, and secure the bandage one you feel that it's already stiff enough.

Practice makes perfect, and it will definitely make you more capable and accurate in properly bandaging an injured hand. My son seems to be very interested in learning the proper way of bandaging the hand.
This is how it should look when you put the bandana on your head. My baby is such a cutie!
This part of the booklet teaches us to make a finger splint and an arm sling.

Carefully wrap the bandage around the injured arm for 3-4 times, then wrap out towards the neck, run it over the back of the neck to give support and keeping it close to the body.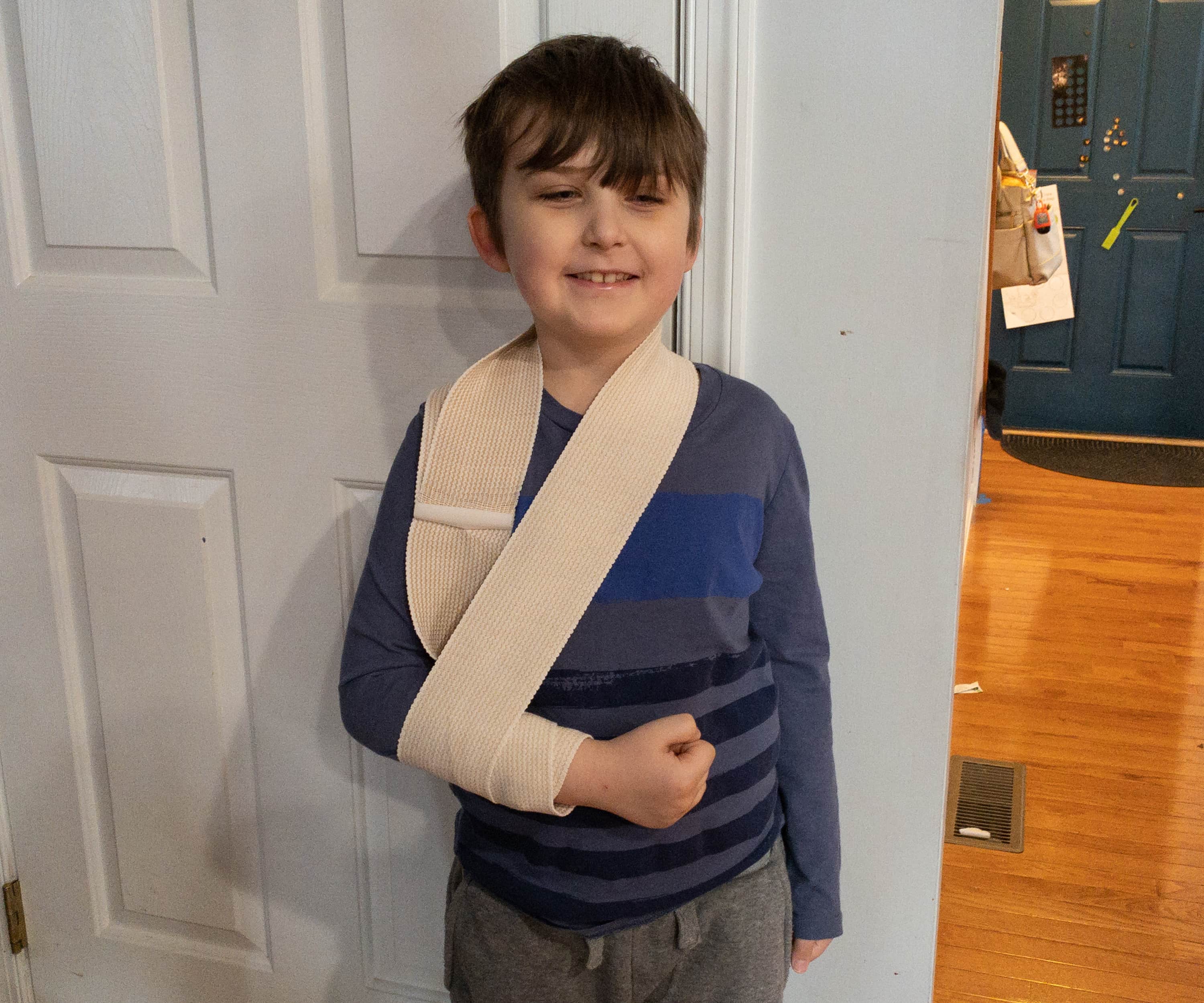 Knowing how to put an arm sling properly is really an advantage, as it reduces the possibility of worsening the injury and gives a greater chance to contain the pain from it.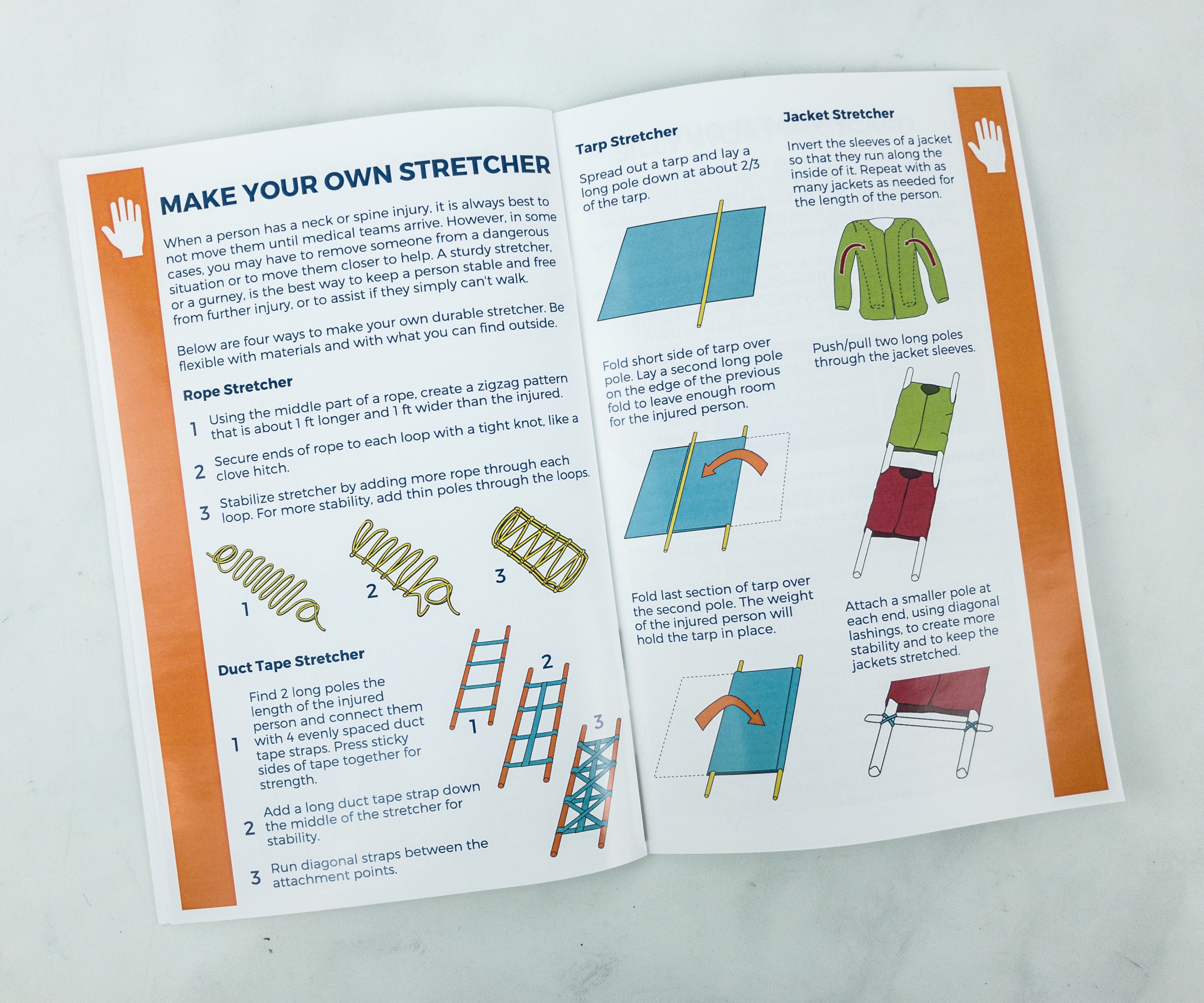 Next, we learn how to make our own stretcher using a rope or a duct tape. A tarp, a jacket, or a shirt can also be used to form a stretcher.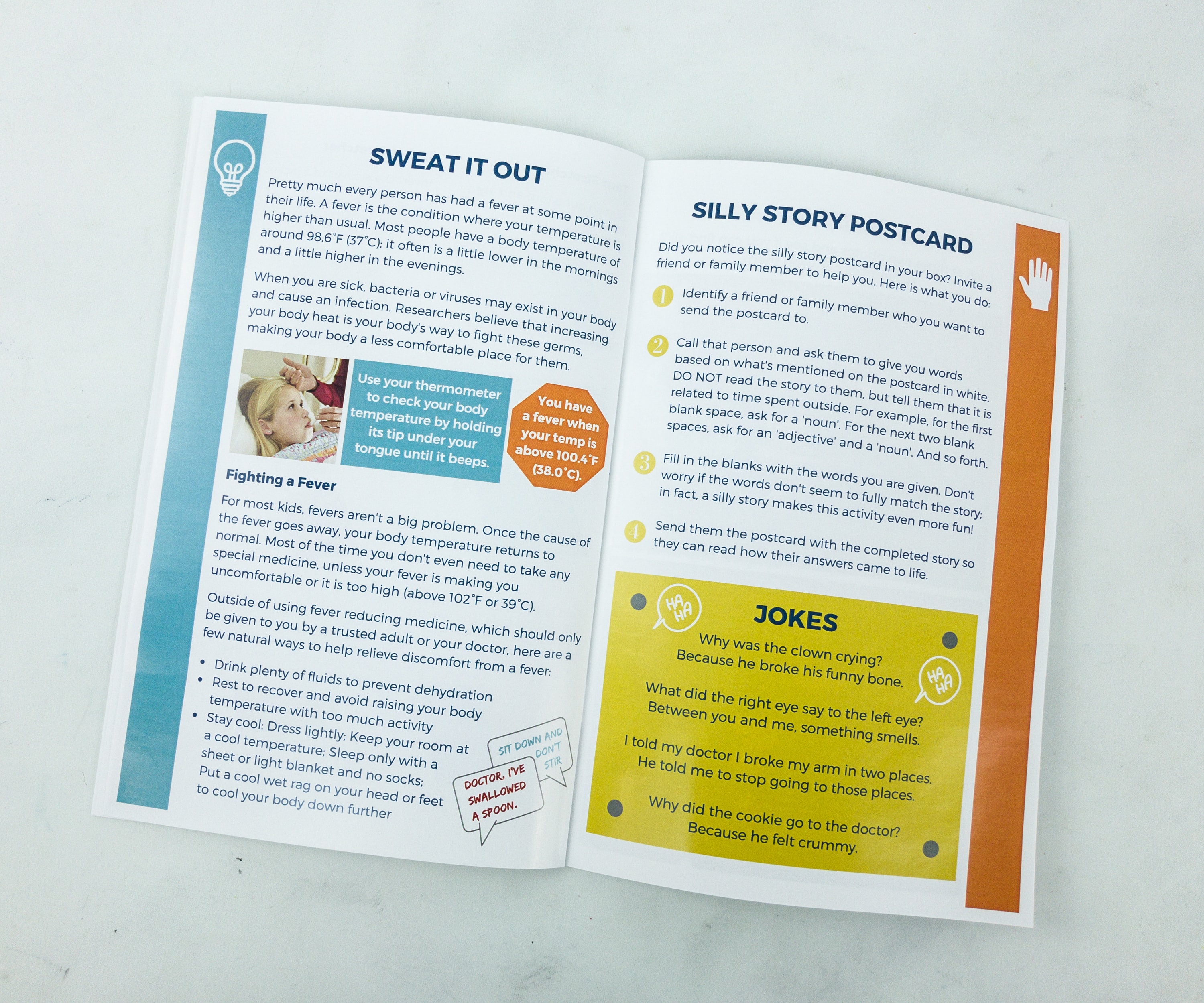 This part of the booklet tackles some tips on how to fight a fever. There's also a silly story postcard and a jokes section.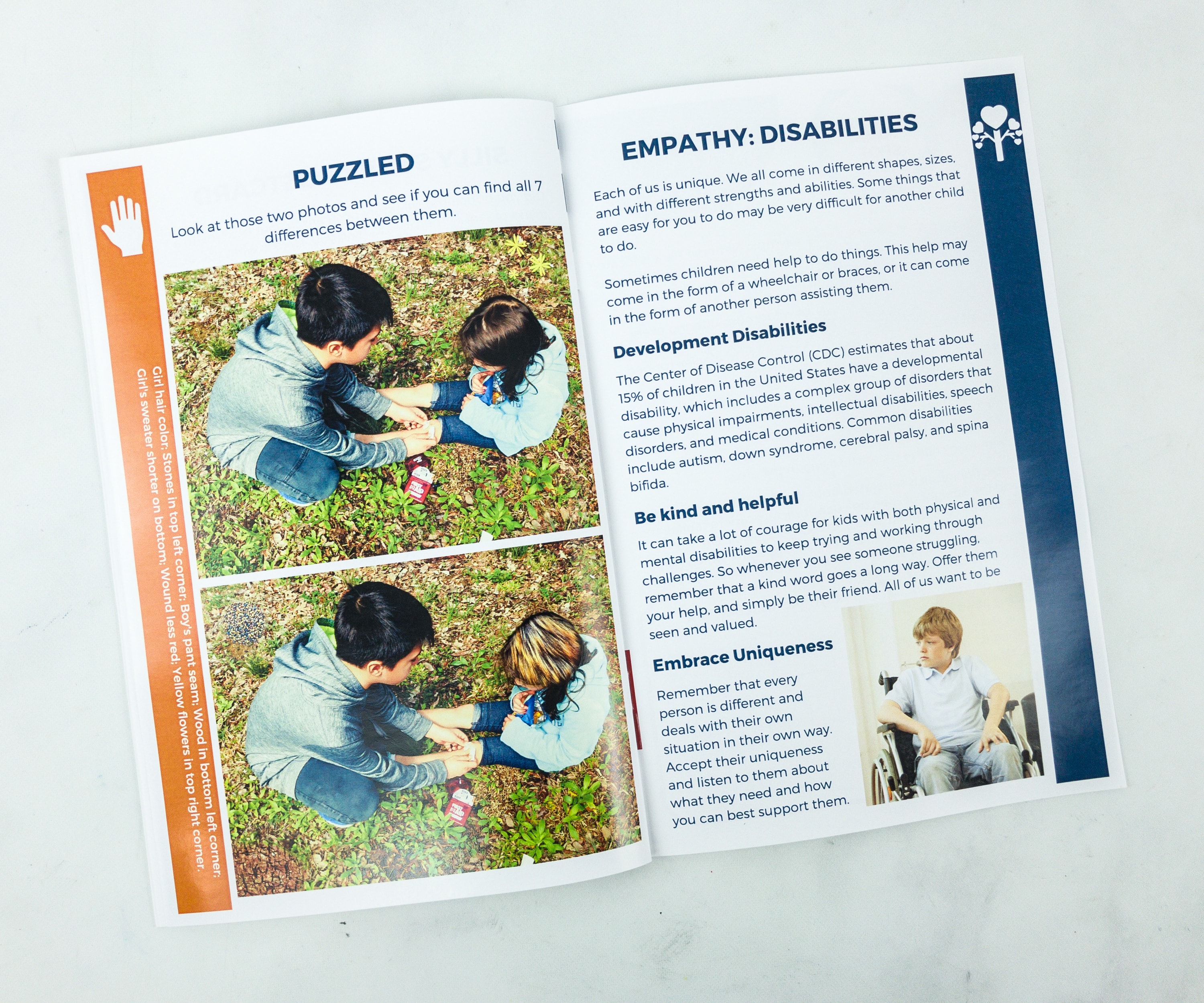 Another activity is about finding the differences between the two photos. Beside it is a feature about empathy towards people with disabilities.
Olympic National Park is located at the North West corner of Washington state. We learned more about this historic park on this part of the booklet.
There's another card in the box featuring a fill-in-the-blanks story activity.
At the back, there's a space where you can write a message. You can actually send it to a friend or a loved one too!

Lastly, we made our own first aid kit chatterbox using this sheet! There are six steps in total and they're all easy to follow.
THiNK OUTSiDE BOXES is really awesome! This month, we got an amazing curation of first aid items. Everything is useful, not only for accidents or emergencies but for our day-to-day living. I also appreciate the inclusion of the booklet, we definitely learned a lot of things just by reading it. Of course, the kids' favorite part was practicing how to make an arm sling and how to properly put a bandage. We're all satisfied and also excited for next month!
What do you think of this month's box?
Visit THiNK OUTSiDE BOXES to find out more about this subscription!