The Bouqs is an online flower shop that also offers floral subscriptions. Whether by subscription or one-off orders, you can choose a bouquet of flowers, which are grown in rich South American soil, and get beautiful flowers delivered to your doorstep. Ordering is simple and hassle-free. If you're interested in a subscription, that will knock 20% off your ongoing deliveries.
DEAL: You can try code NEWB15 (all caps required!) to get 15% off or WELCOME10 for a 10% discount on your first delivery.
Save 20% off the Valentine's Day collection with coupon code LOVE19!
If you prefer a subscription, you can easily set your deliveries for every week, every 2 weeks, every month, or every 2 months. When you subscribe you select a Bouqs aesthetic (Farmer's Market, The Classics, or Roses) and the size of bouquet you prefer – Original, Deluxe, or Grand ($32, $44, $56). Instead of a subscription, you can also pre-schedule deliveries for important occasions.
This is a review of the Farmer's Market subscription. For February 2019, we received the "The Bungalow" Bouq. This is a review of the double size!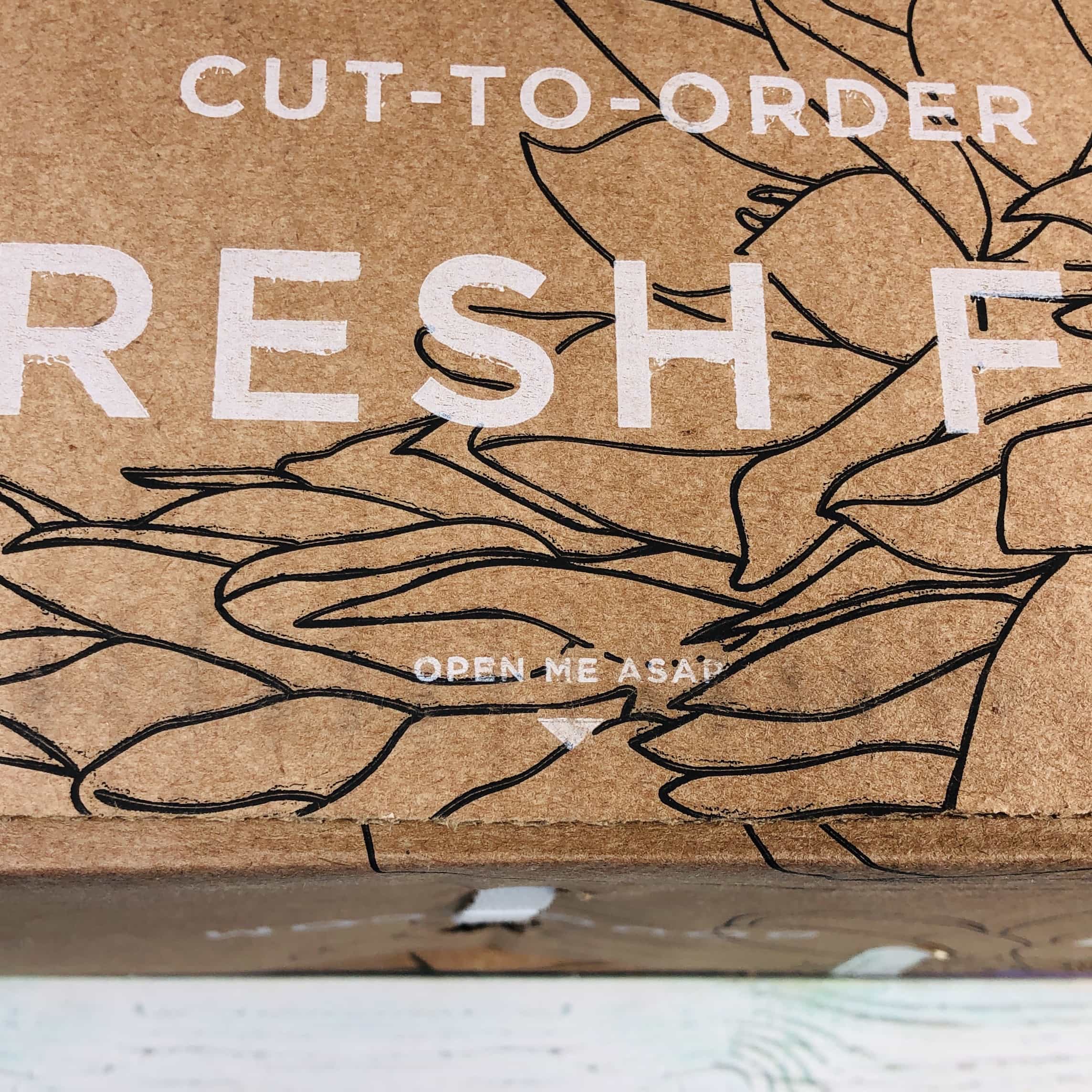 The packaging is simple and straightforward. It reminded me to open it up ASAP!
The box itself had lots of info listed, like what makes Bouqs different from other floral providers.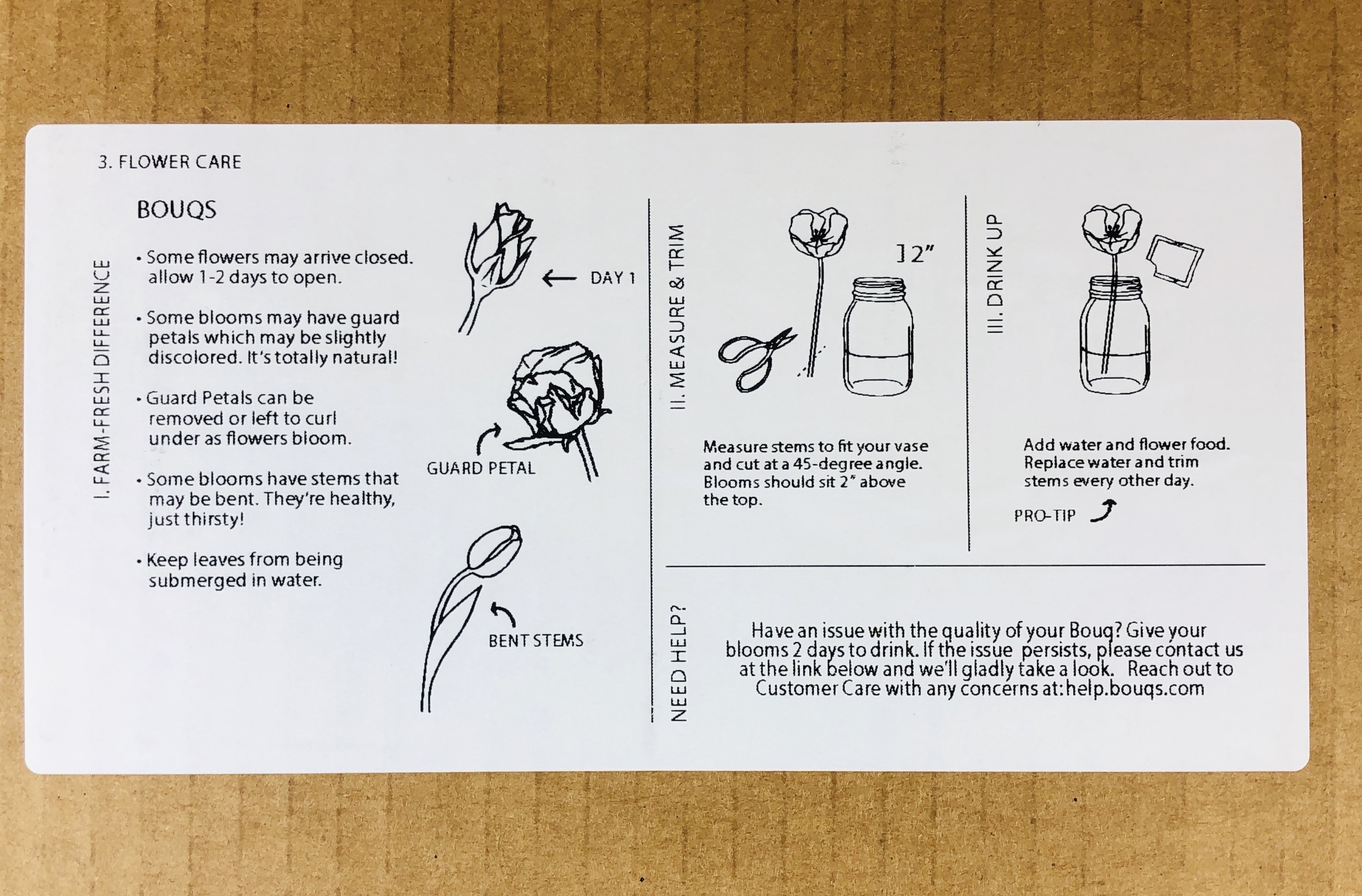 The flower care instructions are included with the packaging. I strongly suggest trimming stems and putting them into the water straight away.
My bouquet was tied down in the box so that it wouldn't get jostled around on its trip from Ecuador.
Everything was wrapped in plastic and ready to go once I opened it up.
The box comes with its own gift card in case you will be giving it as a gift to someone.
Inside the gift card is your note as well as care and design instructions.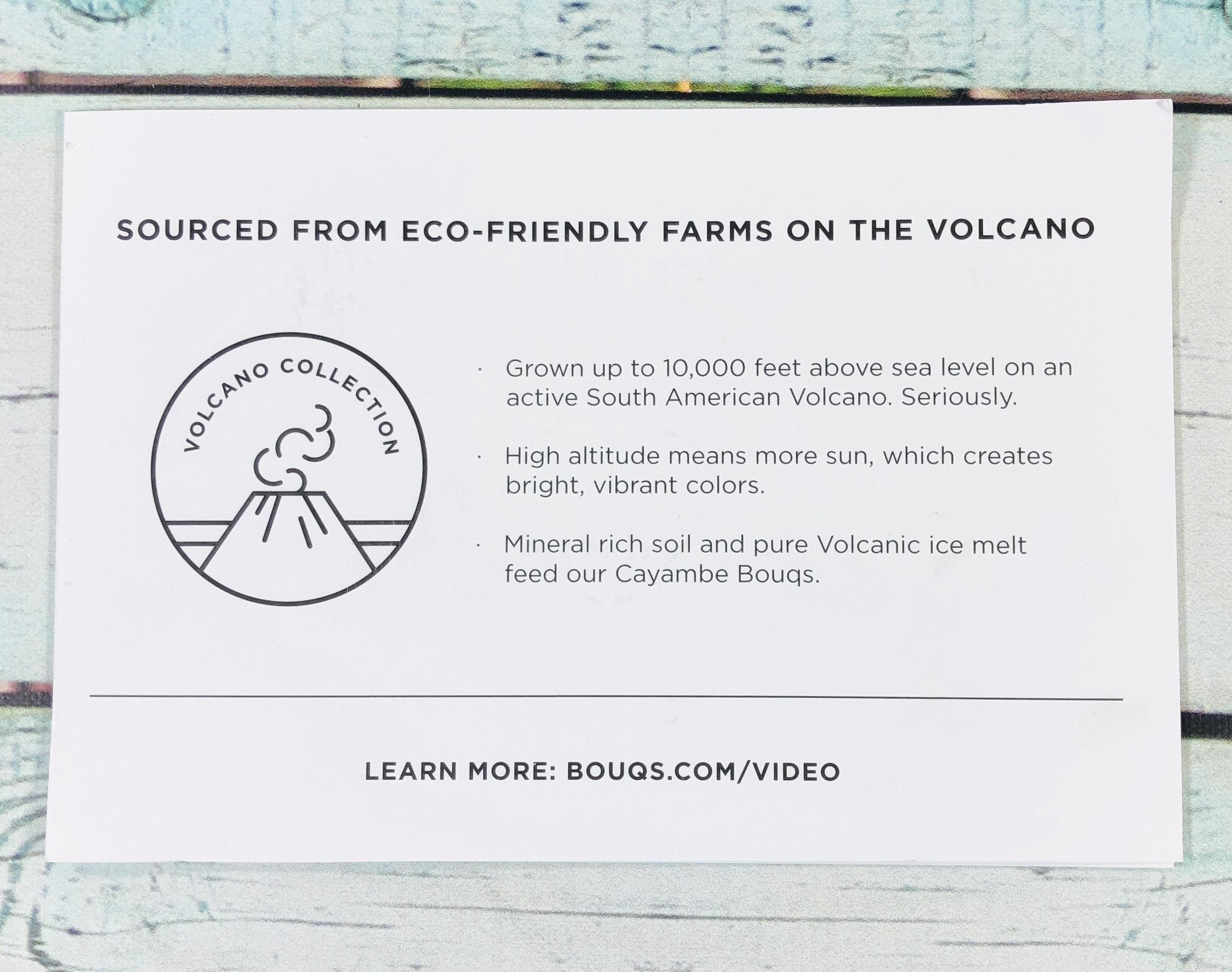 The flowers come from South America and grow in mineral-rich soil.
Bouqs wants to give subscribers a chance to win free flowers.
Follow the info for your chance at free flowers.
Finally, there was also a coupon code to save on your Bouqs.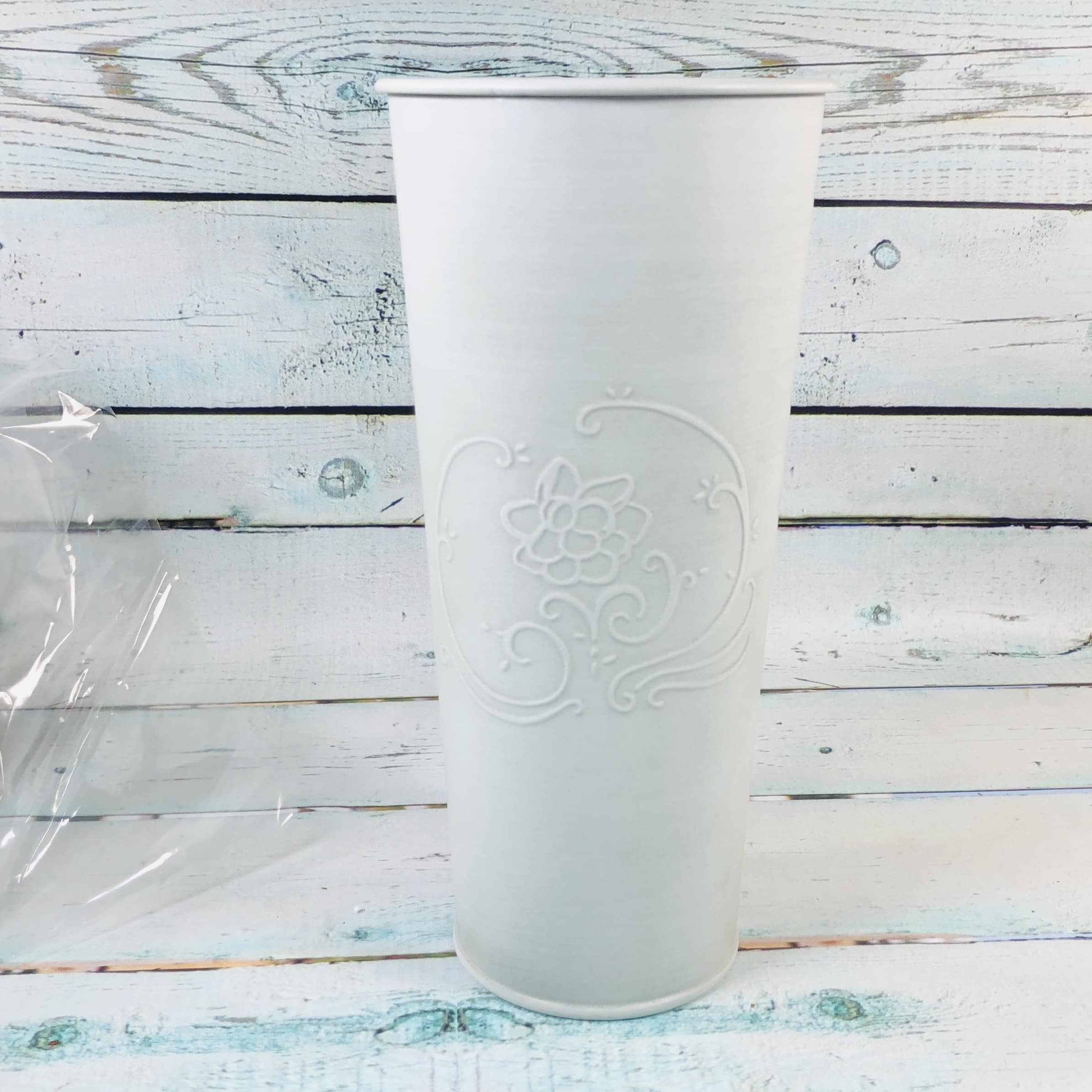 I received a vase for my flowers. You can place the flowers in your own vase or order one if you need one. This one is metal and has a pretty design on the outside. It is also taller than any vase I already own.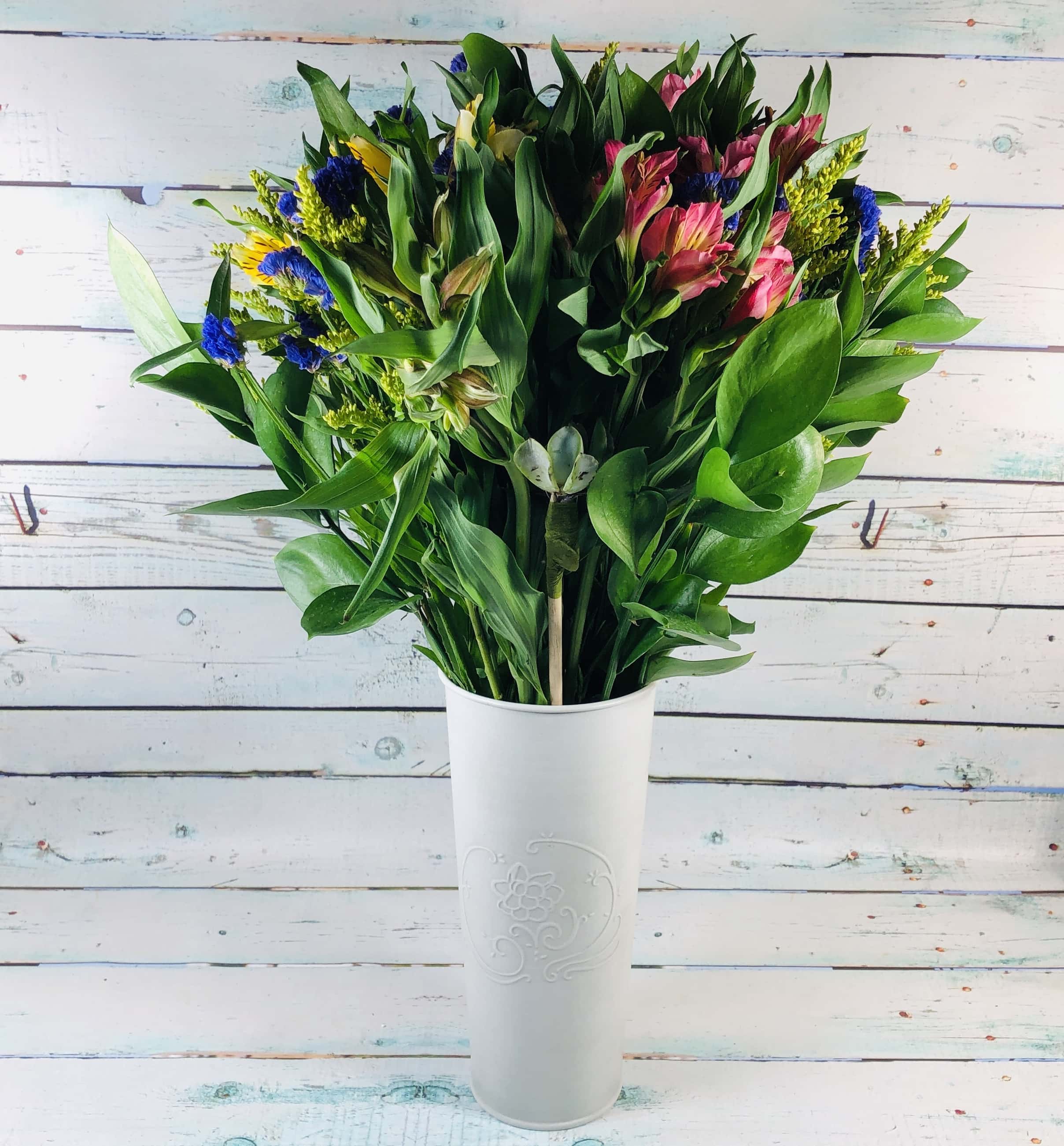 I don't know much that is simpler than placing the flowers in a vase with water, but that is literally all I had to do! I think I was supposed to get some packets of plant food but mine were missing. This is exactly what my flowers looked like after placing in the vase, although I did trim the stems first.
I recognized some of the flowers. I see two different colors of alstroemeria lilies, yellow and pink, plus some purple statice that for some reason looks blue in all of my pictures.
Hmm, this is one of two succulents that were in my bouquet. It is way smaller than I thought it would be and didn't really add any wow factor to the  bouquet.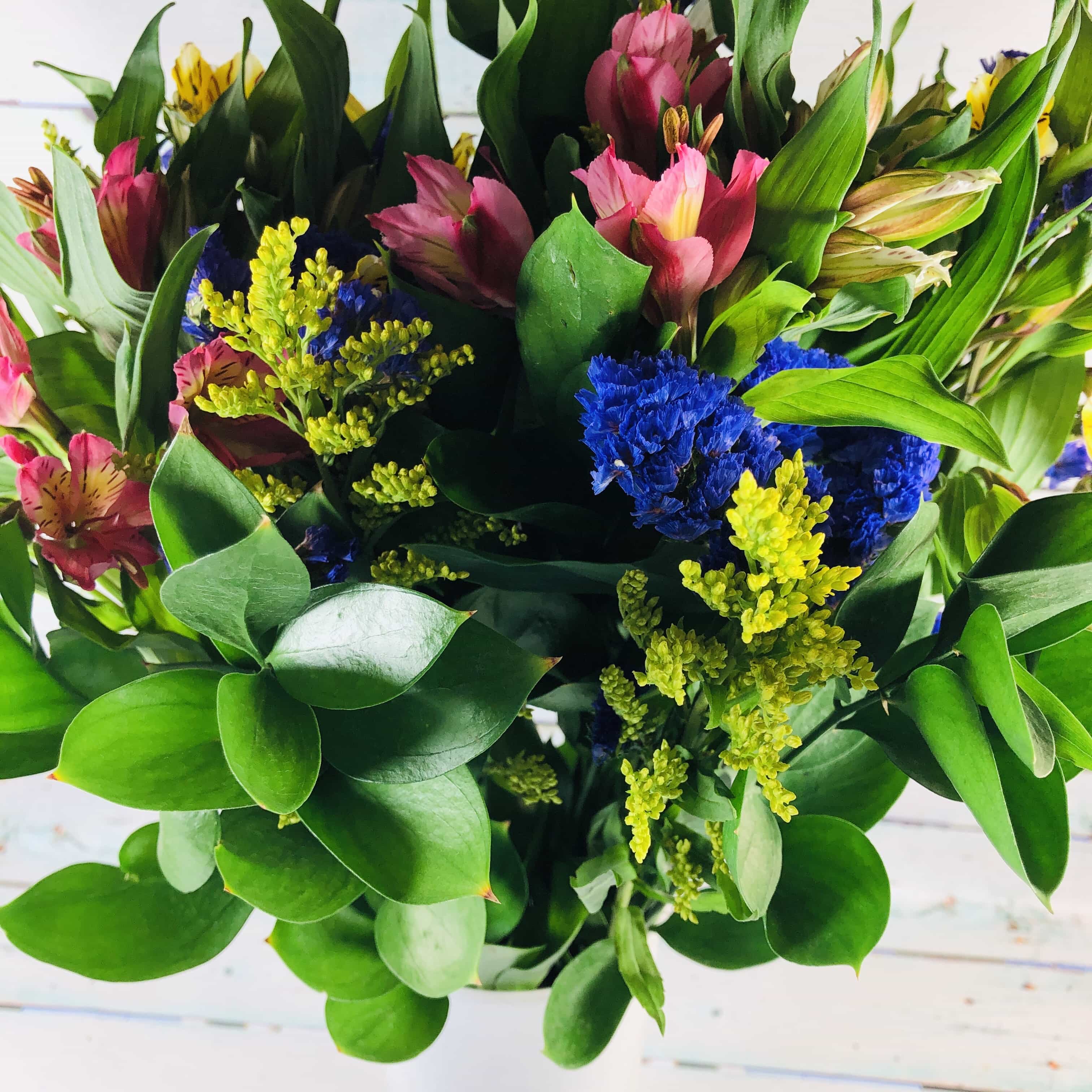 There were more yellow filler flowers, maybe they are called solidaster?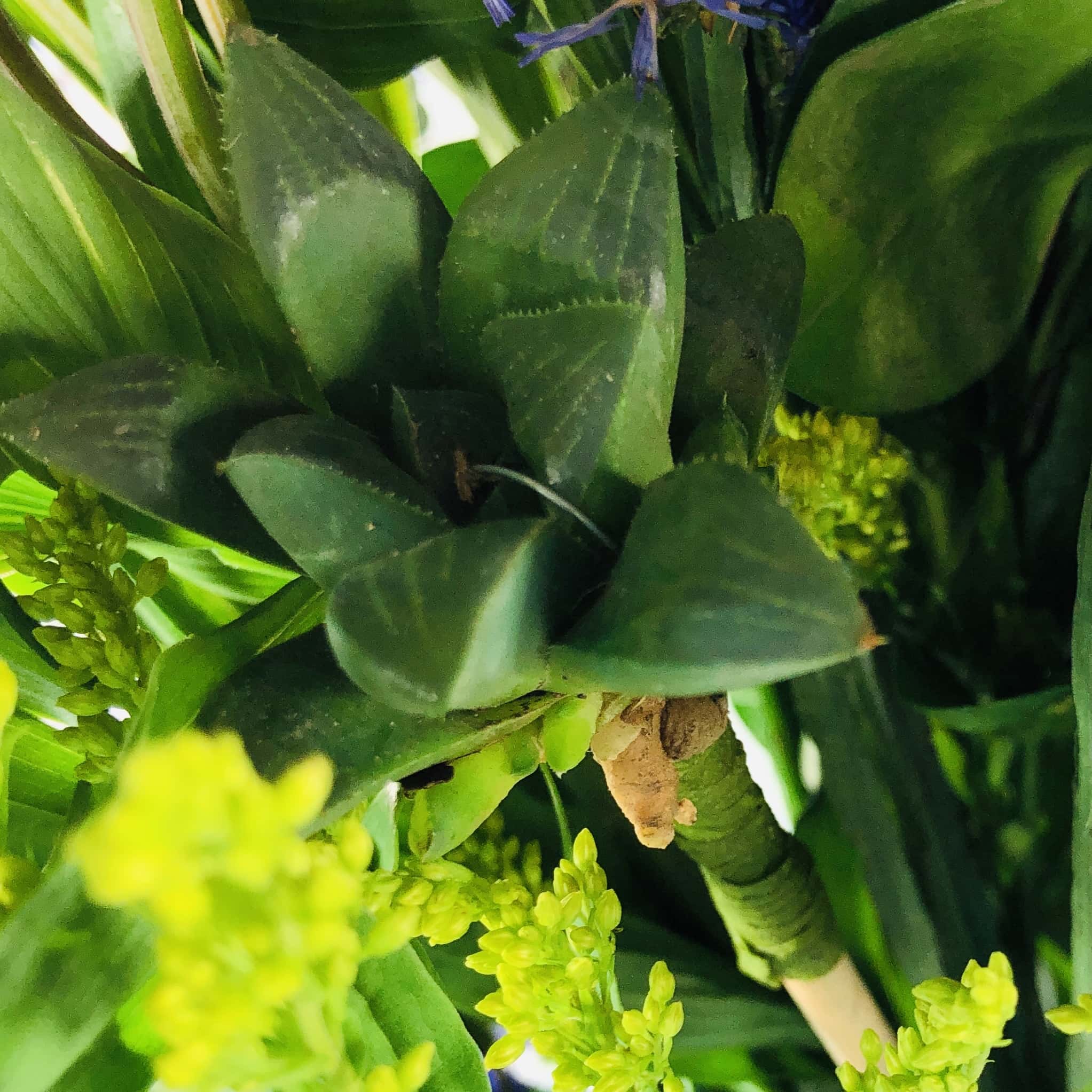 Here's the second succulent, which was just a bit bigger than the first. It was attached to a stick and you can plant it after you are finished with the bouquet.
Lots of greenery was to be found, and it held up a long time.
Here is my bouquet less than 24 hours later, what a difference! Everything was hydrated and filled out and I was super impressed.
Look at how pretty and fresh the flowers look now!
The alstroemerias started opening up and added so much color.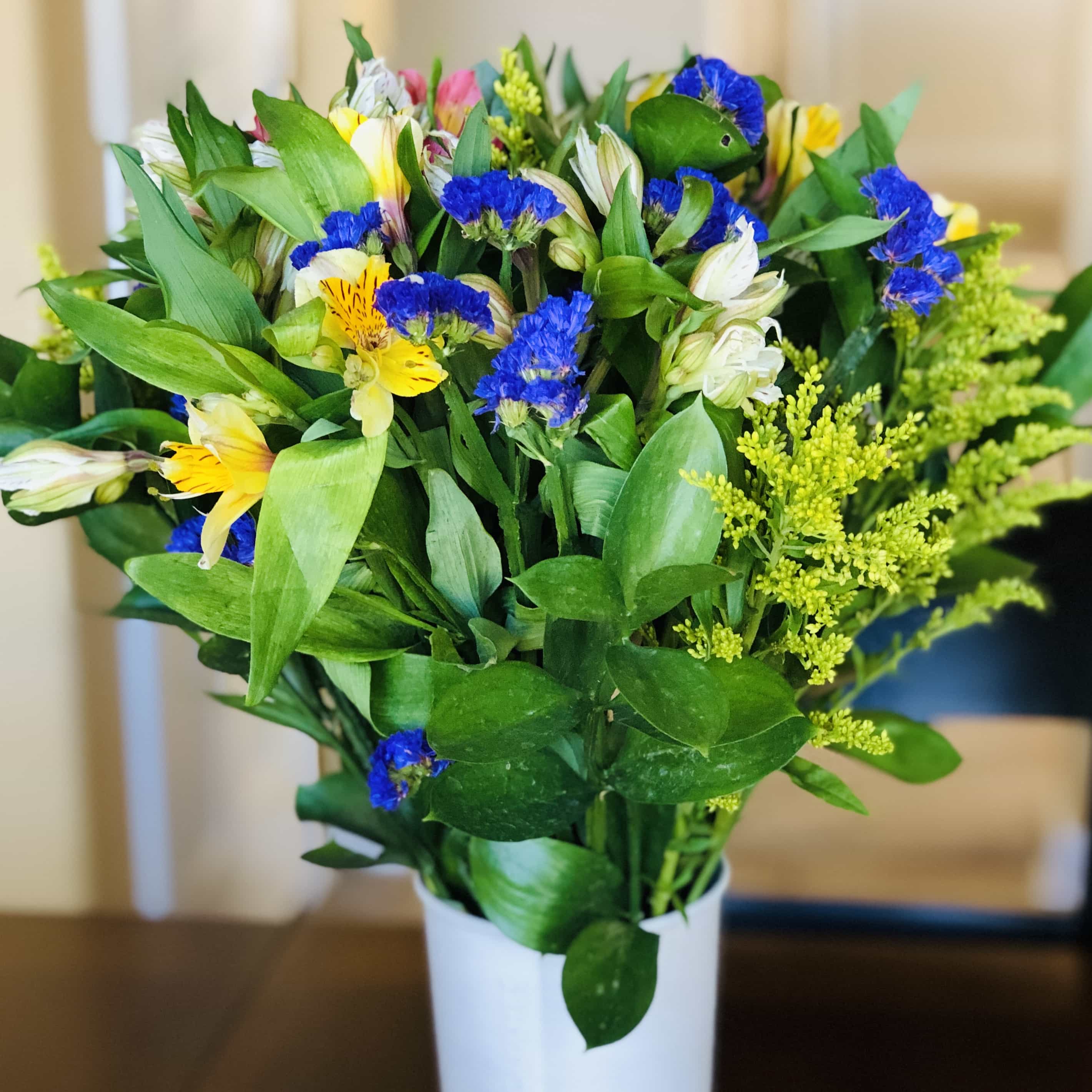 One side looked mostly pink, the other more purple and yellow.
Here is the bouquet five days later. There are lots of pretty while alstroemeria everywhere. Make sure to check the water levels often, I was amazed at how quickly that first drink of water was sucked up by the flowers and they may last a little longer with regular water changes.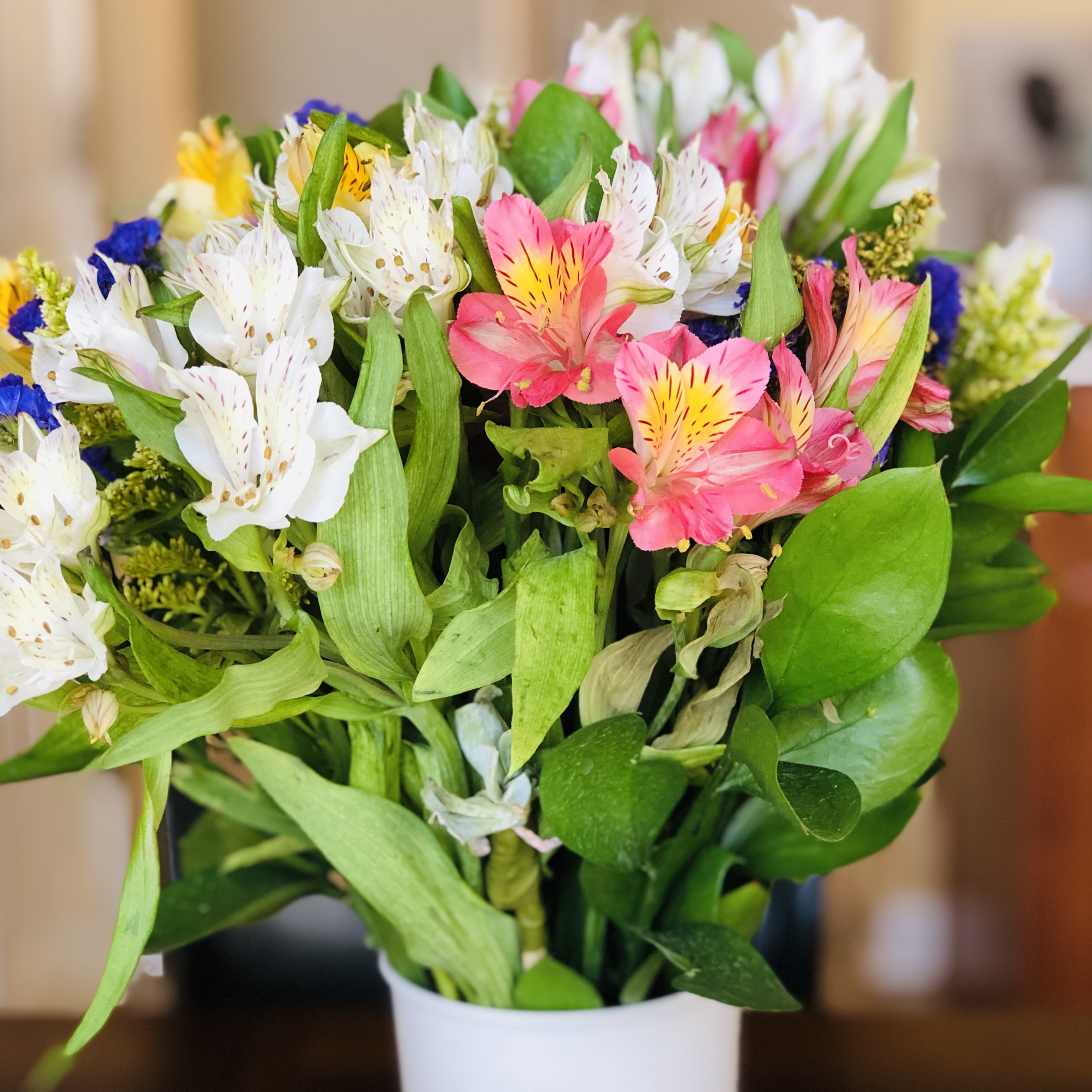 There's that little bitty succulent, poor thing. The other one is doing better than this and I plan on planting it as soon as all of the flowers are spent.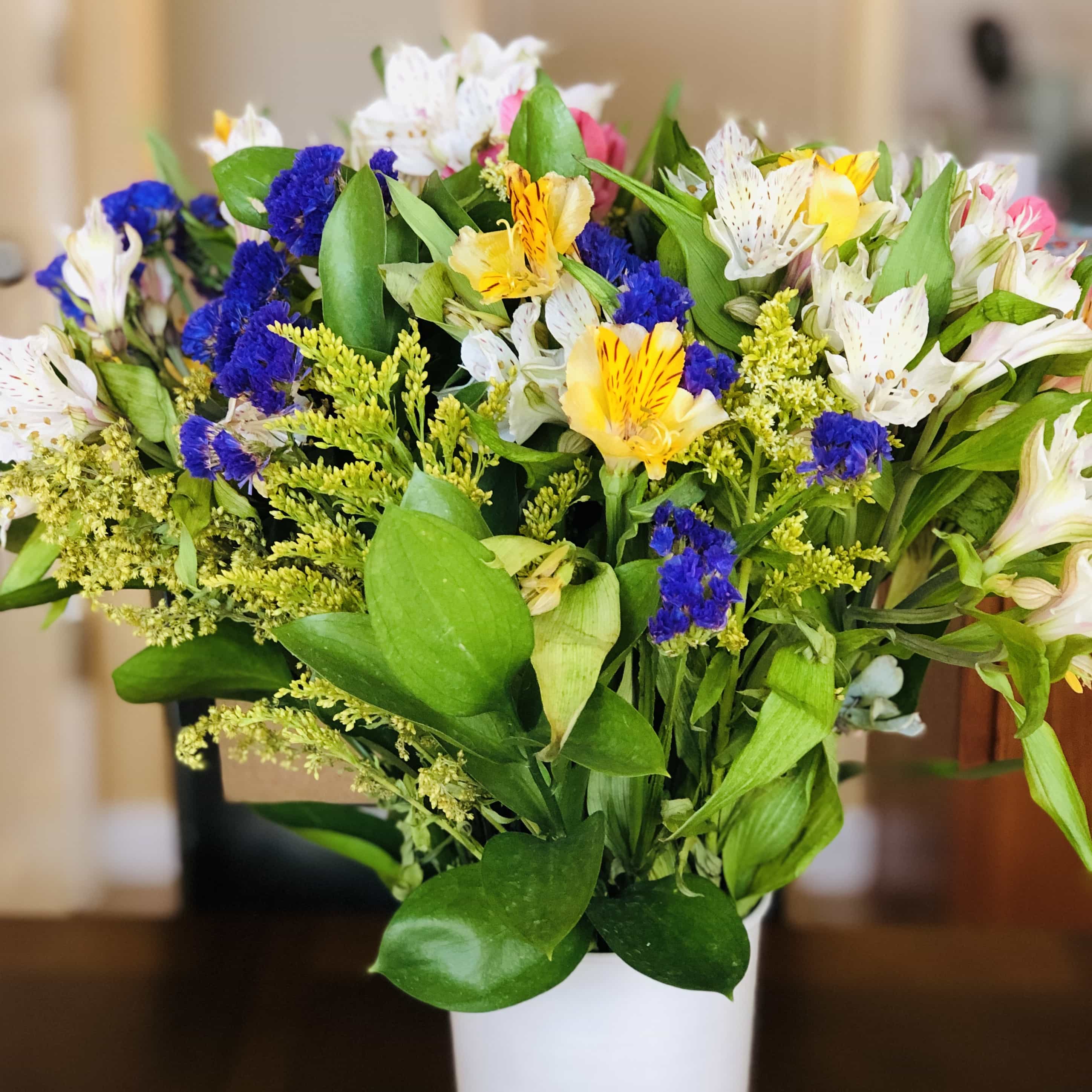 Overall I was very pleased with my first Bouqs delivery. The colors and quality of the flowers and greenery was wonderful and everything perked up really well after being placed in the vase with water. I was disappointed to not find flower food, it's not something I have on hand at home. Also, the succulents really didn't stand out at all and that is sad since it was the main draw for this bouquet. I don't think it matched the picture of what I chose on the website, but it was still beautiful. The rest of the arrangement was lovely and looked great for over 1 week.
What do you think of 
The Bouqs?