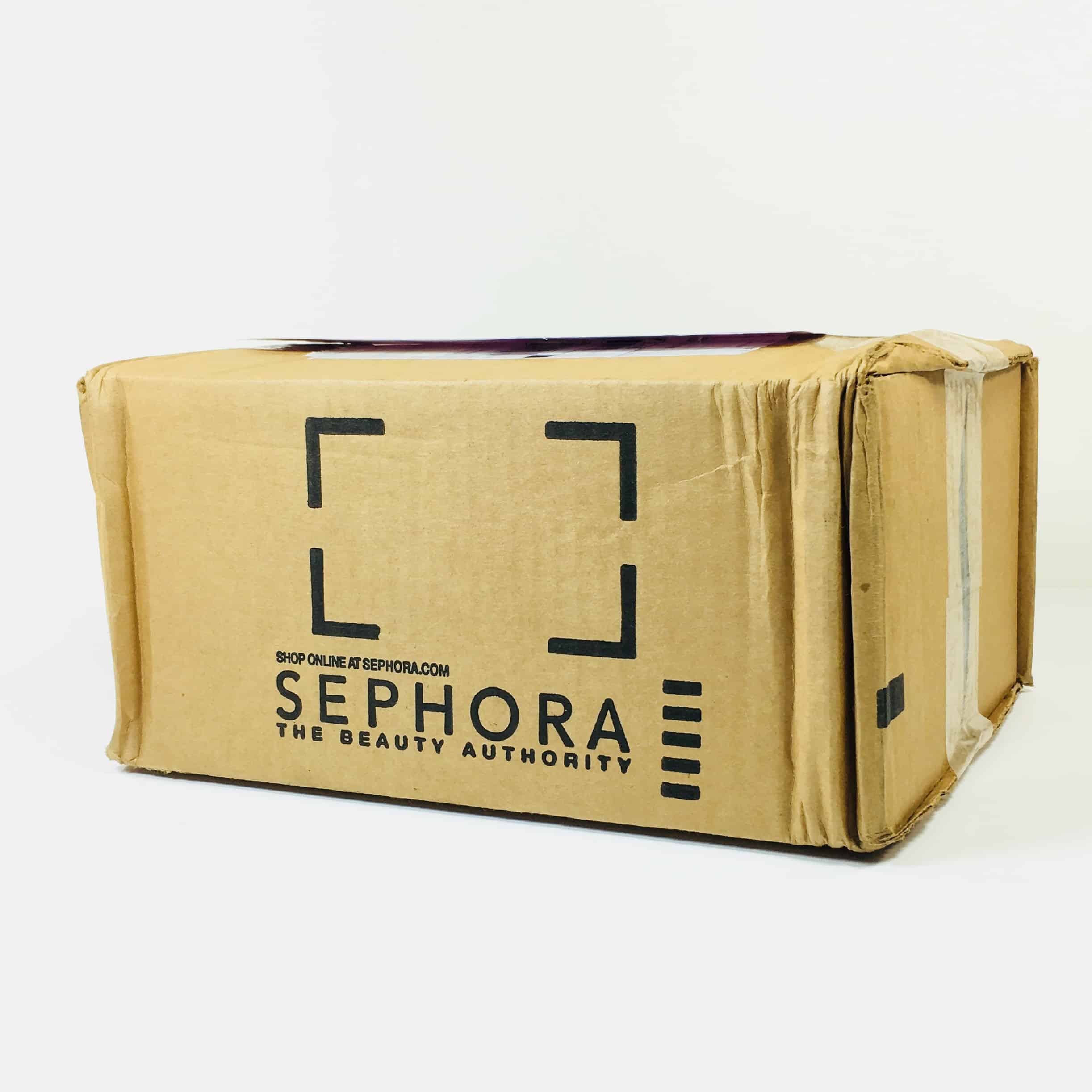 Play! by Sephora recently released a limited edition box for $20! It's called PLAY! SMARTS by Sephora Skincare by Age: 50 and it promised six trial-size skincare products with an $85 value and would include brands such as FRESH and Drunk Elephant. Purchasers will also get access to an exclusive live-streamed beauty crash course, plus a limited-edition beauty bag, informational SMART cards for each product, and a SMART pass good for 50 bonus Beauty Insider points with in-store purchase. This is a one-time purchase and not a monthly subscription, and there are three boxes to choose from. This box is not available in stores.
The PLAY! SMARTS by Sephora Skincare By Age 50 box is still available!
PLAY! SMARTS is the latest offering from PLAY! by SEPHORA that allows you to learn while you PLAY!—it's a beauty box and class rolled into one!

What it does:
This special-edition trio of PLAY! SMARTS boxes will help you master a skincare routine specific to your stage in life. You'll get access to an in-depth, live-streamed class with your one-time delivery of six trial-size skincare products inside a special-edition beauty bag. Get to know your samples, stream your CRASH COURSE at the date and time specified in your box, and ask our experts any questions you might have.
There's no extra packaging, after the card you can already see the round mint green pouch!
Even the lid of the box was informative! There were a trio of boxes released this month so purchasers could choose from a box of products for the 30's, 40's, or 50's. I'm not even 50 yet (gimme another year) but I have dry skin and these products sounded much more suitable for my skin type.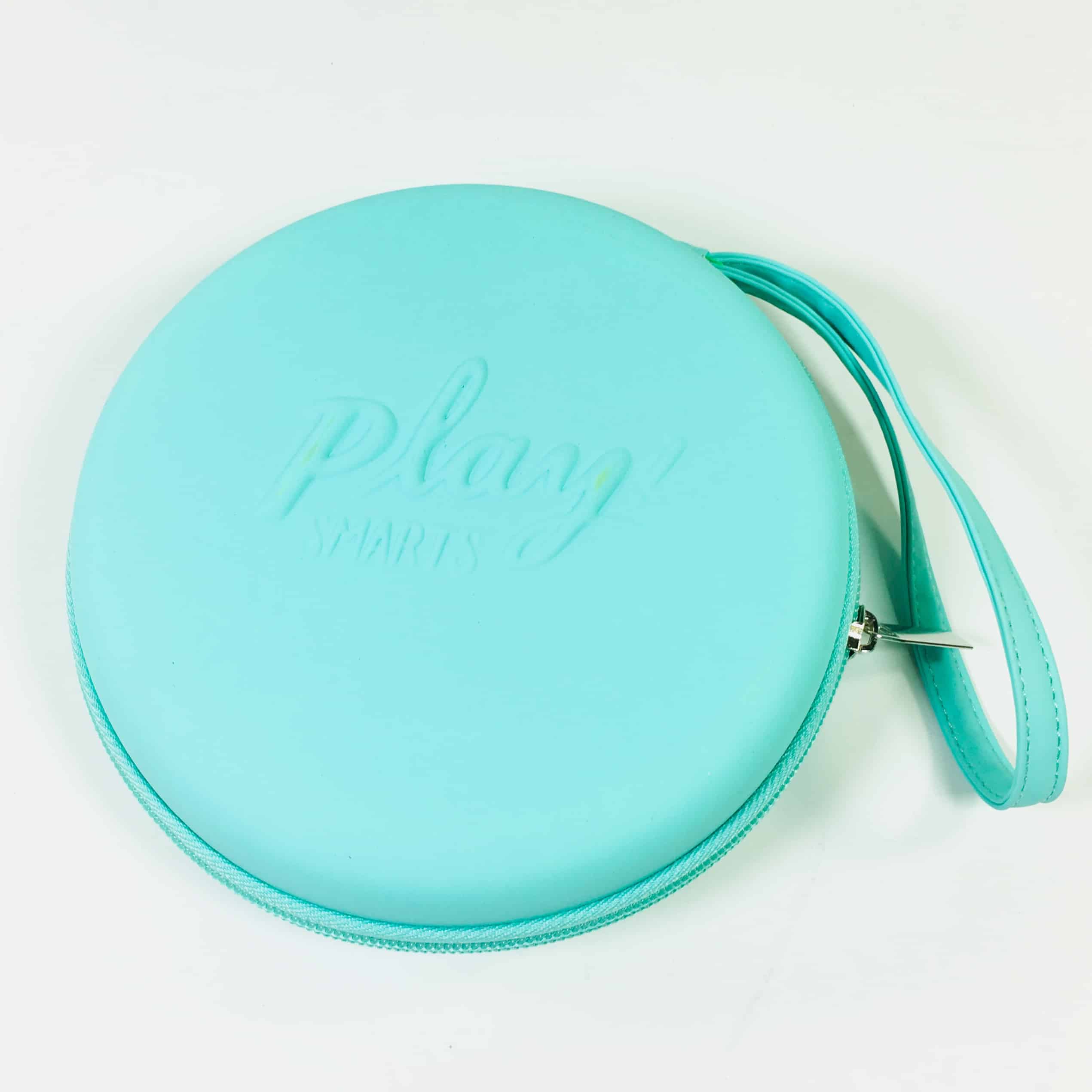 The reusable disc pouch is so cool! My daughter thought it looked like a French macaron cookie!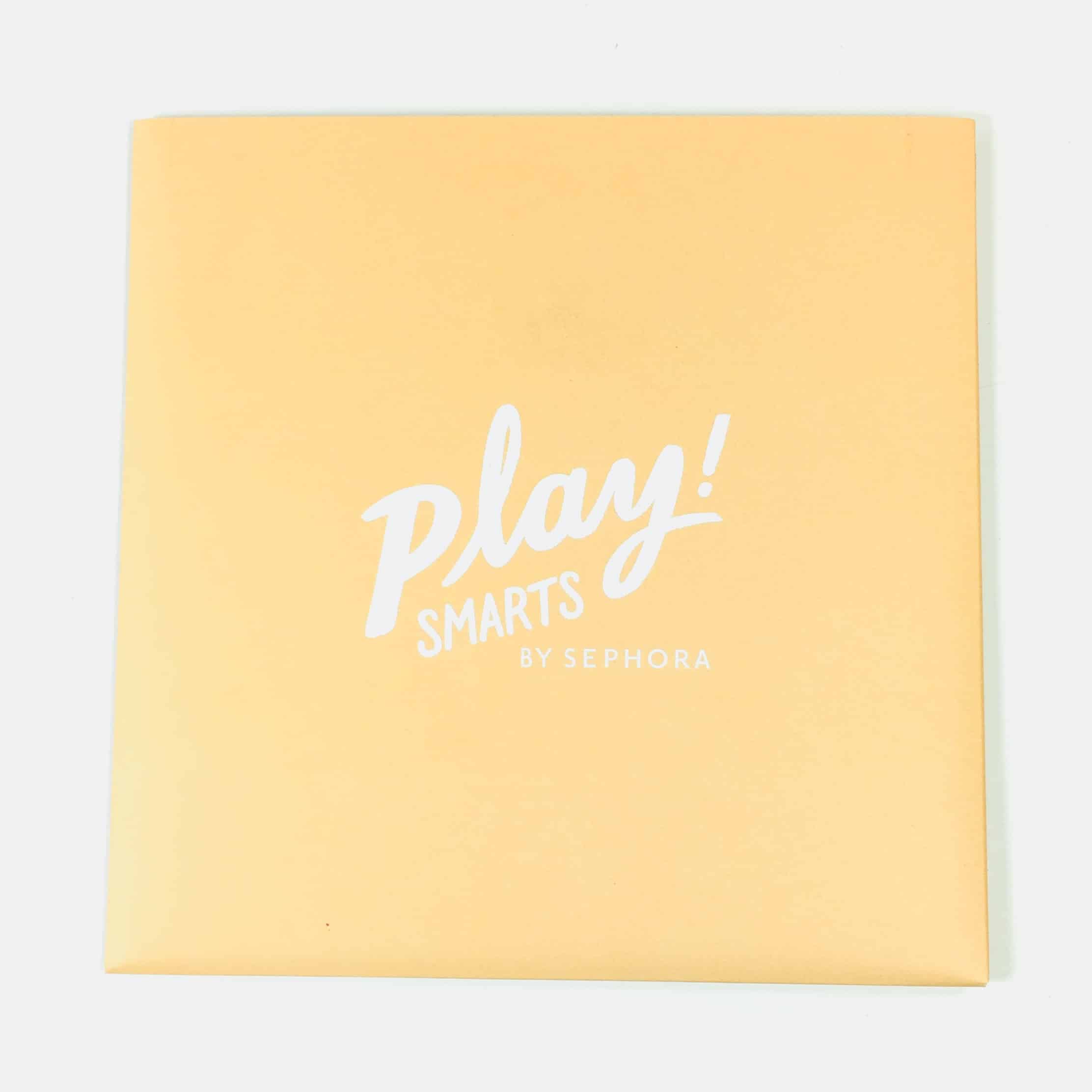 I found an envelope.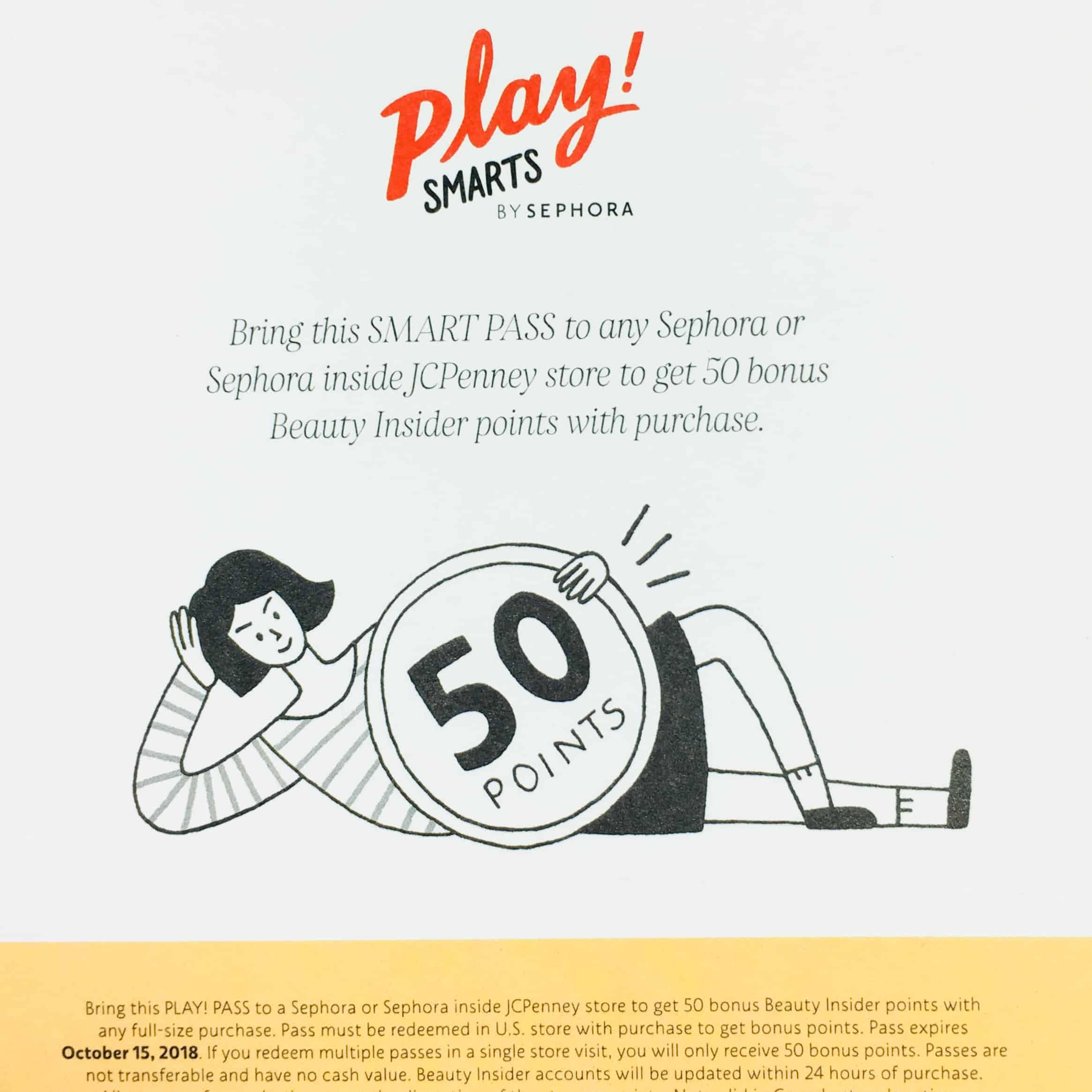 Inside it are the product cards. First up is a PLAY! Pass that will get you 50 extra Beauty Insider points with any full-size purchase, in-store only.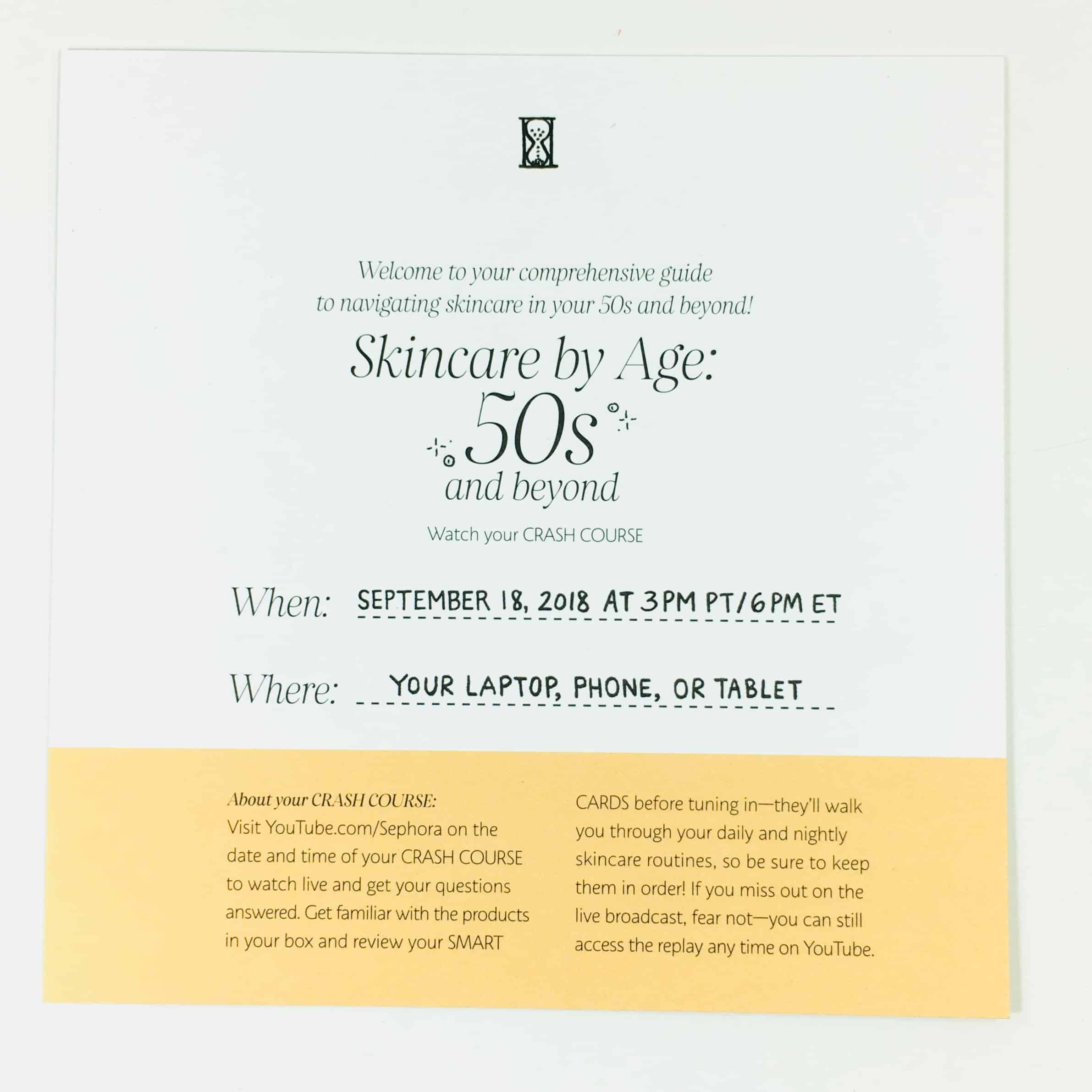 The back of the card listed essential information about the online crash course online entitled "Skincare By Age: 50s and Beyond!"
The crash course will be available on Sephora's Youtube channel. In case you miss the live broadcast, you will still be able to access the replay anytime.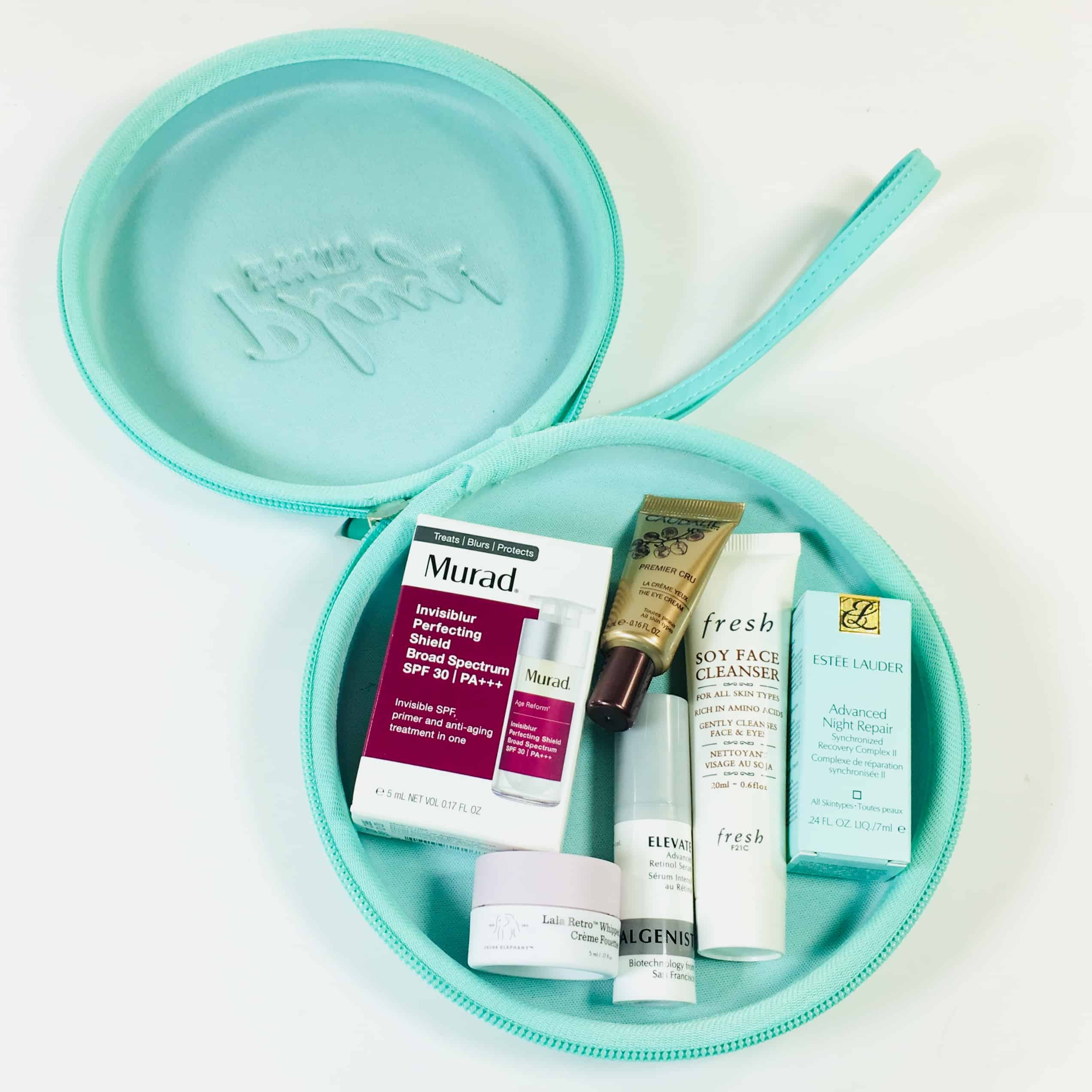 The products fit neatly in the carrying case.
Everything in my Limited Edition box!
Each product came with its own card that describes the item, what skincare concern it addresses, how to use it, and why.
The back of the cards featured a timeline of sorts that was kind of confusing. I appreciated that it told what time of day a product should be used; a tip, fact, or both; and a place to write notes if you choose to tune in to the online CRASH COURSE.
Fresh Soy Face Cleanser ($6) is a gentle facial cleanser that is for all skin types and helps get all of those last traces of makeup off of the skin. I used a cleansing oil to remove my makeup and then used this gently foaming cleanser to remove the rest. It had a mild scent and rinsed well and didn't leave my skin feeling tight afterward.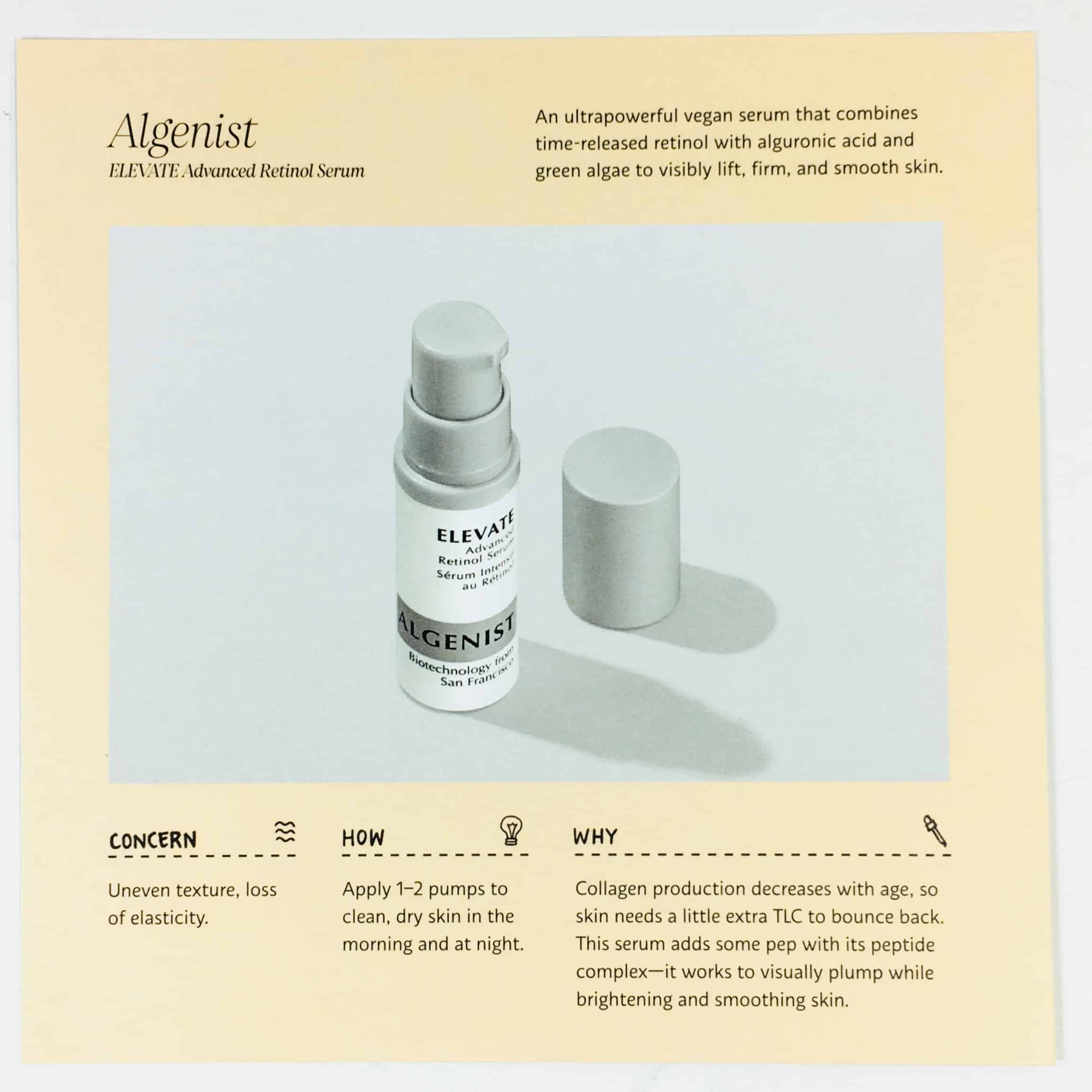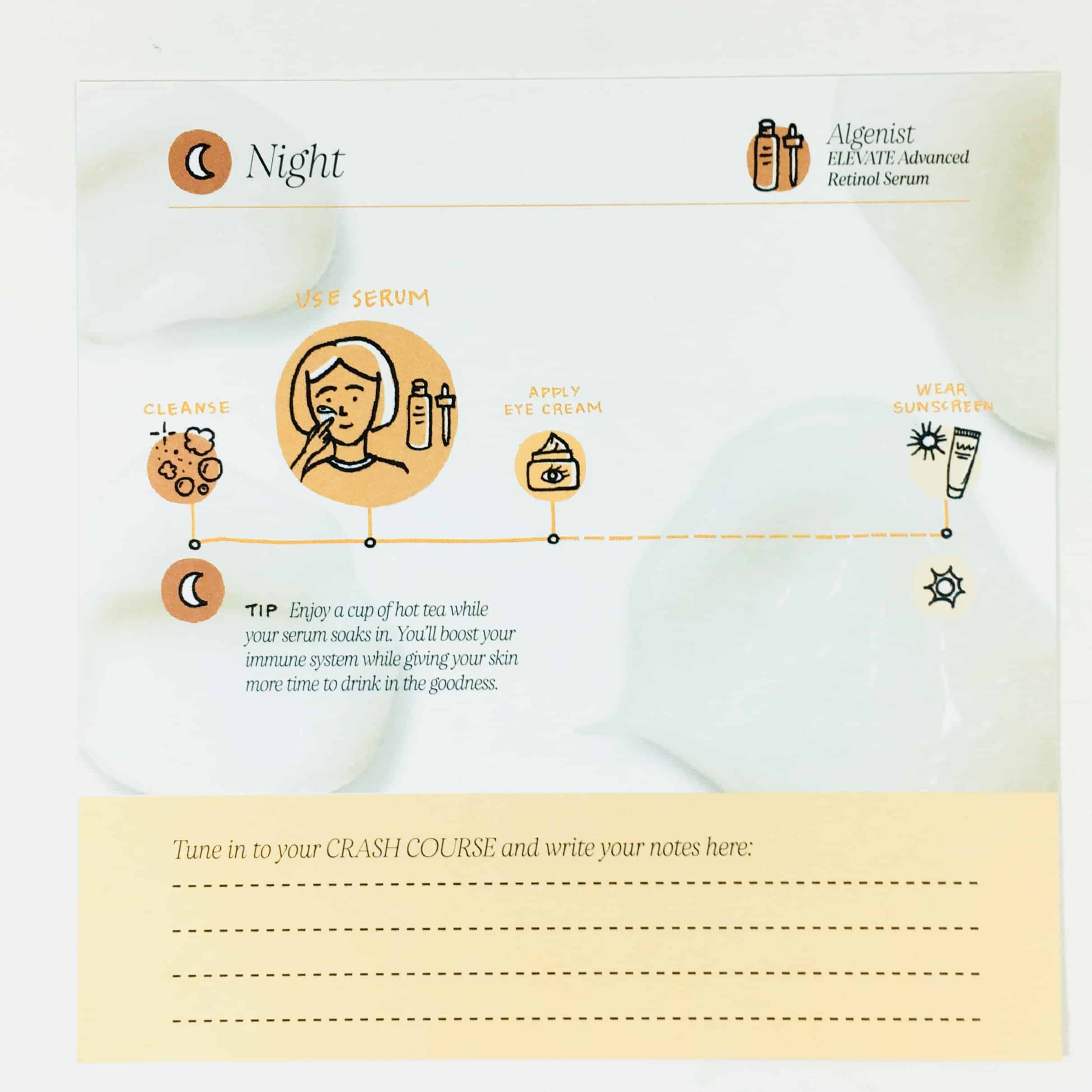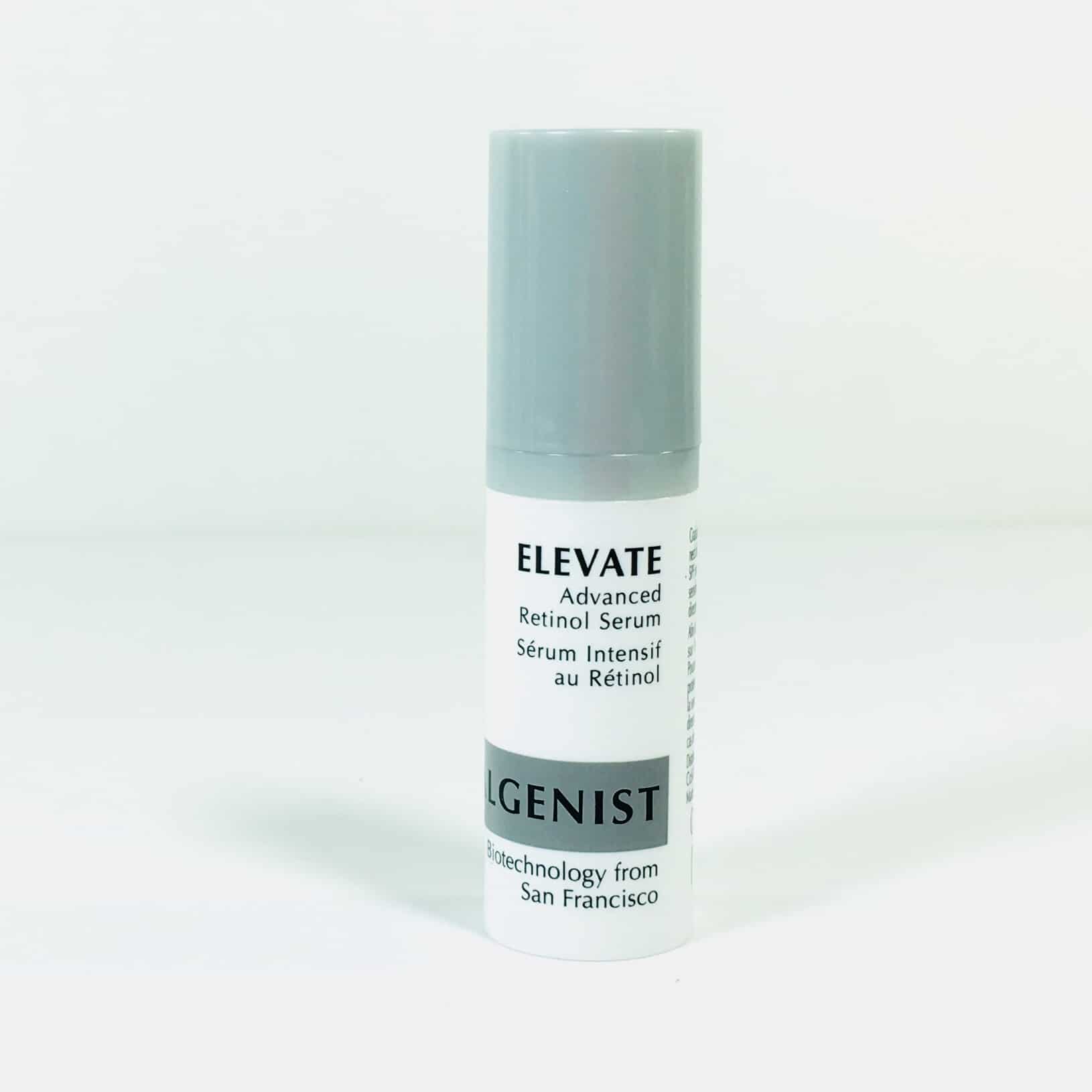 Algenist Elevate Advanced Retinol Serum ($16.33) There were two serums included in this box and both of them are meant for use in the evening. I think I would have preferred either a different product or a serum that can be used during the day. The Elevate serum went on like a cream but then dried quickly and was not sticky nor greasy. It helps fight fine lines and uneven texture. You might want to try using this every couple of nights if you aren't currently using a retinol serum to keep irritation to a minimum.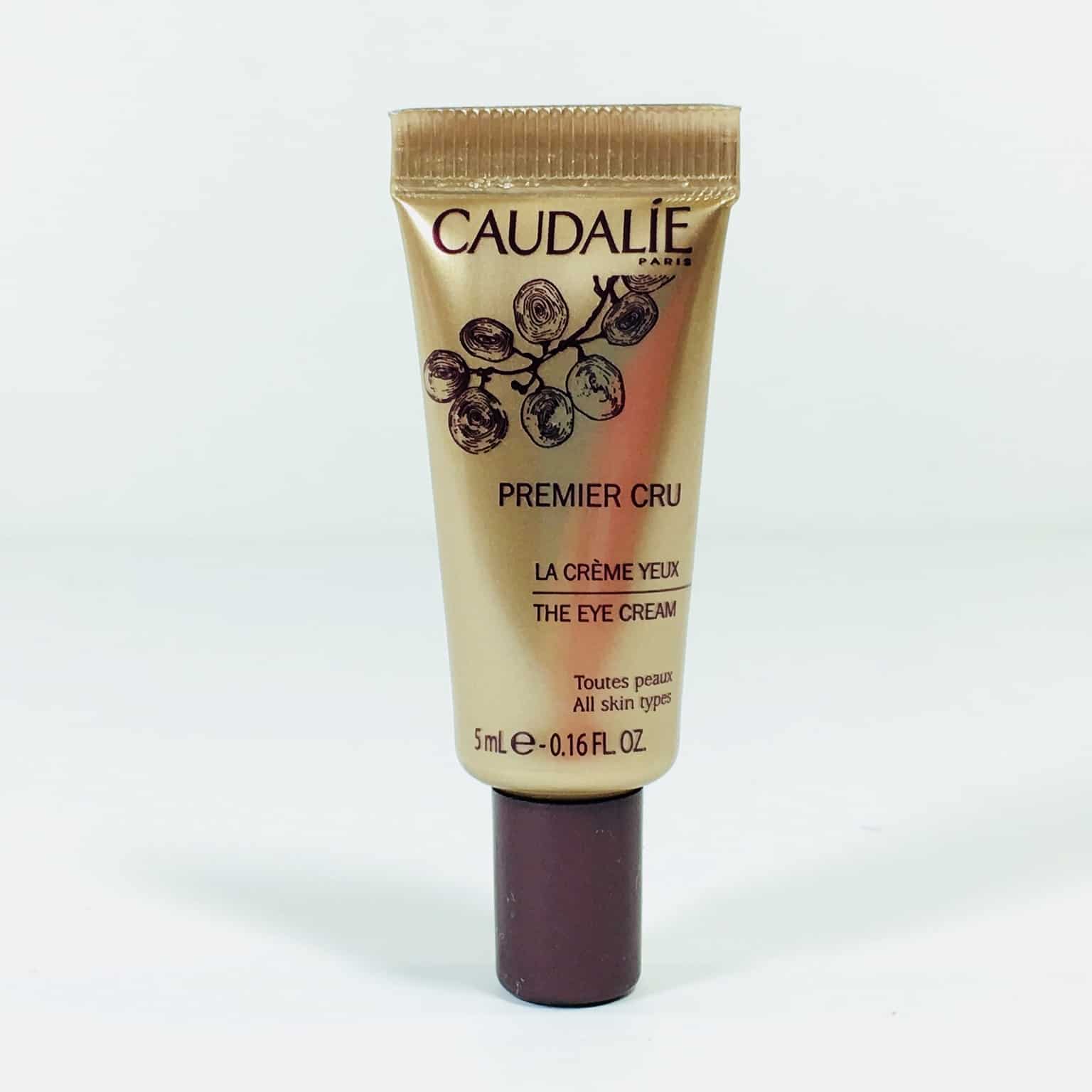 Caudalíe Premier Cru Eye Cream ($33) Wow, Sephora sent a sample that is 1/3 of the amount of the full-sized product! I was happy to see that this was fragrance-free and of course you don't have to be in your 50's to use eye cream. I didn't see an immediate change in my eye area but maybe it works better over time? Dark circles and puffiness may look improved with use thanks to peptides and hyaluronic acid.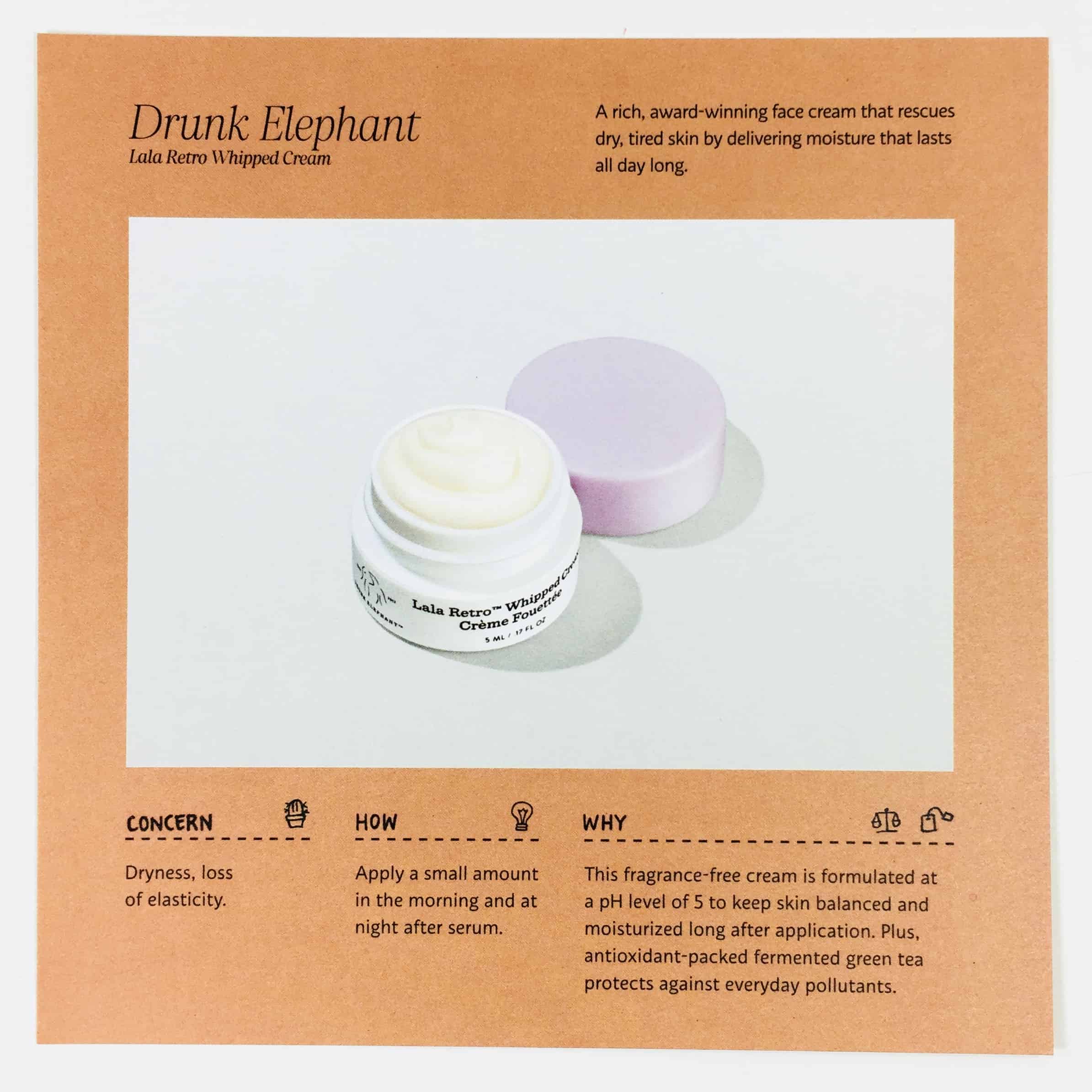 Drunk Elephant Lala Retro Whipped Cream ($6) Like most of the products in this box, this moisturizer is good for all skin types, not just dry and dehydrated like mine. It's described as a "retro-style" moisturizer, which I guess means it's creamy? It likes The Beatles? It prefers to read books that are made of paper and not on a device? Oh wait, I just described myself.
Yes, it is creamy and it has several seed oils inside, plus, it's cruelty-free. No silicone, fragrance, colorant, or even essential oils are in here as all of those ingredients can cause problems for sensitive skin. I liked it, it was creamy and emollient and didn't feel greasy.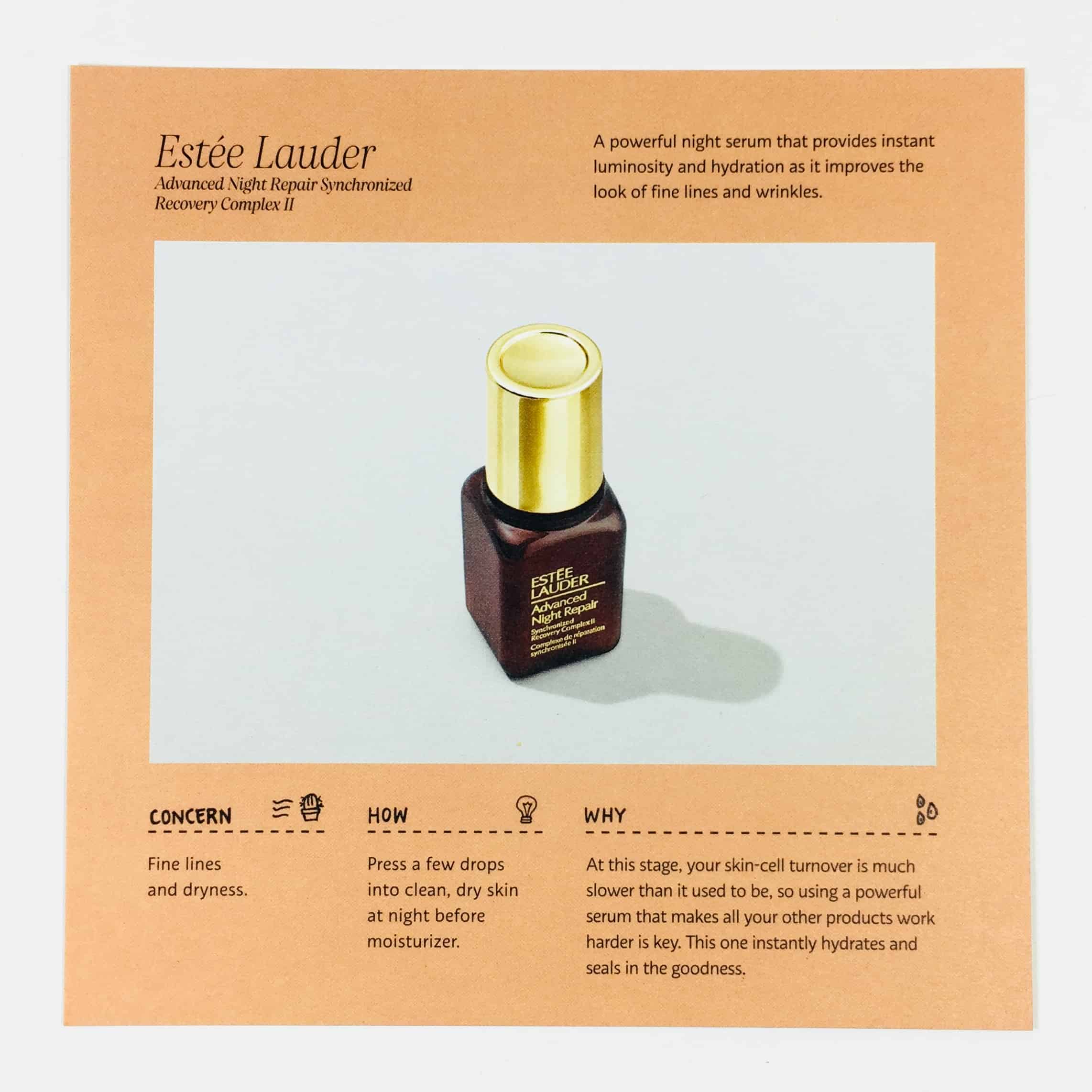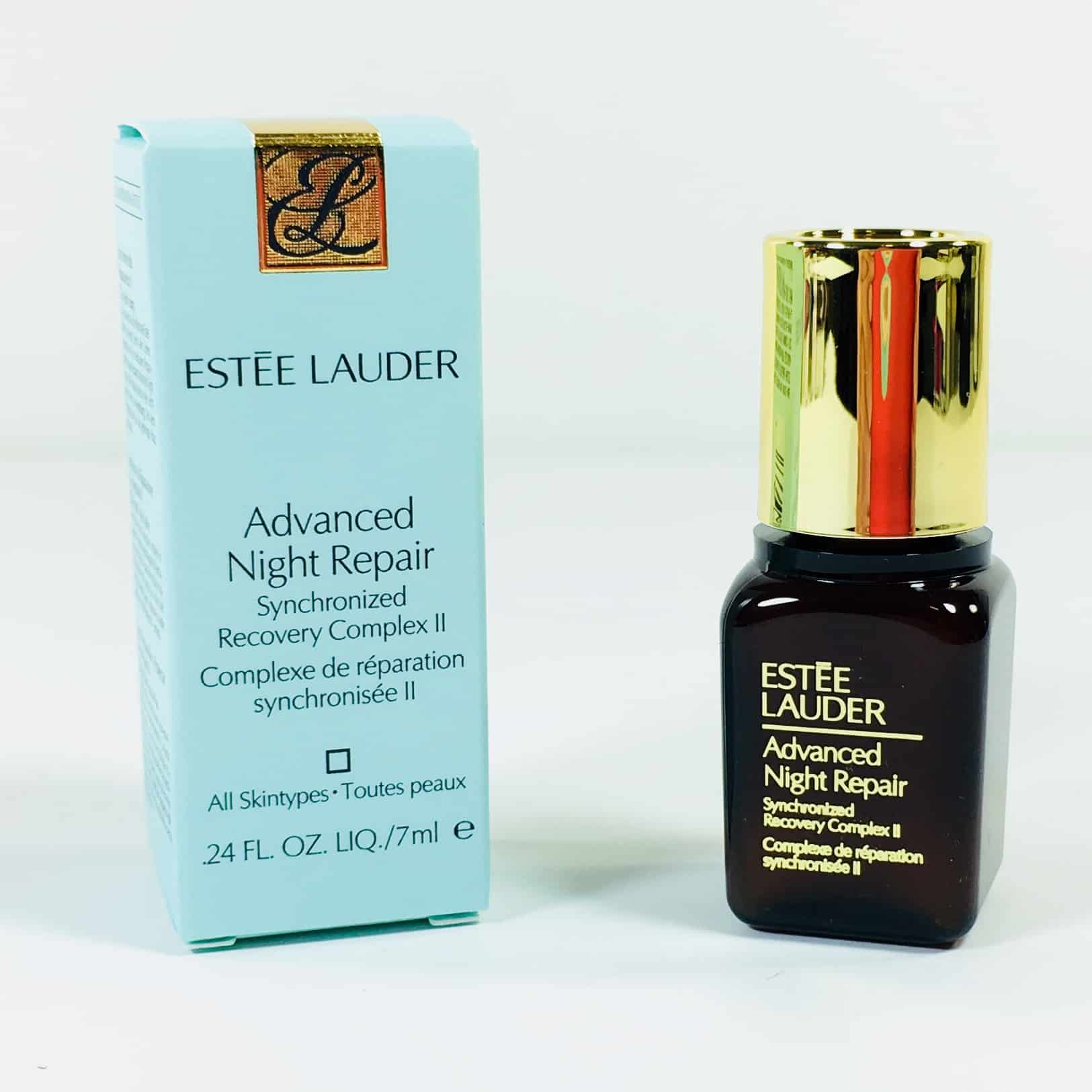 Estēe Lauder Advanced Night Repair ($16) Again, any skin type may use this product, which is supposed to fight fine lines and dryness. Advanced Night Repair should be used at night, after cleansing and before moisturizing. It had a light scent (but is fragrance-free) and didn't feel oily or sticky. No parabens or phthalates are used.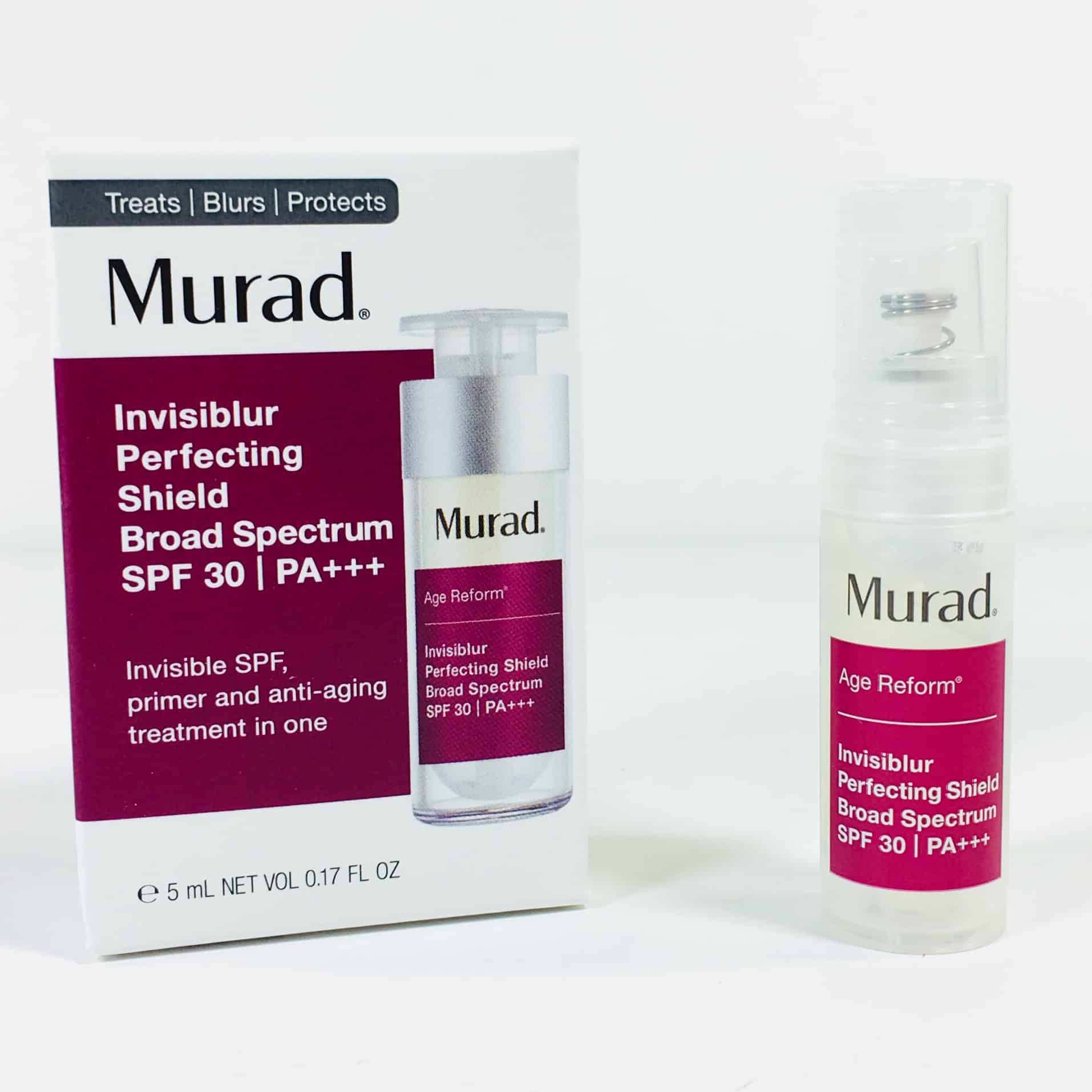 Murad Invisiblur Perfecting Shield Broad Spectrum ($9.50) One of the best ways to prevent damage to skin is to start applying sunscreen as soon as possible after birth and to stay out of the sun. I got a late start to the sunscreen game because I grew up when using baby oil while sitting in the sun was an acceptable way to tan and now I have plenty of spots to show for it (and yes, I now see a dermatologist yearly). Invisiblur is a sunscreen and primer in one so if you are someone who thinks they don't have time for sunscreen then you can do two jobs at once with this product. It feels like most of the other primers out there and has a strong floral fragrance. Provides SPF 30 protection.
One of the best things about Sephora is the fact that you can order samples! Even if you're shopping in store you can have them make up any product into a sample. Check out the ones that I got with my online order! I received Ouai Haircare Volume Shampoo ($0.66) and Ouai Haircare Volume Conditioner ($0.72).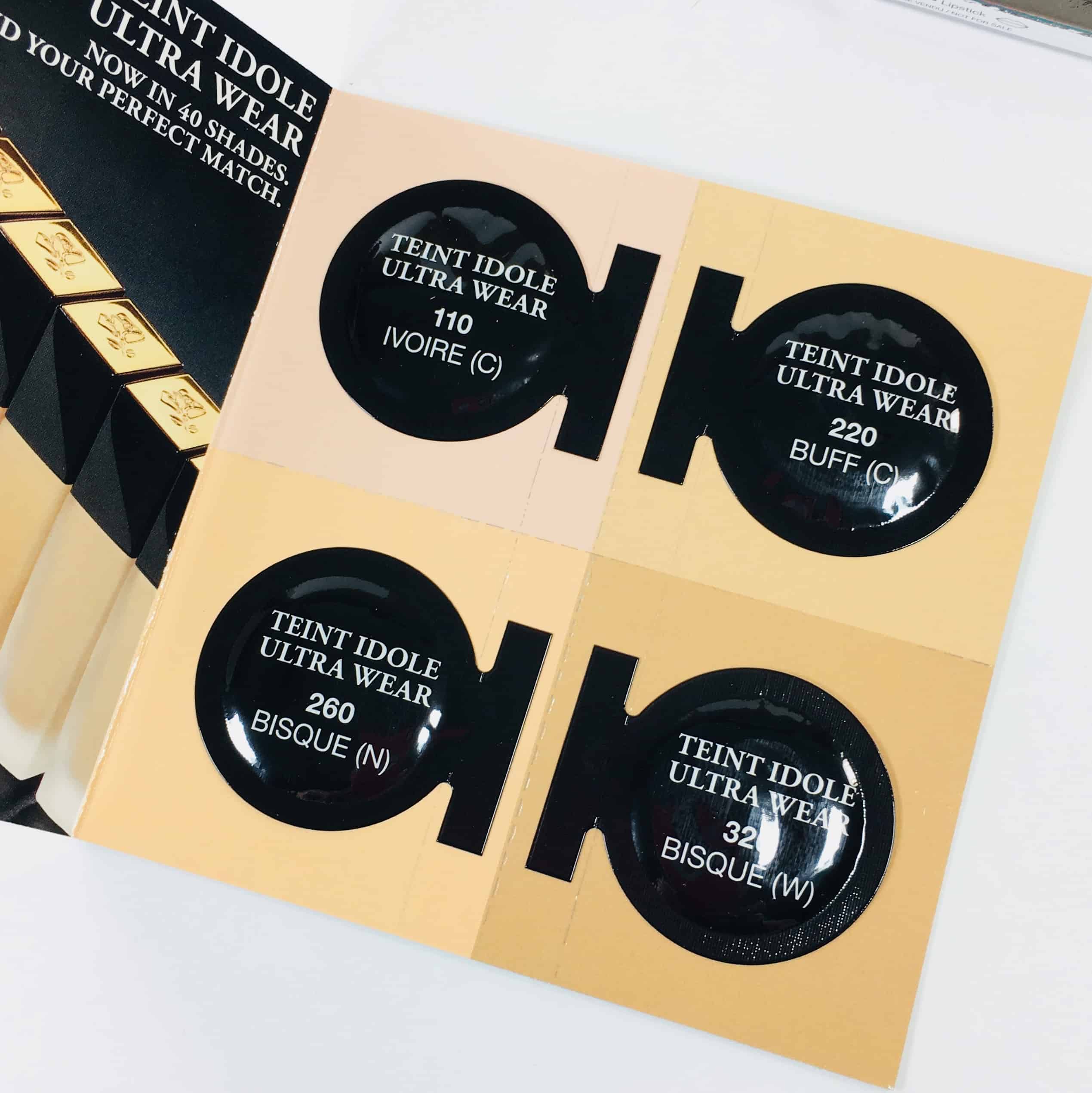 I found four different color samples of Lancome Teint Idole Ultra Wear.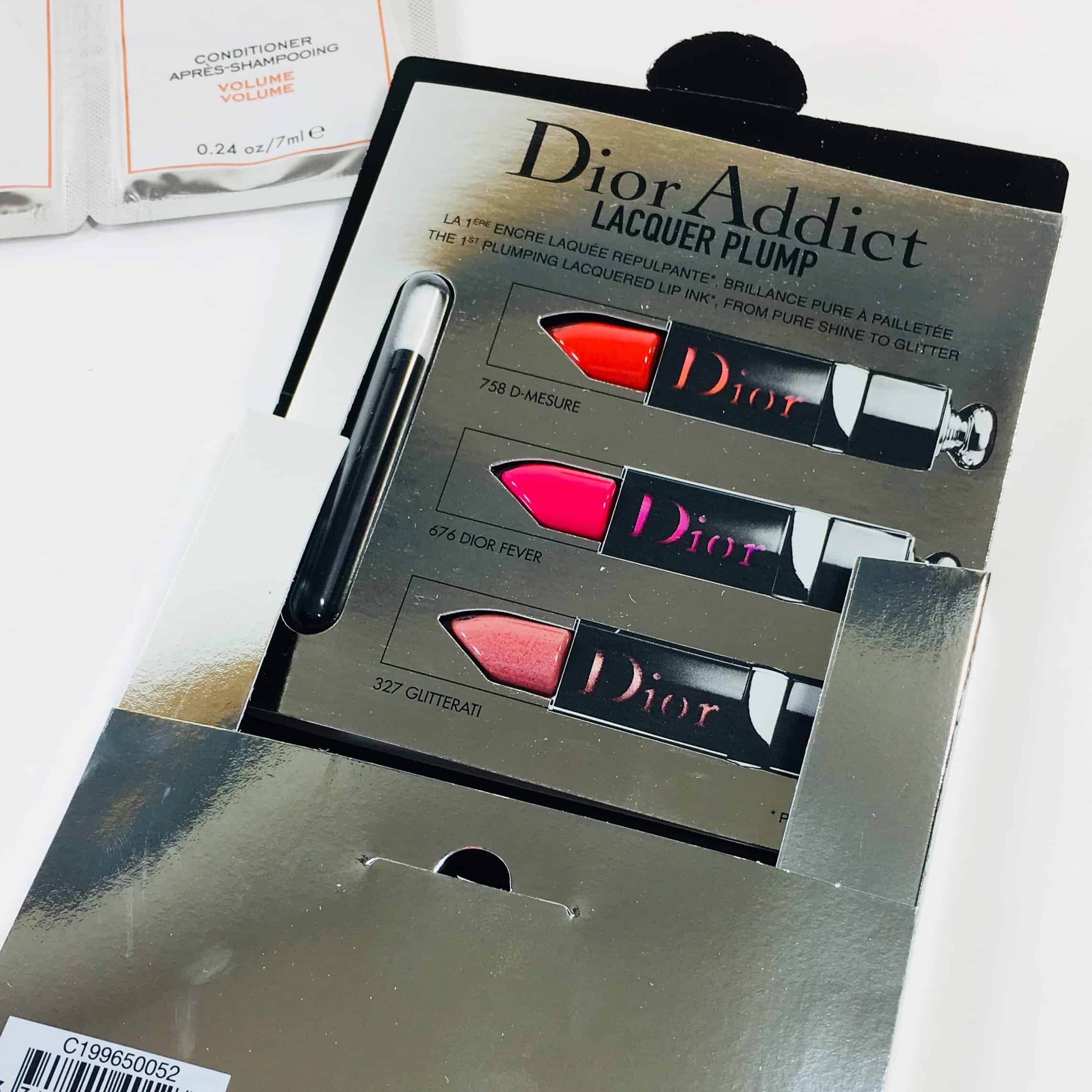 I was super happy to see Dior Addict Lacquer Plump because Dior!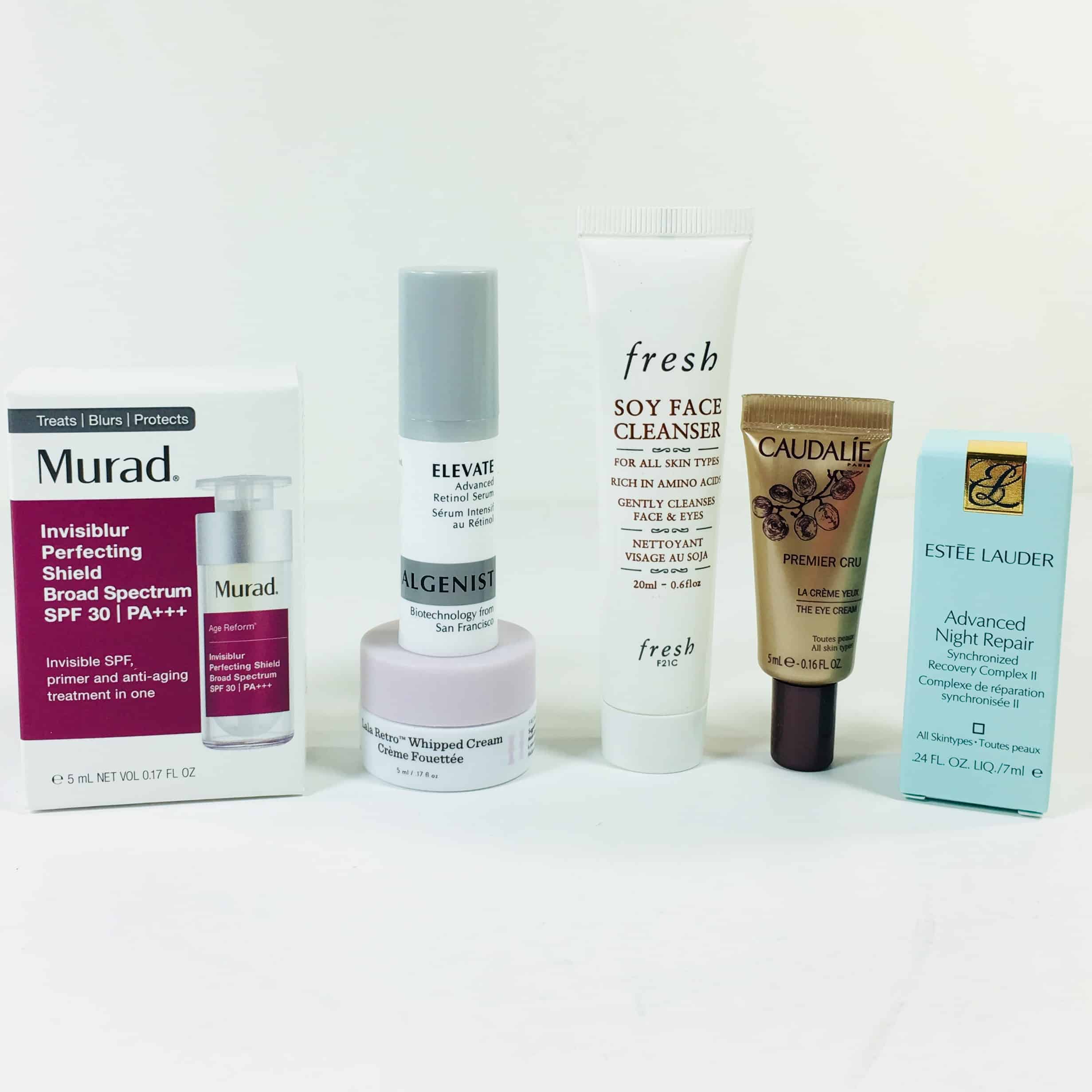 While this Sephora PLAY! SMARTS Skincare box was for those who are aged 50 or older, I found that the products were meant for pretty much any age or skin type. The products were from well-known, popular companies. I enjoyed trying new skincare and really liked the Drunk Elephant moisturizer the best. My products had a value of around $86.83, not including the bonus samples shown near the end of the post and not including the bag.
What did you think of the PLAY! SMARTS by Sephora Skincare by Age: 50's? While supplies last this box is still available for purchase! Please note that this is not available in stores.