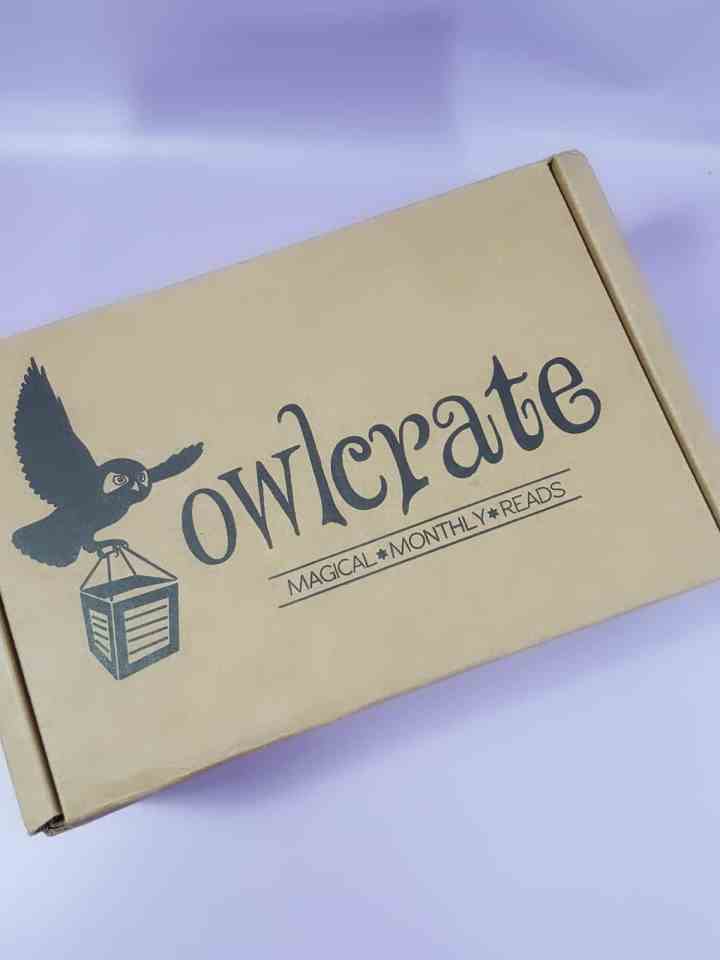 Owl Crate is a monthly subscription of books and bookish items. Each OwlCrate contains one new Young Adult novel, as well as 3-5 other bookish items all matched to the monthly theme. I love finding new authors and new companies that Owl Crate uses to curate and send a perfectly themed box. Everything is always so spot on and I love them all.
January's OwlCrate theme is Fearsome Fairy Tales. OwlCrate always has the best info card prints. One side is a print representing the theme and the other side is the information for the box contents.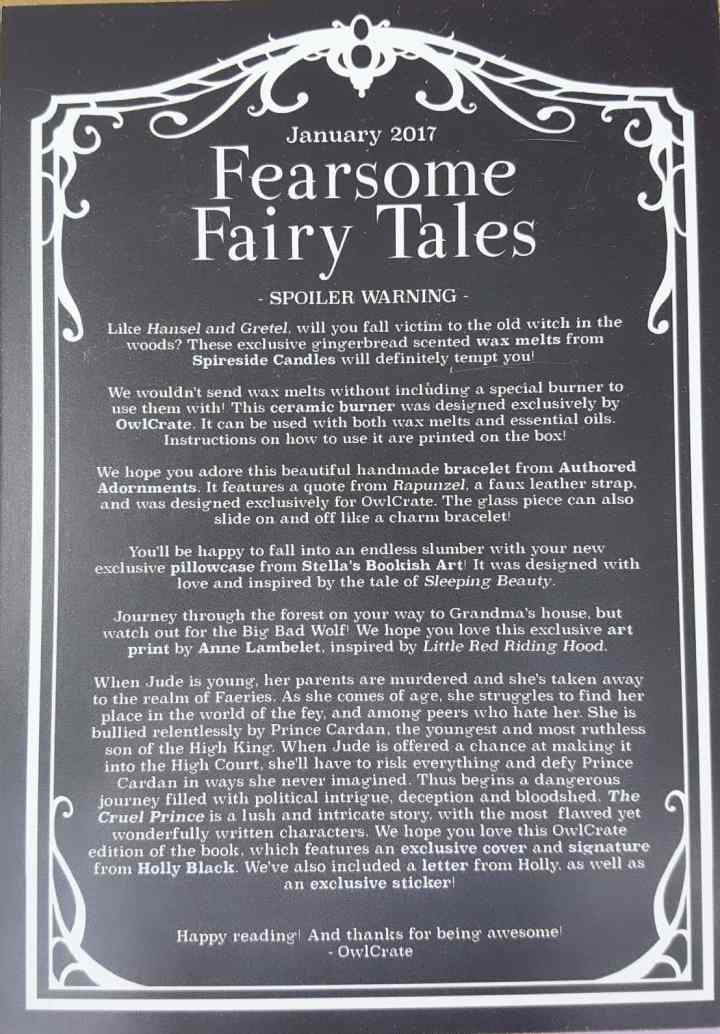 The information card tells a little bit about all the items in this month's box along with little comments on why they were selected or other fun tidbits. The theme follows through even with the info. It is always decorated to go along with that month.

DEAL: Use coupon code HELLO15 to save 15% on your first subscription!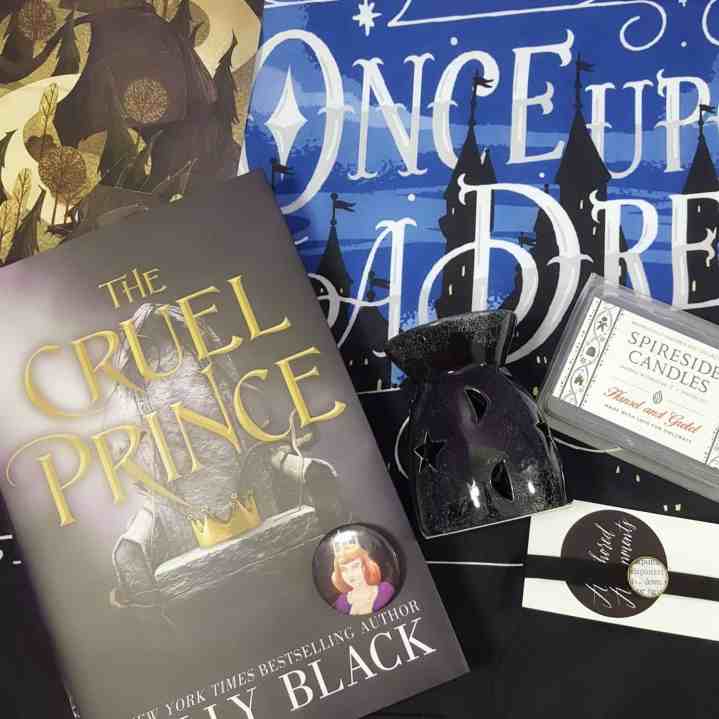 Everything in my awesome January Fearsome Fairy Tales OwlCrate.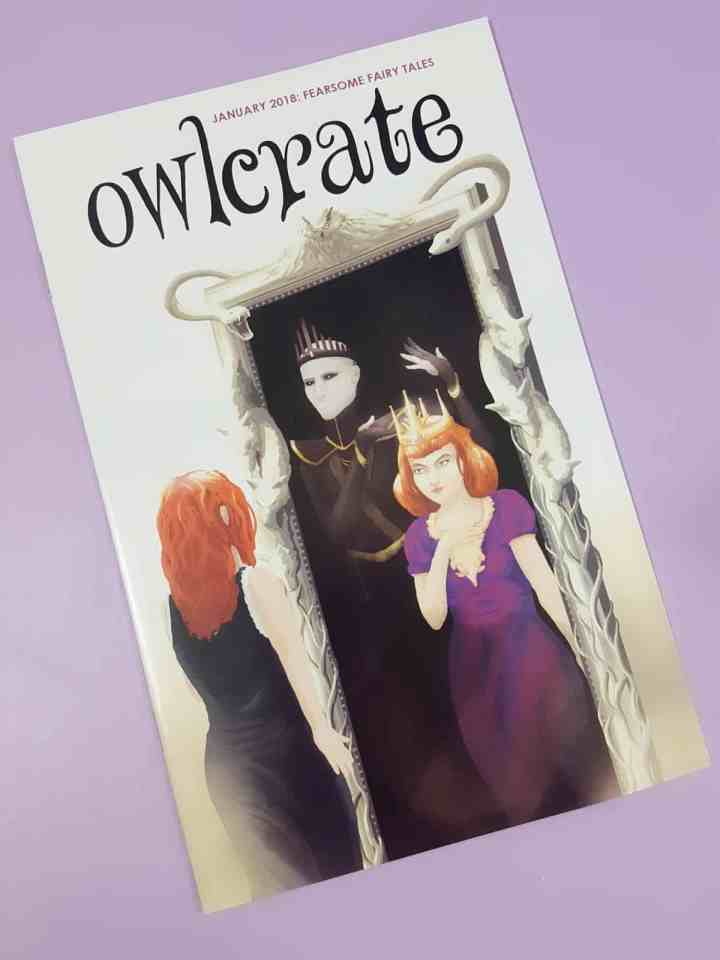 The Informational booklet has become a staple in the boxes.
We get interviews with the author and some of the suppliers of the extra items, a sneak peek of the next OwlCrate and a comparison of the exclusive cover versus the regular cover. The cover this month is very different from the original and while I might be partial I'm loving the OwlCrate cover best.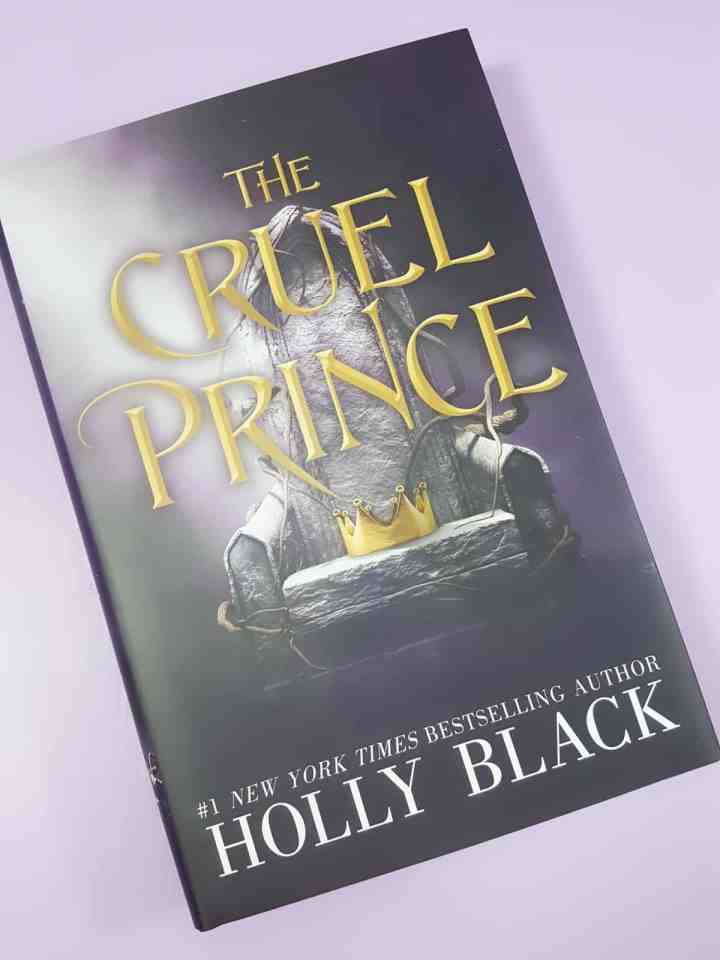 The Cruel Prince by Holly Black ($12.91) – A paranormal book in my OwlCrate is perfect for me. Paranormal is one of my main go to book genres and this one is right up there.  This book is set in the world of the faeries and if you don't know faeries are not known for being all warm and fuzzy so I expect a lot of tricks, deception, and intrigue in this one.
By #1 New York Times bestselling author Holly Black, the first book in a stunning new series about a mortal girl who finds herself caught in a web of royal faerie intrigue.

Of course I want to be like them. They're beautiful as blades forged in some divine fire. They will live forever.
And Cardan is even more beautiful than the rest. I hate him more than all the others. I hate him so much that sometimes when I look at him, I can hardly breathe.

 

Jude was seven years old when her parents were murdered and she and her two sisters were stolen away to live in the treacherous High Court of Faerie. Ten years later, Jude wants nothing more than to belong there, despite her mortality. But many of the fey despise humans. Especially Prince Cardan, the youngest and wickedest son of the High King.

To win a place at the Court, she must defy him–and face the consequences.

In doing so, she becomes embroiled in palace intrigues and deceptions, discovering her own capacity for bloodshed. But as civil war threatens to drown the Courts of Faerie in violence, Jude will need to risk her life in a dangerous alliance to save her sisters, and Faerie itself.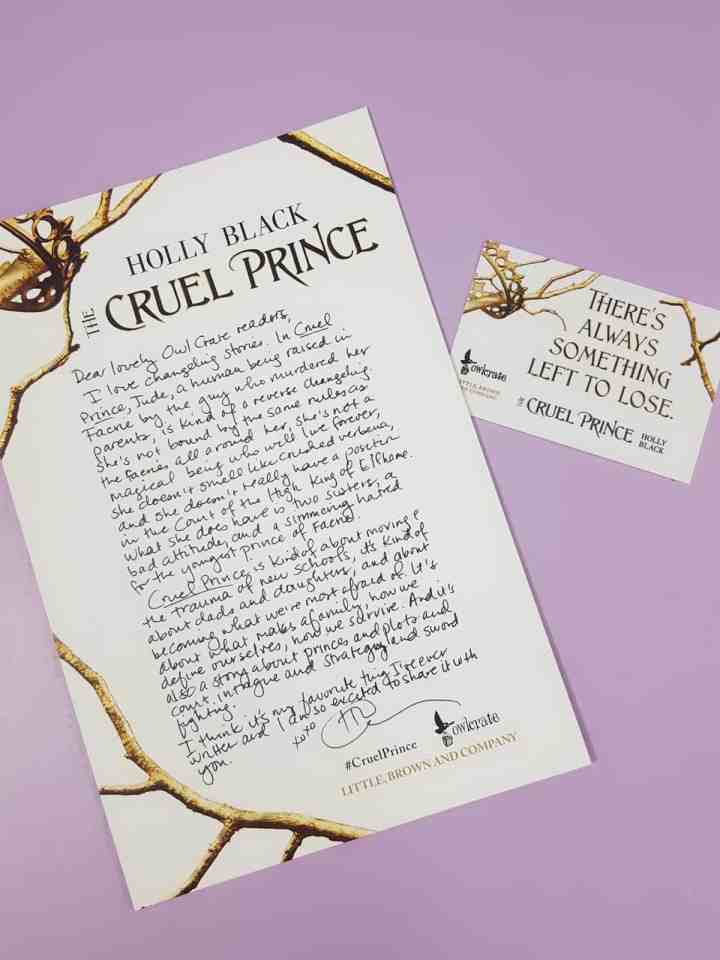 The book also came with a note from the author.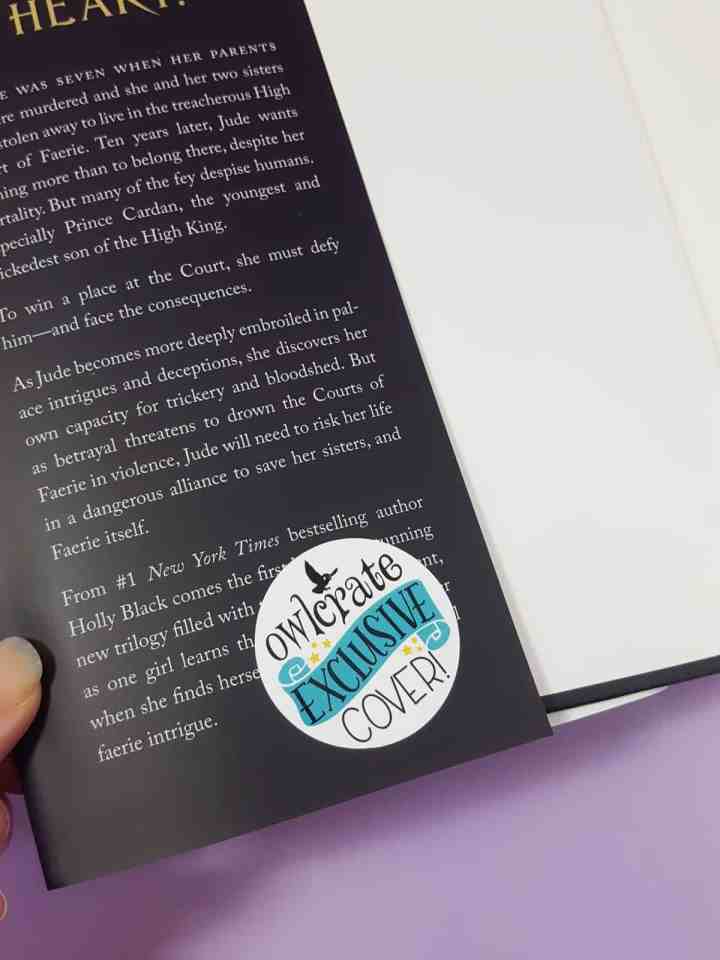 Don't forget that Owl Crate is now sending exclusive covers with their books (most months). There is a sticker that comes on the plastic bag that the book is shipped in but since I take the books out I decided that I would put the sticker on the inside sleeve. This way I will always remember where it came from and if I decide to look later why the cover is different then I see around.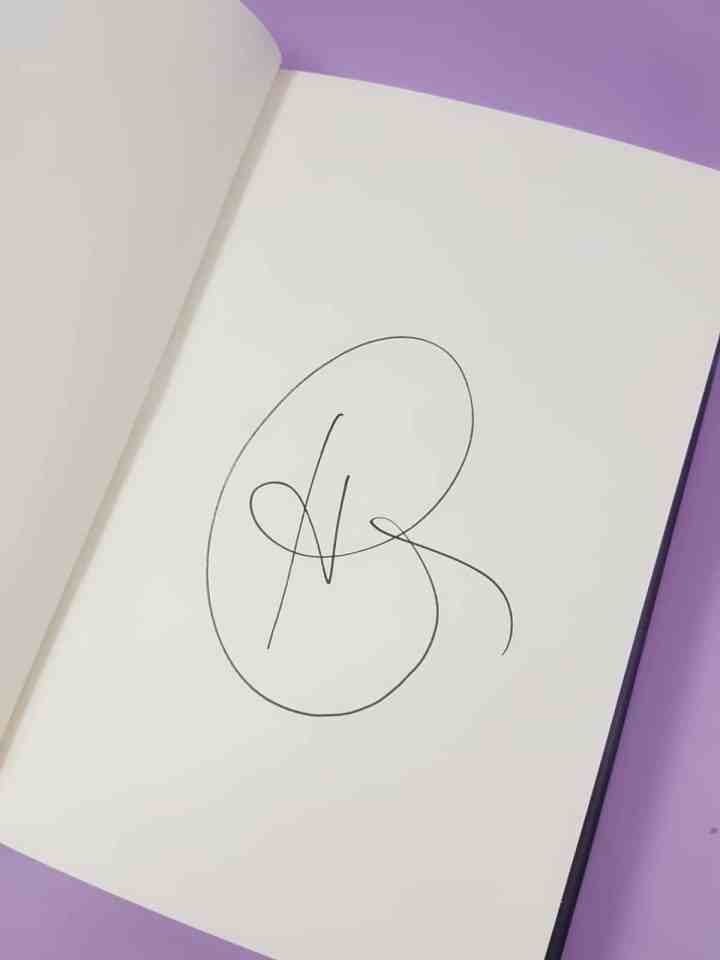 Did you notice I didn't include a signed bookplate in my extras this month? That is because OwlCrate is now sending autographed books! While they aren't saying it will be this way every month this is the first one and it is perfect. I was happy with the bookplates but an actual signed book is even better.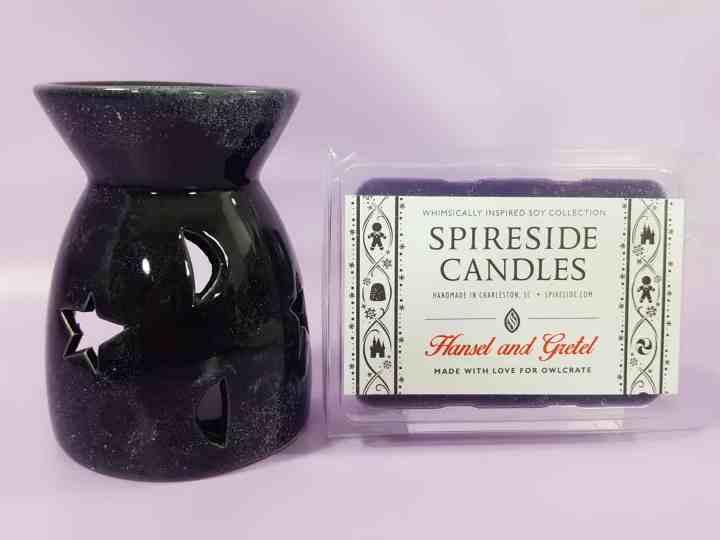 Not only did OwlCrate send us some gingerbread scented wax tarts from Spireside Candles they also sent us a burner to go with it!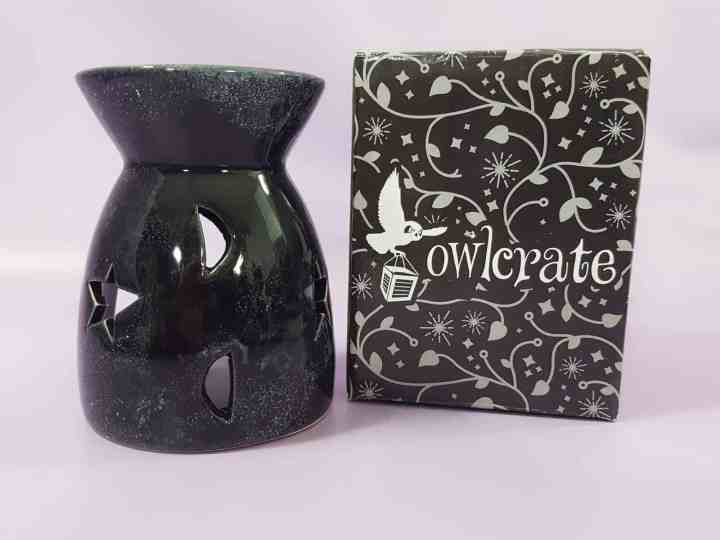 The burner is exclusively designed just for OwlCrate and is a marbled black with stars and moons on it.
Even the packaging of the burner is all OwlCrate. The back of the box gives the info on how to use it.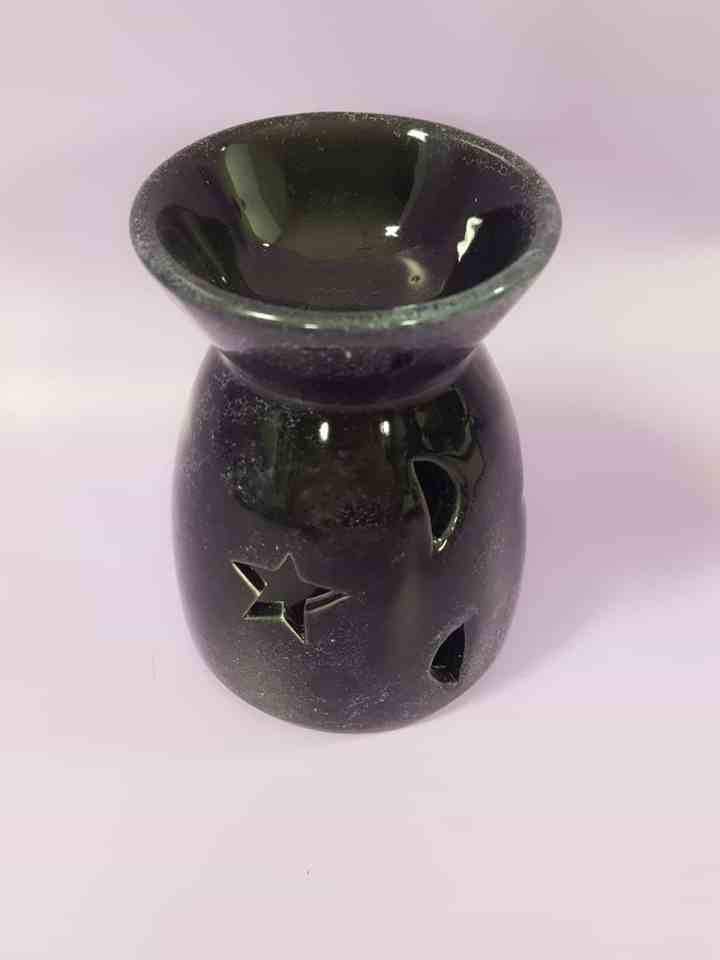 The burner is great for the included tarts but can also be used for essential oils.
Meanwhile, at the bottom is Owl Crate's signature owl. I really want to place this one a glass shelf so I can see the bottom when I walk by. Wouldn't that just be a hoot!
The Hansel and Gretel wax tarts from Spireside Candles have a scrumptious gingerbread scent. My oldest son's favorite cookies are gingerbread so it is a scent we all know and love.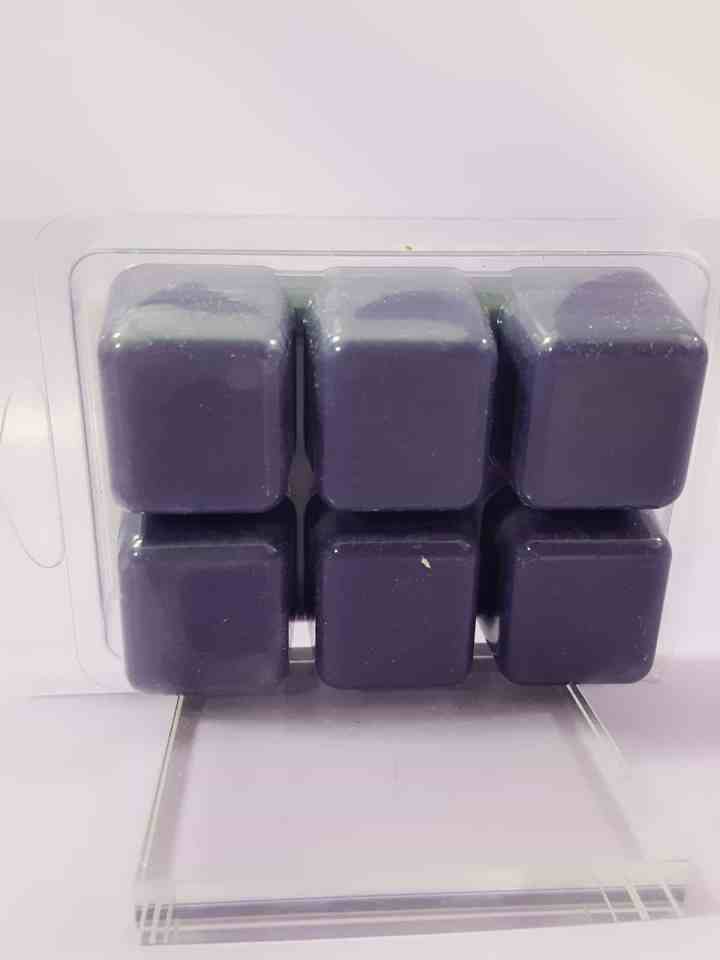 And to beat all it is my favorite color – purple! There really is nothing better for my house then a purple gingerbread scented candle.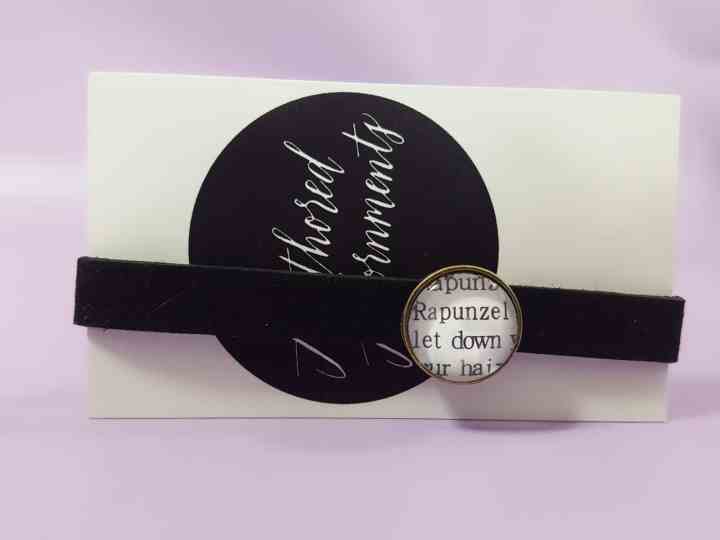 A faux leather bracelet from Authored Adornments with a quote from Rapunzel. Tangled is my youngest son's favorite Disney movie and he calls her Punzel so everytime I wear this I'm going to think of him and that just makes me smile.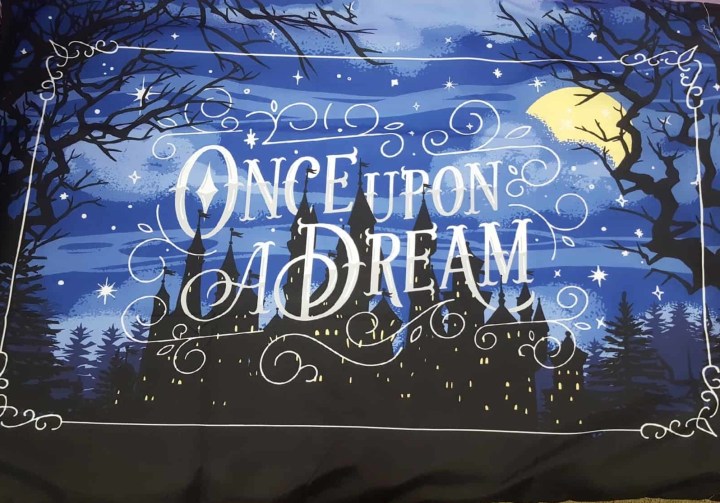 Whose ready for a nap? This is the pillowcase for you. A Sleeping Beauty inspired pillowcase from Stella's Bookish Art. I've mentioned before but I'm a Disney Nerd so this is fantabulous for me. I'm not sure I've gotten a pillowcase in a book box before and I love that they are thinking outside and the box and sending me a useful and totally fun item. The pillowcase itself is really large and has a great feel to it. I'm actually putting this in my guest room since that also doubles as my library so I think it will be a great fit.

Little Red Riding Hood and the Big Bad Wolf are right up there with the Fearsome Fairy Tale theme and this print by Anne Lamberlet is stunning. There is so much detail in here while also giving what we all now think of as a kids story (it so is not) an edgy vibe.
I love this month's Owl Crate box. The book looks really interesting and is a genre that I am already a huge fan of. I'm obsessed with the pillowcase and getting such a different item in my box and the wax tart scents are just perfect for my house. OwlCrate does not disappoint and this month is up there as one of my favorites. I can't wait to see what they do in the month's to come as they continue to grow.
The February 2018 theme is Hidden Worlds! This month's box will include an exclusive cover AND the book will be signed by the author!
 The February box is inspired by stories that feature characters stumbling upon secret magical lands!

 Our book pick is a very highly anticipated story about a girl who has to venture deep into a sinister land of fairy tales in an effort to rescue her mother. It's deliciously dark and twisted! We will be including a special exclusive OwlCrate edition of the book which will be signed by the author!

 We have packed this box absolutely FULL of some of the biggest high quality items we've ever included. Every single item was 100% exclusively made just for this box!

 Items will be inspired by stories such as The Chronicles of Narnia, Coraline, Daughter of Smoke and Bone, Alice in Wonderland and more!

 Already an active OwlCrate subscriber? Your spot is safe and your account will automatically renew on February 1st. Just make sure your payment info is up to date so you have a smooth renewal!

 If you're hoping to join OwlCrate, please join the wait list. When spots open up for February, we will be contacting people on the wait list first before offering any spots to the general public. We highly advise joining the wait list if you're interested in ordering.

We are working hard on increasing numbers for future boxes, but spots will be very limited for at least February and March. Thank you for your patience as we continue to grow! Hopefully by April we'll have enough spots for everyone to join!

 We hope you're as excited about this box as we are! We're so proud of how it came together and can't wait to see your reactions!
Each box will also include an extra large and exclusive item from Evie Bookish!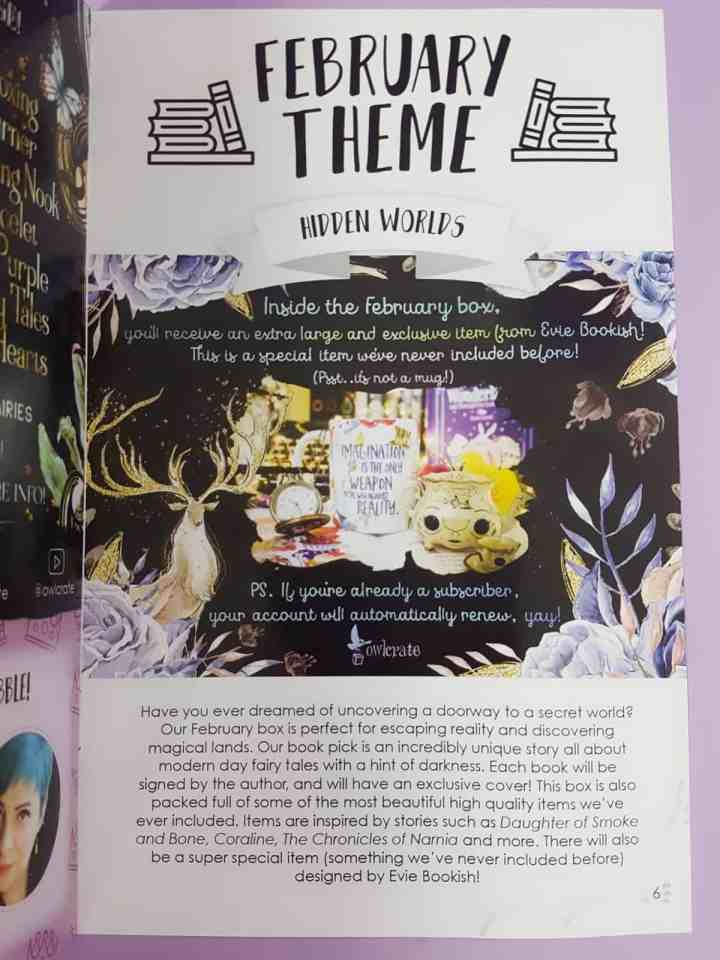 The back of the information booklet also tells us a bit more about the February box.
Have you ever dreamed of uncovering a doorway to a secret world? Our February bos is perfect for escaping reality and discovering magical lands. Our book pick is an incredibly unique story all about modern day fairy tales with a hint of darkness. Each book will be signed by the author, and will have an exclusive cover! This box is also packed full of some of the most beautiful high quality items we've ever included. Items are inspired by stories such as Daughter of Smoke and Bone, Coraline, The Chronicles of Narnia and more. There will also be a super special item (something we've never included before) designed by Evie Bookish!
What did you think of this month's Owl Crate theme? Are you ready for next month's?