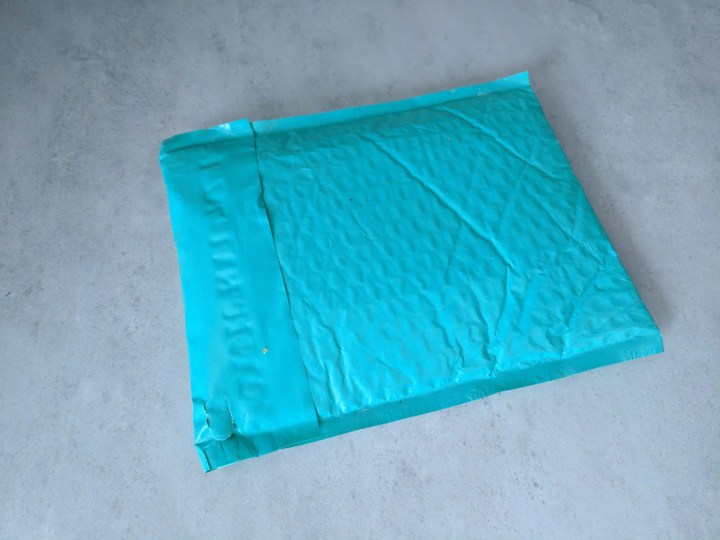 Bargain Bead Box is a monthly bead subscription service. Each month, you'll receive over $40 worth of top-quality jewelry supplies. It can be a mix of loose beads, bead strings, findings, and pendants. You can share your creation on their social media for a chance to win a $25 gift certificate for their sister store Bead Box Bargain. Boxes are $15.95 per month. Shipping is free in the US and $7.50 to Canada. Even if it's technically a subscription box, it comes in a teal bubble mailer, which is less expensive than a box so they can send more beads! And more beads is more fun!
Each month is curated around a different theme and all the beads and findings are coordinated. This month's theme is "Growth," a perfect theme to celebrate their 2-year anniversary with Antique Silver Finish as the metal of the month! You also get a discount code for their sister store. I've used it a couple of times and it's totally worth it!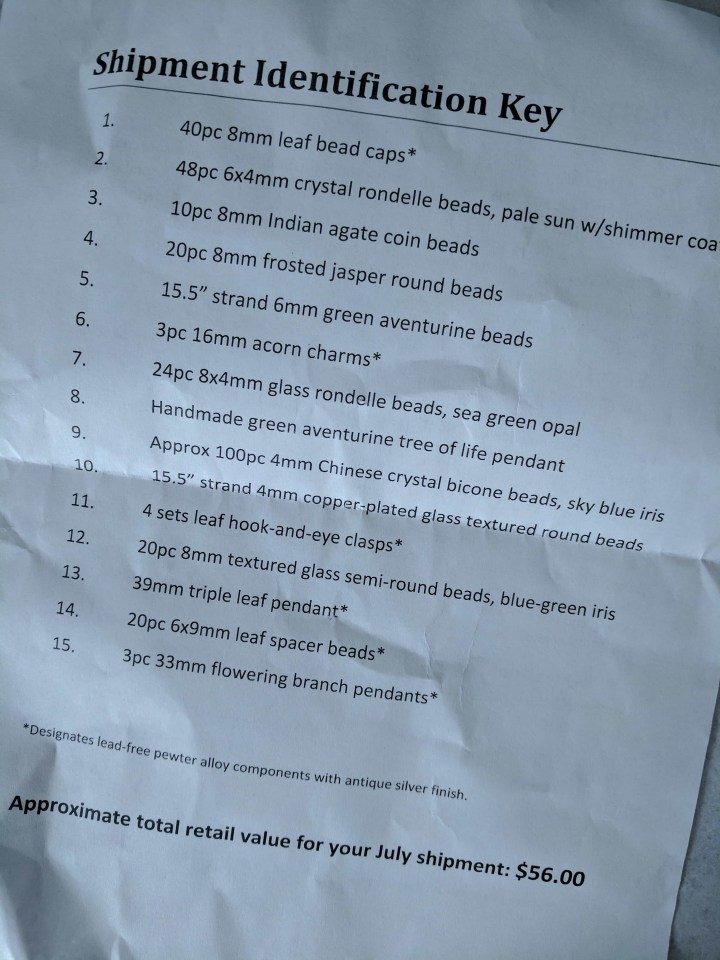 And it includes a Tree-Of-Life Pendant! How awesome is that! On the reverse of the introduction letter, we get a description of all the items in this month's box, with some gemstones (I love my gemstones!), and other fun beads.
I love how all the beads look natural, almost like a peaceful forest! Growth is an appropriate theme for this box!
8mm leaf bead caps. Every month, we can count on Bargain Bead Box to provide us with some basic elements to make our design shine, and bead caps are almost a staple! They are sturdy and add a finishing touch to simple beads.
6x9mm leaf spacer beads. We also get some spacer beads in each box. You can use them as spacer beads, or as dangles for a nice leafy fringe on a necklace or earrings.
Handmade Green Aventurine Tree of Life pendant. Lovely pendant with aventurine chips! I often browse Bead Box Bargain, their sister store, and their Tree of Life caught my eyes. I'm so happy to get one in this box. I like how simple it is, but it's still a nice and big pendant. On a simple cord (hemp or leather), this would made a lovely boho style necklace.
Leaf hook-and-eye clasps. Every month, we'll receive some king of clasps or closure to finish our design without having to run back to the bead store! This month, to stay with the Growth theme, we get some cute leaf clasps. I love their clasps as they can be used in the front of a necklace as part of the design.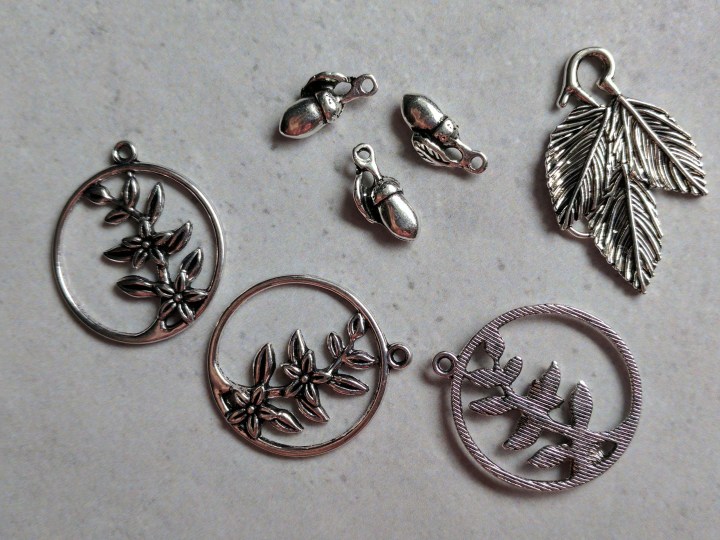 16mm acorn charms. Cute little charm to add to a bracelet, earrings or a necklace! They are quite heavy for their size, but they look great.
39mm triple leaf pendant. What a lovely pendant, perfect for summer and early fall! There's even a little loop so you could use it sideways, like a link, or you could hang a chain tassel from it.
33mm flowering branch pendants. Could also be used as links, or you could wire wrapped seed beads around the circle to add some colour to them.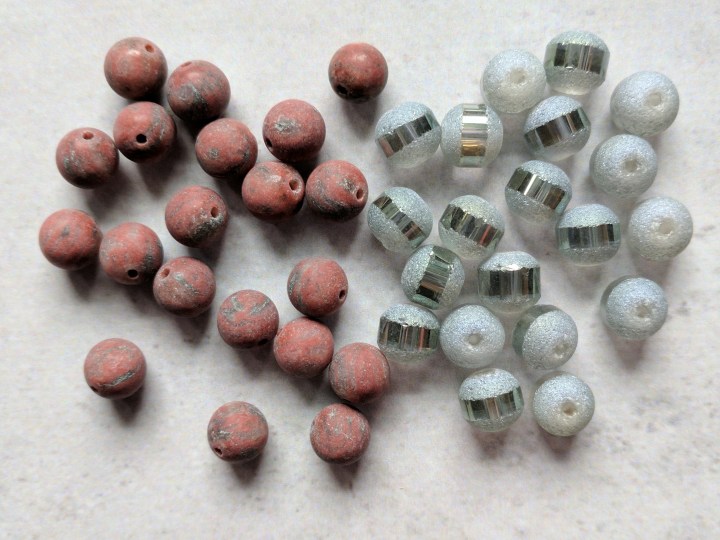 8mm frosted Jasper round beads. I love how they look like terra cota beads!
8mm textured glass semi-round beads, blue-green iris. I wanted to make dangles with them and the bead caps, and it looks lovely.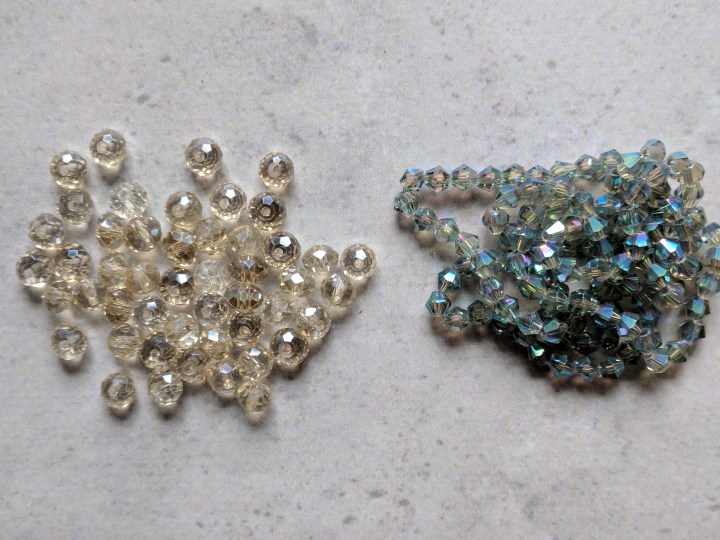 6x4mm crystal rondelle, pale sun w/shimmer coating. Every month, you'll get crystal rondelles, and they are so nice and shiny! The colour is a nice light yellow.
4mm Chinese crystal bicone beads, sky blue iris. Another constant in this monthly box, crystal bicone beads add so much sparks in a small package! Individually to make small links, with matte beads to add some eye catching bling, these are so versatile!
4mm copper-plated glass textured round beads. They have a stardust effect. I like the colour, it goes well with all the green, adding some "woody" colour to this month's palette.
6mm green aventurine beads. I love my gemstones! Give me all the gemstones! I like when we get gemstones, and I think that we get gemstones in almost every box. I was thinking of making earrings to match the lovely Tree-Of-Life pendant.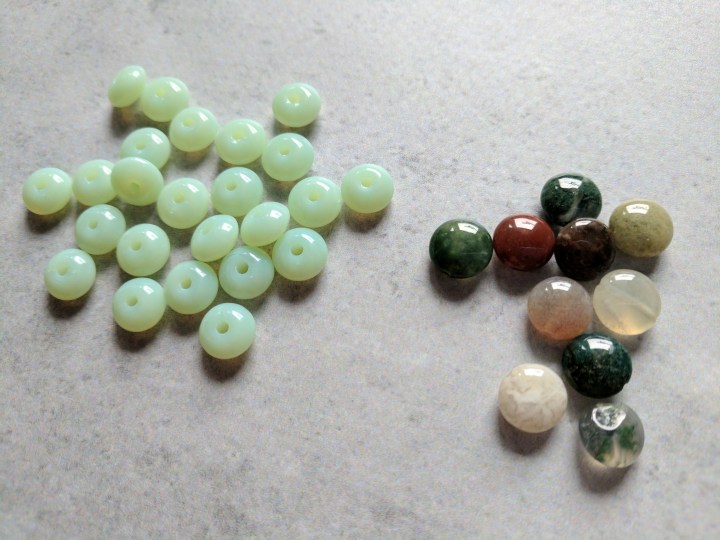 8mm Indian Agate Coin Beads. More gemstones! They are so earthy, woody, pretty!
8x4mm glass rondelle beads, sea green opal. They are great on bracelet and on earrings.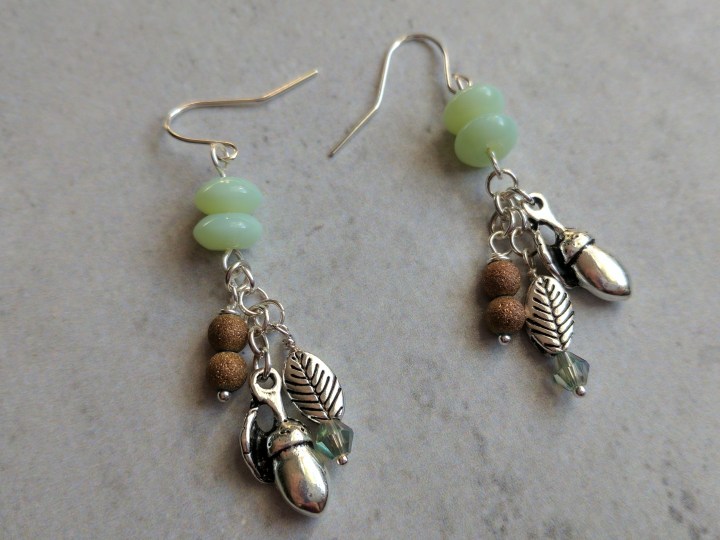 I couldn't resist making earrings with the acorn charms!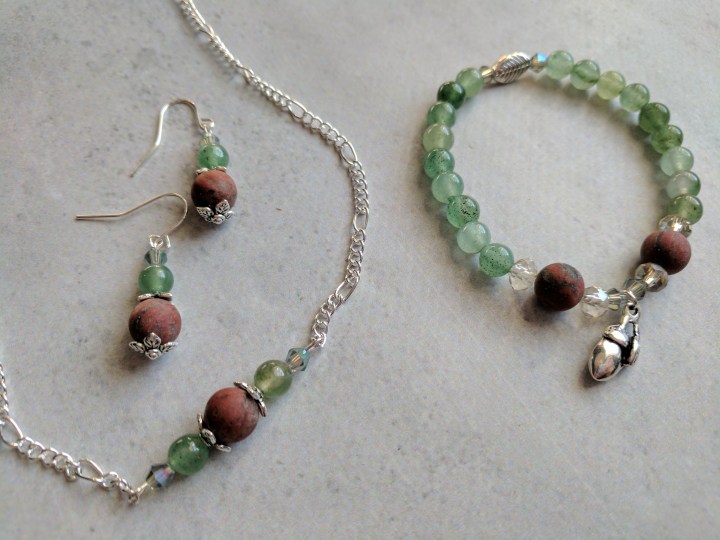 And to go with the "Growth" theme, I've decided to keep it very simple. When I first subscribed to this box, I was trying to make a designs using as many beads as I could, resulting in very heavy and weird designs! I still like to make heavy designs, I'm just more careful with my choice of colours, but I've learn to tone it down a make simple and light designs. This is a bar necklace, with small earrings and a stretch bracelet.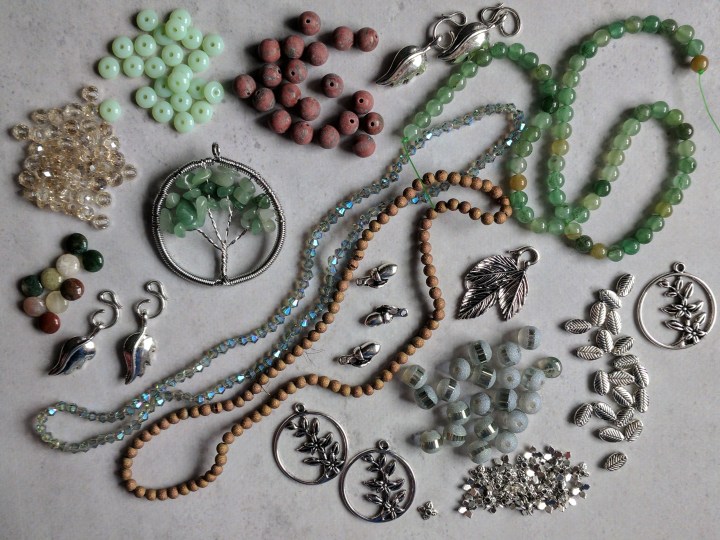 With this box, we went in the wood with the greens, the browns and the muted colours. I like that we get a box that will fit in the fall, even though we received in July. It's nice to get things ready for the change of season, while still be perfect for summer. The Tree-of-Life pendant was a nice addition. and everything was perfect to celebrate two years of monthly bead shipment, with room to grow!
What did you think of this month's Bargain Bead Box?