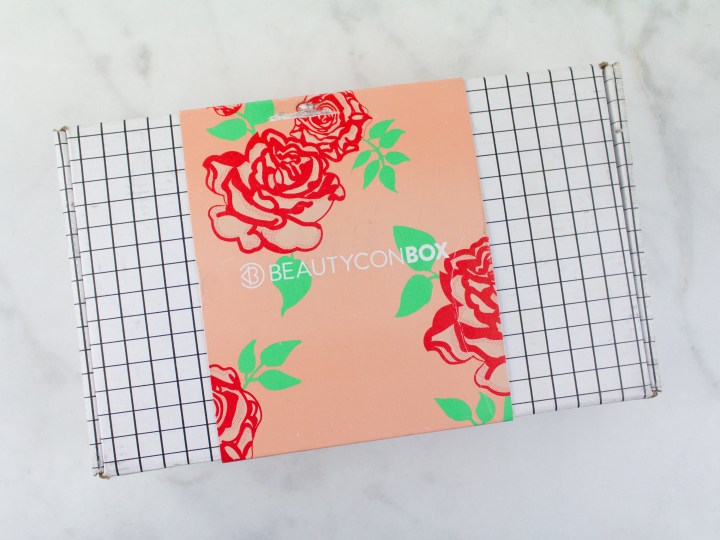 Beautycon Box is a quarterly beauty and lifestyle subscription box with new celebrity curators each season! This box is aimed at the young adult and teen market, but it's definitely a subscription box anyone can enjoy, especially since it's so high value!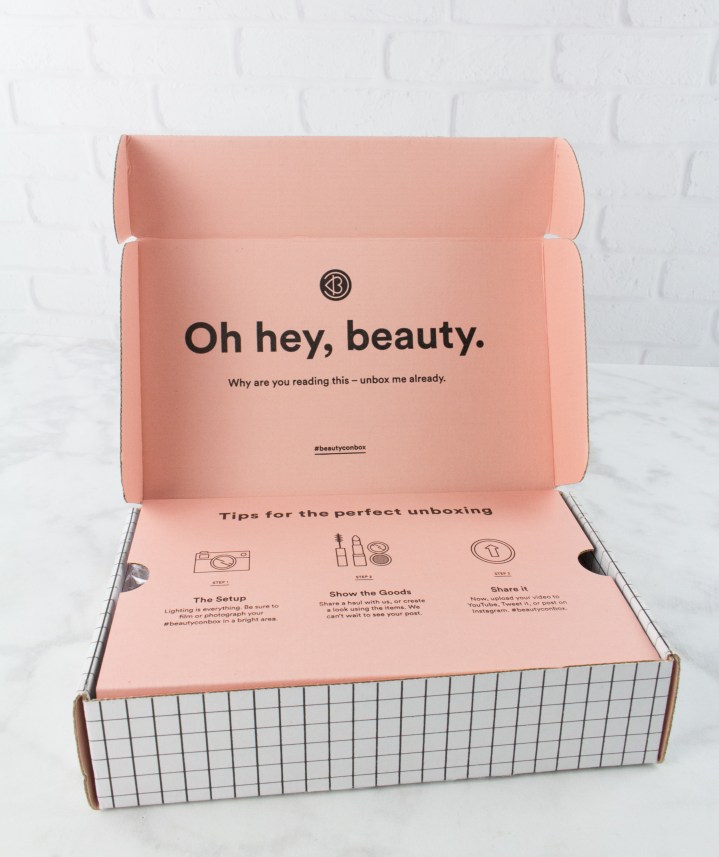 DEAL: Get $5 off your first box! Use coupon code hellospring.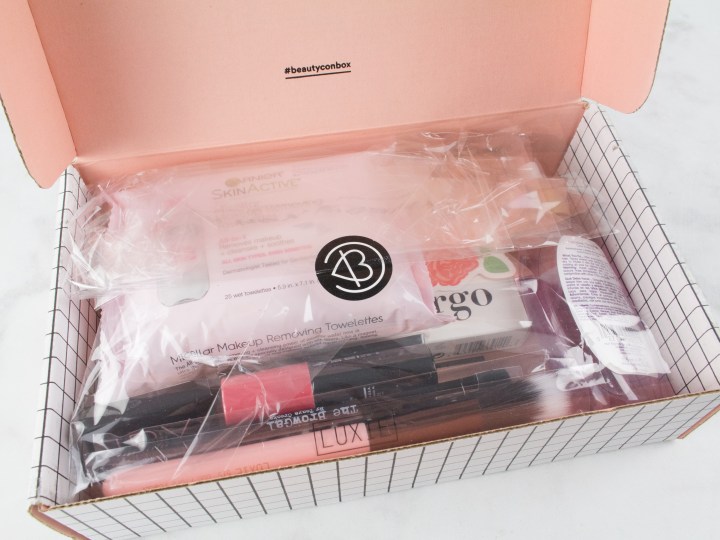 Everything is neatly wrapped up in cellophane.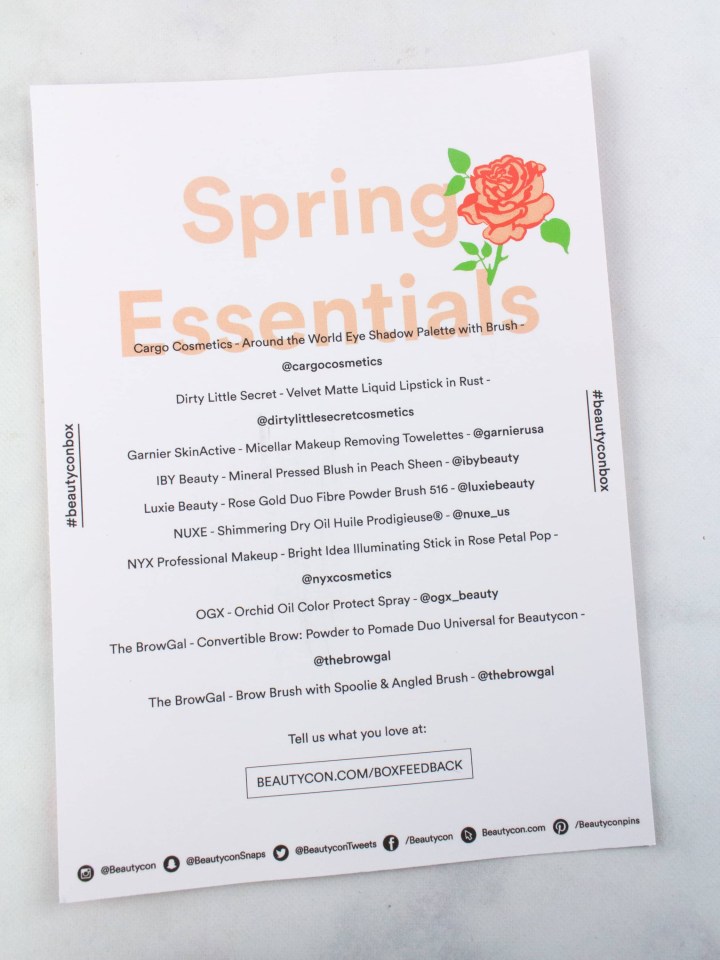 The information card provides a listing of the items. The theme is Spring Essentials!
The Spring 2017 Beautycon Box was curated by …. Beautycon!
It's official the #beautyconbox curator is….US! We've worked with the best in the industry to bring you the best in beauty for Spring! Don't worry, we're not taking the entire spotlight, we formed our very own girl squad for Spring, @sayriajade @dacey_cash and @itslademi who are as in love with the #beautyconbox as we are! Keep an eye out as they share their unboxing experience, favorite looks and amazing tips throughout the season.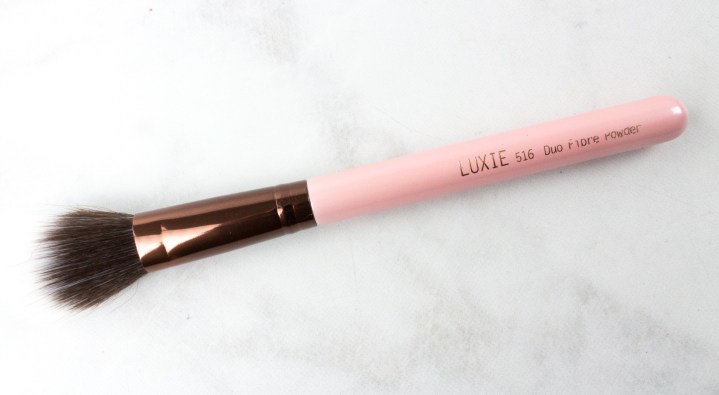 Luxie Beauty Rose Gold Duo Fibre Powder Brush 516 ($22) Rose gold is "in" right now and I hope it never goes back "out"! Duo fibre brushes over a more light application of everything from creams to powders.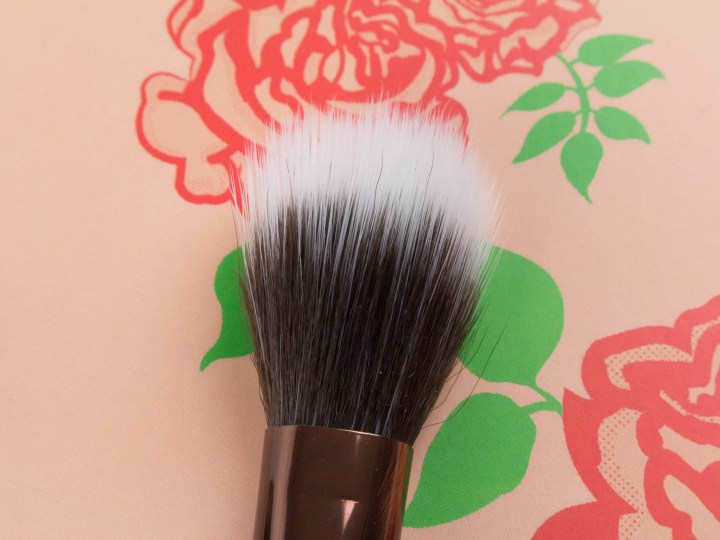 I tried this brush out with the mineral powder in the box (below) and got a really light dusting (so light that I had to reswatch!). It's perfect for real-life application.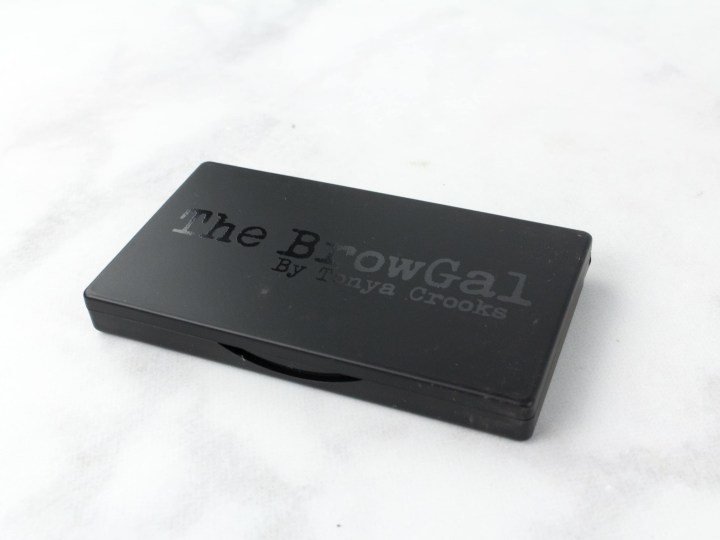 The BrowGal Convertible Brown: Powder to Pomade Duo Universal ($35) A versatile brow powder system to fill in and shape brows.
Use dry for a subtle finished look, use wet for a pomade. Each compact has a warm, neutral, and ash tone to allow you to mix your absolutely perfect color every time. You can get a 3D look by using both wet and dry. This is a really substantial brow palette and should last a really long time, even if you only used one color.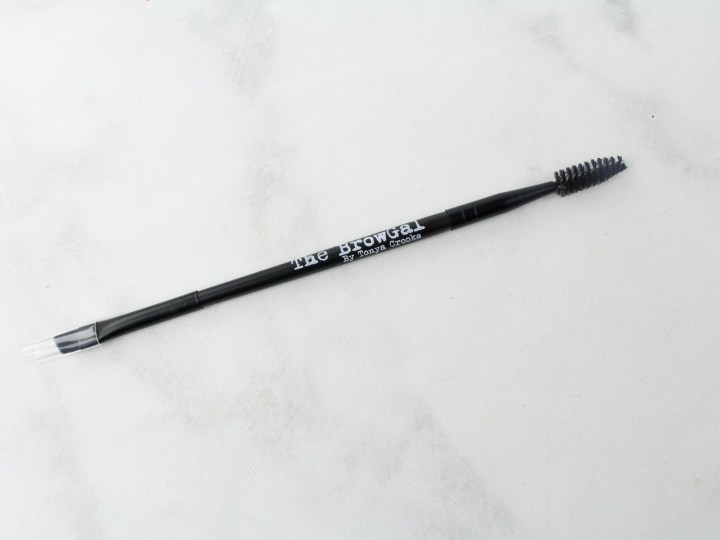 The BrowGal  Brow Brush with Spoolie & Angled Brush ($14) To go with the brow powder — love when they include an item to complete the set!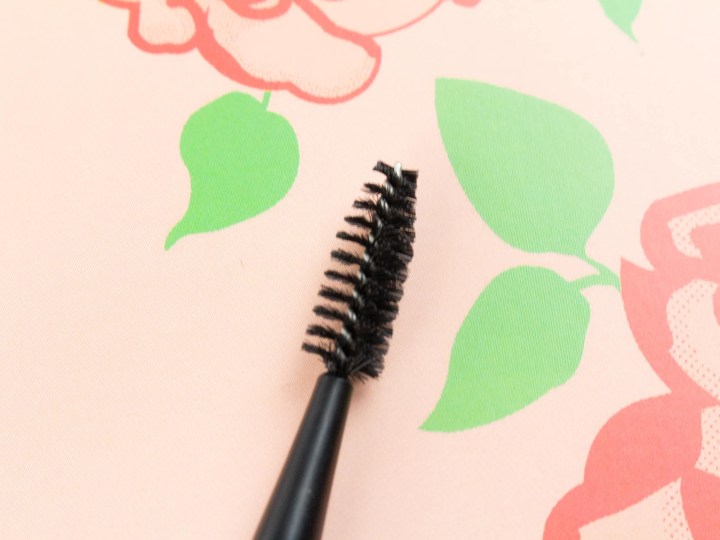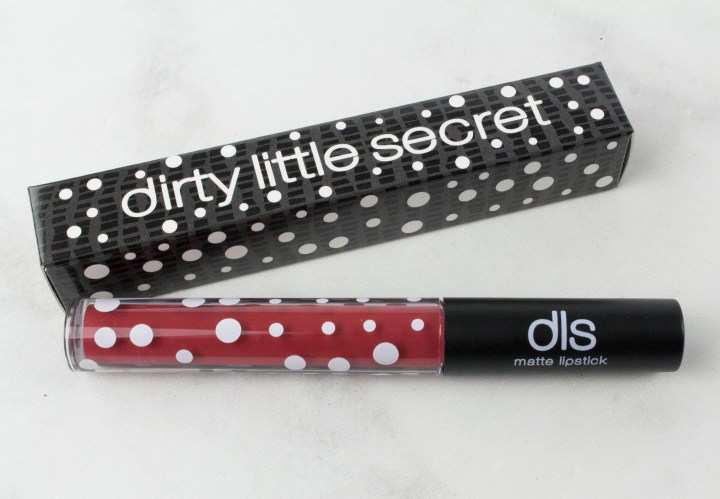 Dirty Little Secret Velvet Matte Liquid Lipstick in Rust ($14) Matte liquid lipsticks are a hot trend right now, and Beautycon has chosen one by Dirty Little Secret for the box. It's a muted brick red, almost a berry.
Unfortunately it smelled and tasted chemical-ly and wore off quickly, leaving me with an unattractive ombre look. It was sticky too. This one went into the bin. I've never heard of this brand either – have you?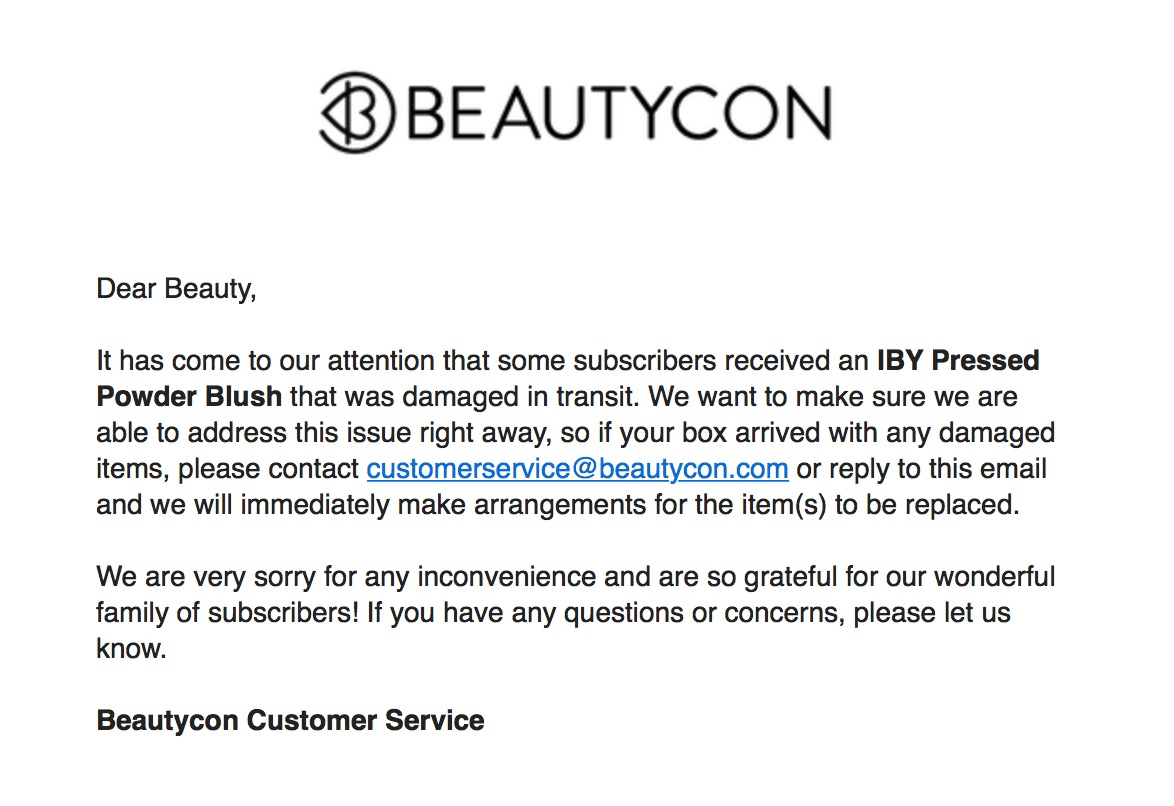 This next item had an issue, but Beautycon was proactive about it.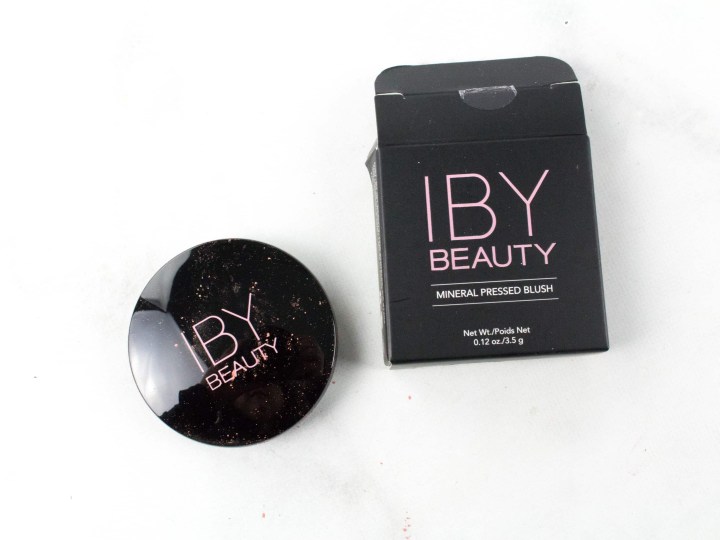 IBY Beauty Mineral Pressed Blush in Peach Sheen ($16)
IBY blushes are paraben and talc free. Peach is a great color for spring, so this was a great addition to the box! It's a beautiful peach with a gold shimmer, and totally stunning on. I can't wait to get my replacement.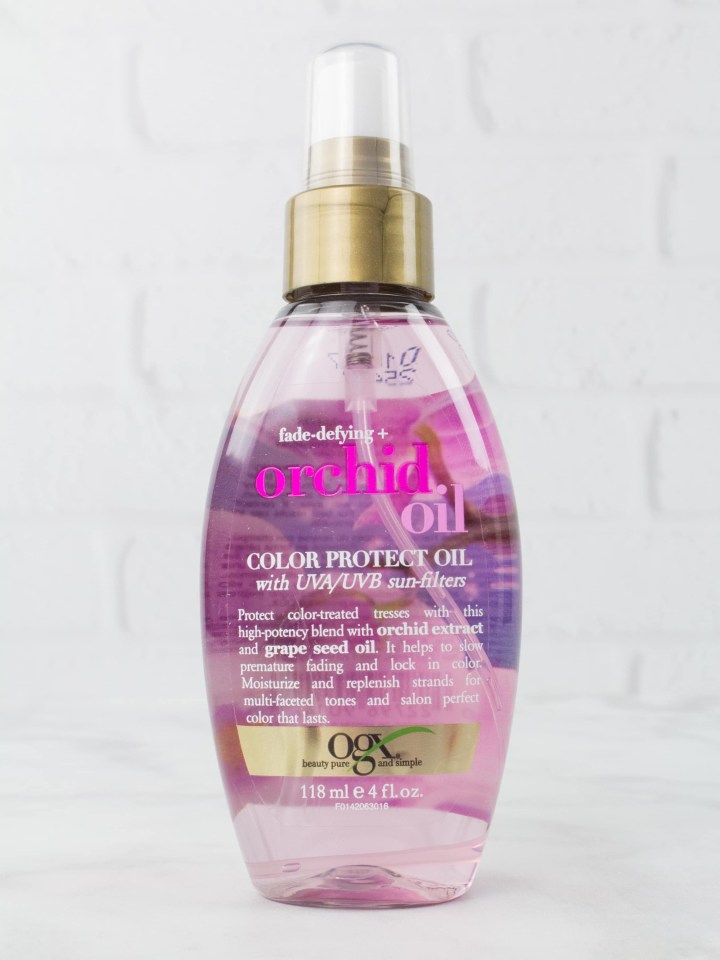 OGX Orchid Oil Color Protect Spray ($7.99) Orchid extract and grapeseed oil help protect hair from UV rays that can fade your color – another good idea now that the sun is shining more often! The spray is lightweight and sweetly scented.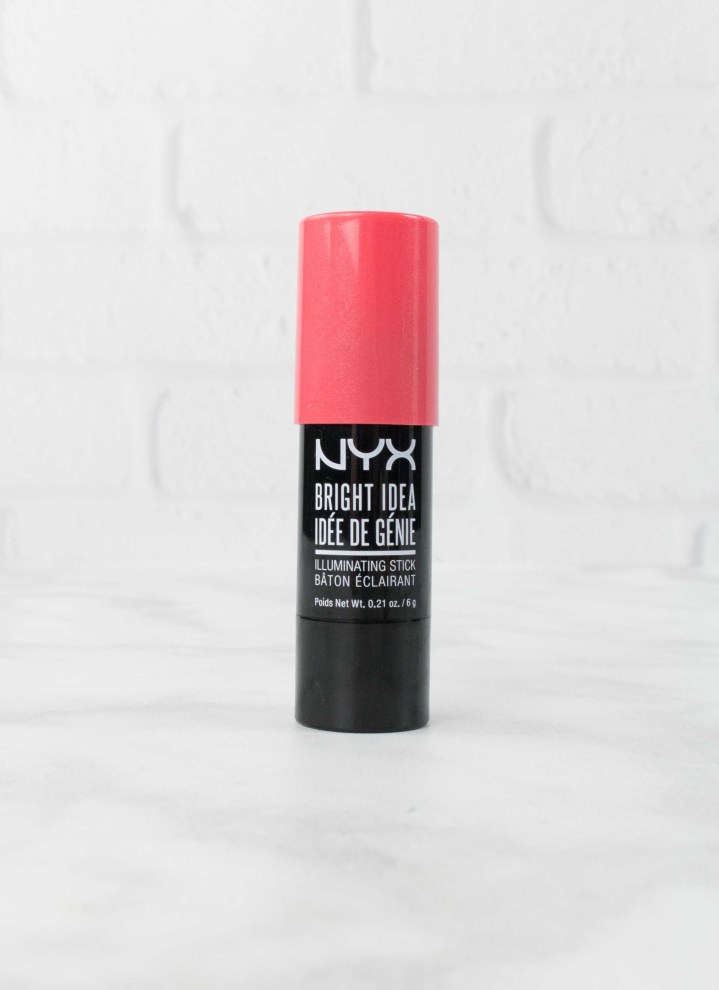 NYX Professional Makeup Bright Idea Illuminating Stick in Rose Petal Pop ($8) One of NYX's newer products!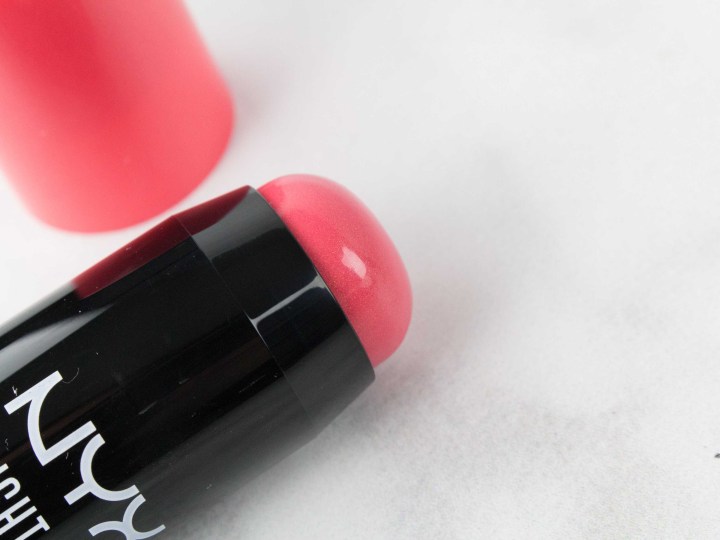 The sticks can be used as blushes, bronzes, and highlighters. Rose Petal Pop is a deep pink with gold shimmer. It has a great creamy application and set up really nicely. This was one of my favorite finds from the box!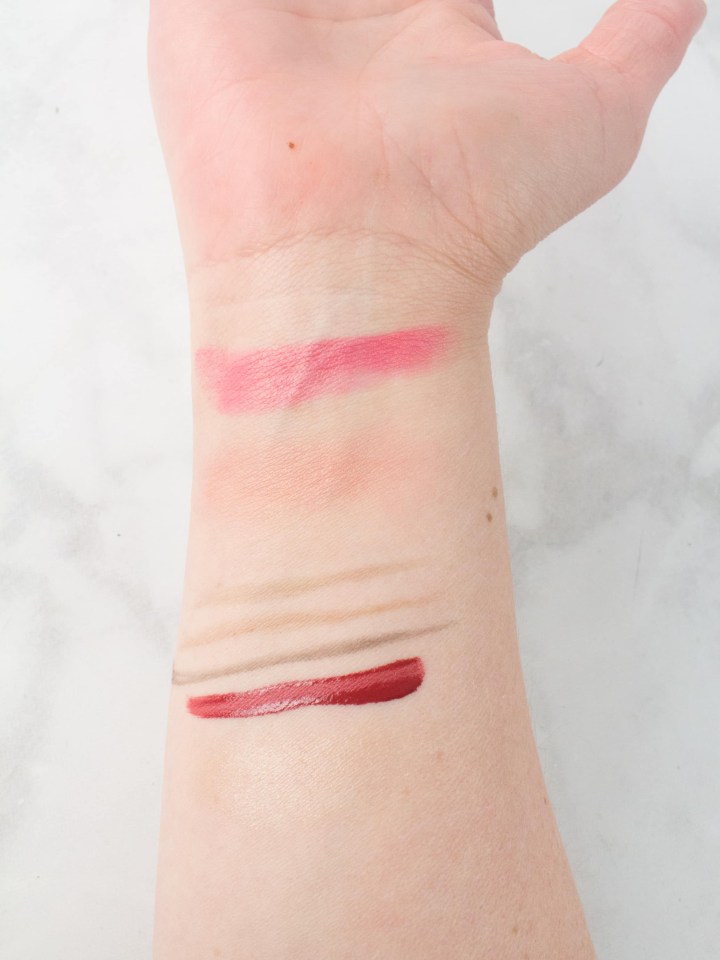 Here are the cosmetics swatches: NYX, IBY, the 3 brow shades, and the matte lipstick.
NUXE Shimmering Dry Oil Huile Prodigieuse ($7.40) Nuxe's dry oil is one of its most famous products. You can use it on skin, hair, and body to add moisture and a slight shimmer. The fragrance is light and lovely. I love this product and haven't received one in quite some time, so I was super happy to see it in the box (especially in the shimmer version). It has macadamia, hazelnut, borage, almond, camellia, and st. john's wort oils. A teeny bit goes a very long way!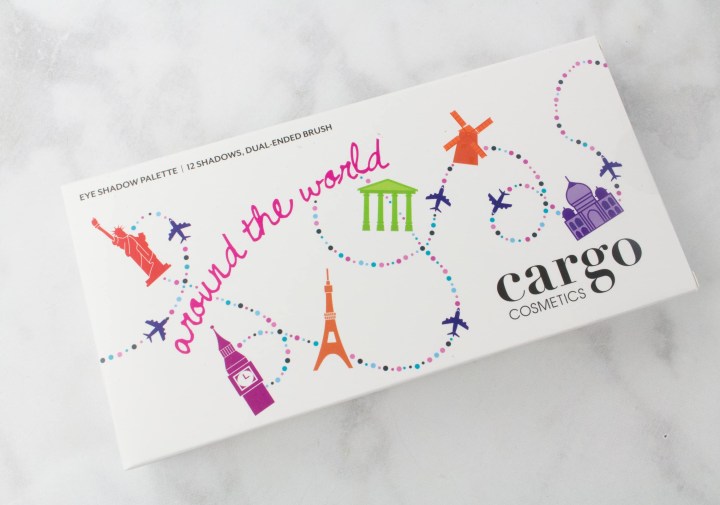 Cargo Cosmetics Around the World Eye Shadow Palette ($34)  Look familiar? This palette is the same one that appeared in the 2016 POPSUGAR Holiday limited edition box!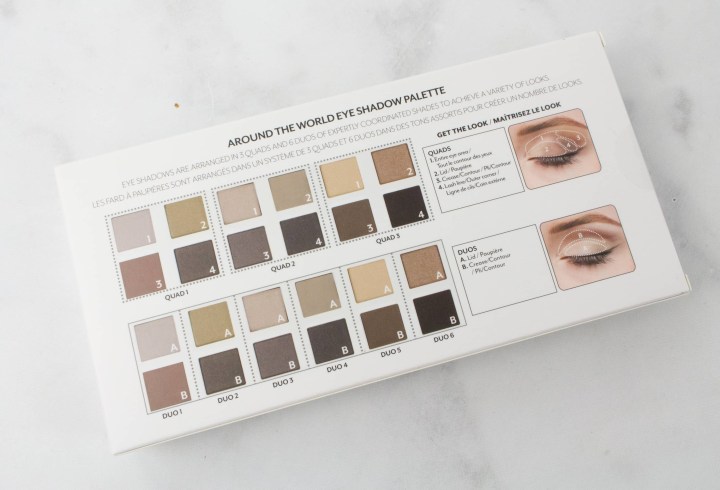 The other photos of this palette are from the previous review (no need to waste a brand new palette – perhaps it will find its way into a giveaway!).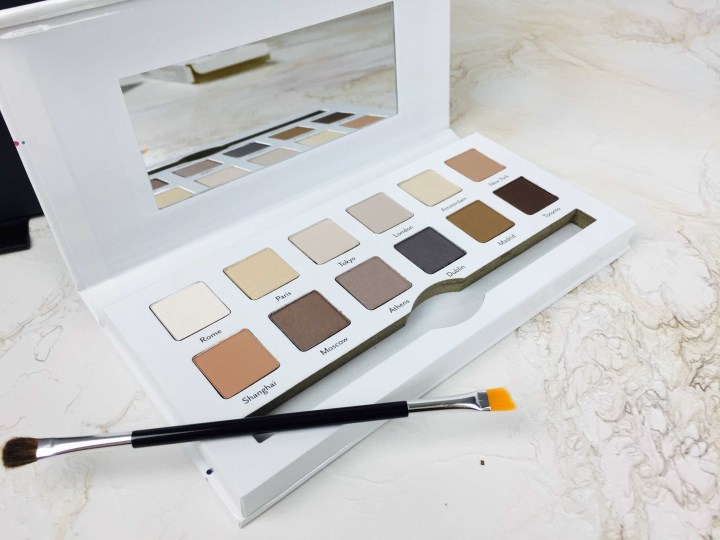 The 12 shades, representing different travel destinations, are coordinated to achieve various looks. A nice dual-ended brush was included, and the palette includes a large mirror and a magnetic closure.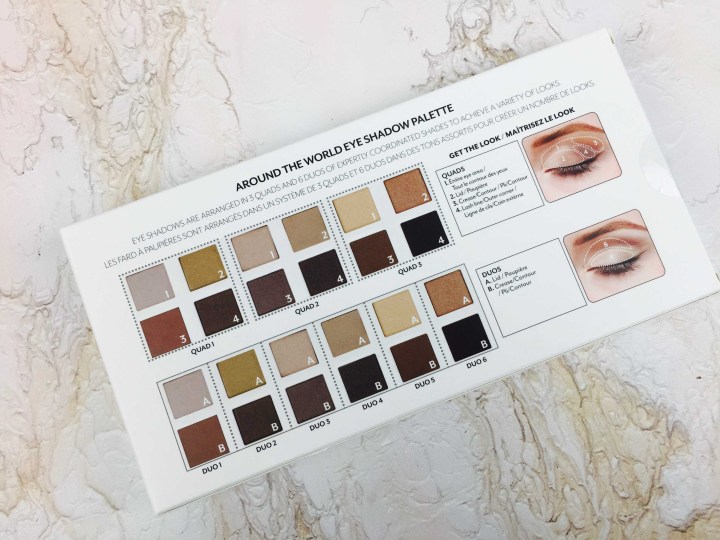 It's nice to have this eyeshadow guide in handy. They even included examples on the side! 

Here are the swatches of all 12 eyeshadow colors, 6 matte and 6 shimmer shades.  I thought these were very wearable and some would work great as eyeliner, too.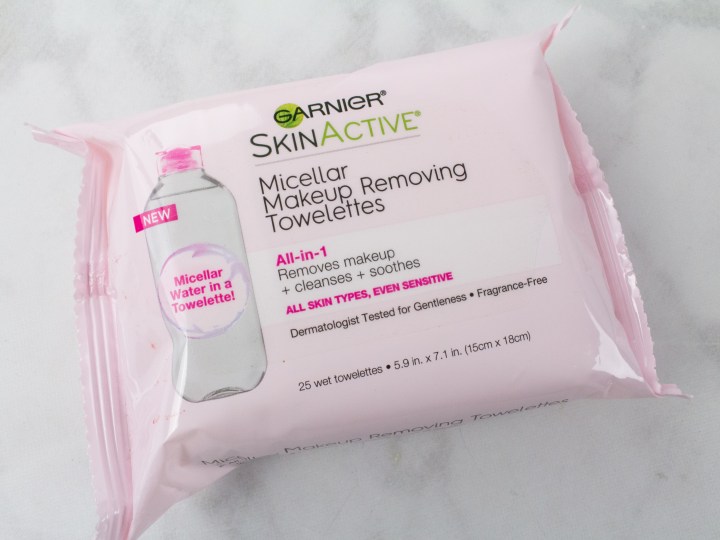 Garnier SkinActive Micellar Makeup Removing Towelettes ($6.99) Micellar water is a gentle and effective way to remove makeup, and unlike oil-based cleansers doesn't leave residue behind. The sheets are soft, but work quickly as micellar water tends to dry faster than oily cleansers.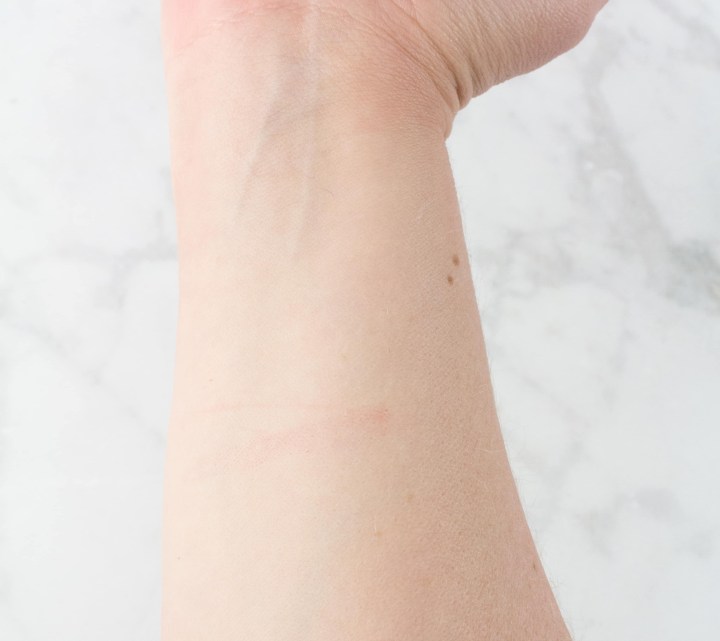 It removed everything – but leaves a trace of matte lipstick (to be expected!).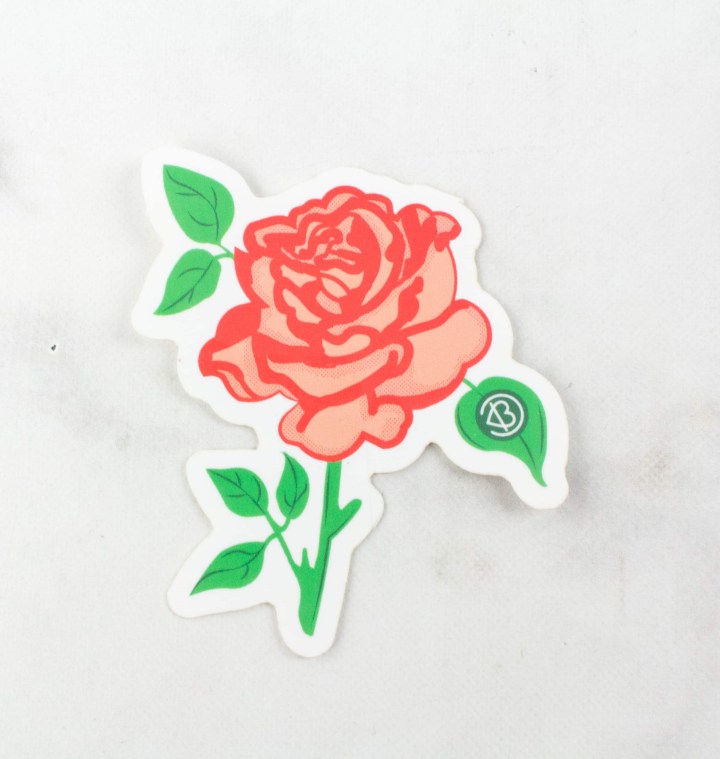 A fun little sticker matching the box collateral was included, too.
With around $148 in value, this box was truly impressive value-wise. I wasn't a fan of the the lipstick, but every other item was completely fabulous (and full size, except for the Nuxe shimmer oil). The blush was a bit of a bummer, but I was really impressed with Beautycon's proactive approach to the issue.
The only thing to note about this box is that you must cancel within 7 days of receiving your box. We recommend using Paypal to sign up.