POPSUGAR Must Have Mini is a smaller version of the full-size POPSUGAR Must Have Box! Every month you'll get full-size products up to $30 in value for $18.95 per month. Just like the full-size box the POPSUGAR Editors promise to send the best in beauty, fashion, and home to your door every month. FYI – Products do not repeat from the main box to the Mini!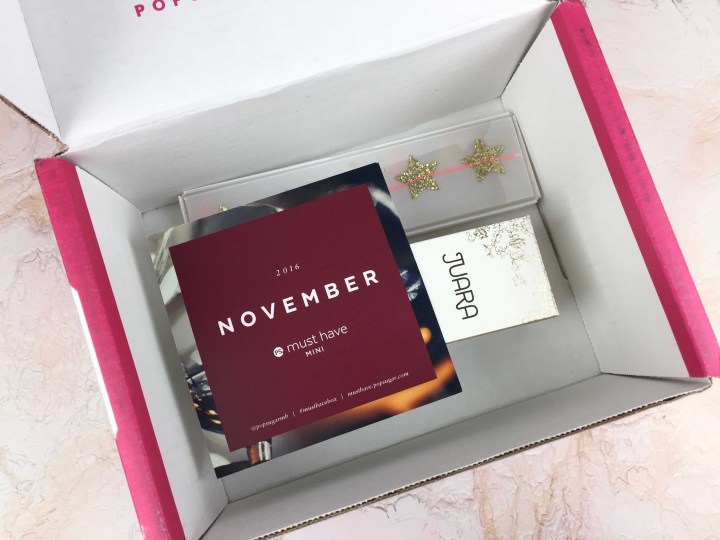 DEAL: Save $20 on your first box of a regular POPSUGAR Must Have subscription with this link and coupon code MSA20
Two products in the November POPSUGAR Must Have Mini Box!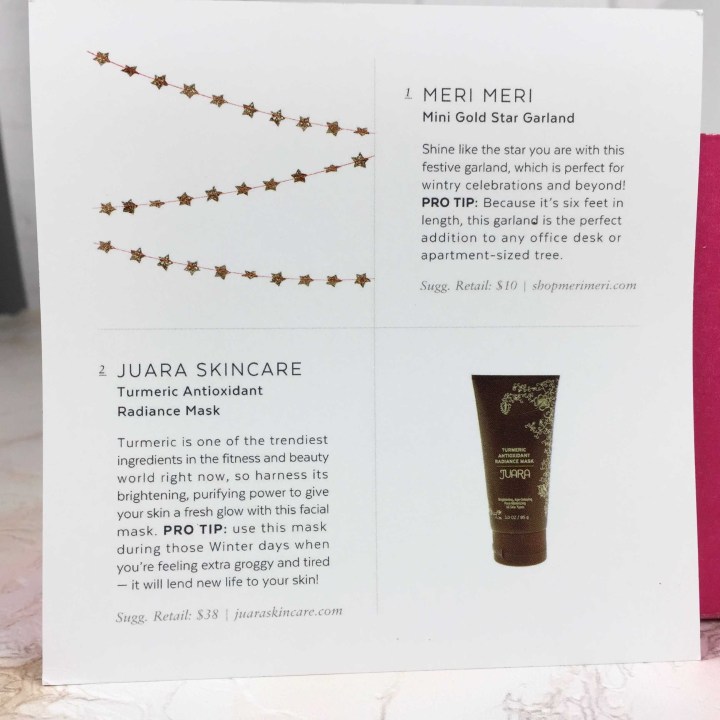 The Must have MINI comes with a card detailing the items inside.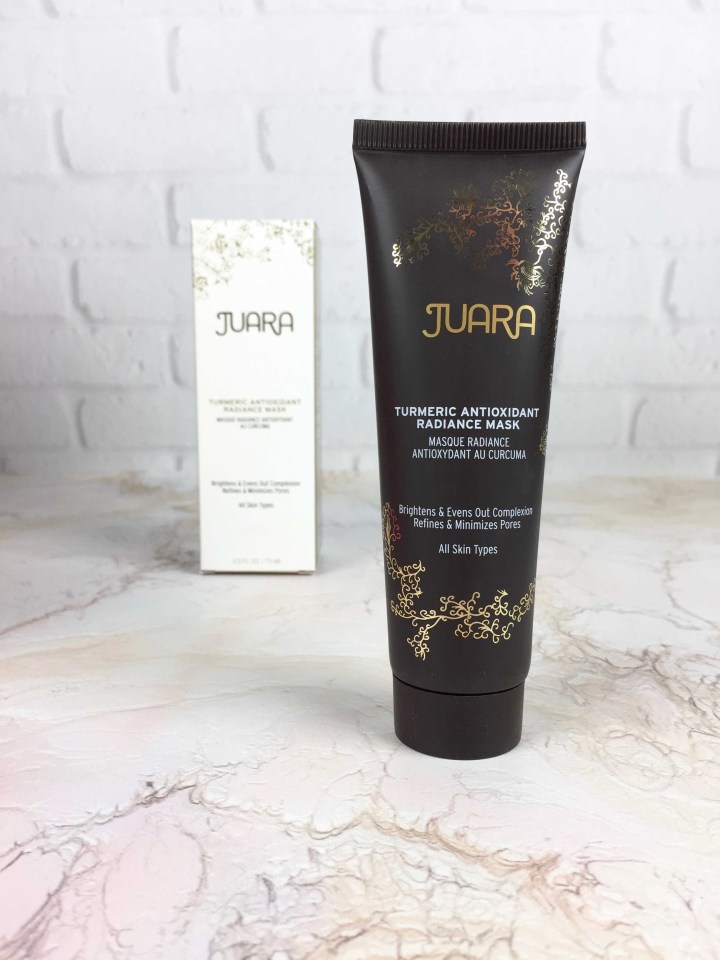 Juara Tumeric Antioxidant Radiance Mask ($38) I love Juara – and this product by itself is over double the cost of this subscription! I think this is a real score, especially as they're one of my fave brands.
This mask combines Turmeric, kaolin clay, and a touch of candlenut oil to help purify skin, minimize pores, and brighten your complexion. I should mention that the turmeric is white turmeric and it won't stain your skin. I didn't test it out that way, but the package says you can also use it as an overnight treatment. The mask is non-hardening and even has hyaluronic acid for hydration.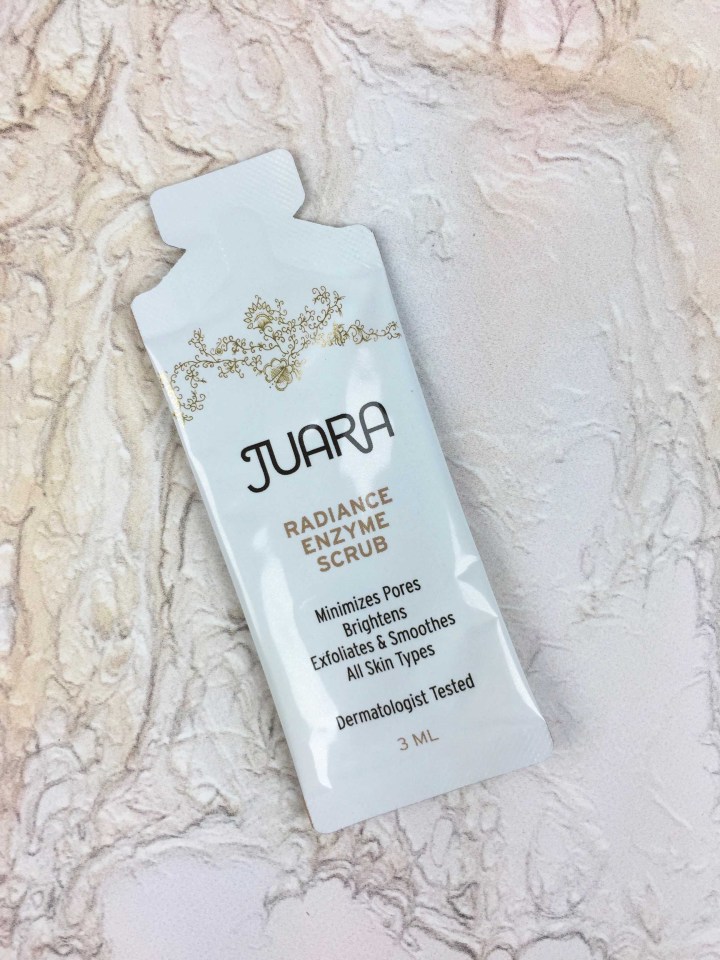 Juara Radiance Enzyme Scrub ($1.54) This superfine scrub could be used a few times a week – I definitely felt that my skin seemed more radiant and smooth after using it!
Juara is free of parabens, sulfates, phthalates, mineral oil, gluten, artificial colorants and harsh chemicals and I'm really happy to see POPSUGAR concentrating on these health-conscious beauty products!
Meri Meri Mini Gold Star Garland ($10) Meri Meri has such darling party goods! This fun garland has glittered stars and a hot pink thread stringing them all together!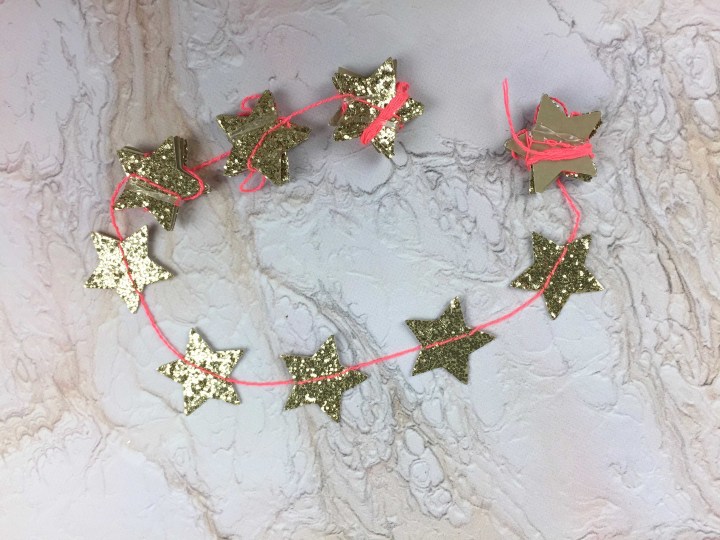 I absolutely loved that all the stars were banded together to make it not tangly. We're saving this to hang in my daughter's room as a permanent decoration – but as we're still painting the boys' room, it's all a jumble, so I'm keeping it all together.
Other ideas: decorate your office, mantle, or a mini xmas tree! It's about 6 feet long. Oooh, or lay it out on your new table runner from the November full box!
The value of this month was nearly $50 and I thought the selections were absolutely lovely. Unlike other months, which I think have felt a little more neutral (like a great admin assistant gift), this month felt more personal and a just for you sort of vibe. I was really pleased with it – and the price to value ratio!
What did you think about the November POPSUGAR Must Have Mini box?