Bargain Bead Box is a monthly bead subscription service. Each month, you'll receive over $40 worth of top-quality jewelry supplies. It can be a mix of loose beads, bead strings, findings, and pendants. You can share your creation on their social media for a chance to win a $25 gift certificate for their sister store Bead Box Bargain. Boxes are $15.95 per month. Shipping is free in the US and $7.50 to Canada. Even if it's technically a subscription box, it comes in a teal bubble mailer, which is less expensive than a box so they can send more beads! And more beads is more fun!
Inside the bubble mailer, the beads come nicely packaged inside three bags and wrapped in tissue paper. Inside the bags, everything is in individual plastic bags.
Each month is curated around a different theme and all the beads and findings are coordinated. This month's theme is "First Frost" and promises delicate colors such as blues and pale pink in the form of… ROSE QUARTZ! GEMSTONES! Silver is the metal this month.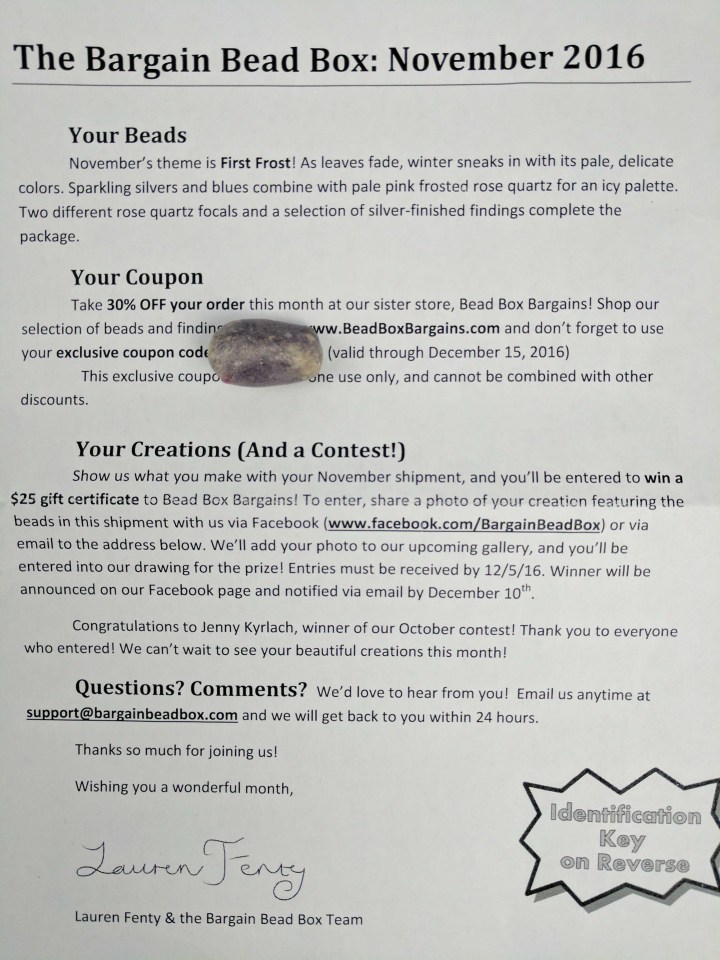 With the note, included in the package, you also get a discount for their sister store "Bead Box Bargains."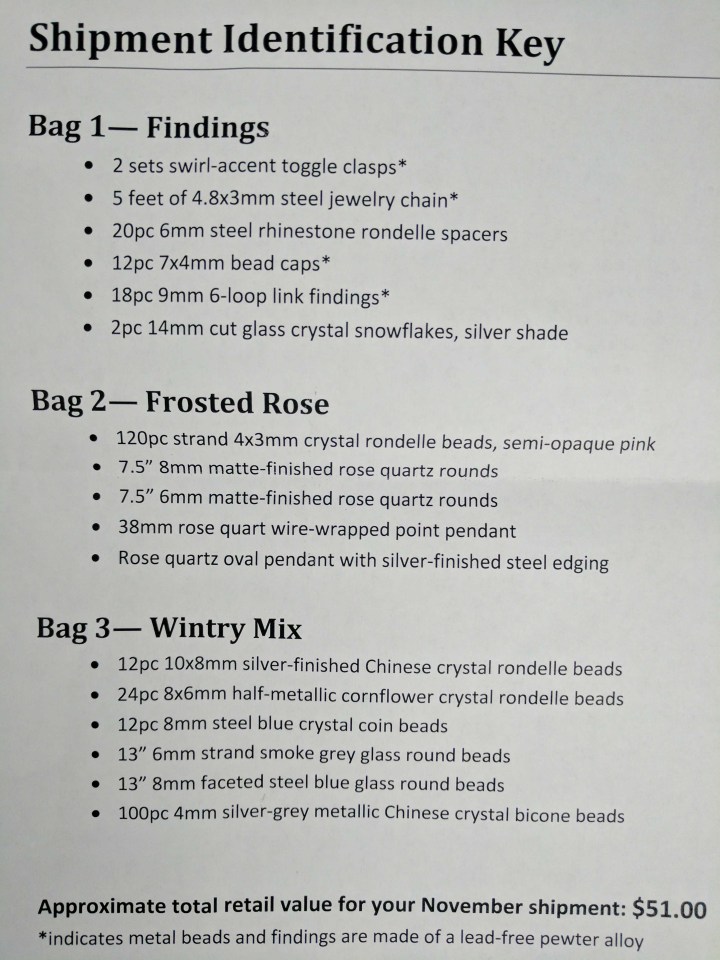 On the reverse of the letter, the content of the three bags are described. SO MUCH ROSE QUARTZ!!! Let me breathe a bit before going any further. (I'm a huge gemstones lover, I can't get enough of them. It's almost as bad as my love for birds…)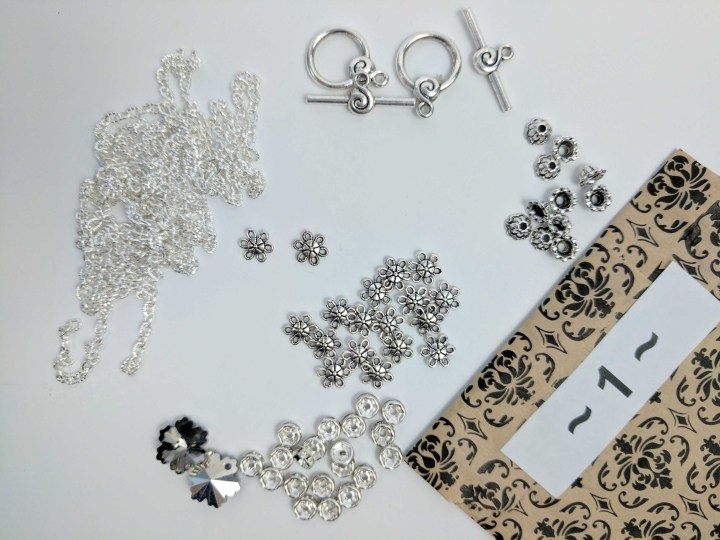 BAG 1: Findings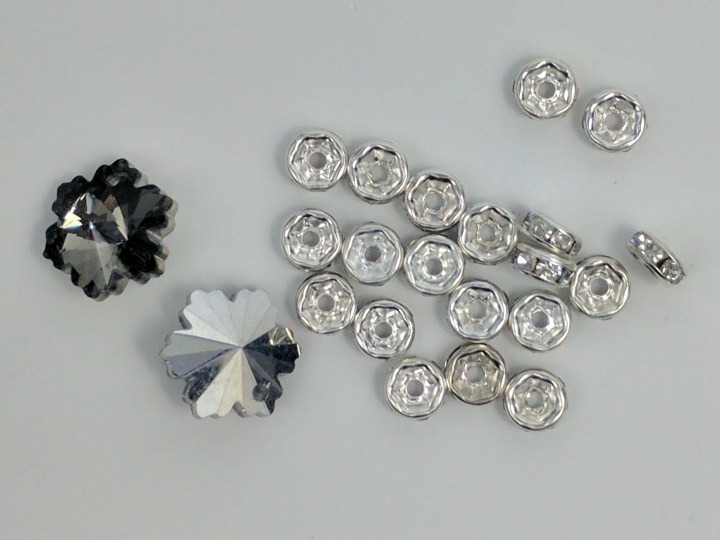 20pc 6mm steel rhinestone rondelle spacers. We get these beads quite often with this box, but I don't mind at all! I always have to buy more and they are usually quite expensive, even the steel one. They are perfect with rondelle beads, and they will add lots of sparks to any Christmas earrings or necklace. Some of the ones I've received were missing some rhinestones, but they are overall quite nice.
2pc 14mm cut glass crystal snowflakes, silver shade. Sorry for the very bad picture of them, but they are so shiny! They are very cute and I could see them as part of a Christmas Tree decoration or above a window (beads are not only for jewelry!)
2 sets swirl-accent toggle clasps. Every month, we receive some form of clasps, usually two or three. I'm the kind of person who will go to the bead store to get clasps only to be distracted and come home with a lot of beads, but no clasps. So, thank you Bargain Bead Box for giving us these so useful findings every month! They are more of an antique silver than pure silver color. They are simple, but with enough details to be nice on a bracelet.
5 feet of 4.8x3mm steel jewelry chain. I love getting chains! This is another staple in this subscription box. We don't get chains every month, but often enough to actually expect it. This chain is a very bright silver and each links are hammered to give them a bit more shine.
12pc 7x4mm bead caps. Another staple in this box, bead caps are very nice as spacer beads, or on top of a bead in earrings. I only received 11 pieces, so I might use the lone one on top of 5 or 6 lengths of chains to create a cute little tassel (more Christmas ornament!)
18pc 9mm 6-loop link findings. These are adorable! They are slightly thicker in the middle and they look like sunflowers. They could be used as links, but also as a charm on a bracelet.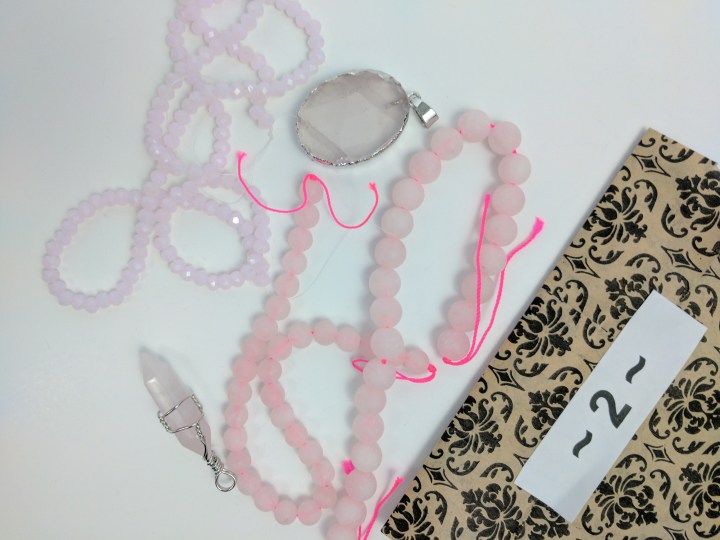 BAG 2: Frosted Rose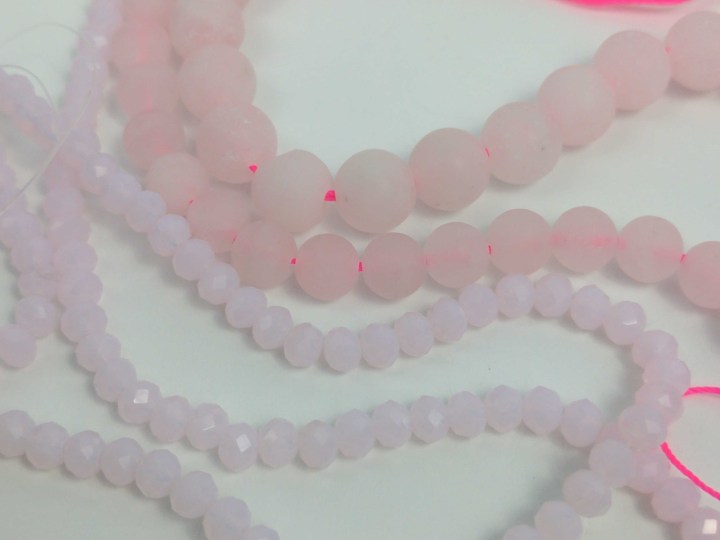 120pc strand 4x3mm crystal rondelle beads, semi-opaque pink. The color is so delicate, so pretty, so icy! I don't usually work with pinks, but these guys would be so cute on an elastic bracelet with equally small light blue beads.
7.5″ 8mm matte-finished rose quartz ronds and 7.5″ 6mm matte-finished rose quartz rounds. I'm not crying of happiness, I'm not. Just give me a minute to breath. Guys, look at the super cute and perfect round Rose Quartz beads! The texture is so nice because it's not as smooth as clear beads. I have some faceted Rose Quartz beads, so I might mix them together for an icy-snowy Rose Quartz bracelet or necklace. I'm so happy! Gemstone!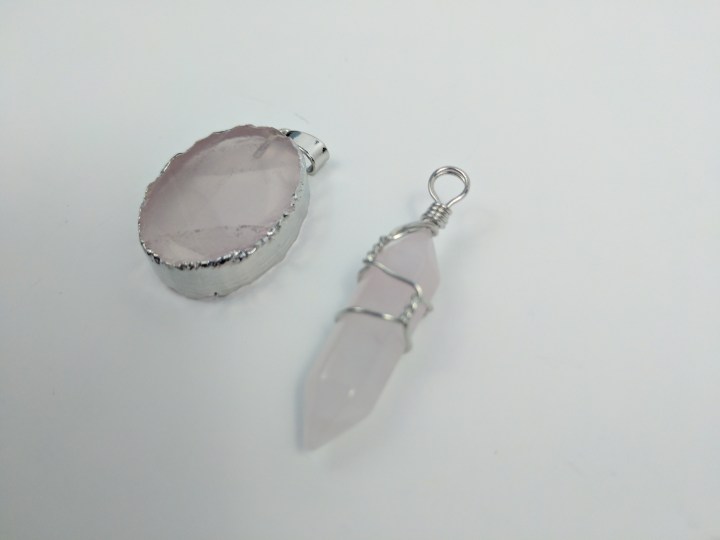 38mm rose quartz wire-wrapped point pendant. MORE ROSE QUARTZ. The point is not too pointy, so it won't stab you while wearing it. With some blue and pink beads, or on a simple pink cord, this would make a great simple pendant.
Rose quartz oval pendant with silver-finished steel edging. SERIOUSLY! ROSE QUARTZ! Ok ok, I'm just happy to see so much gemstone beads in this box! The pendant is very simple, but the steel coating around it gives it a Je-ne-sais-quoi that I just love. On a silver chain (I wonder where I could find some steel chain in silver!!!), this pendant will be perfect with a black dress. Yeah, this one will stay very simple.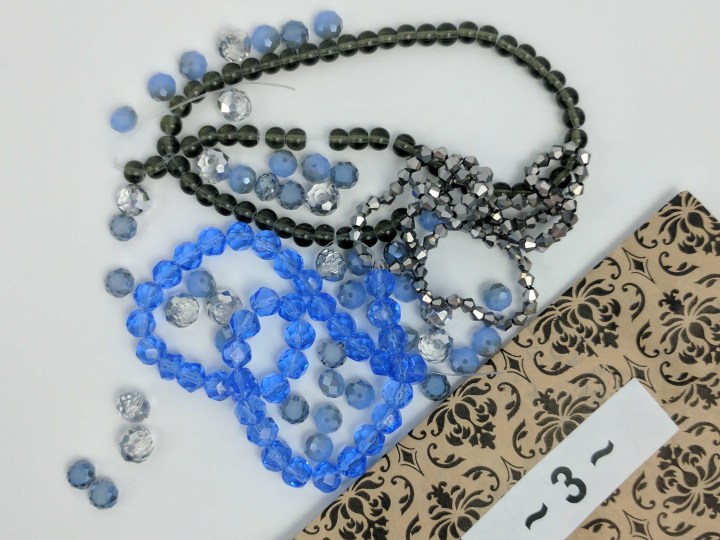 BAG 3: Wintry Mix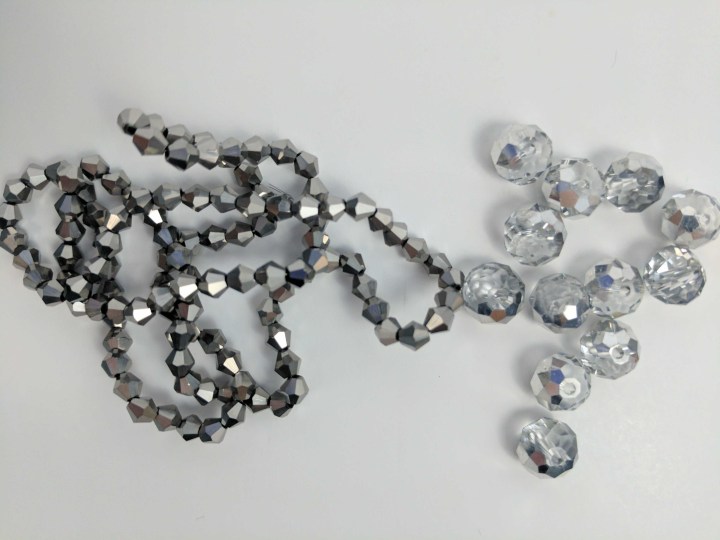 4mm silver-grey metallic Chinese crystal bicone beads. The more I play with metal beads, the more I like them! They can either give a modern, industrial look by themselves, or they are perfect as accent beads.
12pc 10x8mm silver-finished Chinese crystal rondelle beads. I love the half-coating that they have. They are little icy nuggets in this box. For an icy look, they would be perfect mixed with the rhinestone rondelles or the silver-grey metallic bicones.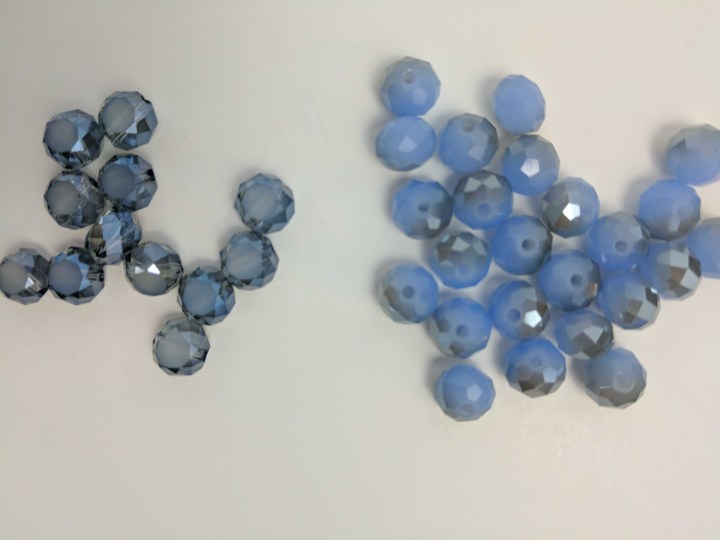 24pc 8x6mm half-metallic cornflower crystal rondelle beads. Oh, hello blue beads! I was talking about you earlier, in the Rose Quartz zone! They are gorgeous! The half-metallic coating is not harsh. Instead, it gives a smooth feel to the beads. I love these half-coated beads, I want to use them everywhere!
12pc 8mm steel blue crystal coin beads. These are quite interesting. The color is also amazing (disclaimer, blue is my favorite color), but not over the top blue.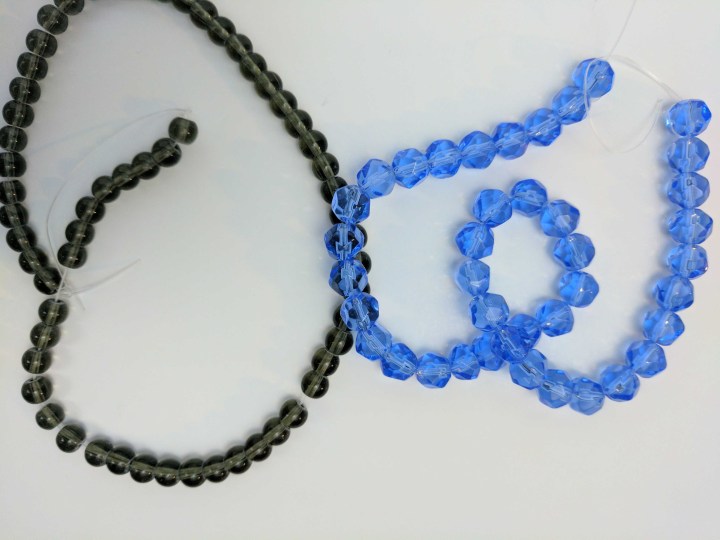 6mm smokey grey glass round beads. I would say they are my least favorite beads this month.
8mm faceted steel blue glass round beads. They are most likely fire polished as the edges are not that sharp. They are soft, and the blue is so "wintery", I love it!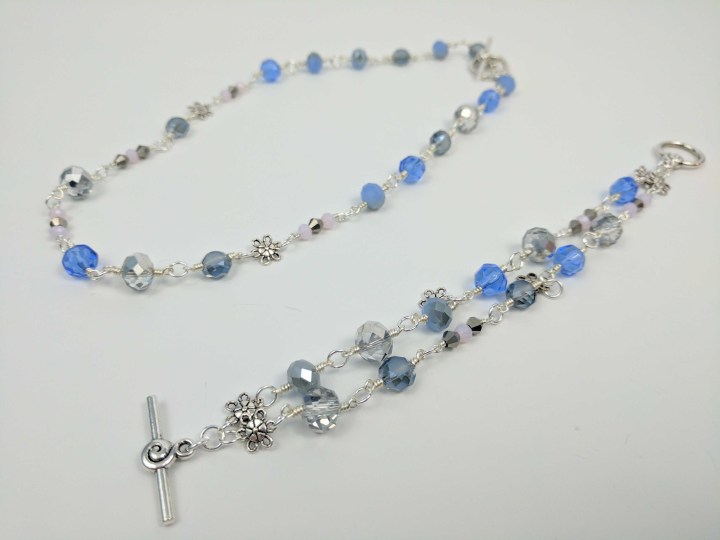 When I have a lot of different beads on my bead mat, I like to wire-wrapped them and make a necklace with a random pattern. I first thought of making a long necklace, but I change my mind and decided to make a necklace-bracelet set instead.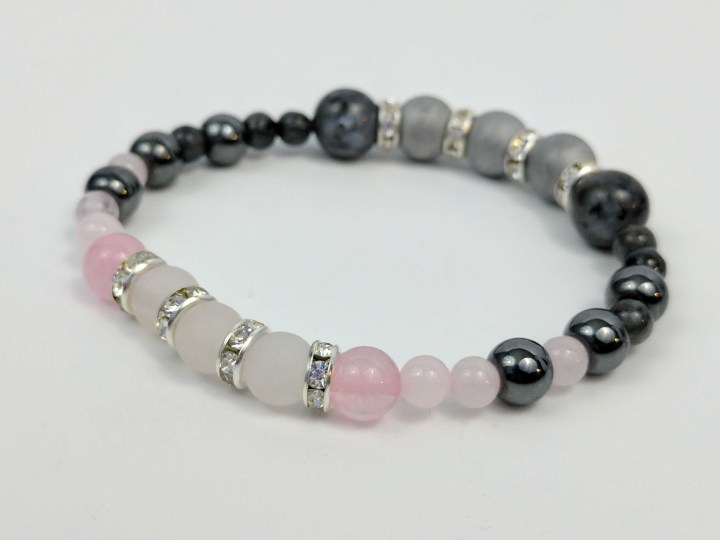 When I saw the Rose Quartz, I knew I wanted an elastic bracelet with it to go with one of my favorite fall-winter pink-grey-black shirt. But when I removed the frosted Rose Quartz from their pink thread, they were a very light shade of pink. I didn't have pink elastic, so I paired them with shiny Rose Quartz beads in two size. I've added some hematite from an earlier box (June) and added black labradorite beads.
I am so so so happy we received not only gemstone beads, but also TWO gemstones pendant, and quite different from each other. This month felt a bit lighter on the beads, compared to previous months, but they are of high quality (gemstones are usually quite expensive) and we still have more than enough to feed our creative cravings!
What did you think of this month's Bargain Bead Box?