Spangler Science Club delivers cool, hands-on science experiments to young scientists monthly. The interactive experiments are designed to get young people excited about science while reinforcing in very concrete ways what is often taught in abstractions in school. Each shipment includes a lab notebook for kids and a parents' guide, both of which include detailed directions to aid in successful scientific discovery, as well as ideas for extending learning further.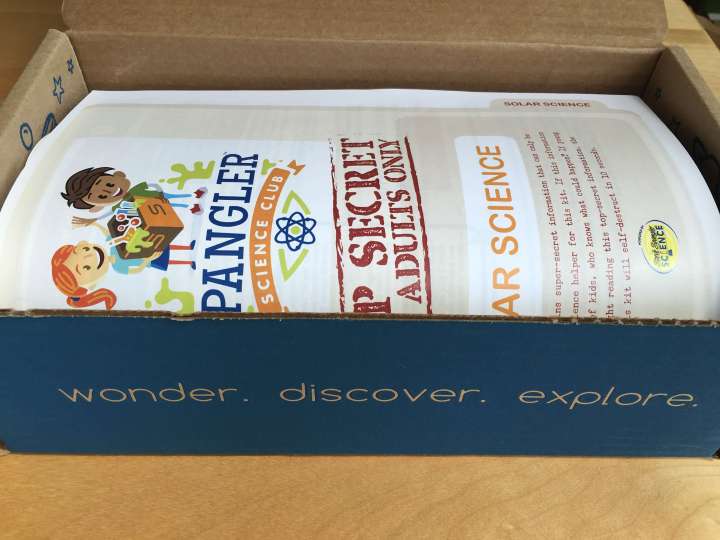 My son and I were both very excited to receive our third Spangler Science Club box! While my son is clearly younger than the intended audience for this box, he loves doing science experiments! I'm thrilled to get the opportunity to scaffold the enclosed experiments so that my son and I can learn about science through awesome hands-on experiments together.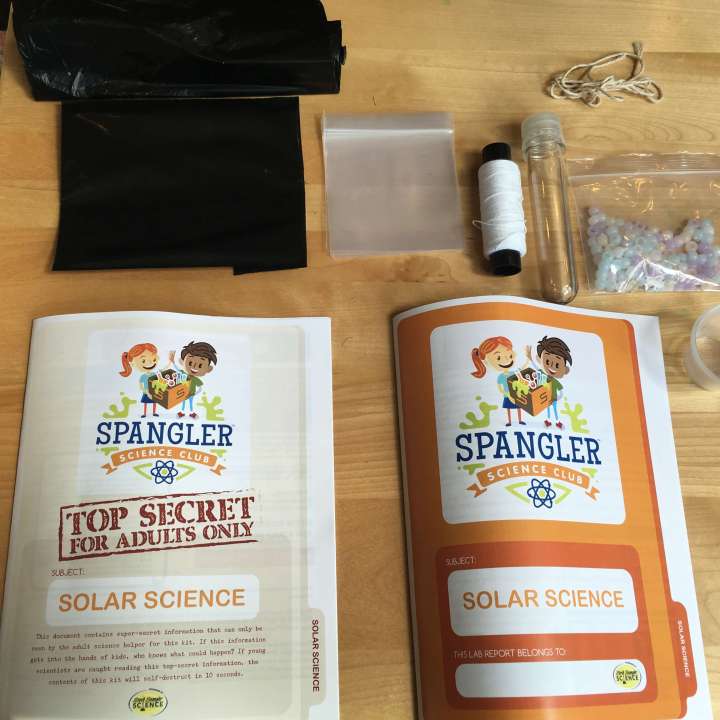 August 2016's theme was Solar Science! This box is designed with independent readers and writers in mind. A lab notebook is included so that students may log their discoveries. While directions for how to complete the experiments are located in video tutorials online, written descriptions are also included in the kid's manual.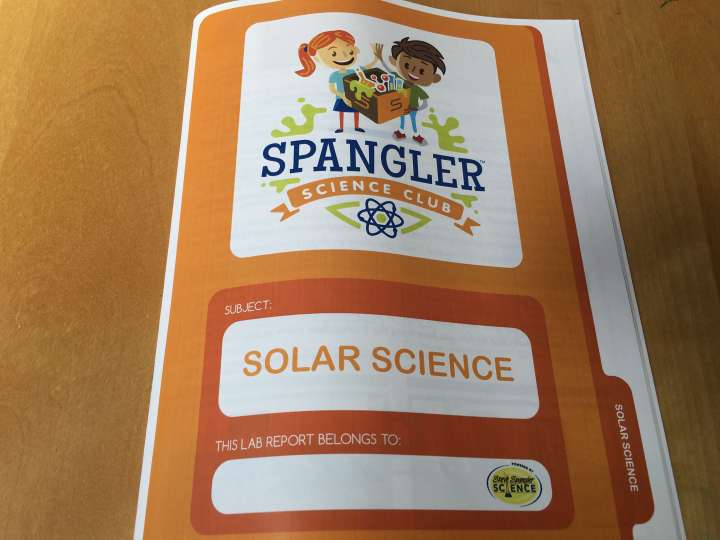 Each month's box contains both a kid's comprehensive manual and an adult manual that offers pointers for kids who get stuck.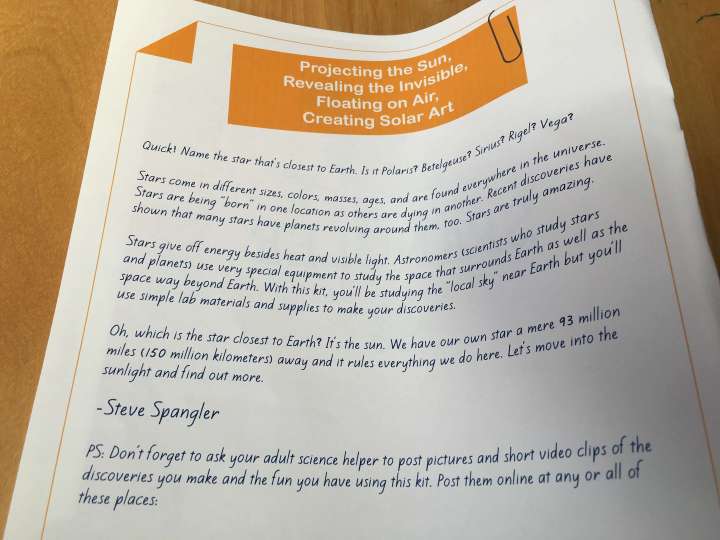 Each box contains a nice introduction describing the motivation behind the theme. My son and I very much enjoyed talking about stars and galaxies. I showed him pictures of the Milky Way. He asked what lies beyond the edge of the universe. I told him he'd have to research that and get back to me; I'd love to learn that myself! I told him that whatever the answer is, discovering it will require a lot of math, so if he really wants to know, he needs to continue playing with numbers and asking lots of questions. He smiled.
I love how both lab notebooks contain nicely organized lists of supplies that you'll want to have handy before starting. This month's notebook also includes helpful safety information for everyone to remember as they work through the enclosed experiments.
Each month's student notebook also contains a helpful word wall that provides definitions that help frame the rest of the experiments.
The adult science helper's notebook is much more brief and includes information that will help the student's experiments run smoothly.
Experiment 1:
Viewing a Giant – Carefully (blue–20 minutes):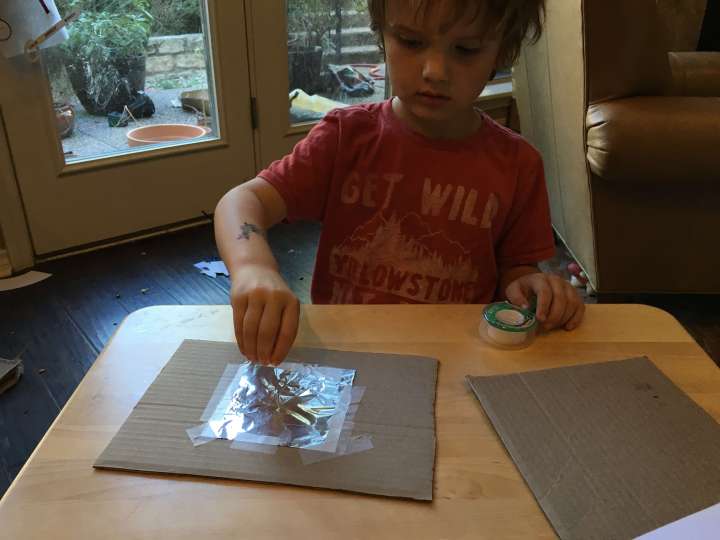 In the first exercise, students make their own pinhole projector to view a small image of the sun safely.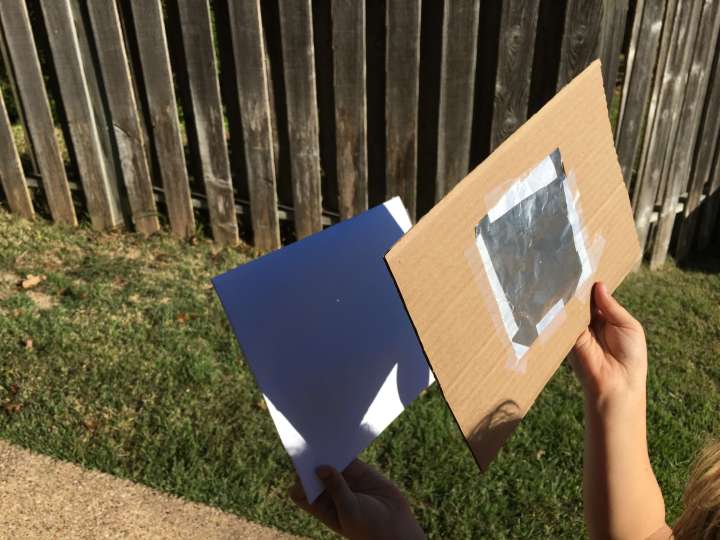 My son has wondered for some time why he's not allowed to look at the sun directly. Now that we've worked through the different exercises in the box, my son not only knows why he can't look directly at the sun, but he also knows how he can look at the sun safely. Cool!
Experiment 2:
Boring White Beads (purple-15 minutes):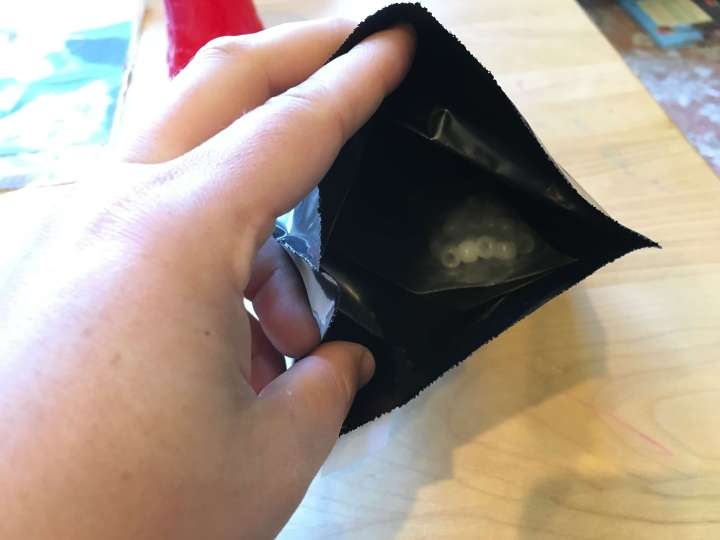 In this experiment, students get to play with UV sensitive beads. The exercise begins inside, where kids look at a bunch of boring white beads just after they've emerged from a dark drawer or bag.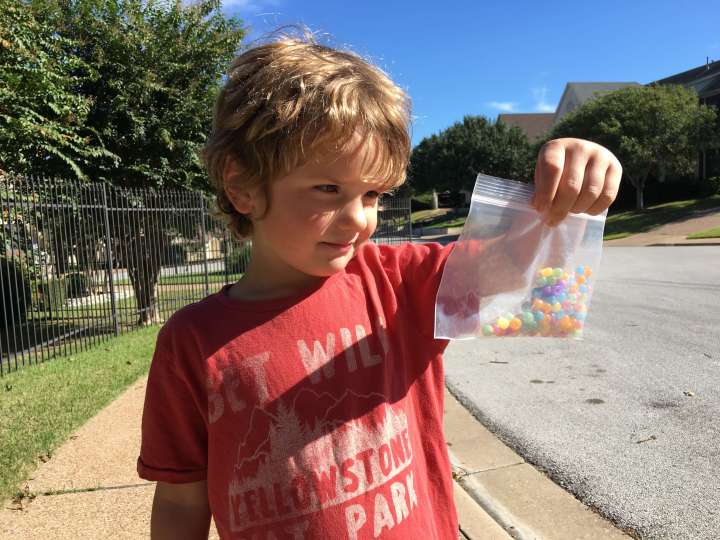 Then the kids get to go out into the sunlight to check out what happens to those same boring white beads. How neat! Colors!
My son thought these were so cool that he sat down to play with them outside for a little longer than intended. We chatted about the light spectrum and where UV falls on it. He was especially interested in the fact that some animals see different parts of the light spectrum than we do.
Experiment 3:
Three-in-One Safety Check (orange-30-40 minutes):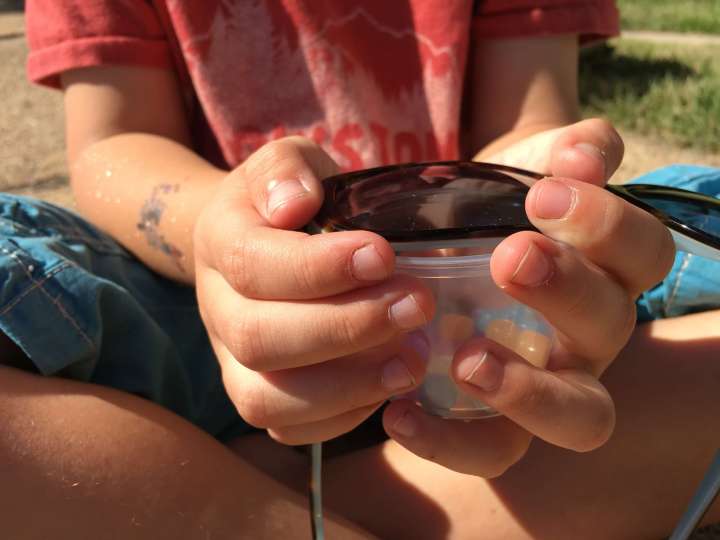 In these activities, children explore how utilizing sun protection can help protect us from UV rays.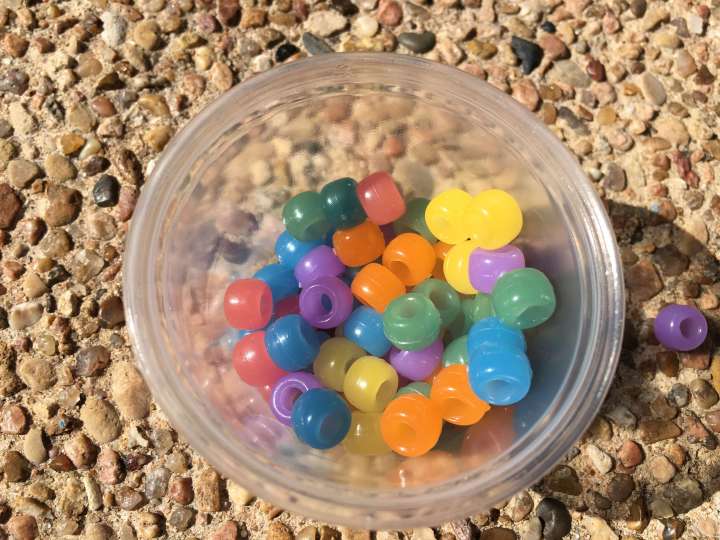 First, my son held a pair of my sunglasses over a cup of UV sensitive beads. He compared the relative strength of color of those beads with the color of UV sensitive beads in a cup by themselves. The UV beads in the cup without the sunglasses showed brighter colors than those that were covered by my sunglasses.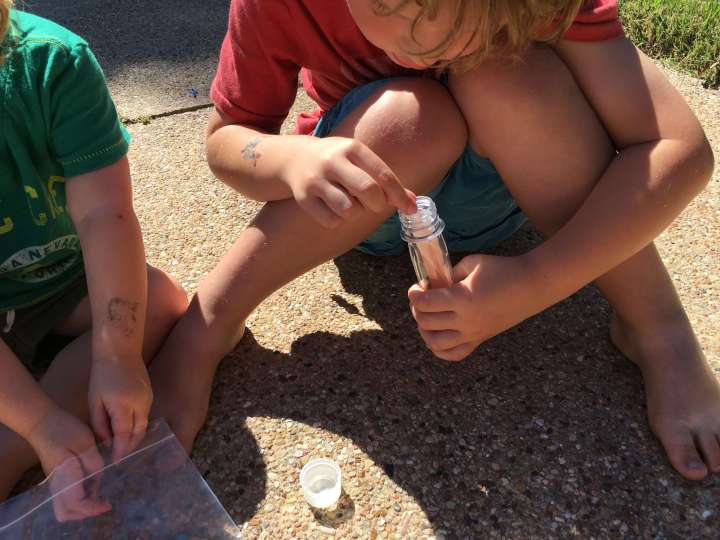 Next, students get to test just how strong the UV rays are by comparing the color of the orange beads with the color gradient contained in the manual.
The darker the orange, the stronger the UV rays. We had a lot of UV rays today.
Next, students divided the enclosed beads into four equal-sized groups and placed them in labeled bags along with three different strengths of sunscreen.
After leaving the bags in the sun for a couple of minutes, kids line up the beads according to their strength of color. The beads that weren't covered by any sunscreen were darkest, and those that were covered by SPF 50 were lightest. It was hard to tell the difference between those covered by SPF 27 and those covered by SPF 30.
Experiment 4:
A Solar Floater (turquoise-1 hour):
I included a page from the parents' manual for this activity since I was concerned that my son and I would not be able to pull it off successfully.
In this activity, students get to experience the expansion of molecules in air first hand by filling up a giant garbage bag (enclosed) with cool morning air and watching it expand as it warms up.
I think this experiment sounds really cool! I didn't attempt it due to safety concerns. Handling this bag requires at least one adult in addition to the student. If something happens and the bag gets away, you must call the FAA immediately to report a "Solar Science Bag Experiment" that got away. Authorities may decide to alert aircraft in the area. With a four-year-old student and given the seriousness of a mishap, I didn't feel comfortable attempting this. I've promised my son, however, that we'll save this and do it either when he gets older or when we have a lot of extra adult helpers available to help maneuver the bag. He can't wait!
Experiment 5:
Sensitive Stuff (magenta-20 minutes plus overnight drying):
The next set of experiments uses UV reactive fabric to take pictures of images.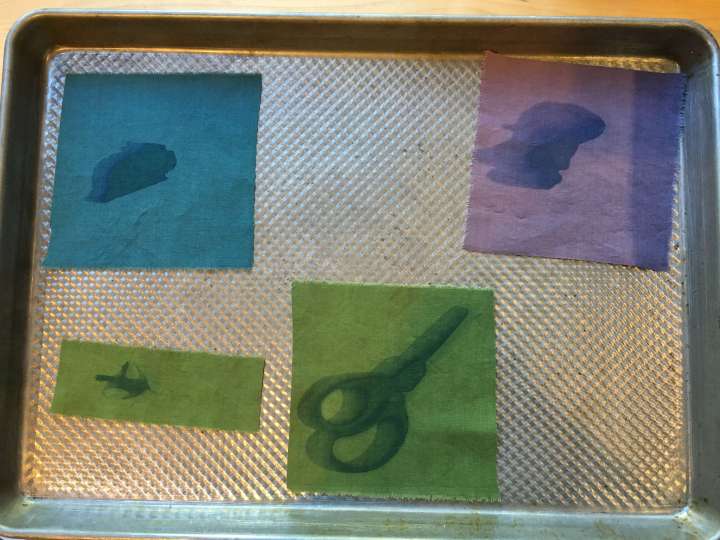 After leaving the objects out in the sunlight for about 15 minutes, my son took them inside, rinsed the fabric with cold water for a few minutes and left the fabric out to dry overnight.
He did more of the same with the UV reactive paper.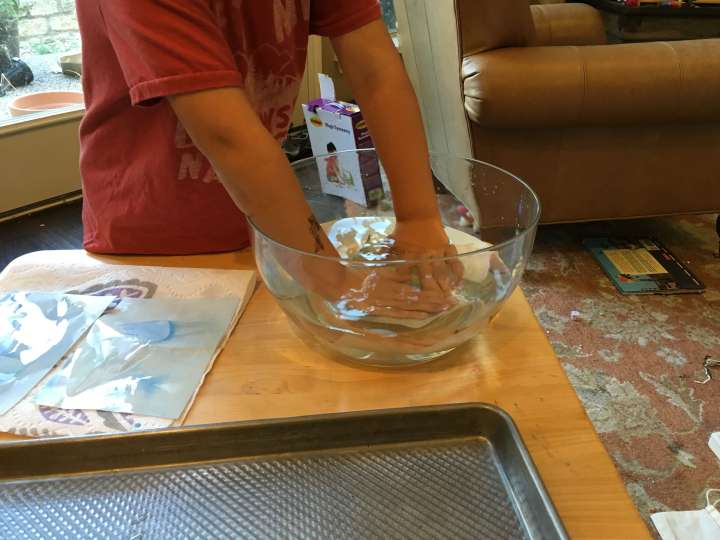 The sun sensitive paper required less time outdoors. After the objects sat outside for about two minutes, my son brought them inside and submerged the papers in a bowl of water for about a minute each.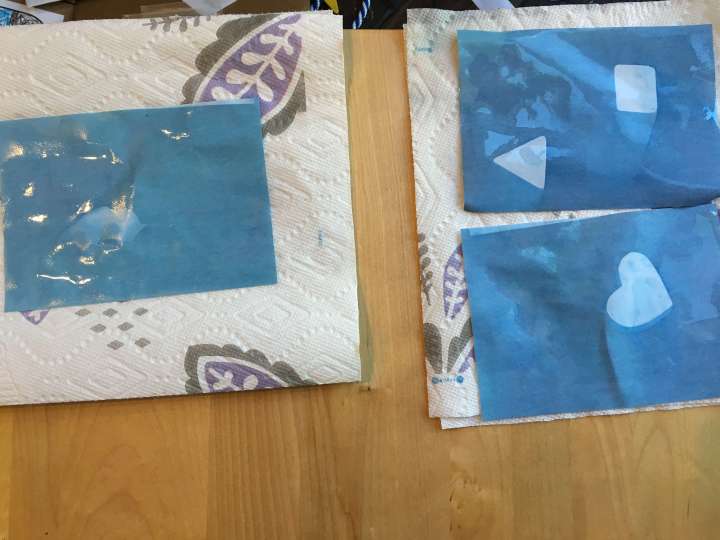 Unsurprisingly, the best objects to use were solid and relatively flat (although my son liked seeing the tall objects' shadows captured on the sun sensitive paper too).
Experiment 6:
Take It Further (45 minutes total–my estimate):
Finally, students get to use the UV sensitive beads to create cool trinkets that remind them of the fun they had with this month's Spangler Science Club (students may also find them useful – they'll alert the student as to when it's especially important to wear sun protection gear)!
The first bonus craft asks students to use the beads to make a UV sensitive bracelet. My son loved his!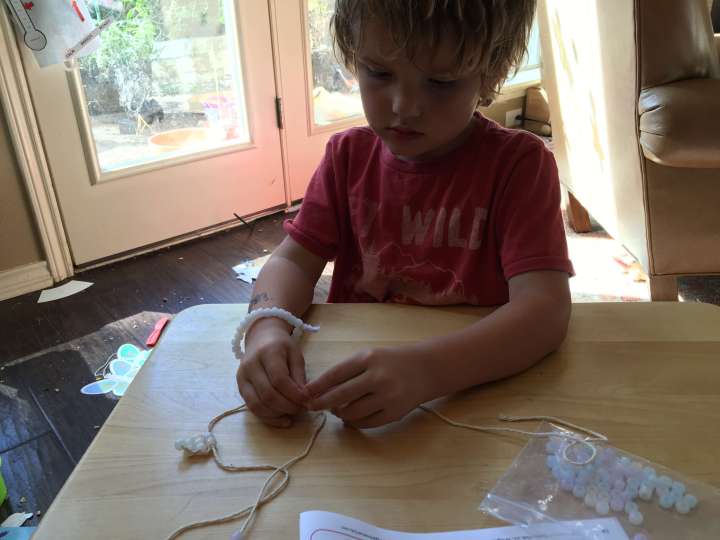 Next, students create a chameleon from the enclosed pattern in the students' manual. Because my son struggled with the frayed edges of the string, I helped him with this.
The resulting chameleon was adorable! My daughter couldn't wait to play with it outside!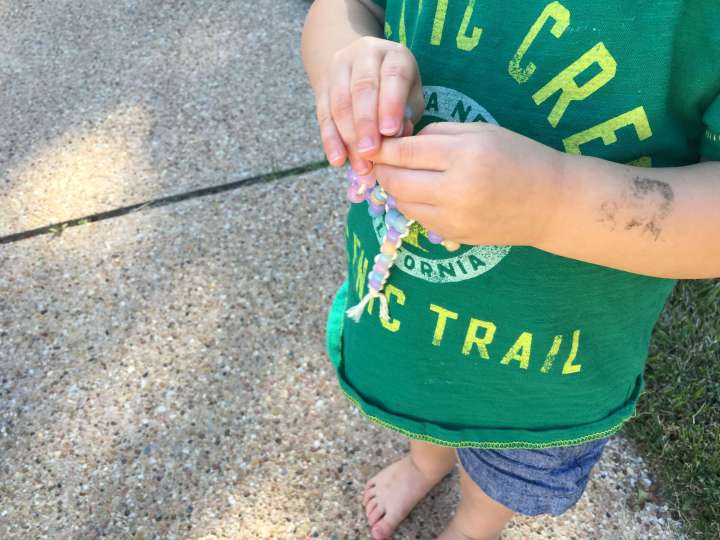 As my son and daughter went outside together, my son told my daughter excitedly that the chameleon would change color outside because of all the UV rays. He told her that she wouldn't be able to see the rays, but they were there and they came from the sun.
Congratulations!
My son and I both enjoyed reading through this synopsis together once we had finished the activities in this month's box.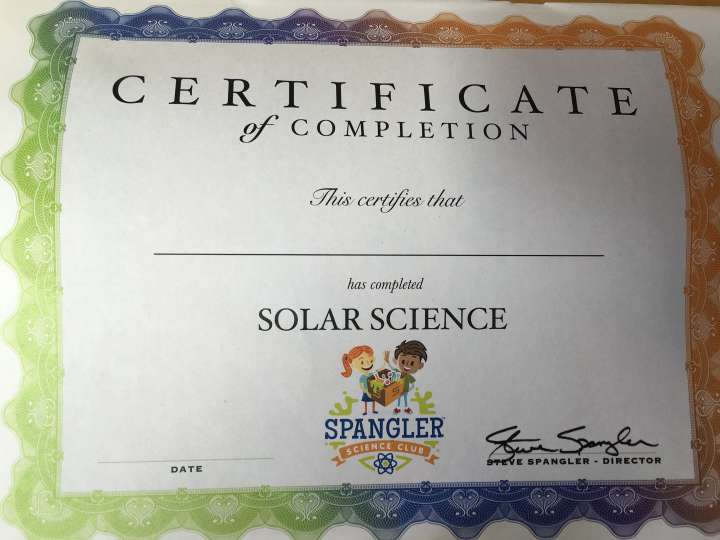 My son loves earning a certificate at the end of each month's activities for a job well done.
My son and I had a great time exploring solar science in this month's installment of Spangler Science Club! I only wish I had had access to something like this in high school – it would have made science really come alive in an otherwise pretty boring high school science class. Needless to say, this subscription would be ideal for homeschoolers or anyone else interested in having fun learning about science in a low-key, playful way. My four-year-old son loved it, and I loved working through the activities with him! I'm sure we'll revisit these ideas many times in the future together, and when we do, we'll look back fondly onto all the fun we had playing with our pinhole projector and UV sensitive beads, fabric and paper.
We can't wait to discover more about the world around us with next month's installment of the Spangler Science Club! You can save $6 on your first kit with any length subscription with coupon code SIGNSAVE20!
OR Save 40% on your first month with any 3+ month subscription – use code SPANGLER16AF for the deal.
Visit Spangler Science Club to subscribe or find out more!
The Subscription
:
Spangler Science Club
The Description
: Amazing hands-on science delivered to your door! Ignite the spark of science and creativity in your child with a subscription to the Spangler Science Club. Join today and you'll receive Steve Spangler's most amazing hands-on science experiments delivered to your door each month.
The Price
: $29.99 per month