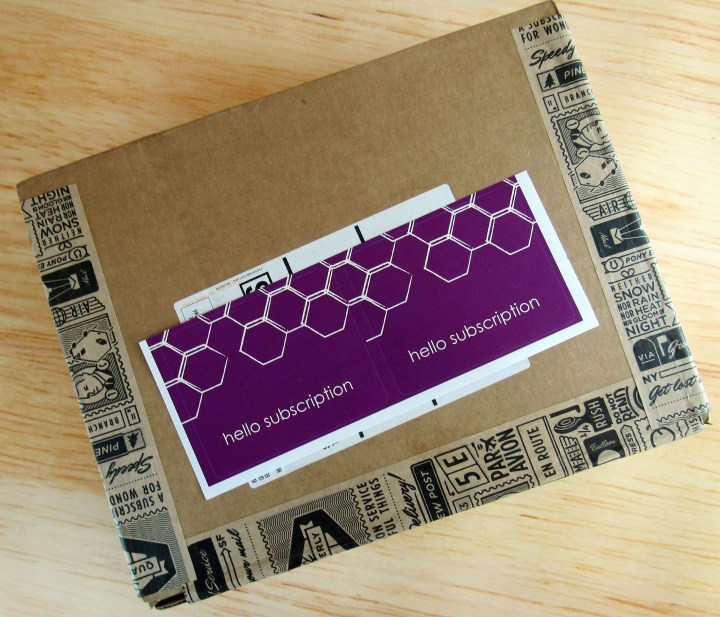 Nina Garcia Quarterly Box #NGQ08 has arrived filled with eco-friendly items for the fall season!
The items are wrapped in themed tissue paper adding to the excitement of opening up the box.
The curator's letter is what brings the box together. Nina Garcia explained why each item was chosen for the box.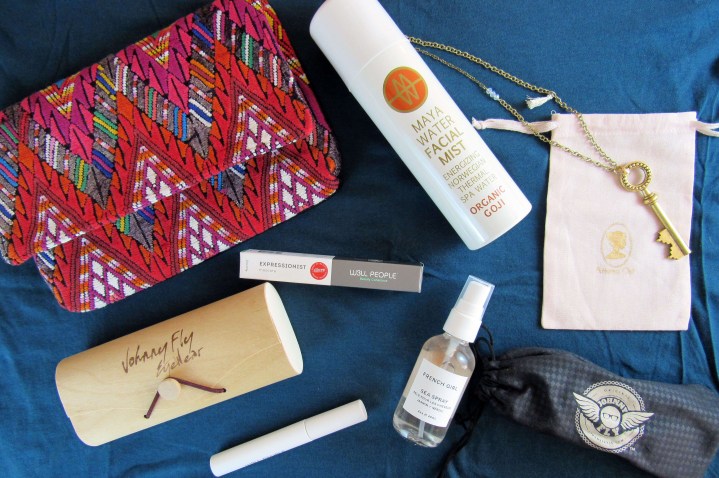 Here are the items in the Nina Garcia Quarterly Fall 2016 Box!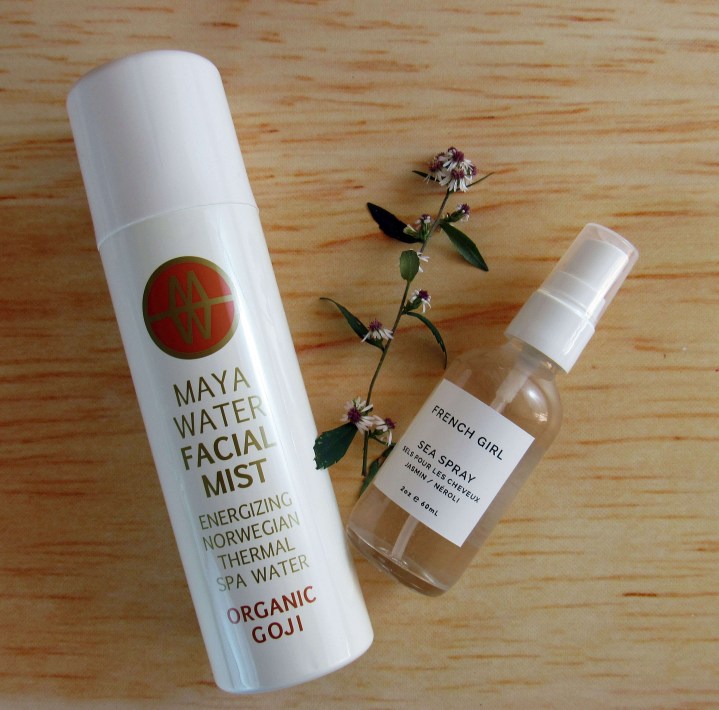 French Girl is an amazing company in Seattle Washington that creates organic beauty products. I have tried their products through various subscription boxes and found them to be quality products. I was not expecting the French Girl Organics Sea Spray ($12.00) which seems out of place in a fall box. I love the scent which is a blend of jasmine/neroli, but I have no use for it. Maybe I can use it as a room spray?
The Maya Water Facial Mist in Organic Goi (150 ml, $40.00) has a fine mist that wakes up the skin and is pH balanced. The spa waters are from Skogshorn in Hemsedal, Norway and can be sprayed throughout the day.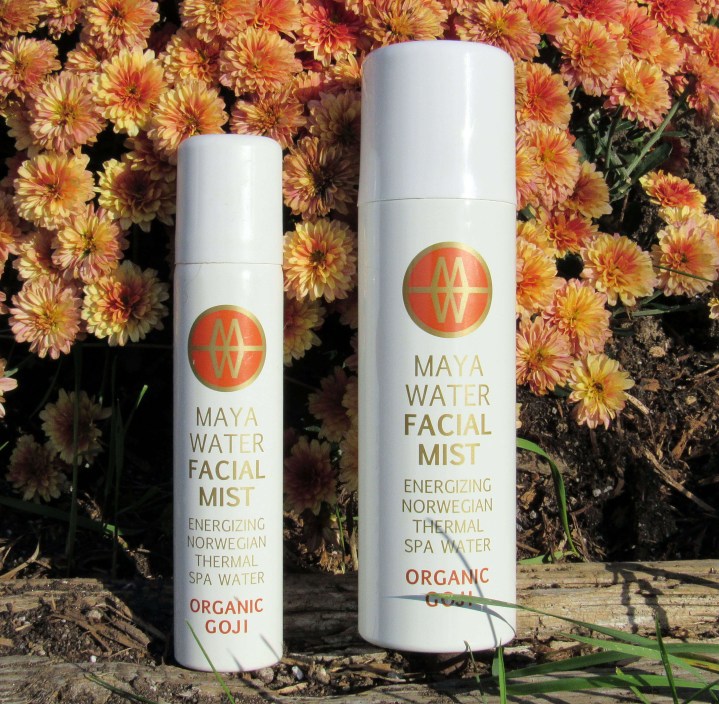 I am happy to receive a full-size bottle of it because my travel-size bottle is almost empty. I use it during the summer to refresh my skin. I also use it if my skin needs to be slightly wet for an oil to work.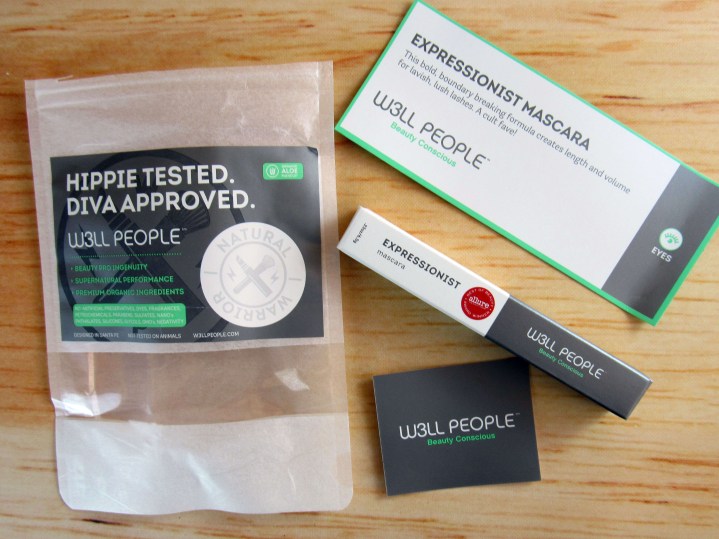 I love that saying, "Hippie tested. Diva approved." Even natural, eco-conscious divas need their mascaras! The W3LL People Expressionist Mascara (.23 oz, $21.99) is a toxin-free mascara with certified organic ingredients.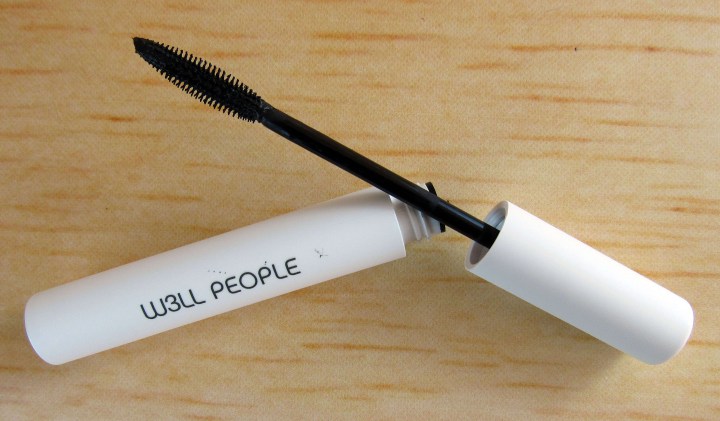 The high-tech brush adds length and volume to even the thinnest of eyelashes. A 20% off coupon code was included with the mascara. Expect to layer it if you are seeking a dramatic look.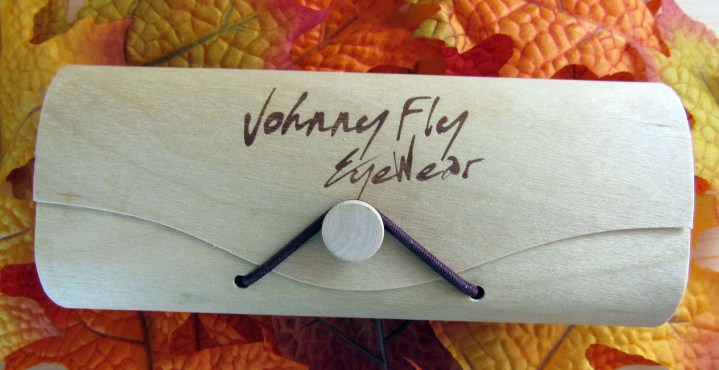 The Johnny Fly WayFLYER Redwood Tortoise Brown Polarized Sunglasses ($90.00) have a classic look to them. The sunglasses come with a microfiber sleeve which can be seen in the fourth picture and a wood case.
The redwood arms are attached to the acetate frame with stainless steel hinges. The classic tortoise pattern will look wonderful with a fall wardrobe.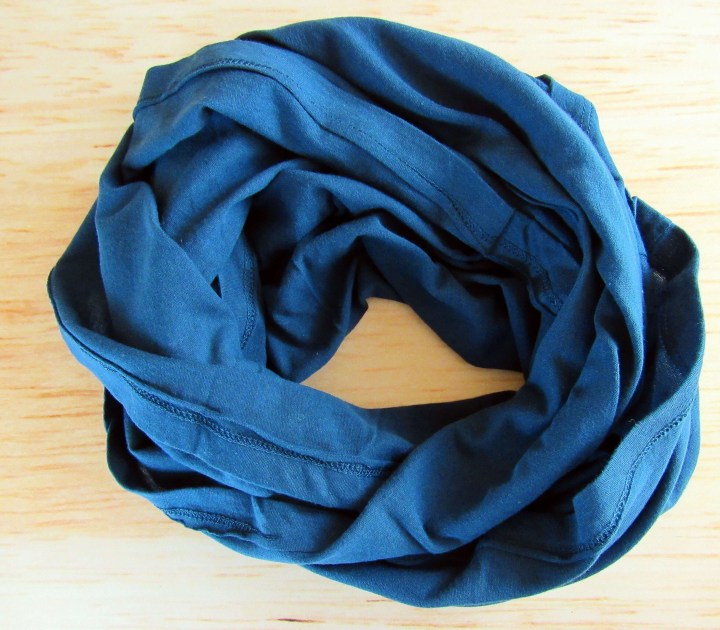 The Made in Nepal Synergy Organic Clothing Tissue Infinity Scarf ($14.40) is a 100% organic scarf dyed a gorgeous shade of blue with low impact dyes. The scarf feels similar to a lightweight t-shirt.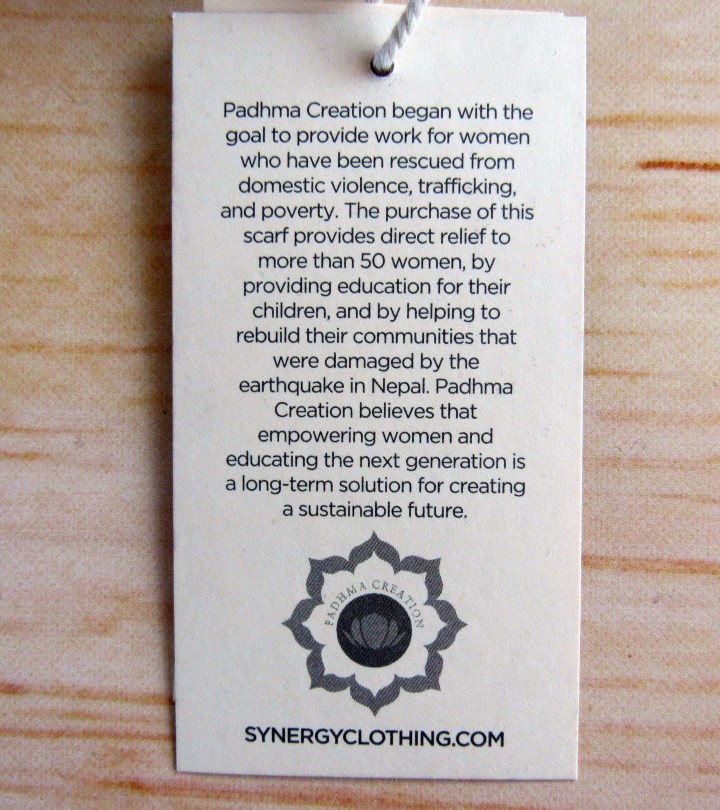 The scarf is a Padma Creation. This scarf purchase is helping other women in need in Nepal as they work towards a better future for themselves and their children. It was included as a transitional piece.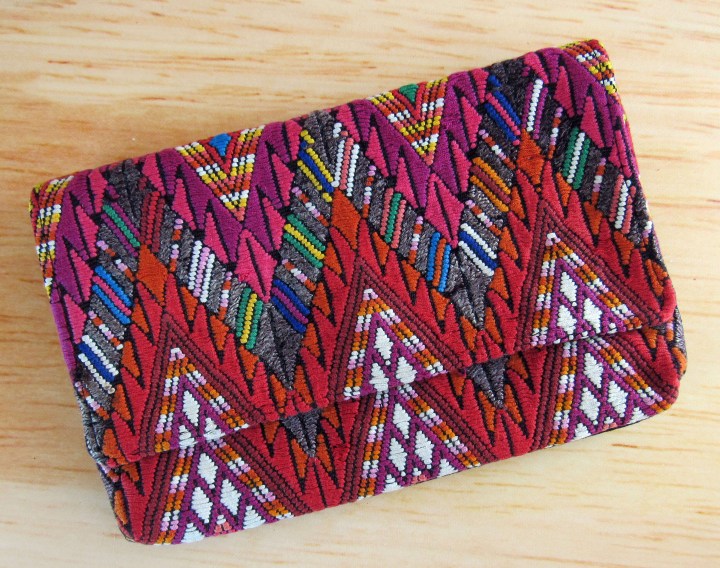 The vibrant Fiesta Clutch by Good Cloth ($55.00) is made by fair trade artisan workers in Guatemala. It is a beautiful piece of art.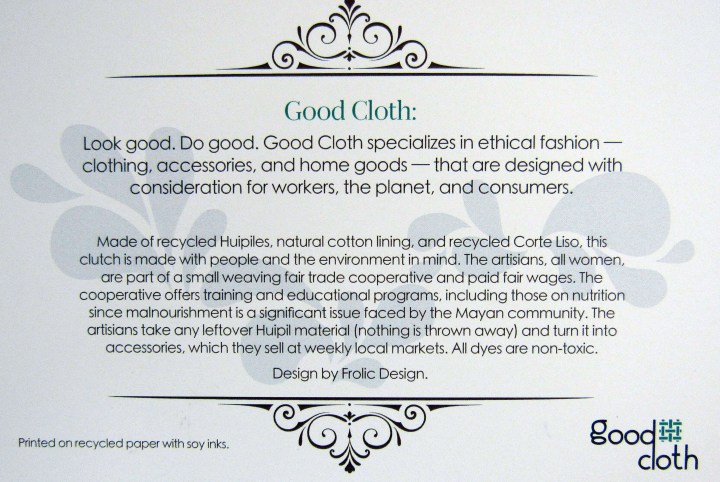 I need to check out Good Cloth!
Both the front and the back are handwoven. The clutch has a black lining.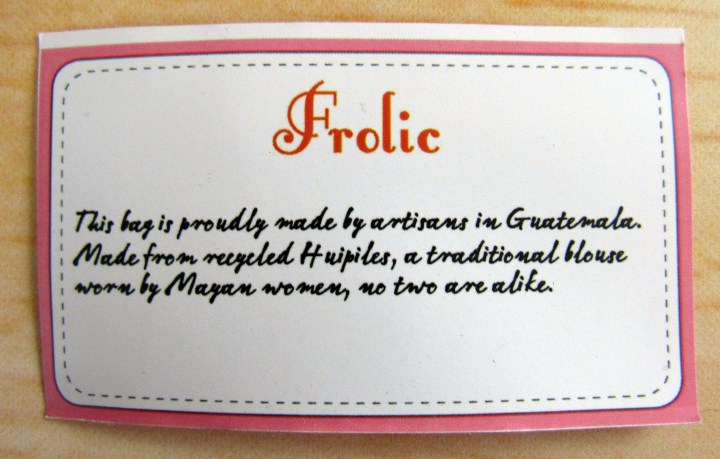 I am glad that they explained what is a Huipiles!
The colors are stunning! I am excited to see a zipper so no worries of losing anything. The clutch is large enough to hold my cell phone and a few other essentials. It was included to add a pop of color to a muted fall palette.
I provide much amusement for my neighbors with my outdoor pictures.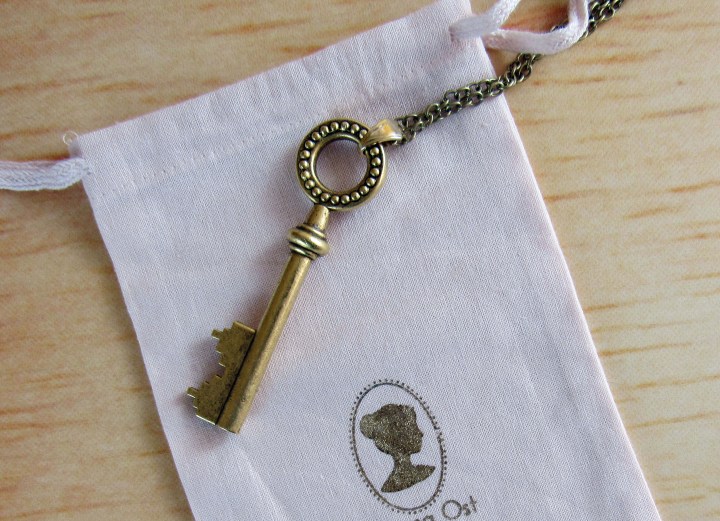 The classic looking Key Necklace by Ariana Ost (appx $80.00) is handmade in New York City, USA. The key measures 3″ long.
I see Nina Garcia slipped a tiny tassel into the box! Sorry, Nina, I still hate tassels and will only welcome this necklace into my wardrobe if I can remove the tassel. My sister will love this necklace with or without the tassel.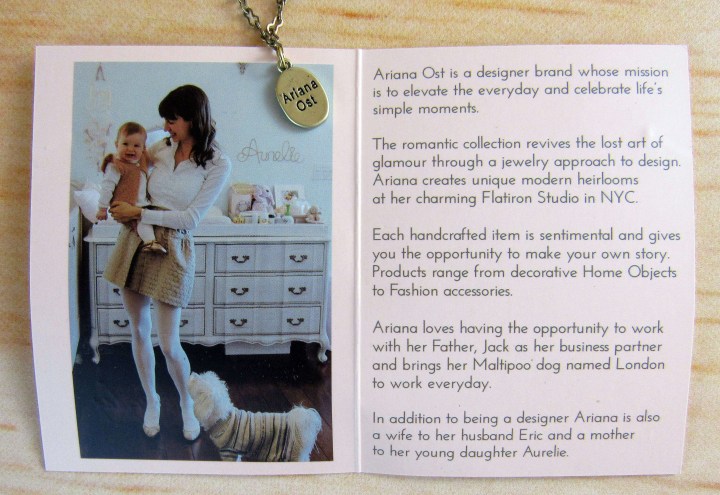 Nina Garcia's style tip is to wear it as a signature piece or layer it with shorter, delicate necklaces.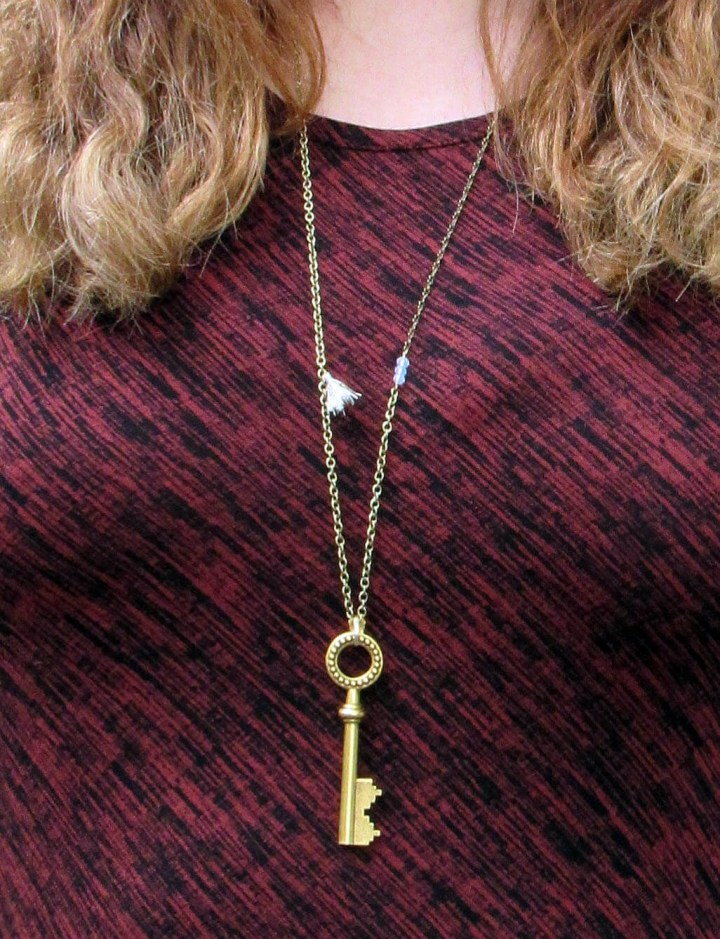 The Key Necklace adds a romantic look to my shirt.
I had high hopes for the Nina Garcia Quarterly Fall Box because I love eco-friendly products and the fall season. The products fit the theme but it feels more like a summer than a fall box which makes it a miss for me. It is a box that showcases excellent eco-brands with a value of around $300.00.
What do you think of the #NGQ08? Share below and let us know.