Jimmy Beans Wool offers this delightful bag of fiber subscription goodness that they refer to as Beanie Bags.  They call them "A Taste of Fun".  This is the Little Beanie Bag and in each month you get 4 to 6, 15-20 yard hand-wound balls of yarn, a sample size notion or accessory, a knit and a crochet pattern, and the beanie bag itself.
This card told us a little about this month's Beanie Bag subscription.  The front of the card included some nice pictures of the projects completed.
Subscriptions are $10 a month including shipping (to the U.S.) and $15 to Canada.  You can choose monthly (auto renewing), or a 3, 6, or 12 month gift subscription (you can send these to yourself to if you don't want auto-renewing).  FYI – If you need a little more yarn in your life they also offer a Big Beanie Bag for $25 a month.
They also have a webpage devoted to the month's Beanie Bag where you can find more product details, links to PDFs of the patterns (I like to download them to my phone so I don't have to keep up with the paper pattern), helpful videos and links to other patterns to tempt you to creation.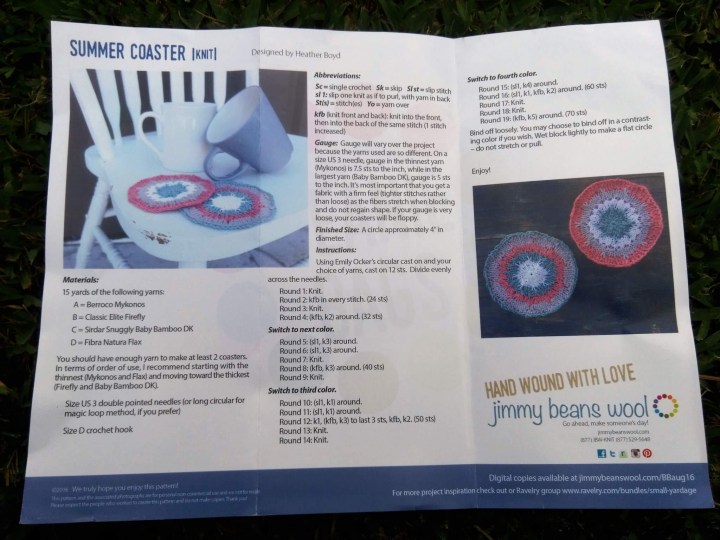 The patterns are clearly written with a nice picture of the final product.  I appreciate that they have knit and crochet patterns.  There is enough yarn in the box to complete this pattern.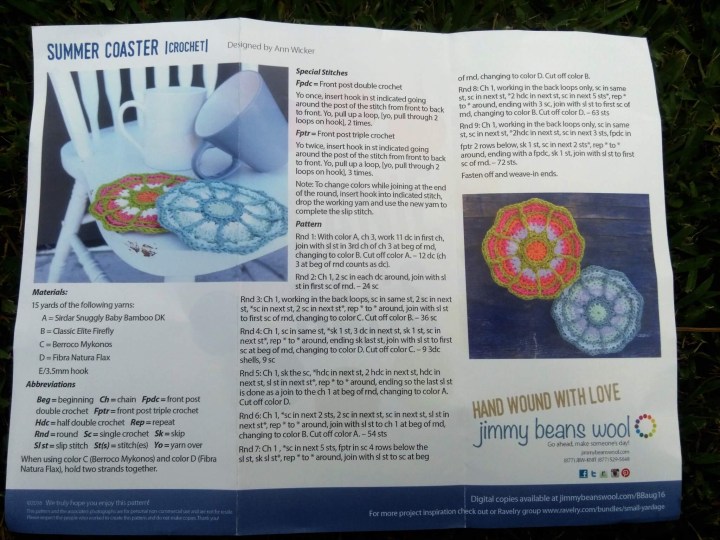 This is the crochet version of the pattern.  There were lots of color changes, but the pattern was clear and easy to follow.  I worked up a coaster while waiting to be called back at the doctor's office.
These T-pins for blocking your work were the bonus item in this month's box.  Here's a Jimmy Bean's Instructional video on blocking.
This packet of Soak for Jimmy Beans Wool in "Yuzu" ($1.10) was also in the bag.  You can find a 3 oz bottle (good for 18+ washes) on their website for $10.00.  It's a gentle no-rinse formulation for hand washing your fiber creations.
"Hand wound with love by:"  Does that say Suzy?  Guy?  Geez?  Not sure……..  But thanks for winding my yarn!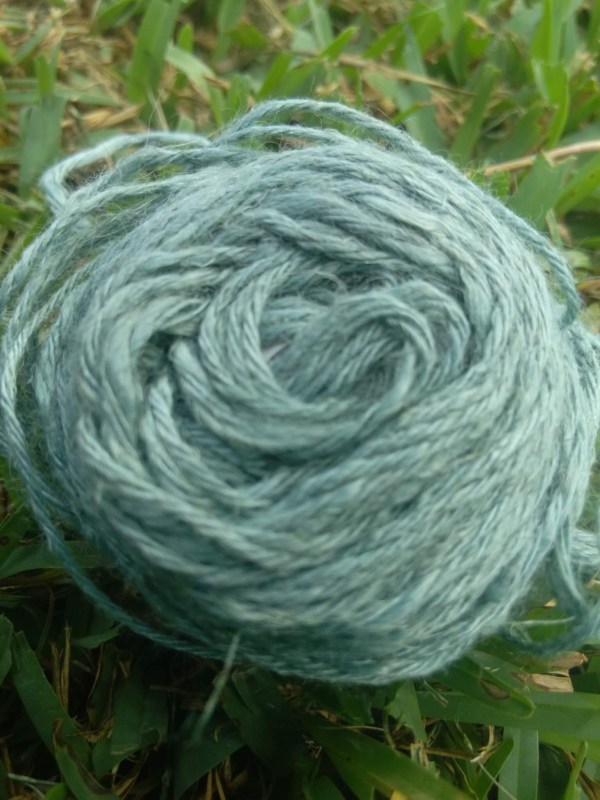 This fiber is called Classic Elite Firefly in Mermaid color way.  "Firefly is a warm-weather yarn with a subtle sheen and wonderful hand. The juxtaposition of the linen with a light-catching sheen gives it a distinctly feminine look. Firefly drapes wonderfully at a wide range of gauges – knit loosely for elegant lace or more tightly for stockinette fabrics."  This beautiful yarn is perfectly named.  It shines like water in a shallow pool.  This picture really doesn't do it justice.  It is really beautiful.
This fiber is Fibra Natural Flax in Lily Pad colorway was next.  "Flax is a 100% linen yarn available in a wide range of beautiful solid shades. A versatile yarn that can be used for any project from home decor to summery tank tops, Flax blooms and softens beautifully with each trip through the washing machine."  I have never worked with flax/linen yarn.  It feels kind of stiff, like linen material can be, but the stiffness makes it hold the curve of a crochet stitch really well.  It's a beautiful effect.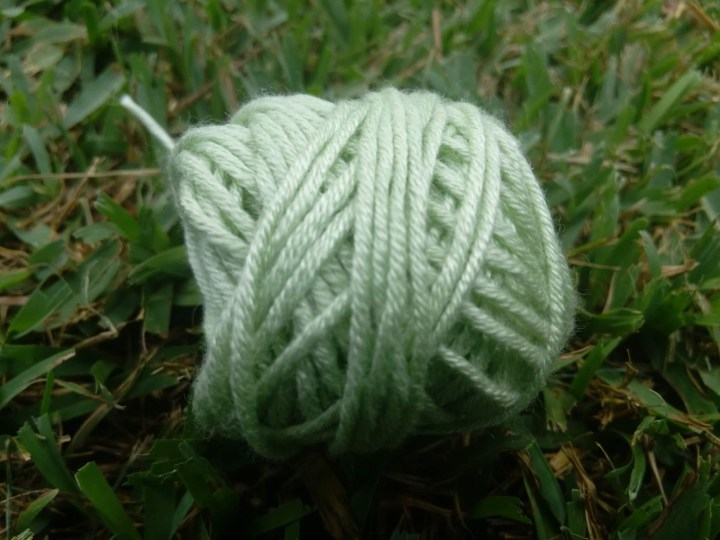 This is fiber is Sirdar Snuggly Baby Bamboo in Willow colorway.  "Specially developed to be incredibly soft, gentle and smooth for Baby, this yarn is a new blend with natural bamboo and wool fibers. It will keep its quality through gentle machine washing."  This yarn is so very soft.  It would be great for making a baby blanket.
This fiber is called Berroco Mykonos in Poseidon colorway.  "Mykonos is a silky blend of linen, cotton and nylon that knits and crochets beautifully, creating fabrics with amazing drape. The core of the strand is 3 plys of linen and cotton, which is then tightly wrapped with nylon, giving the yarn a ropey, yet silky soft feel. It has a lovely sheen, making it perfect for spring and summer accessory and garment projects!"  This yarn is shiny!!  Lovely.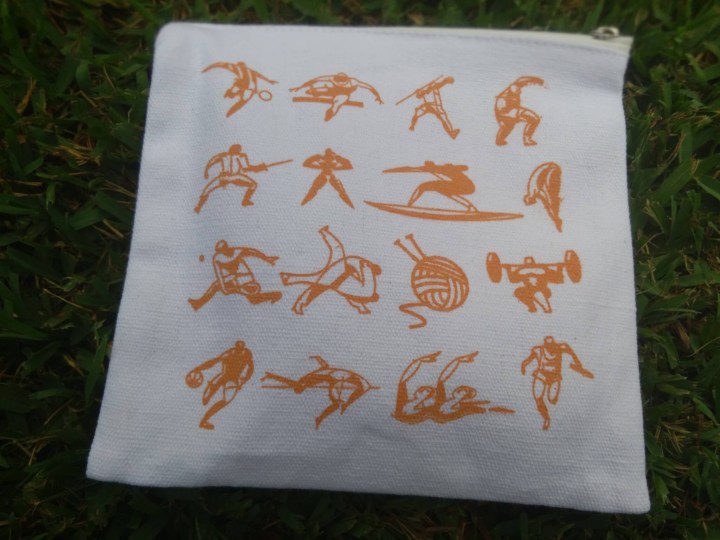 And, lastly this is the Beanie Bag itself.  The bags are perfect for storing one of the dozens of  WIPs (works in progress) that I have going at the same time.  I am easily distracted by the next pretty pattern that comes along.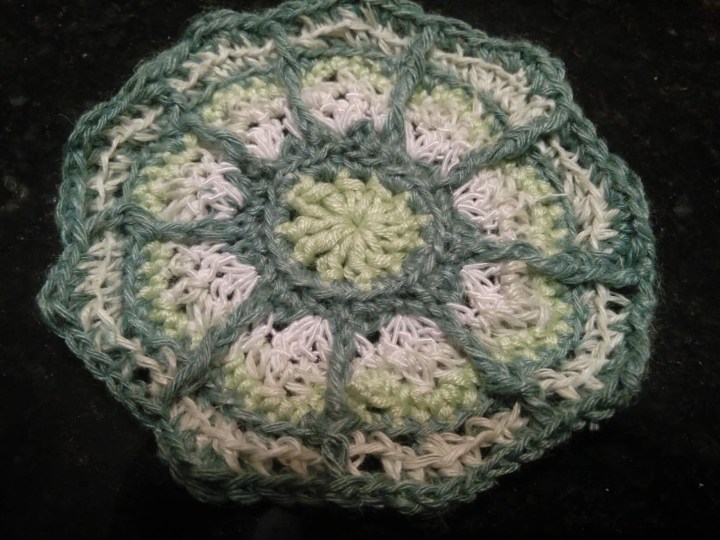 I think it turned out to pretty to use for a coaster.  I'm gonna be ticked if someone sets a drink on it…..
Jimmy Bean Wool's Beanie Bag subscription is a great way to try out varieties of yarn that you have never tried before and to learn to new stitches.  It's a great yarn tasting to satiate your fiber needs.  And, it comes at a great price.  Only $10!
What do you think of the Beanie Bag?
Visit Jimmy Beans Wool Beanie Bags to subscribe or find out more!
The Subscription
:
Jimmy Beans Wool Beanie Bags
The Description
: Discover new yarns every month in the comfort of your home with the
[email protected]
's Beanie Bags! These yarny taste packs are a fun way to try new things and give yourself, or someone you love, a delightful surprise every month! Sign up now to receive May's beanie bag!
The Price
: $10.00 per month