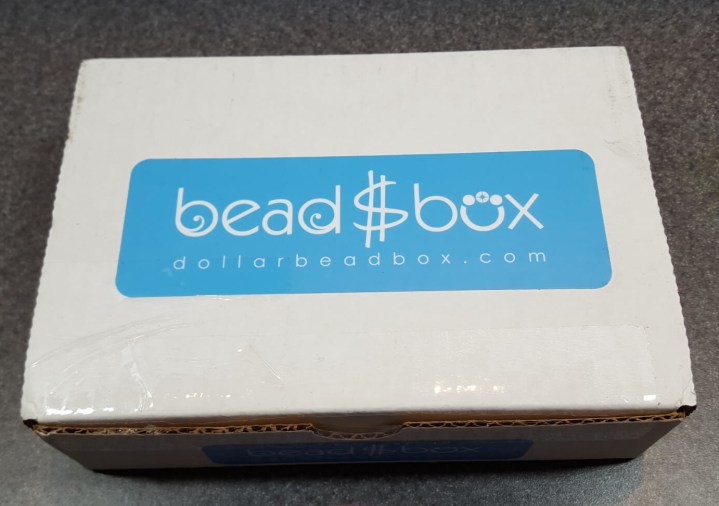 The Dollar Bead Box is a crafting box that sends you a collection of beads and beading products each month worth at least $60.  During the month you can reorder any of your products that you love but they are while supplies last so get them while you can.
First look and I couldn't tell much.  I do love when the subscription sends a note with the box but I was ready to really dig in.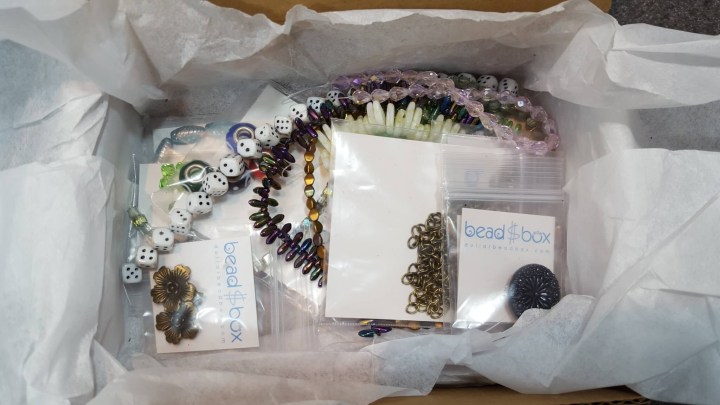 First look when I moved the note and opened it up.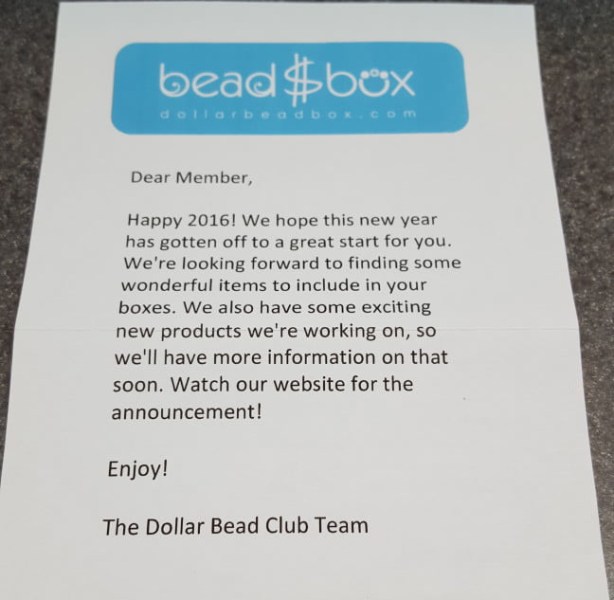 The note this month lets us know that they are working on something new. I can't wait to see what they come up with.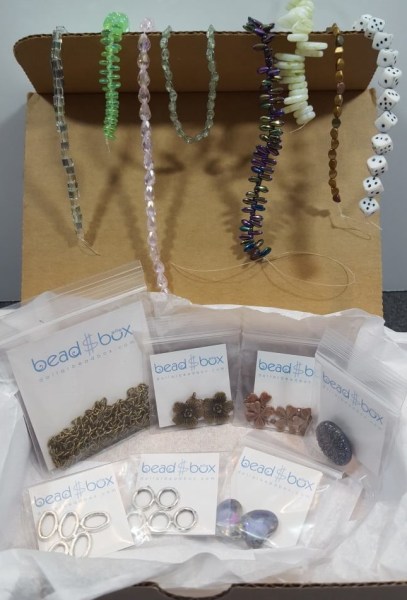 Everything in the box.  Make sure to keep looking since the strands looks a lot better when I get them laid out.
On the back of the note they listed out the contents of the box. I did go and look in the shop and you can find the same items with this description.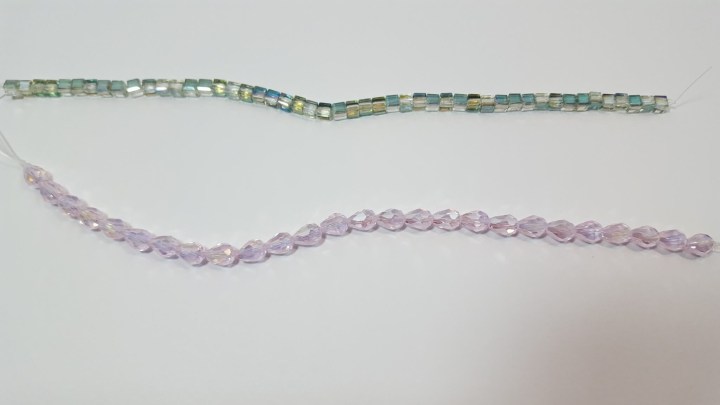 6mm Chinese Crystal Cube – Green Luster – these are really pretty and I like that they are square.
8x6mm Top-to-bottom Drilled Chinese Crystal Drop – these are very delicate looking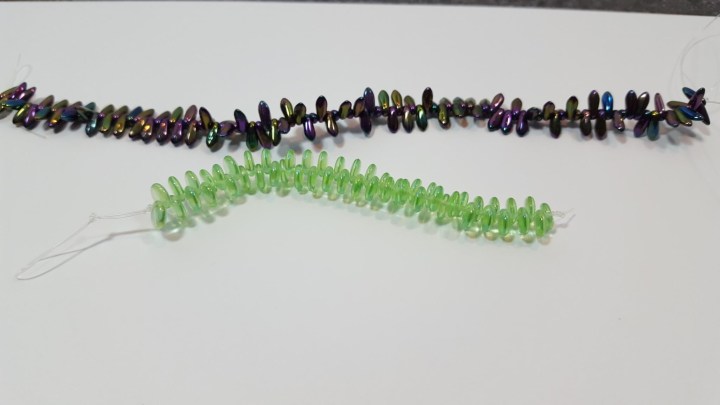 6mm Peridot Rainbow Iris Lentil – I'm not sure why this one is called rainbow but it is a pretty shade of green.
Baby Dagger Purple Iris – I love how these keep changing color as your turn it.  These are also really my kind of colors so that is a plus for me.
Czech Glass Pinch Bead Green Luster – Another shade of green. I actually like this deeper color more then the lighter one above.
Czech Glass Vintage-Style Leaf – These are bigger and have interesting coloring. They will add some texture to a design.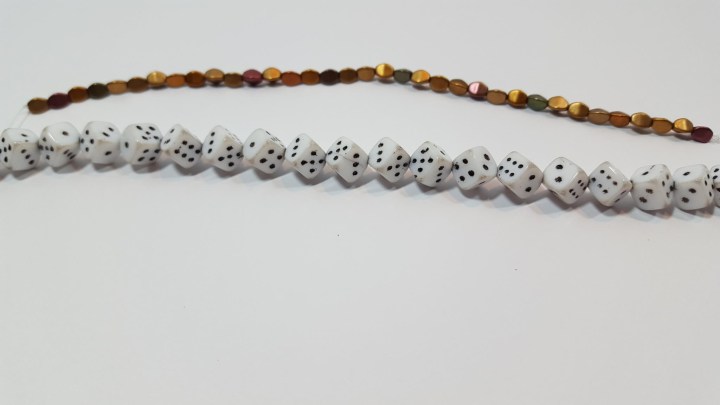 Pinch Bead Bronze Metallic Finishes – This is really my style and what I think of when looking into the styles right now.
Vegas Style Vintage Glass Dice – OK so this is what I saw when first opening the box and I'm really having a hard time getting past it. LOL I think it looks chintzy and uhm WOW it is so not my style. I know that some people will love these and will come up with something great but they are really just not me.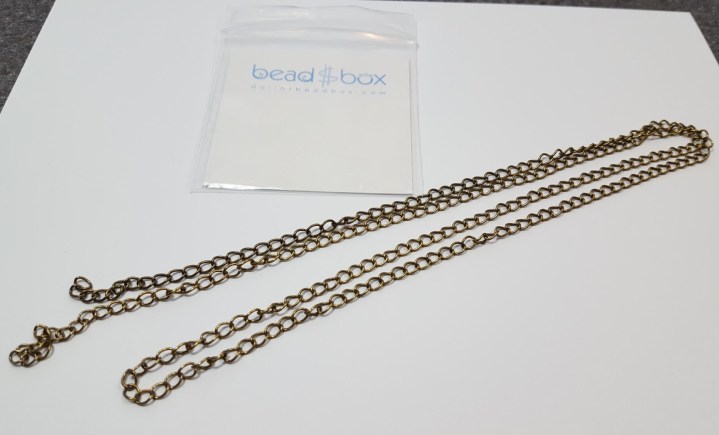 Antique Brass Plated Bras Chain 3 ft – This is nice (especially the large open links) and will be great to use to create with!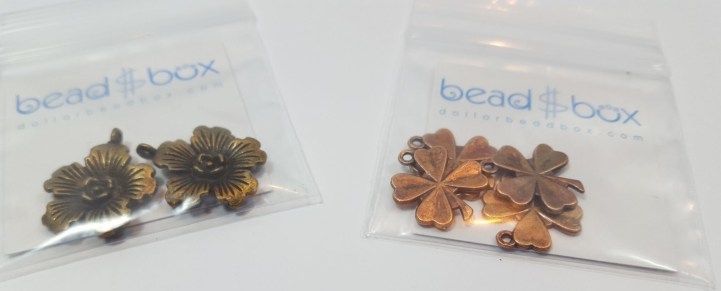 Pewter plated Brass Flower Pendants (2pcs) – These have a good weight to them. They look great with the chain above and the bronze strand of beads.
Pewter plated Antique Copper Shamrocks (4pcs) – I don't do a lot with shamrocks but I do like that they sent them a couple months ahead of March so that if you wanted to you could create a piece to wear and you have some time.
The next two items are some great basic pieces that you can use to create interesting jewelry with.
Pewter plated Antique Silver Oval Connector (5pcs)
Pewter plated Antique Silver Ring Connectors (5pcs)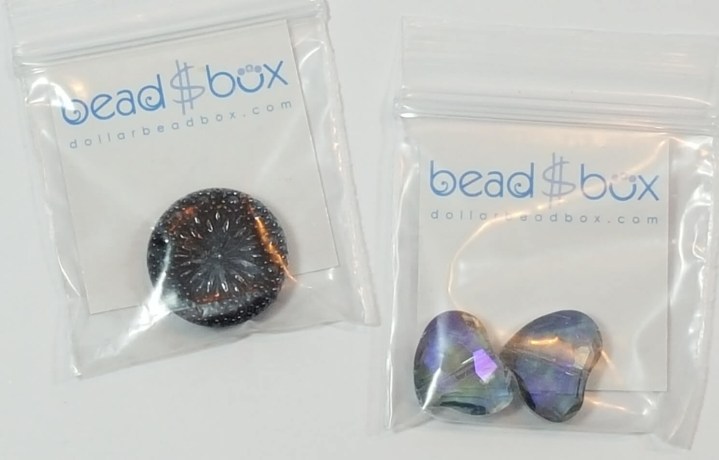 Medium Vintage Czech Glass Button (Color & Style Varies) – This is big and heavy but really nice
Chinese Crystal Hearts (2 pcs) – These two are very iridescent and color changing as you move them around.
Overall once I get past the dice I think it is a good month for bits and pieces if you are into beadwork. My friend makes some great jewelry and she is on vacation right now but when she gets home we are going to get together and see what we can come up with.  I do like that if you really like something in the box you can go to their store and buy more for only $1.  That is reasonable and easy to find – often when you receive something in a subscription it's difficult to purchase more.
Visit The Dollar Bead Box to subscribe or find out more!
The Subscription
:
The Dollar Bead Box
The Description
: The Dollar Bead Box is a monthly subscription box that includes a large variety of beads, beading products, and items exclusive to the Dollar Bead Box. During the month, you can reorder any or all of the items in the box for just $1 each. For example, you can order items from the April box through the end of May. Each Dollar Bead Box contains at least 12 to 15 items with a guaranteed total minimum value of $60.
The Price
: $24.00 per month