Bitsbox is a monthly subscription box to help get kids interested in programming – and coding their own apps! You can choose what type of subscription you get – either the monthly digital subscription, which is a PDF of the book, or the entire physical subscription.  Every box comes with the entire activity book, app trading cards, repositionable stickers, temporary tattoos, mystery toys, and of course – it helps teaches kids to learn how to code. I was very excited about this box, and so was my daughter! She's 6 (7 in December) and the box is designed for kids ages 6-12 (but if you want to learn to code in a fun and easy and accessible way, adults can do it too.
This box has a great, fun design.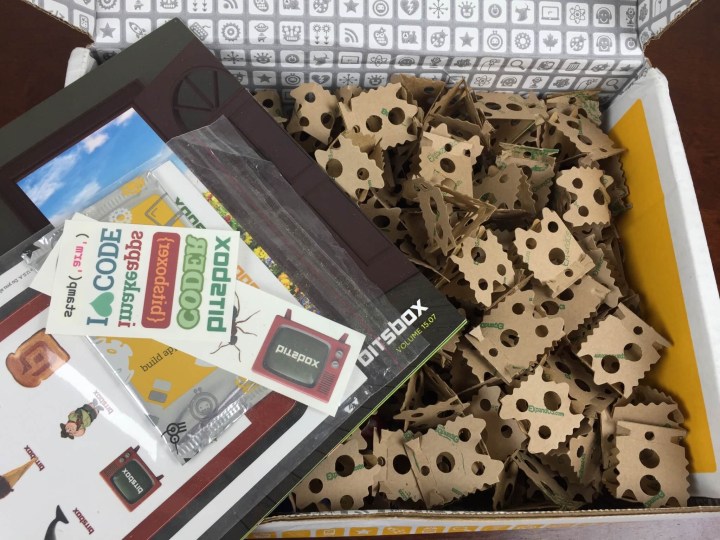 And has the coolest packing material we've ever seen in a subscription box!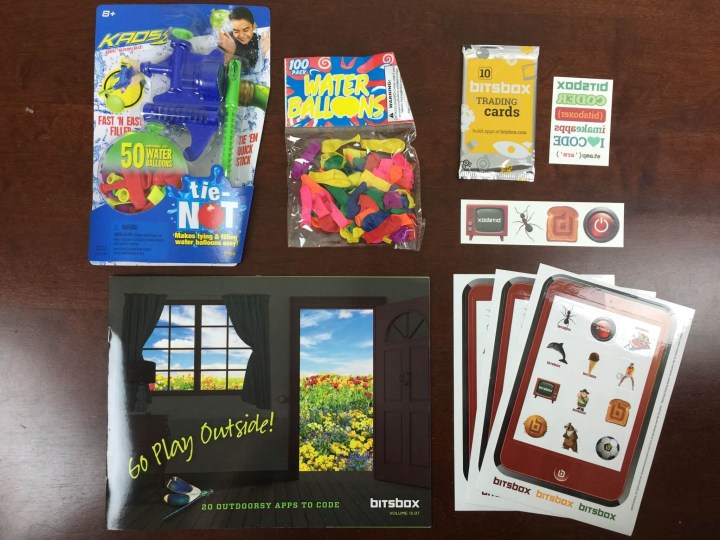 Everything in the box!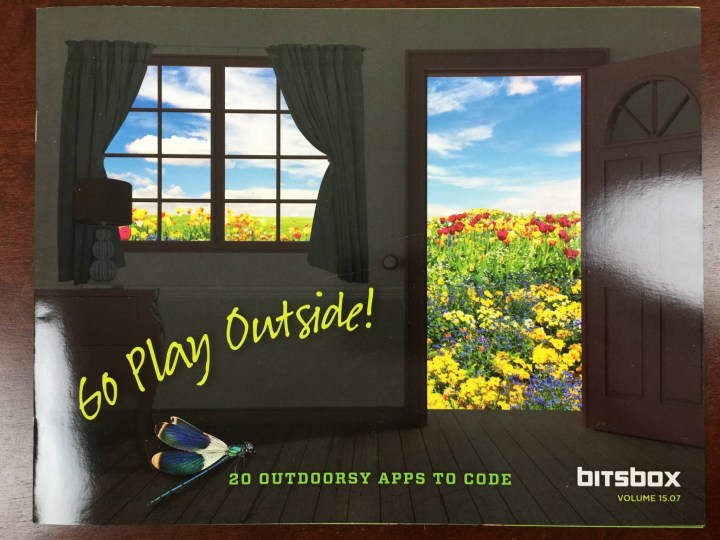 The theme for the month is Go Play Outside! Which was funny since you'll probably be inside.  Fortunately Bitsbox included some outdoors toys to get kids back outside. I'll show all the extras and doodads later, but I want to jump right in to how this works.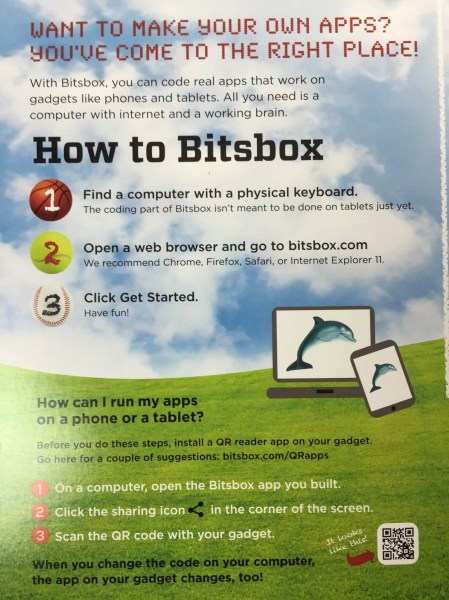 Bitsbox depends on an environment that you log into on the Bitsbox website. Kids build their apps there using a modified version of javascript and html5 and the apps run on their computer – or on their mobile device when they scan the QR code of the completed application.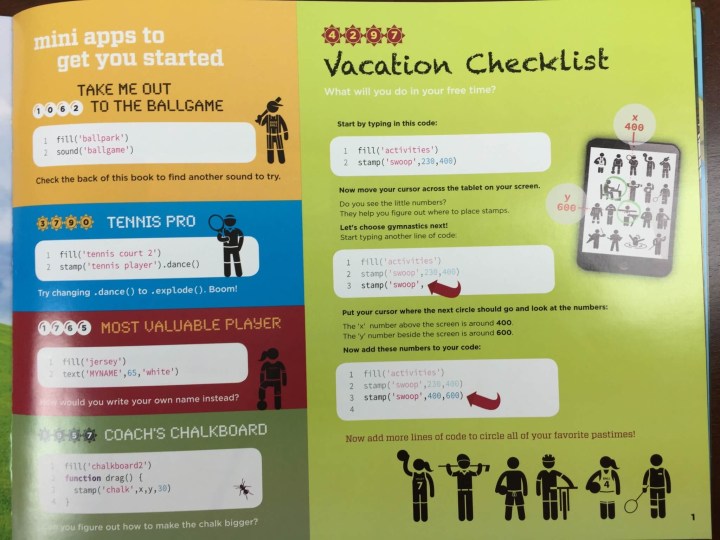 The box starts out with really mini activities – 2-4 lines of code. This introduces them to different functions, variables, and gets them comfortable.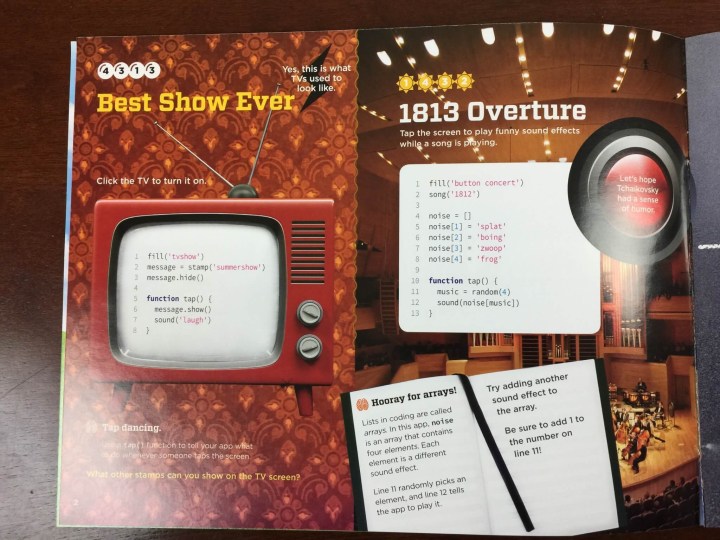 Then the box is full of new apps to try out. You can see that it uses the app code to help teach about programming concepts like arrays.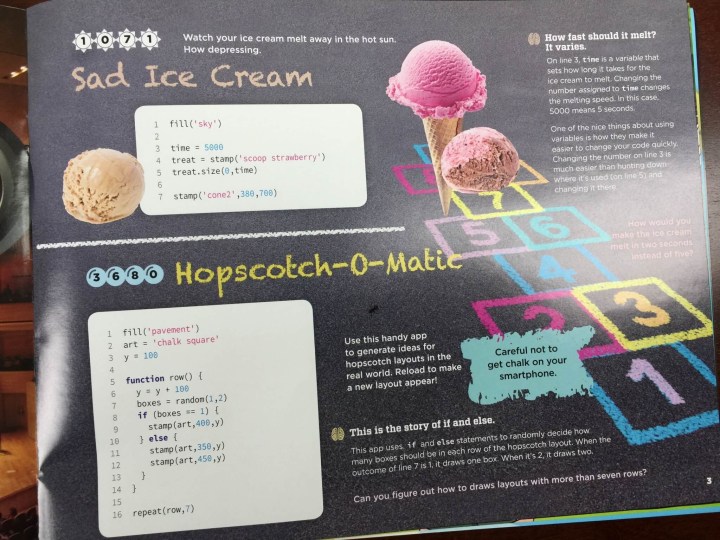 And if and else. These are basic concepts that underly any programming language and a solid background in these will help children adapt to and learn new languages as their coding skills progress. Think your kid doesn't need to know how to code? Think again! While I have a web developer, I do much of the php programming on my site. I learned using BASIC, which sadly isn't really used anymore. (Nibbles anyone? Just me? Yes, I learned to code by hacking basic Windows apps when I was a kid!)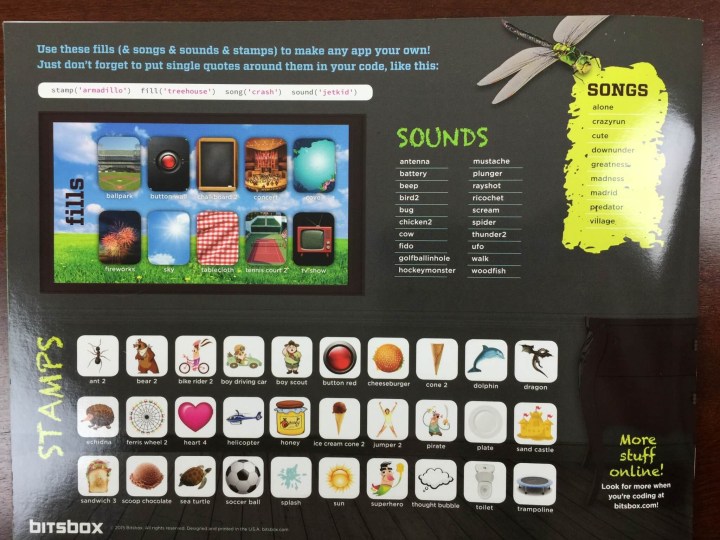 The back of the magazine shows what functions are available – think of these as shortcuts. The stamps are images, the fills are backgrounds, there's a list of sounds, and also songs – all of these I am assuming are new and added for this month's theme, because they're all pretty much outdoors items.
The Activity Book has lots more pages and apps to code too – it will keep them busy for a very long time!
The trading cards are little mini apps – if you only have a few minutes you can try coding these – and then figure out how to incorporate them into your other apps!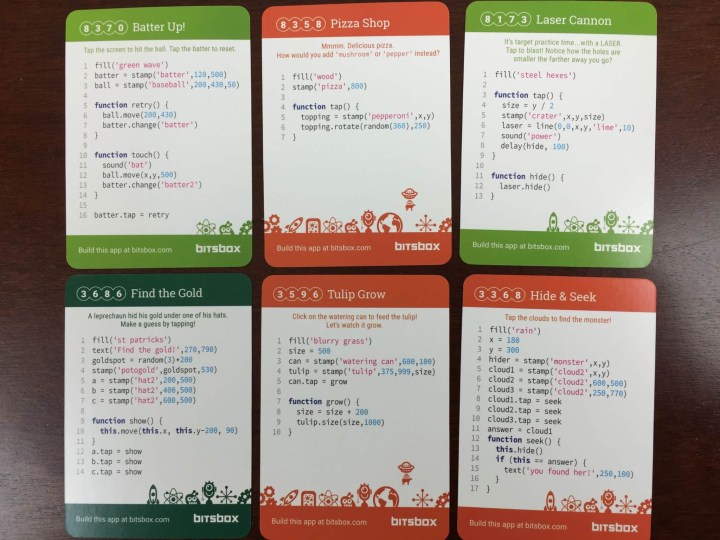 You might have noticed that each app has a numeric code – you type that in on the site and the environment automatically names your app and gives it an icon.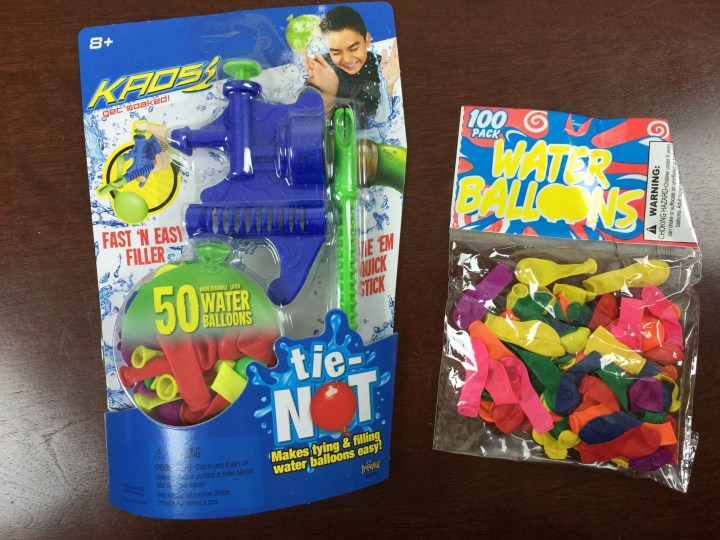 And we had a lot of fun with a water balloon fight too. The kids wanted us to throw them at them, and that was silly!
There's also some really fun coder temporary tattoos!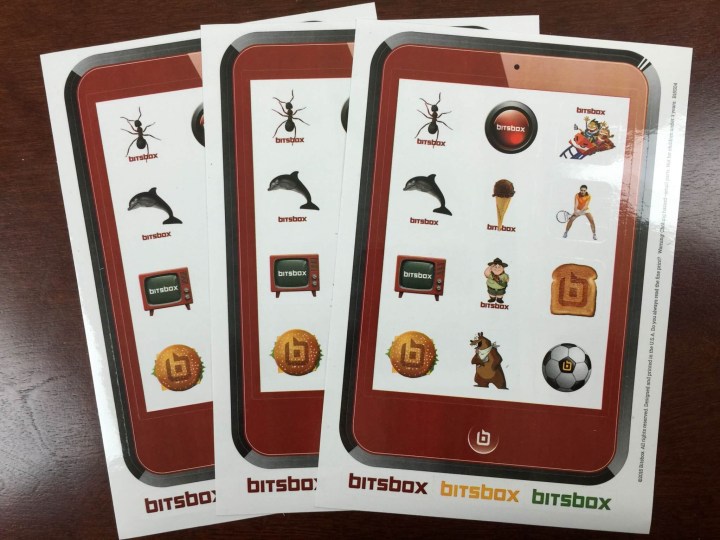 And stickers! Use them for whatever you'd like – rewards (like do your chores and earn your Bitsbox stickers for more screen time!) or just for fun!
My daughter worked through some of the basic apps.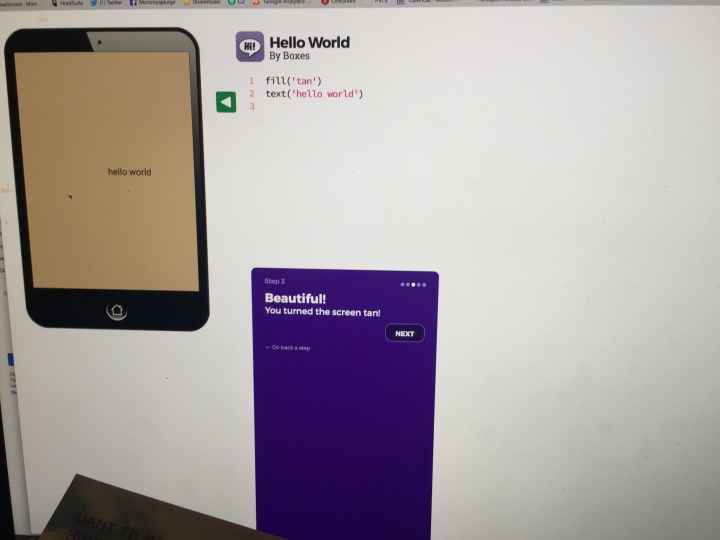 And of course, Hello World is the first one, which has to be first, it always has to be first. The site asked her to change the color from red to another color, so she selected tan.
Some of the apps get a lot harder – don't worry if your kid isn't there yet – there's enough in this book for a wide range of ages and skills. It has quite a lot of material.
https://youtu.be/_VaOHvbcmD8&rel=0
I review the book a little more in this video (it goes back and forth between me & my husband), and we also demo the environment on the screen.  It's a tad longer than our normal videos (6:30) but short enough so that you can jump around to see what you're interested in!
This is a fantastic concept! I loved how it approached teaching programming via natural language acquisition, taking advantage of the pliability of young minds and treating it as not something that different, but fun and exciting, and something new to learn. It's so important to learn how to code – and the way that most kids interact with computing devices now is so sterile and doesn't lead to the discovery of programming and hacking like when I was a kid. I think the physicality of the box really helped get my daughter into it, and took the abstractness away from programming – she got cool stuff in the mail and wanted to use it. I am not sure if you'd always want to get the actual box, but I think you should probably start with the box itself. This is a Cratejoy subscription, so you'll be able to switch between box and PDF, or extend your subscription to a longer term. My daughter is now constantly asking if she can "play Bitsbox" and thinking of programming as play totally works for me! The entire thing is extremely well done and we didn't run into a single bug (except the ones my daughter introduced into her apps!).
Visit Bitsbox to subscribe or find out more!
The Subscription
:
Bitsbox
The Description
: Learn to code with this box! Activity book with dozens of apps to build and modify, a pack of trading cards with even more apps, stickers, temporary tattoos, and other fun stuff, a small toy that inspires some of that month's apps.
The Price
: $40 per month for the box plus shipping (around $8 to me) down to $30 per month plus shipping for a 12 month subscription. Or get a monthly PDF for $20.