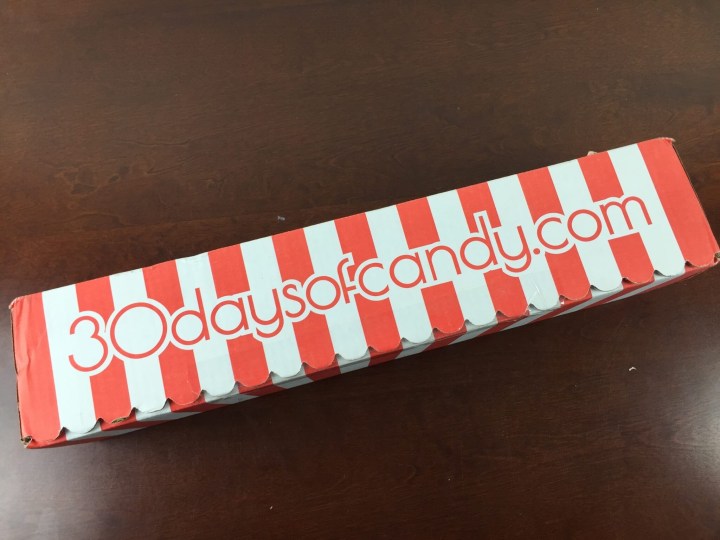 30 Days of Candy is a brand new monthly candy subscription box. Every month you'll get 30 different candies from around the world, packed into individual servings! This is one of the most amazing subscription boxes that I've ever opened!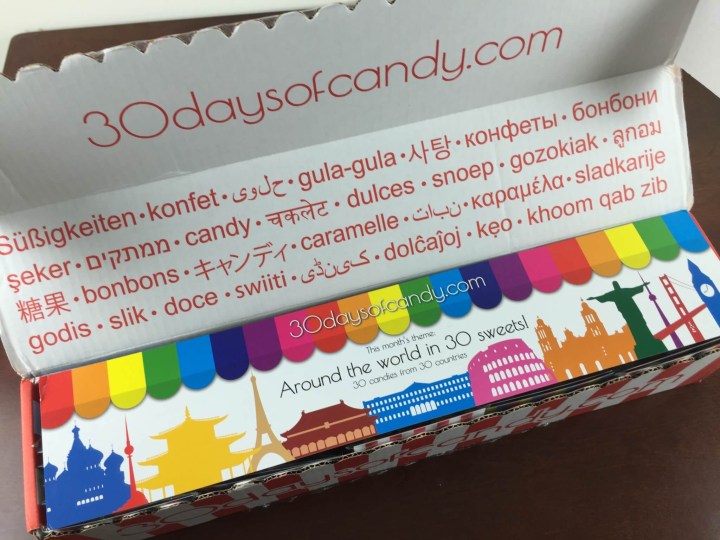 The theme for this month is Around the world in 30 sweets! 30 candies from 30 countries. Currently when you subscribe you will always get this box first, although that may change.
I was totally floored when I lifted off the cover! To be honest, I was super curious about the big (and adorable) box when I received it, but I never expected anything like this.
Usually when we review international candy and snack subscriptions we try to sample most of the candies – that's impossible with this box, so we'll be showing you all of the candies (you can click on the photos to get a larger picture) and we tried a few as well.  The candies are individually packaged along with an information card as well as a cool photo on the back. 30 Days of Candy has made each pack around 100 calories (perfect for a daily sweet treat!) but we also found that there's just enough to share for our family, too! We all enjoy tasting the candy and the  kids adore reading all the facts. This would be perfect for a family (or maybe even a cool lunchbox snack??), a candy fiend, or of course, as a corporate gift.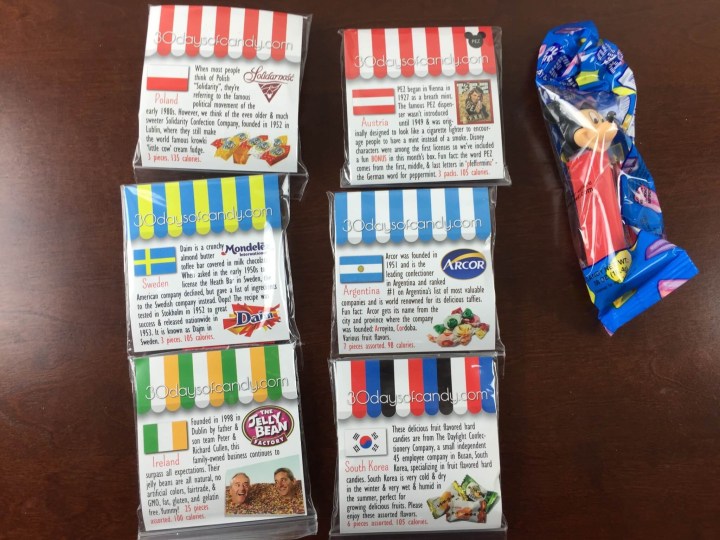 Poland – Krowki Cream Fudge
Austria – PEZ with Mickey Mouse Dispenser
Sweden – Daim (like a skor bar)
Argentina – Arcor Fruit Taffies
Ireland – Jelly Bean Factory Jelly Beans
South Korea – Daylight Confectionery Company Fruit Hard Candies (I couldn't find this online, I think it's a translation thing)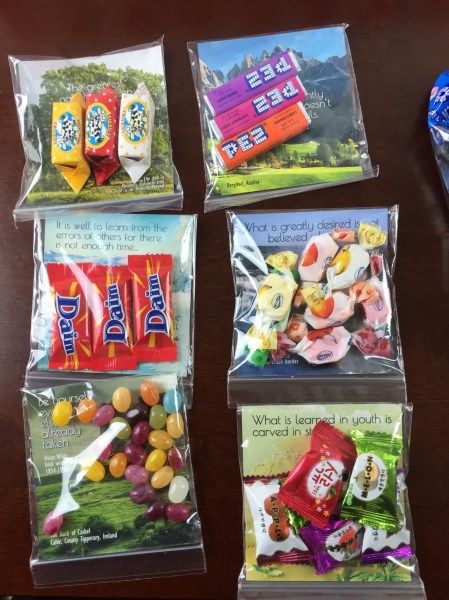 The back of the cards are also really fun!
Turkey – Haribo Minis
France – Maison Pecou Jordan Almonds
Finland – Fazer Marianne Chocolate Filled Mint Candies
Italy – Perugina Sorrento Spicchi Hard Candies (fruit-flavored)
Canada – Sixlets
Taiwan – Hi-Chew
I was surprised to see Haribo as the Turkish candy, but it turns out they're produced in a factory in Turkey! Same goes with the Hi-Chew (I usually associate those with either Japan or South Korea)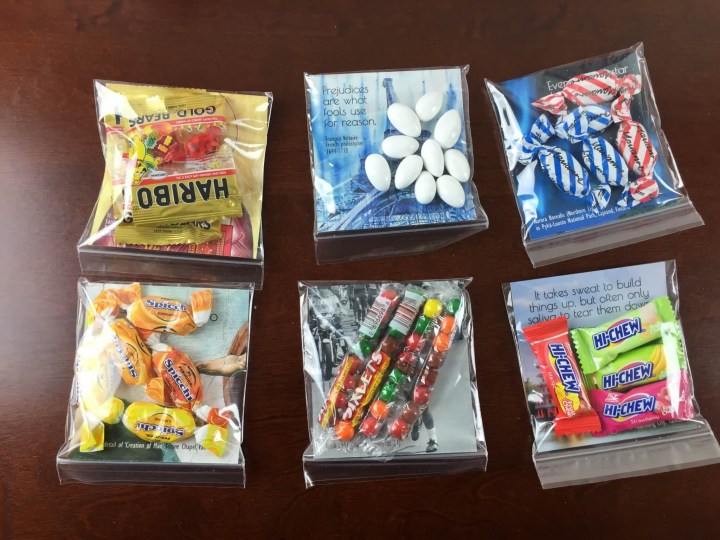 A good amount of candy is included in each bag.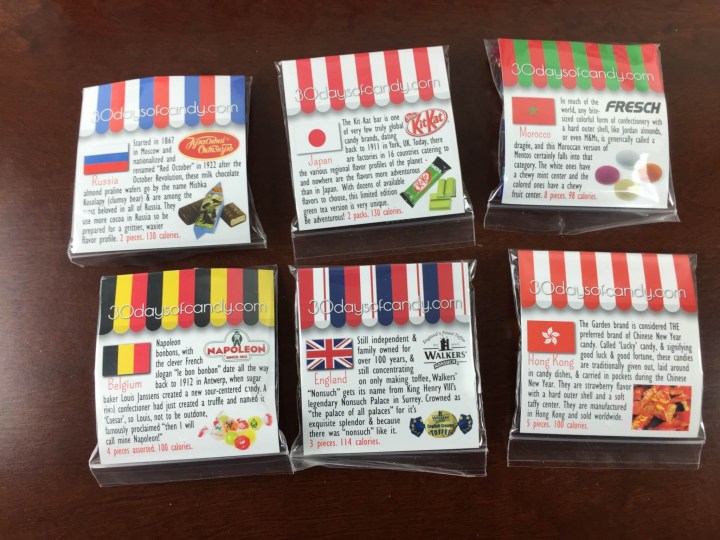 Russia – Mishka Kosolapy
Japan – Green Tea Kit Kat
Morocco – Fresch Chewy Dragees (FYI a "chewy dragee" is the generic term for Mentos)
Belgium – Napoleon Bon Bons (sour lemon)
England – Walkers Nonsuch English Creamy Toffees
Hong Kong – Lucky Candy (strawberry with hard outer shell and taffy center – Garden Brand)
I love green tea Kit-Kats so I was excited to see them show up in this box! Also, I've never tried any Russian candy ever, so I checked that one out below.
Indonesia – Milkita (melon milk candy)
Colombia – Colombina Fussione Caramel (caramel hard candies)
USA – Bit-O-Honey (honey flavored taffy with almond bits)
Norway – Licorice Caramels (probably by Gustaf's)
Switzerland – Milka Milkinis (milk chocolate with milk cream center)
Malaysia – Okio Fruit Gummies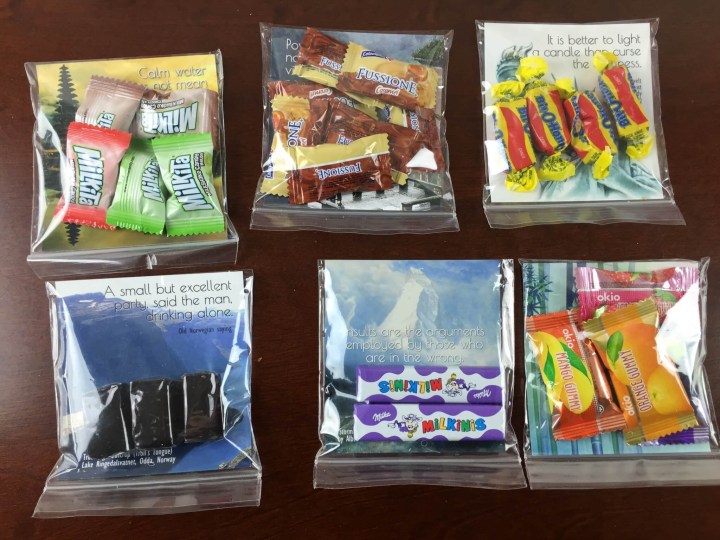 Honestly, I had never tried Bit O'Honey before! We love Milka bars, too, and those are perfect for the kids.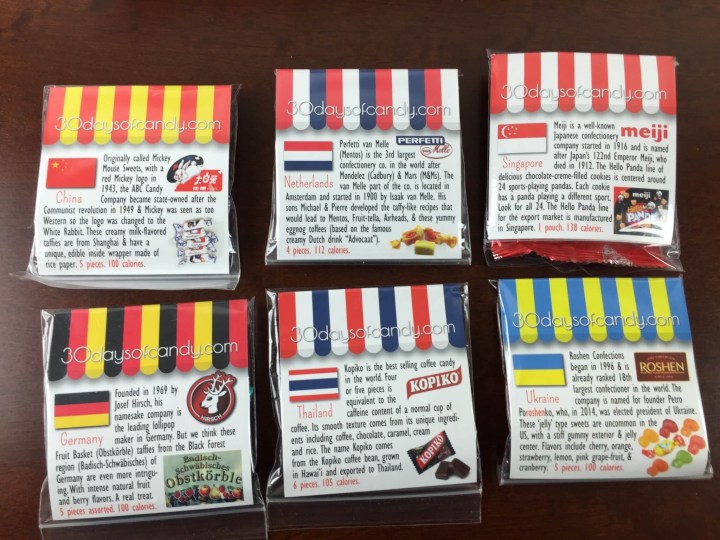 China – White Rabbit (milk taffies)
Netherlands – Van Melle Advocaat Toffees (eggnog flavored)
Singapore – Meiji Hello Panda (chocolate creme filled cookies in panda shapes)
Germany – Hirsch Swabian Fruit Toffees
Thailand – Kopiko (coffee hard candies)
Ukraine – Roshen Jelly Sweets
Probably my only criticism of this box is the selection of treats (like the Meiji Pandas) for countries where they are manufactured, not where they are "born." I had expected a Pandan or Durian treat from Singapore (although perhaps the next box – see below!).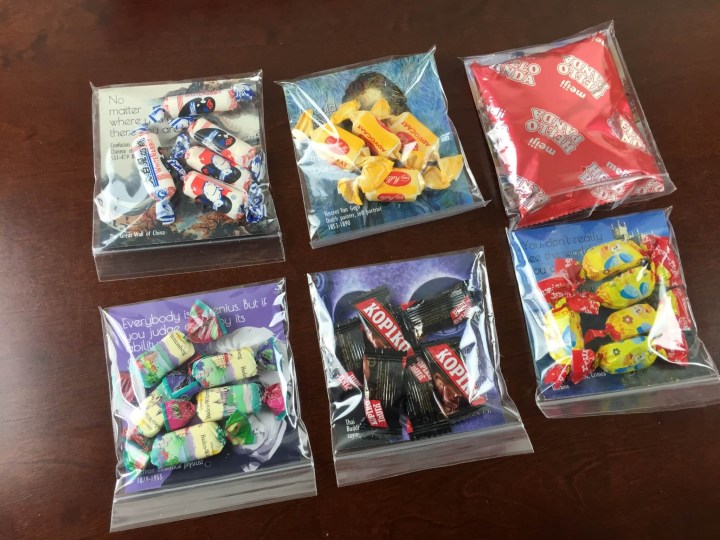 My husband excitedly told me all the information on the White Rabbit card (the logo used to be Mickey Mouse!). I can't wait to try the Advocaat toffees!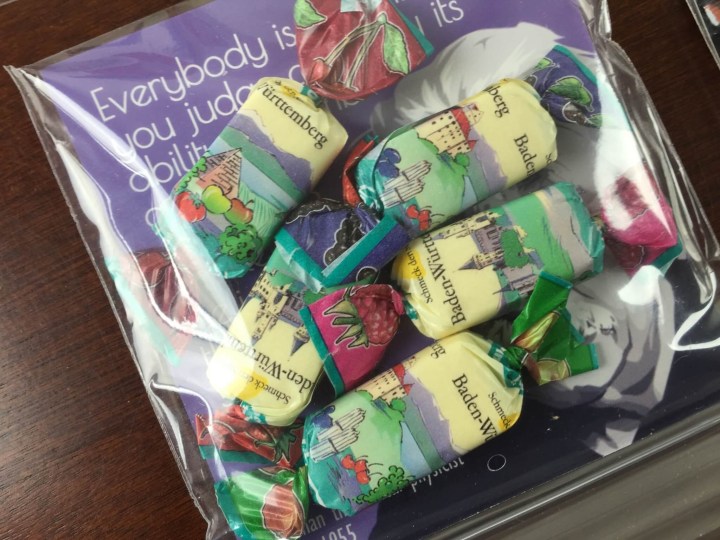 Hirsch Swabian Fruit Taffies (from the Badisch and Swabian parts of Baden Wuerttemberg) are chewy candies with intense natural fruit and berry flavors from the Black Forest region.

Individually wrapped with decorative motifs, the taffy flavors include: Strawberry, Cherry, Raspberry, Red Currant, Pear, Apple.
These are good, but the packaging is gorgeous!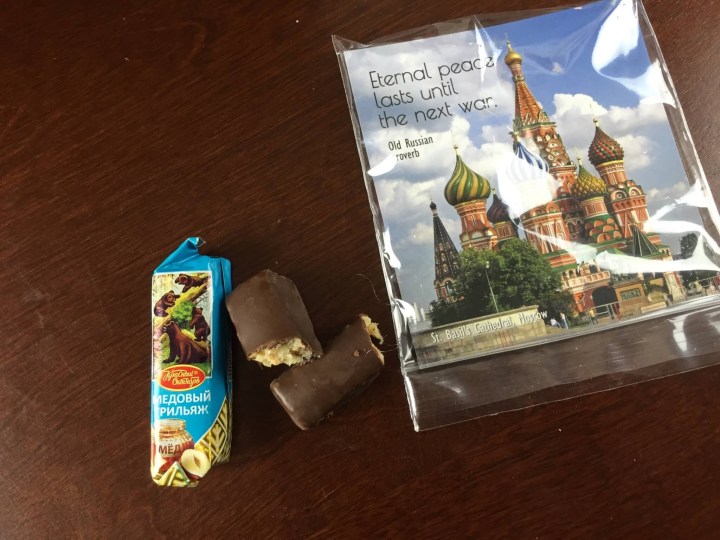 This Russian candy was delicious! Mishka Kosolapy means "clumsy bear" (hence the adorable wrapper). The inside is ground almonds and wafers. It's really delicious!
I was genuinely incredibly impressed by this subscription and cannot wait to see the next month! What struck me most besides the great packaging, theme, and information with each candy was that these were all the best of the best – high quality candies! The back of the information card noted that the next "adventure" was From durian to treacle and ramune to sassafras! 30 candies with delicious, albeit unusual flavors.
Use coupon code FREESHIPHELLO to get free shipping – expires July 31!
One more note – this box is produced by Steven and Michael Powell. Michael is the founder of Powell's Sweet Shoppes in California, so I do expect subsequent boxes to meet or exceed this level of quality.
Visit 30 Days of Candy to subscribe or find out more. You can also see more candy subscription boxes in the directory.
The Subscription
:
30 Days of Candy
The Description
: Get 30 deliciously indulgent, individually packaged, expertly curated, portion controlled (about 100 calories per bag) and super fun candies from all over the world every month. You'll also receive little behind-the-scenes stories of each candy and fun little trivia tidbits that add to the joy of discovery.
The Price
: $29.95 + $5.95 shipping