Look, I really liked last month from Little Lace Box – but September was SO FABULOUS! The theme was "A Sassy and Spirited Soiree!" I am just loving this box! One of my favorite boxes I've ever received!
Little Lace Box is a brand new subscription box delivering the goods to chase away the weekday blues and bringing high-end, brand name beauty, lifestyle, and home product samples to your door each month. This subscription features a new product created by an up-and-coming designer sent to your door every month, A special fashion accessory for you or your home, Also included you'll find a selection of name brand and boutique brand products.
You can save $10 off your first box with code LLB10! Don't forget to check out the yearly subscription option – you'll save $8 off the cost of your box every month.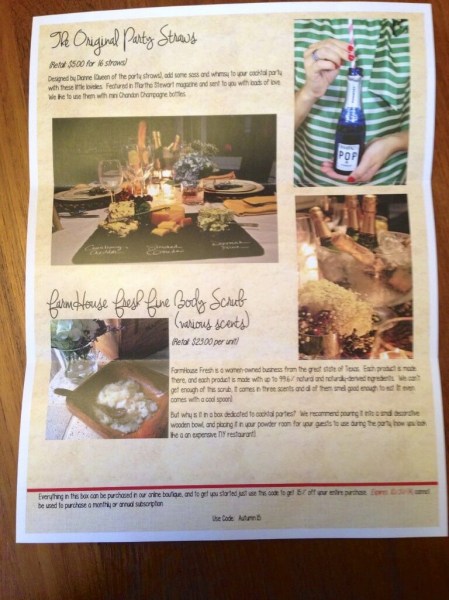 This month had a totally different information card, full color, fold-out. It was perfect to illustrate how the curators intended you use the items (if you'd like of course!). 
The box also came with two really fun recipe cards!
Hand Stamped Cocktail Napkins ($15) This is a giant stack of napkins and so cute! As we get to know more neighbors I know these are going to come in handy!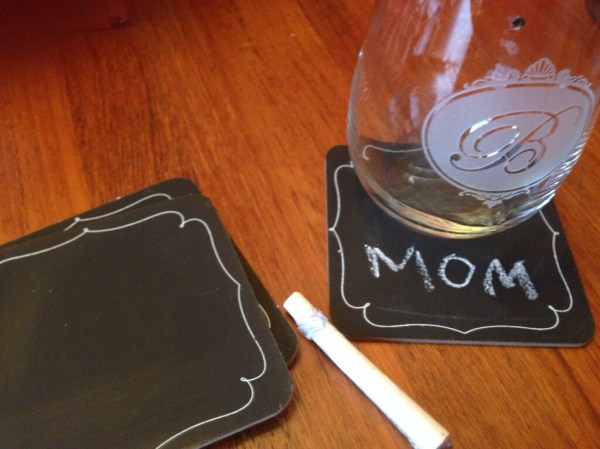 Two Monogrammed Wine Tumblers ($36) These tumblers were hand crafted by a custom barware company that also serves celebrities and politicians. VIPs need their initials on stuff!! They are all of 100 miles from my house but I wouldn't have found them except in this box! Very cool and my entire family agreed – very high quality.
Chalkboard Coasters ($5.45) My daughter has taken endless delight in these coasters, writing all our names on our coasters and making sure they are handed out. And hey, I really should be using a coaster on my table to begin with! Apparently the thing to really use with these is chalk ink
, which I just found out about, and now I'm going to have to install some sort of giant chalkboard in my house so I can justify the purchase of that.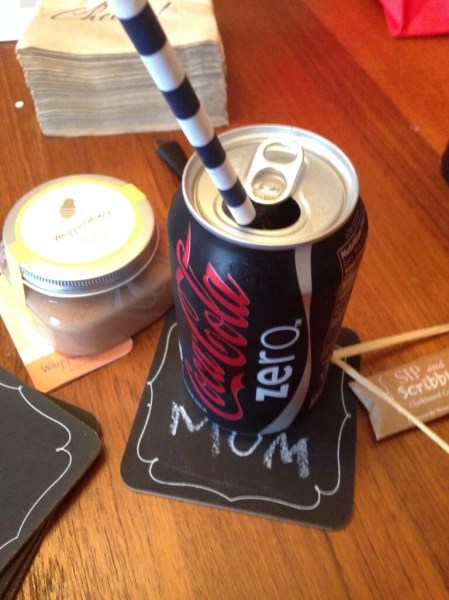 FarmHouse Fresh Fine Body Scrub ($23) This is super nice body scrub and I've never used this brand before! I think the idea (shown on the information card above) to put it in a dish and encourage washing up with it is so adorable. Now that I have a guest bathroom I've been putting all sorts of fun stuff in there.
The Original Party Straws ($5) I admit, I love putting a straw in my coke just for the hell of it. I do. I have enough straws that I can just do it for fun.
The September Little Lace Box had a total retail value of around $75! The box is $39.99 per month, and you can save $10 on your first box with code LLB10. You can also pick up a yearly subscription for $383.90 (which is $31.99 per month). I loved this box and will absolutely use everything. What do you think?
I have October Spoilers too!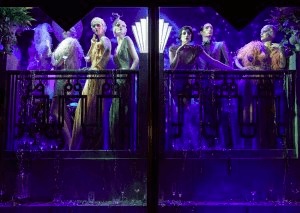 The October Little Lace Box picks up where we left off in September. Our September Little Lace Box™ was all about throwing the ultimate cocktail party.  October will be all about YOU looking fabulous at any party!
And don't expect to get nail polish; you can get that anywhere. Subscribe now for Accessorize For Your Night Out.
The Subscription
:
Little Lace Box
The Description
: et hand-curated, nearly impossible-to-find designer products directly to your doorstep every month. Your monthly box will be brimming with high-end, brand name beauty, lifestyle, and home product samples to treat yourself to and dazzle your friends during your next night out.
The Price
: $39.99 per month
The Coupon
: Save $10 on your first box! Use coupon code
LLB10
!