Harry's is a shaving subscription for men. My husband got one but I tried it out anyways! (My husband has yet to try it, but when he does, I'll be posting his thoughts on his site). The premise is super simple. Buy a razor handle. Then subscribe to refills of blades and cream. You can adjust your frequency and quantities to your preferences as well.  Harry's offers ergonomic handles in plastic (and in various colors!) as well as engraveable aluminum. The blades are German-engineered. I ordered "The One-Two Set," which is a "Truman" (plastic) handle and one blade, plus a 2 ounce shave cream.  I also got a 4 pack of blade refills.
The Subscription:
Harry's
The Description
: After buying your razor handle, subscribe to refills of blades and shaving cream. Subscription plans are customizable to shaving needs. Get the Winston handle in silver or the Truman (in colors)
The Price
: $16 for a basic 4 blade + 1 shaving cream refill (but varies with selection) per month.
Harry's Razor + Blades Review (by a lady)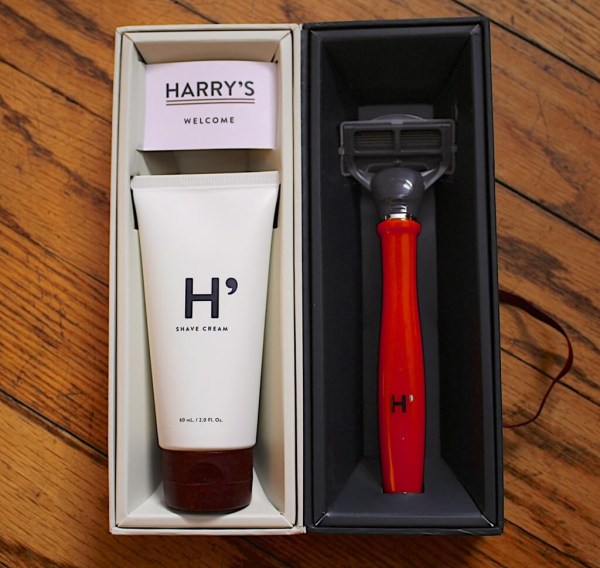 The Harry's Blades One-Two Set is only $12. Considering a Gilette 4 blade runs around $9-12, I thought this was a fine price. You get the Harry's Shave cream (travel size) and  blade in a color of your choice. My husband chose orange. I was excited to get this because I totally don't have a razor here, and after 2 weeks, well, something needed done. I liked the handle and thought it was well balanced, although somewhat slick. It doesn't have any nubblies or grip on it at all. But it sure is fancy. It took me a while to figure out how to take the blade off the razor. There's a pushing mechanism but mine was a little stuck. After I yanked it off it worked just fine.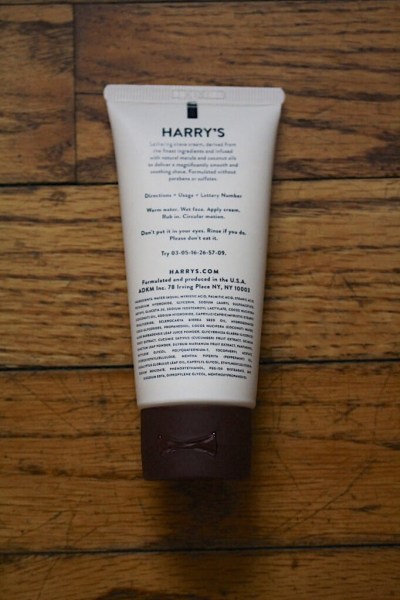 The shave cream is paraben and sulfate free and uses coconut oil for the lather.  I got a really nice shave from it and it was really soft. I've found that most items that use these types of ingredients wash off super clean, and that was the case with this shave cream. Ergo, not so great for the ladies (generally we want that silky feel on our legs afterwards) but excellent for men. The full-size bottle is $8. It had a great eucalyptus smell too!
I thought the box of Harry's blades was really elegant.
And tada, the blades. A blade cover comes with the razor, but there are no covers on the other blades. I love how these are secured and slide out, but you cannot store this paper box in the shower. You probably shouldn't do that anyways, but I normally do.  For the forest of trees on my legs, fewer than 4 blades probably would have been good (I had to rinse a lot) but for someone who actually shaves on a normal schedule, the 4 blades are nice. The price per blade drops with the number of blades you select at a time, so get more at once if you can handle storing them (I know some people have issues, which is why we like subscriptions!).
My husband is probably going to be totally ticked that I "wasted" one of the blades on my legs (for some reason he hates it – and I'm like really? It's worse than rubbing it all over your scratchy face?) But whatever, he'll have to deal. I thought this was a fancy subscription and would be nice for a gift. I'm super curious to see what he thinks about the shave and if he likes it. He normally buys really terrible 2 blade disposable razors and throws them away after a year, and I just think it's weird.
You can find out more about Harry's and get a razor handle or subscribe to blades on their site. See more Men's Shaving & Skincare boxes in the the subscription box directory, and stuff for ladies too while you're at it. For all my husband's reviews of subscription boxes for men, check out his site.