It's no secret that natural honey can make our ordinary lives sweeter. Its rich & thick texture and its golden color may tempt you to include it in practically anything you eat. It's the perfect addition to coffee, tea, and basically any kind of food that needs an extra boost of flavor like oats. On top of that, honey provides several health benefits – thanks to its antioxidants and antibacterial properties! Some even use it for skincare.
Honey subscription boxes keep you loaded with honey every month. It allows you to try different varieties and gives you a healthier option! And if you're still wondering what's all the buzz about, now is the perfect time to check out a honey subscription that will turn you into a BEE-liever. We've rounded up a list of the best honey subscription boxes you can get for yourself and your family – check them out!
The Best Honey Subscription Boxes For A Sweet Bee-ginning!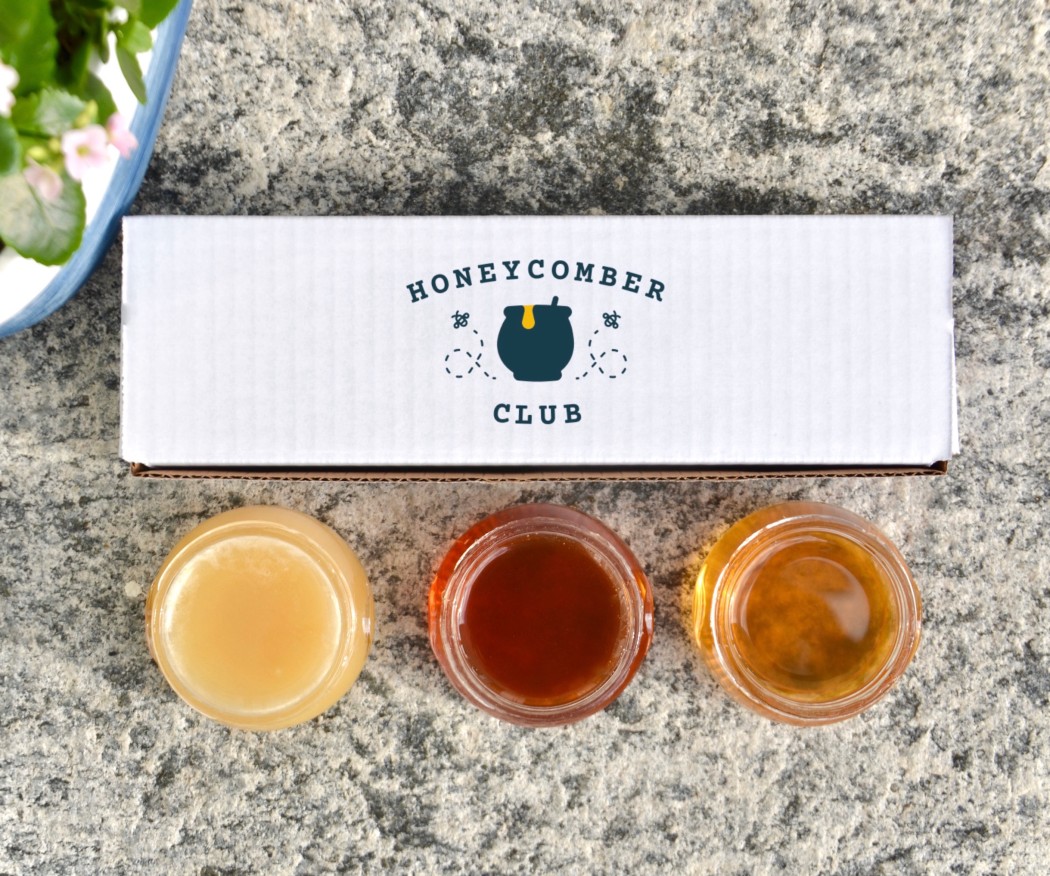 Image from: HoneyComber Club
What You Get: Taste and let the sweet taste of natural honey linger on your tongue! HoneyComber Club sends just the most natural honey you could ever think of. Coming from family-owned and operated bee farms across the US, you'll surely get the best raw honey straight from the hive with minimal processing. Every month, you'll receive three 3oz. un-bee-lievably delicious raw honey varieties to stock you up. It also includes an info leaflet detailing the honey you received for the month and the featured apiaries where they came from. Only the highest quality, best sourced, and tastiest raw honey are selected to shower your taste buds with pure natural honey to enjoy!
Price: Get a raw honey box for $25 a month.
Deal: Get 10% off! Use coupon code HELLOSUBSCRIPTION.
---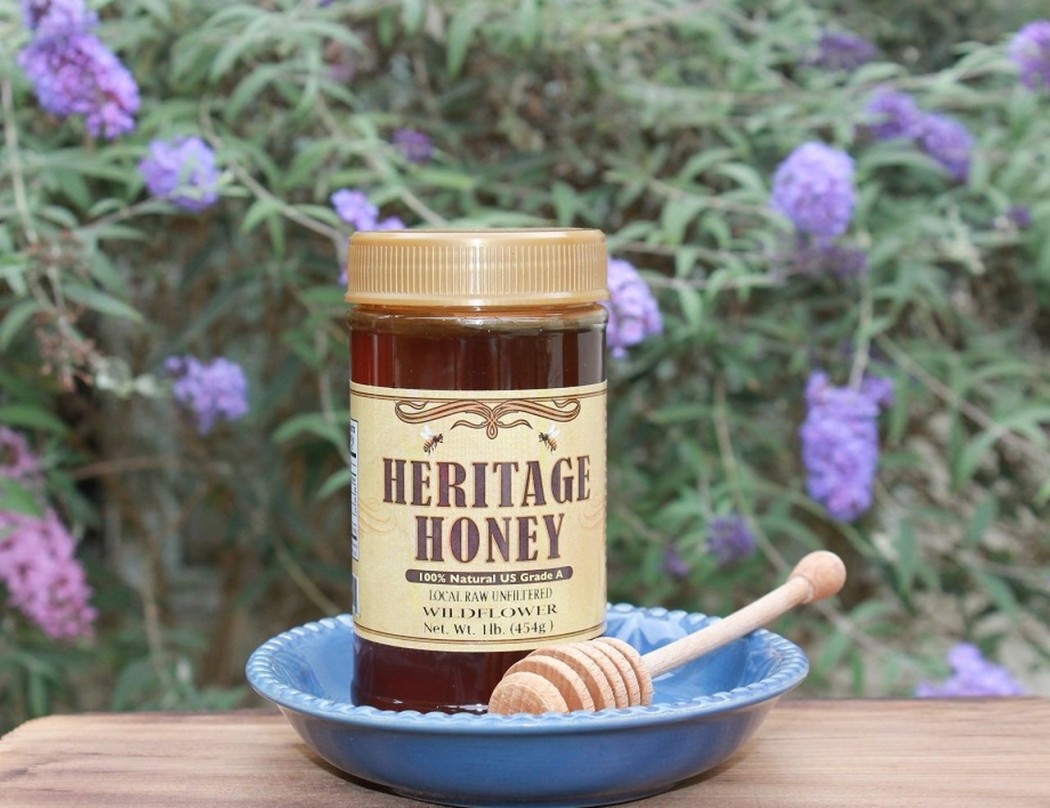 Image from: Gourmet Food Clubs Honey of the Month Club
What You Get: Gourmet Food Clubs Honey of the Month Club sends raw and unprocessed jars of honey every month. It allows you to get all health-promoting antioxidants and minerals nature intended, as they come directly from beekeepers roaming the hills of Coastal Southern California. Choose whether you want a jar or two of 100% natural US Grade A honey for every shipment. Varieties include avocado, wildflower, sage, orange blossom, and more!
Price: Get 1 jar for $59.99 or 2 jars of raw honey for $79.99.
---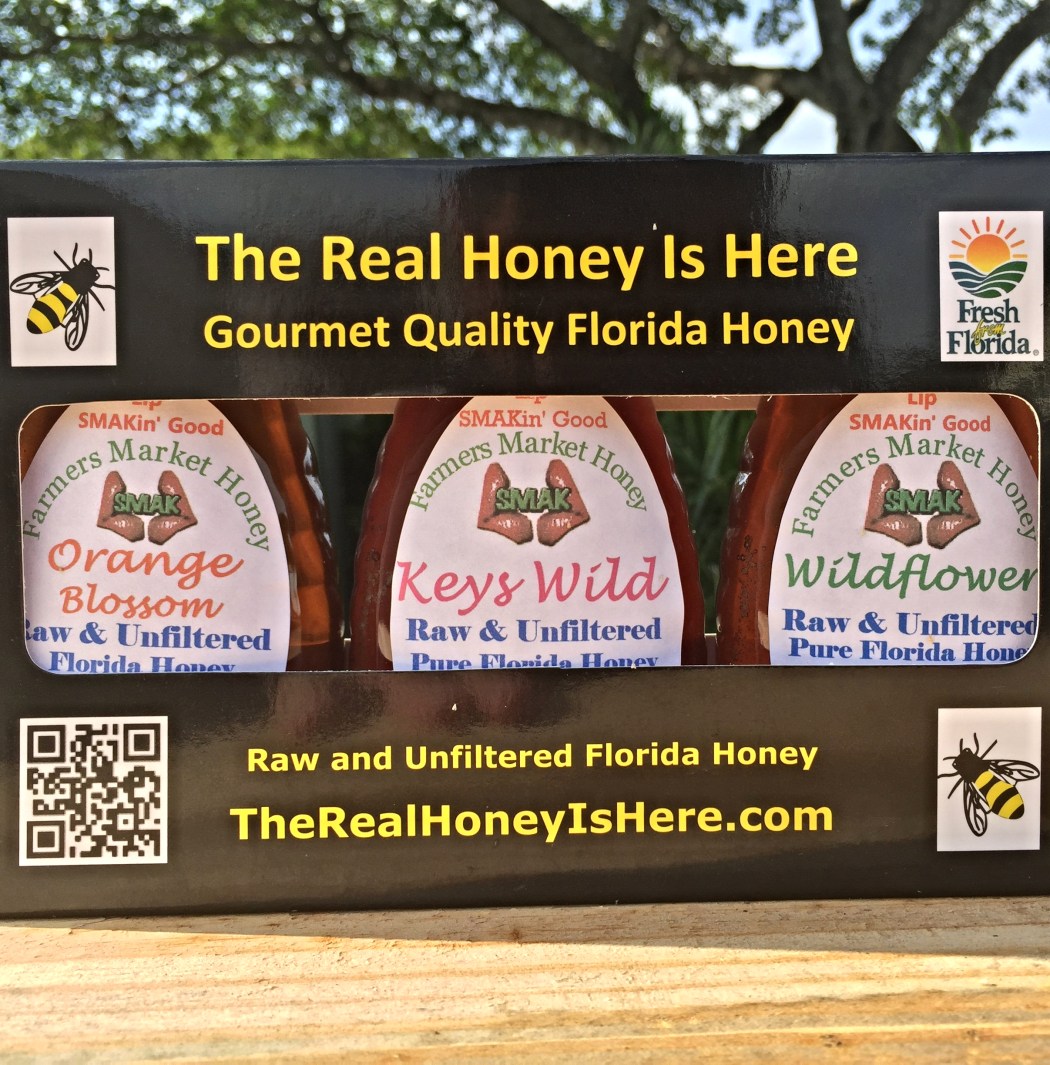 Image from: The Real Honey Is Here
What You Get: Lip smackin' goodness is what The Real Honey Is Here offers. Raw and unfiltered, that's what makes their honey so good and healthy! You'll receive three 8oz bottles of unique seasonal farmers market honey – which will give you a total of 24oz – to share with you the best tasting and purest honey they can offer. Varieties may include Wildflower, Orange blossom, Jamaican dogwood, Christmas berry, and more. You can also find raw honey infused with organic extracts like vanilla, mango, key lime, ginger, lemon, and a lot more. It's a rich taste your palate can't forget!
Price: A 3-pack of real honey costs $21.95 per month.
---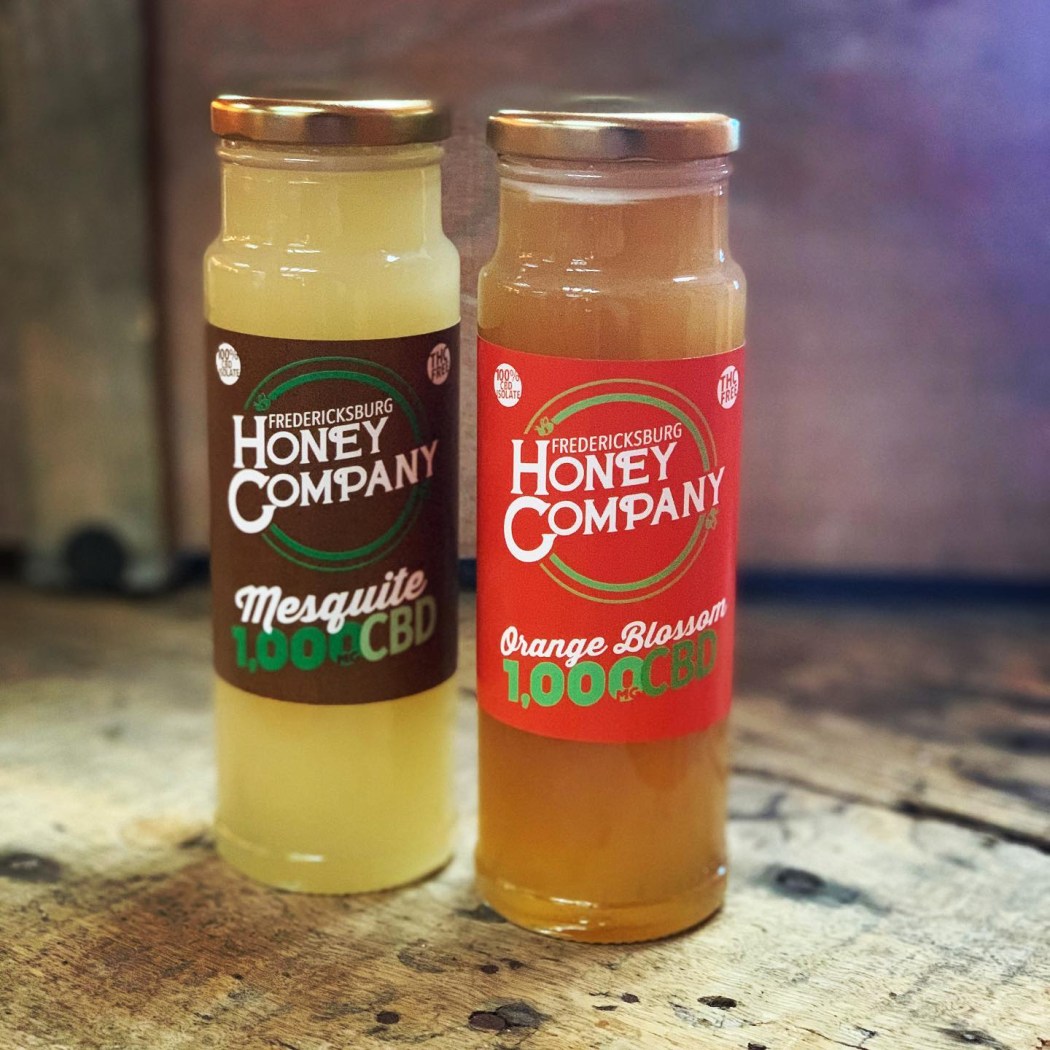 Image from: Fredericksburg Honey Company
What You Get: Experience a great variety of flavors at your door each month with Fredericksburg Honey Company. It is a monthly subscription that sends a basket of honey, loose leaf tea, and spice (or salt or rub) plus one additional surprise! They love their craft, and they work extra hard to provide superior quality honey you can happily indulge in. Subscribe, and get your first box with a free tea infuser, honey drizzler, and a wooden teaspoon! As a subscriber, you'll get a big 'ol Texas hello, special offers, honey pairings, and some fun facts!
Price: Monthly subscription is $30/box.
---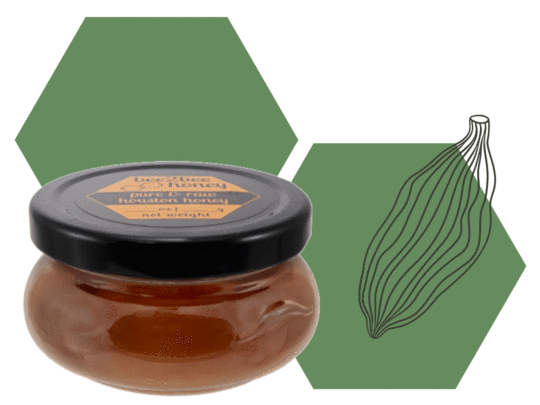 Image from: Bee2Bee Honey
What You Get: Give yourself the gift it deserves with Bee2Bee Honey. This monthly subscription is a premier source of local Houston honey and honey bee education since 2016. They send small-batch neighborhood honey, honey infusions, and products of beehives for you to enjoy every quarter. The Honey of the Month Club lets you enjoy three 6 oz. honey or honey infusion jars from Bee2Bee or another beekeeper in the collective. With raw and unfiltered honey, you can get the most of its healthy and natural benefits!
Price: Join Honey of the Month Club for $30 per quarter.
---
Image from: Banner Bee
What You Get: Banner Bee is all about bees. They provide subscribers with all-natural and effective hive-based products like award-winning small-batch raw honey, delectable infused honey, protein-packed pollen, bee-autifully handcrafted beeswax candles, and honey inspired body care. Join the Honey of the Month Club, and receive a delicious selection of beautifully presented artisanal honey each month in an 8 oz. glass jar, from raw wildflower to artisan infused to hand-curated single-source honey from around the country, along with one tasty recipe. Your first shipment will also include a wooden honey dipper. Keep your pantry full and happy as you replenish it with all the goodness and sweetness bees bring!
Price: Receive three monthly shipments for $69 per quarter and less on longer plans.
---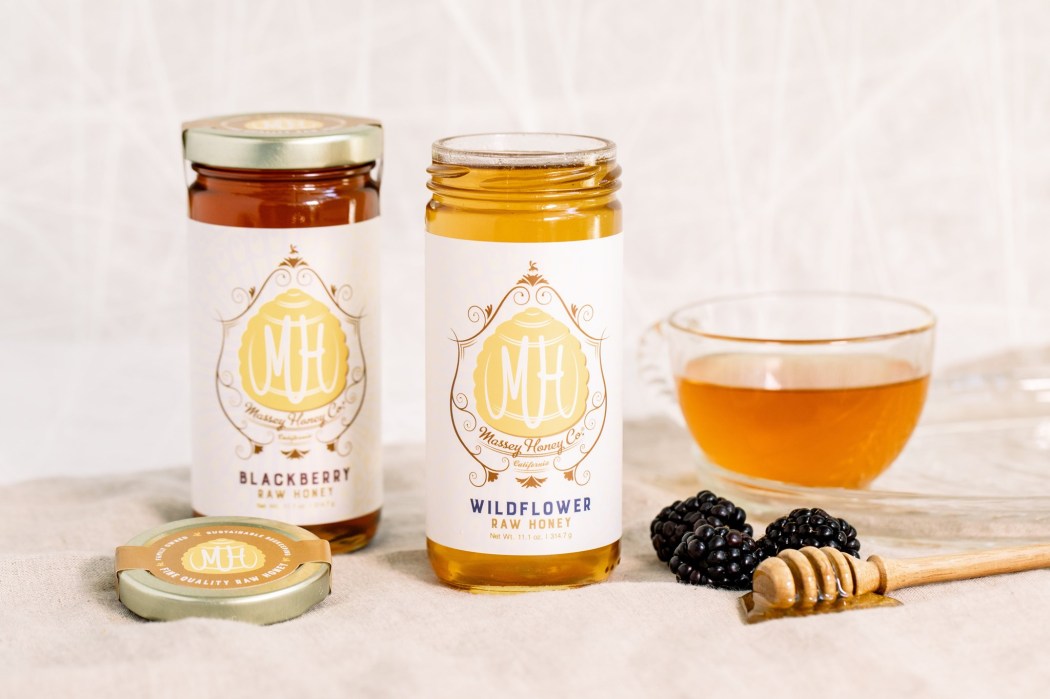 Image from: Massey Honey
What You Get: Massey Honey delivers fine quality raw honey straight to your doorstep each month. Devoted to bringing the highest quality honey, they also believe in minimizing environmental impact from the way they care for bees through a simplistic approach. Get one or two 8 oz. jars of raw honey each month depending on your chosen plan – Beekeeper's Choice (most recently extracted seasonal honey), Customer's Choice (honey of your choice), and Wildflower Honey (the most popular variety that draws on the seasonal blooms at the time). These honey are taken directly from the hive, extracted by the hand from the comb, and strained into its raw form, retaining its natural health benefits. Your honey, your way!
Price: Get one jar for $45/mo or two jars for $80/mo.
---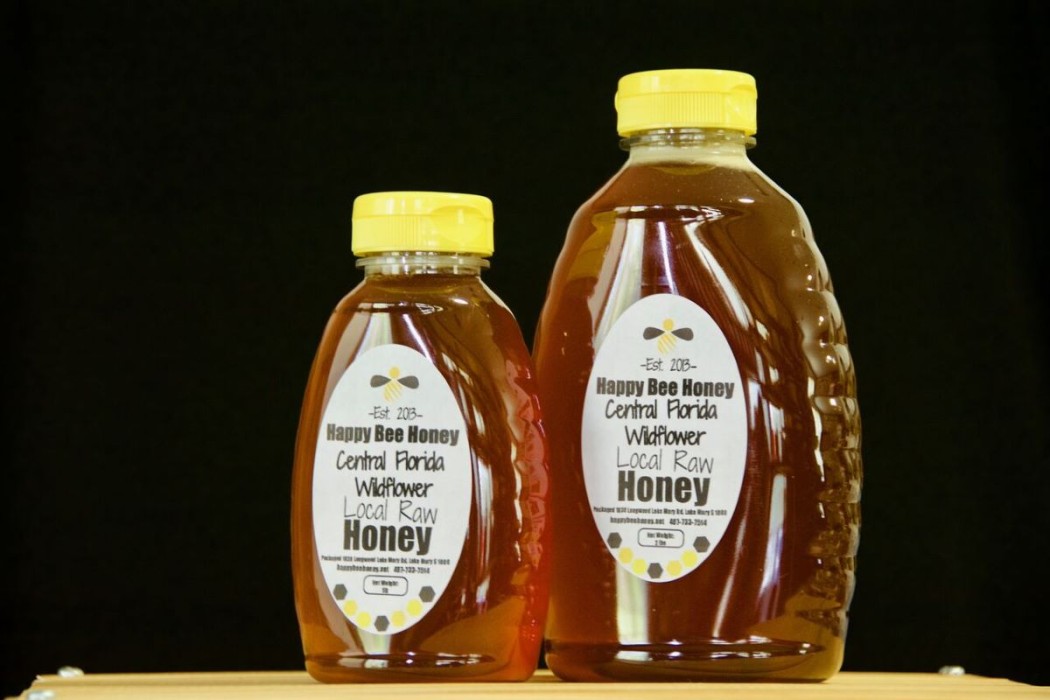 Image from: Happy Bee Honey
What You Get: Receive always raw, always pure honey (no filtering or pasteurizing ever!) from Happy Bee Honey. Committed to a better way of living, they provide subscribers with the best local honey available from their hives. Join the Honey of the Month Club and get an 8oz limited-edition flavor of the month, a 2oz mystery honey bear, an assortment of novelty honey products, and a surprise goodie! As a subscriber, you'll be the first to receive and try the limited-edition flavor of the month, selected by their "Queen Bee"!
---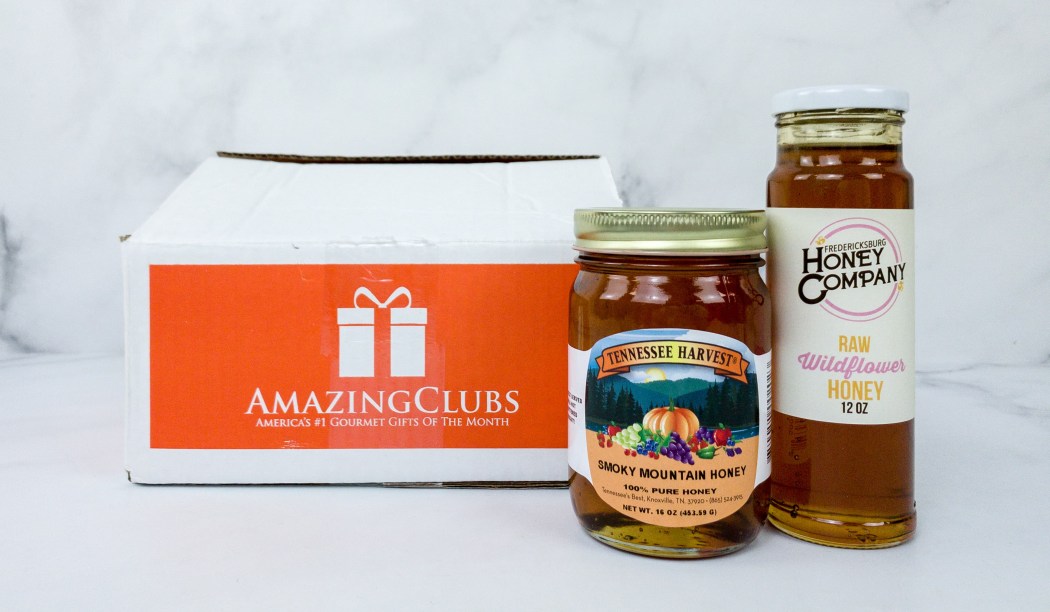 Image from: our review
What You Get: With Amazing Clubs Honey of the Month Club, you'll receive limited-production and artisanal honey every month. Each jar of honey is wild-crafted without artificial additives and sourced from independent, often family-owned producers across North America. Get two 12-16 ounce jars of different varieties of premium, hard-to-find specialty honey in each shipment. It also comes with Honey Lover's newsletter containing information about the monthly selection plus honey facts, serving suggestions, and more. You can also gift this subscription and include your personal message!
Check out Amazing Clubs Honey of the Month Club Reviews for more info.
Price: Subscription costs $34.95 a month and less on longer plans.
---
Image from: Beezy Beez
What You Get: Beezy Beez is a herbal honey subscription that sends freshly harvested honey from their own bee farms, creamed and infused with botanical hemp extract. Revitalize your body and mind with their high-quality and unprocessed honey that's all handmade in small batches by their beekeepers. Get their Botanical Extract Bundle In A Box and receive a jar of cinnamon botanical extract honey, oil, balm, lip balm, and tea. Keeping their products all-natural, you can't find any ingredient that you cannot pronounce! Join the beehive club for new videos featuring real results from real customers, discount codes, and more.
Price: Bundle & save starting at $34.95 per month.
---
And that is all for our list of the best honey subscription boxes! Which of these un-BEE-lievably good subscriptions are you willing to give a try? Share it with us in the comments!
Never miss out on the best subscriptions that you can try! Find out about them on our list of all the best subscription boxes in every category!
Say Hello To More Subscriptions To Pair Honey With!