Love yoga or simply a health and wellness junkie? These yoga subscriptions offer a wide array of products from yoga outfits, yoga tools, yoga accessories, and basically everything that can make your yoga experience better and enjoyable. These can help you explore your knowledge on how to maximize the benefits of being a yogi. It can also encourage beginners and inspire a lot of people to join the healthy lifestyle. 
Don't forget to hit the heart button at the top of this post to save it for later so you can try more boxes on the list!
The Best Subscription Boxes for Yoga!
Image from: YogaClub
Why we love it: The stylists of YogaClub curate outfits that match your style and activities you love! Subscribers just have to fill up a style quiz and make sure that their profile is complete. They send brand name clothes, but at a fraction of the retail prices. Each box contains a 3-piece premium brand outfit that is 100% hand curated. They ship to the USA, Canada, and the UK!
Check out the YogaClub Reviews to know more about this subscription!
Price: Prices start at $79 per month.
Deals:
Get a YogaClub 2 piece Box for just $39! Use this link to get the deal.
Get your YogaClub Guru Box for just $59 for life! That's $20 savings per month! Use coupon code HELLO. Just pay $4.95 shipping!
---
Image from: Wantable
Why we love it:  Wantable Active Edit is a personal styling service that uses the combination of technology and stylists to handpick the perfect fitness apparel based on your budget, size, and preference. Every Edit includes 7 styles picked out just for you. Items generally cost $30-$70 per piece.
See the Wantable Active Edit Reviews for details!
Price: The subscription is $20 per month, with savings if you keep all the curated pieces.
---
Image from: Ellie
Why we love it: Dedicated to bringing you the best of activewear, Ellie partners with top brands like Bally Total Fitness, Balance Collection, Marika, and Zobha. They also have their own line of activewear with the same name, which offers tees, singlets, leggings, and more! There are two subscription types to choose from, depending on your budget or needs: the 3-item box includes a top, a sports bra, and a bottom, and the 5-item box includes 3 apparel items plus 2 accessories.
Learn more about the subscription by checking the Ellie Reviews page!
Price: A 3-piece outfit plan is $39.95 per month, while a 5-piece outfit plan is $49.95 per month.
Deal: Get 25% off your first month subscription! Use coupon code HELLOSUB25.
---
Image from: Fabletics
Why we love it: Fabletics is an online subscription retailer that focuses on athleisure and Kate Hudson is one of the co-founders. If you want a look approved by our favorite actress and overall fitspiration, watch out each month as she shares her favorite outfits that you can shop! Aside from Kate's picks, there are also new monthly collections available online or in store with outfits curated just for you. Put it to the test and keep it if you love it or return within 30 days if you don't. Exclusive VIP perks also include early access to new launches, cash rewards, free gear, discounts, and more!
Check out the Fabletics Reviews to know more about it!
Price: The subscription is $49.95 per month. You can also get major promos when you become a member of the Fabletics VIP Membership Program.
Deal: Get 2 pairs of leggings for just $24! Use this link to get the deal. Valid to new subscribers only.
---
Why we love it: You can now practice yoga without worrying too much. Do a Shot of Yoga is a monthly subscription bringing everything you need to start meditating. Each month, you'll get a box that will help you deepen your understanding of yoga and give you the tools for a much comfortable practice. As a Mini Mailer Subscriber, you can download the Master Class workbook, 10-day challenge guide, plus challenge checklist. You'll also have access to bonus materials, extra resources, and access to their private Do a Shot of Yoga FB group where you can connect with others. You can also get a hard copy of the book of the month in your mail! If you wish to receive all that Mini Mailers subscribers receive and an additional 3-4 yoga and lifestyle items, you can subscribe to Deluxe Box! Or if you want to practice yoga with a digital guide, you can choose Digital Do a Shot of Yoga.
Deal: Get 10% off your first box! Use coupon code HI10PERCENT.
---
Image from: Dia & Co
Why we love it: Dia & Co, a styling subscription for plus-sized women, also offers activewear! A personal stylist will help match you with the appropriate styles of clothing based on a style quiz. The style quiz pays attention to every detail, from your shape and style to your budget. The $20 styling fee equals to a full treatment, including the service of a personal stylist, a convenient home try-on, free shipping both ways, a $20 credit toward what you keep, unlimited size exchange, and 25% off when you buy everything.
Price: Styling fee is $20 per month. Get a 25% off discount when you buy everything.
Deal: Get FREE Styling FEE! Deal applies automatically, just visit and subscribe. Notice of the waived styling fee will appear after you complete the quiz.
---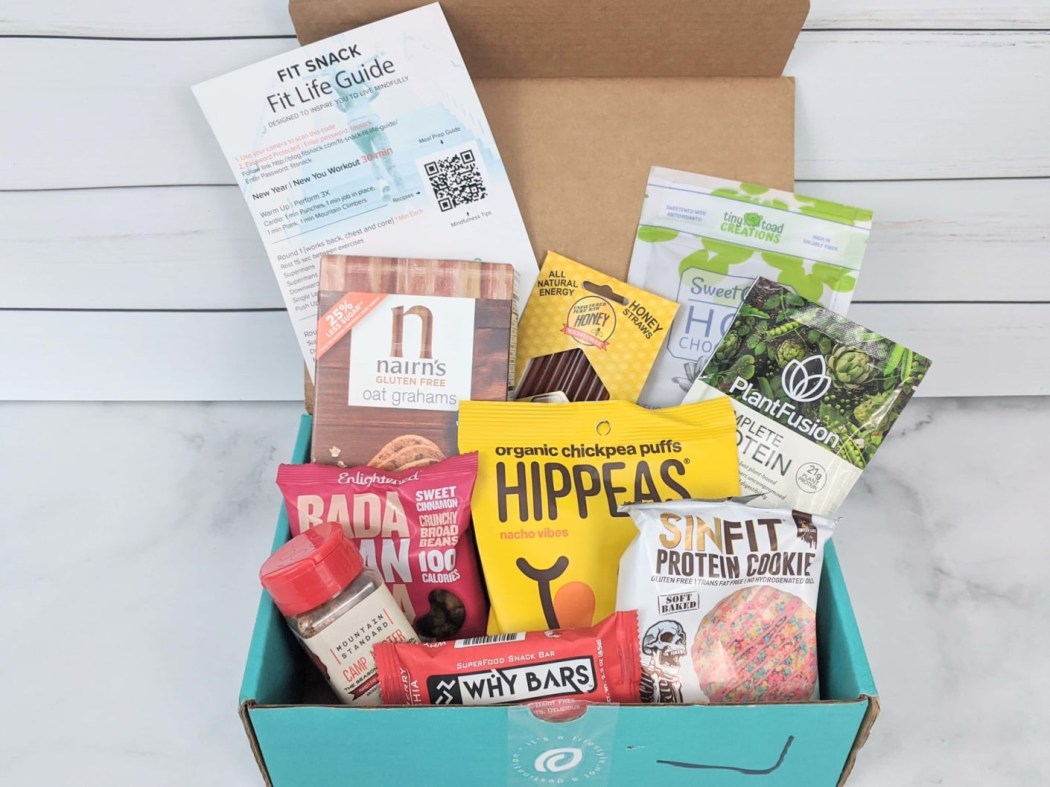 Image from: our review
Why we love it: Snacking time can be fun and healthy with FitSnack! To ensure that the box contents are high quality, they ensure that each product fits two or more of the following: GMO-free, high in protein, low in sugar, gluten-free, organic, raw, vegan, and all-natural. Depending on the plan you choose, they give athletic gear or provide challenges to keep you pumping.
Learn more by visiting FitSnack Reviews page!
Price: Prices start at $27.90 per month, with savings for longer subscription plans.
Deal: Save $3 on your first box! Deal applies automatically, just visit and subscribe.
---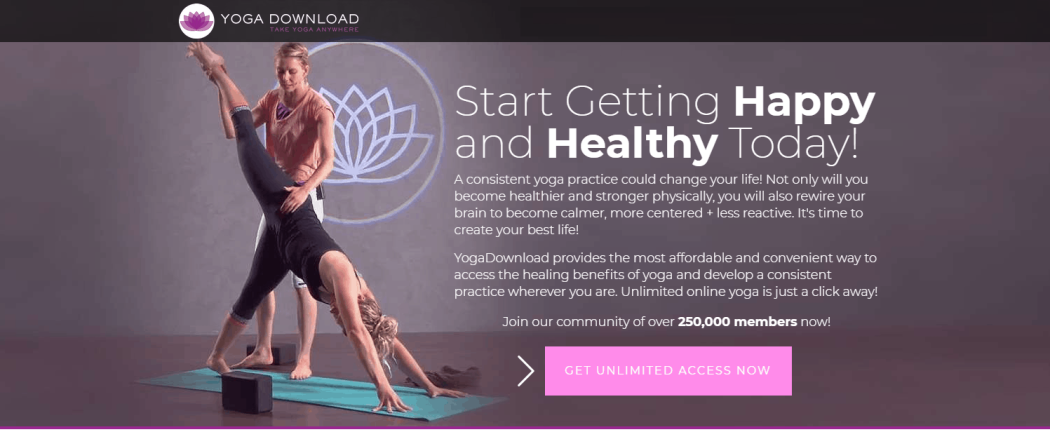 Image from: Yoga Download
Why we love it: Yoga Download allows subscribers to unlimited access on online yoga programs and packages with the world's top instructors! You can download videos for offline use to have a customized experience and do yoga anywhere. The packages includes programs for beginners, pregnant women, desk jockeys, weight loss, detoxing and a lot more!
Price: They offer a 2-week trial for $1. The monthly subscription starts $12 and up to $120 for a yearly subscription.
---
Image from: Goddess Provisions
Why we love it: To nourish your inner goddess and your spiritual growth, Goddess Provisions provides 5-7 full size of cruelty-free and vegan products in every box. These items are variations of crystals, aromatherapy, apothecary beauty, superfood snacks, tea, and spiritual growth tools. Some of the brands they've collaborated with include Fat and the Moon, House of Intuition, Behati Life, Crystal Bar, Energy Muse, and more!
See the Goddess Provisions Reviews for more information!
Price: Monthly plan starts at $33 with prepay plans up to $333 (annual).
---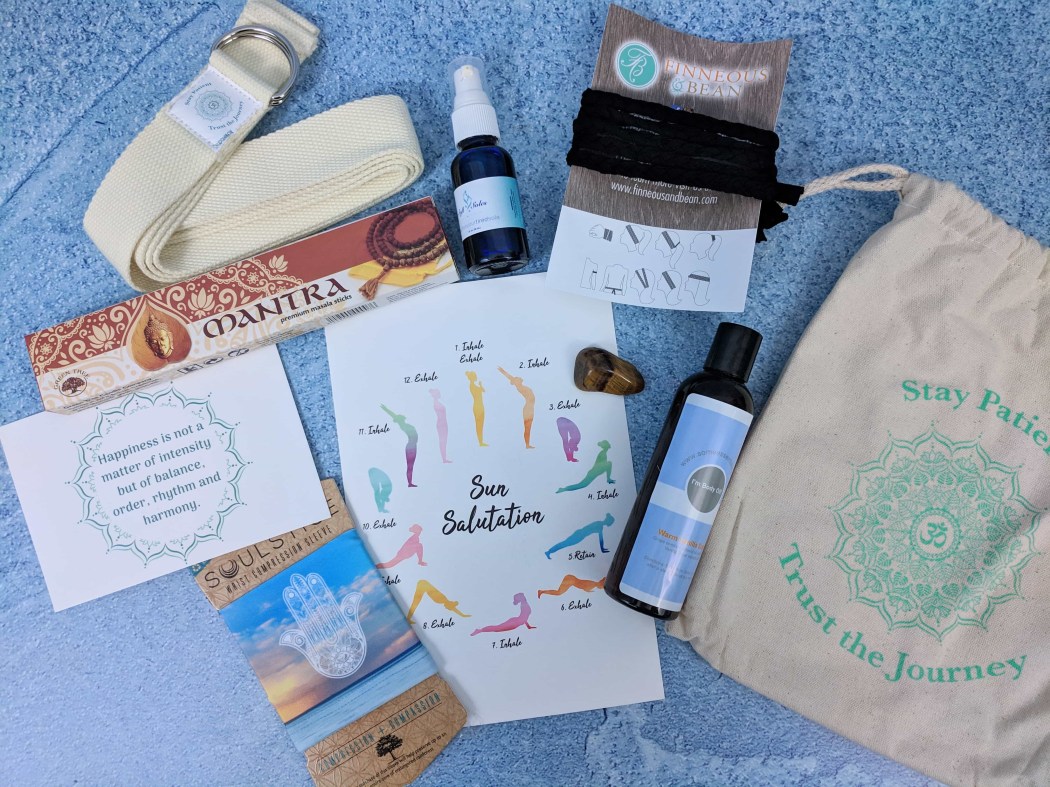 Image from: our review
Why we love it: To enhance your yoga practice and lifestyle, each BuddhiBox contains a mix of 4 to 6 samples and full sized-products. Items might include healthy food, supplements, snacks, beauty products, and accessories. The company is committed to supporting non-profit organizations as well. Every month, they pick a charity and give a donation from the proceeds sales. Another thing to look forward to from the subscription is that all the items are nicely packed inside a drawstring canvas bag with a different saying/quote printed on it every month!
Visit BuddhiBox Reviews page for more information!
Price: Prices start at $34.95 per month, or less with longer subscriptions.
Deal: Get 15% off on all subscriptions and shop items! Use coupon code HELLOBB. Exclude sale items.
---
Image from: Yogi Secret
Why we love it: Filled with 6 to 8 full-size, premium yoga products, Yogi Secret offers the best in yoga spiritual growth tools, fitness accessories, and everything that fits your yoga lifestyle. They choose cruelty-free items and support fair-trade to enhance an all-natural yoga practice. Some of the brands they feature include Manduka, Toesox, Natural Life, Kailo, Lilac & Willow, Sol and Selene, Gaiam, and Soulmakes!
Price: Subscriptions start at $49.95 per month.
---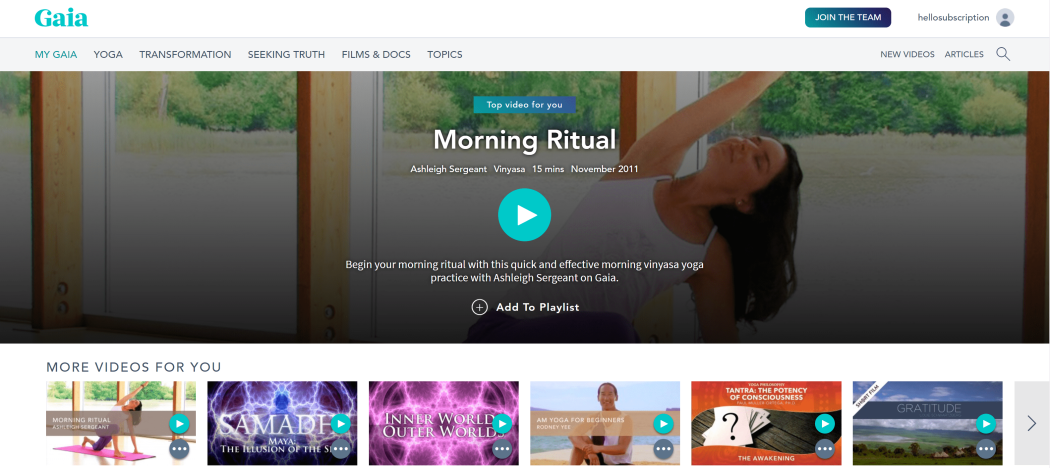 Image from: Gaia
Why we love it: It's a subscription of unlimited service for you, binge-watchers! Gaia has 8000 original programs, practices and films that are centered in yoga and meditation. This can be your journey to personal transformation! When you first subscribe, you fill out a very quick and easy survey to know a bit more about what you are interested in. You can choose your yoga level, but it's easy to look for video at a different level later on!
Check out our Gaia Reviews to know more about this subscription!
Price: First month is only 99¢ and subsequent months are $9.95.
Deal: Get your first month for only 99¢! Deal applies automatically, just visit and subscribe.
---
Image from: YogaVibes
Why we love it: Practicing yoga at any time and in any place is made easier by YogaVibes. It provides on-demand streaming and access to yoga classes, refreshed every day with a variety of styles, lengths, and teachers to meet your customized needs. There are over 2000 meditation, yoga, and barre classes available!
Price: $19.95 for a monthly subscription. $199.95 for an annual subscription.
Deals:
---
Image from: Namast'eh
Why we love it: For your yoga outfits and athleisure needs, Namast'eh has got you covered! Each box contains clothing customized to the subscriber's lifestyle and activity needs. Their suppliers are mostly Canadian yoga and athletic wear brands. There are also three subscription options to choose from: The Maple Leaf Box with 1 pair of premium leggings or capris, The Glowing Hearts Box with a 2-piece premium outfit, and The True North Box with a 3-piece premium outfit.
Price: Boxes start as low as $59 per month.
---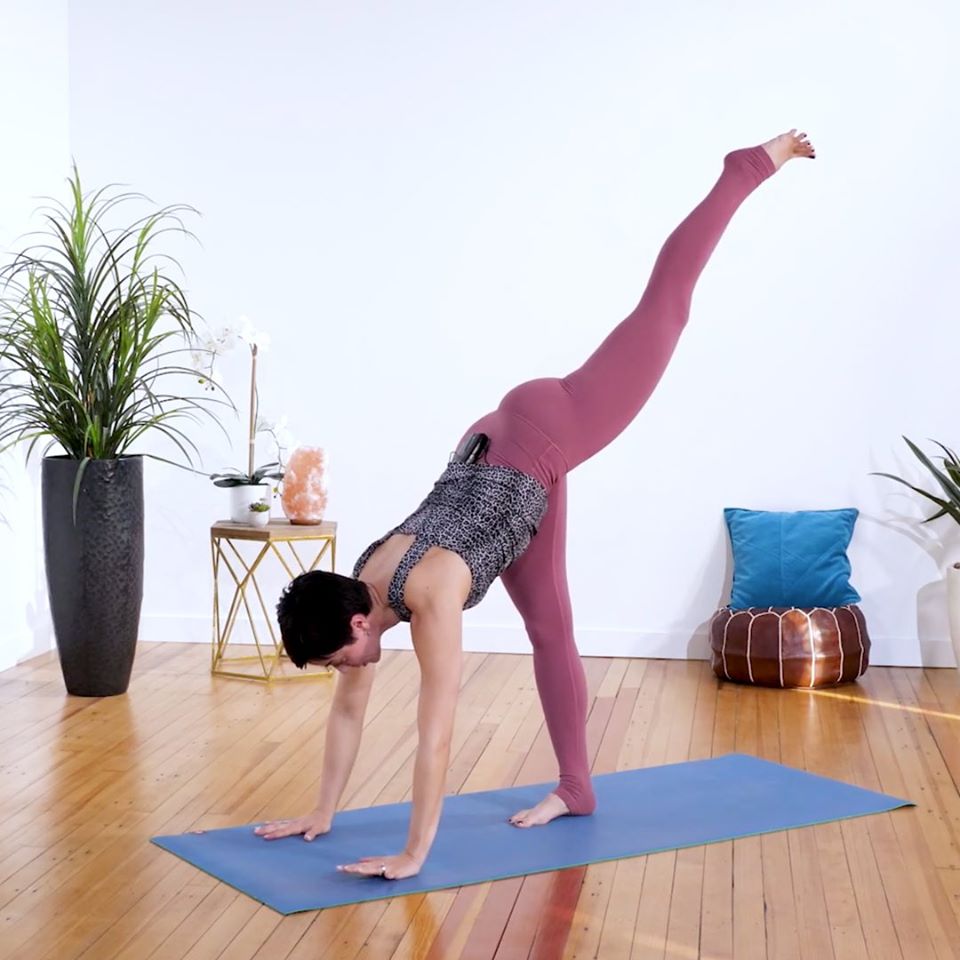 Image from: Yoga International
Why we love it: Yoga International provides exclusive multimedia content for yoga. Learn more about yoga and meditation with the help of experts even when you're in the comfort of your home! You can connect and study with over 500 teachers across yoga therapy, anatomy, meditation, and more. Practice by choosing from their library of classes, courses, and articles that can help you deepen your knowledge and help you stay inspired. With new contents daily, you'll master the art of yoga and be a yogi in no time!
Deal: Get 30 days FREE trial! Deal applies automatically, just visit and subscribe.
---
Image from: Yoga International
Super Kids Yoga Box is designed for children ages 3-10. Each kit includes 8 playful yoga, mindfulness and gratitude activities, a yoga game, a mystery toy, calendar and a book. Every other month has a special theme and weekly LIVE yoga classes to keep your little Yogi excited. Not sure? Try our MINI MAILER! Comes with one free class to try out.
---
That's your list for the best subscription boxes for Yoga! Which is your favorite?
Can't get enough of subscription boxes? Visit our complete list of the best subscription boxes in every category!
Say Hello to more subscription boxes for a Fit & Active Lifestyle!