Move over, reds and whites—rosé is stealing the spotlight and captivating taste buds with its alluring pink hues! This versatile wine has earned its place as a crowd-pleaser, effortlessly complementing a wide range of flavors. It strikes a delicate balance, neither too bold nor too light, making it the perfect companion for any occasion. If you're seeking a convenient and cost-effective way to stock your cellar with an assortment of delightful rosé wine bottles, look no further than joining a wine club.
Indulge in the delightful allure of rosé wine all year round, regardless of the season! These remarkable wine clubs bring the vibrant essence of rosé straight to your doorstep, ensuring you can enjoy its bright and invigorating flavors any time you please. Whether you're basking in the warm embrace of summer or seeking a refreshing escape during the colder months, these wine clubs have curated an exceptional collection of rosé wines that are sure to satisfy your palate.
Discover a handpicked selection of the best rosé wine clubs below, each offering a curated collection of exceptional rosé wines that will elevate your sipping experience to new heights. Explore these clubs and embark on a journey of pure rosé bliss!
The Best Rosé Wine Clubs & Subscriptions for Rosé Wine Lovers!
Image from: The Original and Only Wine of the Month Club
What You Get: With a large array of wines, The Original and Only Wine of the Month Club features a great collection of different kinds of local, international, sparkling, champagne, rosé, vintage, collectible, and rare wines made by famous winemakers from all over the world that you can enjoy in the convenience of your home! If you love rosé and can't get enough with its delicate taste, this club will definitely cut the chase! Join the Rosé Series Membership and receive two bottles each month, every other month, or quarterly – your choice! You don't have to ride an airplane to get a taste of the best rosé wines, from the home of the most popular rosé – Provence, Italy to other regions with their own versions of this balanced wine. It's quality wine delivered straight to your doorstep!
Deals:
Receive a FREE wine accessory with the purchase of ANY Gift Membership. Use this link to get the deal.
Receive a FREE Gift with the purchase of ANY Wine Club Membership. Use this link to get the deal.
---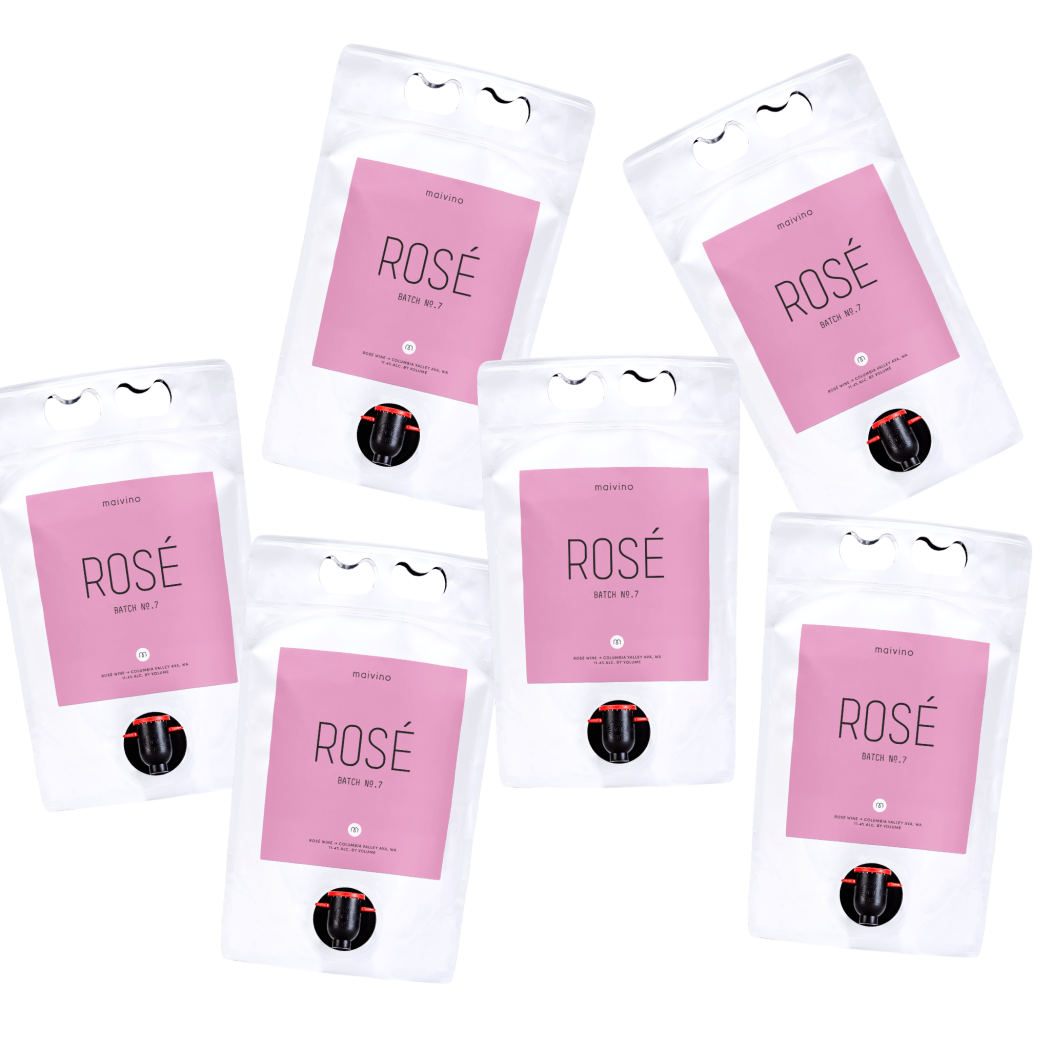 Image from: Mai Vino
What You Get: Mai Vino makes wine a little more unique by sending it in pouches. It's not the traditional wines in bottles, but in pouches and with a spout, so you can easily fill your glass with your favorite rosé! These pouches are made to keep your wines fresh for a whole month, even after your first glass. You can choose to get a single pouch, two, four, or six every month, every other month, or every quarter – it's all up to you! They also offer Pinot Noir if you love red, Sauv Blanc if you're more fond of white, or taste them all in the Sampler Pack. Each bag or pouch holds 2 x 750 ml bottles of vegan wine. Don't believe it? Well, you'll do when you see it! As a subscriber, you'll hear the first dibs on wine releases and save 10% on every order.
Deal: Get your first month for just $35! Use coupon code FIRST35.
---
Image from: Splash Wines The Rosé Sampler
What You Get: You know it's summer when you see rosé wine bottles flying out of shelves. With Splash Wines The Rosé Sampler, you don't have to race out to your local store to have a bottle of rosé. This three-generation convenient wine service delivers excellent wines straight to your doorstep. Receive 4 bottles of wine in your chosen delivery frequency all summer long. Whether you want it delivered every week, every two weeks, or every 4 weeks, you'll be delighted with this pink crisp wine! You also have the option to shop curated cases or build your own case of 15, bottle by bottle. Cause why not? You deserve a good wine at a fair price!
---
Image from: Pour More
What You Get: Pour More is for the adventurer and curious drinker who wants to explore the vast world of spirits. This subscription service has 8 clubs for you to choose from to get your knowledge and taste buds running with different liquors, and that includes one of the most-sought favorites – rosé! Get a full 750 ml bottle of this lovely pink drink every month or every other month, your choice! Each shipment also comes with a tasting note, which holds the story of the bottle you've received. It's like getting a surprise on a regular basis! And if you'd like to gift this subscription, you can do so, and they'll include a personalized note from you for the recipient to receive.
---
Image from: Dry Farm Wines
What You Get: With Dry Farm Wines, you'll get an incredible experience in wines. Their wine offerings are lab-tested to ensure they contain less than 1g/L of sugar, low in sulfites, and lower in alcohol. They curate high-quality natural wines from small family farms so you can have a taste of pure artisan wines with no additives comfortably in your home each month. Experience a subtle taste of pink with 3 or 6 bottles – 2 of each kind, on your desired delivery frequency (monthly, bi-monthly, quarterly) from The Rosé Membership. They select bottles from different countries, grapes, producers, and styles to expand your palate. Just wait for it to come knocking at your door, pop a bottle, pour and enjoy!
Deal: Get a bottle for just 1¢ with your first Dry Farm Wines club box! Deal applies automatically, just visit and subscribe.
---
Image from: PlumpJack Rose of the Month Club
What You Get: When speaking of wine and spirits, PlumpJack is one trusted subscription. It gives you access to their favorite drinks from the freshest producers every month. They provide a meaningful wine experience and make every second count as they deliver bottles straight to your door. Subscribe to Rosé of the Month Club and receive 2 bottles of your favorite rosé per shipment. Your pink bottles are then coupled with tasting notes and food pairing recommendations for a whole wonderful experience! They also have other clubs for wine drinkers of any kind. Choose which club suits your taste and enjoy!
---
And that finalizes the list of the best rosé wine clubs!
Dive into our list of all the best subscription boxes in every category and see more must-try subscriptions!