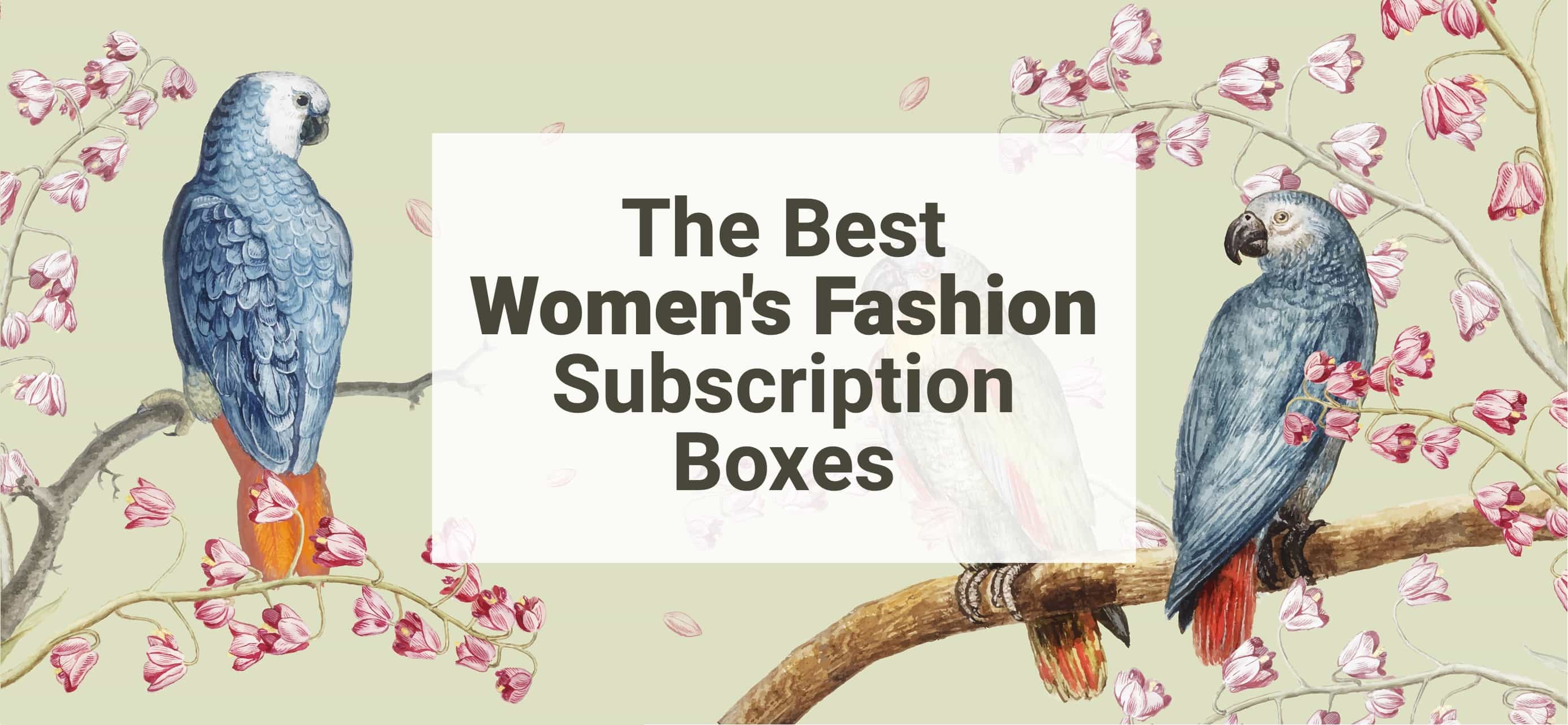 Fashion and style subscription boxes are your best bet if you want to be your most trendy self! These boxes cater to different lifestyles, preferences, and needs — from girl boss' daily office wear to the an athlete's workout attire to the college woman's casual outfits, and more!
If you're looking for a new subscription box for yourself or for the woman in your life who loves/needs to dress up, you've come to the right place. We've narrowed the list down to 17 of the best fashion and style subscriptions for women, through the help of our readers! You can also discover more in our complete women's fashion & style subscription box list! 
The Best Subscriptions Our Readers Pick for Clothing and Style!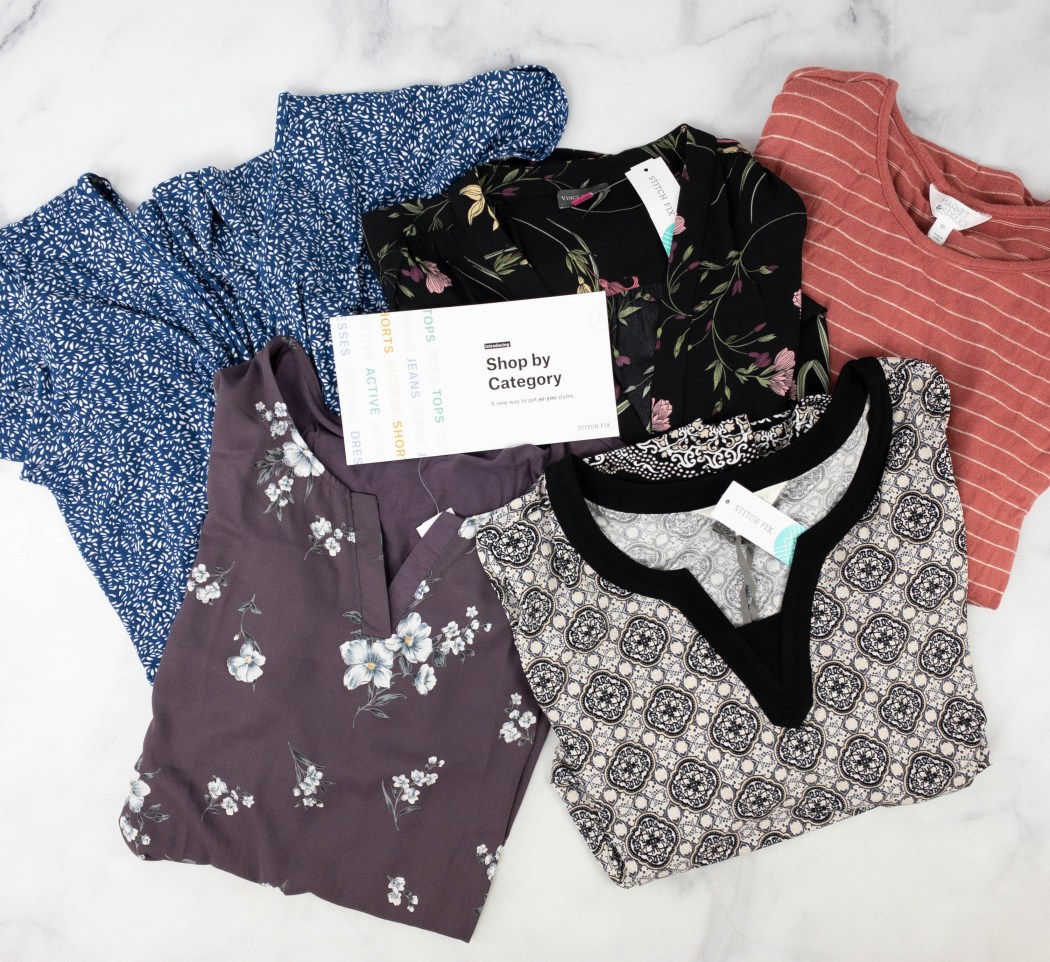 Image from: our review
Stitch Fix is amazing with the variety we get to try and select what we keep. – michelle03509

Each item was perfect – fit, colors, style! – Krissy

I've loved every item I'm ever gotten in a Stitch Fix box…. It's clear that the stylists really do pay attention to the style quizzes and fit information. – EricaM

I love the app, you can shop your looks and repurchase items in other colors as well. Your personal stylist puts together items you may not otherwise have picked and usually I find a few pieces I like. – Marcy

Wonderful idea for those who don't have too much time or simply don't like to go out shopping. Very convenient during the pandemic.

I love the clothes my styles picks out and love that I can make notes to my styles if I'm looking for special pieces. I've been a subscriber for 1 ½ years and receive a box every 3 months. -Tabitha

Their clothes are great quality and the pants fit sooooo well! Holy crap I didn't think that I'd be able to have pants that fit my shape this well without getting them tailored!

Took me out of my comfort zone, had me try things I would never buy on my own. My stylest listened to me as far as what I didn't want. 🥰 -Elisa
What You Get: Stitch Fix is like having a personal stylist, except that you don't have to leave the house and you just wait for your new clothes to arrive in a box! They send up to five clothing items just for you, based on the style profile (including the style, budget, and other specifics) you fill out upon signing up. You can either work with one of their expert stylists to have items selected for you, or you can browse through your personalized store, Stitch Fix Freestyle. From athleisure to casual to workwear, they include the best brands to suit different tastes!
Check out Stitch Fix Reviews to know more about the subscription!
LOVE the clothes and the stylist hit it on the mark every time. – Jazzinsusan
Such fantastic clothing with an amazing size and style selection. I have never had clothes picked out for me before and they know my taste better than i do! – Jess
The personal stylists really listen to your wants and needs. Great quality and good selection! – Momma_Soccer
The quality of the clothes is astonishing and super cute!!! Unique designs and one of a kind!! The pricing is super good as well!!! – Lindsay Mary
The quality of the items sent is always great and I've found several piece I love that I would not have bought at the store. It's a great way to keep me looking current and fresh. – MeLinda C
Price: Styling fee is $20 per month. If you decide to keep everything, you save 25% on your whole fix. Returns have no additional cost.
---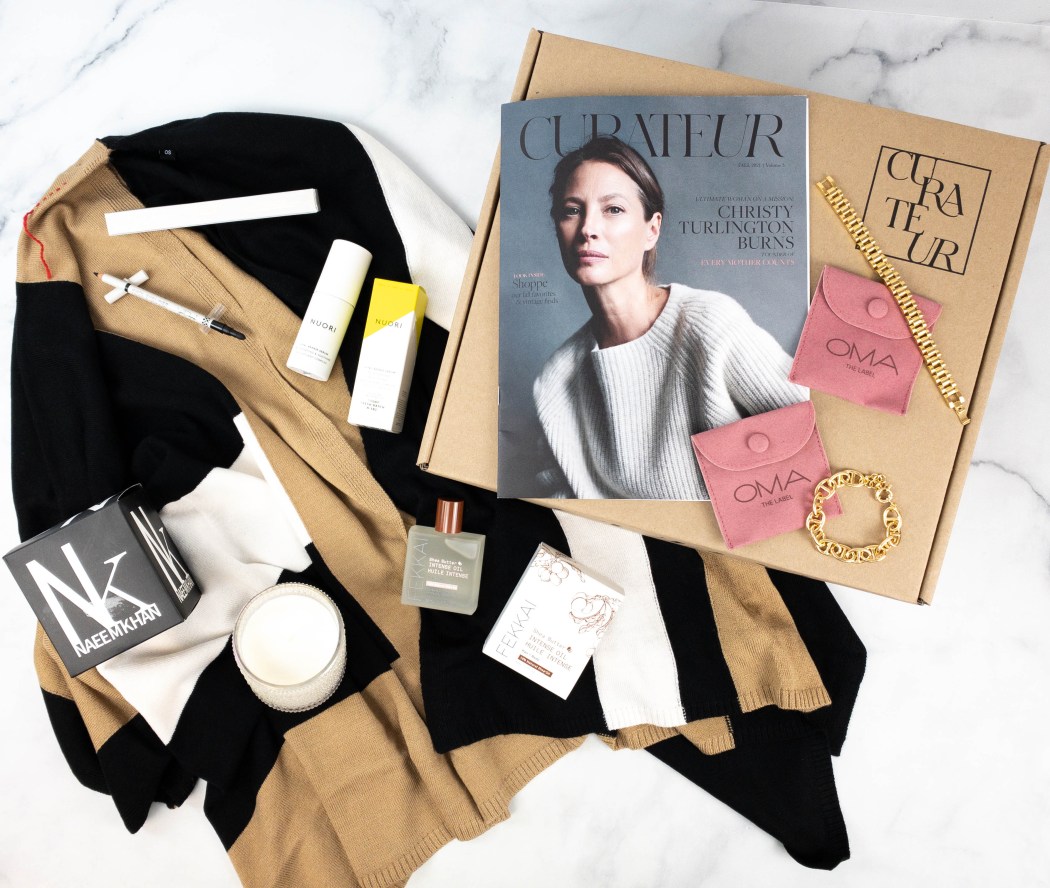 Image from: our review
If you like the Glam Hollywood almost throwback look, this is the box. Everything is very high quality and I always use everything in my box. I think it helps keep my work wardrobe chic, and the summer boxes are super fun. – Mimi P

Able to stay on top of fashion! – Lisa T

So cute and affordable! – Chelsea G

The subscriber receives top of the line items at a fraction of the price. -Beth M

Best one and a Must Have -Catbfun
What You Get: CURATEUR makes sure that you get bags, accessories, and some of the best fashionable items in this quarterly subscription box! You also get the premium styling experience in a box and can dress just like one of her clients without breaking the bank. They currently offer three types of membership: Icon (annual prepaid membership), Star (pay-per-season plan), and Shoppe Membership (access to an exclusive marketplace).
Visit the CURATEUR Reviews and see items from past boxes!
Price: The Icon annual membership is $349.99 a year and the Star seasonal membership is $99.99, billed four times a year. The Shoppe Membership is $40 per quarter.
Deal: Save 25% on your first box! Use coupon code FALL25.
---
Image from: Dia & Co
Lane Bryant never again! Dia all the way!! – Cait

Completely unique subscription service for Plus sized women. – SWhitty

Dia & Co will be my forever favorite way to shop for clothes. The quality of items is better than any other box I've used (A LOT of them) and the stylists read and implement my feedback to find pieces I love. My favorite clothes are from Dia & Co. – Ash

Love their stylish outfits and the personal shoppers nailed it almost every time! – Susan A

They are consistently having good products and most of the time listen to what I say – Alfiechat

Makes trying clothes fun  – Lrsjh
What You Get: Dia & Co is a styling subscription for plus-sized women. Their style quiz pays attention to every detail, from your shape and style, to your budget. You also get a $20 credit toward what you keep, unlimited size exchange, and 25% off when you buy everything. Some of the brands they've worked with include Rebel Wilson x Angels, Ralph Lauren, Nicole Miller New York, Girl With Curves, RWN by Rawan, Marybelle, Warp + Weft, Jessica Simpson, and Kenneth Cole!
Read Dia & Co Reviews to get more information about how it works!
Price: Styling fee is $20 per month. If you keep all items from your box, you'll receive a 25% discount. Shipping is free.
Deal: Get 30% off your first shop order! Use coupon code WELCOME30.
---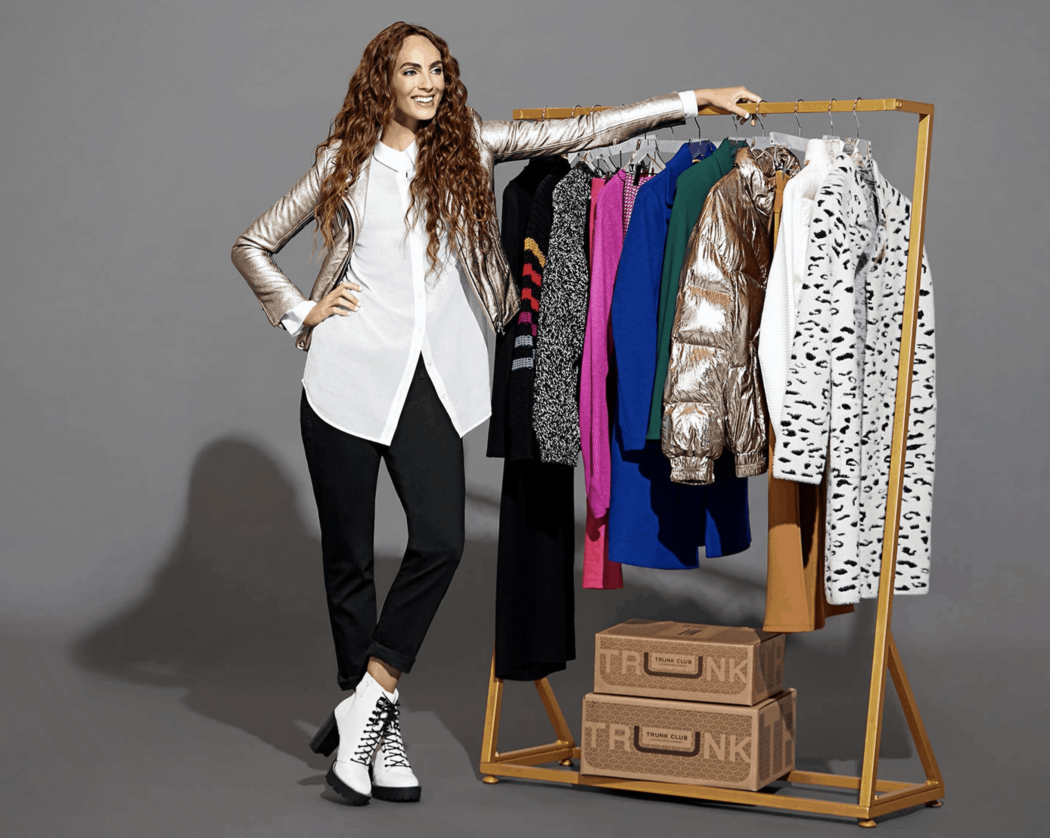 Image from: Trunk Club for Women
You really need to get the Nordy Card to get the most out of this service, because the styling fee is free. I think this is really key. What makes it my favorite is the ability to swap items before they ship, so I don't get a box of duds or stuff I Can't use. – Torus

Great options for expanding your wardrobe and finding good staples -Robin K.

I love the style and convenience of this box. Great way to keep your wardrobe on trend with minimal effort!

The stylist are very friendly and really know your style. -Lola

They give me all the latest pieces to try and are great listeners. -Bookinitwnc
What You Get: Trunk Club For Women has a style editor who will take a look at your style profile and provide clothing suggestions first before they send their personal choices for you. If you agree, the first Trunk will be sent to you and you'll have up to 5 days to decide whether to keep them or return them. You are free to request Trunks whenever you like. However, if you'd like to receive Trunks monthly, quarterly, or at any other specific interval, you can set up a Trunk Schedule or let your stylist know.
Price: Prices vary depending on the items you pick but a $25 styling fee is credited to the final purchase.
---
Image from: our review
Cute outfits! – Debbie

I love leggings so for me this is best ever! A variety each month. -Brittany M.
What You Get: With YogaClub, you get outfits that match your style, size, and favorite ways to sweat! Each package includes a 3-piece outfit from brand name clothes such as Beyond Yoga, Manduka, Splendid, Onzie, Teekie, and more. Their style quiz is pretty detailed, which even includes your height and body shape.
Check out YogaClub Reviews to learn more!
Price: Guru Membership is $79 a month. Shipping is $6.95 to USA and $9.95 to Canada, Alaska & Hawaii. They also ship to the UK, Europe, and Australia.
Deal: Get an additional FREE Legging ($92 VALUE!) with your first Seasonal Guru Box! Use coupon code FREELEGGING.
---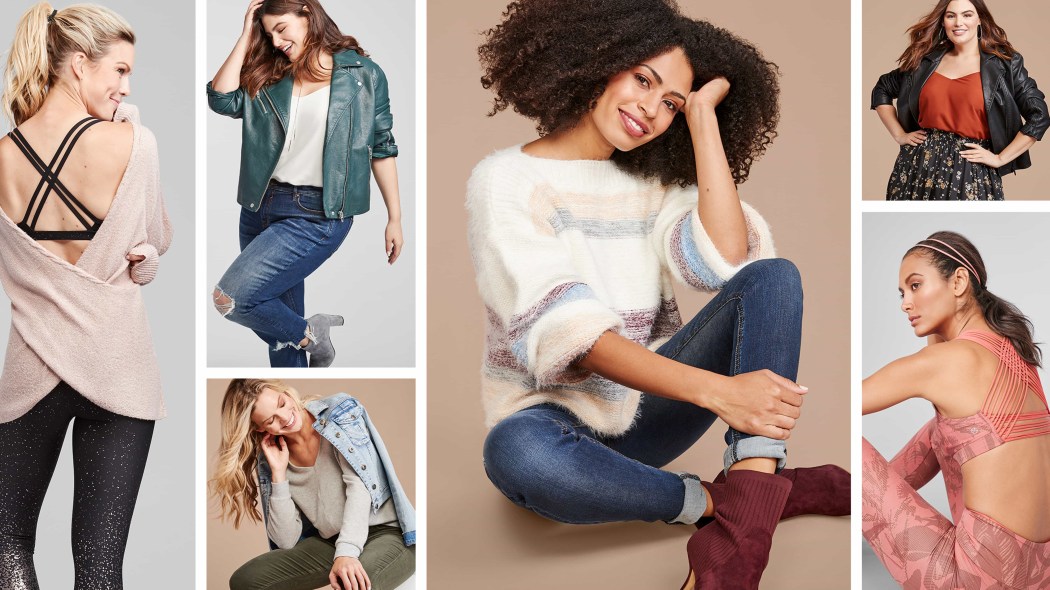 Image from: Wantable Style Edit
Affordable and Nice Fabrics. Packaging was very colorful, neat, and brochures included were easy to read. -IndigoWarrior275

Cute options, super reasonable -evrythngzen

I loved everything from Wantable but it is a tad pricey if you're on a budget. -Jourdin L

They match my style the closest -Kdy
What You Get: Wantable Style Edit allows you to find your best style with 7 clothing items in every box. You get a style editor who chooses your clothes based on your style profile. The style quiz includes questions about your size, fit, and price preferences. The clothes they offer are available in sizes XS-3X, making this subscription for everyone! You'll be able to experience clothing from premium brands including Hudson, Cupcakes & Cashmere, Kensie, Kut From the Kloth, Lyssé, Onzie, Beyond Yoga, Wear it to Heart, Rhone, and Alternative Apparel.
Price: Pay for what you keep. Styling fee is $20 per month.
---
Image from: Fabletics
At a time when lounging around at home/work in leggings is much needed, Fabletics takes the cake with its well-fabricated and thoughtfully created loungewear. Every detail has been curated to be both aesthetically fashionable yet endlessly functional. Best loungewear options for today's Girl on the Go — regardless of her size or sense of style. -CeCe

Live in these clothes -Miss Kate

This isn't party clothes, but it will help you get and stay in shape to party. These clothes make you feel like a million bucks while working out. With extras that give you ideas to get in the groove if you are having trouble getting motivated. -vodakira
What You Get: Be inspired to stay active and healthy with comfortable clothing for your workout. Fabletics is an activewear subscription that offers hundreds of on-trend designs and colors made from high-quality fabrics at an affordable price! Take their quick lifestyle quiz so you can get personalized outfit picks perfect for your workout routines. Expect the best activewear, at 20-50% off, each month directly to your door or skip a month. You can also shop individual items and coordinates at VIP prices. As a member, you'll unlock member-exclusive collections at sizes that work with all body shapes.
See more when you visit Fabletics Reviews.
Price: Membership costs $54.95 per month.
Deal: Get 2 pairs of leggings for just $24! Use this link to get the deal. Valid to new subscribers only.
---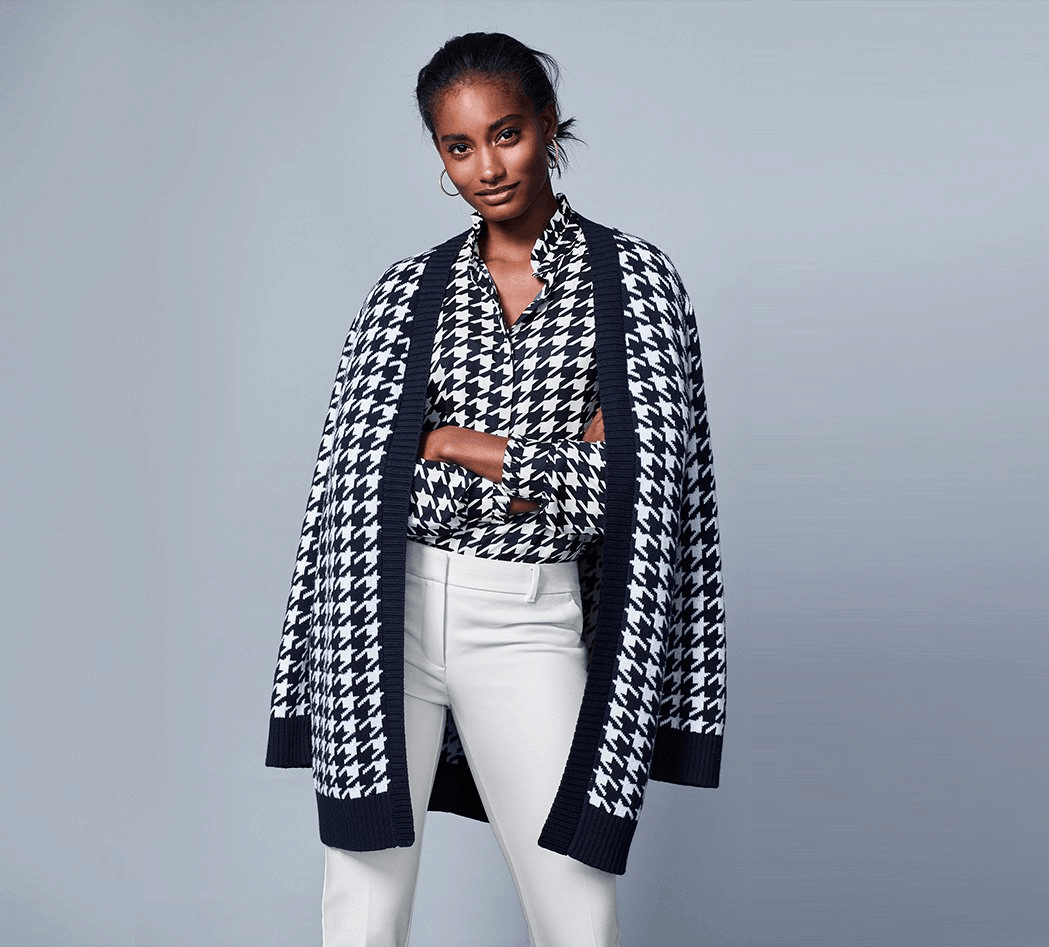 Image from: Infinite Style by Ann Taylor
What You Get: You get to enjoy endless wardrobe options from Infinite Style by Ann Taylor's unlimited clothing rental service! You can add new styles every week and expand your work lineup. You get 3 styles at a time with free shipping included and you'll get to keep every piece for as long as you want. When you're ready, you can send back your box using the pre-paid envelope.
Price: Get unlimited exchanges for $95 a month.
---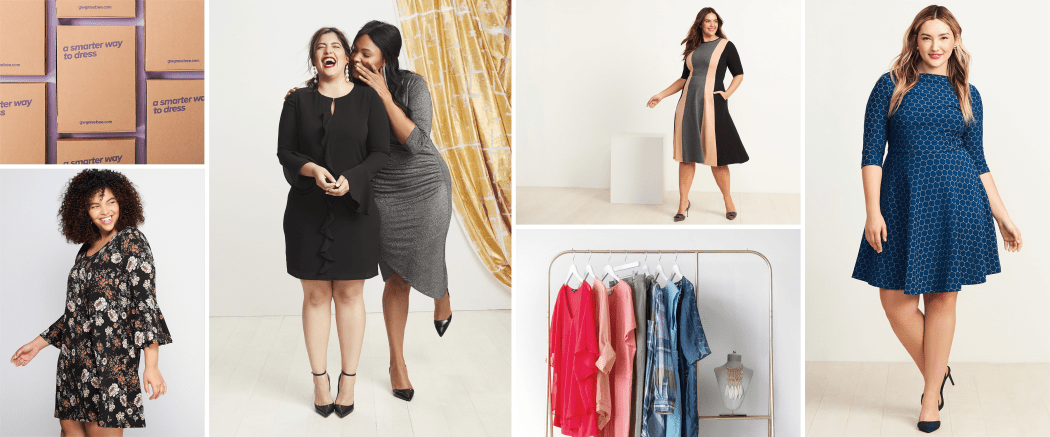 Image from: Gwynnie Bee
GB is the key part of my work wardrobe. Quality is great and much better than I would usually buy myself. I do buy the clothes when I need to keep them. – Jaime H

Yeay for them!!! Finally an all size inclusive box! Curvy girls need love too!! – Memphislisab

This box helped with my wardrobe – Karen H
What You Get: Discover and enjoy clothing options without limitations with Gwynnie Bee. They offer a wide range of outfits available in sizes 0-32. There's no limit to how many items you can add to your virtual closet, so be sure to add your favorites! You get to keep the clothes as long as you want and you will get a new set once you have returned the previous items. If you fall in love with an item and know you want to keep it, you can get a discount off the retail price! With Gwynnie Bee, you'll never have to wear the same outfit twice.
Read Gwynnie Bee Reviews to learn more.
Price: Subscriptions start at $49 per month.
Deals:
---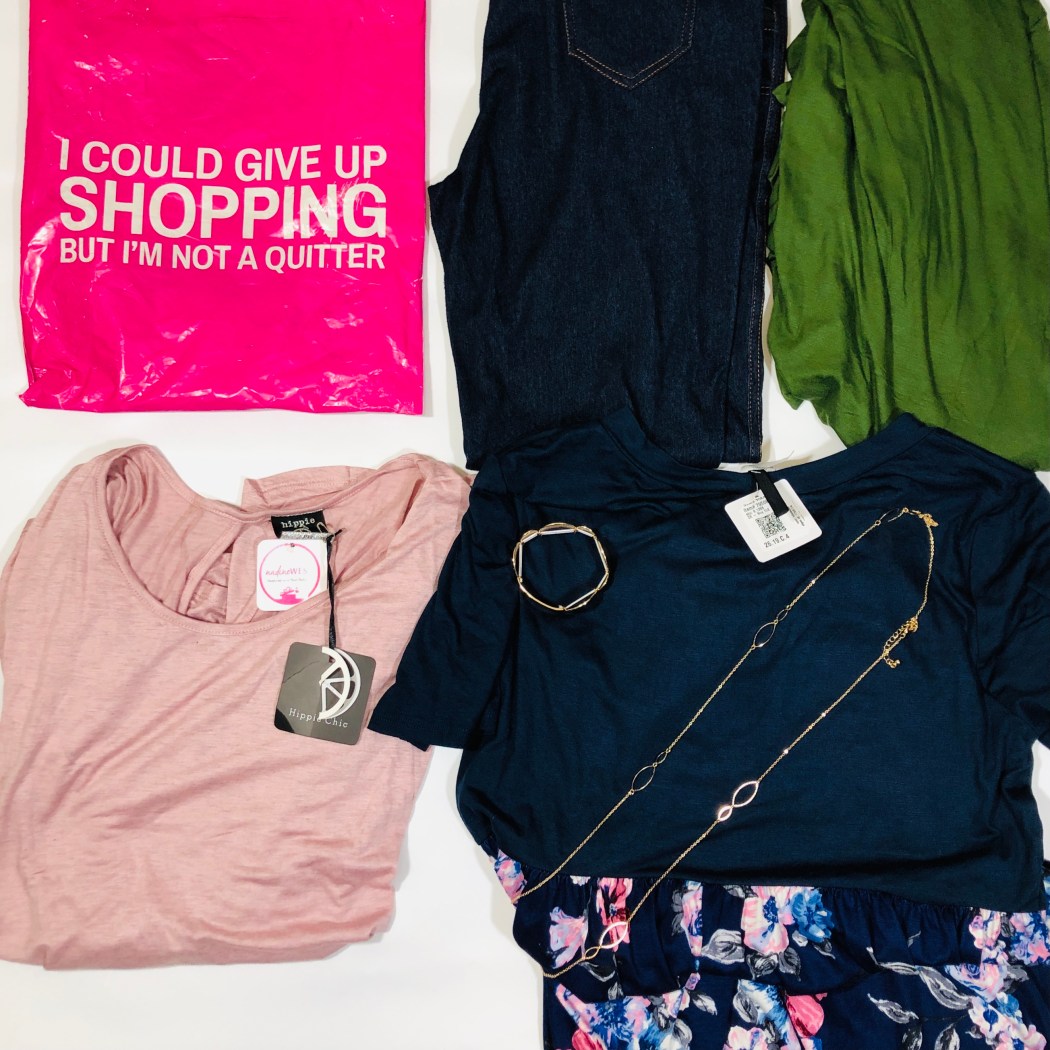 Image from: our review
Cute clothes up to 3x, reasonably priced. -kwiklip
What You Get: Enjoy unique and affordable items delivered right to your door every month with Nadine West. It's a fashion service that provides personalized items to its members. Take a quiz to let them know your preferred style, and they'll send you a custom package every month. It includes 4-6 items like tops, bottoms, dresses, a couple of jewelry pieces, and other accessories as well as seasonal items that you can try in the convenience of your home. Keep and pay only for the items you love and send back what you don't! Based on the items you intend to keep, their expert stylists learn more about your existing tastes, thus, helping you discover new styles each month! No fees, no hidden costs! It's that easy!
Visit the Nadine West Reviews so you can learn more about this subscription.
Price: No hidden fees. Only pay for what you want to keep and send the rest back.
---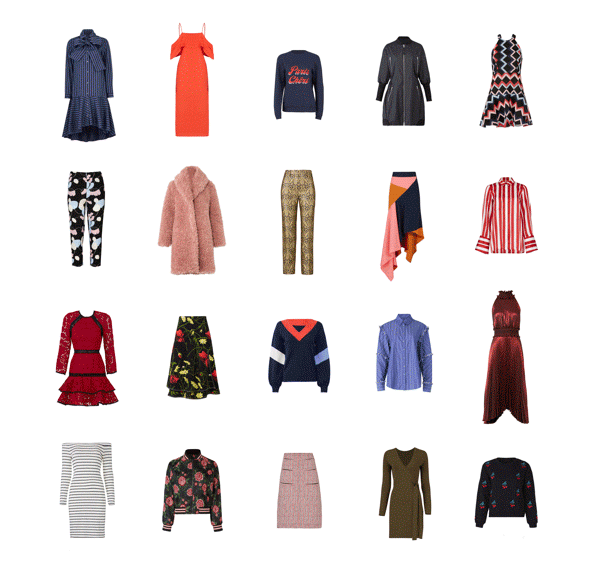 Image from: Rent the Runway Unlimited
This has been game-changing for my wardrobe! Saves me so much money and time – Janice_92
What You Get: Thousands of styles are available at Rent the Runway, that allow you to dress up like your favorite models or Hollywood A-listers! You get to rent 4 Styles On Rotation, which can be chosen from the entire selection of designer styles. You can also send a style back anytime then choose something new. They even handle the boring stuff for you, like dry cleaning the clothing!
Price: Subscriptions start at $89 per month.
Deals:
---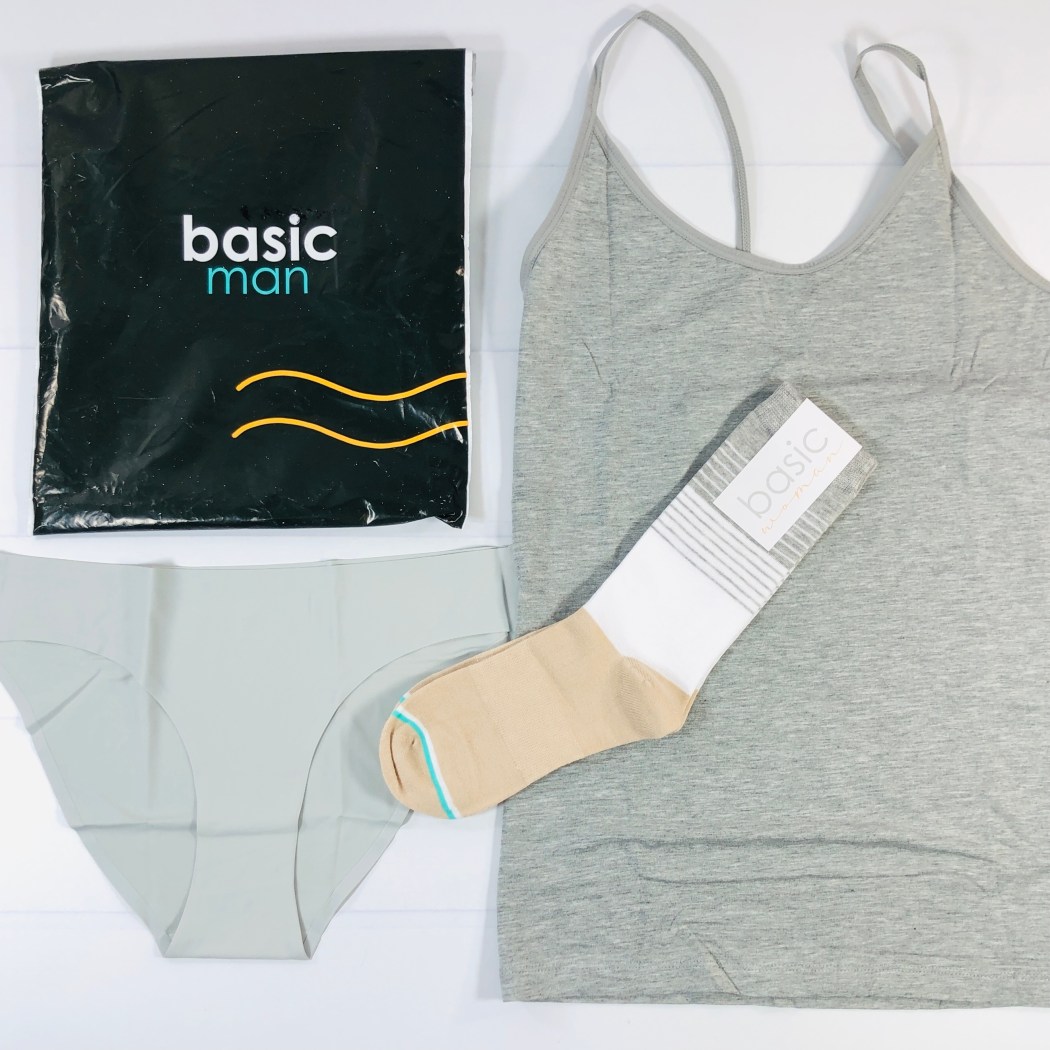 Image from: our review
What You Get: Basic WOMAN is the way to go if you're looking for everyday wearables. They'll send you a new set of premium quality basics such as t-shirts, cami tops, crop tops, socks, and bikini cut undies — these are definitely not your average department store basics. These products are environment-friendly and desirable undergarments for everyday use. All you need to do is provide them with your size, and they'll do the rest! Each item has its own expiration date, and when it does expire, they encourage everyone to repurpose old basics instead of tossing them out.
Check out what they've sent us by looking at our Basic WOMAN Reviews.
Price: The subscription is $24.99 a month but drops when prepaid an annual plan. Shipping is free to the US, $5 to Canada, and $7 worldwide.
Deal: Get 50% off your first month! Use coupon code HELLO50.
---
Image from: Nuuly
What You Get: Discover something new and surprising about yourself in the best possible way with Nuuly. This subscription wants you to get creative with what you wear on a daily basis and not just on special occasions! They let you choose six items to rent from their growing collection of clothing styles! It's totally up to you if you want to receive only dresses or a mix of tops and bottoms. They include pieces from popular labels to up-and-coming designers and everything in between. They also carry pieces from their own Anthropologie, Free People, and Urban Outfitters family of brands. Nuuly offers free shipping and returns – no hidden fees! Fell in love with a piece? Not a problem! You can always buy what you love.
Price: A Nuuly subscription costs $88 per month.
---
Image from: Haverdash
So far it's given me a lot of variety to my wardrobe without needing to buy trendier pieces. – Alisha
What You Get: Haverdash subscribers can build their own virtual closet and receive 3 pieces in every package, for one flat fee. They also have a Prioritize feature, which you can use when there is a piece from their collection that you really want or need! The shipping back and forth is free and there are unlimited rotations. No need to worry about laundering the clothes before returning, because they'll take care of that for you.
Price: A flat fee of $59 applies monthly.
Deal: Get 20% off your first month! Deal applies automatically, just visit and subscribe.
---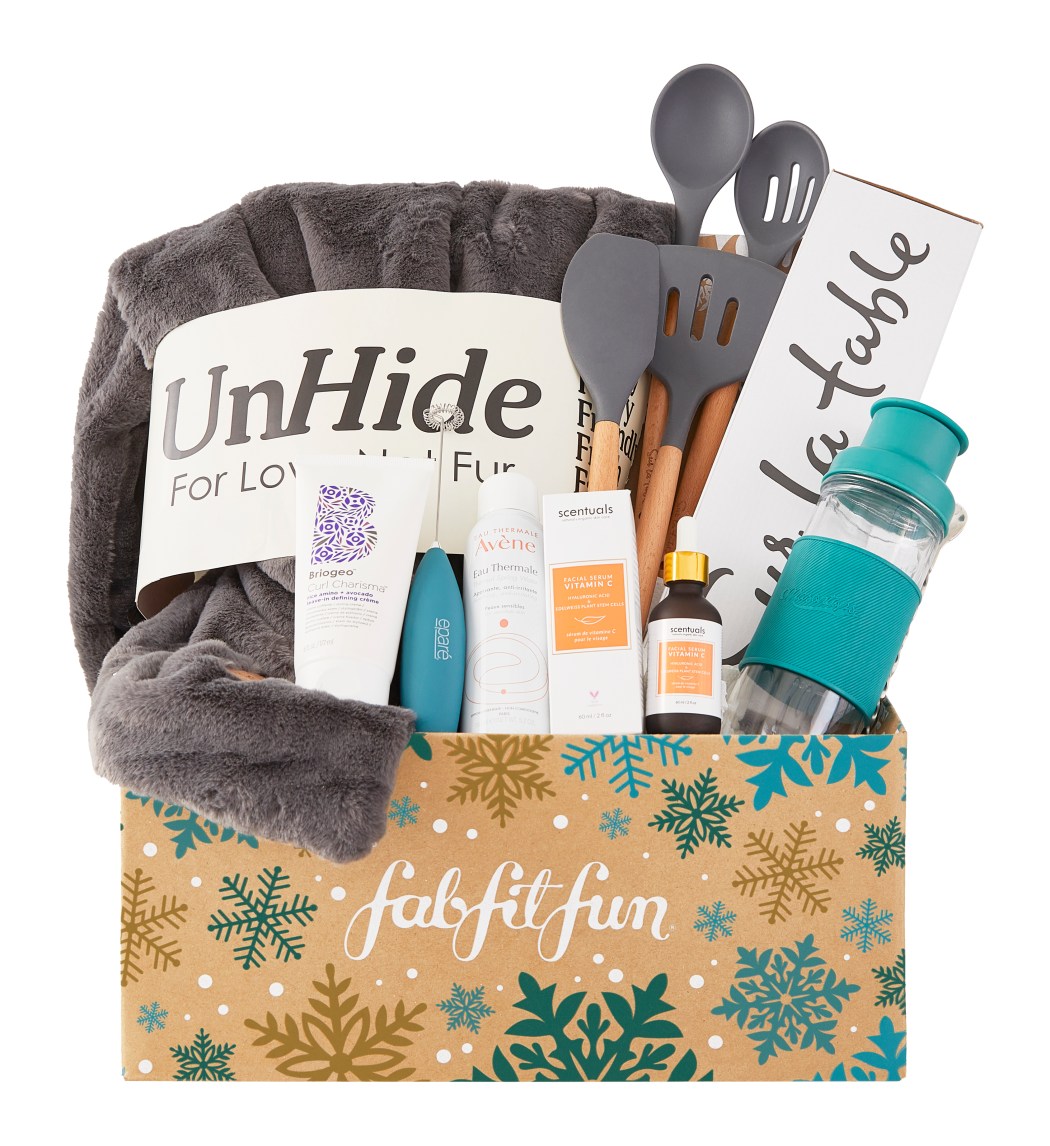 Image from: FabFitFun
I always enjoy the fun mix of beauty, fashion, tech, home and fitness. I love that I can customize as well. I always feel that I get my money's worth in this box. – Sarah

Unlike other boxes that have been around a while, FFF keeps things fresh, on trend and relevant!! – JSkibins

Love being able to curate my box based on seasonal inspiration – Krissy
What You Get: FabFitFun sends premium products straight to your doorstep four times a year! It sometimes includes fabulous clothing and accessory pieces as a choice (customize most or all of your box!), along with beauty, fitness, wellness, and home items. Members also get access to year-round flash sales with new items up to 70% off, as well as other exclusive offers.
See the FabFitFun Reviews to find out more!
Price: Subscriptions cost $49.95 per quarter.
Deal: Take $10 off your first box. Use coupon code FAB10.
---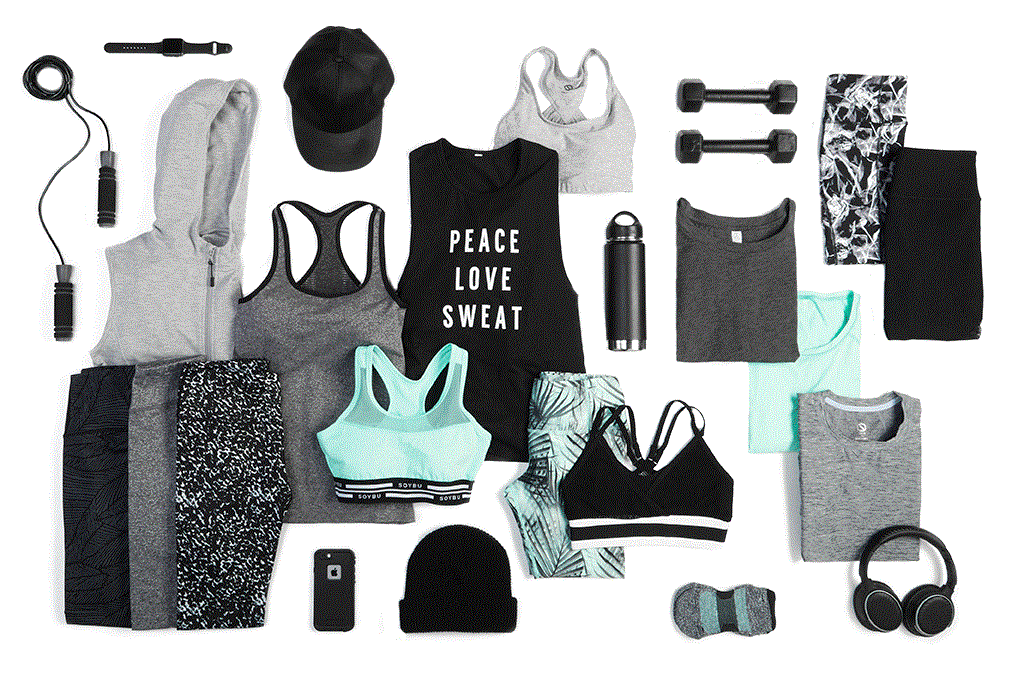 Image from: Wantable Fitness Edit
What You Get: Wantable Active Edit is a personal styling service that uses the combination of technology and stylists to handpick the perfect fitness apparel based on your budget, size, and preference. You'll get 7 styles picked out just for you! Upon signing up, you will take a style quiz, which includes questions about your color preference and your usual workout activities. If you wish to leave a specific note for your stylist, there will be a place for it at the end of the quiz. It's a great chance to let your stylist know if you have any special requests for a particular order!
Visit Wantable Active Edit Reviews to know more!
Price: Pay for what you keep. Styling fee is $20 per month.
---
Image from: Amazon Prime Wardrobe
Always works with you to get what you are interested in. Usually get to select from a large selection. Great customer service. Love the stylist. They always give me great options – Cooljule
What You Get: One way to find outfits that best suit your style is through Amazon Prime Wardrobe. They'll let you try on outfits before buying them! Whether you need styles for an everyday look or a girl's night out, you can choose your style from hundreds of clothes, shoes, jewelry, and accessories without leaving your home. Tell them about your style profile, and a personal stylist will take care of the rest. Choose 8 pieces and try it all at home for 7 days. Keep the ones you love and return the ones you don't!
Price: You have 7 days to try everything in the box. Pay only for what you keep. Returns are free as well.
---
That's your list for the 2022 Best Subscription Box Awards winners for women's fashion! Which is your favorite?
See more readers' choices for all the best subscription boxes in every category!
Say Hello to More Women's Fashion Subscriptions!
Find more clothing fashion boxes in these lists: