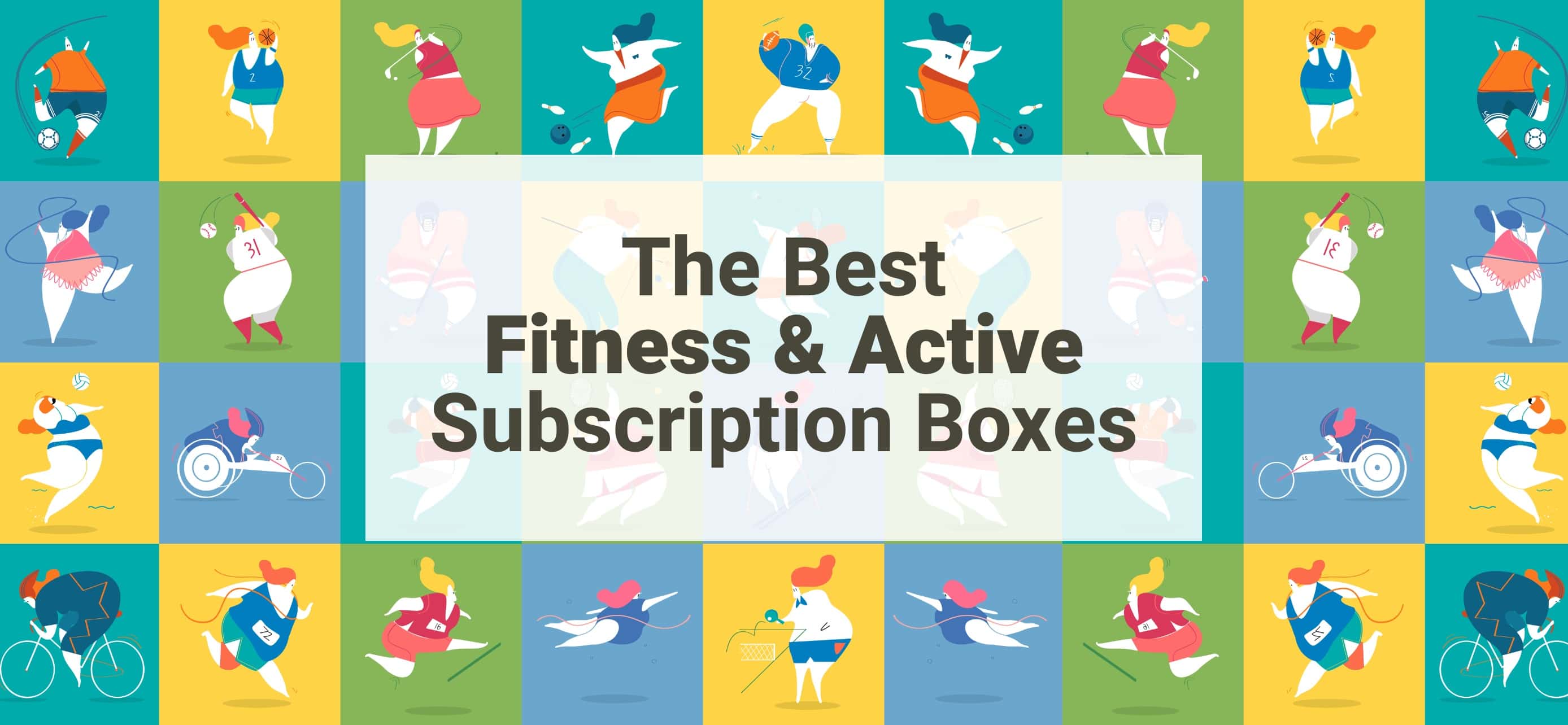 It's never too late to start an active lifestyle! If your goal for 2020 is to have a healthy and fit body, there are lots of subscriptions that can help you in your journey. Some of these fitness & active boxes provide nutritious food, snacks, vitamins, and supplements, while others have exercise guides and workout apparel. There are even subscriptions that send fitness gadgets and tools to make the experience more fun and easy!
Our readers choose what they think fits to be included in the best fitness & active subscription boxes. Here is a list of our readers' choices for this year!
The Top Fitness and Active Subscription Boxes As Voted By Our Readers!
Image from: Fabletics
Best workout clothing ever. Sarah

I love Fabletics. The quality is second to none. Great customer service! – Brenda H

I've loved every item I'm ever gotten from Fabletics! Their clothing makes me feel cute and secure, both while working out or wearing around town. – EricaM
What You Get: Fabletics is an athletic wear subscription where subscribers get to pick from a variety of outfits and even order individual items at VIP prices. Each month, receive activewear like bottoms, tops, sports bra, outerwear, shoes, accessories, and more, so you can start kicking your workout routine!
Check out the Fabletics Reviews to see more.
Price: VIP membership is $49.95 per month.
Deal: Get 2 pairs of leggings for just $24! Use this link to get the deal. Valid to new subscribers only.
---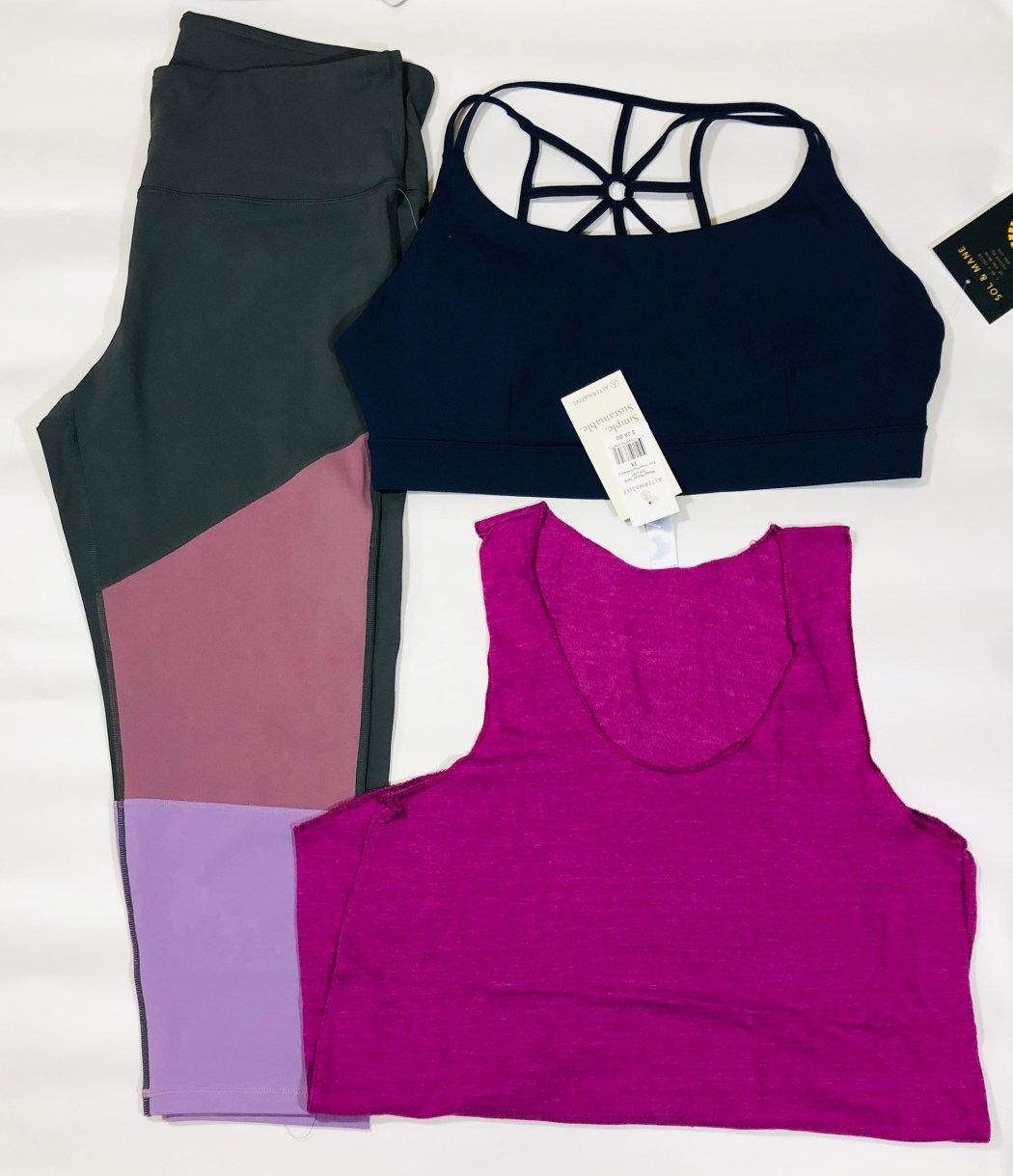 Image from: our review
Cute outfits! – Debbie
What You Get: With YogaClub, you get outfits that match your style, size, and favorite ways to sweat! Each package includes a 3-piece outfit from brand name clothes such as Beyond Yoga, Manduka, Splendid, Onzie, Teekie, and more. Their style quiz is pretty detailed, which even includes your height and body shape so that you'll get that comfy wear that's perfect for you!
Check out YogaClub Reviews to learn more!
Price: Guru Membership is $79 a month. Shipping is $6.95 to USA and $9.95 to Canada, Alaska & Hawaii. They also ship to the UK, Europe, and Australia.
Deal: Get an additional FREE Legging ($92 VALUE!) with your first Seasonal Guru Box! Use coupon code FREELEGGING.
---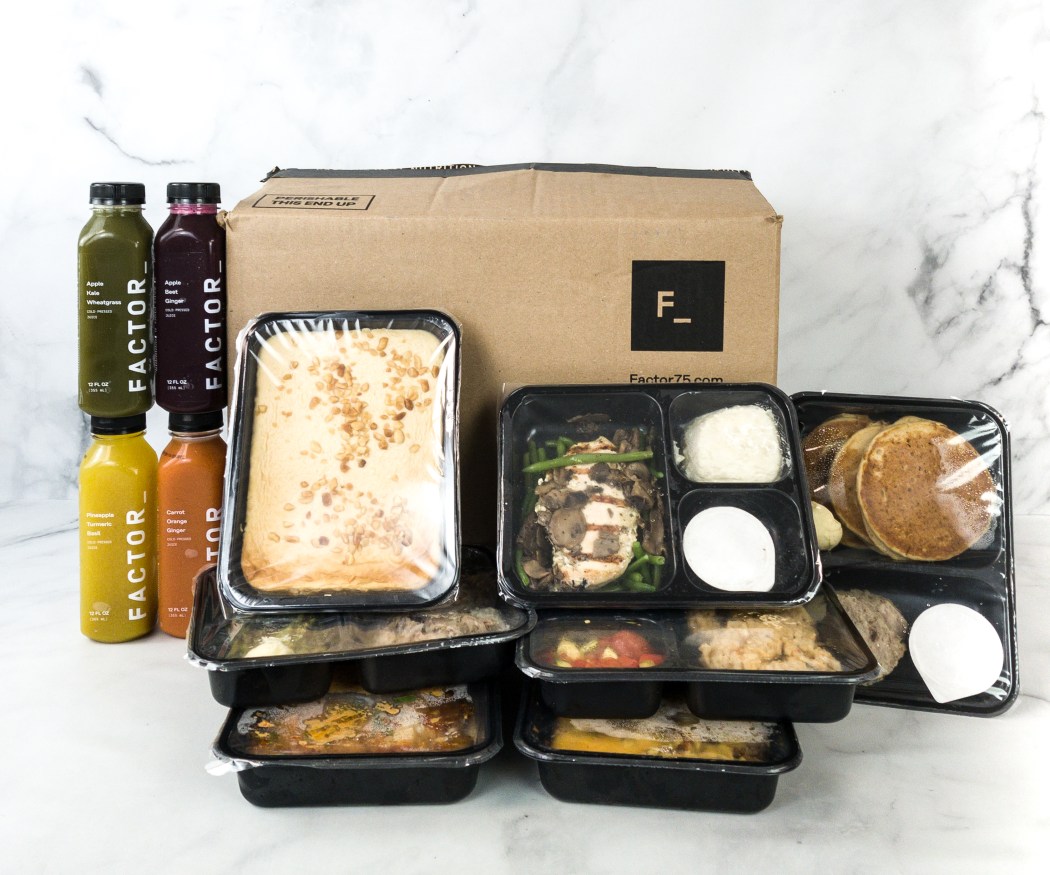 Image from: our review
What You Get: Factor_ is a food subscription that delivers fresh and nutritious, expertly-developed meals straight to your door. Each box includes well-prepared meals made from carefully sourced ingredients – containing no hormones, antibiotics, GMO's, or any additives. The subscription combines nutrition science and culinary excellence to make dishes that taste amazing, and at the same time, supplies the body and mind the nutrients needed to perform at their peak!
See more on our Factor_ Reviews!
Price: Meal plan starts at $60 per week.
Deals:
---
Image from: Dia Active
What You Get: From Dia&Co comes this new subscription that offers premium activewear catered specifically to your fit, budget, and activity preferences, Dia Active. Whether you're training for a marathon, picking up your kids, or going out to buy groceries, this subscription gives you something to wear comfortably for that very active lifestyle!
Price: There's a $20 styling fee, and you only pay for what you choose to keep.
Deal: Get 30% off your first order! Use coupon code WELCOME30.
---
Image from: Hikewize
Love the quality of the items and the number of items that you get. When comparing boxes, Hikewize had the best bang for the buck and really offered hiking needs that suited me best. I didn't want just cheap snacks or small items – I wanted high quality items to get my started on my hiking journey and Hikewize delivered! My first box came with a hiking journal, recipe book, trail sunglasses, a filtration straw (Life Straw), blow up cushion, camping soap and more. I felt that the items I received were worth more than I paid and that's what I love about this subscription box! – Niki

They have great boxes! Nice knickknacks and great "Big one" item. We camp and hike a lot and their boxes are great! Also, AMAZING customer service! – Juanzo84

This box always delivers, with an assortment of items perfect for outdoorsy people! Whether you're hiking, camping, or exploring a local park, Hikewize has you covered. Items in previous boxes include beanies, headlamps, biodegradable wipes, mess kits, hiking socks, and much more. As a bonus, they include a written guide to some of the items and to some awesome places to visit as an inspiration to adventure! – Tori F
What You Get: Explore the mountains with no worries. Hikewize helps you gear up for your next adventure as they'll send a box full of useful items to maximize your hiking experience. To get started, you have to create a profile and provide them information such as shoe and shirt size, level of outdoor experience, last adventure, and food allergies to help them curate a box with hiking essentials tailored to your preferences. Each quarter, you'll receive 5-7 full-size items along with general trail tips and advice on National Parks. Such items include apparel, hydration gear, snacks, and more.
Price: A box costs $55 per quarter and $200 for an annual plan.
---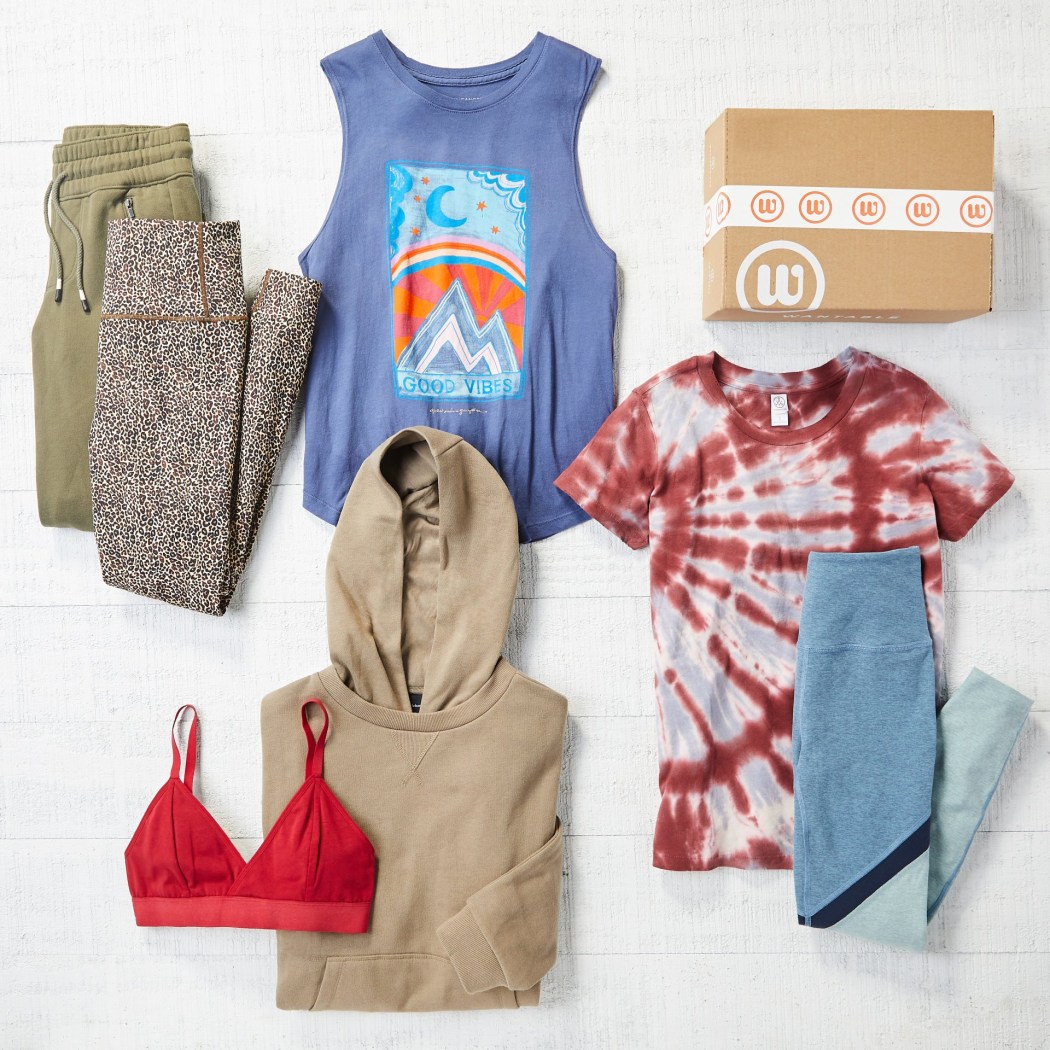 Image from: Wantable Fitness Edit
What You Get: With Wantable's Active Edit, you'll get 5 pieces selected by a personal stylist based on your style quiz. It also allows you to try your items before you decide to purchase them. They only send items that meet your style, size, and consider your budget, too! If you keep five or more pieces, you can save up to 20% on your box!
Check out the Wantable Active Edit Reviews and learn more!
Price: The box applies a $20 styling fee that is credited to anything you purchase from your Edit. Get 5 or more pieces from your box and you'll save 20% off your box total!
---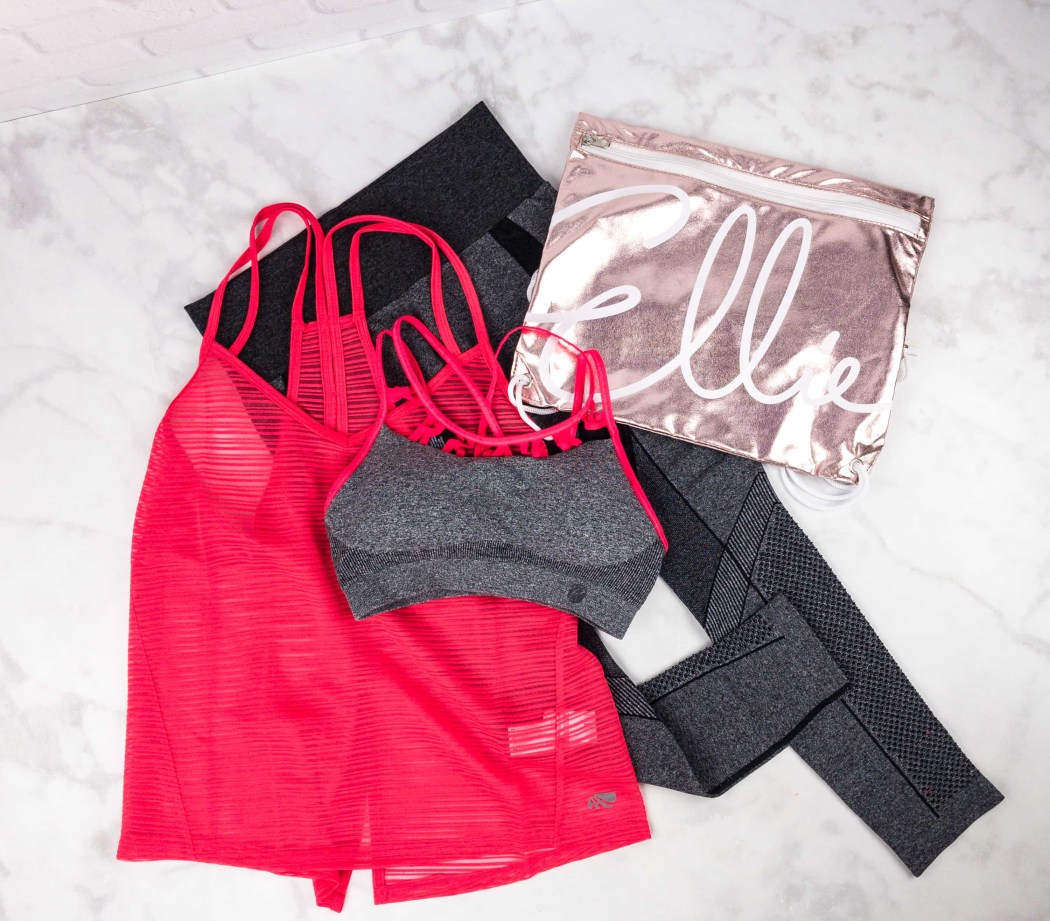 Image from: our review
What You Get: Get your athletic and workout wear with Ellie! Every month, you'll receive a curated selection of three athletic fashion items and two pieces of equipment/accessory. Also, Ellie introduces an apparel-only subscription that contains only three pieces of apparel.
Check out the past boxes by visiting the Ellie Reviews.
Price: Subscription starts at $39.95 a month. Prepay for 3 months and save 50% off your first box!
Deal: Get 25% off your first month subscription! Use coupon code HELLOSUB25.
---
Image from: our review
Great quality clothing, tasty snacks, useful items & a nice way to try different workouts – Donna
What You Get: Miss Muscle Box is made for active women! Each month, you will receive new apparel such as shirts, leggings, shorts, sports bra, and more, gym equipment, healthy snacks, and other goodies that will contribute to keeping you fit and motivated at the gym. Also, you'll get a monthly workout to add some variety to your gym session. You can also get a box for men, which is the MuscleBox and the Protein Box that focuses on proteins entirely!
See the Miss Muscle Box Reviews and learn more!
Price: The subscription costs $22.99 per month.
Deal: Get $10 off your first box! Use coupon code HS10.
---
Image from: obé
What You Get: With obé, you can find the right mix for your daily routine! Stay true and loyal to your workout with 5 classes per week. You'll find a program that can support you in your healthy lifestyle, whatever level you may be. Classes are designed by certified instructors who provide expert instruction, motivation and live feedback. If you can't catch a live class, you can pre-download and store up to 7 classes to your app to help you sweat out anytime, anywhere. All you have to do is turn on your Apple TV, Roku, Fire TV, or Chromecast, then watch, and move along with the best instructors!
Price: Subscribtion costs $27 per month, and lowers down the longer you subscribe.
---
Image from: our review
What You Get: Fun and healthy snacking is what you get from FitSnack! To ensure that the box contents are high quality, they look to it that each product fits two or more of the following: GMO-free, high in protein, low in sugar, gluten-free, organic, raw, vegan, and all-natural. Also, you can get bonus items such as energy boosters, nutritional supplements, and refreshing drinks, which is really amazing!
Read the FitSnack Reviews for more details!
Price: The subscription costs $29.90 each month. Save up to 16% when you choose the prepaid plan options!
Deal: Save $3 on your first box! Deal applies automatically, just visit and subscribe.
---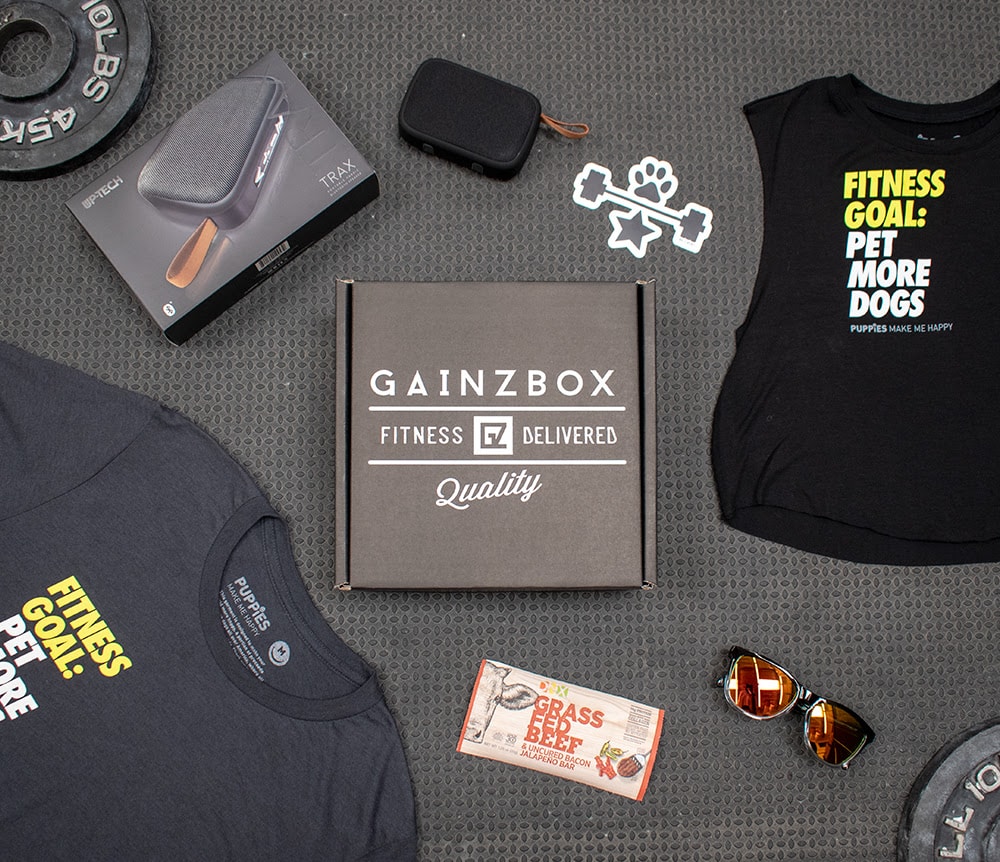 Image from: Gain[z] Box
What You Get: Stay fit and healthy with the help of Gain[z] Box! The subscription introduces you to the best brands for your CrossFit lifestyle. You can get apparel, mobility, snacks, supplements, and more, from this box that is delivered to your door each season!
Price: The subscription costs $99 per quarter, plus $7 shipping. Get savings when you prepay for 3 months!
Deals:
---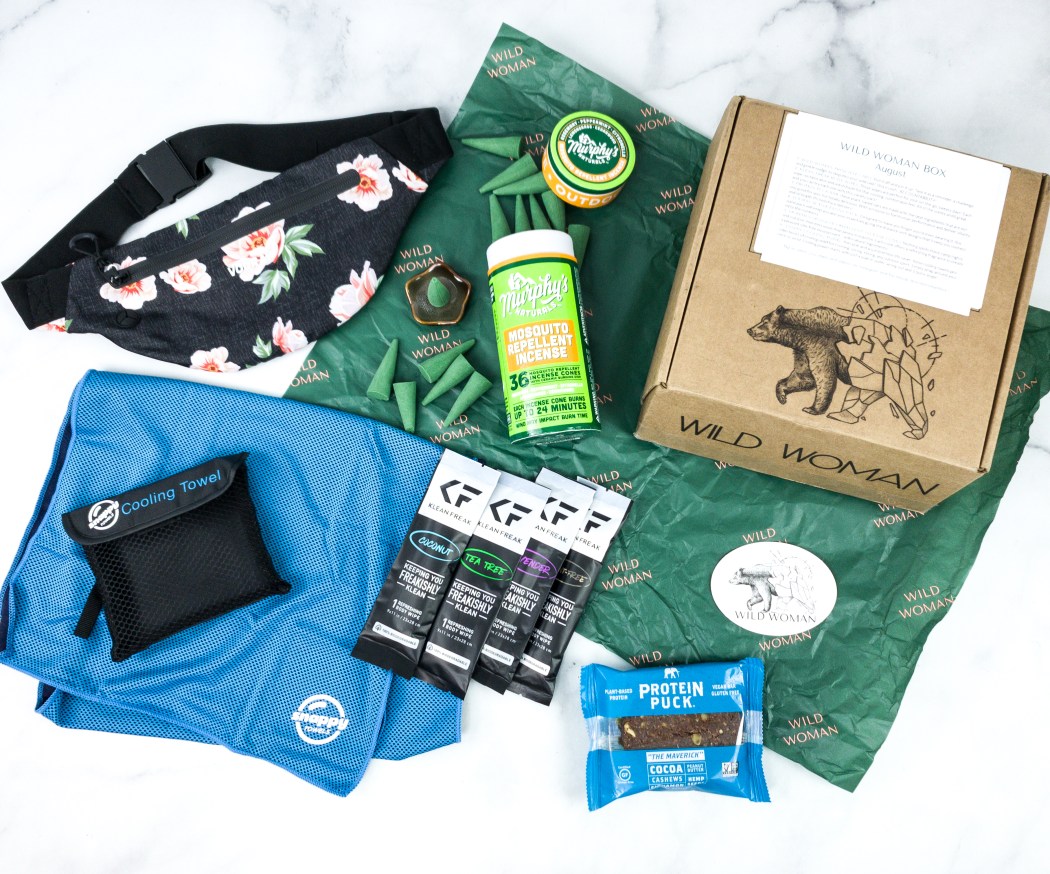 Image from: our review
The items in this box are always useful for getting outdoors and enjoying your time there. – Lori
What You Get: Wild Woman Box provides the best support for active women as they explore the outdoors. Each month, they'll send a box filled to the brim with practical and useful goodies to get you prepared and stay inspired for your next journey. It contains high-quality gear, snacks, and natural body products to take care of your active body, along with inspirational items and handcrafted Wild Woman exclusives. Lay your hand on the box and fuel the adventurous spirit inside you!
See past box contents on Wild Woman Box Reviews.
Price: The box costs $37.95 each month, and you can also opt for a 3-month prepay for $108 ($36 per month).
Deal: Get 10% off your first box! Use coupon code hello.
---
Image from: clean.fit box
What You Get: Clean.fit box will help you discover healthy, 100% natural, and delicious fitness snacks, proteins, and supplements every month. All products that come from this box meet a high-quality standard, and there's no junk! You only get good, clean.fit foods as they believe that clean eating supports both fitness gains and long-term wellness, which will definitely lead you to feeling and looking great!
See our Clean.fit box reviews and find out more about this subscription!
Price: You can get the Regular size box for $40 per month and the Super Snacker size for $65 per month. Get discounts when you prepay for more months!
Deal: Get 10% off on your first box! Use coupon code HELLO10.
---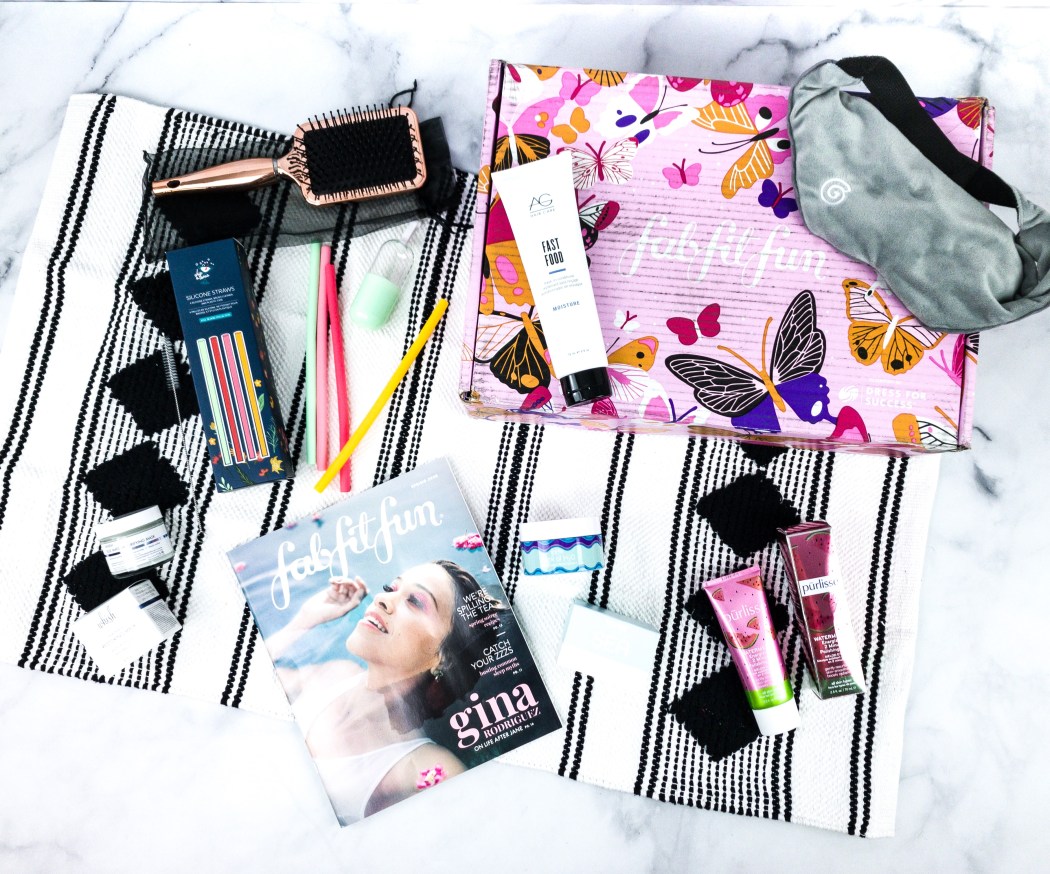 Image from: our review
I always enjoy the fun mix of beauty, fashion, tech, home and fitness. I love that I can customize as well. I always feel that I get my money's worth in this box. – Sarah
What You Get: Shipping once every season, FabFitFun boxes are always jampacked with high-value goodies from top brands! This includes fitness products along with beauty, makeup, fashion, and lifestyle items. Each shipment also includes a large-format mini-magazine. What makes it more exciting is that subscribers have the freedom to choose from several product variations and get the products that they really want!
Check out FabFitFun Reviews to know more.
Deal: Take $10 off your first box. Use coupon code FAB10.
---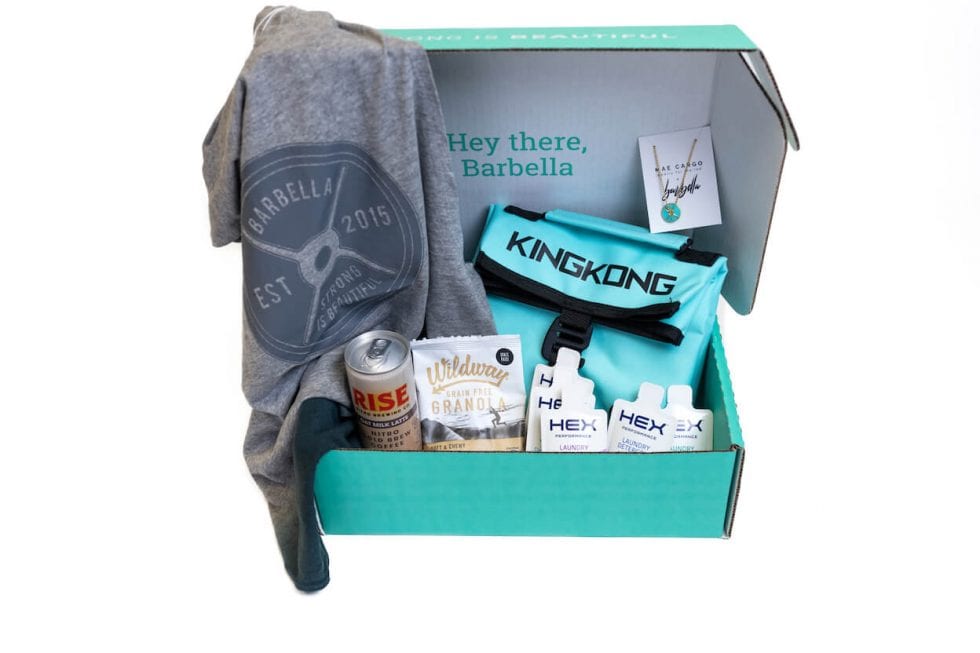 Image from: Barbella Box
What You Get: When you get the Barbella Box, it's like opening a gift box that is filled with premium functional fitness apparel, gear, accessories, snacks, supplements, workout tips, and more exclusively for women! The box will definitely help you keep in shape, and achieve your fitness goals!
Price: The subscription costs $50 per month with savings on quarterly and annual subscription plan.
Deal: Save $5 on your first month! Use coupon code HELLO.
---
Image from: JackedPack
What You Get: JackedPack is a monthly supplement subscription sample box designed for weightlifters, bodybuilders, and fitness enthusiasts. You first need to tell them your fitness goals and favorite flavor so they can design the perfect box for you! You will receive 5 to 10 samples of what they think are the supplements that suit you best, with free shipping. Lastly, share your feedback by reviewing the supplements that you tried.
Price: JackedPack box costs $15 per month and the Heavyweight box costs $25 per month plus free shipping. Prepay for 3, 6, or 12 months to get discounts!
---
Image from: P.volve
Not for the fitness newbie but good workouts. – debbie
What You Get: Lots of things you want to do but not enough time? That's where P.volve comes in! It's a bold evolution in personal fitness, offering a service that allows you to stream workouts in the privacy of your own home using a "pre-hab" approach. It helps you transform your body by lengthening, strengthening, and toning muscles to eliminate bulk, inflammation, and risk of injury!
Check out our P.volve Reviews for more fitness fun!
Price: The digital membership costs $19.99 each month, with savings when you prepay for more months!
Deal: Get 14 days FREE Trial! Deal applies automatically, just visit and subscribe.
---
Image from: Fabletics Men
What You Get: Fabletics Men sends premier pieces for men to work out, play, and live in. Each box will contain workout, sports, and athletic gear delivered to your door. You can follow suggested looks, make your own pick, or skip the month, the decision will always be up to you!
Check out the Fabletics Men Reviews to learn more about this subscription!
Price: Membership costs $49.95 per month.
---
Image from: SpartanCarton
What You Get: Spartan Carton sends workout supplements, nutritional snacks, fitness information, workout plans, gear, and more every month. You will receive protein bars, pre-workout supplements, energy bars, healthy snacks, and more that will help you achieve your fitness goals, without sacrificing the delicious taste. And if you get a higher tier box, you also get sweet workout gear that could include straps, bands, bags, gloves, and more! You can choose from the Citizen Box and the Warrior Box!
Price: Get the Citizen Box for $25.08 per month, while the Warrior Box is $99 per month.
---
Image from: Fun Run Box
What You Get: Fun Run Box motivates you to run by offering a monthly delivery of surprise goodies and challenges to help get you out there and enjoy running! Each month, receive motivation, inspiration, and swag in a box, and in the first month of your subscription, you will receive a training tech shirt and other goodies you'll need to get out and run. For the subsequent boxes, it will be filled with gear and monthly challenges to keep you motivated and inspired all the way through the first series, when you will have earned your finishers shirt and medal, and when you make it that far, it will be time to start series two of the challenge!
Price: You can get the box for $37 monthly, with discounts for longer plan options!
---
That's your list of the best fitness & active subscription boxes! Which is your favorite?
Want more? Make sure to check out all the readers' choices for the best subscription boxes in every category!
Say Hello to more subscription boxes for a Fit & Active Lifestyle!