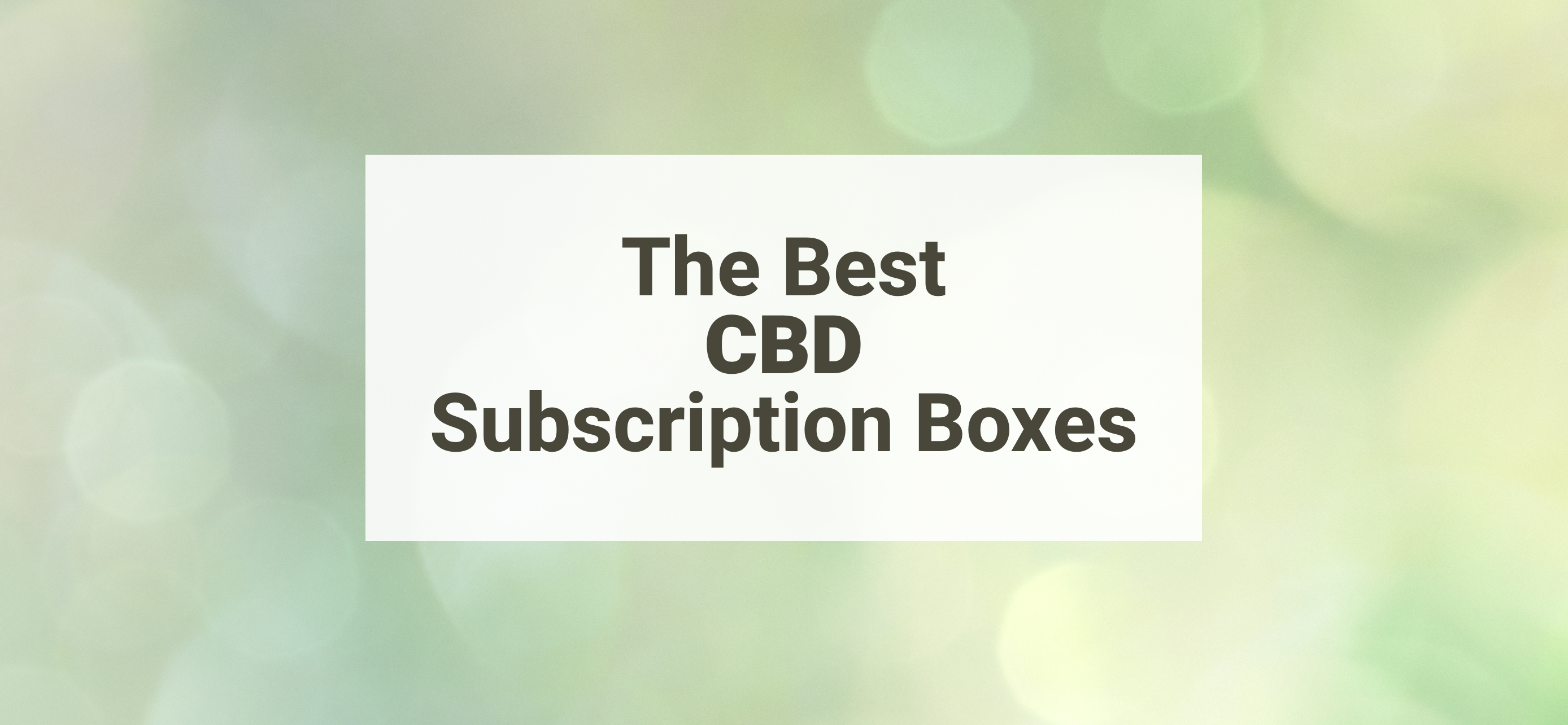 With so many benefits like improving sleep, relieving stress, and anything in between, hemp-infused products are gaining a name for it! If you don't know where to start, getting CBD subscription boxes will help you learn about what they can do. These CBD subscription boxes carry products with cannabidiol like yummy edibles, bath products, topicals, tonics, and more. Some are even curated to your wellness needs and personal taste, so you'll surely get the best of it!
We've asked our readers to vote for the best, and they did! Hop on, and we'll show you who made it to the list!
We've gathered every vote for the best CBD subscription boxes with promised healing benefits to help you decide which one to get!
The Top CBD Subscription Boxes As Voted By Our Readers!
Image from: our review
I can't speak more highly of AllayBox. They expertly curate their boxes to provide the best of CBD in one beautiful package. I get to try new and verified CBD products safely. They're amazing! – Gigi

I LOVE getting my Allay box. The variety in each box is fantastic and it allows me to try new products that I've never heard of. I also like the attention to detail and that they really vet every product for efficacy. Best box around!! – Kate

There are so many products to choose from- I was able to find the right CBD for me. I love the variety of gummies, CBD drops, and tinctures. – Mal1994

This box has been life changing! I've not only used it for myself, but also to gift. It has brought me so much peace and I love all the goodies and packaging. – Mary D
What You Get: Care for yourself through the safe discovery of CBD wellness products. AllayBox's mission is to improve people's health and wellness while doing impactful social good. They curate boxes that are filled with premium CBD wellness products delivered quarterly to subscribers. It includes 4-6 products like oils, topical, gummies, and other goodies sourced from their most trusted vendors. They even collaborate with local artists to design their wellness boxes, incorporating their social mission. 10% of their annual proceeds are donated to the Last Prisoner Project and help free every last person locked up for a non-violent cannabis crime and rebuild their lives.
See our AllayBox Reviews to see past box contents.
Price: The subscription is $75 every quarter.
---
Image from: Hemp Crate Co
What You Get: Hemp Crate Co gives you the option to choose which hemp and CBD products you needed the most by curating themed boxes monthly. First is Health & Wellness, in which the products are focused on helping with relaxing and restoring your mind and body. The second box is Hempa the Explorer that provides a little bit of everything for those individuals who want to try CBD, including bath products, yummy edibles, and a variety of topical. Lastly, there is The Furry Friends Crate that's curated for you and your pet. All boxes come in starter (4-6 items) and pro sizes (6-8 items). Tincture 'N Treat is also a subscription option (one premium CBD tincture + one CBD treat). A part of what makes this hemp crate great is that they are focused on curating products from organic hemp farms. They've also supported causes in the past (be it financial donations, time, or products), including the Susan G. Komen, The Bail Project, and Love More.
Price: Starter subscriptions cost $49.99 each month, and Pro subscriptions cost $74.99 a month. Tincture 'N Treat costs $29.99 a month.
Deals:
---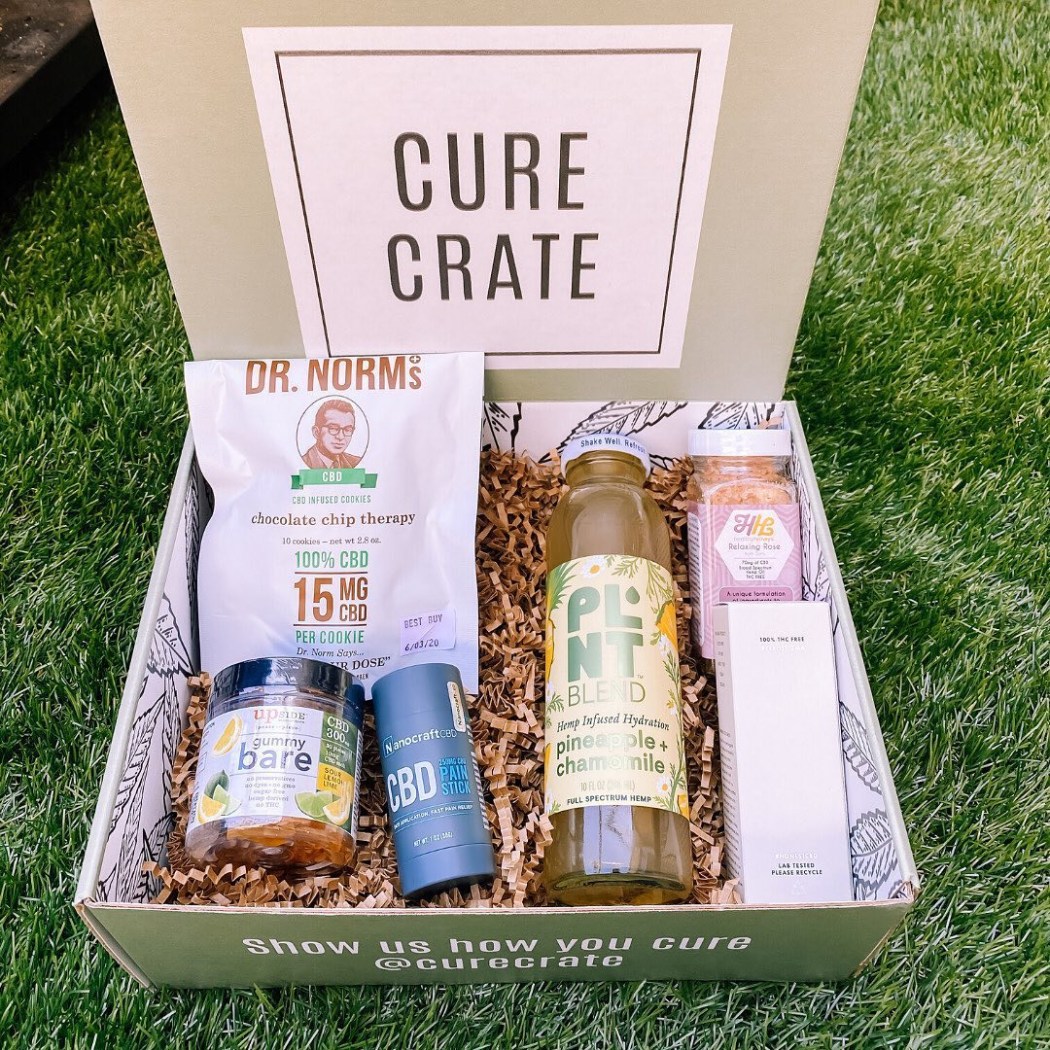 Image from: Cure Crate
What You Get: One size fits all? Definitely not! The same principle also applies to Cure Crate, a monthly subscription that delivers CBD products. They don't just deliver these products as it is, but they ask you to take a quiz so they can better understand your wellness needs and personal tastes. From there, they curate a custom selection based on your preferences and follow-up on how you like each product. Each month, you'll receive at least 4-5 of the best CBD products available, some of which are special products. Through this subscription, you can get products that work wonders and that are right just for you! They are also proud to support the Last Prisoner Project by donating a portion of their proceeds.
Price: The box costs $65 monthly.
---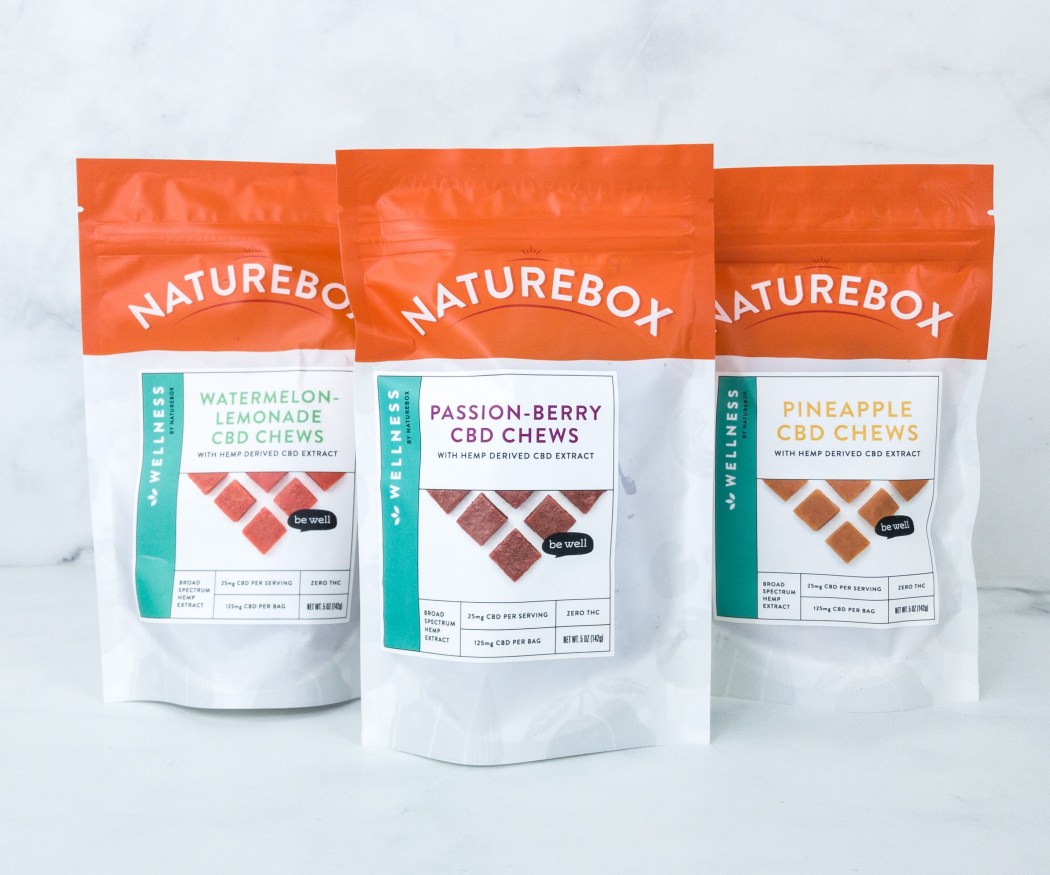 Image from: our review
What You Get: If you're looking for smart, delicious, and healthy snacks, NatureBox makes it easy for you! They offer nothing but yummy and healthy CBD snacks, including CBD-infused cookies, chews, and even truffles. All snacks taste amazing, and it contains no artificial flavors, colors or sweeteners, no corn syrup of any kind, no hydrogenated oils and no MSG. Members also receive exclusive member-only promotions, early access to new products, and monthly store credit. Better snacks, less stress!
Check out all the healthy snacks we've received in the past on NatureBox Reviews.
Price: It costs $30 per year for membership, and it includes 40% off orders, free shipping in the continental U.S. on all orders of $25 or more, credit for snacks you don't like, and a $6 store credit every month.
Deal: Save 25% off your first purchase and get a risk-free membership free for 30 days! Use coupon code NATUREBOX25.
---
Image from: Feals
What You Get: Get premium CBD delivered straight to your doorstep that helps with your anxiety, pain, and sleeplessness. Each Feals box contains one of the three different vials with varying strengths depending on your needs and what works best for you. This CBD product is created using all-natural ingredients that are grown with care by US farmers, making you feel great without the fuzzy haze! All you need is just one vial per day to find your ideal Feals. Place a couple of drops under your tongue and let yourself be the judge!
Price: Become a member and get a 30% discount on every order starting at $74.95. You can also try all strengths when you purchase The Flight for $20.
---
Image from: Calivolve
What You Get: Feel great every day by just munching on chocolates. Calivolve offers hand-crafted dark chocolate luxury truffles neatly packed in a stylish box. They believe that taking care of your body and life should be delicious without forbidding yourself in some indulging, and so do we! Dark Belgian chocolate infused with high-quality ingredients like fresh cherries, matcha, mint, lavender, and carefully crafted natural hemp extract helps relax the muscles and the mind. A 100% naturally vegan and gluten-free truffles leaving all the bad stuff behind! You can choose from 5 different bundles they offer: Ashwagandha, Immunity, Mushroom, PMS, and Sensuality. All bundles come with 4 handcrafted jewel-shaped vegan CBD chocolate truffles and a limited edition ceramic mug.
Price: Reflect, Renew, and Restore collection boxes cost $28.80 every two weeks. Sampler bundles cost $30.
---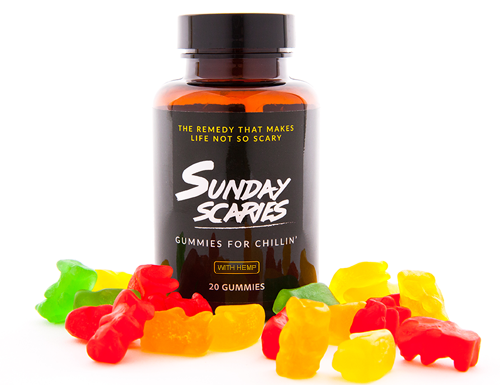 Image from: Sunday Scaries
What You Get: Sunday Scaries is a monthly box subscription that delivers a variety of CBD products made from the highest-quality broad-spectrum CBD that is directly sourced from the family-owned hemp farms in Colorado. These CBD gummies are blended with Vitamin B12 and Vitamin D3, making them the perfect chewy treat to keep you relaxed, focused, and on track! Each bottle contains 20 hemp-infused gummies with 10 MG of hemp per gummy. These edible gummies also come in orange, cherry, pineapple, lemon, and apple flavors.
Price: Subscription starts at $9-$47 for individual products and $43-$60 for hemp bundles per month.
Deal: Get 20% off your first order! Use coupon code CBD20.
---
Image from: Recess
What You Get: Feel calm, cool, and collected with just one sip of sparkling water from Recess. They've created an antidote to modern times through sparkling water that helps people be the best version of themselves every day. This canned drink is made from powerful compounds such as hemp, American ginseng, L-theanine, and lemon balm infused with delicious and exciting flavors that give you a feeling you wish your 2 pm coffee would make you feel! You can get individual flavors in 12-pack (black cherry, pomegranate hibiscus, blood orange, peach ginger, coconut lime, and blackberry chai) or taste all with The Sampler, which includes 2 of each flavor. You can also customize the delivery frequency if you wish so.
Price: A pack of 12 costs $49.99. You have the option of receiving the shipment every 2, 4, or 6 weeks.
---
What You Get: FORIA sought out the purest, most responsibly-grown hemp in the USA to provide individuals with CBD products that truly work and have been handled with lots of incredible care. They create products for intimacy, relief, and optimal well being and are committed to clean ingredients, organic farming, and sex education. These are made from 100% plant-based organic ingredients and hemp from Hudson hemp – an organic, biodynamic, and regenerative family farm, with no synthetics ever! Choose from 6 bundles they offer containing a variety of CBD products like oils, tonics, topicals, gel capsules, relief, and intimacy suppositories. Be an Emerald Club member and enjoy perks such as 1.5 points per dollar spent, free shipping on all orders within the contiguous US, early access to new products, and special discounts.
Price: Subscribe and save starting at $20 per month.
---
Image from: Proper
What You Get: Never have to worry about sleeplessness when you get evidence-backed supplements that are designed for your unique sleep issues from Proper. They aim to help you have a great night's sleep so you can be the best version of yourself when you wake up. Partnered with leading doctors in integrative sleep medicine, clinical psychology, and nutritional biochemistry, these supplements give holistic sleep solutions. Choose from 2 CBD supplements they offer: Core Sleep with CBD and Sleep + Restore with CBD. These supplements include all the ingredients and benefits of Proper's formulation with CBD sourced from an Oregon-based supplier and are non-GMO, sugar-free, vegan, and no artificial flavors. Choose between a 15-day or 30-day supply and sleep with ease! If you want to sample these supplements and find which works best for you, you can get the Discovery Pack with CBD and try Proper's 4 most popular supplements.
Price: CBD packs cost $80.99 per month. You can also try the Hemp Discovery Trial Pack for $55.99.
Deal: Save 20% on your first monthly subscription! Use coupon code HGSUB20.
---
Image from: Not Pot
What You Get: From the name of the subscription itself, it's Not Pot! The healthy gummies contain organic hemp-derived CBD, but it's not marijuana and it won't make you high. The gummies are also made with natural, good-for-you ingredients like strawberries and apple pectin, and they're gluten-free and 100% vegan. And due to popular demand, the company limits it to 3 jars per order. The gummies help rid pain, stress, and bad vibes!
Price: Original and Sleep CBD Gummies subscription costs $25.80 per month, Muscle and Sleep Bath Soak subscription is $20.80 per month, CBD Glow Oil subscription is $37.80 per month, Pet CBD Oil subscription is $30.80 per month, and CBD Icy Gel is $17.80 per month.
Deal: Get 10% off your first order! Use coupon code WARRIOR .
---
Image from: Half Baked Bus
Handmade CBD topicals with brands weed bus logo that always make me smile. – Virginia

Lab tested handmade CBD topicals for the HIPPIE in all of us. – Hannah R

Monthly CBD, bath salts come inside stash jar. – Jeff

Weed bus CBD topicals in a tiny home box for the hippie in all us. – Ricky
What You Get: One option for you to shop for CBD products is through Half Baked Bus. They offer CBD lifestyle products to help you find tranquility and be the best version of yourself every day! This brand aims to bring multipurpose products that can be consumed easily and daily in low dosages. They also take pride in introducing their hippie bus as each box is designed to be one. Every product is handmade in North America, and they ensure that it's high-quality and non-toxic. Get 3-4 CBD items when you choose Vannah Box or pick Half Baked Bus Box, which has 6-8 items, exclusive giveaways, and free event tickets. Such products include CBD essential oils, perfume roll-ons, soap and bath bombs, aloe vera rub, candles, bath salts, and more.
Price: Boxes start at $49.99 per month, or less when you subscribe to longer plans!
---
Image from: mindbodygreen Supplements
What You Get: Get supplements with a carefully calculated dosage that works right just for you! mindbodygreen supplements are your essential tool for sustainable health. Their hemp multi+ is the next-generation mood support. Each month, you'll receive 1 bottle with 30 gel caps. It is made from EU certified organic hemp, meaning it's non-GMO, no fillers or preservatives, gluten-free, no artificial ingredients, and no gut irritants. It is also enhanced with vitamin D to boost immune function, helps relieve everyday stress, and is reviewed by a team of experts. A product that even experts recommend using for themselves and to their patients!
Price: Hemp multi + costs $69 per bottle per month.
---
Subscription Closed
What You Get: MyJane sends curated luxury CBD boxes intended for women. This subscription aims to help women live better by delivering safe, genuine, and tested CBD products to their door each month. You can choose from their 4 boxes: The Dream Box, if you want to get a good night's rest; if you want to ignite the fire, there's the Romance Box designed with couples in mind; if you want to give the gift of wellness and well-being to a girl friend, there is the Girlfriends Box; and the SheSurvival Box Hedge Humor for a well deserved "me time". Each box contains high-quality and tested hemp-derived products and a piece of handcrafted jewelry by a human trafficking survivor. Also, a portion of the proceeds goes to a nonprofit organization that empowers women escaping human trafficking.
For more details about this subscription, you can check out MyJane Reviews.
Price: MyJane has 4 one-time boxes available: SheSurvival Box Hedger Humor ($59), Girlfriends Box ($89), Romance Box ($169), and Dream Box ($89).
---
That wraps up the 2021 Award Winners for the Best CBD Subscription Boxes! Has your favorite made it on the list?
Find more of our readers' choices for all the best subscription boxes in every category!
Say Hello to More Health-Full Subscription Boxes!