Self-care is always a much-needed treat for tired souls. Devoting yourself to one-of-a-kind pampering that'll work just right for you feels great! But finding the right products for sensitive skin can be a challenge. Good thing, there are subscription boxes that deliver exactly what people with sensitive skin need—non-toxic beauty items, skincare products, and cosmetics.
These subscription boxes offer the best products that even those with sensitive skin can use without worries. Most of these subscriptions offer only vegan, organic, cruelty-free, and all-natural products, allowing anyone to spoil themselves guilt-free! Providing what sensitive skins need the most, they are sure to trust. They even introduce you to the green, clean and safest brands and products to love endlessly!
On this list, we've rounded up some of the best subscription boxes to care for sensitive skin the way it should be!
The Best Subscription Boxes for Sensitive Skin!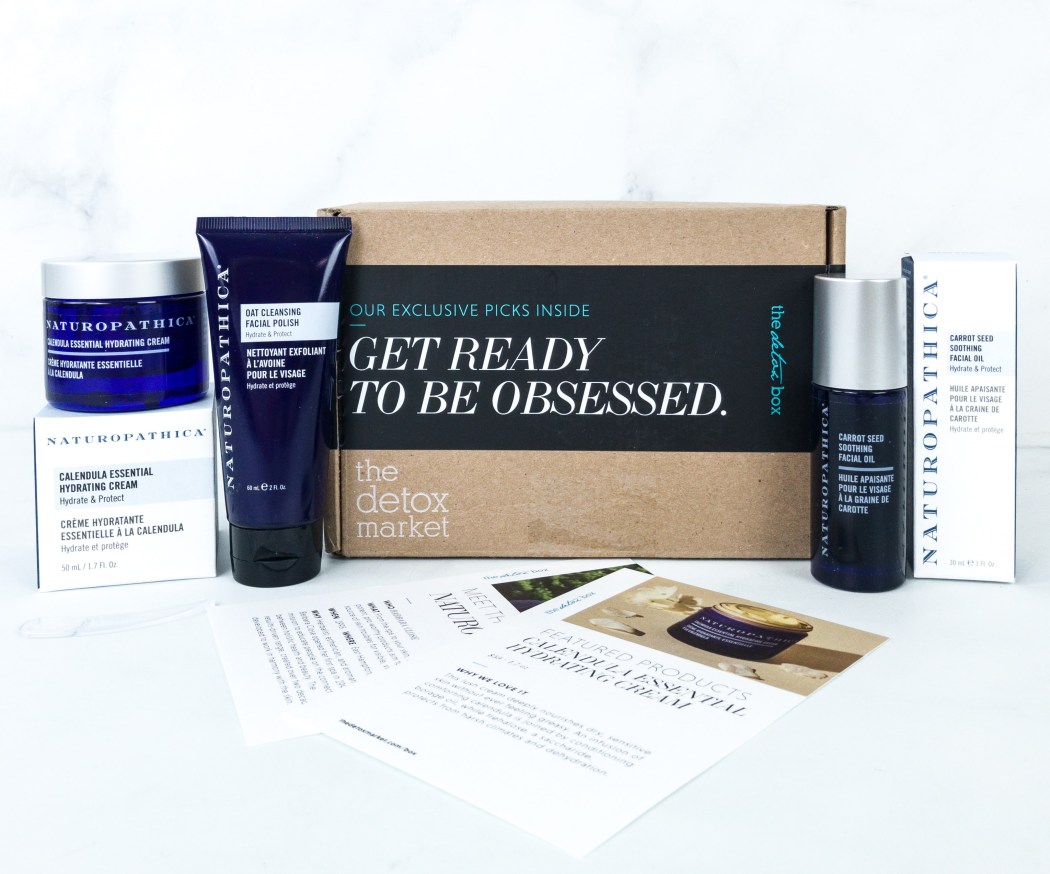 Image from: our review
What You Get: The Detox Box focuses on one or more green beauty brands every month. Each box includes tried-and-true favorites and game-changing discoveries and has a promised value of at least $90. They work and scour the market to give you products where you can feel safe and confident in every choice you make. What makes it the right choice – even for sensitive skin, is because they use pure ingredients and cruelty-free formulas with every product!
Visit The Detox Box Reviews to find out more about this subscription.
Price: A monthly subscription is $58.95, with big monthly savings if you choose a 3-month or 6-month subscription.
---
Image from: our review
What You Get: Give your sensitive skin the right products when you subscribe to Beauty Heroes. They offer healthy products that range from skincare, makeup, body products, hair care, and even lifestyle items that you can trust! They work with different brands sharing the same goal and provide members healthy beauty. Some of the brands are Zoe Organics, Henne Organics, Cleo + Coco, and more. Each box contains one full-size hero product and a 'sidekick' (can be trial or full-size too). As a member, you'll get to save 15% every day in the beauty store, insider exclusives, and early access to new product launches.
Make sure to check out Beauty Heroes Reviews to learn more.
Price: The box costs $58.95 each month, or less with longer plans!
---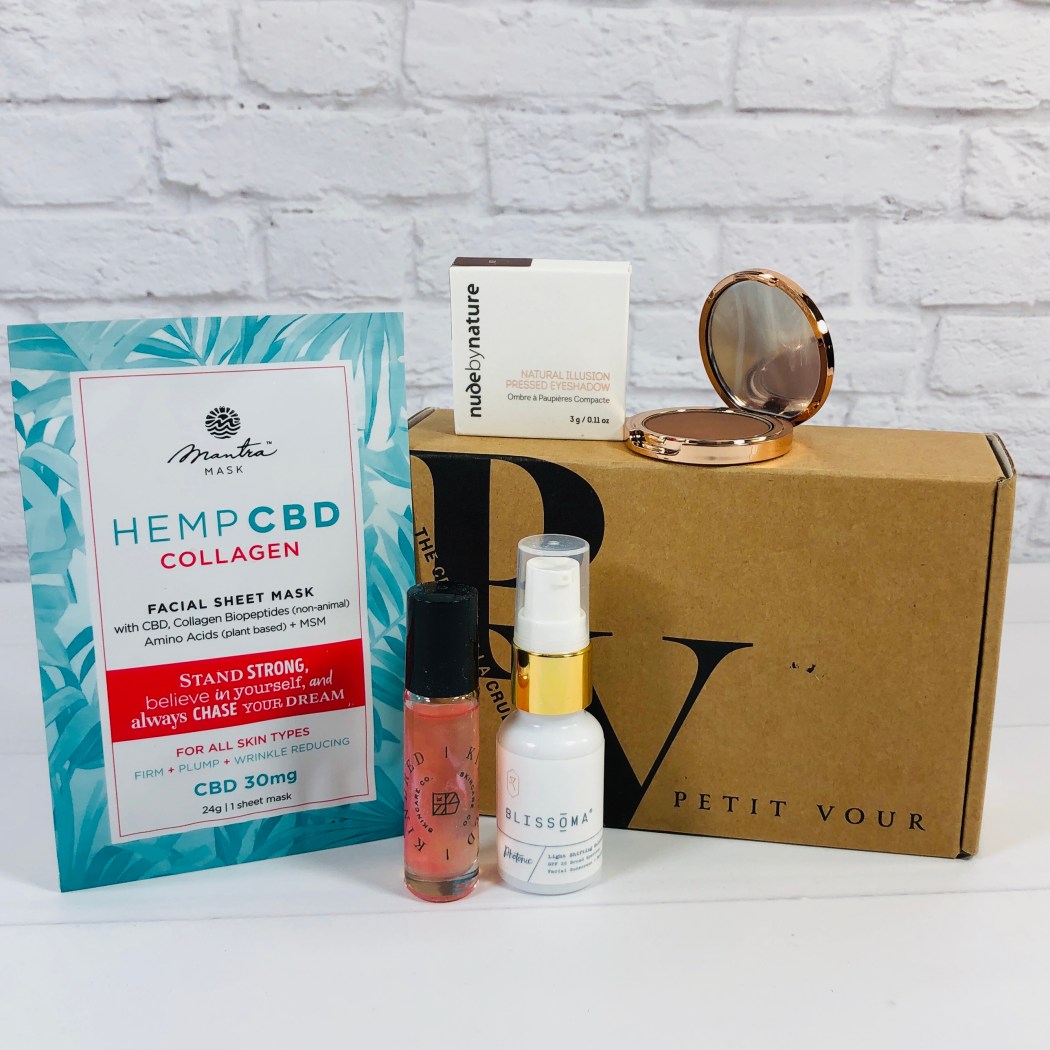 Image from: our review
What You Get: Receive cruelty-free, vegan, and non-toxic beauty with Petit Vour. They only showcase products that meet their standards – plant-based beauty items, so you're sure it's safe even for those who have sensitive skin. Get an assortment of 4 beauty products that are worth over $50! Each box can be a mix of makeup, hair care, body, and skincare, which are curated to match your beauty profile. You can also earn points by reviewing the products. These will be credited to your account and can be used in the Petit Vour shop.
See what products they've previously sent us on Petit Vour Reviews.
Price: Petit Vour is availabe in two subscription option: the Beauty Box is $18 a month and it includes 4-5 beauty products, and the Plus Beauty Box is $25 a month for 5-7 products.
Deal: Get 25% off your first box! Use coupon code FIRSTBOX.
---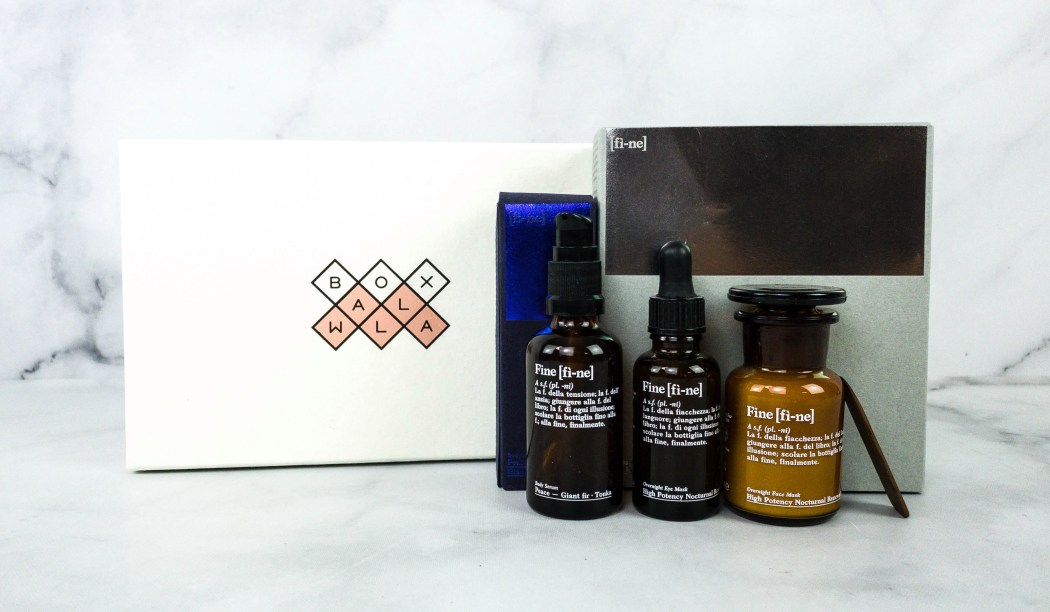 Image from: our review
What You Get: Boxwalla Beauty Box selects the most nourishing beauty and skincare items for one aspect of your beauty ritual and packages them in a gorgeously giftable box! They work with artisans to provide gentle and ingredient-conscious beauty products delivered to your door each month. You'll experience not only luxury but also the most effective, nutrient-rich beauty products that are made from plant-based ingredients. And yes – it's always cruelty-free!
Don't forget to visit Boxwalla Beauty Box Reviews to get a good grasp of what's inside every box.
Price: The beauty box is billed and delivered every two months for $49.95.
---
What You Get: Get luxurious organic skincare made from Italy when you subscribe to Kleverpark Box. It is a monthly subscription carefully curated to give clean products that are made from the finest ingredients! You'll receive a themed box full of high-quality, full-size, safest skincare items that are shipped bi-monthly to your doorstep. Experience eco-luxury Italian brands that work to help detoxify, purify, and nourish sensitive skin. Take your pick between the Variety of Organic Skincare Box, which includes 4-7 full-size products, or Large Box Special Gifting Edition, which consists of 8-12 full-size products, and care for your skin the way it deserves!
If you want to see past box contents, sail through Kleverpark Box Reviews.
Price: A Variety of  4-7 full-size organic skincare products costs $137 every 2 months, while the Variety of 8-12 full-size organic skincare 8-12 full-size products costs $230 every two months.
Deal: Get $5 off on your first box! Use coupon code HELLO.
---
Image from: Atolla
What You Get: Give the right treatment your sensitive skin needs with every box of Atolla. They target skin concerns by giving custom serum based on your skin history, issue, and lifestyle. You'll receive a custom serum and skin health kit where you can measure your oil, moisture, and pH levels to further refine formulas for what your skin exactly needs. They use only the highest quality ingredients with a proven track record. All products are gluten-free & vegan and contain no artificial fragrance, no artificial preservatives, no parabens, or sulfates.
Price: For $45 per month, you will get access to Skin Experts, a Skin Health Kit that measures your progress, and a month supply of 15mL Custom Serum!
---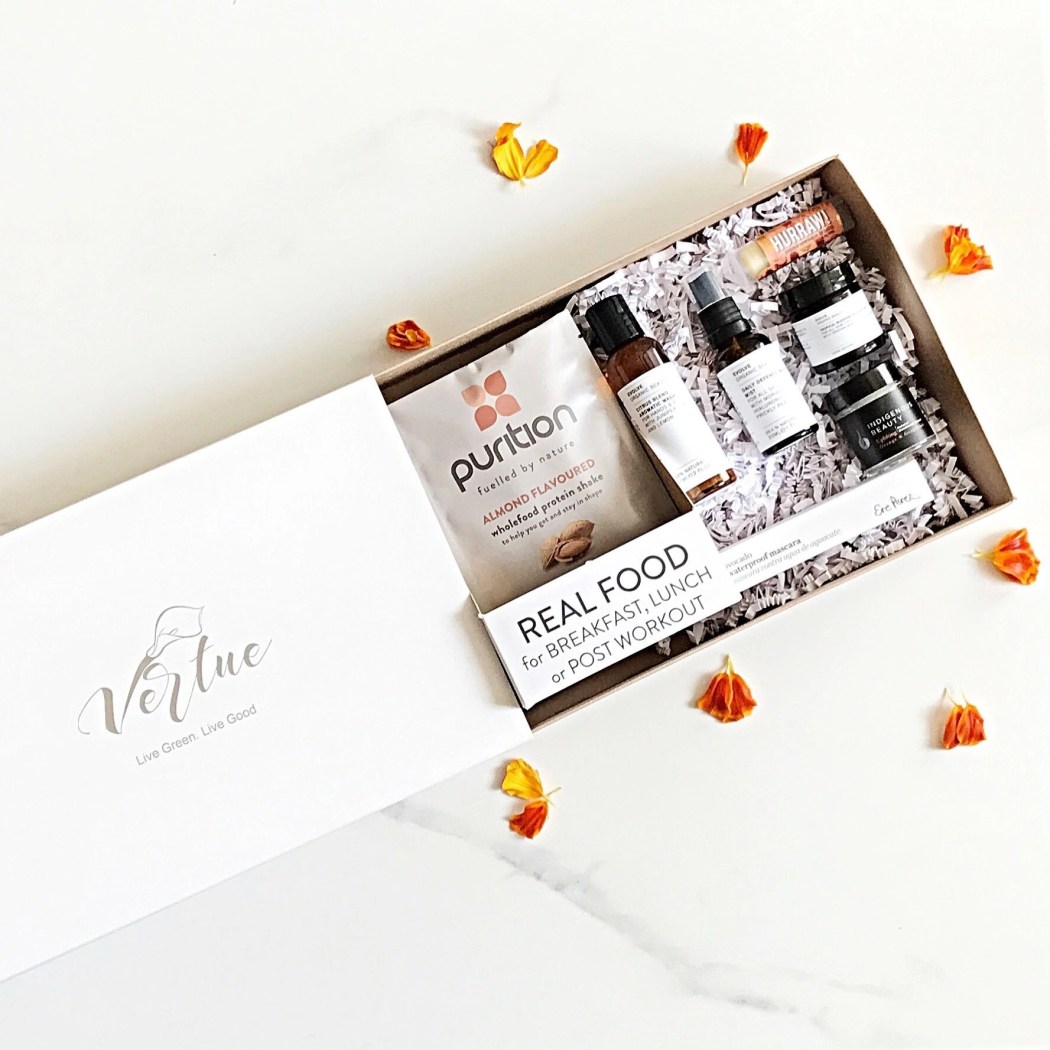 Image from: Vertue
What You Get: Vertue aims to give customers handmade products using only the finest natural organic ingredients that are 100% cruelty-free and eco-friendly! They want to encourage customers to treat themselves or a loved one with safe beauty items. They use ethical, sustainable, and recyclable packaging on all products as well. Get your favorites and new items from small or popular brands combined in just one box. Instead of a subscription box, you can choose from 8 different gift sets they offer.
Read Vertue Reviews to know how the subscription works.
Price: A monthly subscription is at £20 (est. $28 USD) and a bi-monthly subscription is £37 or about $51.7 USD.
Deal: Get 10% off our bi-monthly subscription or shop products! Use coupon code HELLO10.
---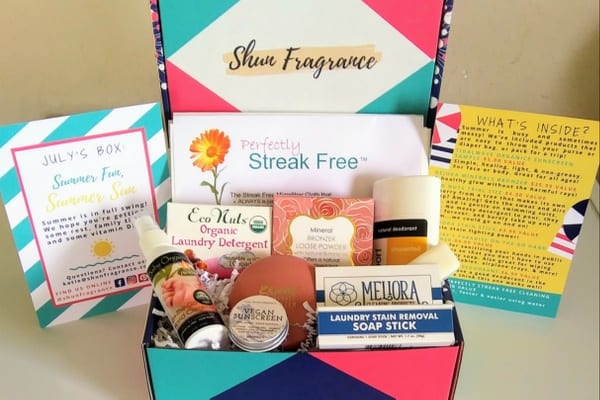 Image from: Vertue
What You Get: Shun Fragrance offers fragrance-free products for those who have sensitive skin and for those who want to avoid fragrance. Each box contains 3-5 non-toxic, fragrance-free skincare and cleaning products. These products are made without harmful chemicals, essentials oils, and added fragrance, making sure it's safe even for the most sensitive ones! Skincare products are made with plant extracts and are full of antioxidants and vitamins that can nourish your skin. This can also be a great gift for smell-sensitive loved ones!
Head on to Shun Fragrance Reviews to know more details!
Price: The box costs $45.95 a month.
Deal: Get 10% off your first box! Use coupon code WELCOME10.
---
What You Get: Gift yourself with the products you needed the most. Whether you have sensitive skin or not, Laurel & Reed will provide the safest products to use. From beauty to wellness to lifestyle, they've curated a luxury subscription you'll love for months! You'll get 4-6 full-size products that are valued at $125+ in every box. Items may include face oils, moisturizers, eye creams, and more. They assure that every product is all-natural, non-toxic, and cruelty-free. You can also gift this box to a family or friend, and they'll include a gift message for you!
Price: The subscription is $49.95 monthly.
---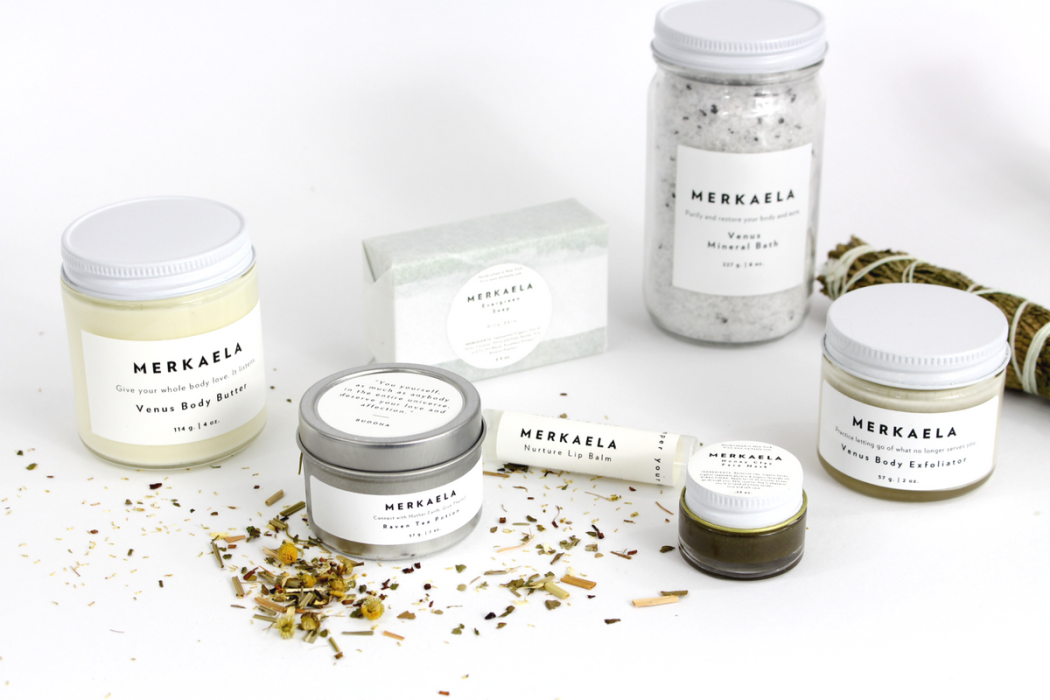 What You Get: Merkaela creates sustainable and chemical-free products that nourish not only your body but also your mind and soul. They offer all-natural self-care and wellness products that are handcrafted in small batches. Each month, you'll receive a box filled with a careful selection of essentials that are safe to use. All products are absolutely cruelty-free. Choose from the 4 subscription plans they offer and please yourself with all the goodness it brings.
If you want to see what products they send to subscribers, visit Merkaela Reviews.
Price: Essential Wellness Box costs $40 per quarter, and Deluxe Wellness Box is $80 per quarter.
Deals:
---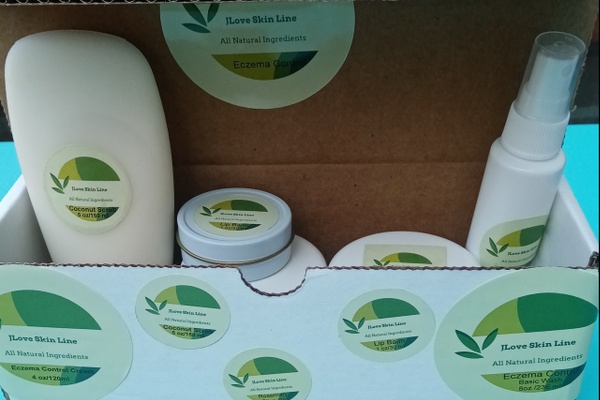 What You Get: Skin conditions really bring a lot of worries. With JLove Skin Line, you can put an end to all of your worries in just one box! It's a subscription that targets everyone with eczema problems. All products are handmade with natural ingredients, making them a safe and effective choice for you. FYI, these products are not intended to cure any disease, but it's to give control. Each box contains 5 oz organic coconut scrub, 4 oz organic body butter, 4 oz organic body wash, 1 oz organic lip balm, and 50ml all-natural organic rosemary-infused olive oil. Relieve the swelling, redness, and itchiness when you apply it to your skin.
Price: Get your skincare subscription box for $64.99 a month.
---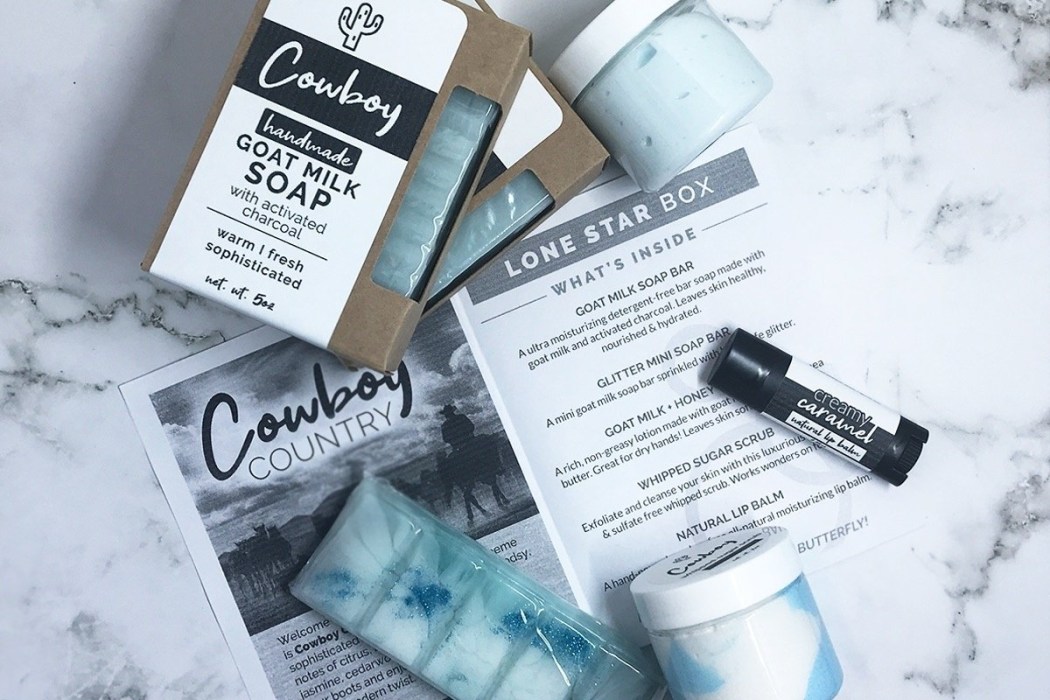 What You Get: Soapster Box is a monthly subscription that provides the best and safest soaps to use for your bath. They want you to ditch your harmful soaps and upgrade your usual bath to a nourishing one with an out-of-the-box soap experience! Filled with self-care for sensitive skins, each box is made to make showering more fun and stress-free! You can choose from three subscription boxes they offer: Lone Star Box, Ain't My First Rodeo Box, and Ultimate Spa Box, and receive 6-9 items in each box, plus a magic wind-up butterfly with coloring & mindfulness activity card. Every product is handmade in small batches using gentle skin-loving ingredients that'll leave your skin soft and smelling great all day long.
Price: Lone Star Box is $29.99/mo, Ain't My First Rodeo Box is $38.99/mo, and Ultimate Spa Box is $69.99/mo.
Deal: Get 10% off your first box! Use coupon code SOAPSTER10.
---
And that sums up our list of the best subscription boxes for sensitive skin! Which one is your favorite?
Make sure to check out our complete list of all the best subscription boxes in every category to find more must-try subscriptions!
Think we missed a great subscription box for sensitive skin? Feel free to let us know in the comments!