If you're a movie buff and love nothing but the MCU, authentic goods and merch will probably make you jump for joy! There are plenty of subscriptions available around that serve fanatics with the best loots to satisfy their obsessions with the Marvel Universe. These subscriptions offer officially licensed goods that will absolutely overwhelm fans, including comic books to collect and read over and over again! Even Nick Fury would enjoy these subscription boxes!
If you can name every character in the Marvel Universe, then this list of the best Marvel subscription boxes is waiting for you to be discovered! Whether you're Team Cap, Team Iron Man, or love everything MARVEL, you can get your fix with one of these mystery boxes!
Best Marvel Subscription Boxes!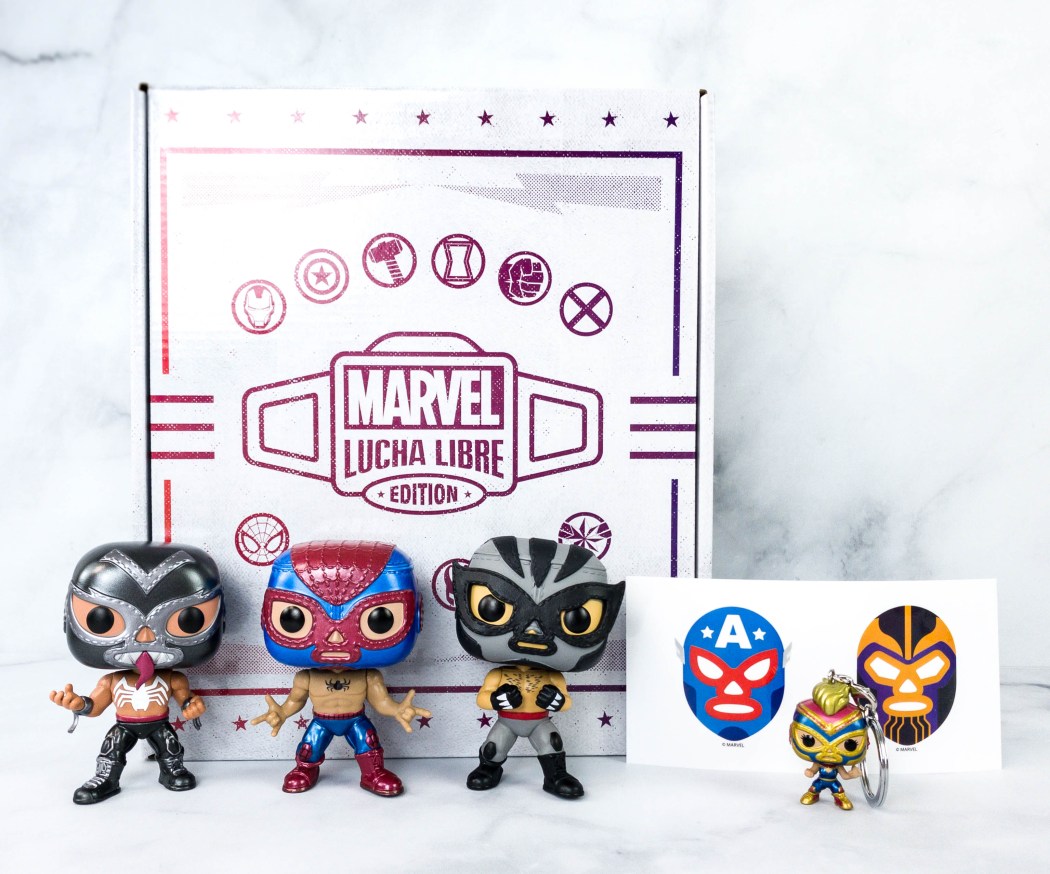 Image from: our review
What You Get: Marvel Collector Corps is a subscription box by Funko, designed for the ultimate fan of Marvel who likes collecting MARVELous merchandise. Each themed box delivers 100% exclusive, premium collectibles, apparel, and accessories direct from the Marvel Universe and Funko, featuring Marvel heroes and their iconic moments. This subscription is sure to delight Marvel and Funko Funatics with 4-6 thoughtfully curated merch that deserves a spot on your collection shelf! Past themes include Marvel Zombies, Avengers Endgame, Marvel Lucha Libre Edition, and Year of the Shield.
Price: Ships every 2 months for $29.99
---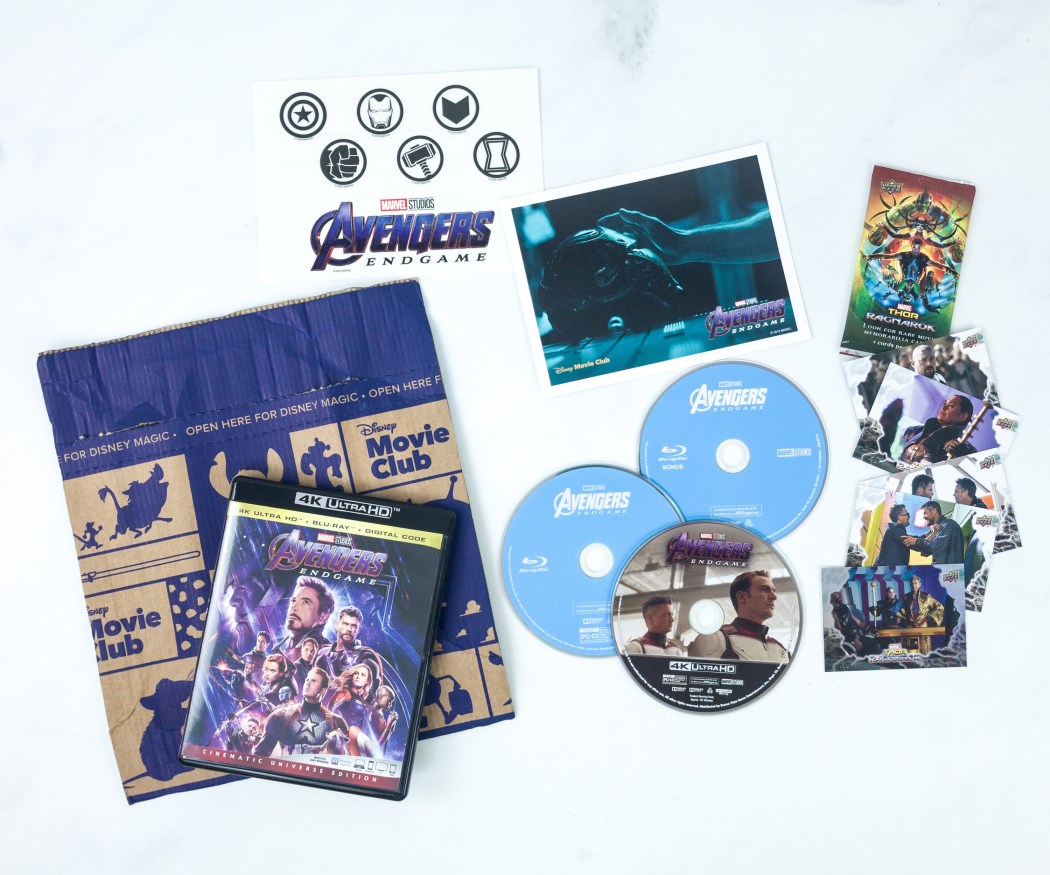 Image from: our review
What You Get: Disney Movie Club delivers not just the latest and most loved classic Disney movies to help you build the ultimate movie library for yourself and your family but Pixar and Marvel Studios as well! You can rewatch your fave Marvel movies and relive your most loved character's amazing moments. There's even a selection of exclusive Disney DVDs and collectibles only available through the Club. Every 4 weeks, you'll get the featured title of the month in your chosen format – DVD, Blu-ray, or 4K Ultra HD, plus exclusive gifts along the way, including a lithograph! As a member of the Disney Movie Club, you're eligible for exclusive offers, special discounts, and promotions for genuine Disney movies and merchandise.
Price: The initial offer costs only $1 for 4 movies. Get the featured title of the month starting at $19.95, or skip a month if you wish so.
Deal: Get 4 Movies For Only $1! Deal applies automatically, just visit and subscribe. Terms & Conditions apply.
---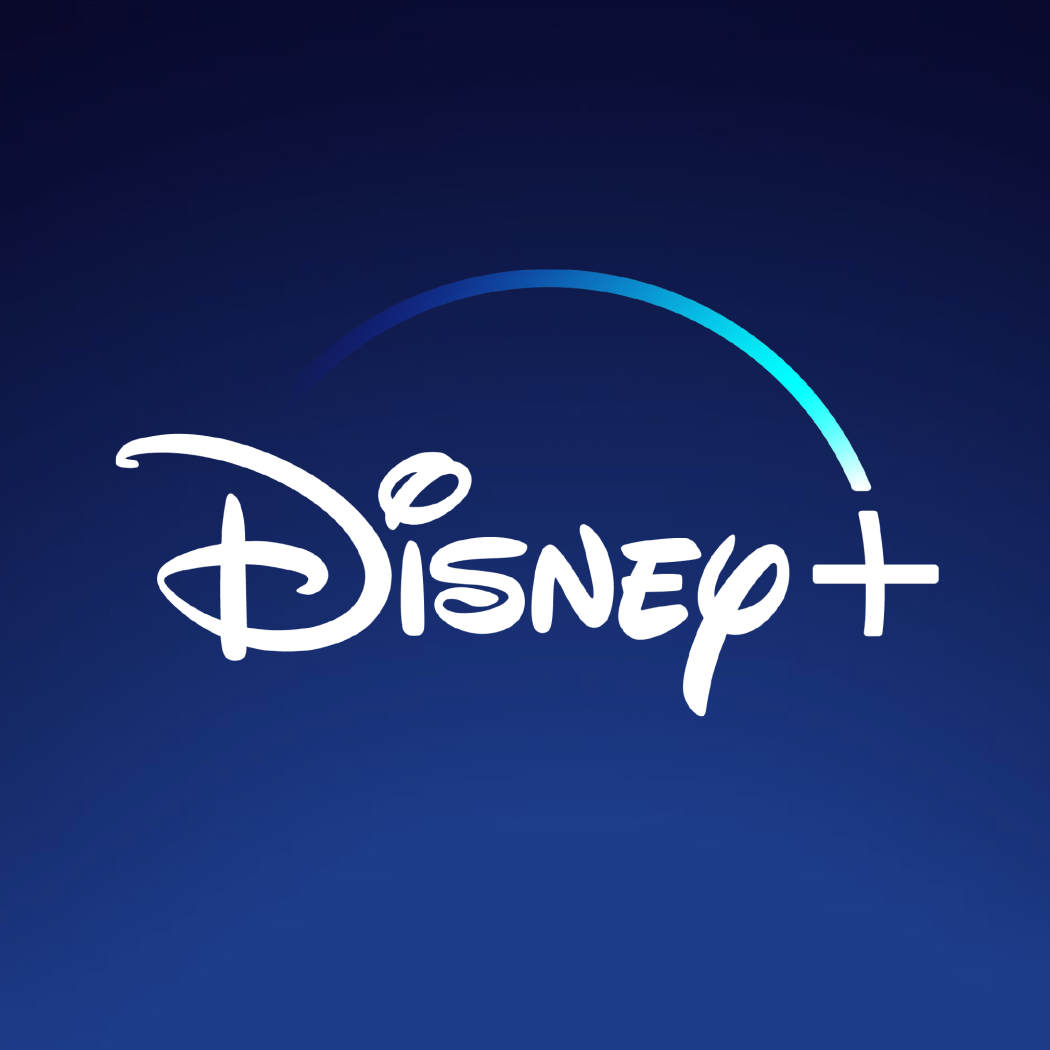 Image from: Disney+
What You Get: With Disney+, Marvel fans and true believers of the Marvel Universe can get unlimited, ad-free viewing of hundreds of movies and series. There's a library full of 4K UHD titles that are not only limited to Disney Originals but also Pixar, Marvel, Star Wars, National Geographic, and more ⁠— so get ready, grab your favorite snack, and get ready to binge-watch your favorite Marvel hero and explore the ever-expanding Marvel Universe! You can stream up to four devices simultaneously, and downloads are unlimited. Plus, it is compatible with a wide range of devices, so download your most cherished Marvel movies and bring them anywhere with you!
Price: A monthly subscription costs $7.99
Deal: Get Disney+ bundled with ESPN+ and Hulu for just $19.99 per month! Deal applies automatically, just visit and subscribe.
---
Image from: ComicBoxer
What You Get: Whether you're just starting to build up your collection or constantly adding to your Marvel box, ComicBoxer provides the hottest new release comics or even #1 issues you can gush over with! This box is any comic lover's dream come true, as each box comes with 5 or more of the best comic releases, variant covers, and first appearances, including signed editions from Marvel, DC, Image, Boom, Dark Horse, and more. Everything that goes in the box is handpicked by their comic book experts, providing you with cool comics to collect!
Price: The subscription starts at $19.99 per month.
Deal: 10% off your first subscription! Use coupon code COMICADDICTION10.
---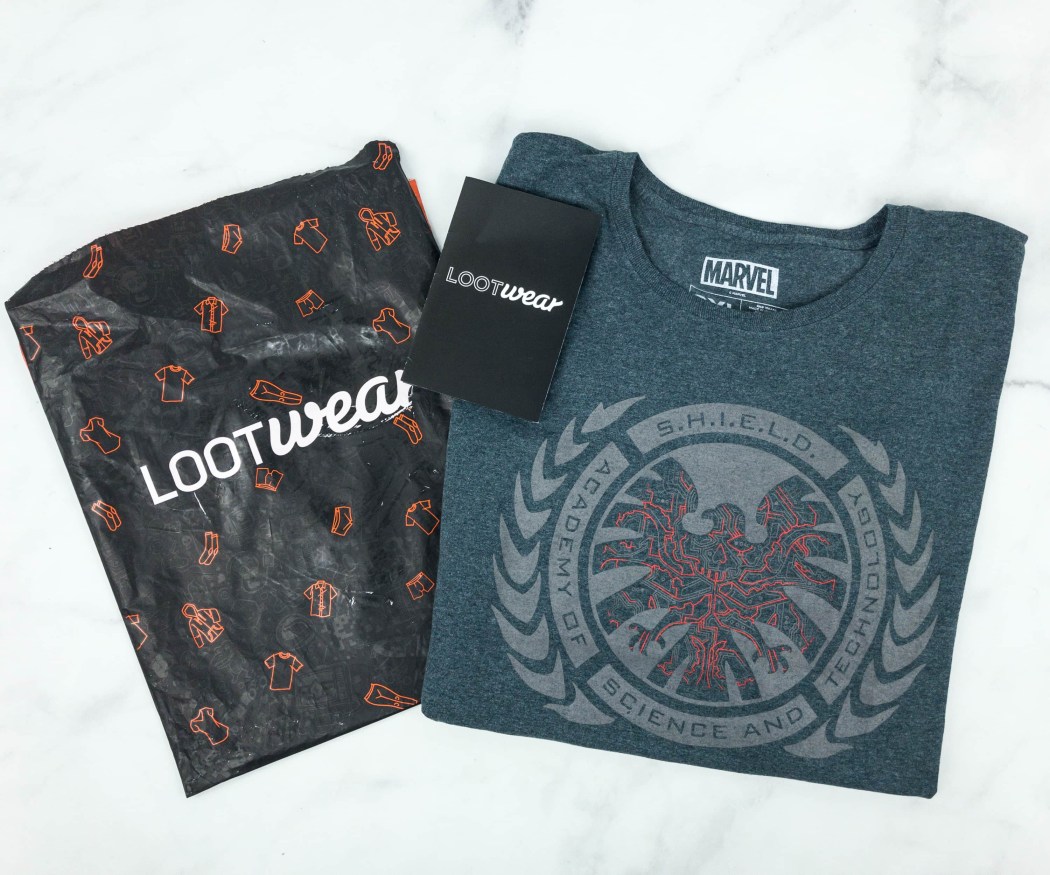 Image from: our review
What You Get: Loot Tees is a monthly subscription of tees from the Loot Wear collection of Loot Crate, designed to match geeky fandoms. They're a team of fans themselves, so they totally know what kind of stuff fans like us deserve! This subscription allows you to wear your geekiness up your sleeves by sending one exclusive and stylish t-shirt every month, printed with graphics featuring characters and scenes from your favorite movies, shows, games, and more. Every shirt is exclusive and gives a strong nod to your favorite fandoms!
Price: Delivered every month for $13.99 or less when you prepay for more months!
Deal: Save 15% off your first month! Use coupon code HELLOSUBSCRIPTION15.
---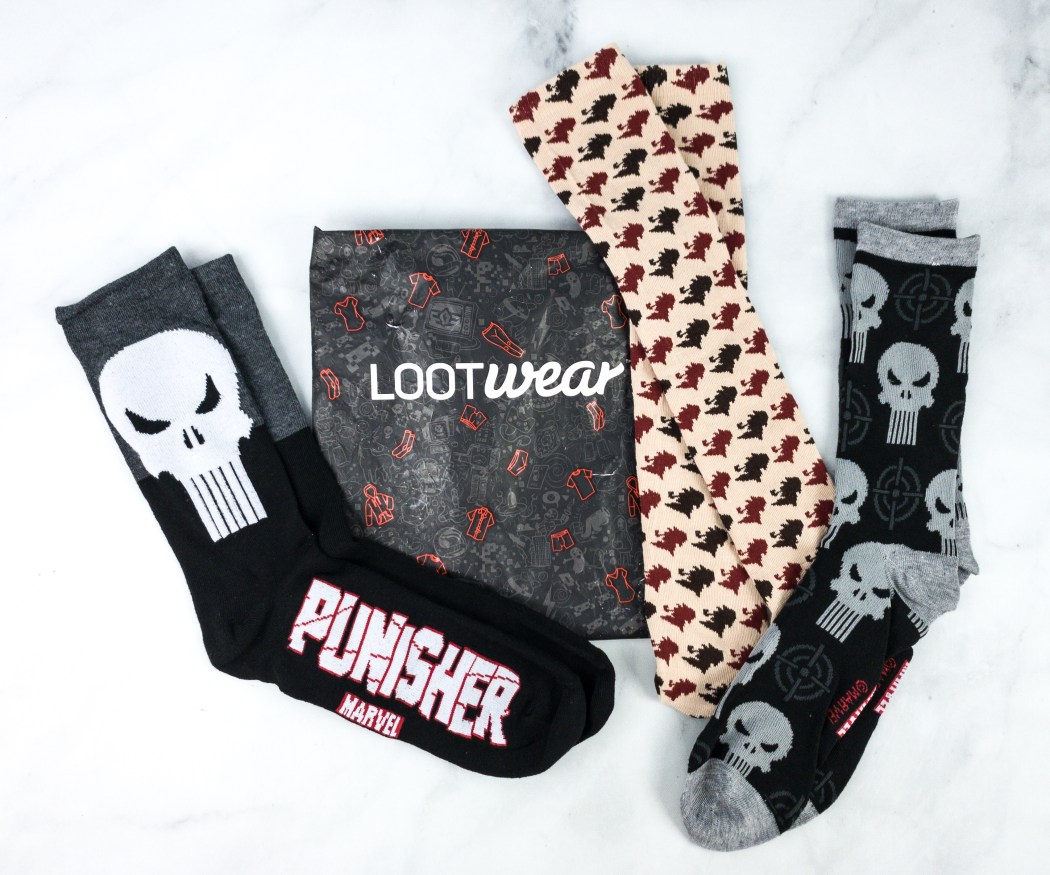 Image from: our review
What You Get: You can't always let your geek flag fly, and Loot Socks is a great way to get your franchise wearable fix while wearing a (pant)suit. It is a part of Loot Wear by LootCrate, and it is the ultimate sock subscription for geeks! Every month, different fandoms will be served with two exclusive pairs of fun, nerdy, pop-culture socks in each package, inspired by your favorite movies, TV shows, video games, comics, and more! Styles might include crew socks, dress socks, and sublimated socks. Through this box, you can always have your fandom with you wherever your feet take you!
Price: Shipped monthly for $9.99 plus shipping.
Deal: Save 15% on your subscription! Use coupon code HELLOSUBSCRIPTION15.
---
Image from: Geeks, Goblins, & Galaxies Avengers Box
What You Get: Get more in awe with the MCU through Geeks, Goblins, & Galaxies Avengers Box. Show off how hard of a fan are you with your own Super Hero cape in the form of t-shirts. This monthly subscription gives you the option to wear your fandom up your sleeves with a T-shirt Only box or T-shirt and Avenger Themed Box. You'll always get a quality shirt + a minimum of 2 goodies if you opt for the latter choice! It may include home décor, mugs, puzzles, and other Avenger items to collect. It's a fun and exciting way to splurge and fill your wardrobe and home with geeky Marvel goodness!
Price: Subscribe to a T-Shirt Only box for $19.99 a month or a T-Shirt and Goodies box for $49.99 a month.
---
And there you have it, the list of the best subscription boxes that cater to Marvel fans! Which of these are you most interested in trying?
You can also visit the list of the best subscription boxes for all categories!
Say Hello to More Pop Culture Subscriptions!