Plants are healthy companions! They help reduce stress and anxiety as they bring a relaxing ambiance and give off oxygen to aid in breathing. They also bring smiles to our faces when we see them grow and even elevate our space. Plants also serve as a good company in our everyday lives like a friend. So, if you're looking for a fun and educational way to grow your plant collection and learn more about them, all you need is a plant subscription box.
This list shows different plants for different types of plant parents. Some subscriptions offer cacti or succulents, ornamental, air plants, seasonal ones, and common houseplants. Some offer pet-friendly plants for parents who have fur babies. There are seed subscriptions sending a variety of seeds, instructions, and tools. Whether you're an expert who wants to create a more diverse collection or a beginner trying to enhance your knowledge on plants, this list will help you in every possible way take your plant game to the next level.
Provide wellness not only for yourself but to your home as well with these best plant subscription boxes.
The Best Subscription Boxes for Plants!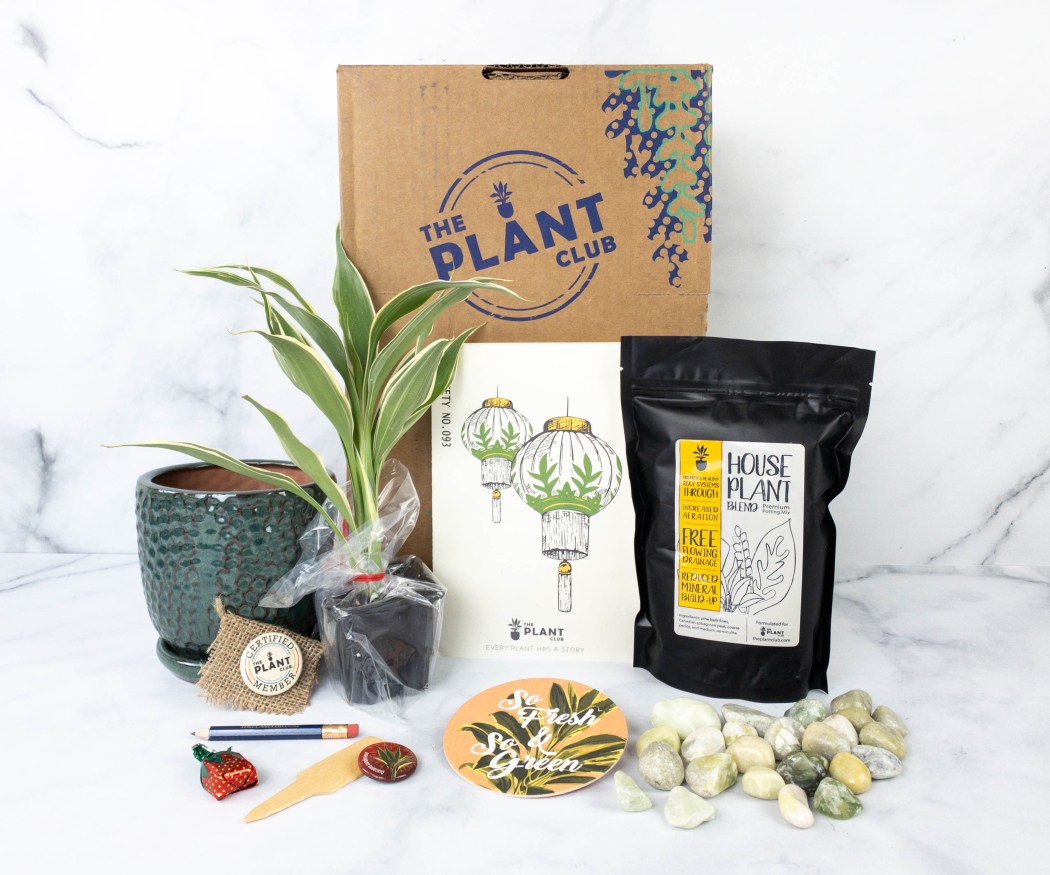 Image from: our review
What You Get: The Plant Club lets you fall in love with a variety of houseplants every month. You'll get great plants as they are 4th generation growers who pack every box. Each month's featured plant selection is based on seasonality, form, coloration, character, foliage, and diversity. It includes a decorative container, custom blend potting mix, hand-illustrated assembly instructions, and other curious extras to make it extra special! Start assembling your planter and care for it with love.
Go to  The Plant Club Reviews to know more!
Price: The Plant club cost $24.95 each month.
---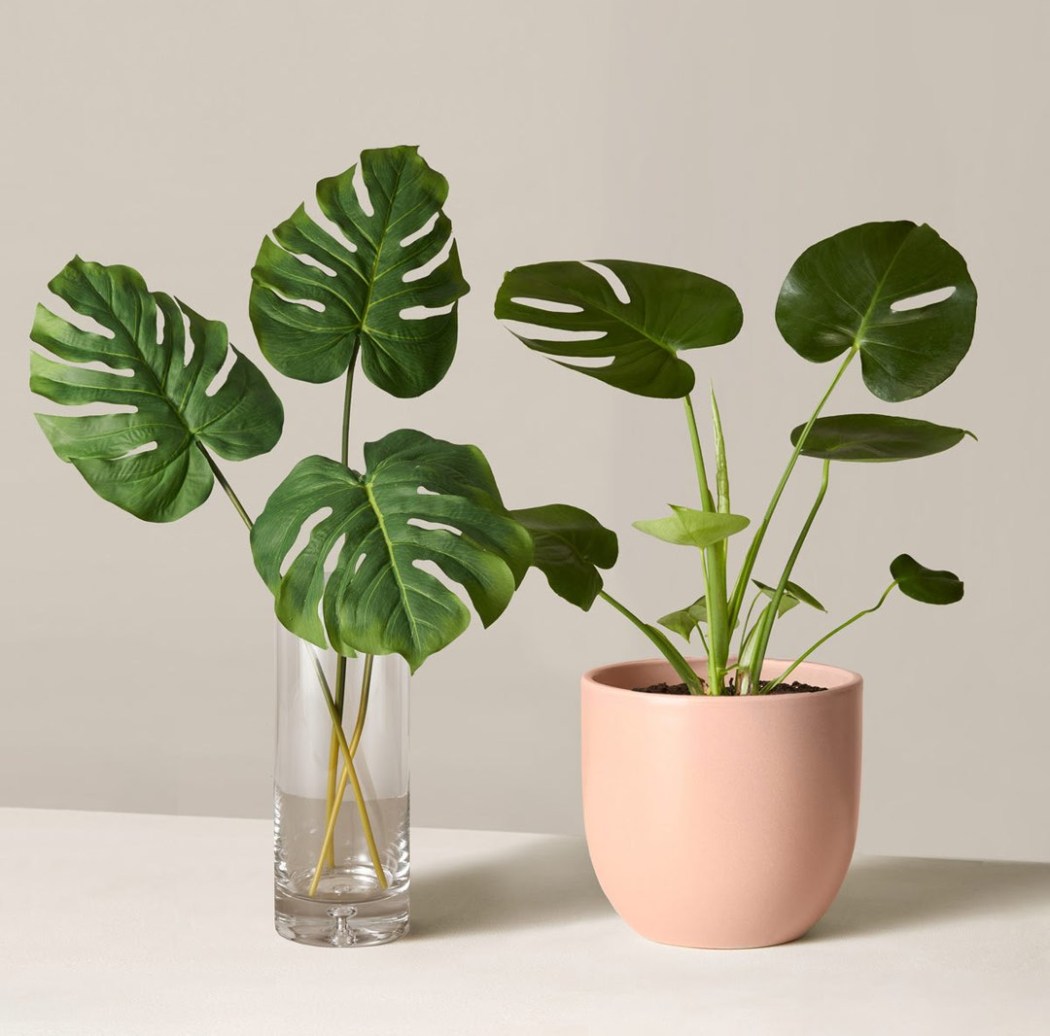 Image from: The Sill
What You Get: Bring the outdoors in as you subscribe to The Sill. They aim to make the experience of being a plant parent as wonderful as the plant themselves. Expect a new plant and planter to arrive at your door each month. Choose what types of plants you like from the 4 options they have: Plants for Beginners, Low Light Plants, Pet-Friendly Plants, or Medium Plants for Beginners. Plus you can also choose your preferred planter color! Join the Plant Parent Club, where you can enjoy perks like 10% off and free shipping!
Price: The plants cost $42 per month for beginners and low-light plants. The pet-friendly plants are $46, while the medium-sized plants are $60 per month. Take note that this subscription is a 3-month commitment.
---
Image from: The Bouqs Plants
What You Get: Enjoy all the benefits of living with plants when you subscribe to The Bouqs Plants. They offer different eco-friendly plants for a range of budgets. Some of these are succulents, tropical orchids, snake plants, and more! What's good is that they partner with eco-friendly farms that minimize waste, recycle water, and use sustainable growing practices. As a subscriber, you can enjoy 30% off plus free shipping every single time and a monthly $10 credit on regular orders, exclusive styles, and their happiness guarantee!
Price: The subscription service helps you to schedule out orders for the whole year for as little as $36 a month. You get 30 percent off every delivery and $10 off monthly orders, in addition to the free delivery.
---
Image from: Lunarly
What You Get: Lunarly gives healing not only to you but also to your space. Their boxes elevate ones' space and cultivate mindfulness. They promote self-care and plant-care with specially curated houseplants together with ritual items. FYI, the plant comes every other month alternating with bespoke hand-poured natural candles, with a guide on how to keep them alive and thriving such as water, soil, toxicity, and light recommendations. Every box even has moon names and includes gemstones as well. Subscribe now, and you'll receive a New Moon, New Me Journal in your first box.
Price: Choose from the 3 subscription options:  Monthly- $49.99, 3 Months $45.99 (save $12) and 6 months $41.99 (save $48).
---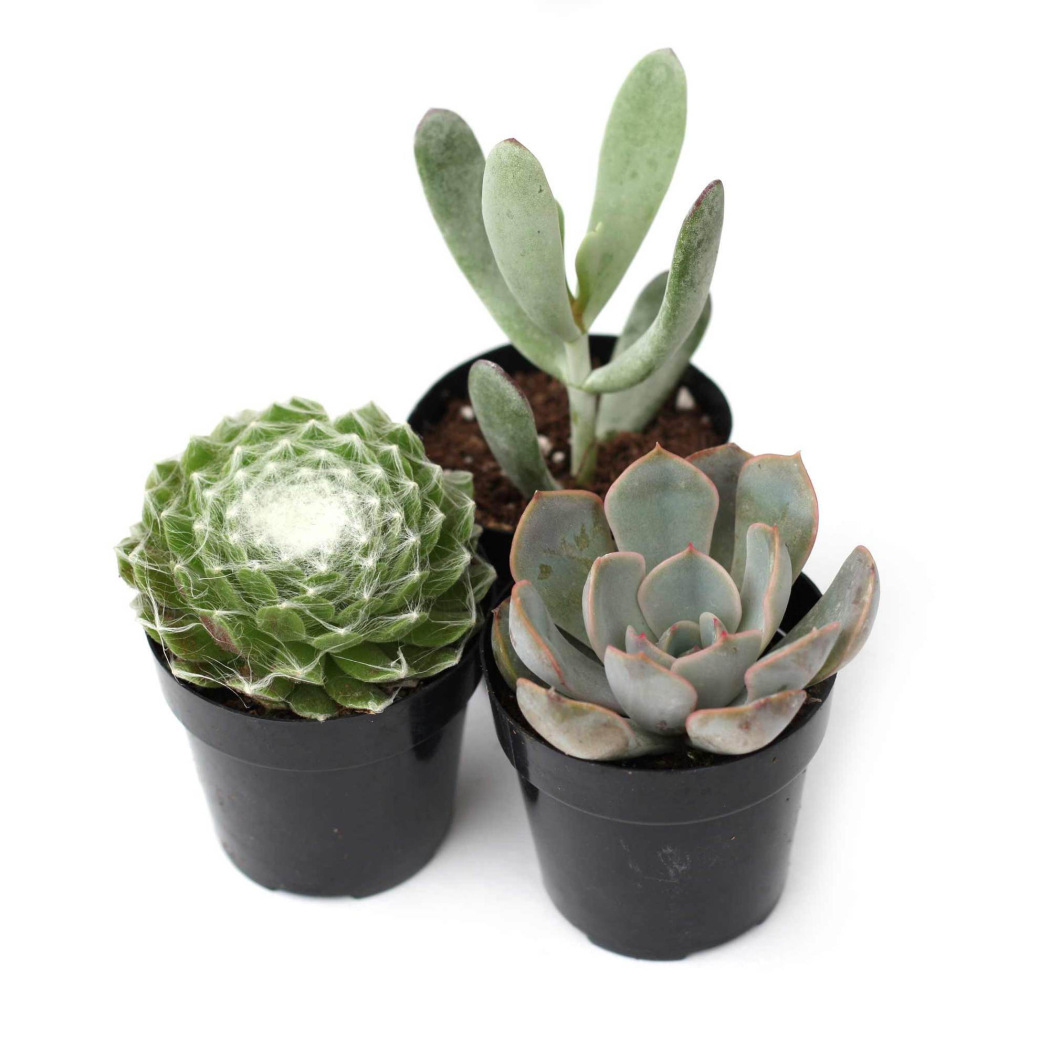 Image from: Leaf and Clay
What You Get: Leaf and Clay lets you discover hundreds of succulents at your fingertips. You'll receive 3 succulents each month when you become a Plant Mail Club Member. Shipping is completely free for all Plant Mail Club orders. Their team hand selects a new variety pack each month to make sure you have a fresh and diverse collection. Just so you know, all plants are shipped bare-root, without soil or their original nursery pot. You can also add a heat pack (additional $5) to your order to protect plants from freezing weather during shipping.
Price: The Plant Mail Club costs $19.95 per month ($24.95 with heat pack). Prepay every 3 months for $53.85 ($67.35 with heat pack) and $96.70 for 6 months ($119.76 with heat pack).
Deal: Get 15% off your first order! Use coupon code FRESH15.
---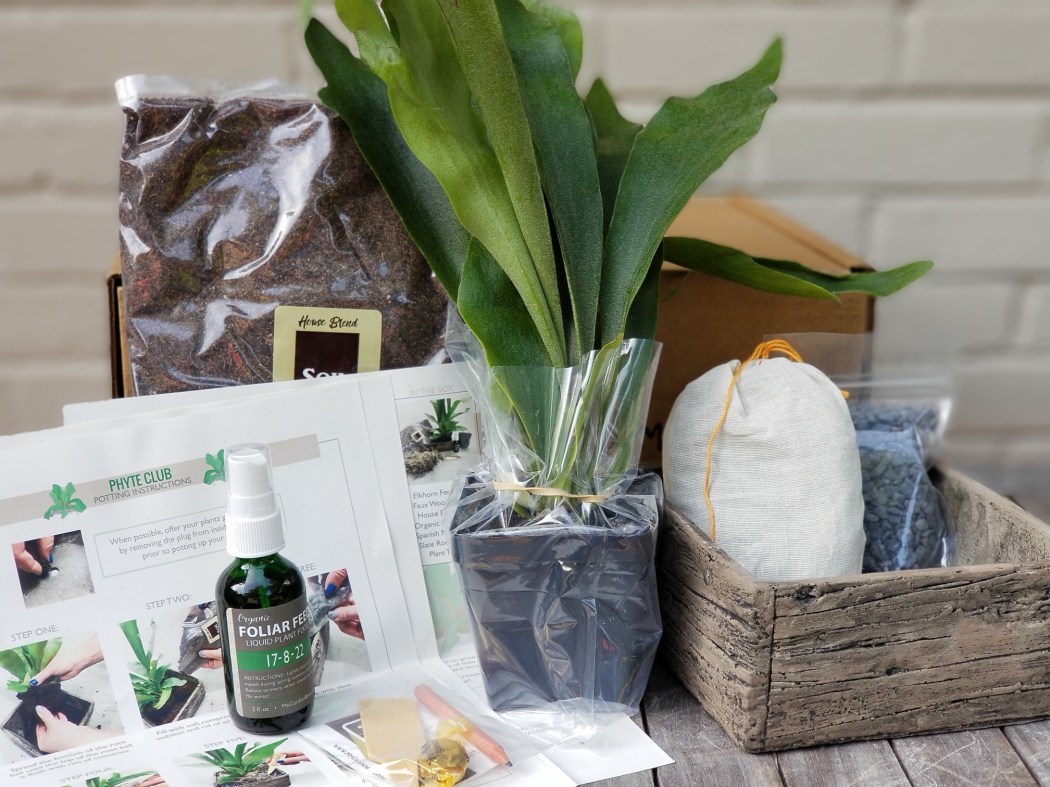 Image from: My Garden Box
What You Get: My Garden Box shares gardening with everyone willing to dig in the dirt with them, that's why they put together a special gardening collection just for you! They send everything you need for your gardening goals. You'll receive live plants, beautiful planters, growing media, and extra accents. Whatever season it is, they'll provide just the right garden box for you. Included also in the package are illustrated instructions, care tips, and fun plant facts.
See our past My Garden Box Reviews to know more.
Price: The subscription costs $38.50 each month.
---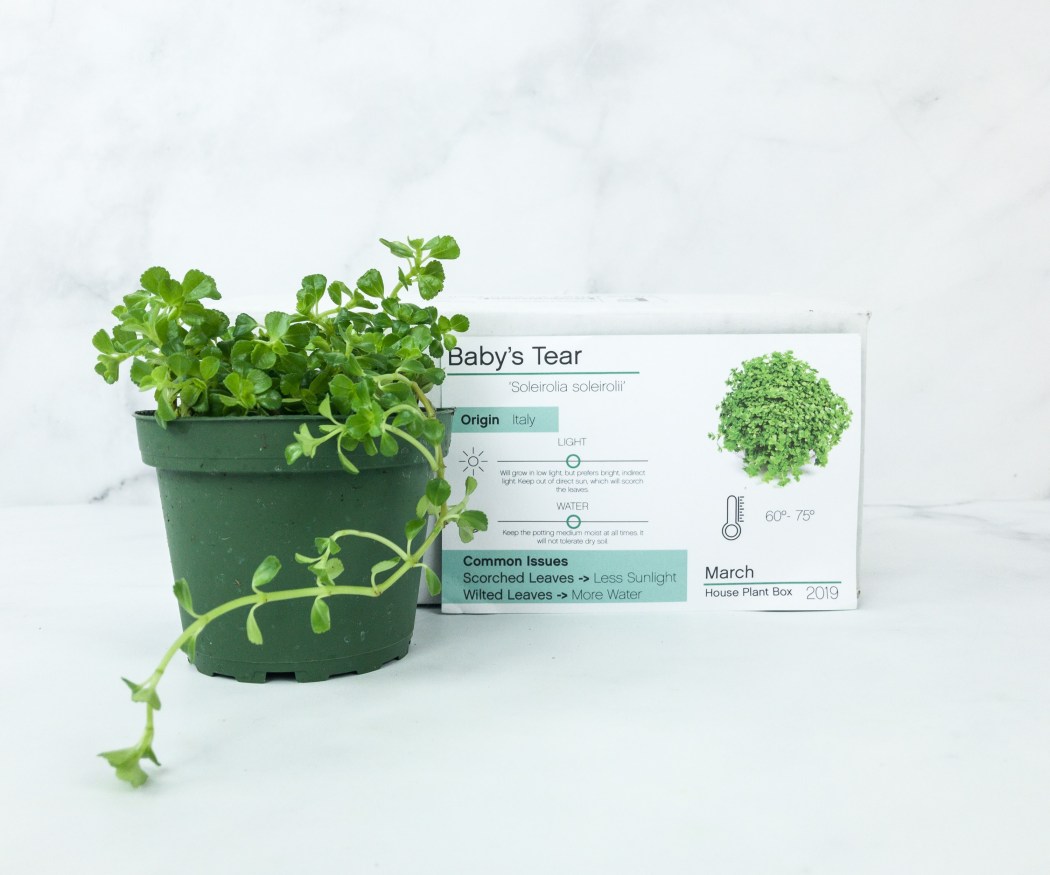 Image from: our review
What You Get: Get a unique plant delivered to your door monthly with House Plant Box. Choose the type of subscription you want and discover plants originating from all around the world. Each box includes the plant you want to receive plus a detailed care guide. Depending on your chosen plan, you'll receive one, two, or four plants. You can pick the Seed Box if you want to grow your own plant. You'll receive two different types of seeds with five biodegradable, plastic-free, seed starting pot made from composted cow manure. Relax and wait for the package to arrive and watch them grow! Expand your plant collection with members-only discounts.
Take a peek at what plants they've sent us on our House Plant Box Reviews.
Price: They offer 6 forms of subscriptions: The Monthly Plant Box ($15.99) Air Plant, Succulent, Indoor House Plant, Aquatic Plant, and Herbs can be selected by subscribers. The Pet-Friendly Monthly House Plant Box ($15.99), Premium Monthly Plant Box ($34.99), Seasonal Garden Plant Box ($34.99), Pre-Potted Terra Cotta Plant Box ($35) and 10″ Large Indoor Plant Box ($99.99).
---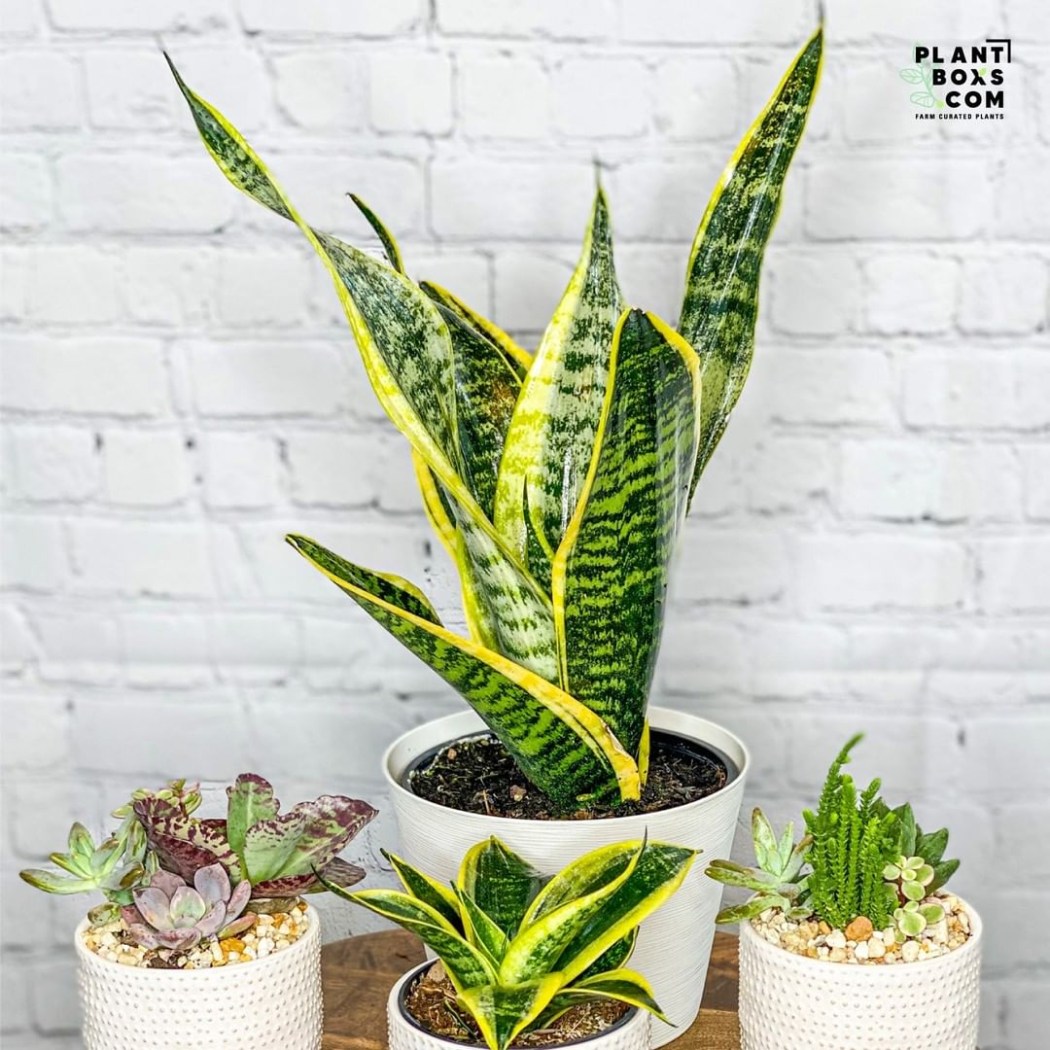 Image from: PlantBoxs
What You Get: PlantBoxs is the road to take on if you love plants and can't get enough of them. Elevate your home and make every corner pleasant looking with plants handpicked from sustainable farms and delivered directly to your door. Each month, you'll receive 1 to 2 small, medium, or large plants, ranging from succulents to exotic tropicals, to classic Boston ferns, and a card describing the plant you received. What's left for you to do is admire the plants, take care of them, watch them thrive, and smile with contentment!
Deals:
---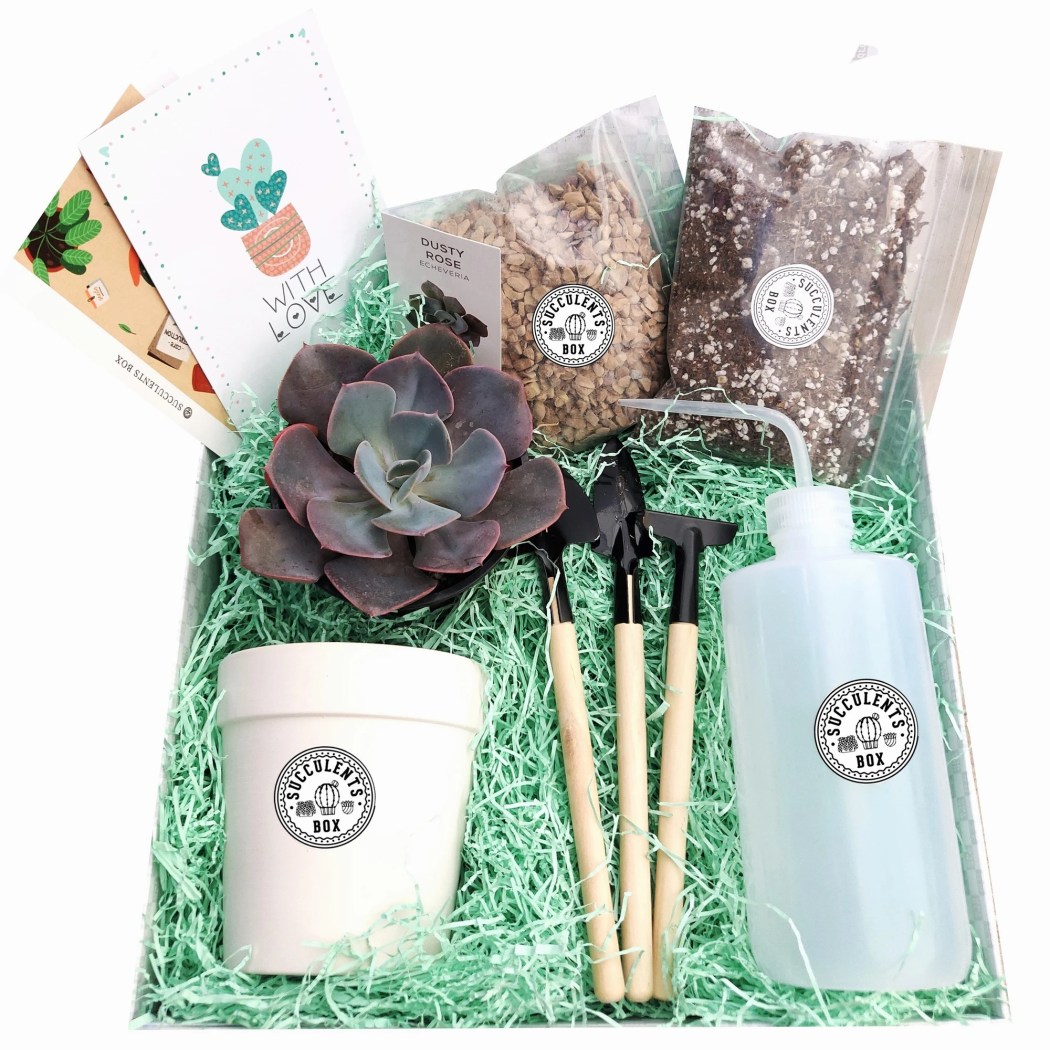 Image from: Succulents Box
What You Get: Succulents Box is a monthly subscription offering varieties of succulents. Receive the best succulents from succulent lovers themselves. What's great with these types of plants is that they live much longer and require less care. Get one to four succulents, or a mixture of an air plant and a succulent depending on what box you'll choose. You can also add heat packs to your packages to protect them from freezing during winter for an additional cost. Together with their sister business, they donate a portion of proceeds to a cause of their choice.
See our past Succulents Box Reviews to learn more.
Price: Receive a monthly box with choices of-1 succulent $5, 2 succulents $10, 3 succulents $15, 4 succulents $15. The Airplant costs $6 while it costs $11 for the combination of 1 Airplant and 1 Succulent. The prepayment plan is valid for 3, 6, and 12 months as well.
Deal: Get $5 off your first box! Use coupon code BOX5.
---
Image from: Horti
What You Get: Horti is an indoor plant subscription that offers healthy hardy plants with manageable care instructions delivered straight to your doorstep every month. Every package is designed to build your confidence in plant care. They work with small businesses and handpick products from thousands of available options to give you the best, and you'll never receive the same plant twice! You'll receive a plant with a pot and saucer in each box, depending on your chosen plan. In some months, you'll receive a planting accessory instead of a pot. You'll surely make your way through your growing success because they'll guide you all through the way.
Price: There are two ways you can get your plants every month in NYC, pick-up (costs $24), and drop-off (costs $34). For the rest of the US, it's $25 per month.
---
Image from: Harry & David Plant Club
What You Get: Celebrate every occasion with a delightful assortment of succulents or mini roses delivered to your door by Harry & David Gift Plant of the Month Club. Your first order will give you a plant in a ceramic planter while the succeeding months will give you a 6-inch gift plant in a grow pot together with care instructions to help them grow vigorously.
Price: The subscription ships every 3 months for $129.99. Prepaid plans cost $229.99 for 6 months and $399.99 for 12 months.
Deal: Enjoy 15% off your purchase of $60+! Use coupon code HDTAKE15 and Use this link to subscribe.
---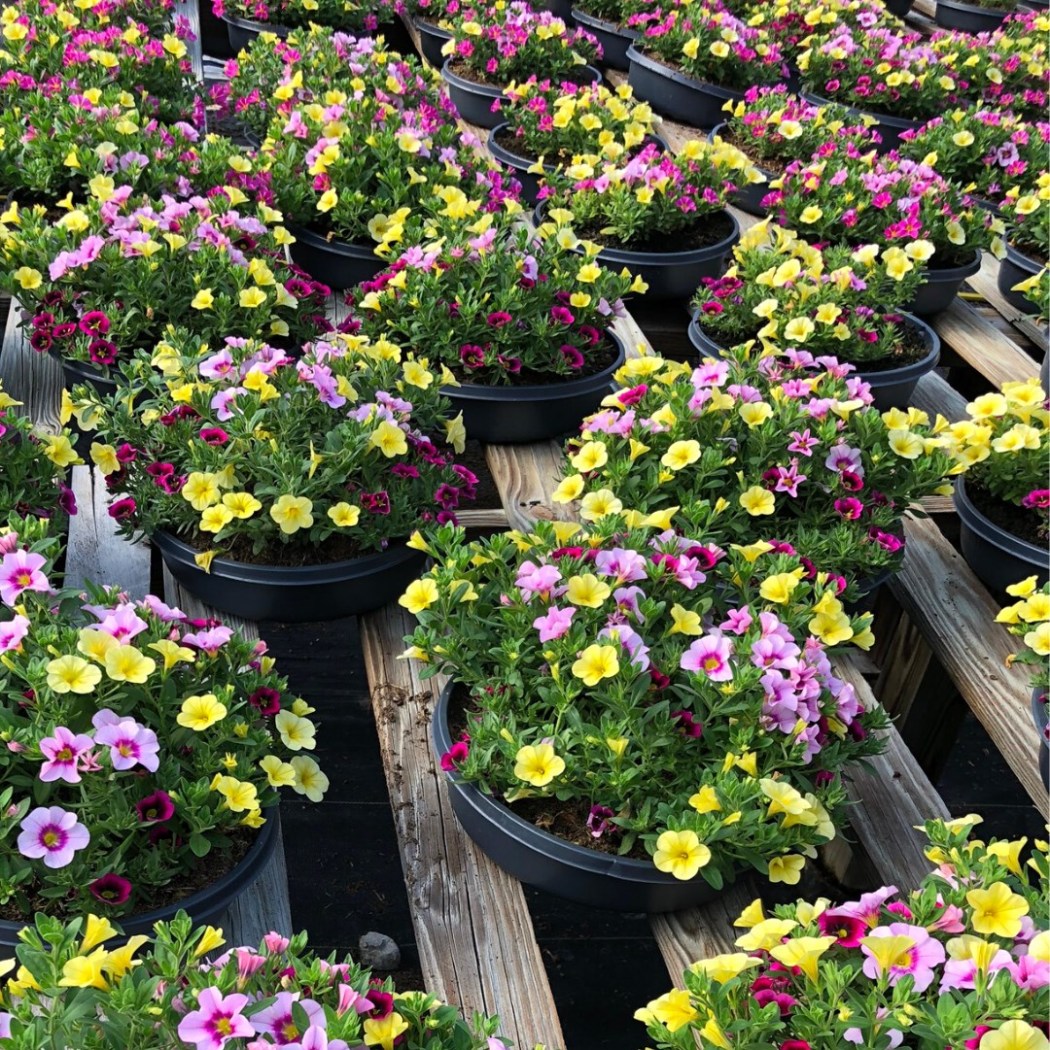 Image from: Knock! Knock!
What You Get: Knock! Knock! Knocks at your door each month to give you seasonal plant trays that are arranged stylishly. For them to be able to deliver the perfect plants for you, they need to know what your front door and planter look like and how much sunlight does it get throughout the day. Based on what information you provided them, you'll receive two budding plant trays curated by their horti-futurists. Place them where they should be and watch them thrive!
Price: The box costs $65 per quarter
---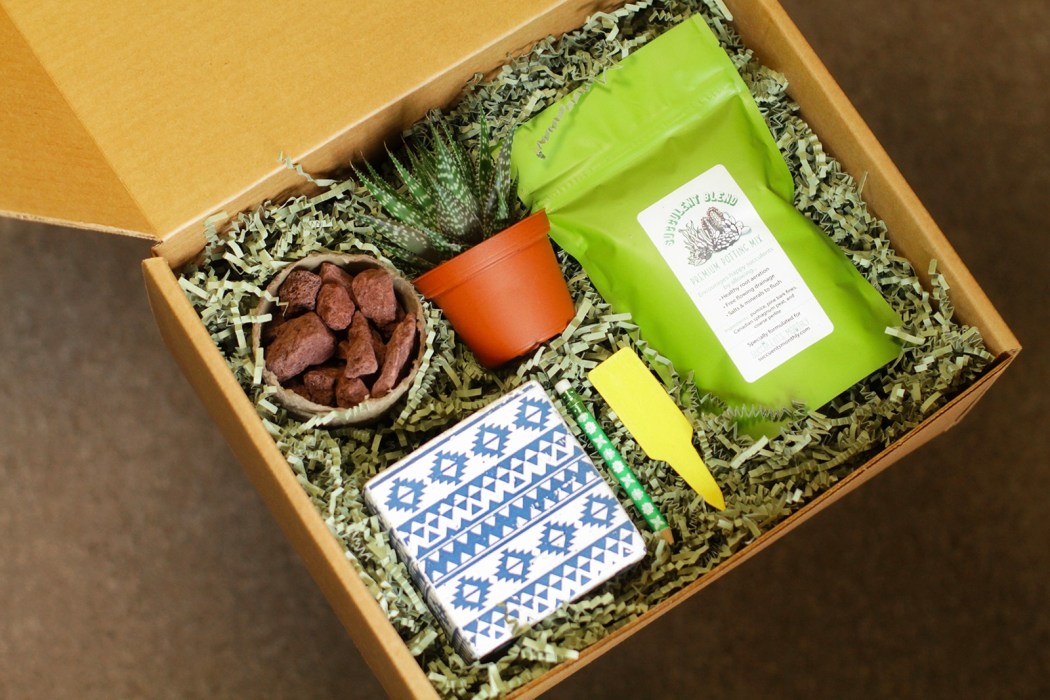 Image from: Succulents Monthly
What You Get: Receive pre-potted succulent plants with Succulents Monthly. These are chosen by their growers from a large array of greenhouse-grown succulents. Inside every package, you'll get a succulent, a unique container, plant-care items, and more! There's also hand-illustrated instructions and fun facts about your new succulent to help you get familiar, as well as help you in your journey of building a plant collection.
Price: The Succulents With Style Box starts at $18.95 per month and the set of premium mixes starts at $28.95 per month.
---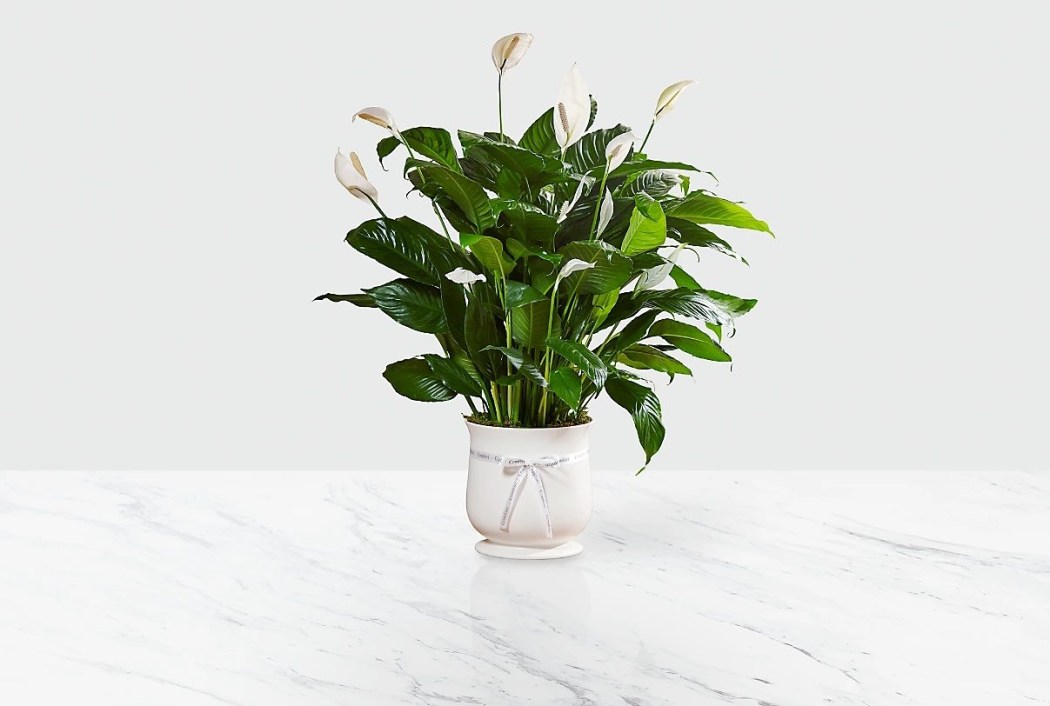 Image from: ProPlants
What You Get: ProPlants is a plant delivery service providing easy-care houseplants that make great presents too! They offer arrangements at an affordable price, whatever occasion it may be like Mother's Day, Valentine's Day, Birthday, Christmas, Anniversary, and more! Whether you want fresh plants, beautiful centerpieces, and indoor potted plants, they'll gladly deliver it to you on your chosen date. They also offer same day plant deliveries or the next day. 100% guaranteed these plants will elevate your home!
Price: The price of plants begins at $30 individually.
---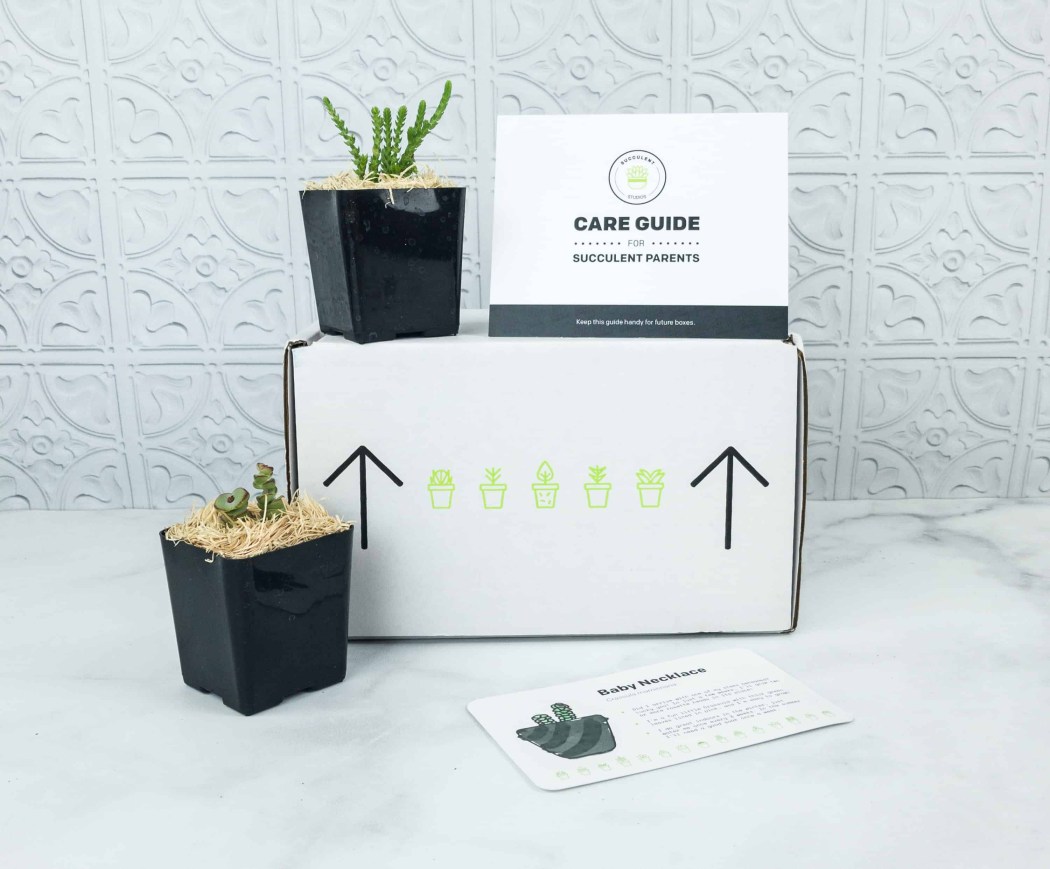 Image from: our review
What You Get: Succulent Studios brings a unique variety of succulents from Southern California. They hand-select two organically-grown baby succulents every month from hundreds of different types of hardy succulents and cacti grown at their own nursery. These will arrive in 100% plastic-free packaging and safely potted in 2" eco pots with handling and care instructions to help them prosper.
Check out our past Succulent Studios Reviews to find out more about this box.
Price: Subscription costs $10 a month + $6.50 shipping to the US.
---
Image from: Soil & Clay
What You Get: Acquire beautiful, easy to care plants from greenhouses through Soil & Clay. They want to strengthen the bond between individuals and nature as well as bring joy and life to your space. Options are categorized so you can easily find which ones you'd like. Join the Plant-Parenthood Community to receive insider info on new arrivals, early access, rare plants, and exclusive offers!
Price: Plans as low as $5.99 for individual plant purchases!
---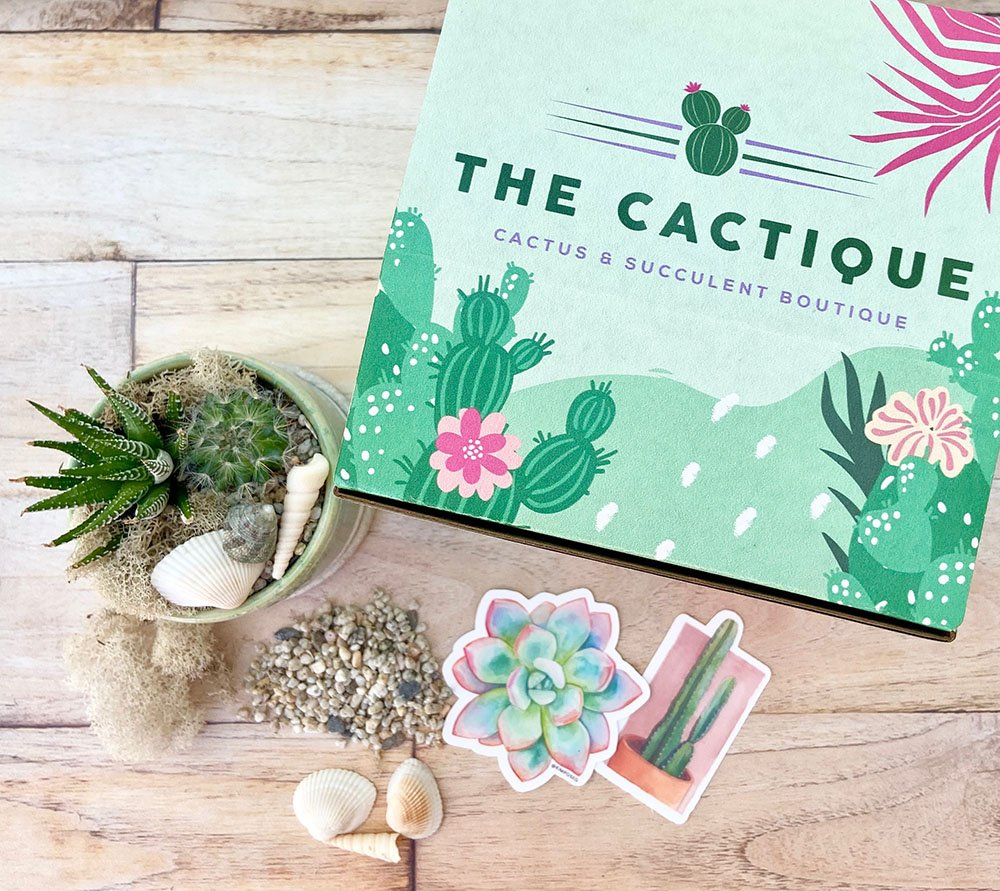 Image from: The Cactique
What You Get: Receive plants that are beautifully arranged, planted, and carefully packaged, and shipped to your door every month. The Cactique is a monthly subscription box that offers low-maintenance plants. Their cacti and succulents are grown at the foothills of the San Jacinto Mountains in a clear valley surrounded by hot springs. Each month, you'll receive mini cactus + succulent arrangements of the month, care instructions to keep them thriving, and some extra goodies to reward plant parents. Past gifts include cactus and succulent-themed soap, candles, stickers, and more!
---
And that's our list of the best plant subscription boxes! Have you chosen what'll satisfy the plant lover in you?
Browse our complete list of all the best subscription boxes in every category to find more worthy subscription boxes!
Say Hello to More Subscriptions For Green Thumbs!