Hunting is a fun and adventurous hobby that allows you to spend more time with nature. Face-to-face encounters with wild animals help sharpen your senses and improve physical fitness! And for you to hunt without worries, you must come prepared. Enjoying and exploring the wilderness takes not just skills and courage but also the right gear!
Getting a hunting subscription box will help take the work out of finding the best and latest hunting tools and accessories. These hunting subscription boxes aim to arm you with quality tools and gear, many of which are curated by hunting enthusiasts or experts themselves. Whether you're a hunting newbie or a veteran, you can find the right products to fit your hunting lifestyle!
If you love the wild and want to wander the deepest corners of the woods, you must have the knowledge and be equipped with all the right tools. From knives to ropes, binoculars to flashlights, hydration supplies to snacks, we have the best hunting subscription boxes for you to try! You can also see every single hunting subscription in our complete list.
The Best Gear and Accessories Subscriptions for Hunting!
Image from: Mountain Hunter
What You Get: It's a challenge to find high-quality hunting gear that can resist even the harshest elements, but Mountain Hunter makes it easier. They offer the most wanted gear for hunting – all are lightweight and packable, perfect for attacking the wilderness! Each box includes 3 to 5 exclusively curated gears for backcountry hunters, which might include hydration and water filtration products, camping gear, meat processing, survival kits, knives, multi-tools, and more! A short survey awaits you upon checkout for them to better curate your box based on your hunting style. Some of the well-loved brands they feature include Sitka, Sawyer, and MSR!
See more at our Mountain Hunter Box Reviews.
Price: Boxes cost $54.99 per month.
---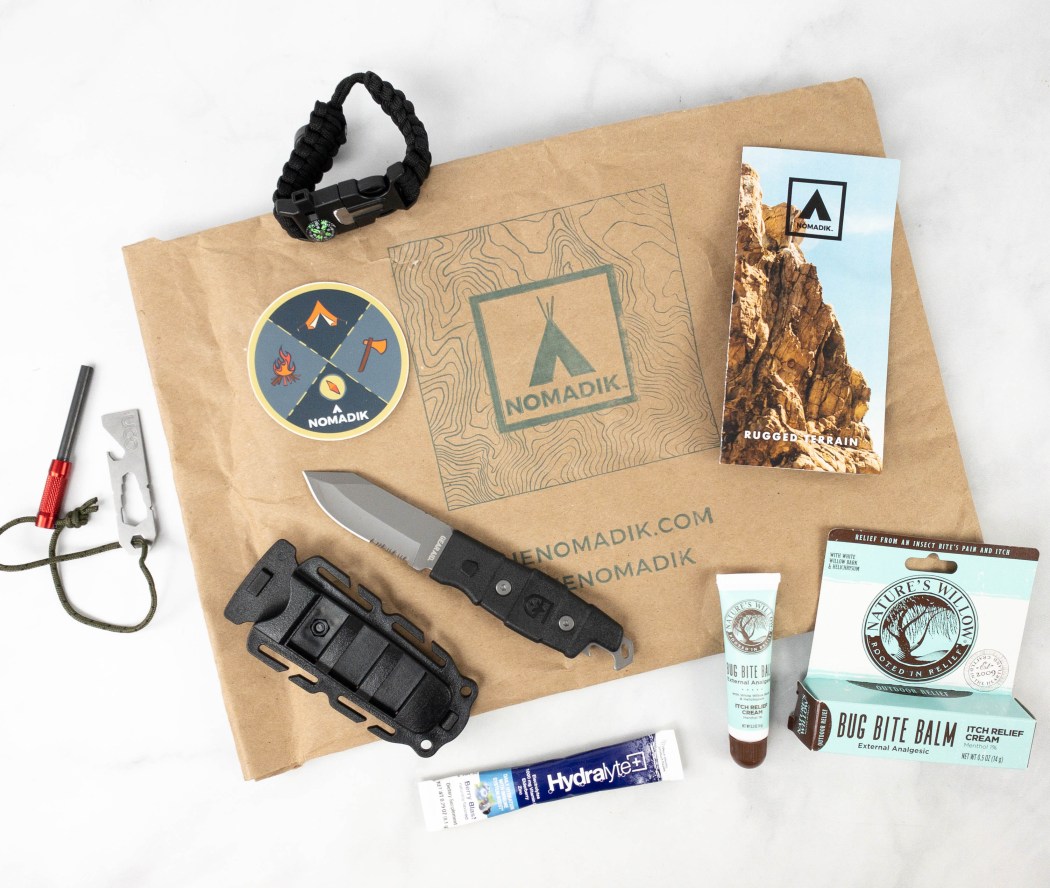 Image from: our review
What You Get: Encouraging you to live your best life outdoors, Nomadik sends high-end and functional gears with a "stamp of approval" from world-class adventurers! They put the spotlight on multifunctional tools, some of which are also new technology integrated. Each box comes with 3-6 unique and handy products from premium brands like HydraPak, Igloo, Parks Project, and more. It includes 1 main product, 1-3 smaller products, and 1-2 educational/inspiration items, plus a monthly outdoor challenge that's pulled together into an exciting theme! As a member, you'll also gain access to discounts for top-notch brands.
Learn more when you visit Nomadik Reviews.
Price: A box is $32.95 a month, with discounts for longer subscriptions.
Deal: Get $5 off on your first box! Use coupon code HELLO5OFF.
---
Image from: Knife Subscription Club
What You Get: Knife Subscription Club sends 1 high-quality, stainless steel, branded knife, and EDC gear straight to your door on auto-pilot. This knife subscription is available in 4 different plans: Basic, Advanced, Premium, and Ultimate. Each month, you'll receive a box containing 1 cool knife plus hunting items like binoculars, fire starters, multi-tools, tactical pens, and many more. Some of the brands they've featured include Kershaw, CRKT, Spyderco, SOG, Smith & Wesson, Shrade, and Cold Steel. The Basic Plan is recommended for those who want to collect just the knives. But those who are interested in more advanced gear can check out the high-tier plans!
Price: The subscription starts at $25 per month.
---
Image from: Timgber Edge Outdoors
What you get: Catering to all kinds of outdoor enthusiasts, Timber Edge Outdoors packs at least 5-6 outdoor supplies from vendors all over the United States. They support and promote small businesses, and they also choose items that match the current season. It's an ideal subscription for hunters, but even fishermen, hiker, campers, or just someone who love the outdoors will find it fun and useful!
Price: Monthly boxes cost $39.99 each.
---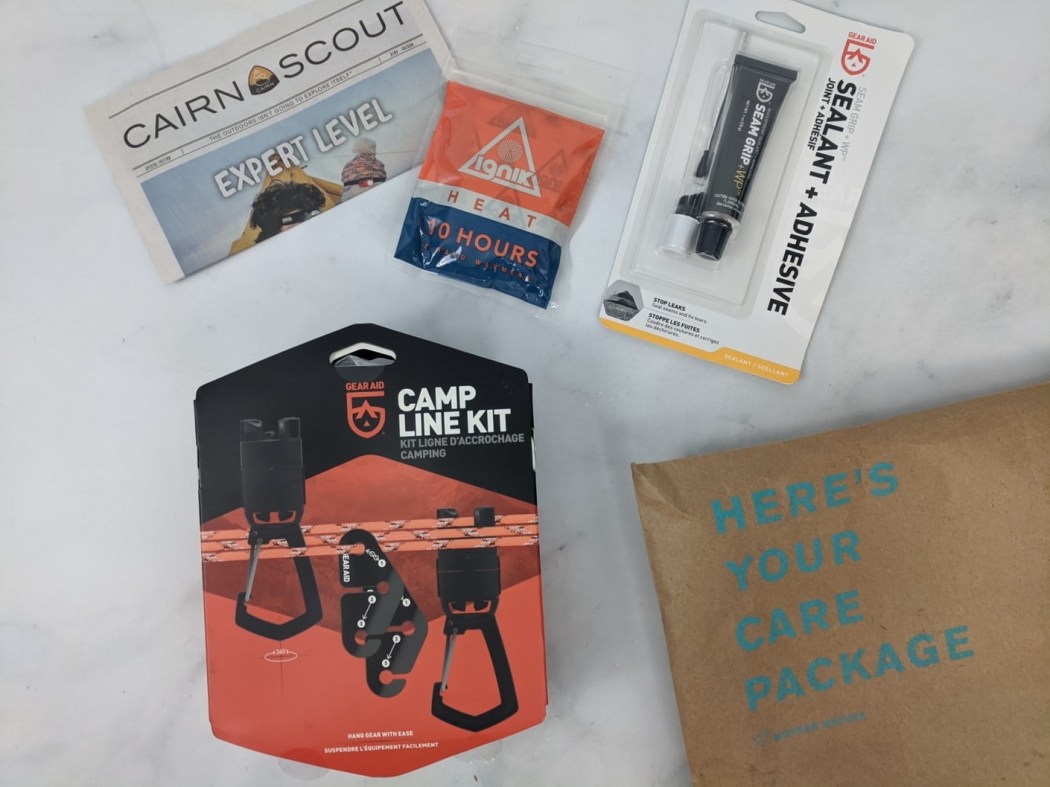 Image from: our review
What You Get: Cairn is for anyone who loves exploring the wilderness. They believe that being outside replenishes the soul, and so do we! They send boxes with a selection that's usually a mix of outdoor gear, apparel, food, emergency tools, and even skincare items you can easily use when you're out and about. They work with niche undiscovered brands to well-known ones to give subscribers expertly curated and tested outdoor and survival gear. The total retail value of every box exceeds $50, and not to mention, all items are full-sized!
Visit the Cairn Reviews for more information.
Price: Subscriptions cost $34.99 each month, but the cost goes down with longer subscriptions.
---
And that sums up our list of the best hunting subscription boxes! Which of these boxes would you like to try for your hunting adventure?
Find out more must-try subscriptions! Visit our full list of the best subscription boxes for 2022!
Say Hello To More Subscriptions for Outdoor Gear & Accessories!