Hunting can be dangerous to humans. Facing one on one with wild animals is scary, especially if you don't have the skills and the proper gear or tools to go along with you. On the other side, hunting gives you the opportunity to spend more time in nature and helps you sharpen your senses. But for you to survive it all, you must be prepared. Enjoying and exploring the wilderness takes not just skills but the right gears! These hunting subscription boxes aim to arm you with the best and the latest hunting tools and accessories, many of which are curated by hunting enthusiasts or experts themselves.
If you love the wild and want to wander the deepest corner of the forest, you must have the knowledge and carry all the right tools with you. From knives, ropes, binoculars to flashlights, water bottles, and even snacks, we have the best hunting subscription boxes for you to try! You can see every single hunting subscription in our complete list!
Don't forget to hit the heart button at the top of this post to save it for later so you can try more boxes on the list!
The Best Subscription Boxes for Hunting!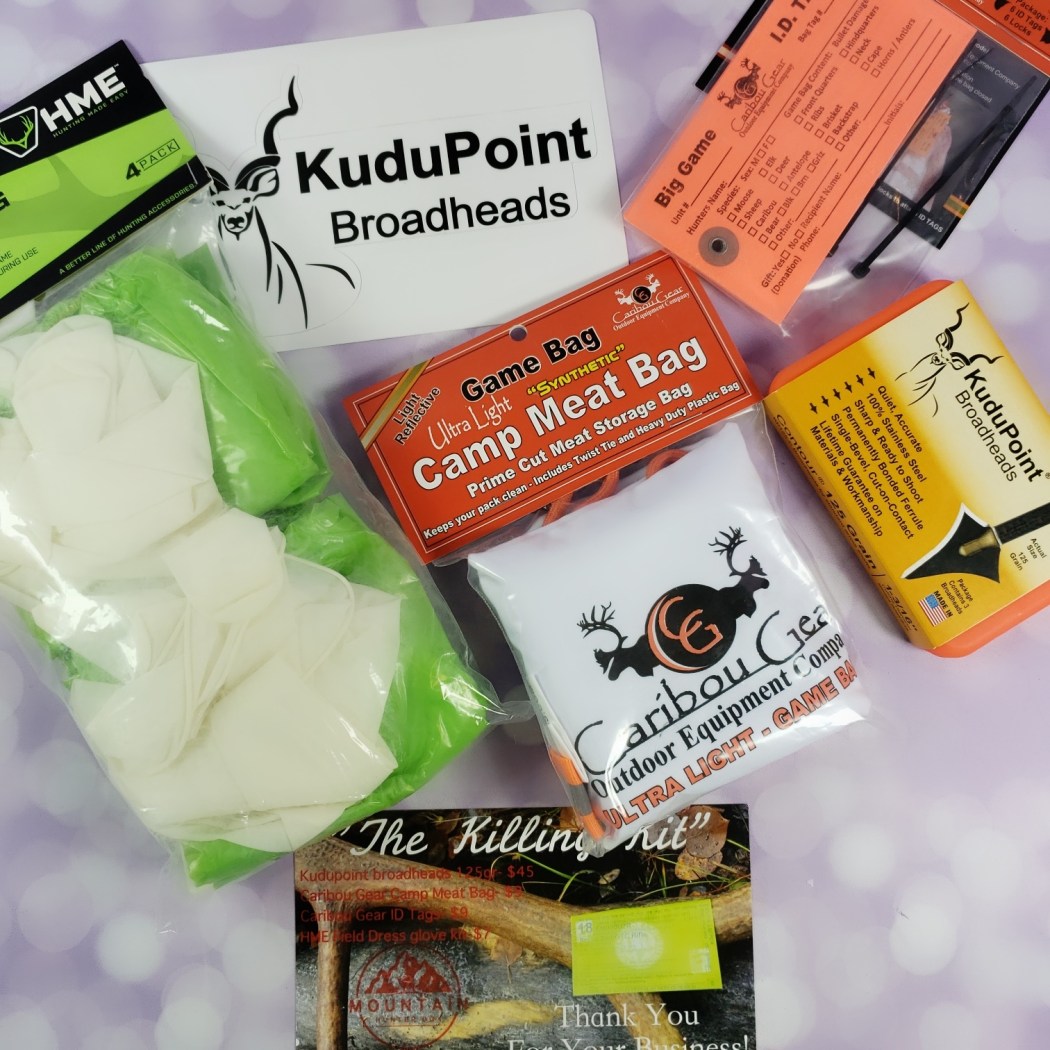 Image from: our review
What you get: It's a challenge to find high-quality hunting gear that can resist even the harshest elements, but Mountain Hunter makes it easier. Each box includes 3 to 5 exclusively curated gears for backcountry hunters, which might include archery and rifle hunting gear, camp gear, meat processing and game bags, survival kits, knives and multi-tools, game calls, and more! Some of the well-loved brands they feature include Sitka, Sawyer, and MSR!
See more at our  Mountain Hunter Box Reviews page!
Price: Boxes cost $44.95 per month.
---
Image from: our review
What you get: Cairn is for anyone who loves exploring the wilderness! Their selection is usually a mix of outdoor gear, apparel, food, emergency tools, and even skin care items you can easily use when you're out and about. They promise that the total retail value of the items in each box will exceed $50. If you complete the subscriber profile, the box will be curated to best match your outdoor lifestyle.
Visit the Cairn Reviews page for more information!
Price: Subscriptions cost $29.95 each month, but the cost goes down with longer subscriptions.
Deal: Get your first month for $1 when you subscribe for 6 or 12 months! Use this link to get the deal.
---
Image from: Knife Pack
What you get: Knife Pack makes it fun and easy to collect high-quality and unique knives without breaking the bank! It's for any collector who is tired of the same boring knives at unreasonable prices. They work with the best brands out there to bring you a blade (or two) that you will love! Packages may include a range of folding knives, fixed blade knives, and occasional bonus tactical gear!
More of these at our Knife Subscription Boxes!
Price: Boxes start at $14.95, or less with longer subscription plans.
---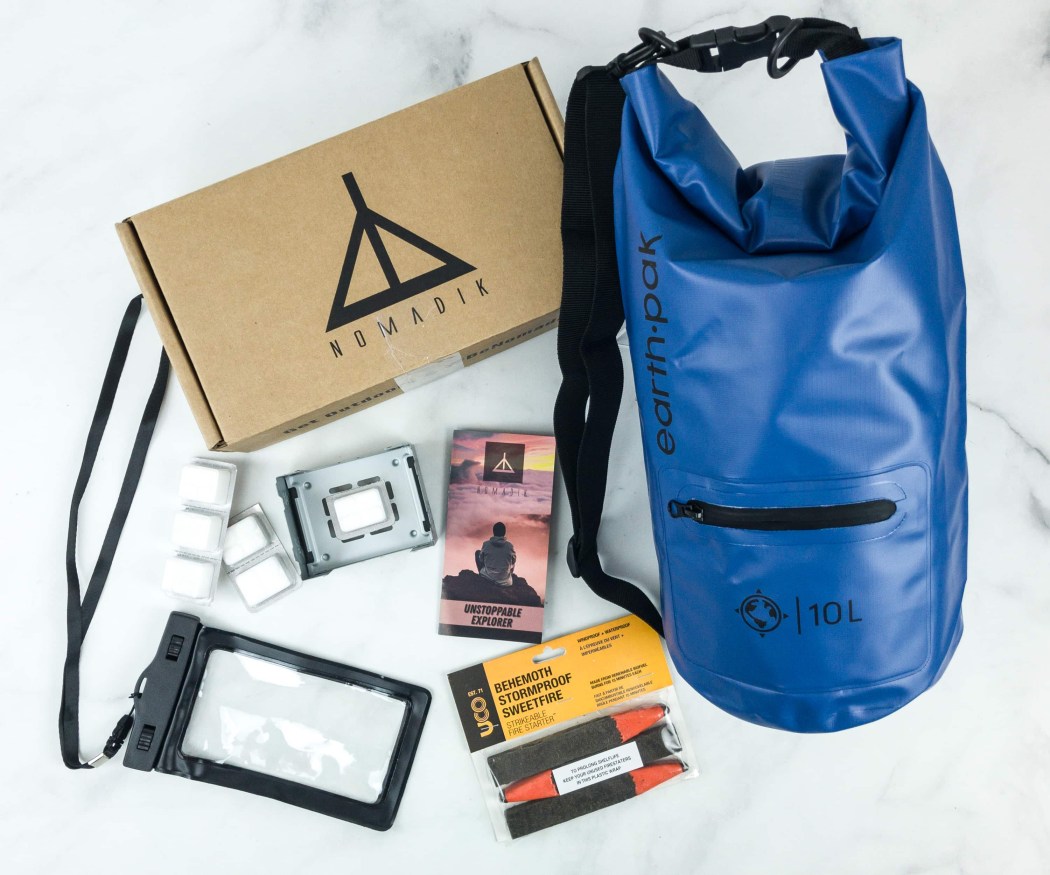 Image from: our review
What you get: Encouraging you to live your best life outdoors, Nomadik sends high-end and functional gears given a "stamp of approval" by world-class adventurers. They put the spotlight on multifunctional tools, some of which are also new technology integrated. Each box includes 1 main product, 1-3 smaller products, and 1-2 educational/inspiration items. Some of the premium brands they've worked with are EarthPak, Skratch Labs, Parks Project, and more!
Check out Nomadik Reviews and learn more about past box contents!
Price: A box is $32.95 a month, with discounts for longer subscriptions.
Deal: Get $5 off on your first box! Use coupon code HELLO5OFF.
---
Image from: Knife Subscription Club
What you get: Knife Subscription Club sends 1 high-quality, stainless steel, branded knife and/or EDC gear straight to your door on auto-pilot. Some of the brands they've featured include Kershaw, CRKT, Spyderco, SOG, Smith & Wesson, Shrade, and Cold Steel. This knife subscription is available in 4 different plans: Basic, Advanced, Premium, and Ultimate. The Basic plan is recommended for those who want to collect just the knives, but those who are interested in more advanced gear can check out the high tier plans!
Price: Subscriptions start at $23 monthly.
---
Image from: Hunt Vault
What you get: Hunt Vault's mission is to bring you the most effective hunting products every month and that is why they partner with the best brands around! Each box contains professionally tested gear and useful outdoor products, with a value promised to always exceed the monthly cost! Their boxes are also themed, making sure that each month's selection is relevant to the current season. Some of the brands they feature are Scott Archery, Vortex Optics, Traeger Wood Pellet Grills, Realtree, CRKT, and more!
See Similar Boxes here- Subscription Boxes for Hunters
Price: Subscriptions start at $40 per month.
---
Image from: Shooters Loot
What you get: If you're a shooting enthusiast, you can count on Shooters Loot for high-end gun parts and kits, as well as novelty gear, gun cleaners, lubricants, and brushes. Sometimes, they even include flashlights and knives, targets, and survival equipment. Some of the brands they've worked with include  Frog Lube, Hoppes, J5 Tactical, Olight, Kershaw, and CRKT. Aside from the regular subscription, they also offer a Family Fun Box that include backyard shooting games or range with suggested game rules!
Go to Firearm Subscription Boxes for similar boxes!
Price: Boxes start at $45.32 per month.
Deal: Get 10% off your first months subscription. Use coupon code HELLOSUB10.
---
And that sums up our list of the best hunting subscription boxes! Which of these boxes caught your attention?
Find out more must-try subscriptions! Visit our full list of the best subscription boxes for 2020!