Unlock the power of plants and enhance your overall wellness with the magic of essential oils! These concentrated extracts are jam-packed with natural benefits that can uplift your mood, calm your nerves, and soothe your senses. And with essential oil subscription boxes, you can discover new scents and blends to invigorate your daily routine!
Show More (1 items)
Essential oils are nature's gift to our bodies and minds, providing numerous therapeutic benefits. Whether you diffuse them, apply them topically, or mix them into your favorite skincare products, essential oils are a versatile and effective way to support your wellness routine.
Our list of the best essential oil subscription boxes brings natural oils right to your doorstep, so you can easily incorporate them into your daily routine. Take a deep breath and browse our selection – your mind and body will thank you!
The Best Essential Oil Subscription Boxes For Aromatherapy!
Image from: our review
What You Get: With Simply Earth, you can freely create your own recipe every month! This is not about recipes for food we're talking about, but rather, it's about recipes for essential oils! This subscription is the original essential oil recipe box that helps you make your home toxin-free with the use of their pure essential oils sourced from the best family-owned farms around the world – no added fragrance or fillers, ever!
Each box includes 4 full-size 100% pure therapeutic grade essential oils plus 6 fun new recipes that are tested and loved by a team of aromatherapists and all the extra stuff needed to make them! Be a member and unlock exclusive perks such as free essential oil, hero course, members-only sales, and access to an exclusive community that loves essentials oils as much as you do! They also donate 13% of their profits to organizations fighting to end human trafficking.
Deal: Receive a FREE Big Bonus Box with your first box. Deal applies automatically, just visit and subscribe. Plus, get a $45 gift card you can use for your next box or future purchases!
---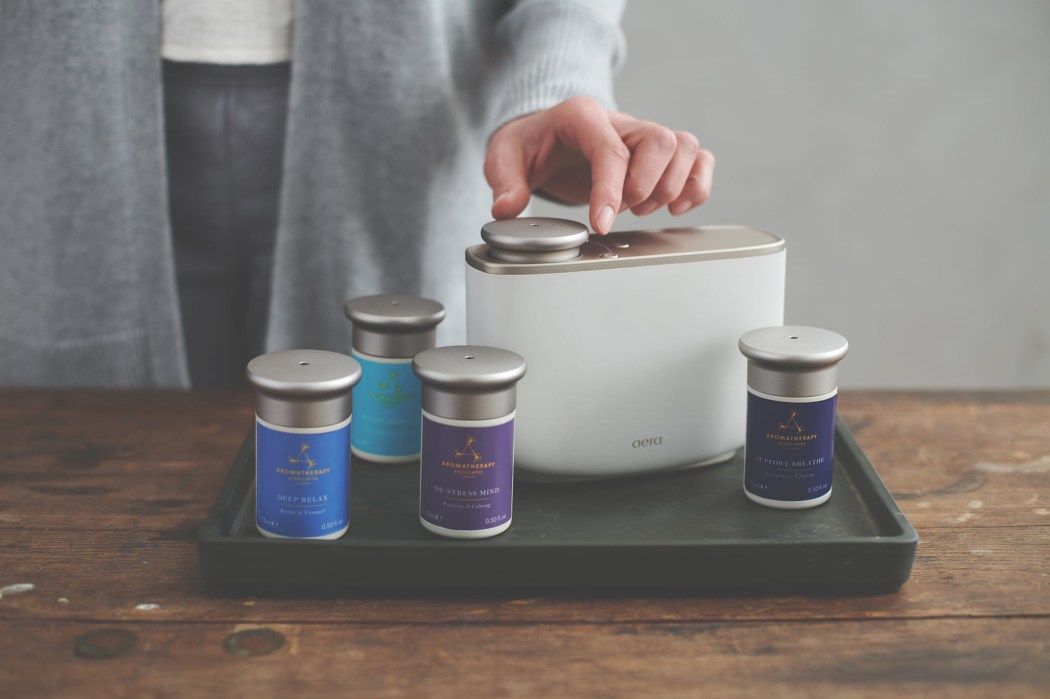 Image from: Aera
What You Get: Aera offers a unique scent experience by providing a smart home device. They aim to refresh your home using sustainably sourced, highest quality fragrance and essentials oils. Get your fragrance diffuser, which has adjustable settings so you can control the scent strength based on your room's size. Set a schedule as to when it should diffuse scents and control everything through an app, right in the palm of your hands!
Pick your fave scents or take a quiz to find your scent match. Each aromatherapy capsule is powered by 100% essentials oil blends you'd tirelessly smell all day long! There are 6 essential oil capsules to choose from: Optimism, Support Breathe, Forest Therapy, Deep Relax, Revive and De-Stress Mind. Plug it in, insert a fragrance capsule, and let a subtle scent elevate any room you're in. Members can get a 10% discount off the normal price and free shipping, always!
---
Image from: our review
What You Get: Bombay & Cedar is here to help you care for yourself the way it deserves! The monthly lifestyle box gives you your much-needed self-care so you can maintain a healthy relationship with yourself, boost self-esteem and build more self-confidence.
Each themed box contains 5-6 full-size & deluxe sample size vegan and cruelty-free products alongside two 100% pure essential oils and aromatherapy discovery, tips, and recipes with a retail value of over $100. This subscription is committed to giving you high-quality essentials oils made using the best plants grown in their natural and ideal habitat. You also have the option to build your own box of 5, 10, or 20 products and fill it up with different essentials oils in the form of sprays, roll-ons, or blends!
Deals:
Get 15% off your first order! Use coupon code HEY15.
Get 10% off your first subscription order! Use coupon code HSLOVE10.
---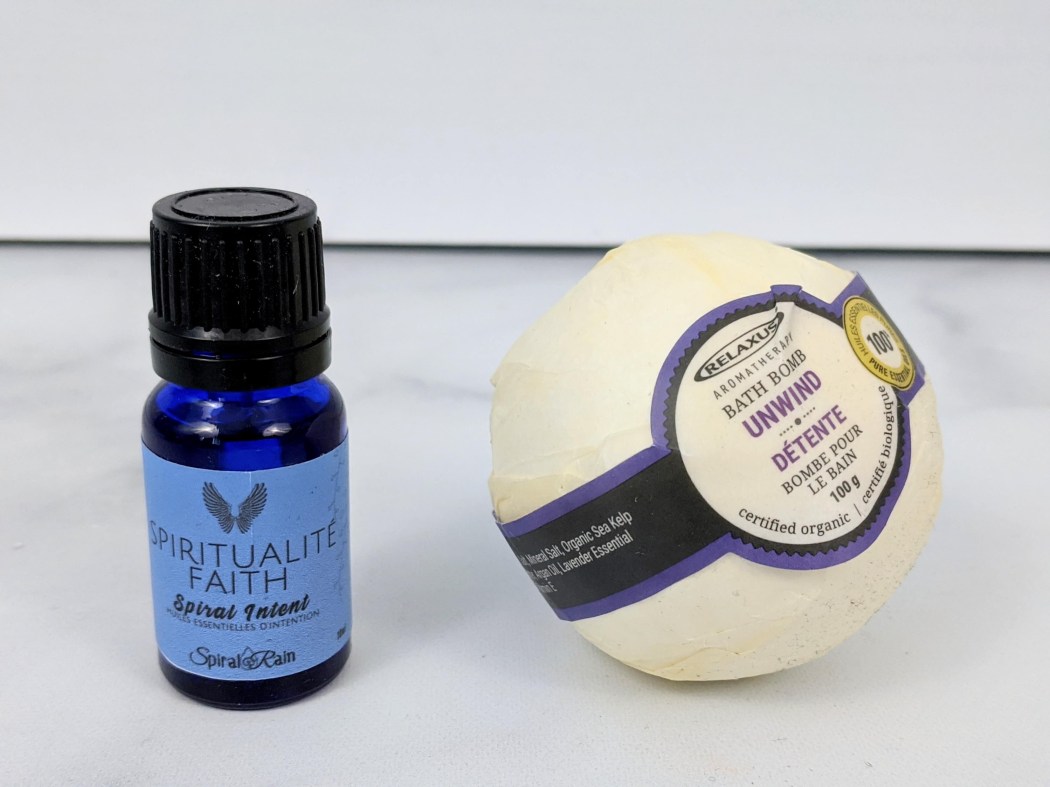 Image from: our review
What You Get: Spiral Rain's Witch Box is all about sending the best products for mindfulness and spirituality. Curated by a practicing witch, each box is always filled to the brim with magical, mystical, and witchy things that can better one's inner self. They have 4 subscription boxes to offer: Witch Box, Apothecary Box, Ohm Box, and Crystal Box. All boxes include full-sized items like herbs, candles, mists, jewelry, incense, décor items, and more, except for the Crystal Box, which only includes all sorts of gems and crystals.
Some of the stuff you can expect from this box are meditations, intention-setting rituals, and products that promote relaxation and self-discovery! The essential oils they include are a blend of fractionated coconut oil base and 100% pure essential oils, handpicked for just you! For every box sold, they also donate $1 to help fight global poverty and give access to clean water to those in need.
Deal: Get 10$ off your first box Use coupon code HELLO.
---
Image from: Far & Wild
What You Get: Calm your mind, body, and soul with 100% plant-based essential oils! Far & Wild offers the highest quality essential oils you can use, ethically sourced from botanical crops all over the world. These are made without any additives, adulterants, fillers, synthetics, or dilutions, making them one to trust for essential oils!
They have different essential oil kits to choose from, including single oils and blends, so you can freely choose what is up to your liking! You can also opt for a kit + ceramic diffuser for a quiet, smart way of distributing the subtle yet elegant aroma of essential oils at home.
---
Image from: ECO.
What You Get: ECO. gives you access to essential oils sourced from countries where the plants grow best – both climatically and seasonally. They want to deliver the highest possible quality oils you can feel good about. For your well-being, you can choose from the 2 subscription boxes they offer. The ECO Oil Club comes with 5 essential oils and some extras delivered every two months, and the ECO Ritual Box includes a selection of 9 essential oils and wellbeing products along with a ritual handbook and DIY recipe card to guide you on your aromatherapy journey every quarter.
All of the goods in the box were hand-picked by a qualified aromatherapist, and each box includes one exclusive blend that you'll love! Take your pick and indulge in the benefits of aromatherapy. Also, with every online order placed, they plant native trees in the Yarra Yarra biodiversity corridor in Australia on your behalf.
---
Image from: vitruvi
What You Get: Vitruvi is all about scents! They're into what scents can do to one's mood and overall wellbeing. Offering diffusers that'll help disperse such great aromas into your home, they also offer 100% pure essentials oils – whether single origin or blends – that are non-toxic and all-natural (no unnatural components of any kind)!
They expertly source and blend these unique aromas to help you feel comfortable in any space. Subscribe to two or more essential oils to save more – no membership required! Or build your own bundle of 4, 6, or 8's. Choose exactly which essential oils match your olfactory senses and let yourself sway with embracing scents that'll make you feel great!
---
And there you have it, our list of the best essential oil subscription boxes! Which of these are you wanting to try? Share it with us in the comments!
See more amazing subscriptions from our list of all the best subscription boxes in every category!