If you love to crochet and you're enchanted by colorful yarn and hooks of different sizes, then you must have heard of crochet subscription boxes. Whether you're dedicated to working on a small or large project, there are crochet subscriptions that can cater to your needs. You can make things such as scarves, pouches, beanies, coasters, and ones with complicated yet beautiful patterns like blankets and pillowcases.
Some boxes are filled with complete materials and patterns, while other subscriptions send only the materials needed and give you the freedom to create to your own project. Either way, they are created to help you unleash your creativity and help you find joy in crocheting! Both crocheting experts and beginners can benefit from these fun DIY subscriptions as well. To get you started, we've gathered some of the best subscription boxes for crocheting you can try!
The Best Crochet Subscription Boxes To Get You Hooked!
Image from: Annie's Moroccan Tile Afghan Club
What You Get: Through Annie's Moroccan Tile Afghan Club, you'll get to travel to the place where the sun sets, the western kingdom of Morocco! This 10-month kit series will provide yarns, instructions, and patterns to create an Afghan that is inspired by mosaic tiles found throughout Morocco. The first box includes the yarn and the pattern to begin with the large center tile, plus a digital stitch guide as a free gift. The succeeding kits will give you five skeins of yard + additional patterns for finishing each section. With the final kit, you'll learn how to add borders and finishing details. This subscription will definitely help you practice your skills while slowly turning your vision into reality!
Price: Indulge in a crocheting pleasure for $19.99 a month.
Deal: Get 50% off your first month's box! Use coupon code SHARE50 and Use this link to subscribe.
---
Image from: Hearts On Fiber
What You Get: Hearts On Fiber offers DIY craft kits inspiring people to make beautiful art. Instead of offering subscription kits, they've shifted their ways and offered memberships so you can still spoil your crafting enjoyment. The Kind Hearted (tier one) will give you 10% off all our purchases, access to the community chat group, an option to pre-order products before the public launch, and members-only discounts sales. There is also the From The Heart Membership (tier two), which gives you everything on Kind Hearted, plus one free 50 gram little stubby of your choice, and the Heart Of Gold (tier three), which includes all From The Heart benefits with one additional exclusively hand-dyed 100-gram skein of yarn each month in your choice of weight (sock, DK, worsted, bulky). Be a member and enjoy all the perks this membership brings!
Price: Monthly membership for Kind Hearted is $5, $15 for From The Heart, and $30 for Heart Of Gold.
---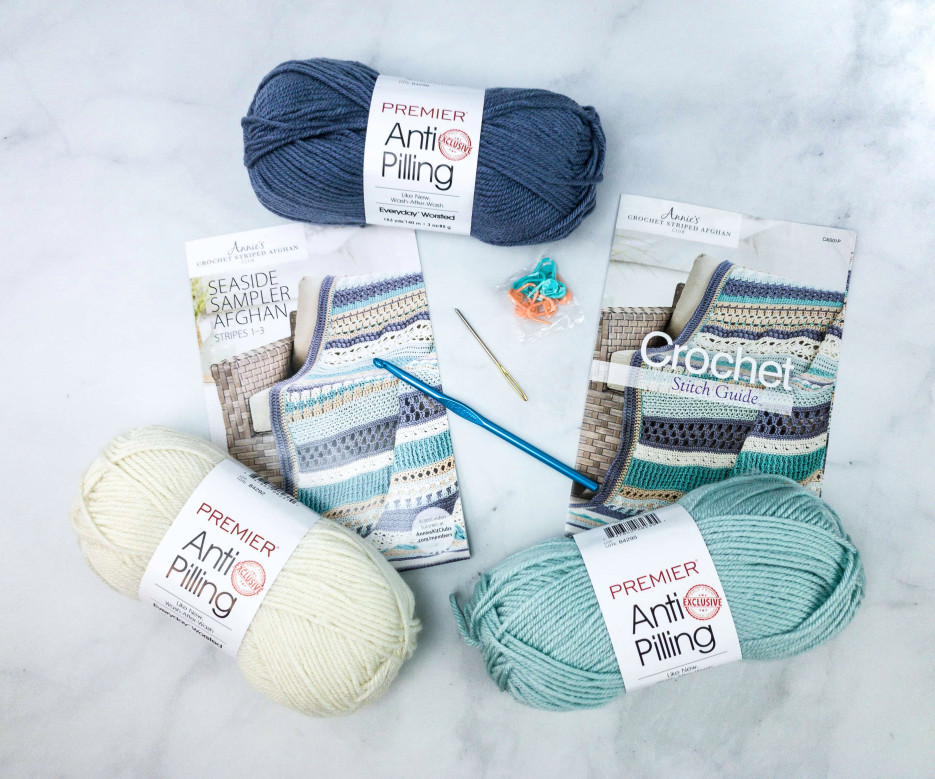 Image from: our review
What You Get: Channel your creativity and crochet a beautiful striped afghan at just the right pace! Annie's Crochet Striped Afghan Club provides an 11-month kit series, making it possible for you to perfectly create a little piece of paradise in the comforts of your own home. This afghan crochet course will help you hone your skills even more as each kit contains yarns, patterns, and a digital stitch guide to making 3 new stripes every month. The final kit will guide you through adding the borders and finishing details. Not only can you make a pretty afghan, but you also feed your knowledge as you'll learn helpful tips and tricks from experts! Color scheme options include Seaside, Plumberry, and Natural Pearl.
Price: The subscription costs $19.99 a month. The monthly knitting box costs $27.50, while the Just The Yarns box is $12 a month.
Deal: Get 50% off your first month's kit on any clubs! Use coupon code SHARE50.
---
Image from: our review
What You Get: Annie's Caring Crochet Kit Club is a monthly subscription box that can make an impact on someone else's life. This crochet for a cause subscription box has the intention to make the world a little brighter, especially for those who need it the most. Each box comes with all the materials you need, including yarns, patterns, and instructions to make one project, plus 5 more gifts on your first kit: a stitch guide, 3 crochet hooks, and a tapestry needle. Create projects like chemo caps for cancer patients, blankets for seriously ill and traumatized children, and many more. Warm not only your heart but also the heart of those people in need of warmth and kindness by donating your handmade projects to them. It's literally crochet for a cause!
Price: Start crocheting a project for a cause for $19.99 a month.
Deal: Get 50% off your first month! Use coupon code SHARE50.
---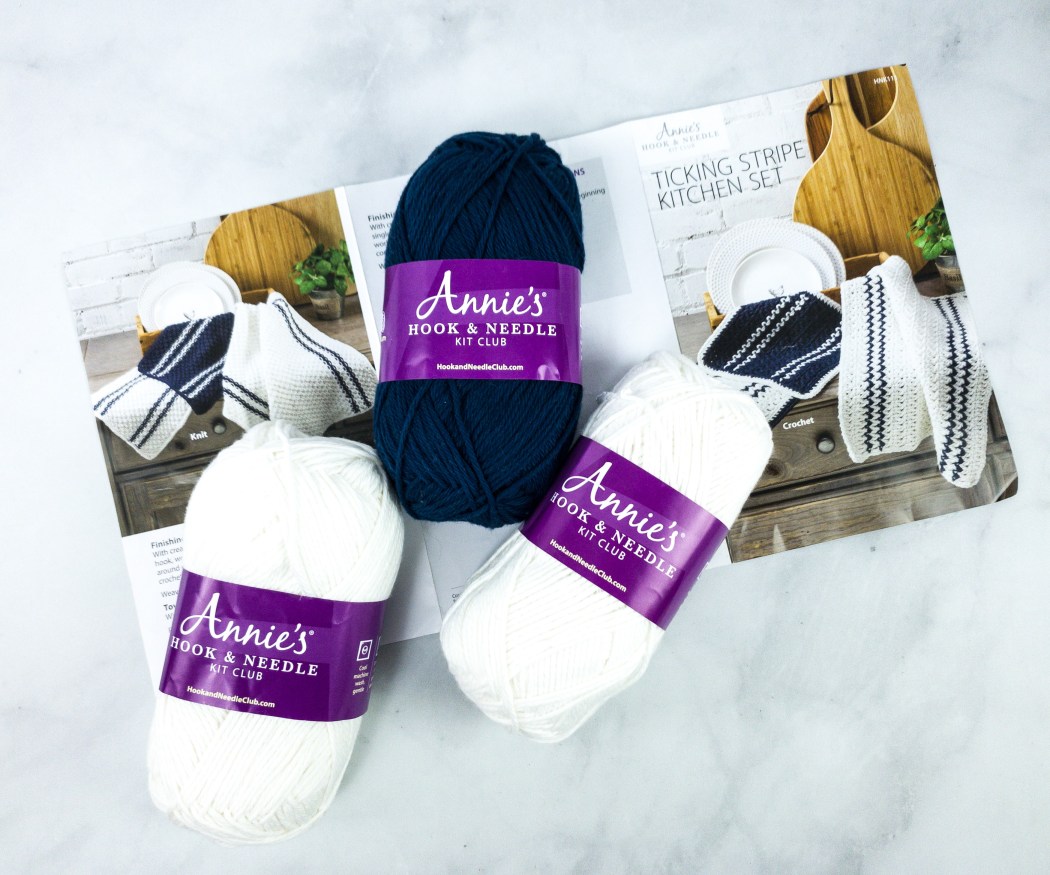 Image from: our review
What You Get: Annie's Hook & Needle Club has ready-to-go kits for new crochet or knit projects each month. Every kit includes pre-measured feel-good yarns in soft acrylics, natural cotton, and uniquely blended in gorgeous colors. It will also include a knit or crochet pattern with easy-to-follow, step-by-step instructions that will guide you in your project, whether you're a beginner or a seasoned crocheter. With this subscription, you can improve your skills and create more beautiful and useful items for yourself or as gifts to loved ones.
Price: Subscribe monthly for $19.99 plus $5.95 postage & processing ($6.95 in Canada).
Deal: Get 50% off your first month! Use coupon code SHARE50.
---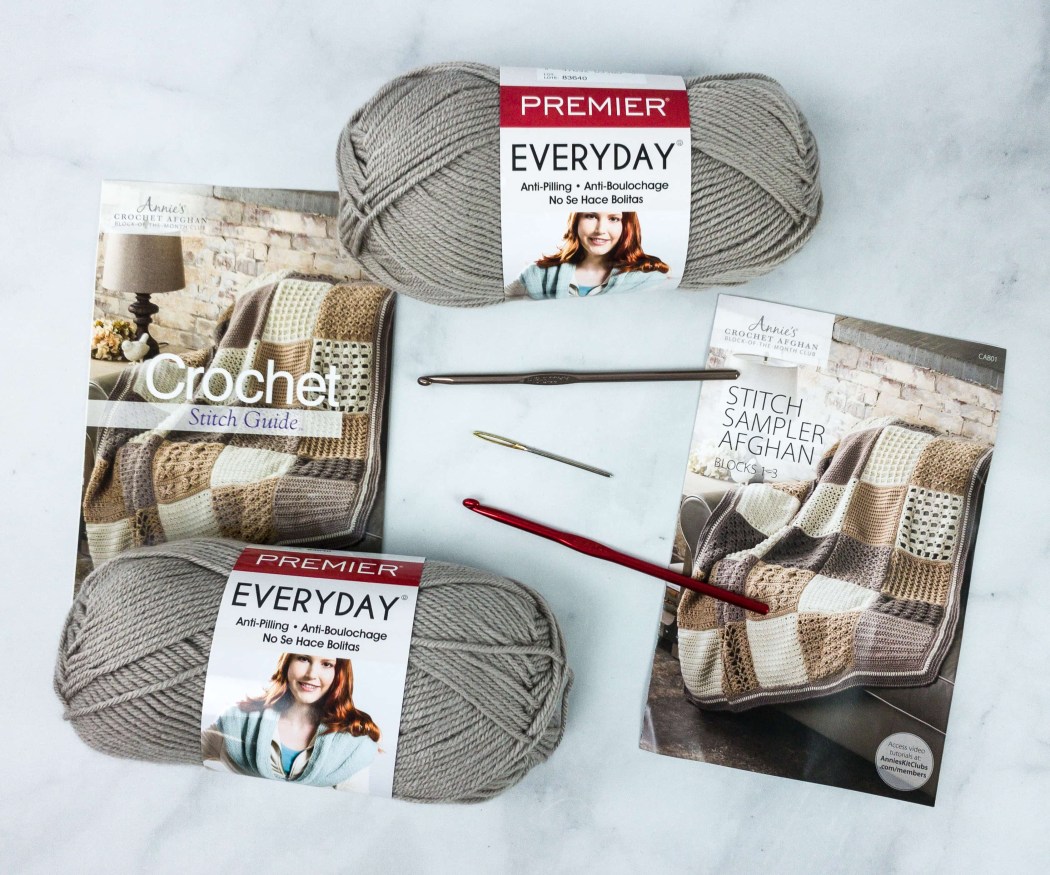 Image from: our review
What You Get: With Annie's Crochet Afghan Block of the Month Club, everything you need to build an heirloom-quality afghan is just a click away! Enhance your crocheting skills through this 11-month crochet course. Join the club and receive two skeins of yarn, the patterns to build new 3 unique blocks, and access to the online video tutorial and digital stitch guide each month. For the final kit, you'll learn the borders and some finishing details for a cozy, comfy, and stylish hand-made 50 x 60 afghan. Choose from three available color combinations – Coastal Gray, Warm Sand, or Natural Pearl, so you can earn yourself a handmade quality afghan while mastering new needlework skills you can use for life!
Price: Start building your handmade Afghan and learn new skills every month for $19.99.
Deal: Get 50% off your first month! Use coupon code SHARE50.
---
Image from: Yarn Shop Mystery Box by Sip N Stitch
What You Get: Yarn Shop Mystery Box by Sip N Stitch keeps you stocked up on yarns, notions, and surprises for your crocheting project every month! This subscription provides a fantastic treat for crocheters of every level, whether beginner or advanced. Each package includes 2-3 skeins of yarns, 2-3 notions, tasty treats like cobbler, and surprise items like body butter, all valued at least $50! With this subscription, you can try new yarns and notions for your crocheting obsession and spoil yourself with extra items. It also makes a great gift choice for crafters like you.
Price: Get the box for $39.99 a month or less for longer subscription plans!
---
And that is our list of the best crochet subscription boxes! Have you decided on which one to get so you can start creating beautiful handmade items?
Make sure to check out our list of all the best subscription boxes in every category to find more worthy subscriptions!
Say Hello To More Fiber, Yarn & Fabric Subscriptions!