Expressing your faith is not just limited to attending services, going to church, and devoting. You can also express your faith by supporting other people and sharing your blessings. Luckily, there are subscription boxes that do just that! They'll deliver items that can inspire and make your faith and belief in the Higher Power stronger.
These Christian subscription boxes will help you celebrate faith, nurture belief, and strengthen spiritual discipline and growth. While there are subscriptions where you can get apparel, books, religious items, inspirational cards, and more, there are also some boxes and subs that you can purchase and gift to other people to inspire them and make them believe that they are not alone in this world. These faith-inspired boxes are here to remind everyone that there's always a Divine Being that is protecting, caring, and loving them. Every one of us deserves to be alive and enjoy the gifts that He has bestowed upon us!
Truly a gift that keeps on giving! These subscriptions will also help feed the soul, care for oneself, and make you feel great to be alive! Here are some of the best Christian subscription boxes to uplift your spirits and grow faith! You can also check out our complete list of Christian subscription boxes!
The Best Faith-Based Subscription Boxes for Christians!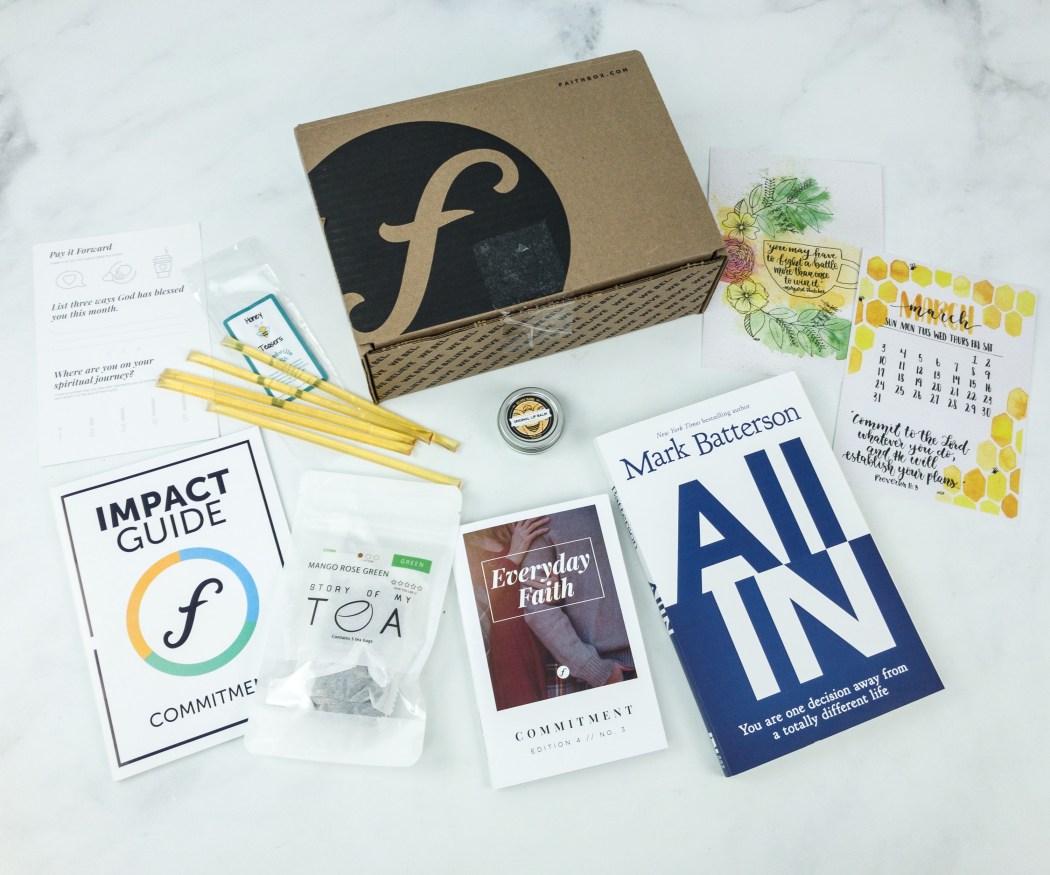 Image from: our review
Why We Love It: With Faithbox, you can get your monthly supply of devotional, inspirational, and hand-picked products that will do you good and help you connect with Christ. The box inspires daily Christian living by helping you grow in faith, affect your community, and discover products made by companies to help support causes. The items inside the box are ethically made and eco-friendly, all of which are faith-based to help you grow closer to Jesus. You can choose from two box options they offer: Faithbox, which includes devotional products + books, and Faithpak, which solely includes Christian books. Boxes come packed with inspirational scriptures, challenges, seasonal prayers, and more that will truly inspire you and make your faith stronger!
Visit Faithbox Reviews to find out more.
Price: The subscription for Faithbox starts at $34.95 per month and $19.95 a month for Faithpak, with savings for longer subscriptions.
---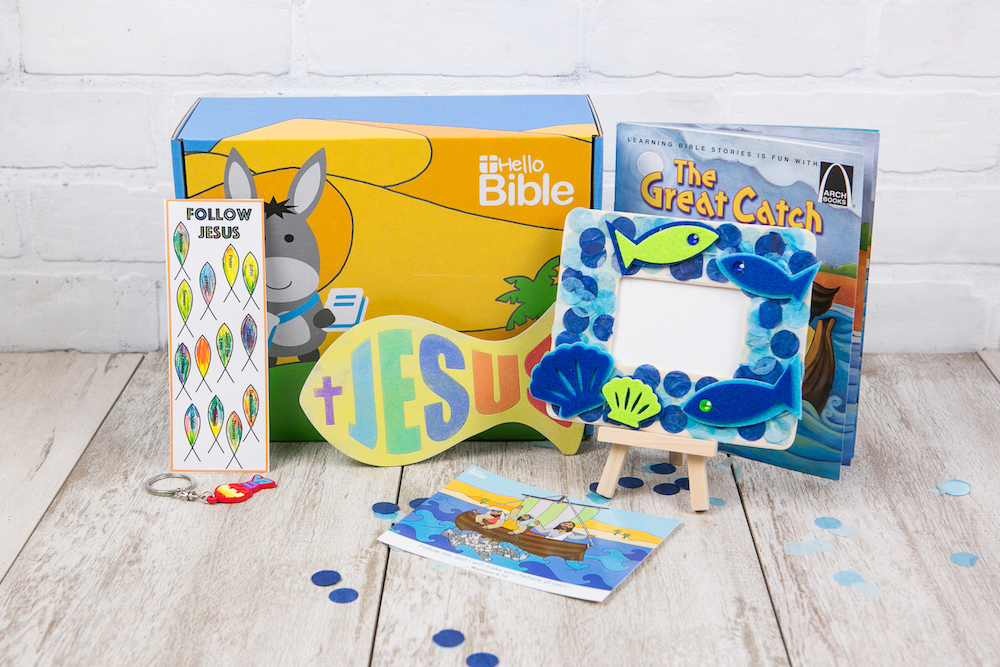 Image from: HelloBible
Why We Love It: HelloBible is a monthly subscription box perfect for Christian families with children ages 5 to 10 years old. They aim to inspire kids to create, engage, grow in faith, and have a thriving relationship with Jesus. There are two subscription options to choose from depending on your kid's age – HelloBible Junior (ages 3-5) or HelloBible Explorer (ages 5-10). Each box contains a book, creative Bible-based art projects, fun activities, and parent guides to explore one Bible story every month. All the materials needed to complete two crafts are included, and it's great for homeschooling. Also, each purchased box will mean a donation to the Kilgoris project that provides education for children in Kenya.
Price: The subscription costs $29.80 each month with discounts on longer plan terms.
Deal: Get $5 off your first subscription. Use coupon code HELLO5.
---
Image from: our review
Why We Love It: Bette's Box of Blessings is a box of abundant blessings as it contains a collection of gifts for yourself to help you grow in faith, including items that you can share with family and friends. You can find premium all-occasion Christian greeting cards, new worship music CDs, Christian coloring books, devotional and Bible study books, and other gifts in each box, with a total value of $60 and over! Also, boxes are curated around uplifting themes to help you stay encouraged and hopeful for each day that passes by. Friendship, Every Moment, Faith Renewal, On The Journey, and Unafraid are just some of the previous themes.
Find out more on Bette's Box of Blessings Reviews.
Price: You can subscribe monthly for $29.99.
Deal: Get $5 off your first month's box! Use coupon code HELLO.
---
Image from: Date Night in Faith Box
Why We Love It: Date Night in Faith Box is for couples who want to deepen their relationship with God and with each other. This subscription custom creates boxes and fills them up with interactive activities that both you and your significant other can enjoy working on, even when you're in your pj's! Each box includes the activities, accessories, high-quality snacks or mixers, chef-curated dinner menu & recipes, and more. It also helps you connect with your partner uniquely and creatively as it includes a discussion guide that will provide you with the tools to help you strengthen your connection with God and your partner. Monthly boxes are also themed to deliver something new for a fun date night experience at home!
Price: You can subscribe for $45.98 monthly, or get the 3 months of boxes for $131, 6 months of boxes for $262, or 12 months of boxes for $511, plus FREE shipping!
Deal: Get 15% off on all Night In Boxes! Use coupon code 15OFFNIB.
---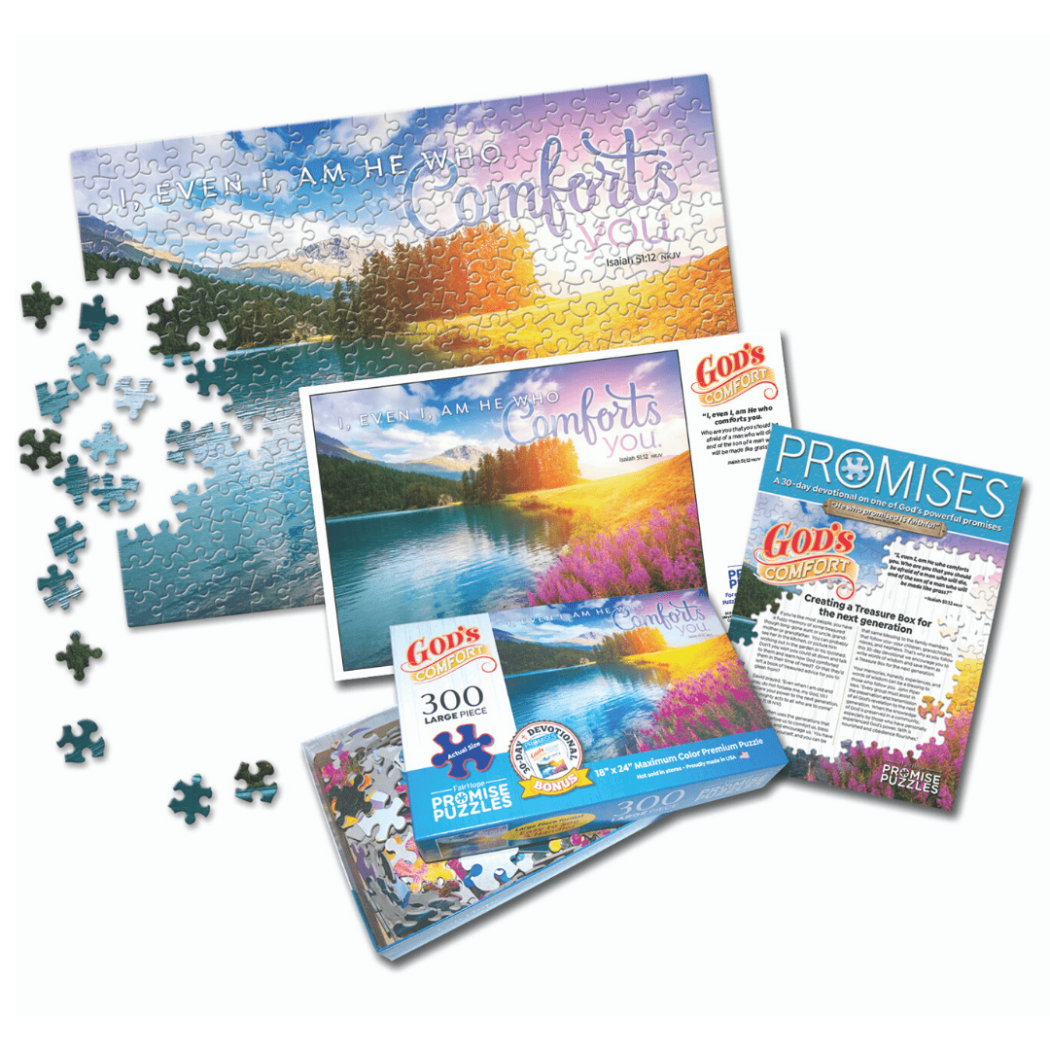 Image from: Promise Puzzles
Why We Love It: Discover God's promises in a whole new way! You can learn about God's messages for you and your faith while enjoying the thrill of completing a puzzle. Promise Puzzles is a monthly jigsaw puzzle subscription that allows you to explore one powerful promise at a time. Each box will include a 300-piece premium puzzle with a high gloss finish. The finished puzzle will be a magnificent 18″ x 24″ illustration with scripture. The box also comes with a bonus full-color poster that will serve as a guide for solving the puzzle. Frame it or gift it once done for everyday inspiration!
Price: You can get the puzzle subscription box for $16.95 each month, plus $5.99 shipping and handling.
---
Image from: Saint of the Month
Why We Love It: Saint of the Month is a monthly subscription box for those who want to learn more about  Catholic Saints and ways to become holy themselves. This box will allow you to get familiarized with popular and less-known saints. Every month, the box contains 4-5 gifts, with one gift to open after you complete a set of goals weekly. It includes DVDs, books, devotional items, t-shirts, stickers, and even custom-made ones that are exclusive to the Saint of the Month. Along with it comes a brochure with details about the Saint featured and virtues. Learn about them, pray with them, walk closer to Jesus, and grow in your faith.
Check out the Saint of the Month Reviews to see what we received from past boxes.
Price: The Saint of the Month Box is $34.99 per month.
Deals:
---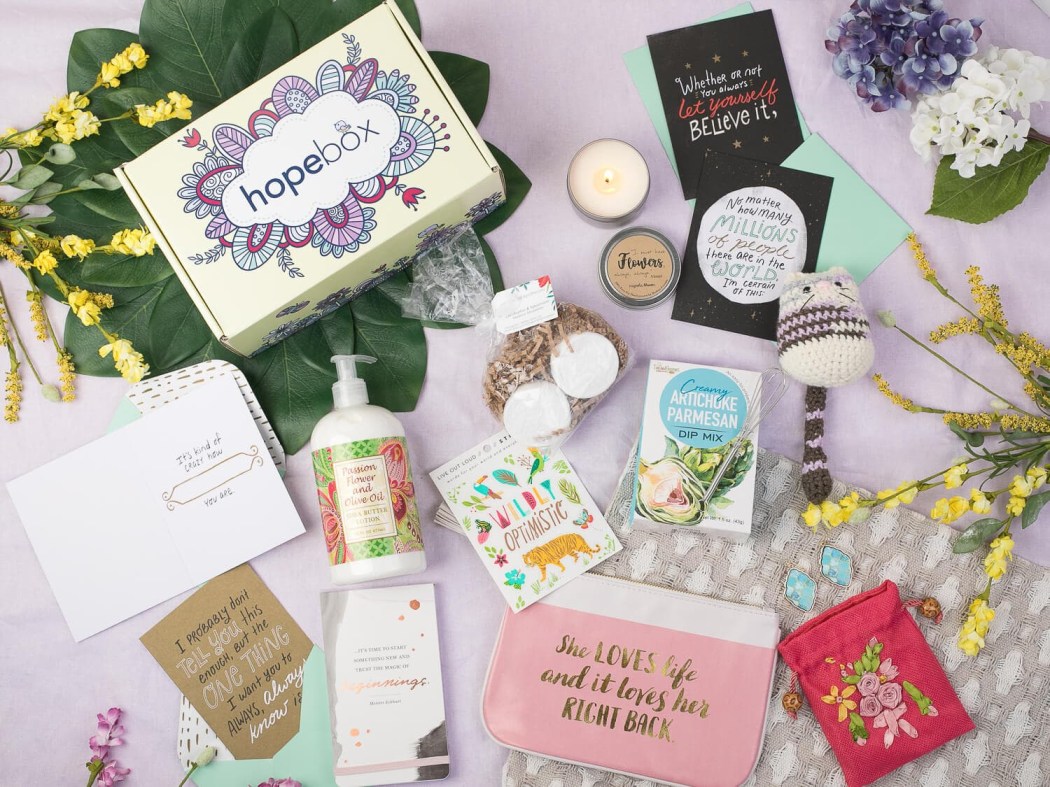 Image from: Hopebox
Why We Love It: Be inspired and get your hopes up with Hopebox! It is a monthly subscription that gifts not just encouragement but comfort and hope as well. Each month, you'll receive a carefully selected assortment of 10 or more renewing and uplifting goodies handmade by creative artisans who have their own inspiring stories of hope and healing. Choose from three box sizes: Light (6+ treasures), Classic (10+ treasures), and Chest (15+ treasures). Boxes contain heartfelt, encouraging, and comforting messages to help you renew and connect with your faith. Such items may include books, aromatherapy, jewelry, candles, masks, and more, all of which are full-sized, vegan, and cruelty-free!
See our Hopebox Reviews and learn more about this Christian subscription.
Price: You can get the Ultimate Gift of Hope for $54.99 per month.
---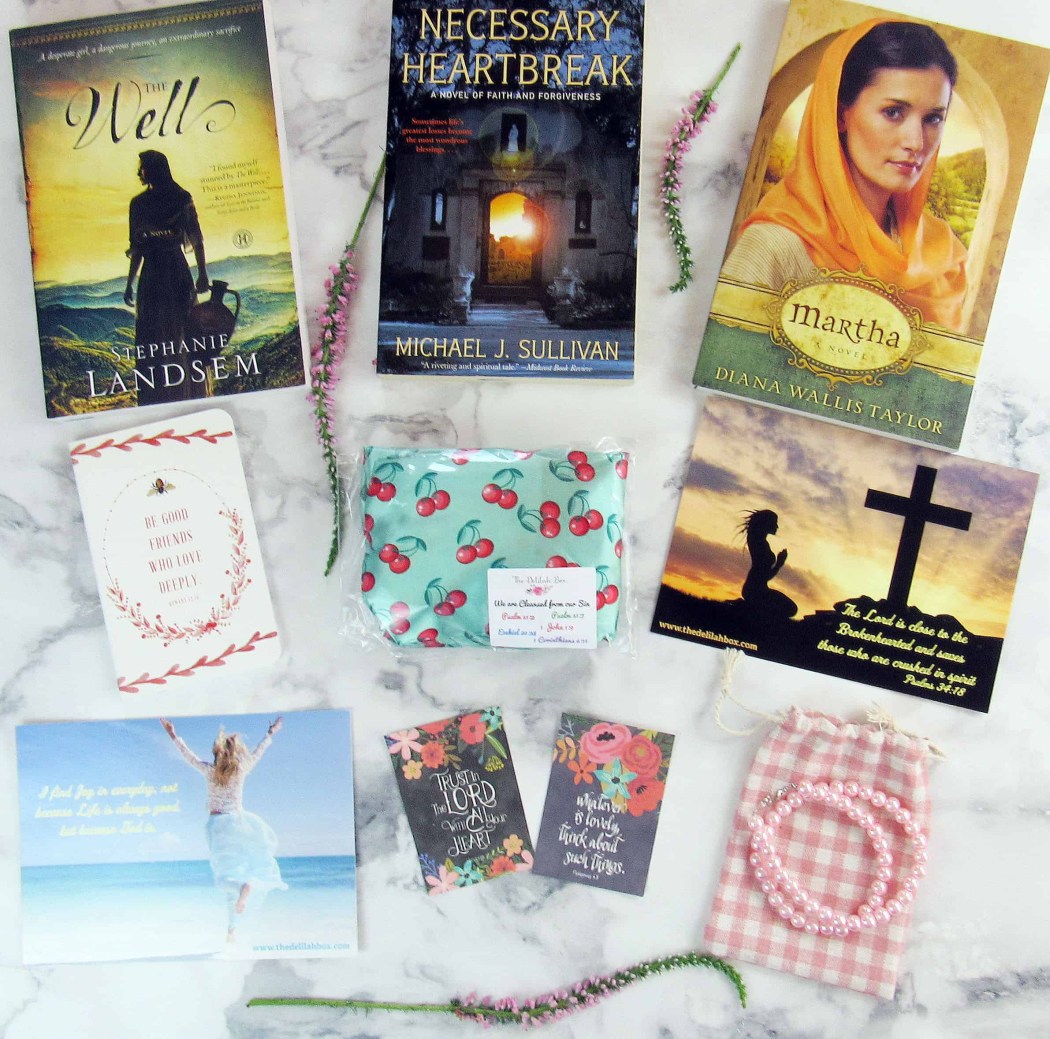 Image from: our review
Why We Love It: Know more about the women of the Bible with The Delilah Box. It is a theme-based Christian subscription box centered around one spiritual woman every month. Each box contains two to three books about lesser-known women of the Bible, a study brochure, and two to three additional items relating to the theme, such as teas, jewelry, candles, and other accessories. Books vary monthly and are often new releases and hot off the press. You will also receive access to an online community with like-minded people. Enrich your study time and grow in your faith as you learn more about the sometimes forgotten and often relatable women of the Bible.
Check out The Delilah Box Reviews to learn more.
Price: You can subscribe for $30 each month!
Deal: Get 20% off on your first box. Use coupon code DELILAH.
---
Image from: The Hymn Box
Why We Love It: The Hymn Box is a faith-based subscription music service from Dave Cornwall Jazz Piano and New Friend Entertainment. It has warm, familiar, friendly, and transformational light and easy instrumental grand piano music that'll uplift your spirits and remind you that God loves you. Receive an instrumental album with a collection of the most special and engaging songs of the church. Each box contains a keepsake faith-based Hymn Card with special scriptures relating to the songs presented on the CD to make you feel supported and inspired. This subscription will help you strengthen your relationship with God and bring you closer to Him.
Price: You can get the monthly devotional music subscription for $14.95.
---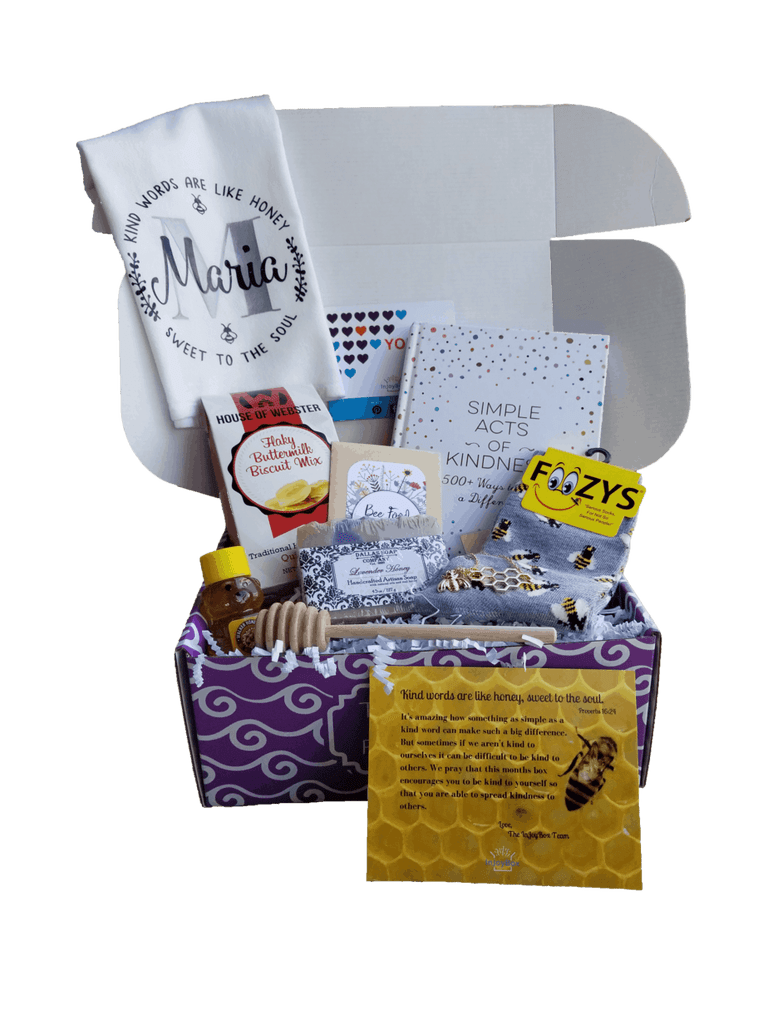 Image from: InJoyBox
Why We Love It: InJoyBox aims to bring joy, love, encouragement, and hope to people of all walks of life. A helping hand to lift you up and brighten your day – that's what this subscription is! Each box is based on a monthly theme and includes 7-9 encouraging items, with one that is personalized with your name on it. Boxes available are For Her, For Him, and For Kids. There's also an option for InJoyBox Mini that has 3-4 items. Items include apparel, stickers, beverages, snacks, home décor, and more, all designed to help you overcome darkness. FYI, they donate 10% of the proceeds of all boxes sold to Into the Light, a non-profit organization dedicated to bring rescue and restoration to minor survivors of sexual exploitation.
Price: The subscription costs $45 a month
Deal: Get 30% off of your first box! Use coupon code hello30. Can not be combined with other coupons.
---
And that's our list for the best Christian subscription boxes! Have you decided on a favorite one?
Check out our list of all the best subscription boxes in various categories!
Say Hello to More Lifestyle Subscription!