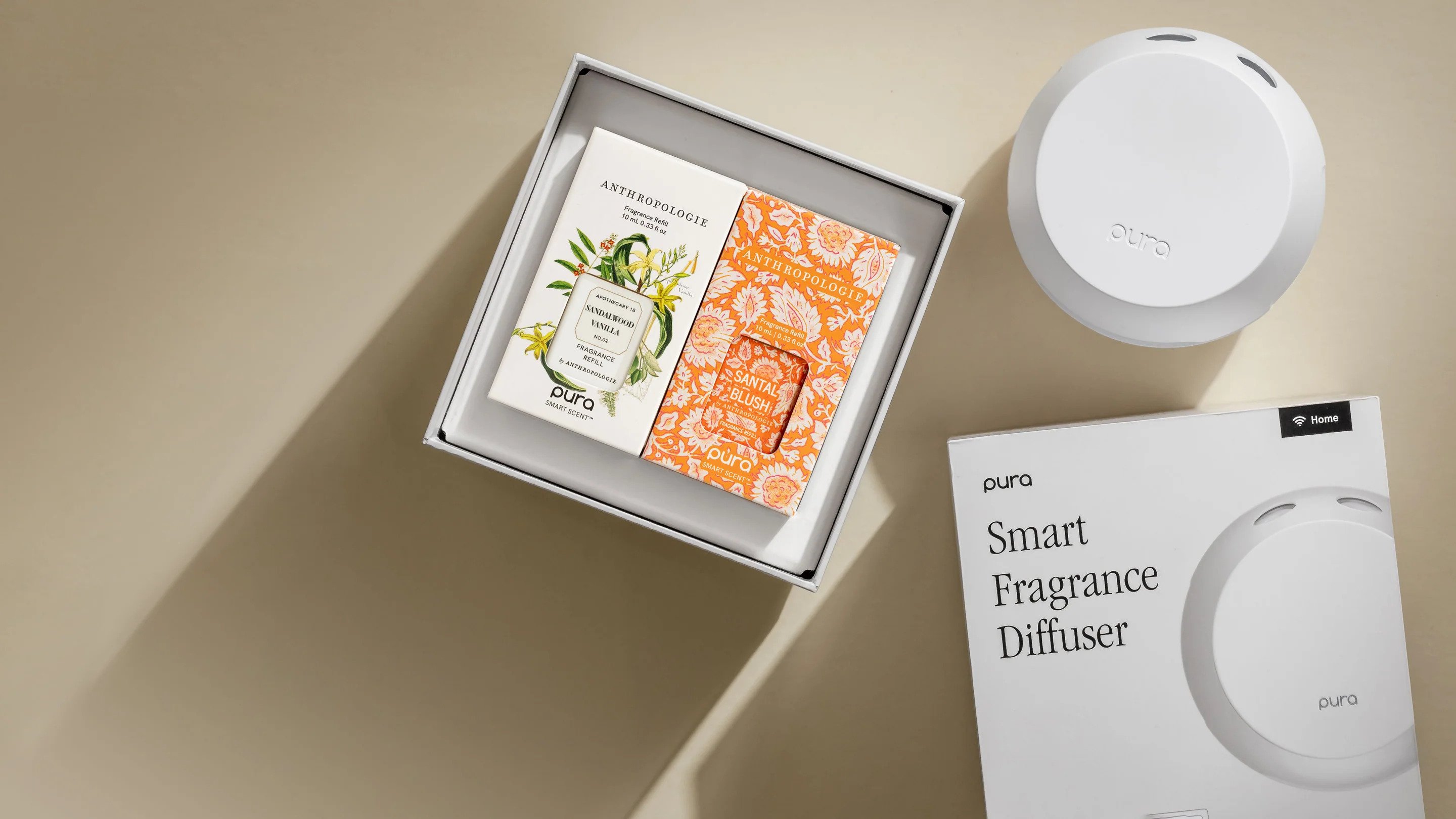 Pura has a great deal to try out the Pura Smart Home Fragrance device and scents! With Pura, you don't have to be a fragrance expert to find great scents for your home and to keep every corner smelling fresh all the time. This home fragrance subscription offers both a smart diffuser and fragrance refills, helping you with your home transformation – low effort required and zero mess involved!
Get 15% off your first order! Use this link and the coupon code HELLOSUB at checkout. You'll get FREE shipping when you grab more than two items in your order plus get 20% off subscription items!
The Pura Smart Device is $44.99, and allows you to customize your scent experience with premium, designer grade home fragrances from the convenience of your smartphone. The fragrances are non-messy, and pet and kid friendly! The diffuser holds two fragrances so you can switch from one mood to another with one easy tap.
They've also just launched Pura 4 ($49.99), which brings a host of new features like Auto Vial Detection, Scent Remaining, and Adaptive Diffusion. With the all-new Pura 4 device, this experience is now more attainable and delightful than ever before. Pura 4 takes smart home fragrance to a whole new level with its innovative features and cutting-edge technology.
If you're curious about the buzz around Pura Smart Fragrance, I'm here to share some FAQs from my own experience as a home fragrance lover, like a mini review of Pura!
Pura Smart Fragrance is a game-changer when it comes to elevating the ambiance of my home. It's not just a regular air freshener – it's a high-tech, sleek device that uses smart technology to effortlessly fill my space with delightful scents. Here are some of the reasons why I absolutely love it:
Customizable fragrances: With Pura, I have complete control over the scents that fill my home. The device allows me to choose from a wide range of premium fragrances, and I can customize the intensity and duration of the scent to my liking. Whether I want a subtle floral scent in the morning or a cozy vanilla scent in the evening, Pura has got me covered.
Smart home integration: One of the coolest features of Pura is its integration with my smart home system. I can control and schedule the device through the Pura app on my phone or connect it with voice assistants like Amazon Alexa or Google Assistant. It's incredibly convenient to set up scent schedules, adjust settings, and even control multiple Pura devices in different rooms, all from the palm of my hand.
Safe and eco-friendly: Pura uses clean fragrance oils that are free of harmful chemicals like phthalates, sulfates, and parabens, making it safe for my family and pets. The device also runs on a low-energy LED light, which makes it energy-efficient and eco-friendly. I appreciate that Pura not only elevates the scent of my home but also aligns with my values of health and sustainability.
Long-lasting fragrance: Pura's fragrance pods last for a long time, providing me with continuous scent for weeks on end. I don't have to worry about constantly replacing air freshener cans or remembering to spray every few hours. Pura takes care of it all, so my home always smells inviting and fresh without any effort on my part.
Stylish design: Pura is not just a powerful fragrance device, but it's also a stylish addition to my home decor. The sleek design and minimalist aesthetic of the device blend seamlessly with my home, and I love how it adds a touch of modern elegance to any room. It's not just a functional device but also a chic piece of home decor that enhances the overall ambiance of my space.
Q: How do I set up Pura Smart Fragrance?
A: Setting up Pura is a breeze! All I had to do was plug in the device, download the Pura app on my phone, and follow the simple instructions to connect the device to my Wi-Fi network. Once connected, I could customize my scent settings and schedule scent schedules according to my preferences.
Q: How long do the fragrance pods last?
A: The duration of the fragrance pods depends on the intensity and duration settings I choose. On average, a single fragrance pod can last for about 350 hours on the lowest intensity setting, and around 120 hours on the highest intensity setting. I love that I can customize the settings based on my preference and needs.
Q: Can I switch between different fragrances with Pura?
A: Yes, absolutely! Pura offers a wide range of fragrance pods, and I can easily switch between different scents by replacing the fragrance pods in the device. I can also adjust the intensity of the scent and even create my own custom scent blend by mixing different fragrances. It's incredibly versatile and allows me to switch up the ambiance of my home whenever I want, depending on my mood or the season.
Q: Is Pura safe for pets and children?
A: Yes, Pura is safe for pets and children. The fragrance oils used in Pura are free of harmful chemicals like phthalates, sulfates, and parabens, making it safe for my furry friends and little ones. However, as with any fragrance product, I always make sure to use it according to the instructions and in a well-ventilated area to ensure everyone's comfort and safety.
Q: Can I control Pura remotely?
A: Absolutely! One of the best features of Pura is its remote control capabilities. I can control and schedule the device through the Pura app on my phone, even when I'm away from home. This means I can come back to a beautifully scented home after a long day at work or set up a welcoming scent for guests before they arrive. It's convenient, easy-to-use, and adds an extra layer of flexibility to my scent experience.
Q: Does Pura integrate with smart home systems?
A: Yes, Pura seamlessly integrates with popular smart home systems like Amazon Alexa and Google Assistant. I can easily control Pura through voice commands, adjust settings, and even create custom routines to activate Pura along with other smart home devices. It's incredibly convenient and makes my smart home even smarter!
Q: How does Pura compare to traditional air fresheners?
A: Pura is in a league of its own when compared to traditional air fresheners. Unlike aerosols or sprays that need constant reapplication, Pura provides a continuous, customizable scent experience without any effort on my part. The long-lasting fragrance pods, smart home integration, customizable settings, and eco-friendly design set Pura apart as a superior option for elevating the ambiance of my home.
Puralast technology makes Pura the ultimate smart fragrance diffuser. It customizes your scenting journey with innovative features. New smart vials hold fragrance-specific data, ensuring precise scent dispersion. Tailoring scents to your preferences, Pura adjusts for room size and intensity, scenting your space intelligently for up to 120 hours. Learning from your feedback, Pura becomes attuned to your likes. This personalized approach ensures your space smells exactly how you want it. Notably, Puralast extends scent longevity by 20%, offering a lasting aroma experience. Pura and Puralast redefine home fragrance, making it a breeze to enjoy continuous, customized, and enduring scents.
Pura Smart Fragrance has truly transformed the way my home smells and feels. It's a high-tech, stylish, and eco-friendly device that offers a customizable and long-lasting scent experience. With its smart home integration, remote control capabilities, and safety features, Pura has become an essential part of my home decor and ambiance. Say goodbye to traditional air fresheners and hello to the future of fragrance with Pura Smart Fragrance!