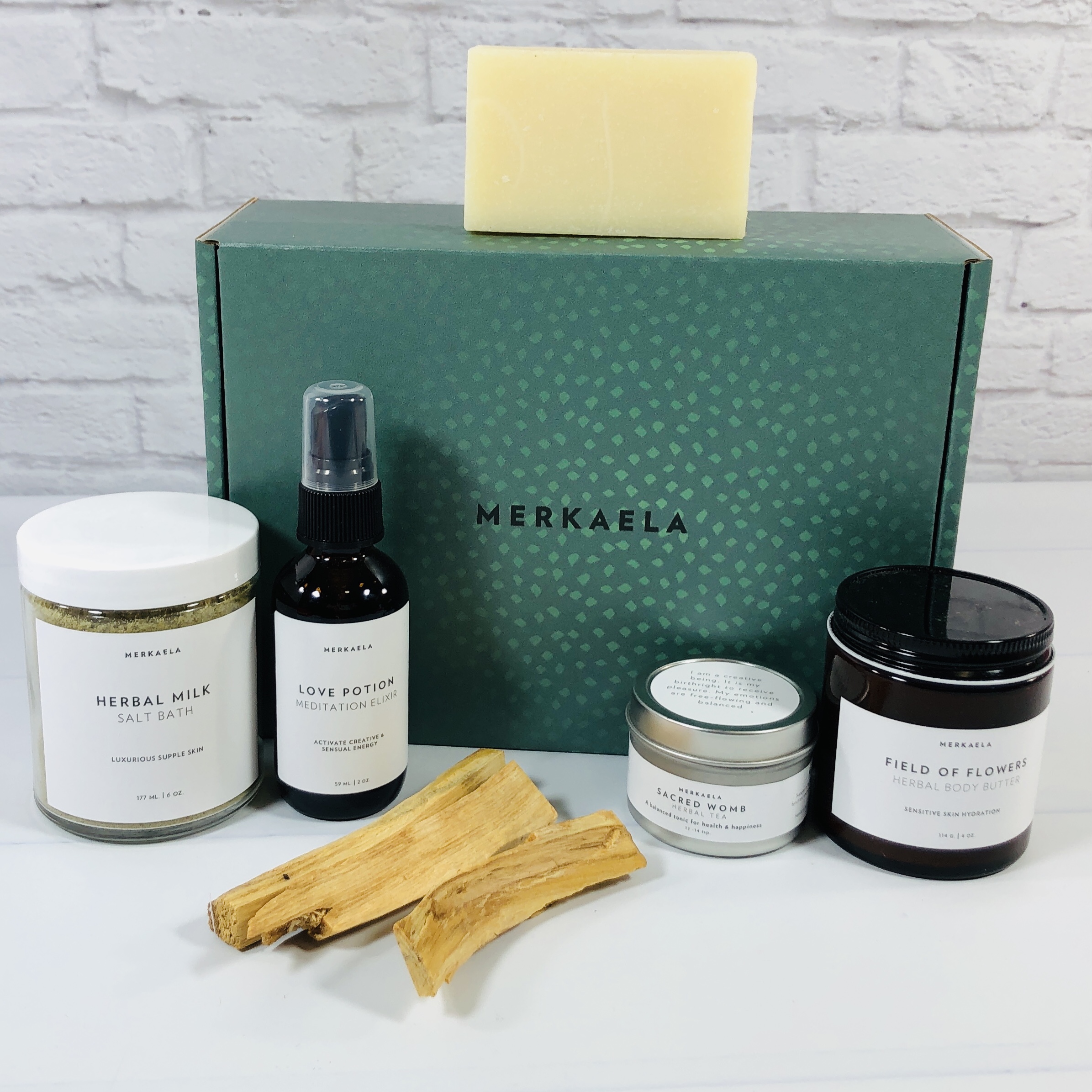 Merkaela women's wellness and lifestyle box has an awesome coupon for their new subscribers! Our readers agree – they voted it as one of the best bath and body subscription boxes!
Merkaela's handcrafted, small-batch products take center stage in every box. Packed with natural and organic ingredients, you can rest easy knowing you're treating your body to the very best. Merkaela's unwavering commitment to sourcing only the finest ingredients means you can indulge in a little self-care with confidence!
Save 22% on your first box on any Merkaela subscription boxes! Use the coupon code NEWMOON at checkout.
Merkaela quarterly subscription boxes are designed to bring you high-quality wellness products and enhance self-care rituals. Their offerings are thoughtfully crafted in small batches, ensuring attention to detail and quality. Merkaela understands the importance of holistic well-being and aims to engage the body, mind, and soul through its carefully curated products. What sets Merkaela apart is its commitment to creating items that align with the season's theme, allowing subscribers to embrace the natural rhythm of life and adapt their self-care practices accordingly. Check out all our Merkaela reviews to find out more about this subscription box!
Merkaela offers a variety of subscription options to cater to different wellness needs. The Merkaela Deluxe Wellness Box is shipped quarterly and includes 5 to 8 products carefully curated to support your overall well-being and meditation practice. For those who appreciate the art of handmade soaps and herbal teas, the Merkaela Handmade Soap & Tea Box is the perfect choice. This quarterly shipment includes two organic soaps made in small batches, infused with organic oils, herbal botanicals, and essential oils. It may also include an organic herbal tea or a smudge stick.
Speaking of smudge sticks, the Merkaela Smudge Stick Box is sent out every quarter and features three sacred smudge sticks, such as sage and palo santo, to enhance and support your spiritual practice. Smudging is a common practice used to clear negative energy and promote spiritual cleansing. Lastly, the Merkaela Essential Wellness Box is designed to be received every quarter and contains 3 to 5 products specifically chosen to aid and elevate your meditation practice.
Merkaela's subscription boxes offer a diverse range of options to cater to various wellness needs and personal preferences. Whether you seek a holistic wellness experience, a mindful bathing routine, spiritual cleansing, or meditation support, Merkaela has a subscription box to align with your goals.