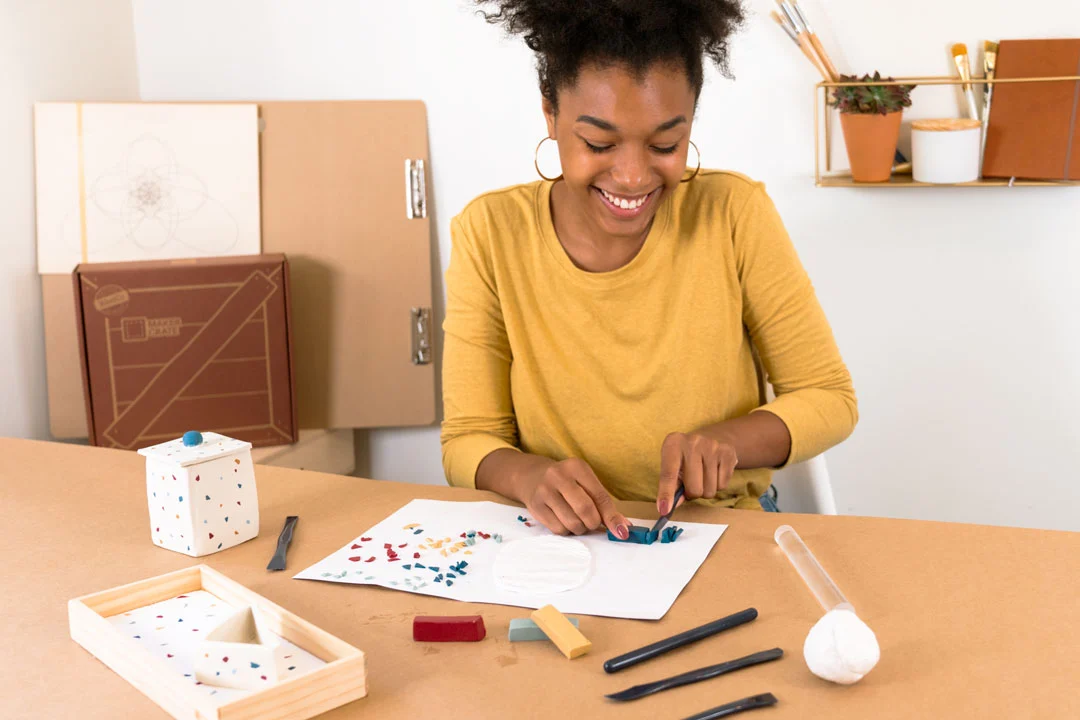 Here's the best coupon for Maker Crate by KiwiCo, a monthly craft subscription box for teens and adults with a new art and design workshop delivered every month: get 30% off your first box!
Save 30% on your first month of Maker Crate, no coupon code required, just use this link!
The Arts & Crafts subscription for ALL ages! Maker Crate is dedicated to helping kids (and kids at heart) discover new art and design tools and gain the creative confidence to turn their artistic visions into design realities. From macrame hangers to terrazzo trays, they'll take pride in making something fun — and functional. Maker Crate will help them build creative confidence to turn artistic visions into design realities. From creating a macrame plant hanger and clay bowls to crafting a punch-needle pillow to spruce up a room, or a terrazzo-style tray to store essentials — every crate includes projects that are both imaginative and functional.
Each crate introduces a new technique, opening the doors for makers to continue creating all by themselves — long after they've completed the projects in each crate. Plus, they'll get a look at the real-world applications and the history behind each art form or design technique. Whether you are 14 or 104 years old, a first-time crafter or an experienced maker, each crate is a chance to experiment, draw inspiration and make something to treasure or give to someone special. See our Maker Crate reviews to get an idea of how this subscription benefits your young artist!
Want to know more about which box is right for your child? This page lays out all the details on every KiwiCo box!
Every Maker Crate includes:
Maker Crate is the ultimate subscription box for the creatively inclined! Get ready to roll up your sleeves and dive into exciting projects that will keep you engaged and entertained for hours.
Each crate comes packed with high-quality materials that will help bring your vision to life. From vibrant paints and sculpting clay to precision-cut wood pieces and hardware, Maker Crate has everything you need to turn your ideas into reality.
With easy-to-follow video instructions and inspirational ideas, you'll have all the guidance you need to master new crafts and techniques. It's the perfect way to expand your skill set and unlock your creative potential. Plus, with new crafts and techniques introduced in every crate, you'll always have lifelong skills to keep making and designing.
Here are some sample crates from Maker Crate:
Punch-Needle Pillow
With this crate, you'll discover how to produce textured designs using loops of yarn and utilize your newfound textile techniques to fashion a warm, vibrant pillow. Throughout the process, explore the possibilities of dimension, negative space, and other visual elements as you experiment and create.
Macrame Planters
Craft a pair of beautiful plant hangers with ease using this crate. Begin by learning essential knotting techniques through the creation of a stunning macrame keychain. Then, put your newly acquired skills to use as you create two beautiful macrame hangers. To complete the look, take your creations to the next level by sculpting, decorating, and customizing clay pots that are perfectly suited for your new hangers.
Want to try other KiwiCo crates? Deal also applies to Kiwi Crate, Koala Crate, Tinker Crate, Doodle Crate, Panda Crate, Yummy Crate, Atlas Crate, or Eureka Crate – as many lines as you want to try!