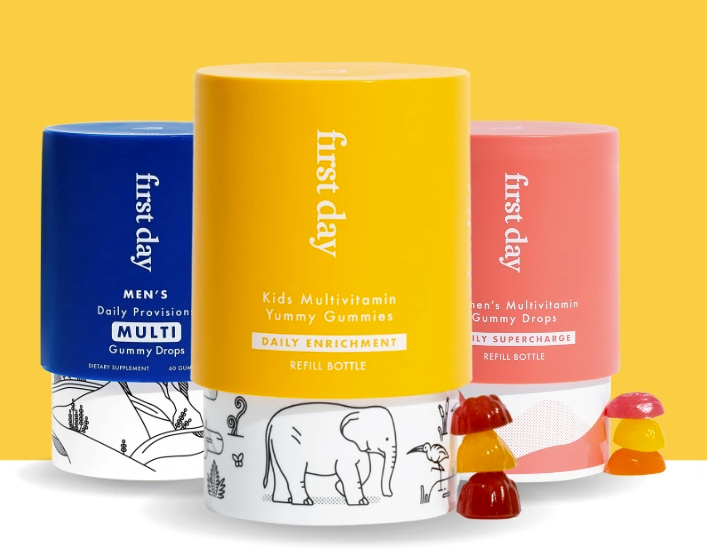 A balanced diet and exercise are essential to a healthy lifestyle. To further boost your immune system, you also need vitamins that fill the gap in your everyday needs. If you're looking for high-quality supplements for you and your whole family, First Day offers vitamins made using the most bioavailable ingredients from all around the world.
Starting at $33.15 per month, First Day offers daily essential multivitamins for kids, teens, men, and women in gummy form, as well as joint support supplements for adults in capsule form. Begin your journey to better health with this amazing deal!
Get 20% off on your first month's subscription order! Use the coupon code FDFAM. Exclusions apply.
A monthly dose of vitamins for everybody! First Day organic multivitamins support your physical, mental, and emotional development. They are manufactured in a GMP-certified facility in Germany, using organic fruits and vegetables that are rich in antioxidants and phytonutrients. GMP stands for good manufacturing practices, and it means that the facility adheres to FDA's strictest requirements. This is a great way to ensure that the product is safe for you and your family! For picky eaters, there's no need to worry – your sweet tooth will love the fresh, juicy, and fruity flavor of each gummy. Another good news: it has 80% less sugar compared to other gummy vitamins!
To help reduce joint discomfort, decrease inflammation, and support mobility, First Day also offers joint support supplements for adults. It's formulated with turmeric, which is rich in anti-inflammatory and antioxidant properties, plus other clinically backed ingredients to help you fight off those aches and pains. This capsule supplement is ideal for people over 40 years old who want to maintain healthy cartilage, athletes, and also those who are recovering from injury.
Your first order will arrive with a refillable, BPA-free bottle. For every order after, you'll receive a refill pouch that you can transfer into your bottle. Each refill pouch contains 30 gummies, which can last for the whole month. For subscription adjustments, like changes in frequency, shipping address, or quantity, just log into your account and click "Manage Subscription" or send them an email. First Day currently ships vitamins to US and Canada only.