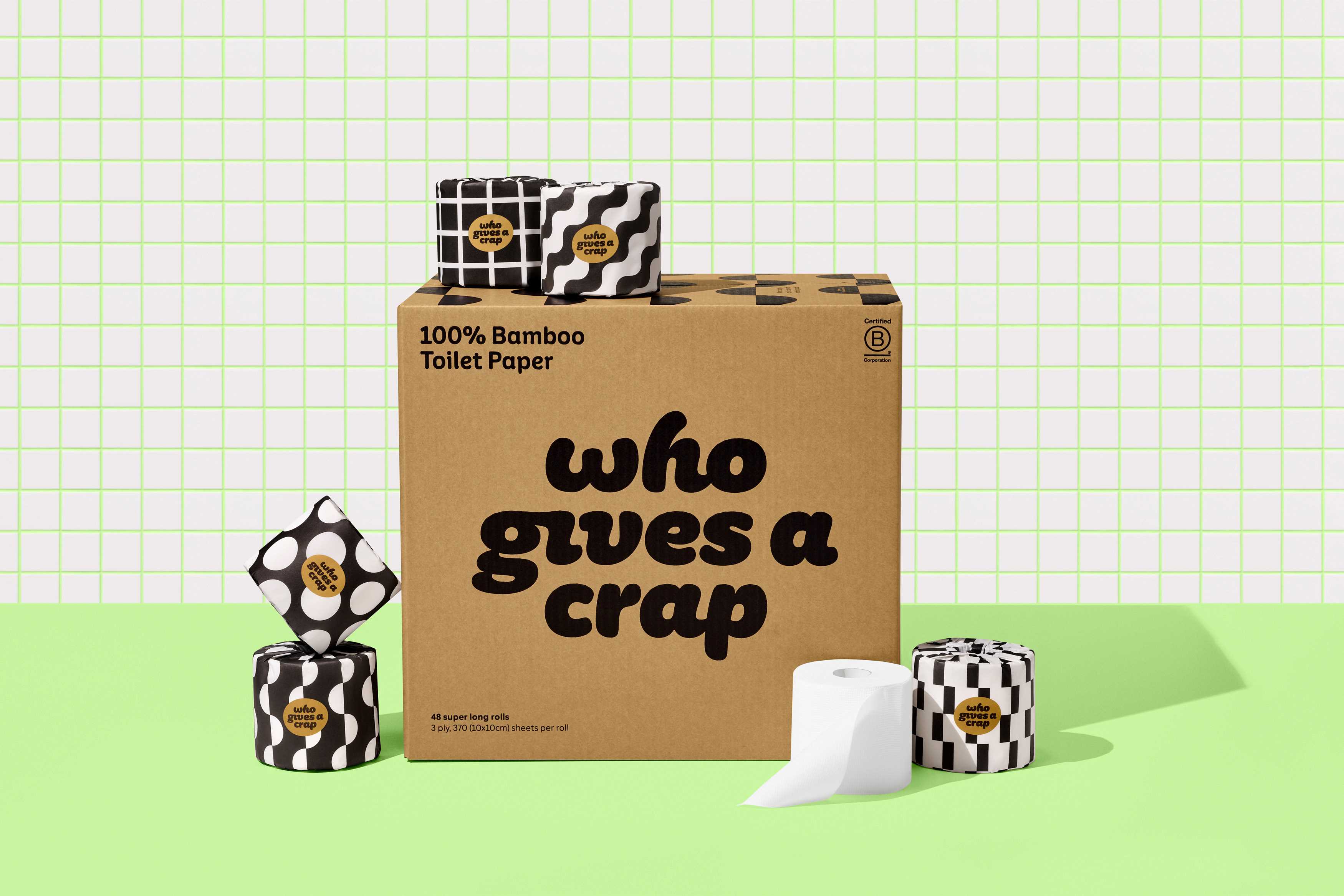 Tired of searching high and low for a top-notch and eco-friendly toilet paper subscription? Look no further! With Who Gives A Crap, you've got the best of both worlds – TP that's kind to the planet and gentle on your tush. Who Gives A Crap offers a sustainable twist on your everyday bathroom essential, with options made from 100% bamboo fibers or recycled paper, all wrapped in fun, colorful wrappers that are sure to bring a smile to your face. Plus, it's a hero for the environment, being both biodegradable and compostable, and septic tank-friendly to boot!
Get $10 off your first month toilet paper subscription! Use this link and use the coupon code TP4EVA at checkout.
Get $10 off at Who Gives A Crap!
With their convenient subscription service, you can have the luxury of premium toilet paper delivered straight to your doorstep. Prices start at $40 for 24 rolls of their Classic Soft Bamboo Toilet Paper or $38 for 24 rolls of Extra Soft Bamboo Toilet Paper. If you prefer larger quantities, you can get 48 Rolls of Classic Soft Bamboo TP for $66 or 48 Rolls of Extra Soft Bamboo TP for $60. As for their Recycled Toilet Tissue Paper, you can choose from options like $30 for 24 Rolls or $56 for 48 Rolls. This makes it easy to incorporate sustainable choices into your daily routine without breaking the bank.
Offering two distinct options – Bamboo and Recycled toilet paper – Who Gives A Crap combines quality, sustainability, and a touch of fun to revolutionize your bathroom experience.
Who Gives A Crap's Bamboo Toilet Paper is a luxurious blend of softness and strength. Crafted from renewable and sustainable bamboo, it offers a premium experience with each use. Bamboo's rapid growth makes it an eco-friendly choice that reduces deforestation, aligning with your desire for sustainability. What's more, this bamboo toilet paper is biodegradable and septic tank-friendly, ensuring that your eco-friendly choice is kind to both your skin and the environment.
Meanwhile, the Recycled Toilet Tissue Paper is made from 100% recycled paper, including post-consumer waste and a touch of post-industrial paper. Maintaining strength without sacrificing softness, it's a clear demonstration that sustainability and quality can go hand in hand.
In addition to their eco-friendly toilet paper options, Who Gives A Crap offers a range of other sustainable products to make your daily life more environmentally conscious. Their Forest Friendly Tissues provide a gentle and sustainable way to handle everyday sniffles and spills. For household cleanup, their Forest Friendly Paper Towels are a versatile and eco-conscious choice. And if you're looking to reduce your reliance on disposable wipes, they offer Dream Cloths, which are reusable and crafted with care for both your skin and the environment. With Who Gives A Crap, you can easily incorporate sustainability into various aspects of your daily routine, making it a breeze to go green.