Ritual Vitamins has a great sale to try out their simple vegan vitamin or their plant-based protein supplement. Ritual Vitamins delivers an obsessively researched vitamin directly to your door. They believe in simplicity, traceability, and ingredients that work best in the body. Ritual's vitamins were expertly developed to be the only daily vitamin you need, and they are all vegan-certified and 100% cruelty-free! Excited to get started?
Get 25% off on your first month when you use the coupon code FALL25 at checkout. OR Save 5% on your first order when you bundle any 2+ Ritual products! Deal applies automatically, just use this link to subscribe – no coupon code needed.
Ritual subscriptions start at $33 per month and include every life stage: from 4 years plus Kids' Gummies, the uber-popular Women's Multivitamins, 50+ for post-menopausal women, prenatals , Essential for Men 18+ , the Essential for Men 50+, the Essential Teens.
They're also shaking things up with their new product line – the Ritual HyaCera for skin hydration, the Ritual Synbiotic+ for a balanced gut microbiome, and the Essential Protein, a reimagined plant-based protein!
Ritual HyaCera is your skin health vitamins that contains two of the best clinically-studied ingredients shown to help minimize wrinkles and hydrate skin, all in one daily capsule. Ritual's Synbiotic+ is a daily three-in-one prebiotic, probiotic, postbiotic supplement designed to help support gut, digestive and immune health. The Essential Protein helps build lean muscle mass to promote healthy, active aging, which your body needs whether you're an athlete or not. Protein subscriptions start at $40 per month with the basic Essential Protein, $54 for Synbiotic+ and HyaCera. You can see our full review of Ritual Vitamins to find out more about this easy monthly (and healthy!) subscription box or our Ritual Men's review!
Ritual Vitamins offer the perfect solution for daily essentials with their meticulously crafted supplements. With a strong commitment to transparency, Ritual ensures traceable ingredients that undergo rigorous third-party testing for quality and safety. Their products are entirely non-GMO and vegan, free from any artificial colorants or unnecessary fillers.
Conveniently delivered monthly, subscribers enjoy the added benefit of free shipping and the flexibility to control their delivery date to suit their needs. Moreover, Ritual's user-friendly policies include easy cancellation and a 30-day money-back guarantee, ensuring a hassle-free experience. To top it all off, customers can bundle up their favorite products, making it even easier to support their health and wellness journey.
Ritual Essential Protein is a clean and traceable plant-based protein that fuels your body with the nutrients it needs to build lean muscle mass and promote healthy, active aging. With the delightful flavors of sweet vanilla, caramel, and spice, this protein blend is a delicious addition to your daily routine. Enjoy the versatility of preparing it with a shaker bottle or blender, making it a convenient and satisfying way to support your fitness goals and overall well-being.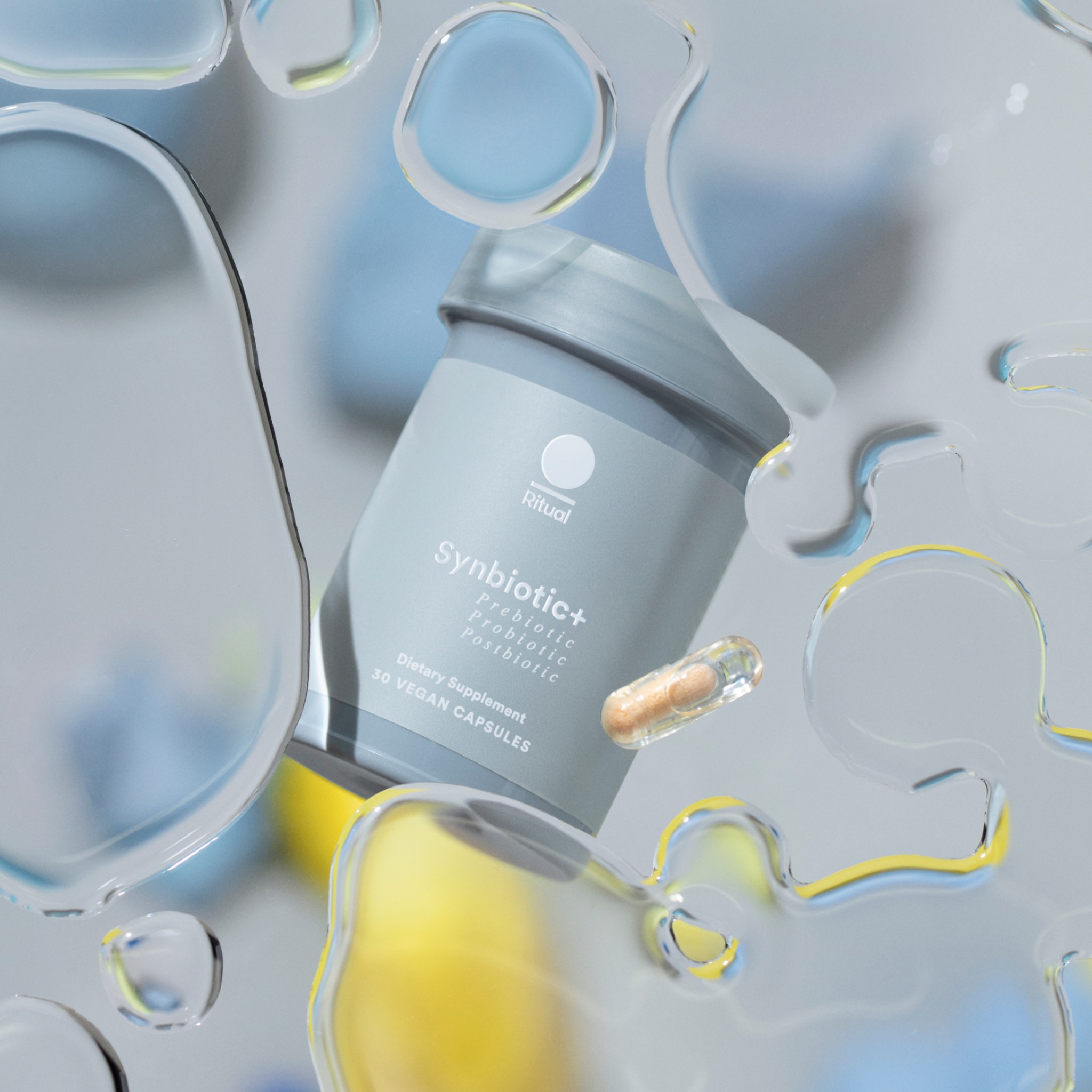 Ritual Synbiotic+ is the ultimate solution for streamlined gut support. Encased in a delayed-release capsule, this innovative formula is specifically designed to ensure its beneficial contents reach the colon effectively, maximizing its impact on gut health. No refrigeration is necessary, thanks to the moisture-controlled bottle technology, making it convenient for your daily routine. Formulated with a powerful combination of prebiotics, probiotics, and a postbiotic, Ritual Synbiotic+ provides comprehensive support to foster a balanced gut microbiome.