Savor unique wines chosen specifically for you!
Firstleaf Wine Club is a wine club that offers delicious, award-winning wines at affordable prices. The more you stay subscribed, the better your experience becomes! Firstleaf uses special technology that learns from your preferences to make sure each box matches your taste. It's one of the best wine clubs we recommend. And here's a bonus: if you're a new subscriber, there's a fantastic deal waiting for you to make the membership even more worthwhile!
Firstleaf sets itself apart from other wine clubs by offering complete customization. You have the freedom to personalize everything according to your preferences. From choosing your delivery schedule and shipping frequency to handpicking the specific types of wine for your box, this wine club is designed to perfectly match your taste in every aspect.
Get your first 6 wines for just $44.95 plus FREE shipping! Just use this link to subscribe, no coupon needed!
$44.95 for your first 6 wines at Firstleaf Wine Club!
When you purchase this package, you'll be automatically enrolled in the Firstleaf Wine Club, a wine club that learns your specific taste preferences! This reader-favorite wine club offers reasonably priced award-winning wines, and the subscription gets better as time goes on! With every box, Firstleaf's exclusive personalization algorithm learns from your likes and loves to better your matches – now more customizable than ever!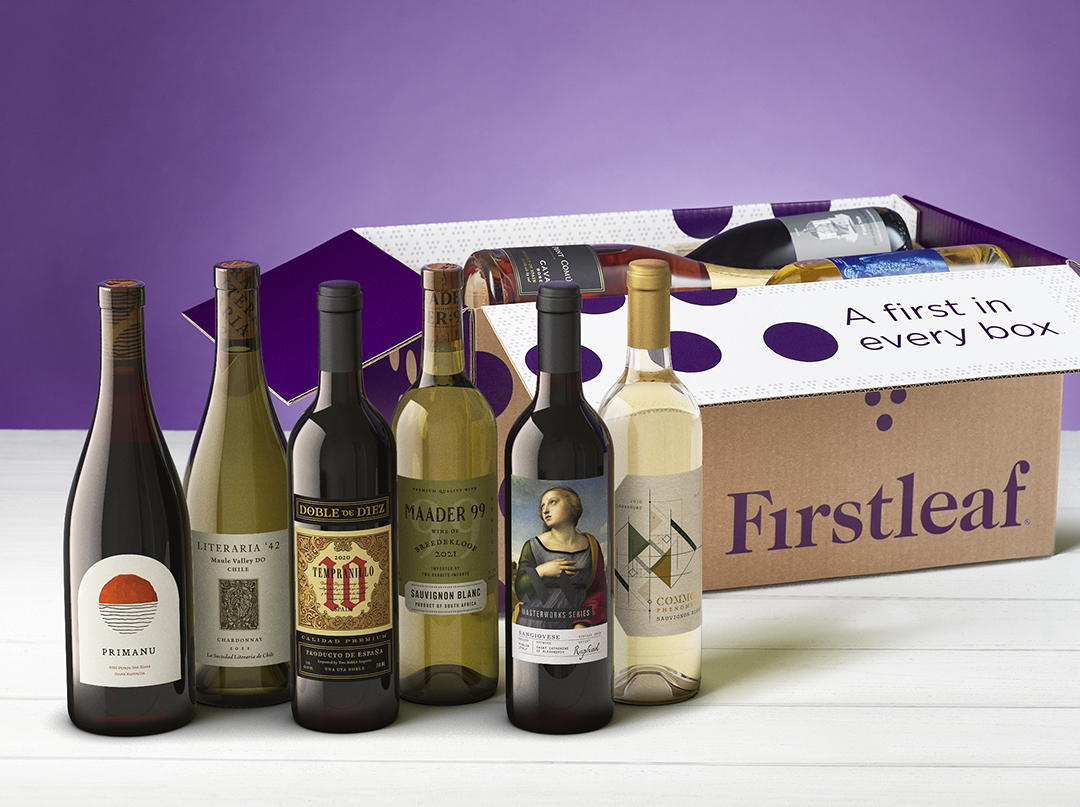 To get started, all you need to do is take the Firstleaf quiz. It's super easy! Just answer a few questions, and they'll hand-pick some award-winning wines just for you. Once you finish the quiz, get ready to receive your special box of wines. Open it up, and you'll find a bunch of awesome wines waiting for you to taste. They even include notes on how to taste them and which foods they pair well with. It's like a flavor adventure in a box! As a member of Firstleaf Wine Club, you'll also get a cool newsletter filled with tips, recommendations, and exciting news about wines. You'll be the wine pro among your friends in no time!
Once you've tried your intro box, get ready for more fun. Firstleaf will send you personalized shipments with six bottles just for you. You can decide how often you want them delivered, whether it's every 2, 4, 8, or 12 weeks. They want to make sure you're always happy with your wine supply. After your first order, each club shipment will cost $90, plus shipping and tax. But here's a fun surprise: If you double your order to 12 bottles, Firstleaf will give you free shipping. That's extra savings for more wine enjoyment! To see the wines we've received in the past from this wine club that learns your specific taste preferences, check out our Firstleaf reviews!
Feeling a bit unsure about which wines to choose? No worries! Firstleaf has a Wine Concierge service just for you. You can talk to their wine experts whenever you want, and it's completely free. They're there to help you with all your wine questions and curiosities!
New customers only, not combined with other offers. Free shipping not applicable to AK/HI. Cannot ship to RI/UT/MS. 21+