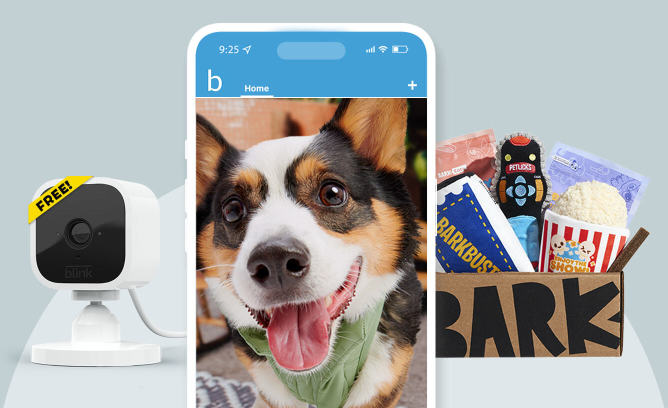 Check in with your dog every day! Barkbox and Super Chewer have a fun welcome deal to welcome new pupscribers to their dog subscription boxes!
📹🐕 Ever wonder what your dog gets up to while you're out of the house? Find out for FREE! Sign up today and we'll include a Blink Mini Camera. Perfect for keeping an eye on your best friend or even using the voice feature to yell "What are you eating?!" multiple times a day.
Get a FREE Amazon Blink Mini Camera ($35 value) with your first BarkBox OR Super Chewer when you subscribe to a multi-month plan (we always recommend 6 or 12 months for the best value) – just use this link to subscribe to BarkBox OR this link to subscribe to Super Chewer – no coupon code needed!
Get a FREE Amazon Blink Mini Camera with BarkBox or Super Chewer Box!
OR get a FREE month on a 6 or 12-month subscription when you sign up for BarkBox with this link OR SUPER CHEWER plan with this link.
See all our Barkbox Reviews to find out more about this great dog subscription box OR check out all our Barkbox Super Chewer Reviews to find out more about this subscription box for heavy chewers!
BarkBox and Super Chewer are two dog subscription boxes that provide a convenient and fun way for pet owners to keep their furry friends entertained and happy. With BarkBox, each monthly box includes two toys, two bags of all-natural treats, and a chew that is tailored to the size and preferences of the pet. The toys are durable and the treats are made with high-quality, natural ingredients.
Super Chewer is specifically designed for dogs who love to chew and destroy everything in their path. The box includes two tough toys, two bags of treats, and two meaty chews that can withstand even the most aggressive chewers. The treats are made with natural ingredients that are safe for pets to consume.
Pet owners appreciate the convenience of having these subscription services delivered straight to their door. These services provide a variety of options for pet owners to choose from and the products are tailored to meet the needs of different types of dogs. BarkBox and Super Chewer are a great way to keep pets entertained, healthy, and happy, and they provide a monthly surprise for both the pet and their owner.
Visit Barkbox OR Super Chewer to subscribe or find out more!