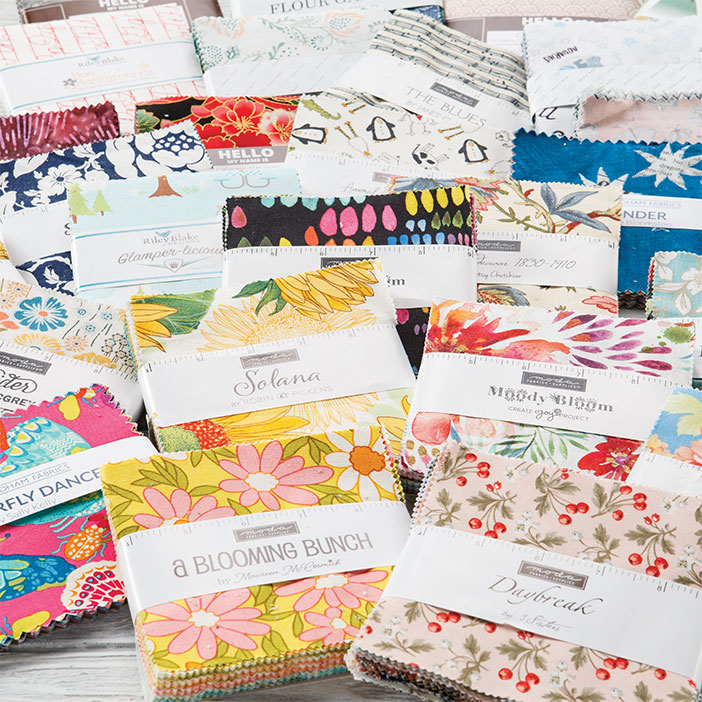 Discover the joy of charm packs!
Annie's Charm Pack Club, a monthly quilting subscription box with two charm packs a month, has a coupon code to try your first month half off! Every month you'll receive two high-quality, perfectly coordinated, 100% cotton 42-piece charm packs (5 x 5 inches) from America's top fabric companies.
Get 50% off your first month's Charm Pack Club! Use this link and use the coupon code SHARE50 to grab this deal! Also works on all of the rest of Annie's Clubs. That makes your first kit $11.98 + $5.95 shipping for a total $17.93 plus tax shipped!
Annie's Charm Pack Club is $23.98 per month + shipping and will include a monthly set of two charm packs, tutorial videos and instructions.
What a charming way to add pre-cuts to your quilting! All the variety you crave, and no unnecessary yardage.
Here's what you'll get with this monthly quilting club that will diversify your stash!
You will receive two beautiful and perfectly coordinated charm packs every month when you join Annie's Charm Pack Club. Each monthly 42-piece pack contains different colors, prints, and styles, all made by America's top fabric designers and companies, such as Moda, Timeless Treasures, Henry Glass, Northcott, and more. Stitch them into the included bonus pattern or use them to create that unique project you have always dreamed about!
Here are the benefits:
With this ultra convenient club, you'll get TWO new, different, 100% cotton charm packs delivered to your door each month, with lots of variety. The prints are all from high quality fabric companies like Moda, Windham Fabrics, and Robert Kaufman! You'll be building your stash with beautiful eye catching colors and designs!
Here's a peek at the fabrics that you could receive: