Cooking and science seem to be a match made to get kids into the kitchen. It's not just about being healthy – it's about understanding the processes that go into cooking. With Yummy Crate, your child can learn all about science, chemistry, and biology while making fun snacks and meals every step of the way!
Coming home to a Yummy Crate is like walking into a science experiment that's also a meal. Inside every Crate, you'll find recipes and activities that explore the science of cooking. Whether you're making delicious family-friendly meals or learning kitchen skills, Yummy Crate is the perfect way to foster a love for science and cooking in kids 6 to 14.
Get 30% OFF your first month of Yummy Crate, no coupon code required, just use this link!
Save 30% On Your First Month Of Yummy Crate!
Yummy Crate offers different options and plans that allow you and your kids to choose how often you receive crates based on your needs. Each Crate comes with three family-friendly recipes, a list of ingredients to make them, fun activities that go with each recipe, and an exclusive Yummy Zine Magazine. Your kids can discover new, surprising ways to cook with science every month. Explore the world of taste and texture, learn kitchen skills, and make delicious snacks and meals that are fun too, with Yummy Crate!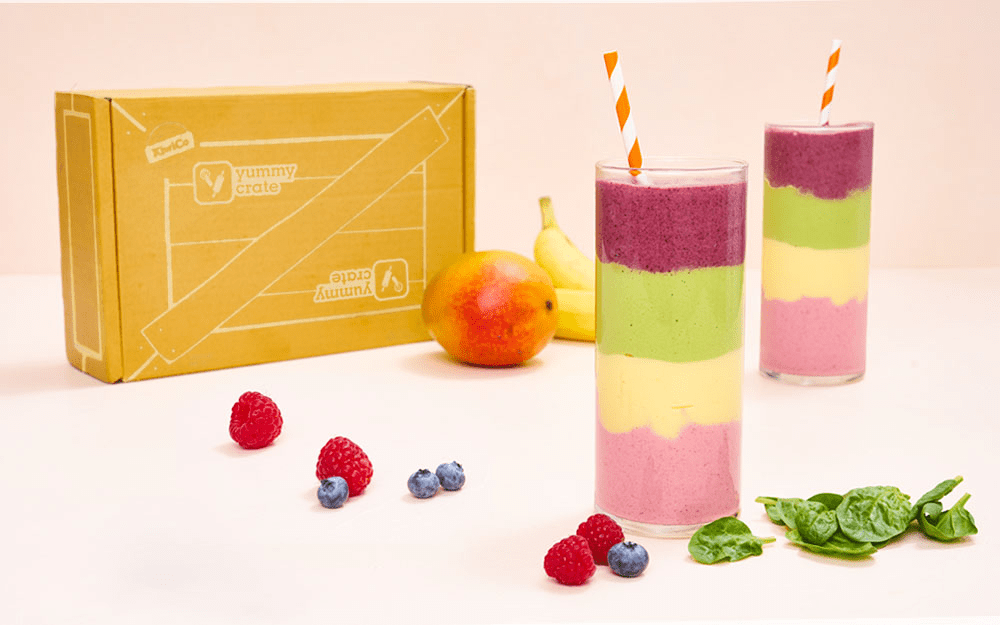 The Culinary Member of the KiwiCo Family! Yummy Crate was designed to foster a love for science and cooking in kids ages 6 to 14, with recipes and activities that explore hands-on experimentation in and out of the kitchen. Your monthly crate includes delicious family-friendly recipes that teach kitchen skills and explore the science of cooking.
What you'll get: Each crate comes equipped with a delightful portfolio of recipe cards, carefully curated to offer you 3 delicious family-friendly recipes. Through these recipes, kids will not only create tasty meals but also develop essential kitchen skills and dive into the fascinating science of cooking.
STEAM activities also await children in every box, fostering a hands-on approach to learning and sparking creativity. Plus, they'll get to experiment with a specialty cooking tool, making the cooking process even more exciting. Engaging their imagination, kids will find two captivating hands-on projects that allow them to learn and have fun both inside and outside the kitchen.
Beyond the kitchen, Yummy Crate also offers a Yummy Zine – a collection of kid-friendly science, captivating comics, food history, and quirky fun facts about gastronomy. But the journey doesn't stop there; a grownup guide assists parents and caregivers in supervising and joining the excitement. To ensure a seamless experience, every Yummy Crate includes an easy-to-use shopping list that can be customized to suit your family's preferences and needs.
What you won't get: the ingredients! In order to allow each family to customize their meals to accommodate dietary preferences or restrictions, ingredients are not included. You'll get an easy-to-use shopping list with items found at major grocery stores before your box even arrives, which will include alternative ingredient suggestions for different diets (vegetarian, vegan, dairy-free, gluten-free, nut-free) whenever possible.
Here's a sample of the fun projects from Yummy Crate:
Tasty & Toasty box showcases the incredible Maillard reaction and its mouthwatering magic. Kids will learn new culinary skills with three hearty and delicious recipes that showcase this browning phenomenon: hearty hamburgers, perfectly golden smashed potatoes, and mouthwatering crispy chicken tenders. Hands-on activities will keep them engaged and enthralled as they explore the science behind the Maillard reaction.
Rise & Shine is all about understanding the magic behind leaveners and how they transform ordinary ingredients into delightful, light, and airy creations. Kids will explore the art of breakfast as they whip up stacks of fluffy pancakes and master the art of thin, perfectly folded ones. To add a touch of sweetness, they will also learn to make a sweet strawberry syrup that pairs perfectly with their creations. Of course, there will be hands-on activities that will immerse kids in the science behind leavening agents, making this culinary adventure both delicious and educational.
Want to try other KiwiCo crates? Deal also applies to Kiwi Crate, Koala Crate, Doodle Crate, Tinker Crate, Panda Crate, Atlas Crate, Eureka Crate, or Maker Crate!