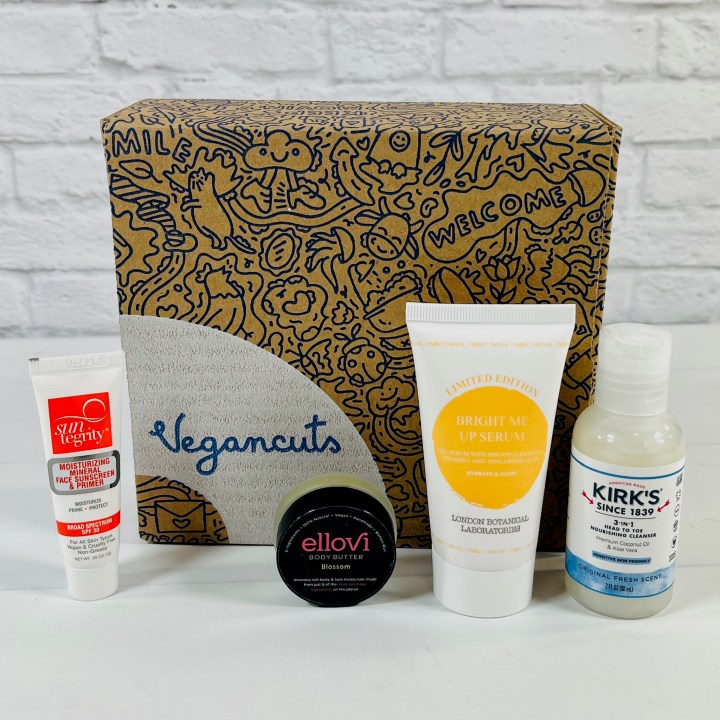 The July 2023 Vegancuts Beauty Box theme was Fireworks of Beauty and it delivered four beauty products to help brighten up the month. You can expect to receive vegan and cruelty-free products (that specifically don't include makeup) and Vegancuts offers a snack box too! See what I received in this month's box below!
DEAL: Use the coupon code hellosub to get $5 off your first box on any Vegancuts subscription! It can only be used once per customer, but it can be used on multiple subscriptions at once so long as they are in the same transaction.
The card listed each item. Proceeds from the box supports various animal sanctuaries. Please note that there is a 5th "bonus" item listed, but I only received 4 items.
Kirk's 3-in-1 Head To Toe Nourishing Cleanser ($0.71) I've received the fragrance free version of this cleanser before — this one is lightly scented and otherwise it works well by lathering up and rinsing off. The container isn't the best since the sides are hard and that makes it harder to get the product to come out, but once it does you're in business.
Eclat Cosmetics Ltd – London Botanical Laboratories Bright Me Up Serum ($69) This serum may be used twice a day and is supposed to brighten skin and provide antioxidants. It also has hyaluronic acid to draw moisture to the skin. Some of the ingredients are aloe, glycerin, pineapple extract, and sunflower seed oil. It has a gel consistency and a light fruity fragrance that is provided courtesy of parfum. It felt sticky on my skin until it was fully dried.
Suntegrity Moisturizing Mineral Face Sunscreen & Primer ($6.30) I'm a huge fan of sunscreen and am always happy to receive it in a subscription box! This feels almost completely empty, but there's probably enough to last maybe a week, maybe a weekend? Zinc oxide provides the protection, it blocks the sun's rays from the skin to a certain extent. It's also a moisturizer and primer. It didn't glide over my skin as easily as other products I have in my collection. It has a citrus scent thanks to the added essential oils.
Ellovi Body Butter in Blossom ($10) I usually think of body butters as feeling rather solid, like I could almost scoop them out and they will still hold their shape. This is the consistency of softened butter, like I could spread it on toast. I have another "flavor" of this same product in my collection and it isn't as soft, but either way I like it. It's made of just a few really natural ingredients and this one is scented with tangerine and chamomile essential oils, which provide a barely there scent. It's a lovely product and can be used on the face, body, hair, cuticles, lips, heels, and more. Some lucky subscribers received it in Mint.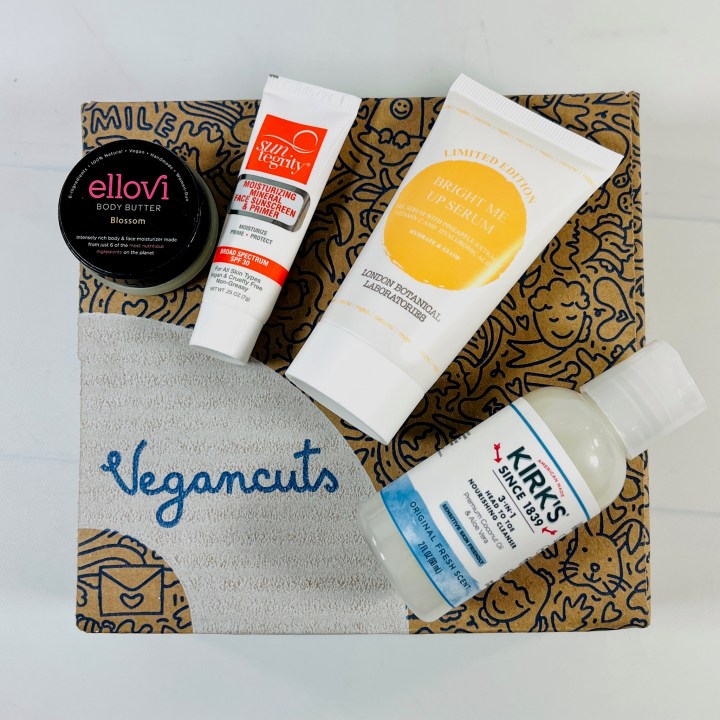 This month's collection was a good one, with sunscreen, a moisturizer, and more. I'm sticking the body cleanser in my travel bag, I think it is less irritating than hotel soaps (which tend to be highly fragranced). I also liked the sunscreen, it didn't leave a white cast on my face. The body butter was very softening and can be applied all over, and the gel serum was fun to try. I was missing a bonus item but otherwise the value for this box was around $86, with most of the value coming from one item.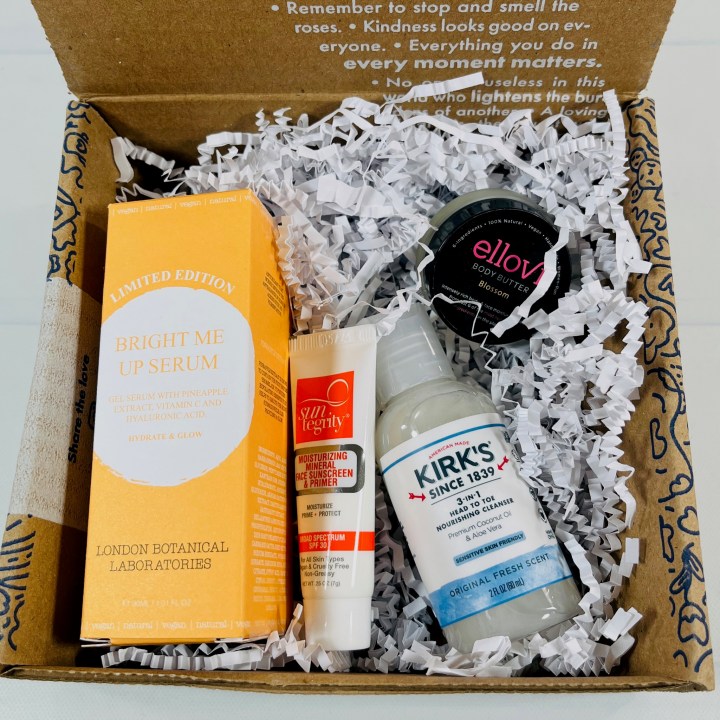 Vegancuts Beauty Box is a monthly beauty subscription service that sends 4 or more items ranging from unique cosmetics to luxurious skincare. Best of all, they are 100% cruelty-free and vegan, plus most items are natural and non-toxic! Monthly recurring shipments are $24.95 with free shipping in the USA (there is an additional charge for other countries). This sub is also available in 6 or 12-month terms that do not renew but that do earn you a discount.