Tushy toilet products has a great coupon on their bidets! Say hello to better (and more environmentally friendly!) toilet habits with Tushy Classic 3.0, Tushy Spa 3.0, and Tushy Ace Electric Bidet. They're quick to install and easy to use, giving you the cleanliness and comfort you need in the bathroom.
Get $5 off on all shop orders! Use this link to shop and use the coupon code TUSHY5OFF at checkout. Does not work on subscriptions.
Ok, what's the poop on TUSHY? Tushy offers TUSHY Ace (the electric bidet seat), Tushy Classic 3.0, Tushy Spa 3.0, Tushy Bamboo TP, and a lot more toilet products and accessories!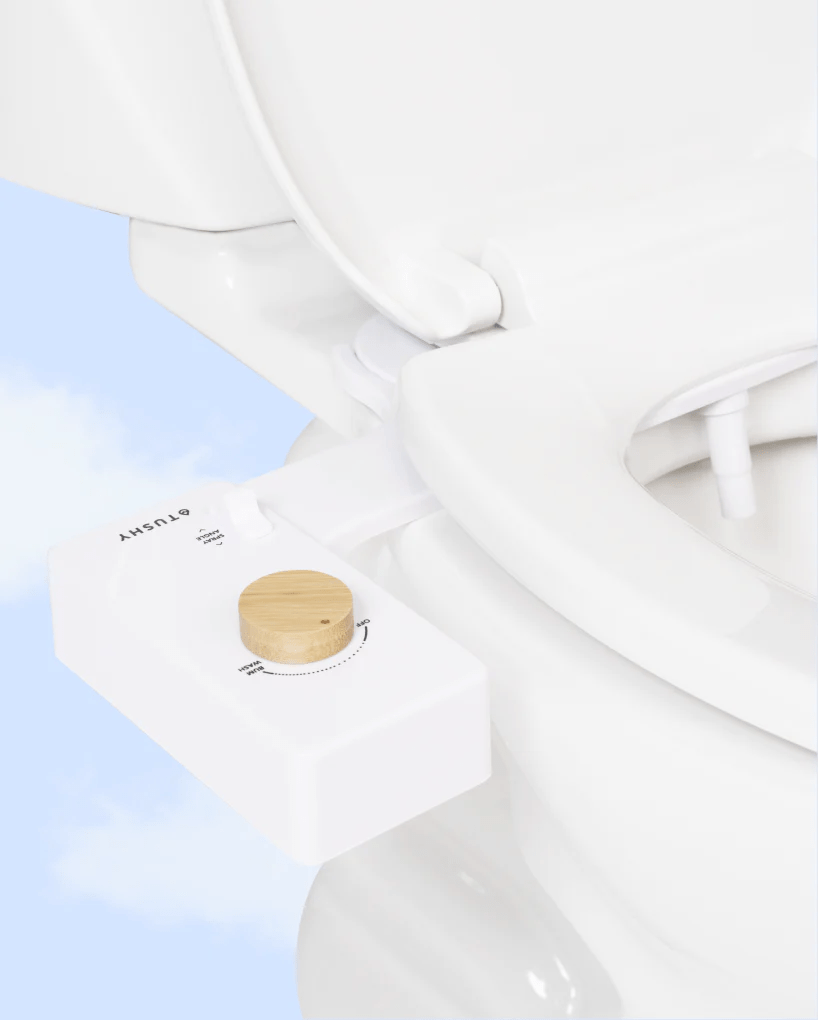 TUSHY saves 15 million trees from getting cut down annually for toilet paper production and saves us from getting infections like UTIs, hemorrhoids, and anal fissures. TUSHY also saves consumers' cash by cutting their TP use by 80%! It's the perfect product for people who poop and is key to a healthy, happy, and hygienic hiney.
Here are the Tushy Bidets available:
TUSHY Classic 3.0 ($129) turns your bathroom into the private spa oasis you've always wanted! This White and Bamboo Classic will transport you to a relaxing spa experience in the comfort of your own bathroom. The classic bidet attachment washes your bum with a refreshing stream of clean water after you poop. Some of Tushy Classic 3.0 features include pressure + angle control for a targeted spray and a self-cleaning nozzle, plus it requires no electricity or plumbing! Your order will include everything for an easy install in under 10 minutes, and it comes with a 60-day risk-free guarantee and free shipping! You only need 10 minutes to install Tushy! It fits all standard toilets and some one-piece toilets, and it doesn't require electricity or plumbing. All you have to do is to unscrew the toilet seat, pop the Tushy on, connect to water, and you're good to go!
TUSHY Spa 3.0 ($159) is a warm water bidet attachment for existing toilets. Also known as the Tushy White and Bamboo Spa, it's easy to install and comfortable to use. It releases warm or cool clean water, but you must make sure that your toilet is next to your sink to access the heat. Some of the features you'll love about Tushy Spa are temperature control, pressure + angle controls for a targeted spray on your pooper, and a self-cleaning nozzle. You'll receive everything you need for the easy installation of your new bidet, including a 9-foot hot water connection. No electricity or additional plumbing is required! Your order will be covered by a 60-day risk-free guarantee and shipping is free! Installing your Tushy Spa is easy peasy! Simply remove the toilet seat, then connect Tushy to the cool water supply and the warm water supply on your sink (a hot water connection will be provided!). Afterward, put the seat back and your bidet will be ready to use!
Tushy Ace Electric Bidet Seat ($399) is a premium bidet seat that looks, feels, and performs more exquisitely. It's Tushy's first-ever electric bidet seat with its own designer remote control and a wall mount so it's always within your reach. The remote is seamlessly designed with intuitive features like capacitive touch and haptic feedback, and it also has a built-in magnet that easily snaps into the mount for the perfect fit. The Tushy Electric Bidet has a self-cleaning nozzle made from anti-microbial stainless steel, and is also equipped with water temperature control and water pressure control. Unique features include a seat sensor so it only works when you're seated, and an air dryer for a hands-free drying experience. The heated seat comes with a soft-close lid and 5 temperature settings for your comfort and convenience.
Other Tushy toilet products you might love: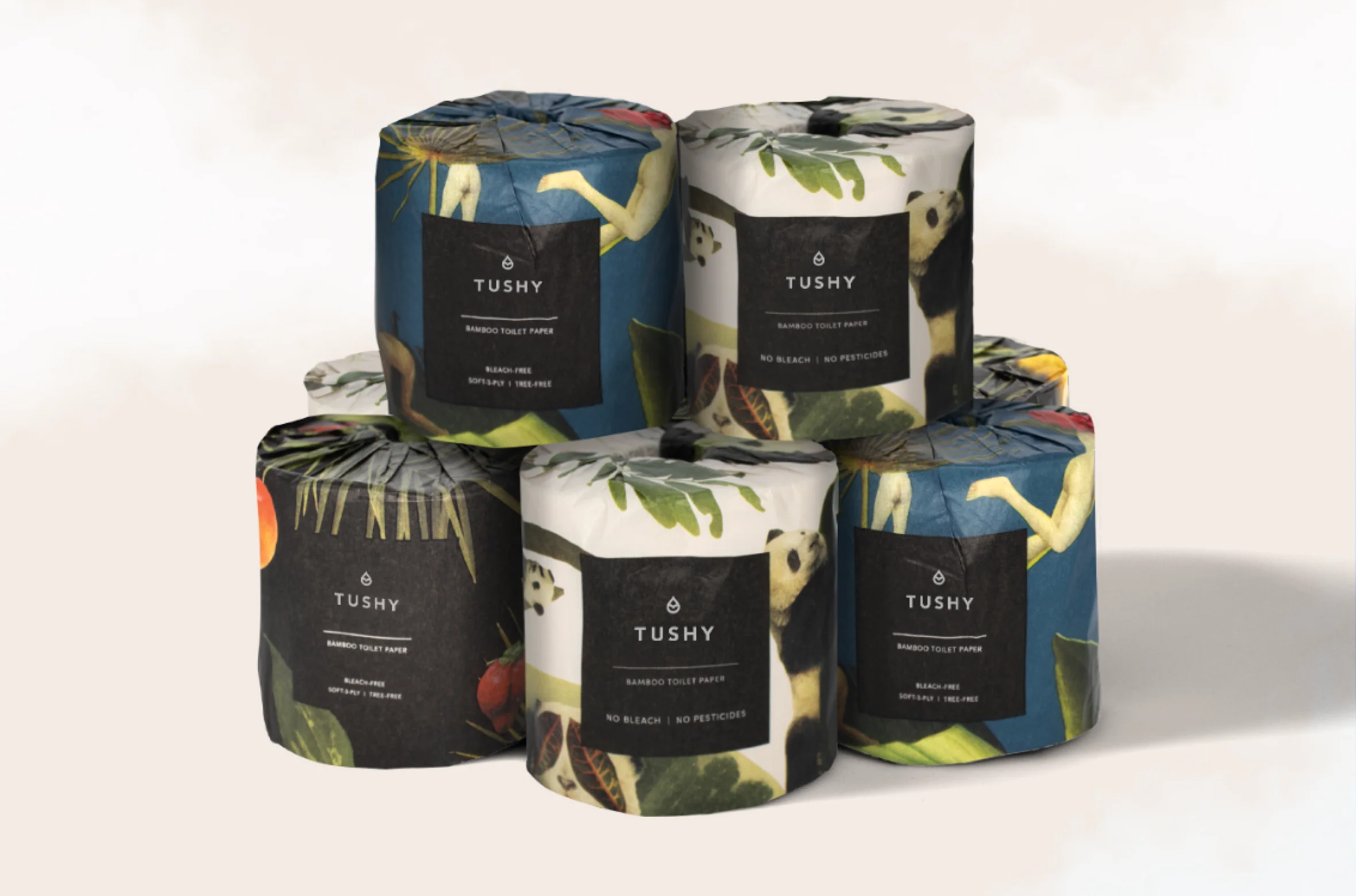 Tushy TP ($69 one time purchase or $59 per month) is their premium bamboo toilet paper, made with 100% unbleached, silky-strong bamboo fibers. They're three-ply, and each roll comes with 300 sheets of pure softness. The TPs even come in plastic-free packaging. Plus, they're BPA-free!
Tushy Bum Towel ($24) is another toilet companion you'd love to have! It's an eco-friendly, naturally anti-bacterial, and super absorbent towel that you can use if you want to go completely TP-free. The towels are made with 100% super soft bamboo fiber – free of bleach and BPAs!
Tushy Stand & Squares ($64) is the combination you need if you want to limit your waste while saving money! The stand dispenses one tissue at a time, while the squares are tissues made with the softest, flushable, and most sustainable 4 ply-bamboo. Switching to Tushy Stand & Squares reduces your carbon footprint as it's 100% sustainable!