Ready to taste the world's most exotic and delicious coffee? Atlas Coffee Club, a regional coffee subscription, is here to take you on a global adventure! With each package, you'll travel the globe through the finest single-origin coffee, handpicked by Atlas Coffee Club's expert curators. And the best part? You won't find these exclusive coffees at your local store! Plus, for Hello Subscription readers, there's an exclusive coupon to try out Atlas Coffee Club's subscription and taste the world's finest coffee!
Get 50% off on your first subscription purchase! Use the coupon code HELLOSUBSCRIPTION50 at checkout.
Get 50% off at Atlas Coffee Club!
Choose from three subscription options and get a single ($14, 12 oz), double ($28, 24 oz), or half ($9, 6 oz) bag of global coffee delivered right to your doorstep every two or four weeks, customized to your roast preference and whether you prefer whole bean or ground.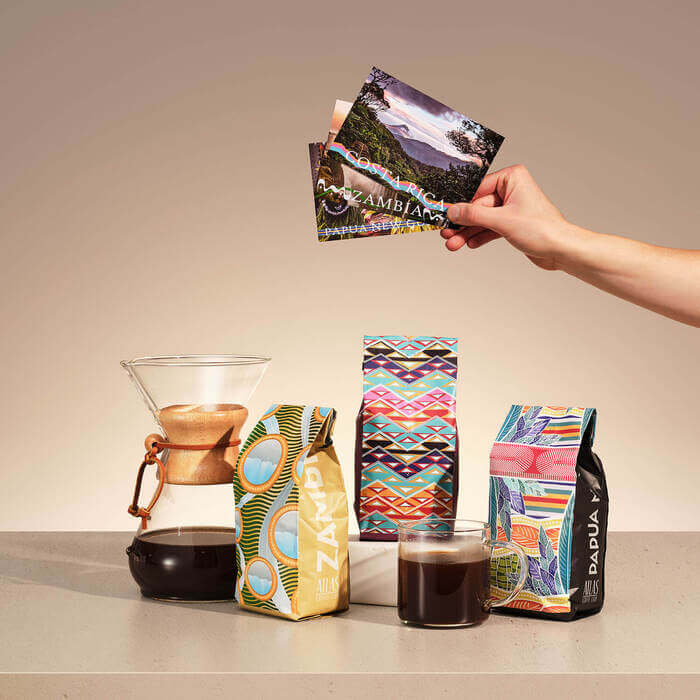 If you're a coffee enthusiast who loves to explore different flavors and origins of coffee, then the Atlas Coffee Club subscription box might just be what you're looking for. This coffee of the month club takes you on a journey around the world with its amazing micro-lot coffees from Tanzania, Kenya, Colombia, and beyond.
Atlas Coffee Club's expert curators select only the finest coffee from around the globe, roasting each batch to accentuate the unique tasting profiles of their native growing regions. Every bag of coffee is made to order and delivered fresh to subscribers, ensuring the rich, organic flavor that Atlas Coffee Club is known for!
Here's a taste of some past coffee explorations:
Kenya – Nyeri
Some of the best coffee in the world is grown in the highlands of Kenya. The high quality is attributed to the rich volcanic soil that gives nutrients to coffee plants. Kenyans take coffee cultivation very seriously, paying close attention throughout the perfected systematic process to ensure quality.
Tasting Profile: Grapefruit, Citrus, Chocolate
Brazil – Mantiqueria De Minas
Coffee was introduced to Brazil by French settlers in the early 18th century. Starting in the northern region of Brazil, coffee ​plantations began to expand down the coast, quickly surpassing sugar-cane, the predominant industry at that time. By 1840, Brazil was the largest coffee producer in the world.
Tasting Profile: Coconut, Chocolate, Vanilla
Costa Rica – Palmares
Arabica was the first coffee planted in Costa Rica toward the end of the 1700s. Although widespread cultivation in the country was slow, Costa Rica eventually became the first Central American country to have a coffee industry. By 1829, Costa Rican coffee was the desire of many foreign buyers, quickly surpassing Costa Rica's main exports (cacao, tobacco, sugar).
Tasting Profile: Milk Chocolate, Sweet Cream