The latest BoxyCharm by Ipsy box is here! In case you haven't heard, the two brands have merged and so there are less subscription boxes, from 6 to only 3, and they are all under the Ipsy umbrella. You can read more about the changes here. I received mostly makeup this time around, plus a skin care treatment and a hair primer that smells like the best summer vacation ever. See all of my items below!
DEAL: Get FREE month of Refreshments when you subscribe – that's up to $15 value! Deal applies automatically, just VISIT AND SUBSCRIBE. FYI, Refreshments is an add-on subscription to your Ipsy membership. Must cancel after trial if you don't want to be charged.
Beauty Stat Universal C Skin Refiner ($85) This product is supposed to brighten, clarify, and even out the skin tone with 20% vitamin C. It has dimethicone so it feels a lot like a skin primer that goes on before makeup, and it doesn't have much of a detectable scent. This bottle is supposed to last for about one month if you use it twice a day, and you may see results at that point too.
Styledry Prep & Prime Polishing Primer ($17 listed value) This primer isn't for the face, it's for hair! I'm guessing that makes it more of a leave-in conditioner/heat protectant. You're supposed to work a bit into hair strands and the scalp and sadly, it is very strongly scented and therefore I didn't try it for myself (and also I don't have frizzy hair, which this is supposed to tame). It smells wonderful, like the best fruity coconut/pineapple drink ever, it most definitely smells like summer! I noticed that they don't ship to the U.S. though.
Iconic London Beachside Babe Eyeshadow Palette ($40 listed value) This palette has colors inspired by the beach, and yes, I'm seeing shades that remind me, of the sand, water, and sun. I wasn't impressed with the color payoff or the staying power of the shades I wore, which were Coconut, Oyster, Golden Hour, Sundown, and Bikini. I even added a bit of Vacay Glow to try to add a pop of color to the lids but all of the shimmers disappeared and also I had fallout.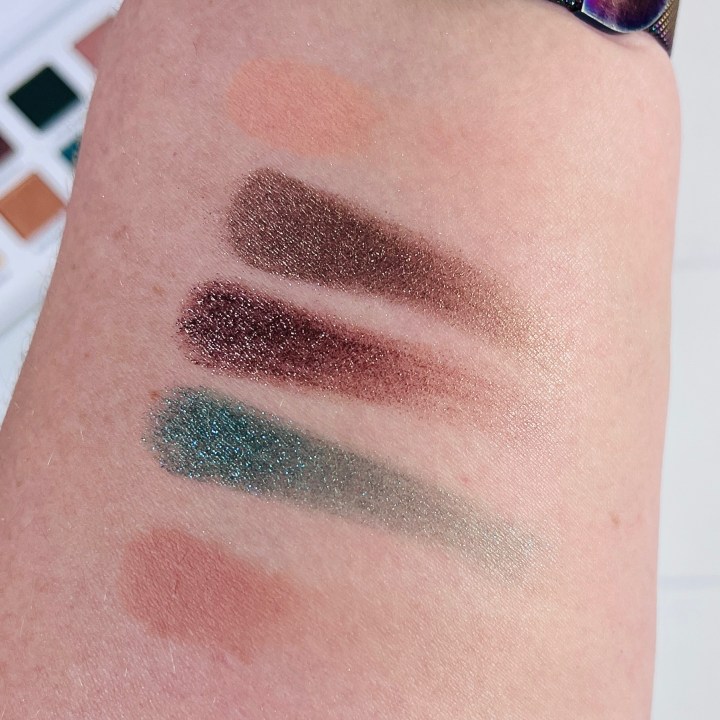 I didn't swatch all of the shades but here you can see, from the top: Lounger, Oyster, Sundown, Blue Lagoon, and Warm Sand.
Tresluce Beauty Playa Dreams Duo Highlighter ($26) This highlighter duo comes in two textures: "Everlasting" is a cream and is on the left; "Paradise" is a powder and is on the right. This duo is for those who want a fair/light color payoff and that is perfect for my fair/light skin tone too. You can wear them alone or together — I used the cream on my nose and cupid's bow, the powder on my forehead and cheeks. Both were easy to apply and looked good!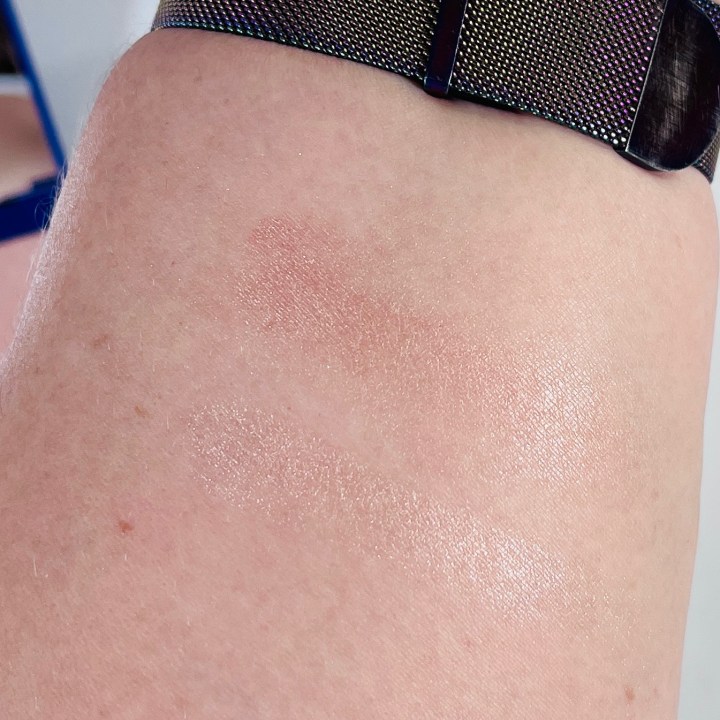 Swatched on top is the creamy Everlasting and the Paradise powder is underneath.
Love+Craft+Beauty Dark Dimension Dual Tip Liner ($19) I personally don't care for liquid liner but this one was easy to apply and it looked pretty good for most of the day. It's dual-sided and so I used the thicker tip for my top lash line, the thinner tip for the bottom. I noticed that the bottom line smudged very quickly while the top line seemed to stay in place but overall I thought it was a good liquid liner.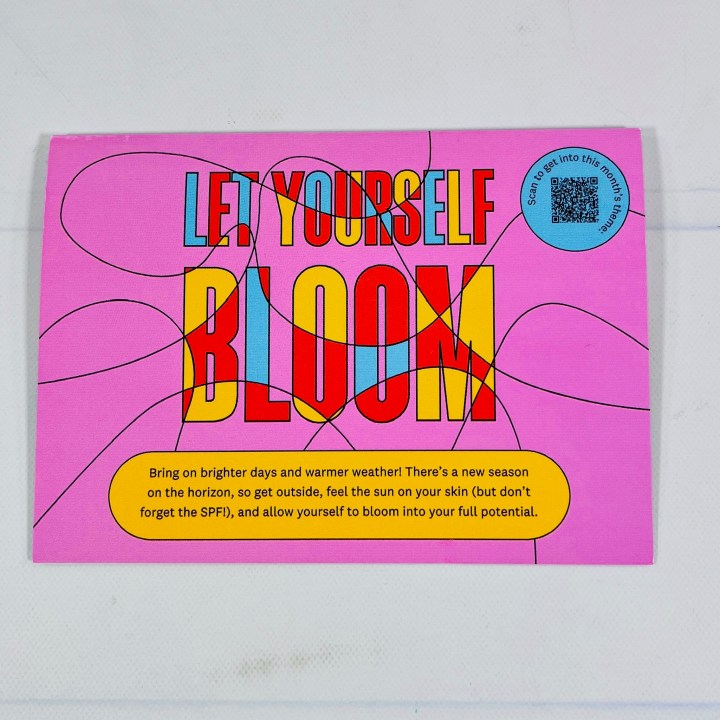 Here's the card included and it had info on using sunscreen.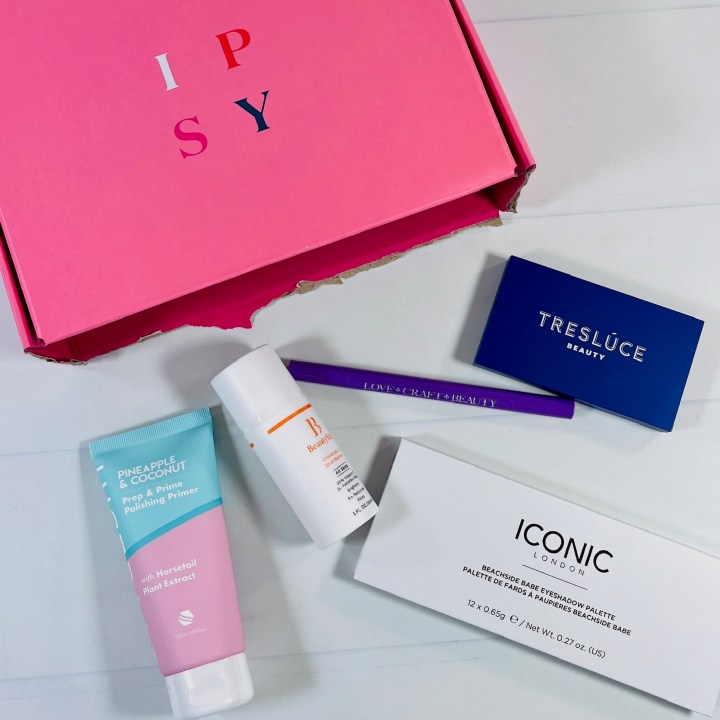 Hmm, this month didn't really have a "wow" item to me, but I guess that happens sometimes. I saw that Ipsy sent all kinds of items, and some of them I would have been happy to find in my box, but maybe next month will be more thrilling. I thought the hair primer smelled amazing, it's just my skin issues that keeps me from trying it. I liked the Tresluce highlighter duo, the color payoff was perfect for my desired look. The eye liner worked well but I won't reach for it, I just prefer pencil liners (I also prefer Coke over Pepsi, it's a personal choice that persists). The vitamin C serum was ok and the Iconic shadow palette was alright. The value for my box of beauty was around $187, but some of the items I couldn't find online so it's the listed value from Ipsy.
Below is a box opening picture!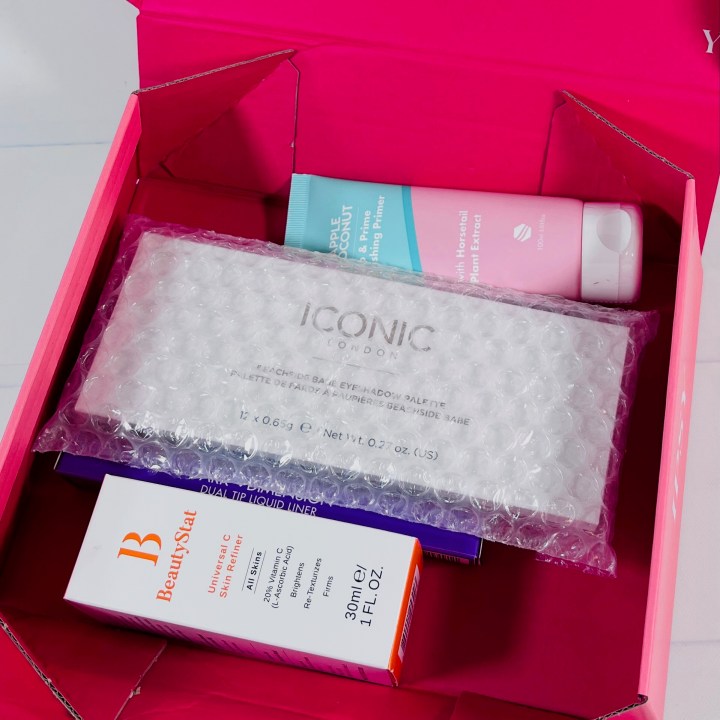 Taking personalization to the next level, BoxyCharm by Ipsy includes 5 full-size beauty products worth up to $200 – including 2 guaranteed Power Picks from superstar brands and 3 items of your choice. From trendy makeup to skincare must-haves, you can look forward to the best beauty brands in each shipment. Members also enjoy amazing perks including access to exclusive deals and sales!