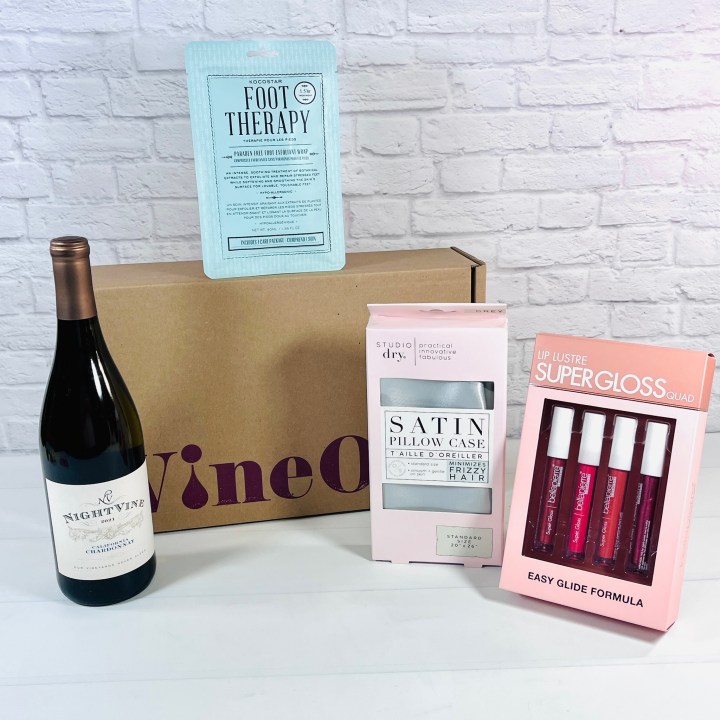 Vine Oh! is a quarterly wine and lifestyle box that aims to help women relax and recharge. They occasionally have new subscriber offers like this one – the Oh! Try Me! Box! This box is $3.99 for shipping, and you must commit to a 1-box minimum quarterly subscription to get the deal. After your trial box, you'll be charged $64.99 per quarter until you cancel. Check out our review below!
DEAL: Save $10 off + FREE extra bottle of wine + FREE shipping on your first box with coupon code HELLOWINE. For a limited time, use this same code to get an extra free bottle FOR LIFE!
2021 Night Vine California Chardonnay ($24) When I reach for wine it tends to be the white type so I happy to see this in my box. In fact, this is the third time it's shown up at my house, and I couldn't be happier. Here is what I had to say about it previously: This Chardonnay is fruity and I think it's a delightful wine. This one has aromas of "ripe pear, vanilla, caramel, and citrus leads to flavors of whipped sweet cream and balanced oak". It was surprisingly creamy and smooth and not as dry as I would expect. It has a medium body and acidity, it doesn't make my mouth pucker up too much. Is it buttery? I don't think so, but it sure goes down easily. Serve this with seafood or white sauced pasta dishes.
Kocostar Foot Therapy ($10) Ooh, this is one of those foot masks that you wear for 1.5 hours then rinse and then in a few days your dead skin starts to peel off, which is kind of gross and also really satisfying. I've tried a similar item before and it worked pretty well, although you have to be prepared to keep your feet out of the public eye for a couple of weeks because chunks of skin will come off and you might look like a shedding snake. I just had a pedicure and we're already into sandal season here in Texas so I will wait until the fall to use it (it doesn't expire for another 12 months), I'm sure my feet are going to need it by then!
Studio Dry Satin Pillow Case This is a satin polyester pillow case that fits a standard size pillow and I had no problem sliding my pillow inside, but it was a snug fit. It's supposed to help reduce frizz in hair and sure enough it feels silky to the touch.
bellapierre Lip Lustre Super GlossQuad ($50) I don't mind getting bellapierre makeup in subscription boxes, it always works well for me. This is a set of 4 highly pigmented lip glosses and don't let the color swatches on the back of the box fool you — these are bright and look nothing like those at all. The color is buildable and the feel is nice and glossy but without feeling sticky. I'm thrilled to add these to my makeup kit!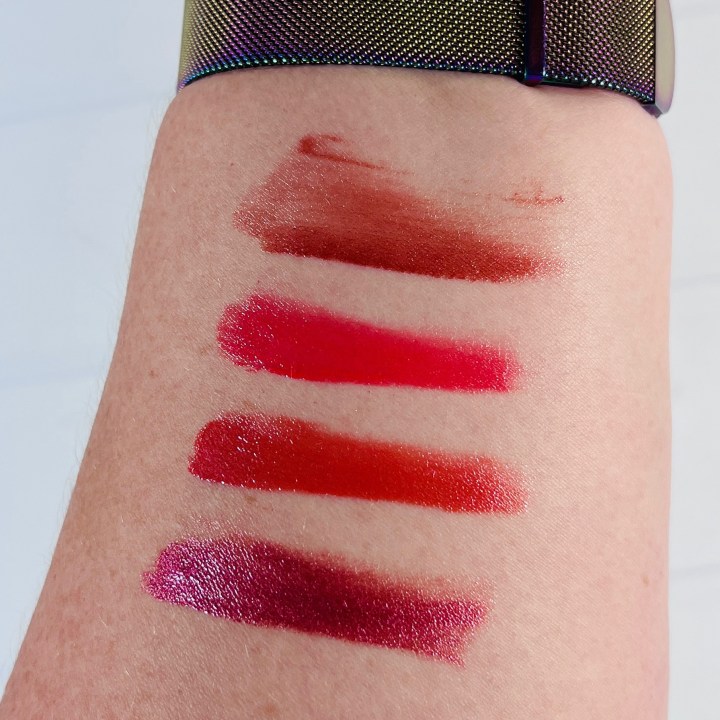 Swatched from top is Everyday, Runway, Vanilla Pink, and Merlot.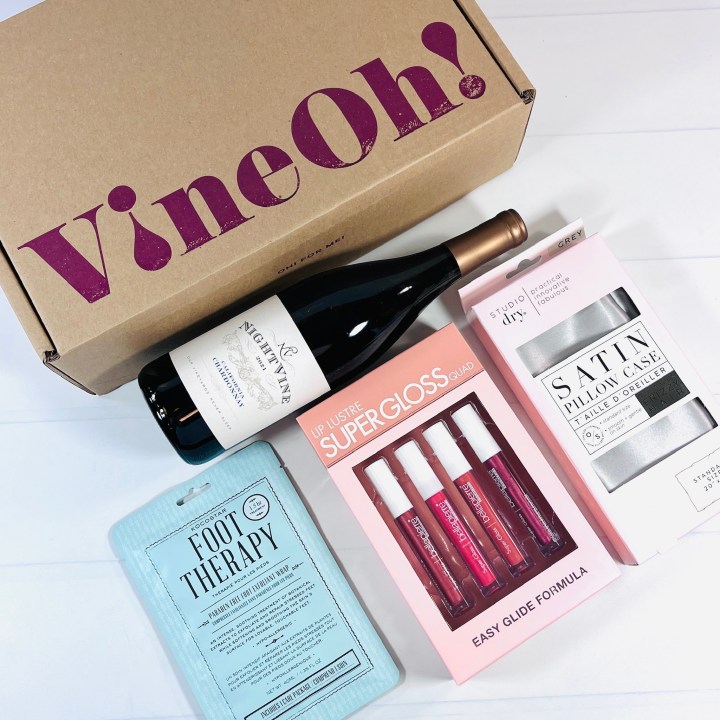 Vine Oh! is always a fun box to get, because they send cool beauty products and lifestyle items, sometimes even snacks, and of course, super drinkable wine. This is a nice introductory box, and the offer is great – just pay $3.99 for shipping and commit to buying one more box at the regular price, which is $64.99 a quarter. All of the items in this box will be used and I can't wait until the next box shows up, it should be about time for the Summer boxes to make their way to homes! Speaking of homes, this box contains alcohol so someone 21 or older must sign for it. I wasn't home when it was supposed to be delivered but I was able to redirect it to a UPS pickup area that just happened to be inside my grocery store.
Vine Oh! is a quarterly subscription box and one of the first wine subscription boxes to include lifestyle items for women. Each seasonal box will include 2 bottles of premium wine, plus 5-6 full-size items that are fun, rejuvenating, and delicious. Subscribers can choose their wine type preference: white wine, red wine, red & white wine, or sweet wine. Every box will have a retail value of $120 or more! Vine Oh! is $59.99 a box and shipping is free and delivered to your door.