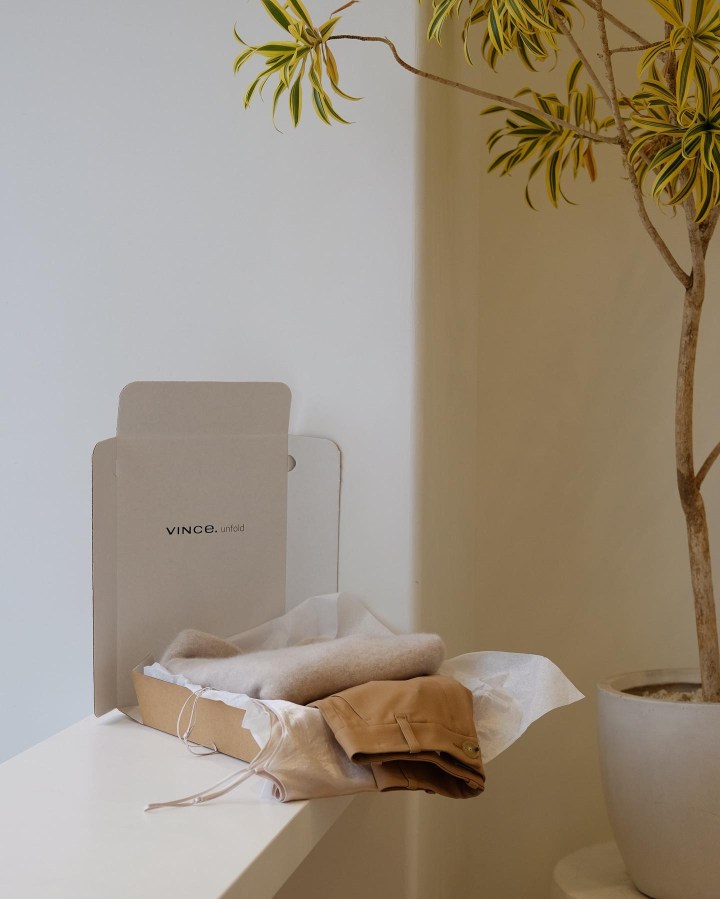 In a world where fashion trends come and go faster than you can keep up with, it can be hard to stay on top of the latest styles. But with Vince Unfold, you can have unlimited access to new styles and trendy pieces without worries! It's an innovative clothing rental service for men and women, and you can enjoy a boundless wardrobe from season to season, all for a flat monthly fee of just $160. The process is so simple – all you have to do is wear and return. Whether you're a busy professional who doesn't have time to shop, or someone who loves to experiment with new styles, Vince Unfold offers an affordable and convenient way to expand your fashion horizons and discover your personal style.
DEAL: Get up to $80 off on your first TWO months – that's $40 off each month for two months! Deal applies automatically, just VISIT AND SUBSCRIBE.
Simplify your wardrobe with Vince Unfold's wear-and-return service. When you sign up, you'll curate your personal Edit with 10+ styles that reflect your unique style and preferences. Then, you'll receive your first delivery of clothes, which contains 4 pieces that you can wear as many times as you want. When you're ready to switch things up, simply send everything back at once – shipping is complimentary, so you don't have to worry about any extra costs. You can enjoy free USPS Priority Mail shipping both ways, and a pre-paid envelope is included for returns.
This clothing rental service has everything from classic tops and sweaters to chic dresses and stylish bottoms. Whether you need something casual for the weekend or something more formal for a special occasion, they have options to fit any style or occasion. But it doesn't stop there – Vince Unfold also offers a selection of jackets and outerwear for those colder months or when you need an extra layer to complete your look. And for the ultimate luxurious experience, you can even rent cashmere, the ultimate in cozy and chic style. If you fall in love with a particular piece, you have the option to own it for a discounted price.
Vince Unfold knows that personal style is all about expression and individuality. That's why they offer the Dart feature – a unique way for you to handpick the exact styles you want in your delivery for a small fee. This feature gives you even more control over your wardrobe, allowing you to experiment with different looks and showcase your personal style. With the Dart feature, you can choose the specific tops, dresses, bottoms, and outerwear that you want to rent, ensuring that you get exactly what you want and need to make your wardrobe feel complete. This unique feature also lets you get creative with your fashion choices, whether you're looking for something bold and eye-catching or understated and chic. You can mix and match different styles to create a unique look that is all your own.
Vince Unfold is a game-changer in the world of fashion. With the ability to rent high-quality, luxury pieces for a fraction of the cost, they make it easy to look and feel your best without the commitment of buying new clothes every season.
We at Hello Subscription love to discover the most fun and unique subscription boxes and share them with our readers. Say Hello is a series of articles featuring up and coming subscriptions, as well as other interesting subscriptions that our readers might love!