Losing weight can have numerous positive effects on your health and well-being. From increased energy levels to improved mood, shedding excess weight can help you feel your best. Nutrisystem offers a great way to kick-start your weight loss journey by providing you with perfectly portioned and balanced meals that are packed with nutrients.
By following a Nutrisystem plan, you can learn healthy habits, including portion control and making healthy food choices. With their support and guidance, you can achieve your weight loss goals and enjoy the many positive benefits that come with living a healthier lifestyle. The plans are dietitian-designed to ensure that you learn healthy habits for life, not just for the duration of the program.
Get started on your weight loss journey for as low as $9.99 a day and enjoy the flexibility of selecting either Chef's Choice or picking your own meals. If you're new to the program, it's recommended to start with Chef's Choice, which features Nutrisystem's most popular meals. Alternatively, if you prefer to customize your meals, Nutrisystem offers an extensive selection of breakfasts, lunches, dinners, and snacks to choose from. And if you're looking for an extra boost, you can add protein shakes to support your weight loss goals.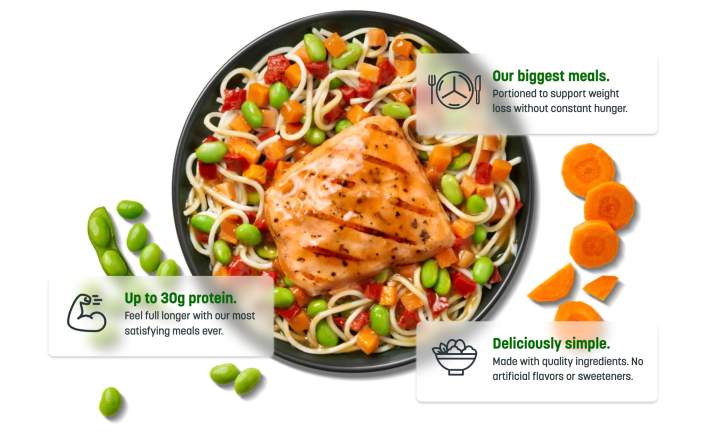 Nutrisystem weight loss plans are for adults of all ages and lifestyles. Nutrisystem recognizes that women and men have different nutritional needs, which is why they offer separate plans that are specifically tailored to meet those needs. Women's Plans provide a nutritionally balanced weight loss plan that takes into account the unique biological and hormonal differences of women. On the other hand, Men's Plans are designed to address the specific health concerns and weight loss challenges that men face.
They also offer Diabetes Plans for individuals looking to lose weight while managing their type 2 diabetes and reducing A1C levels, and Complete 55 Plan for older adults aged 55 and above. Partner Plans are also available, with meals for two to make weight loss journey more convenient for couples, roommates, or families.
No guesswork, no deprivation, just delicious meals. Whether you're a career-driven individual with a hectic schedule, a health enthusiast looking to enhance your wellness, or someone simply seeking a positive lifestyle shift, Nutrisystem promises to help you achieve your health and weight loss goals with ease. You won't have to worry about deciphering whether certain foods fit your diet or counting calories and carbs. Simply order your Nutrisystem program and let their perfectly portioned meals come to you!
They've carefully crafted their meals to provide a perfect balance of protein, fiber, and nutrient-dense, low to medium carbohydrate choices. With Nutrisystem meals, you can indulge in delicious food while still managing blood sugar levels and controlling hunger. This balanced approach to eating will not only help you reach your weight loss goals but also help you maintain a healthier lifestyle with the right nutrients to fuel your body.
In addition to the convenience of having your meals delivered, Nutrisystem provides access to a world of support and tools right from the comfort of your phone and computer. Weight loss coaches are available to help you stay on track and provide guidance throughout your journey. You can also track your weight loss on the go by downloading NuMi, a free app that gives you access to weight loss challenges, prizes, and more.
We at Hello Subscription love to discover the most fun and unique subscription boxes and share them with our readers. Say Hello is a series of articles featuring up and coming subscriptions, as well as other interesting subscriptions that our readers might love!